Ready to complete your Help Scout–Amazon integration? Simply connect your Help Scout account to ChannelReply, then follow the video or written instructions below.
Important: This article uses the classic ChannelReply interface. You can access the classic interface here.
Note: Click on any screenshot to see the full-sized image. Article last updated 8/26/2019; some statements in the video are outdated, but its instructions still work for setting up your account.
1. Sign In
Click "Sign In" or "Manage" to access your ChannelReply account. If you haven't had a chance to sign up, click "Start Free 14-Day Trial" to get started.

2. Go to the Amazon Settings Page
Click "Marketplaces," then choose "Amazon."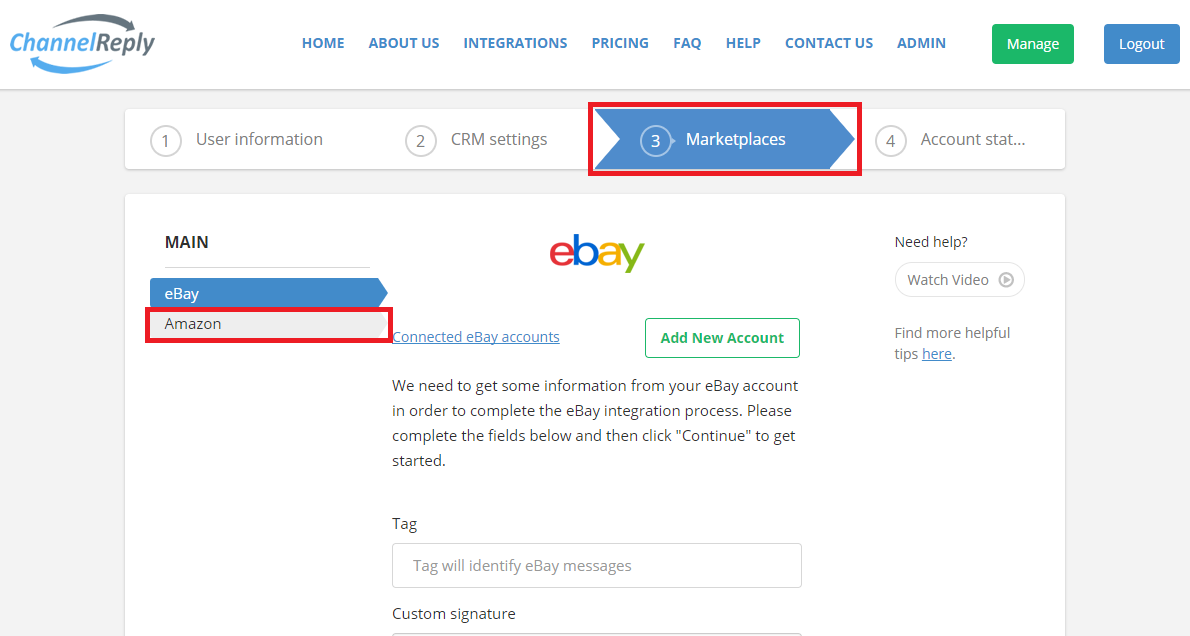 3. Connect with Amazon
Choose a Marketplace
Open the "Choose marketplace (required)" dropdown and select a marketplace you want to connect.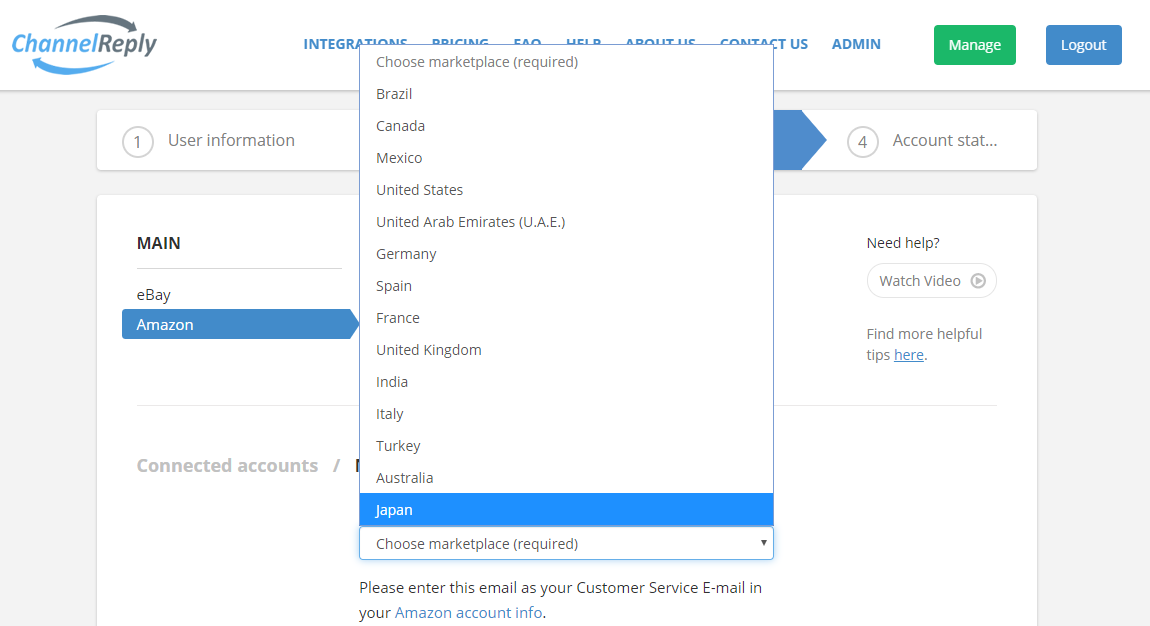 Note that you only need to connect one marketplace each for North America, Europe, or the Far East. For example, if you connect Germany, you don't need to integrate the United Kingdom separately. Learn more in "How to Add Additional Amazon Accounts and Countries."
Create a ChannelReply Email Address
Once you've chosen a marketplace, enter a username in the email field to create your new ChannelReply email address. @channelreply.email will automatically appear after your entry to complete the address. Avoid entering an existing address or typing in a domain name like gmail.com.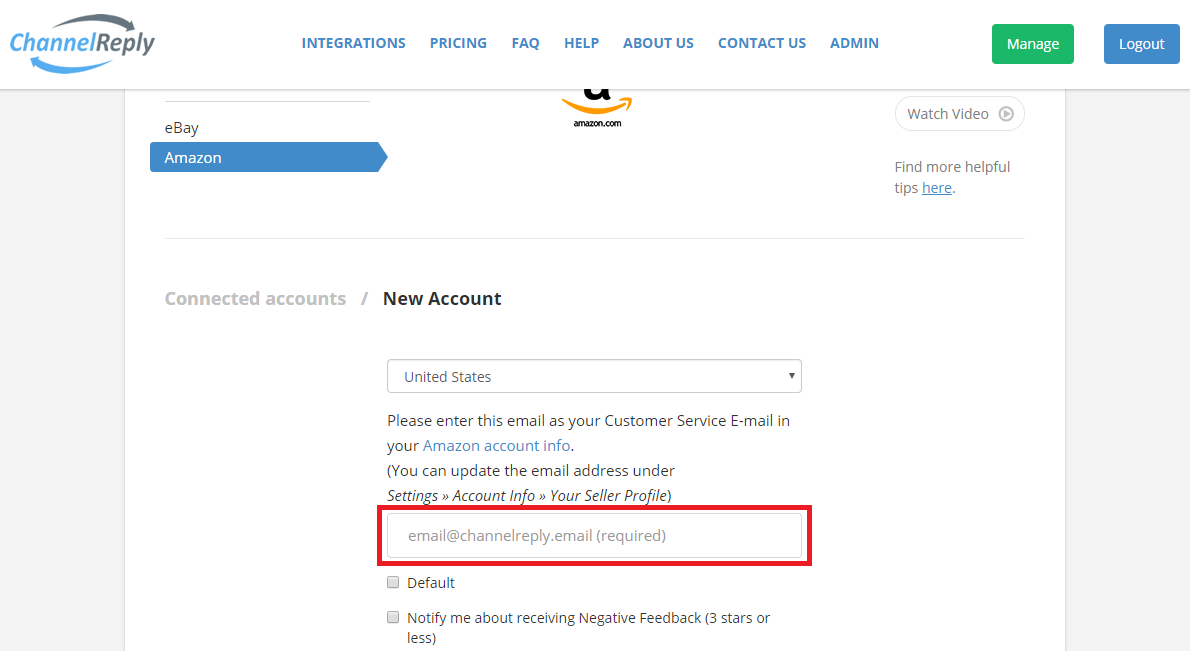 Here's an example of a good address:

Manage the Checkboxes
You'll see two checkboxes: "Default" and "Notify me about receiving Negative Feedback."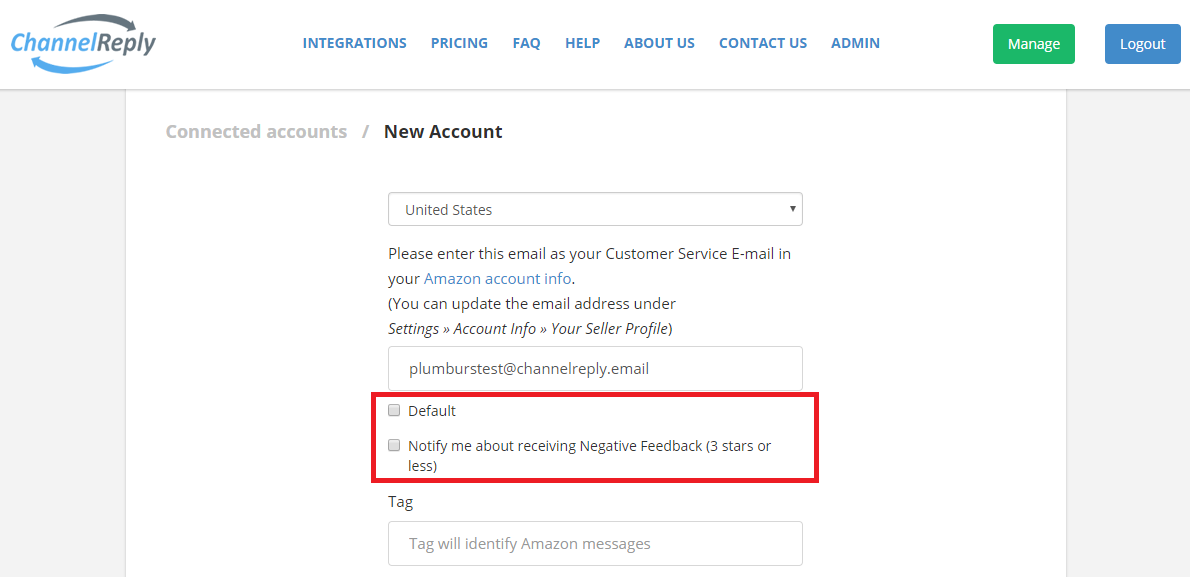 You can ignore the "Default" box if you only want to reply to Amazon customers who message you first. However, if you want to start conversations on Amazon, check "Default" for one account. When you create a new Help Scout ticket to message an Amazon customer, they will receive it from this default account.
Note: You cannot start conversations with customers who have opted out of unsolicited messages. You can always reply to their messages, though!
"Notify me about receiving Negative Feedback" works exactly like you'd expect. Check the box to be notified whenever you receive a seller rating of three stars or less. You can't reply to feedback notifications, but they include links to the feedback on Amazon, where you can post your response.
Create a Tag
Next, enter a tag. In Help Scout, this tag will appear on all messages from this Amazon account, making them easy to identify, sort, and use in Workflows.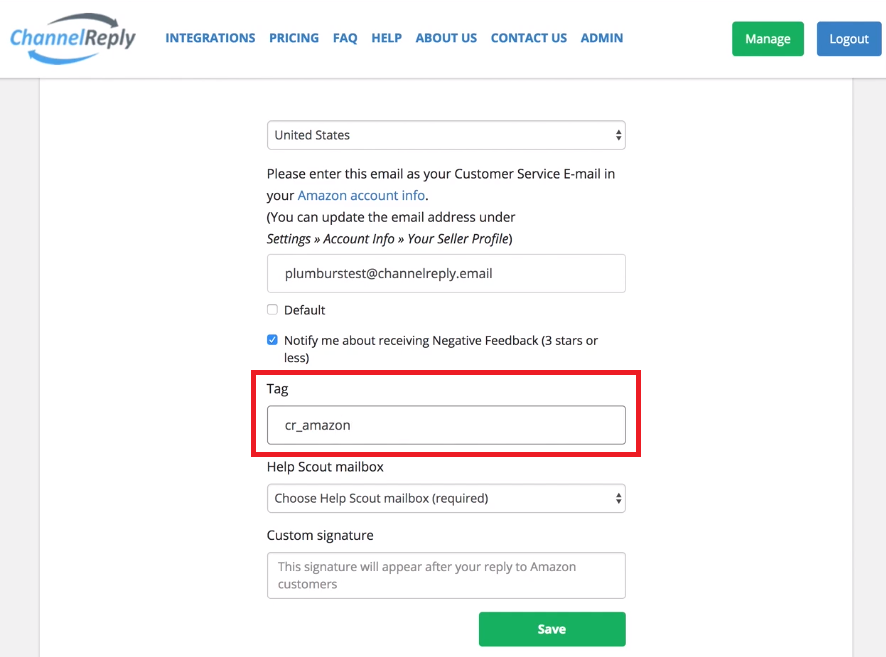 Choose Your Mailbox
Click "Choose Help Scout mailbox (required)." Select the mailbox where you'd like to receive messages from this Amazon account.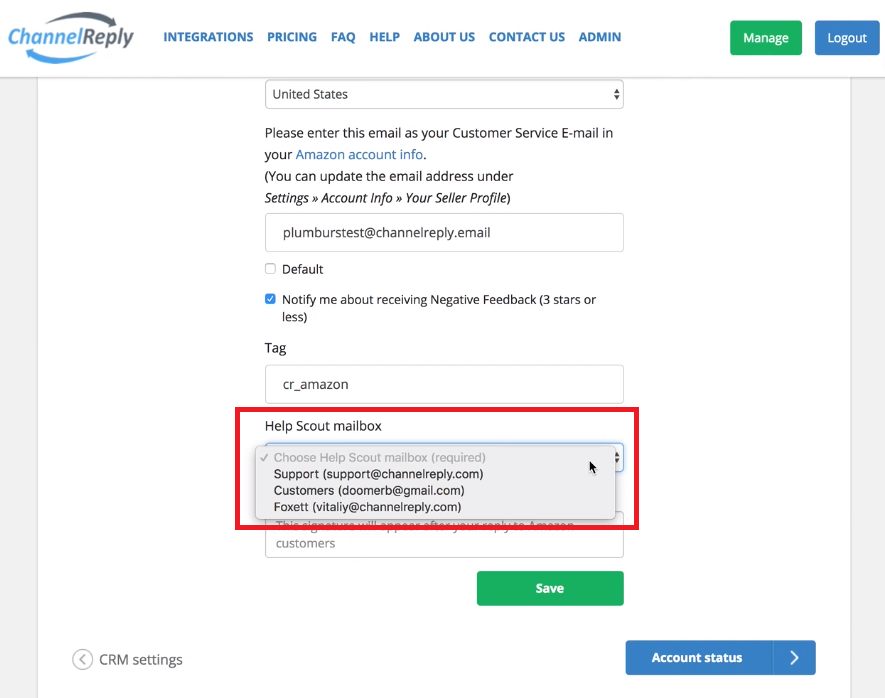 You can also enter a custom signature unique to this Amazon account. Just note that if you also have a signature in Help Scout, customers will see both at the same time.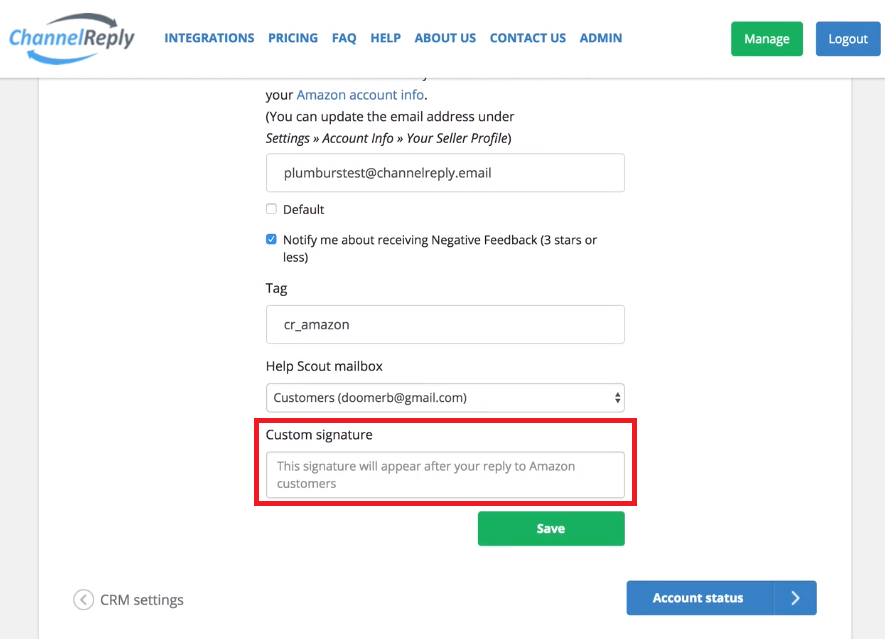 Once finished, click "Save" to finalize this information. This will take you to Amazon Seller Central.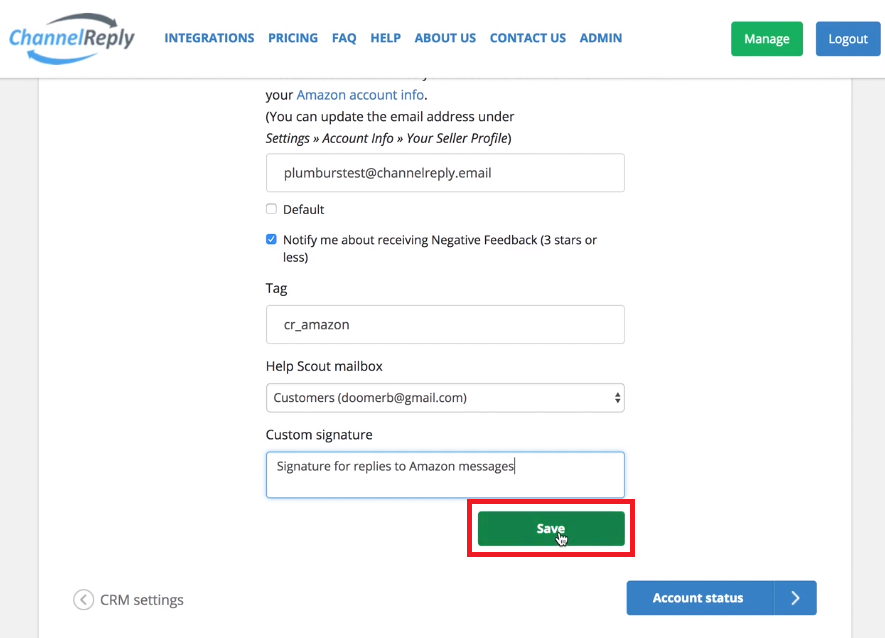 4. Give Us Permission to Access Your Account as a Developer
When prompted, sign in to your Amazon Seller Central account. Please note that you must sign in as the account owner. If you try to sign in using any other account, even one with full admin permissions, you will not be able to complete the integration.
Once you sign in, you will see an Amazon Marketplace Web Service agreement. This authorizes ChannelReply to integrate with your account. To agree to the terms and continue setup, check the box and then click "Next."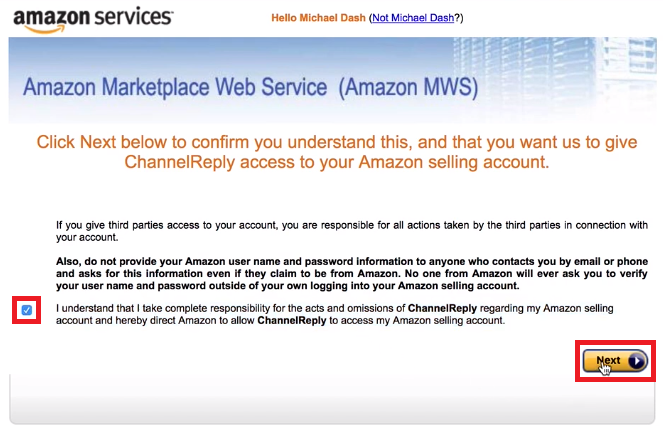 All you need to do on the next screen is click "Continue" to return to our website.

5. Update Your Email Addresses
You'll be brought back to the "Connected accounts" page. You should now see info about the Amazon account you've just integrated with ChannelReply.
Before ChannelReply can begin managing your Amazon messages, we need to configure your Amazon buyer messaging email. Click "Edit Account."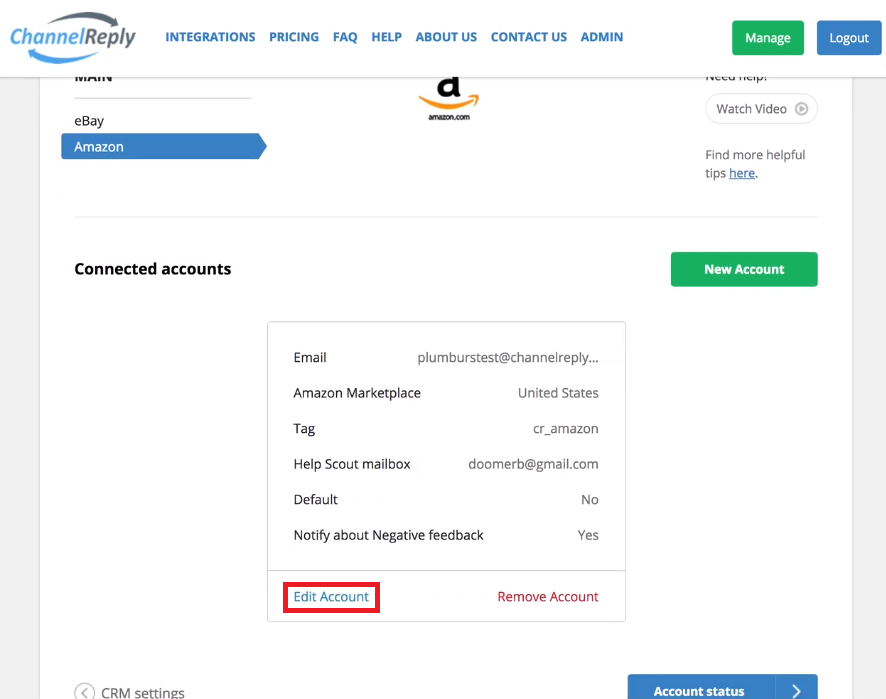 Copy your ChannelReply email address to your clipboard.
Next, go back to your Amazon Seller Central account. Make sure the marketplace you want to connect is displayed/selected at the top of the screen. For example, we want to connect Amazon US, so we've made certain that Amazon.com is displayed here.

Click "Settings" in the upper right of your Seller Central screen, then "Notification Preferences."

Scroll down to "Messaging." See if your @channelreply.email address is listed as the email for "Buyer Messages." If it isn't, click the orange-yellow "Edit" button to the right of "Messaging." Then enter your ChannelReply email in the "Buyer Messages" field.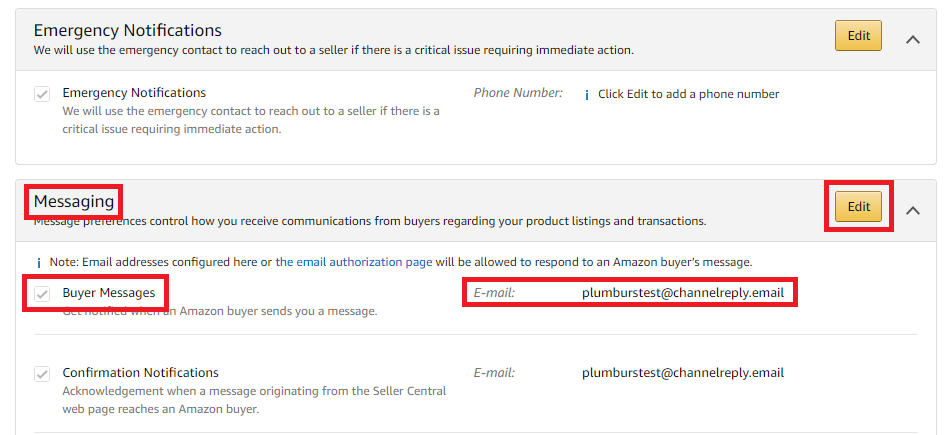 Be sure to leave the "Buyer Messages" box checked. If it isn't checked, you won't receive any customer messages!
You can have copies of your messages delivered to additional addresses if desired. Click "Add another" if you want to enter a secondary address. Just make sure your ChannelReply address is the only one forwarding to your Help Scout mailbox, or else you'll end up with duplicate messages.

Optional: Enable Notification Delivery
You can also choose to have your one-way Amazon notifications sent to Help Scout. You can send them through your @channelreply.email address or straight to one of your Help Scout mailboxes. For detailed instructions and the pros and cons of each option, see "How to Forward Amazon Notifications to Your Helpdesk."
6. Enable Service
Return to your ChannelReply account and click "Account status."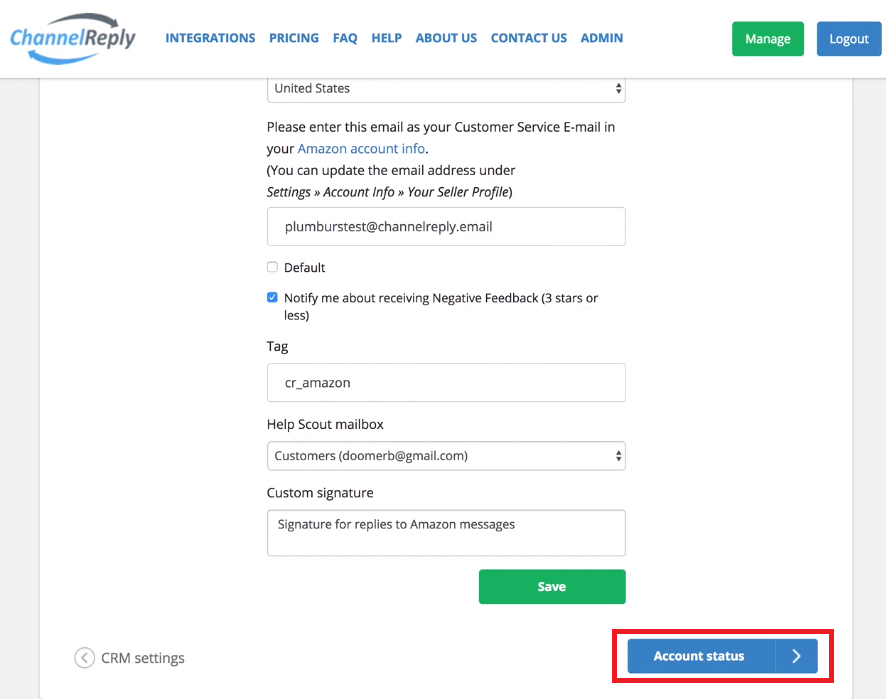 Here you can see account stats and enable or disable service. If you see a "Disable Service" button, your account is currently running. If you see "Enable Service," click the button now.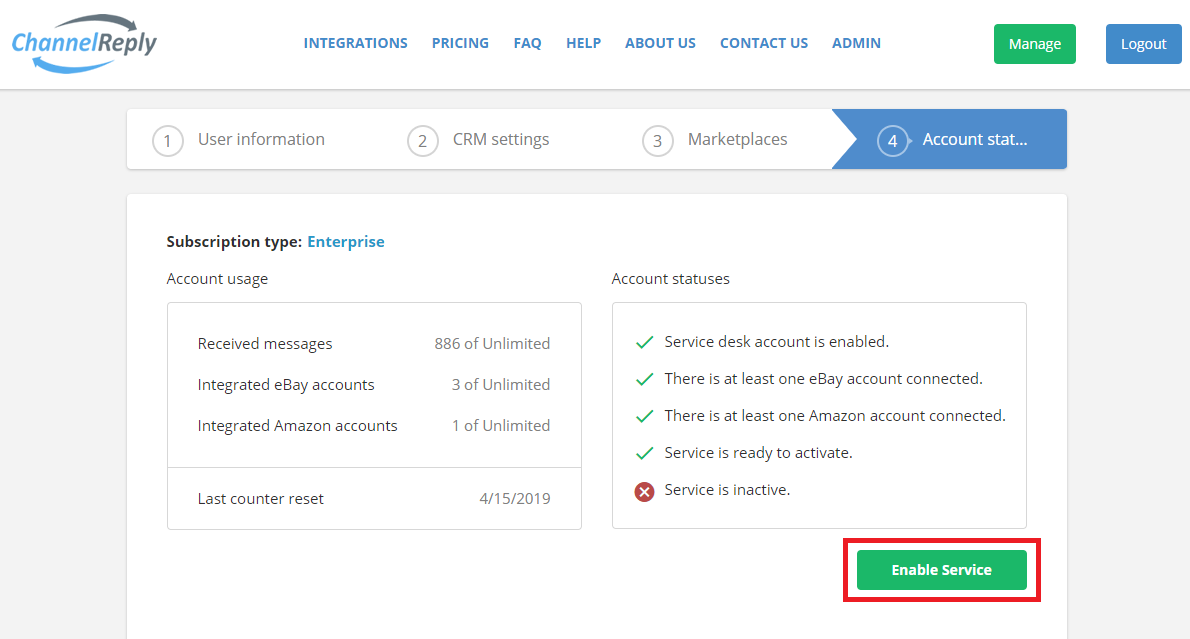 Congratulations! You have now integrated your Amazon account with ChannelReply. We'll start sending Amazon messages to your Help Scout mailbox presently.
Managing Your Account
Need to see account details or make changes? Simply sign in to your ChannelReply account and go to Marketplaces > Amazon. You can review and edit your details under "Connected accounts" anytime.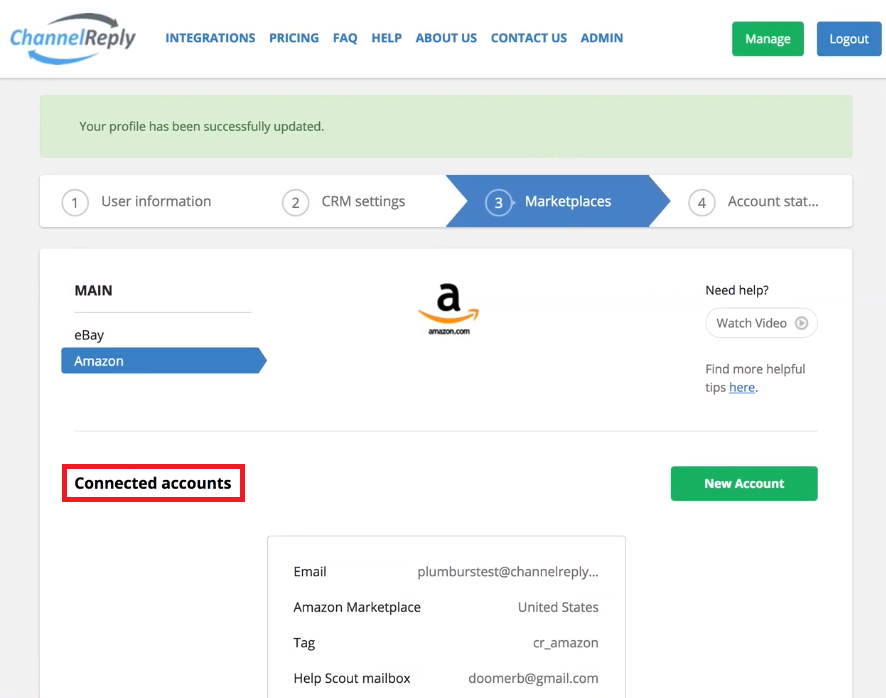 Optional: Setting Up Custom Fields
Click "Edit Account" under any connected Amazon account and you'll see "Open advanced options." This will take you to the Custom Fields management screen. If you have Help Scout Plus or better, visit Help Scout Custom Fields Setup for instructions and tips on using this powerful feature.
Optional: Adding More Countries, Regions or Accounts
You can add more countries in the same region (North America, Europe, or the Far East) by repeating Step 5 for those countries. You can add other accounts or regions by clicking "New Account" and following these instructions from the beginning. See "How to Add Additional Amazon Accounts and Countries" for more info.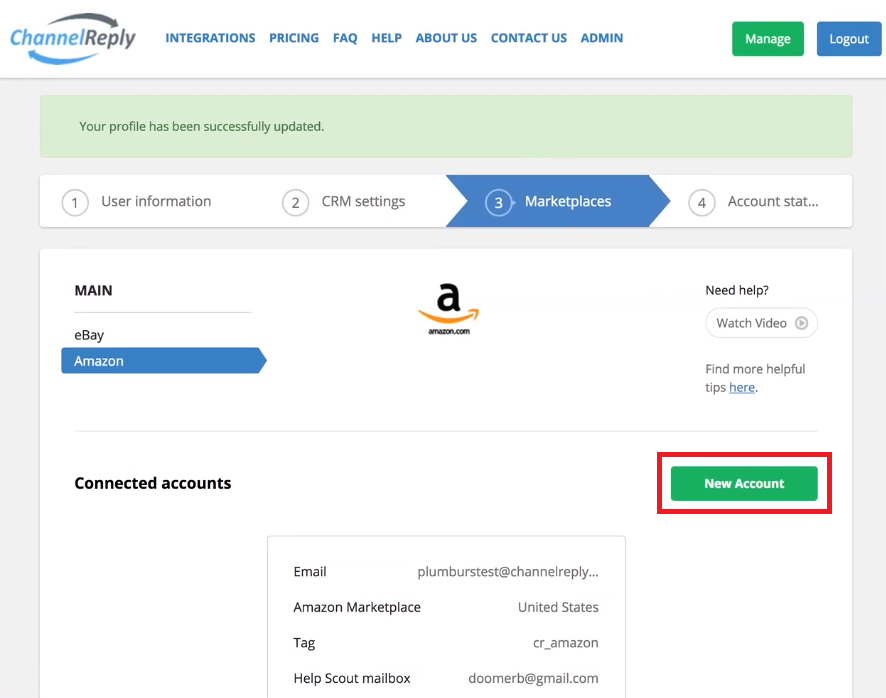 When Will I See My Messages and Customer/Order Info?
All new Amazon messages will be delivered to Help Scout immediately, and you should see the ChannelReply app on all messages. However, you may not see customer and order info on the first few messages you receive.
This happens because ChannelReply collects data from the first message in each Amazon conversation. If the first message is not processed by ChannelReply, the info cannot be displayed. So, it's common to see no order info at first, but after a couple weeks it will appear on most or all messages.
We hope you enjoy your simplified customer service experience! If you run into trouble or need any assistance with your Help Scout–Amazon integration, please don't hesitate to contact us. We're always happy to hear from you!