ChannelReply makes Help Scout–eBay integration as easy as placing an order online. Decide what you want, fill in the details, and then wait for your first delivery!
Once you've connected your Help Scout account, just follow the written instructions below or watch the walkthrough video. In minutes, you'll be supporting all your eBay customers from Help Scout.
Notes: Click on any screenshot to see the full-sized image. Last updated 1/23/2019.
1. Sign In
Sign in to your ChannelReply account to get started. If you don't have an account yet, click "Start Free 14-Day Trial" to create a new one.

2. Go to "Marketplaces"
You should see a screen like this one right after you sign in. If you don't, you can find it by selecting "Manage." Once you're there, click on "Marketplaces."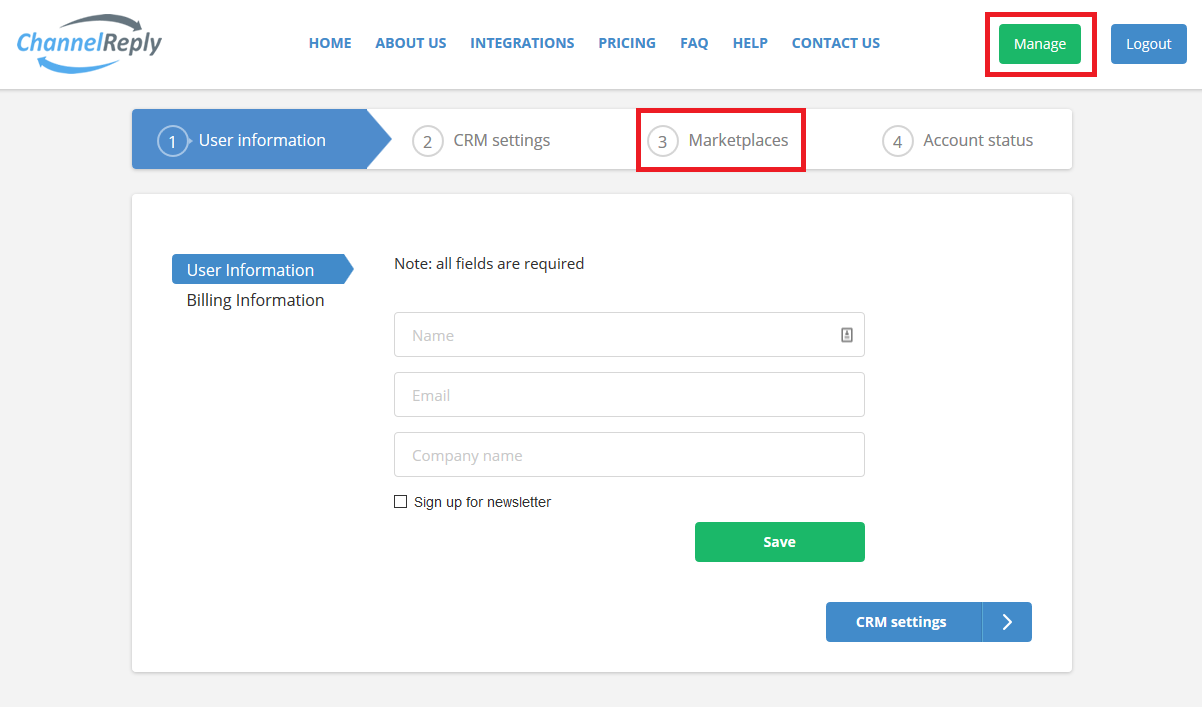 3. Customize Your Settings
You'll arrive on the eBay setup page.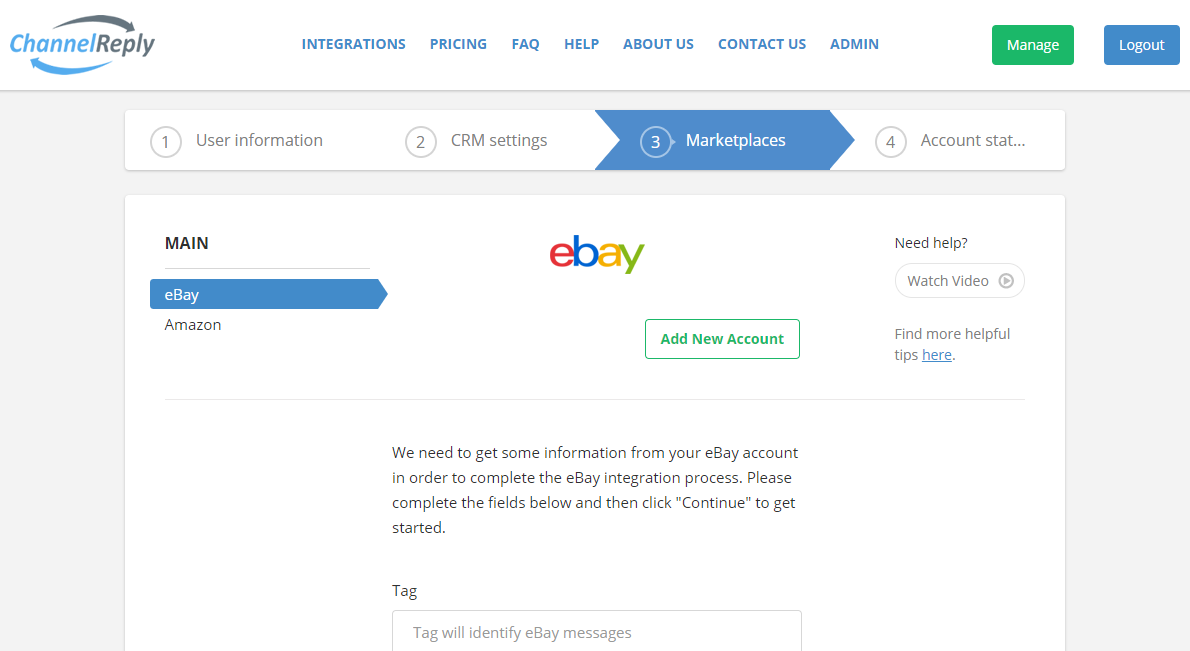 The interface for adding a new eBay account will already be open, but you may need to scroll down to see it.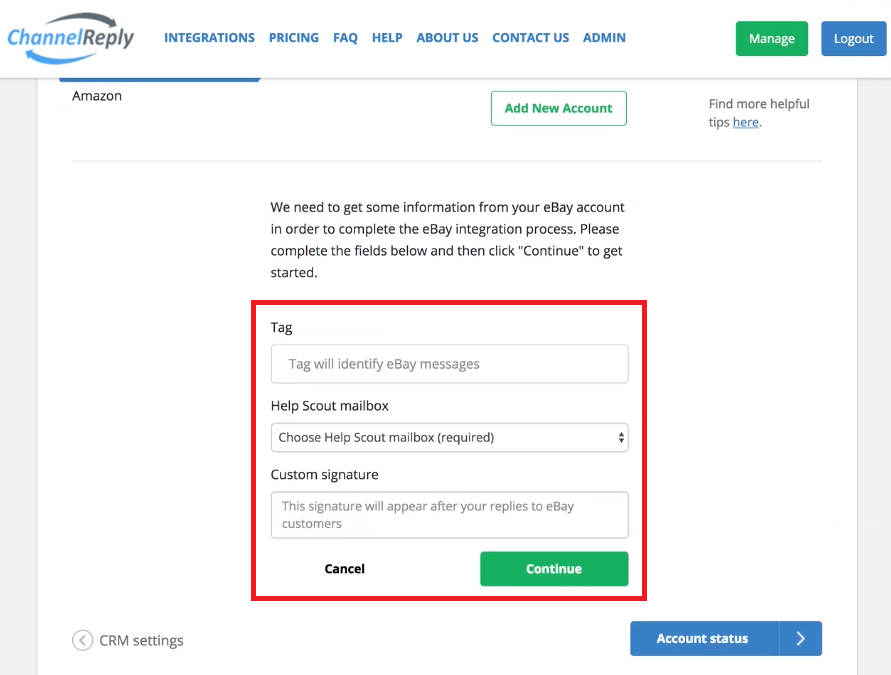 Only the "Help Scout mailbox" field is required. However, we recommend reviewing all three fields before proceeding.
The "Tag" field is extremely useful. Enter a word or phrase and it will appear on all messages from this eBay account, making them easy to identify, sort, and use in Workflows.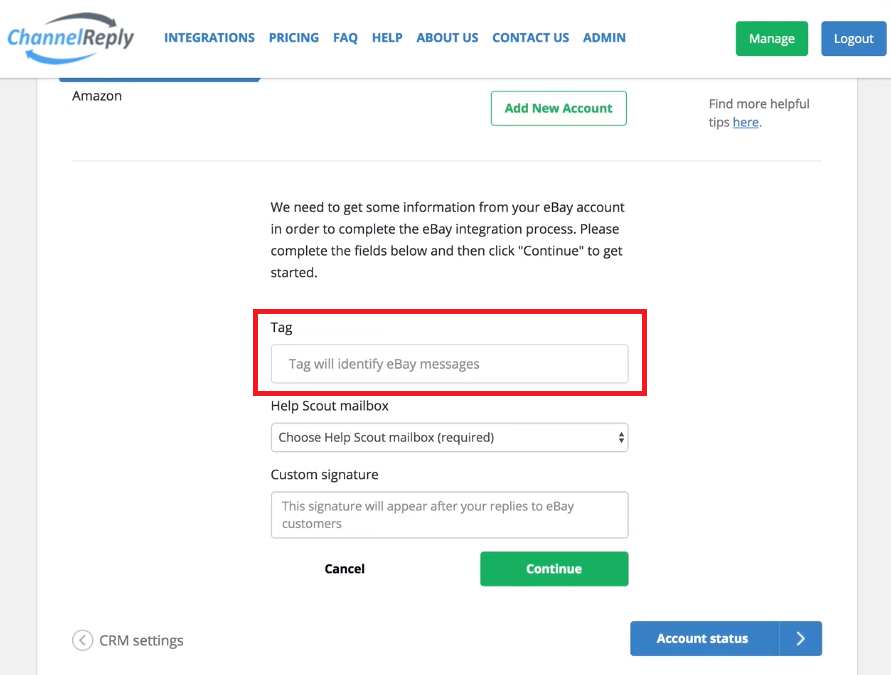 Note that words separated by spaces will appear as separate tags in Help Scout. You can use hyphens or underscores to create a single tag with more than one word in it.

Next, click "Choose Help Scout mailbox (required)." Select the mailbox where you'd like to receive messages from this eBay account.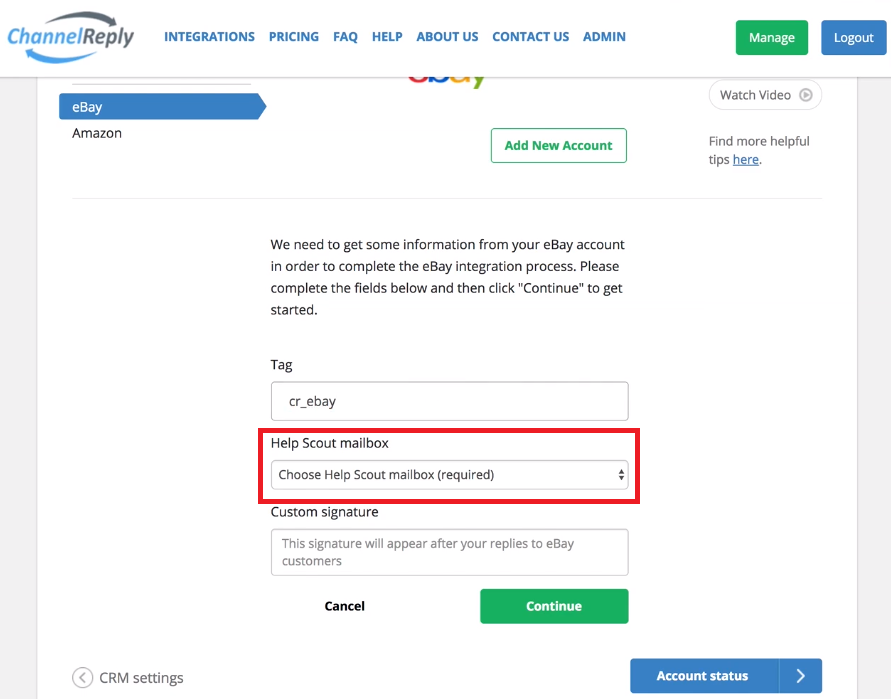 You can also enter a signature if you'd like. It will appear at the end of every message you send from Help Scout to customers of this eBay account. Just be aware that if you have another signature set up in Help Scout, customers will see both at the same time.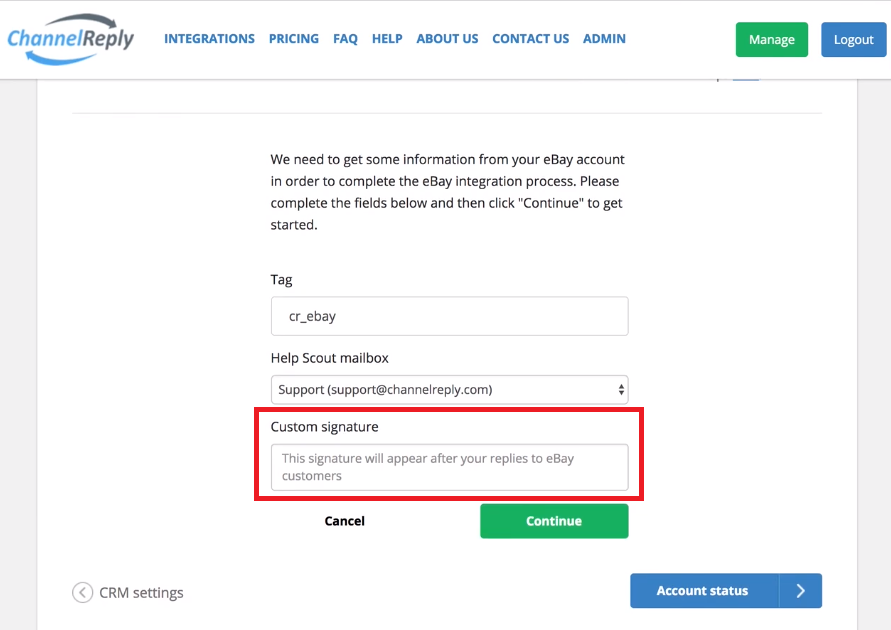 Once you're happy with your settings, click "Continue."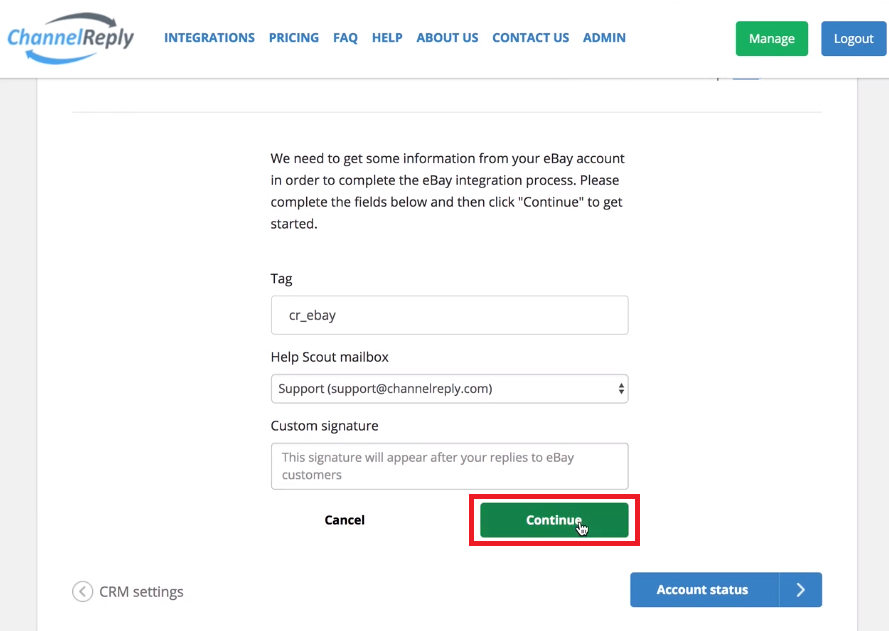 4. Connect & Review Your Account
You should be taken to an eBay.com sign-in page. Enter your details and click "Sign in" to continue. (Note: Signing in here will work even if you normally sell on a different eBay site, such as eBay.co.uk or eBay.de.)
The next page will explain what we're doing in a bit more detail and give you the terms of using ChannelReply with eBay. If you accept those terms and agree to our Terms & Conditions and Privacy Policy, then click "Agree" to continue.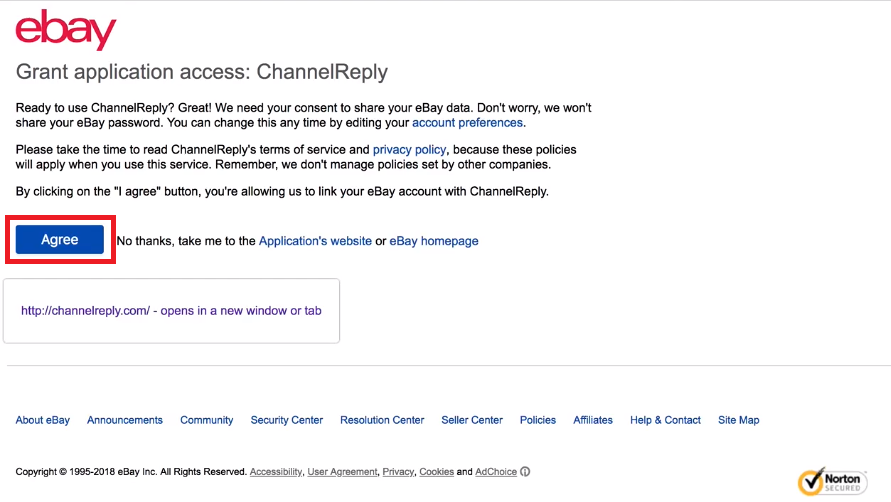 And you're done! You should see a message like the one shown below, stating that you have successfully linked your eBay account with ChannelReply.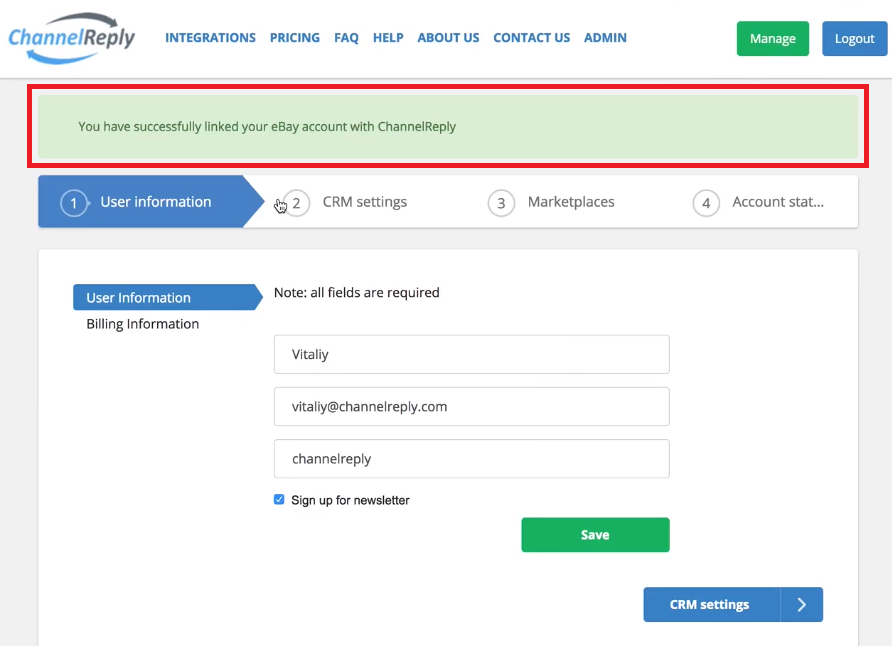 5. Enable Service
Congratulations on finishing the Help Scout–eBay integration! All that remains is to go to "Account status" and enable service.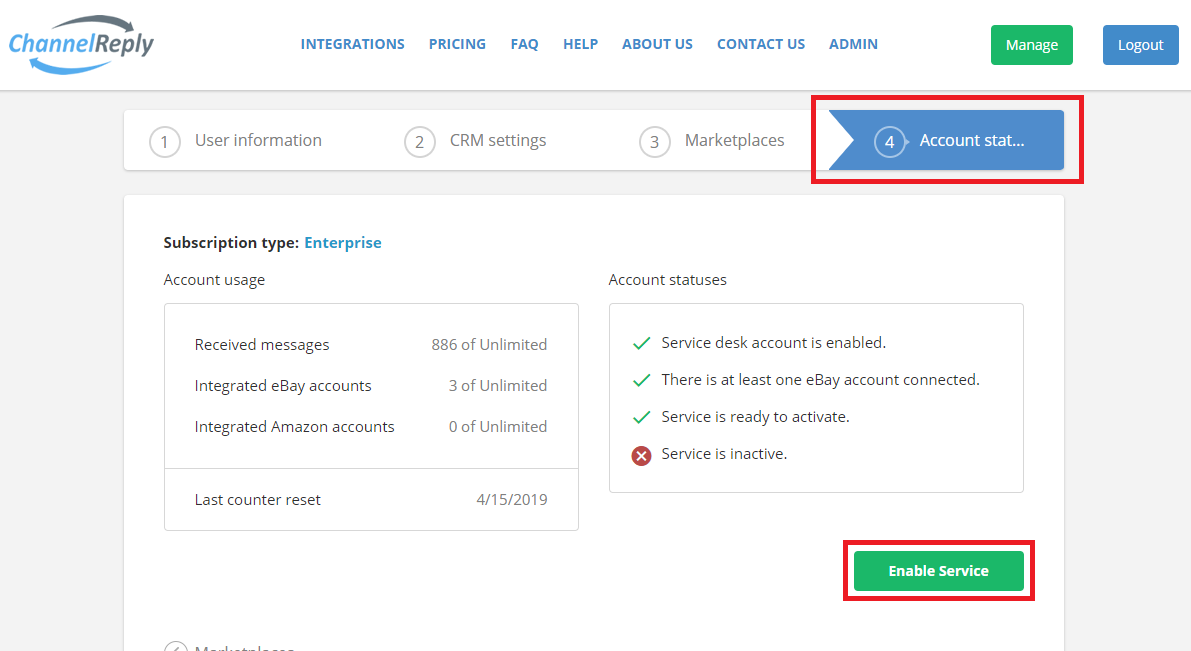 Once service is enabled, you'll receive all new buyer messages in Help Scout.
Optional: Review Your Account & Manage Advanced Options
Click on "Marketplaces" to review your connected account.

Click "Edit Account" if you wish to make any changes. Please note that you won't be able to edit your eBay username, but you can remove an account and add a new one at any time.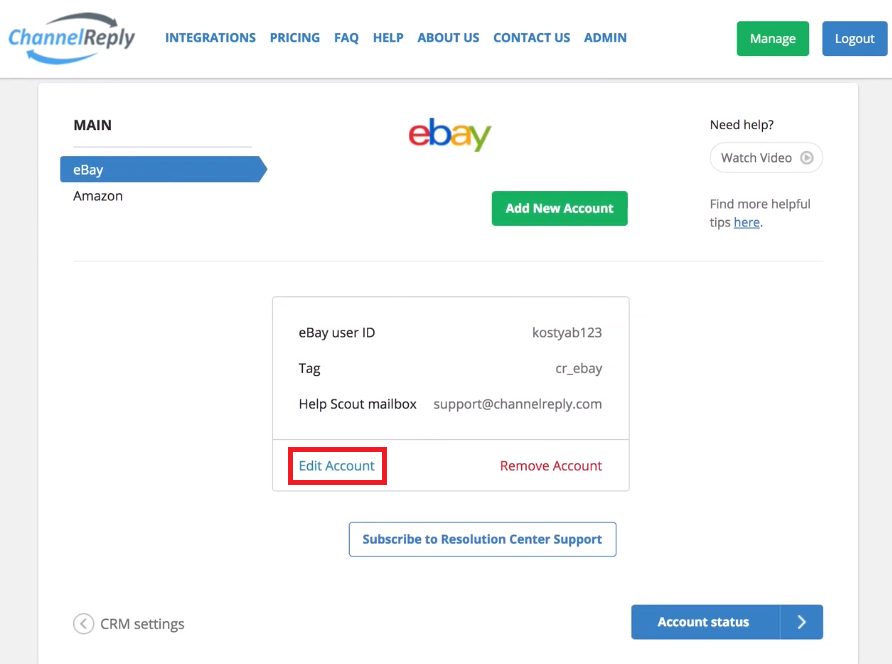 If you do click "Edit Account," you'll see an "Open advanced options" link. This will allow you to set up Custom Fields if you use Help Scout Plus or better. See Help Scout Custom Fields Setup to learn more.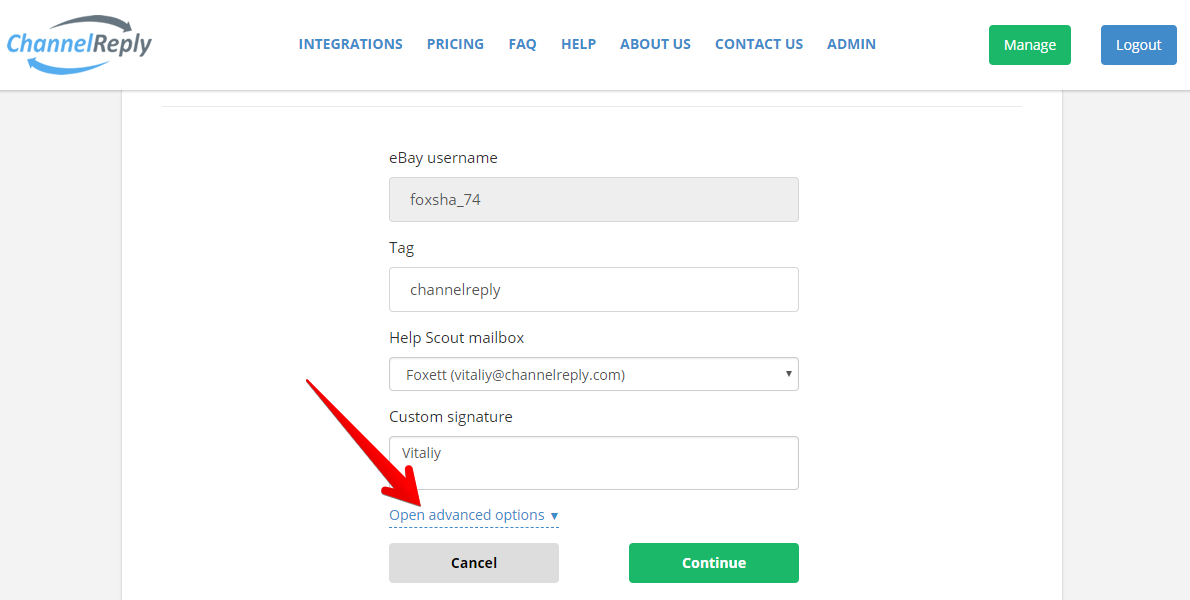 Just below your eBay account details, you should also see the option to subscribe to Resolution Center Support. Clicking on this button will enable ChannelReply-generated notifications about your eBay inquiries, cases, returns and refunds. You'll even be able to reply directly to inquiries just like normal buyer messages.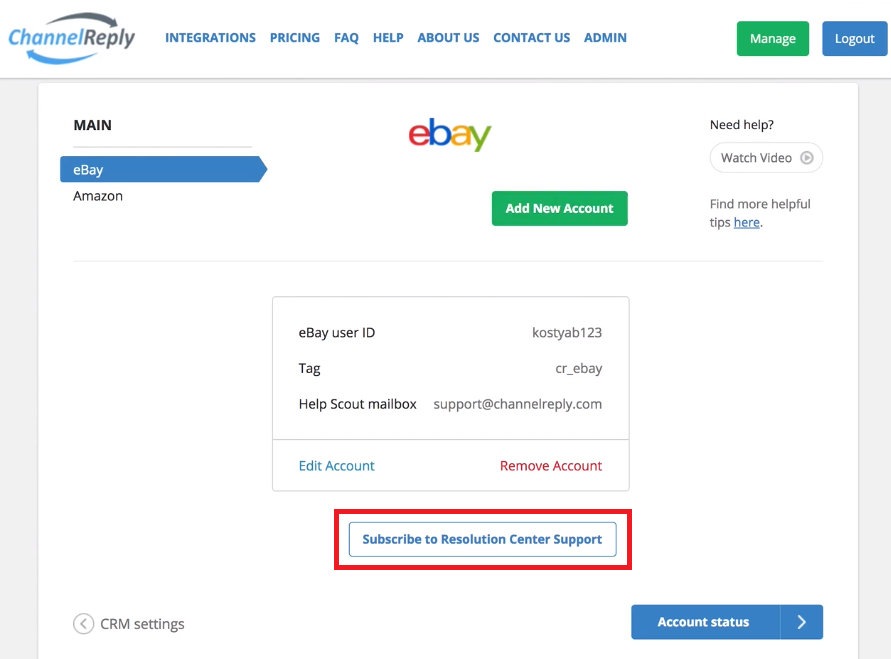 Once clicked, the button will change to "Unsubscribe from Resolution Center Support," as shown below. Click it again anytime to disable these notifications.

You can click "Add New Account" to connect more accounts if your service plan allows them. Simply follow these instructions from the beginning again to add your next account.
You can also click "Remove Account" to get rid of any connected account. If you ever change your eBay username, you'll need to remove the old version from ChannelReply and then add the renamed one as a new account.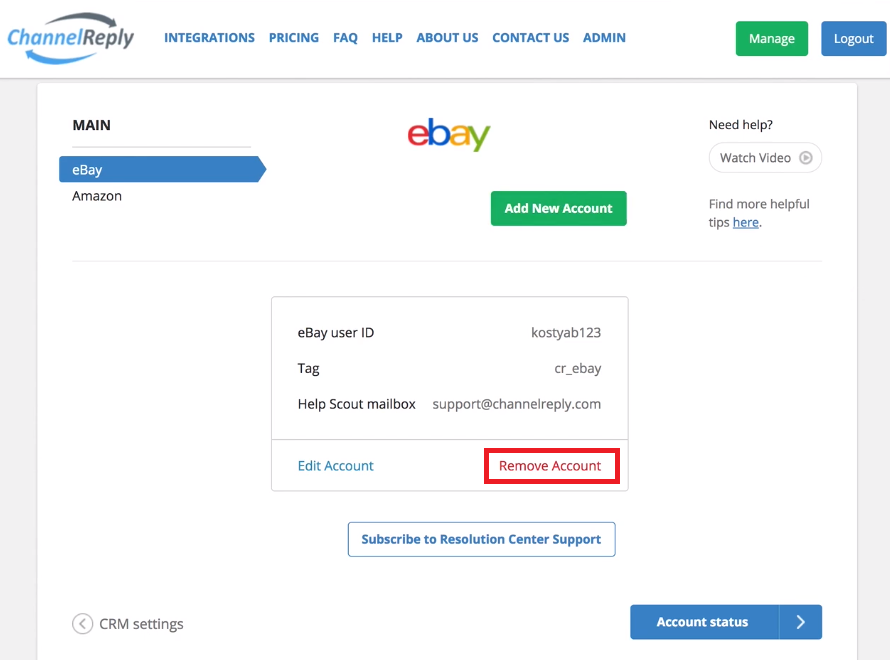 If you click "Remove Account," you will have a chance to change your mind. Click "Yes" to remove your account or "Cancel" to leave it connected.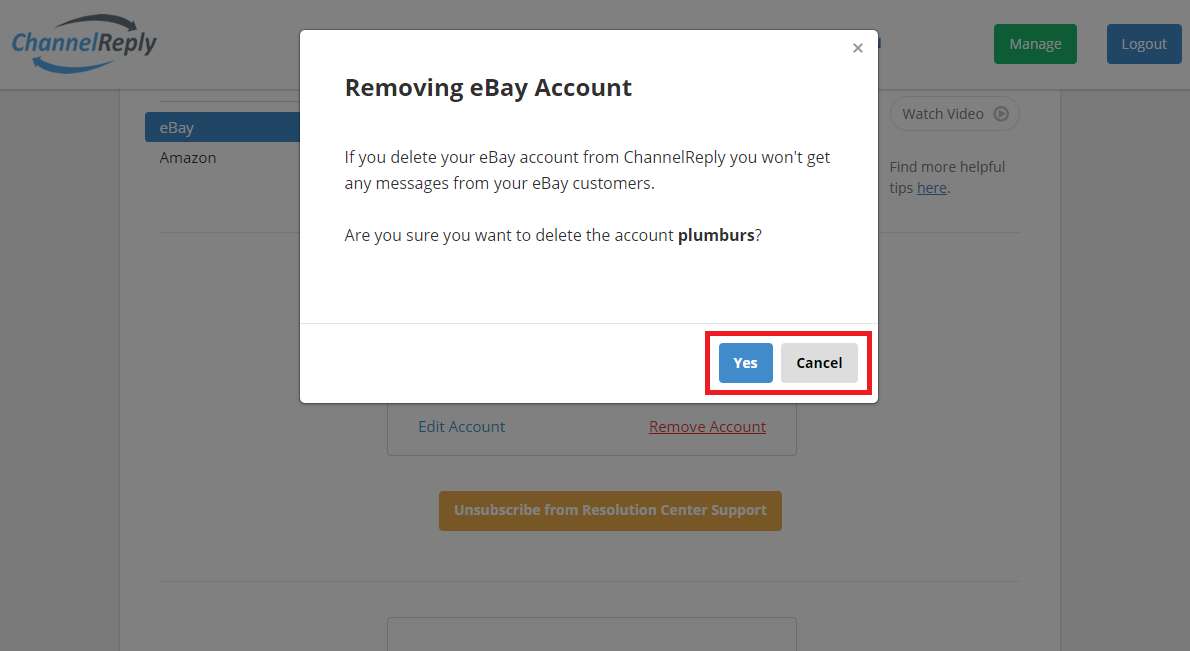 Note that ChannelReply only works with direct customer messages by default. You can opt in to Resolution Center Support as described above. Finally, you can import all one-way eBay emails by following these instructions. Those emails will not count toward your monthly message limit.
Stuck? Have questions? Contact us and we'll get back to you ASAP!