One Zendesk trigger can cause a lot of trouble for ChannelReply users: the "Notify requester of comment update" trigger. It's most likely the problem if you're experiencing one of the following issues:
Every time you reply to an Amazon customer from Zendesk, they get two or more copies of the message.
When you try to send a message to eBay from Zendesk, you get a message saying eBay can't deliver the email.
Why It Happens
Don't care why? Jump straight to how to solve it.
ChannelReply and Zendesk Sending Duplicate Emails to Amazon
If your Amazon customers are getting more than one copy of each reply you send from Zendesk, it's because the "Notify requester of comment update" trigger is causing Zendesk to email the customer directly whenever you reply. At the same time, ChannelReply is sending your original reply through the Amazon API.
Amazon often only allows the ChannelReply version to get through. But in some cases, it accepts both emails. This causes your customer to get duplicate responses.
ChannelReply and Zendesk Can't Deliver a Message to eBay
If you get a message saying Zendesk can't deliver your emails to eBay, in most cases, your responses are actually being delivered to eBay just fine. ChannelReply is delivering each response to your eBay customers directly through the eBay API.
However, the "Notify requester of comment update" trigger is generating a duplicate of each email and trying to send it straight from Zendesk, rather than through ChannelReply. This causes the delivery of the duplicate to fail. While this doesn't create any problems for customer, the constant notifications can be an annoyance.
How to Solve It
In Zendesk, navigate to the admin page by clicking the gear icon on the left-hand menu.
Select "Triggers" under "BUSINESS RULES."
Choose "Notify requester of comment update" from your list of triggers.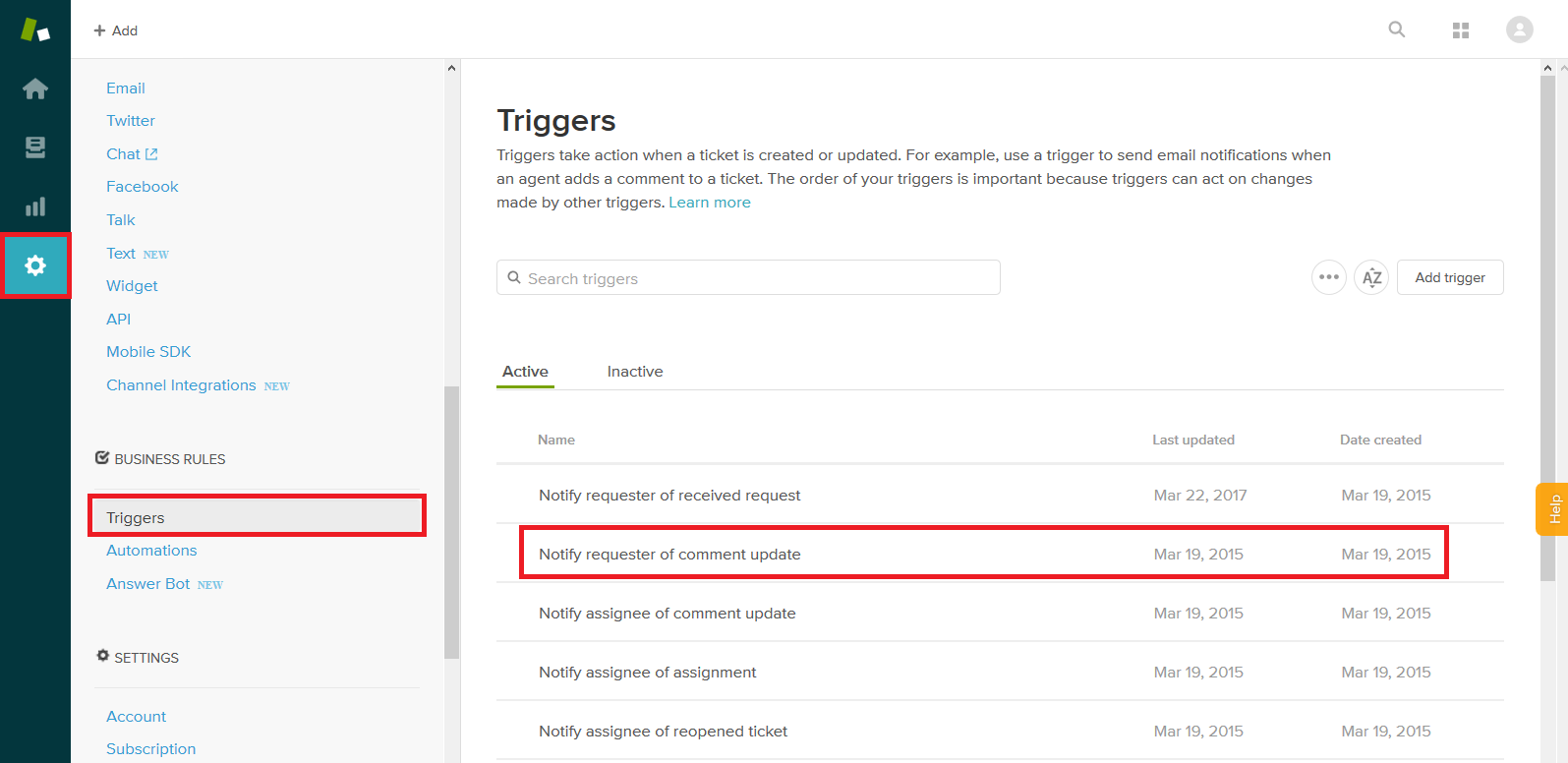 Add the following ALL condition to the trigger: [Ticket: Tags] [Contains none of the following] [(tags of all marketplaces registered in ChannelReply)]
How to Add the ALL Condition to Your Trigger
If the last step above sounded like gibberish, here's a more detailed breakdown:
Under "Meet ALL of the following conditions," click "Add condition."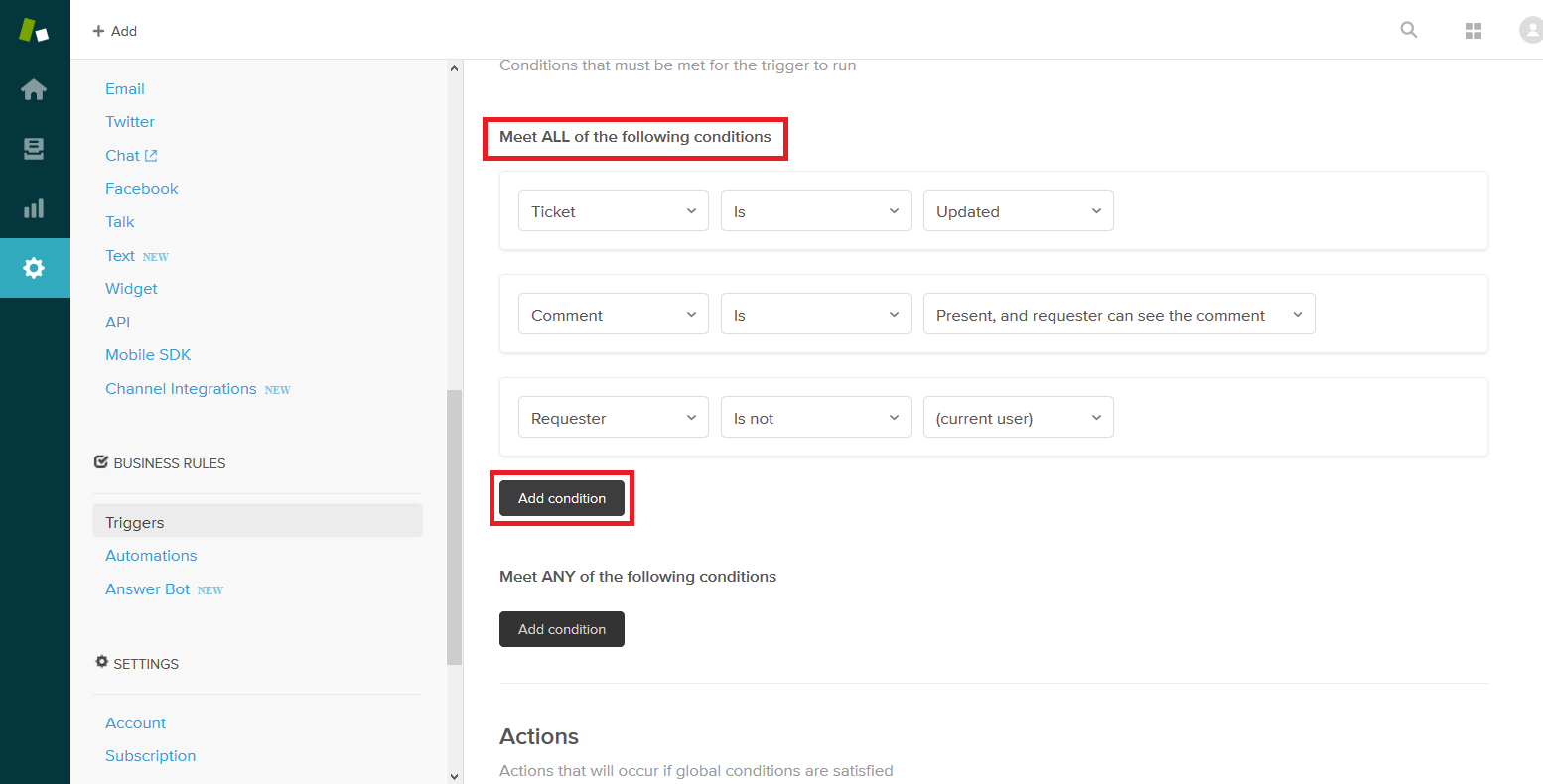 In the first dropdown, select "Tags" from the "Ticket" list.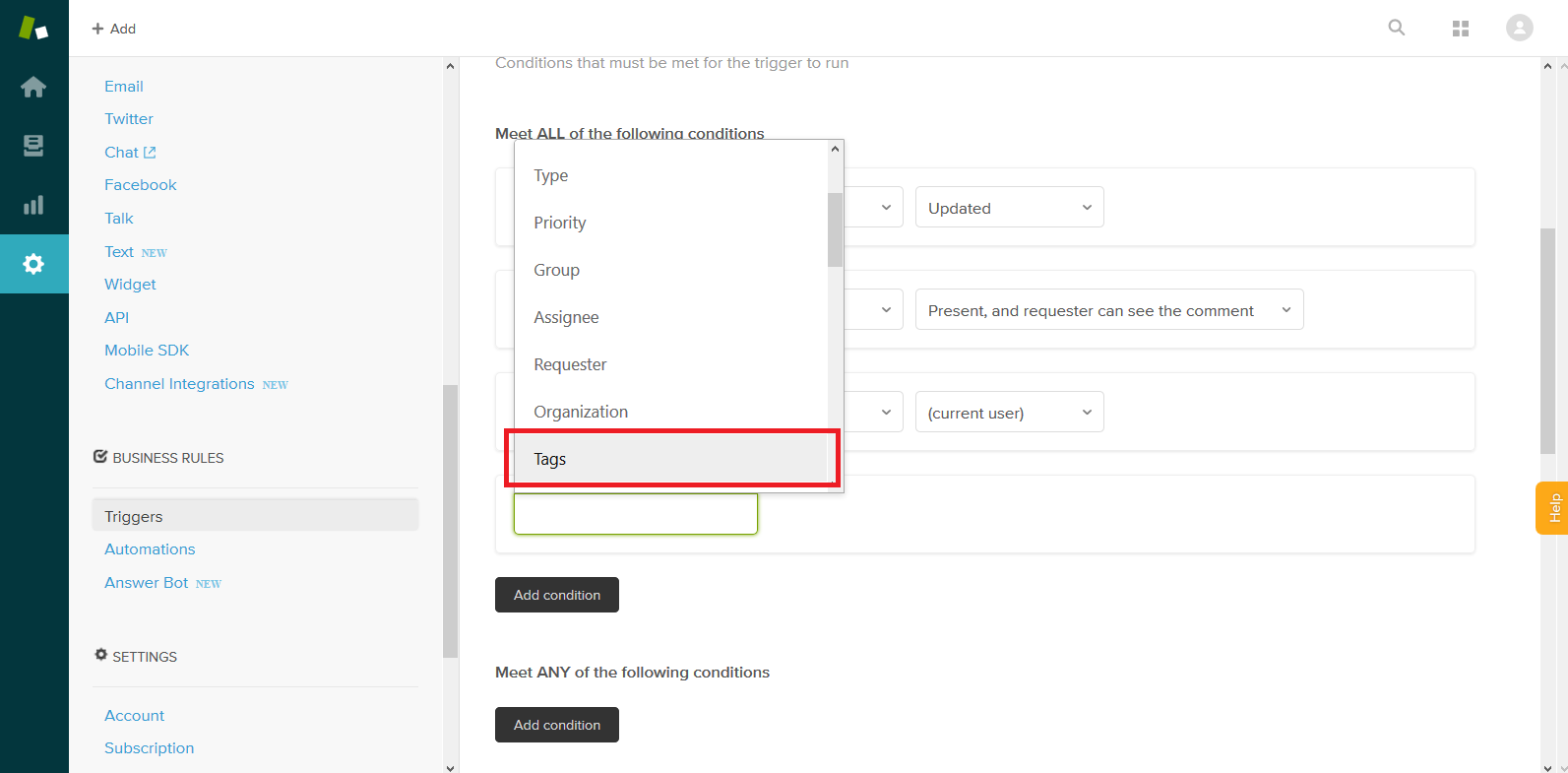 In the second, select "Contains none of the following."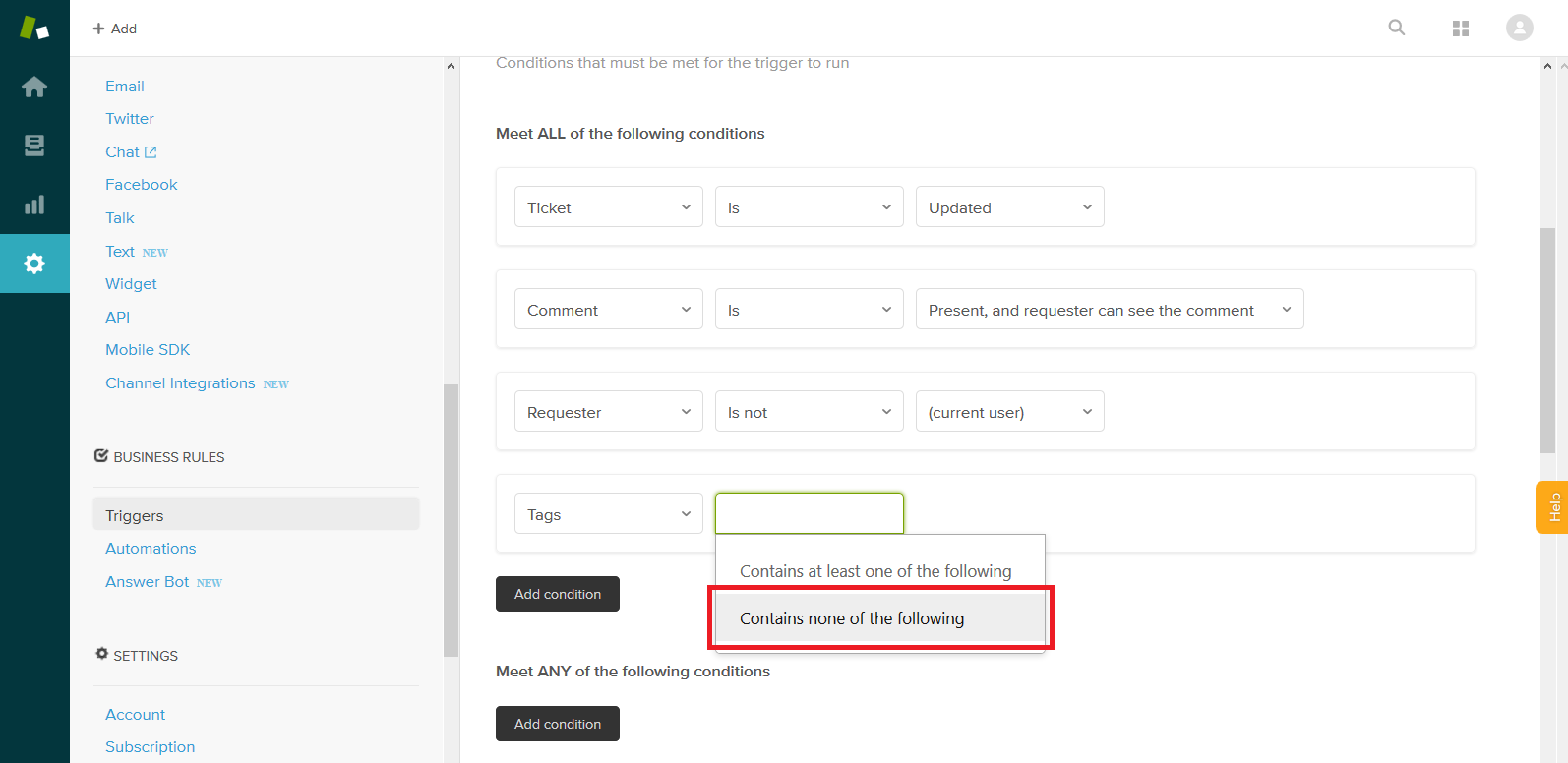 Finally, enter each of the tags you have associated with a marketplace account connected through ChannelReply.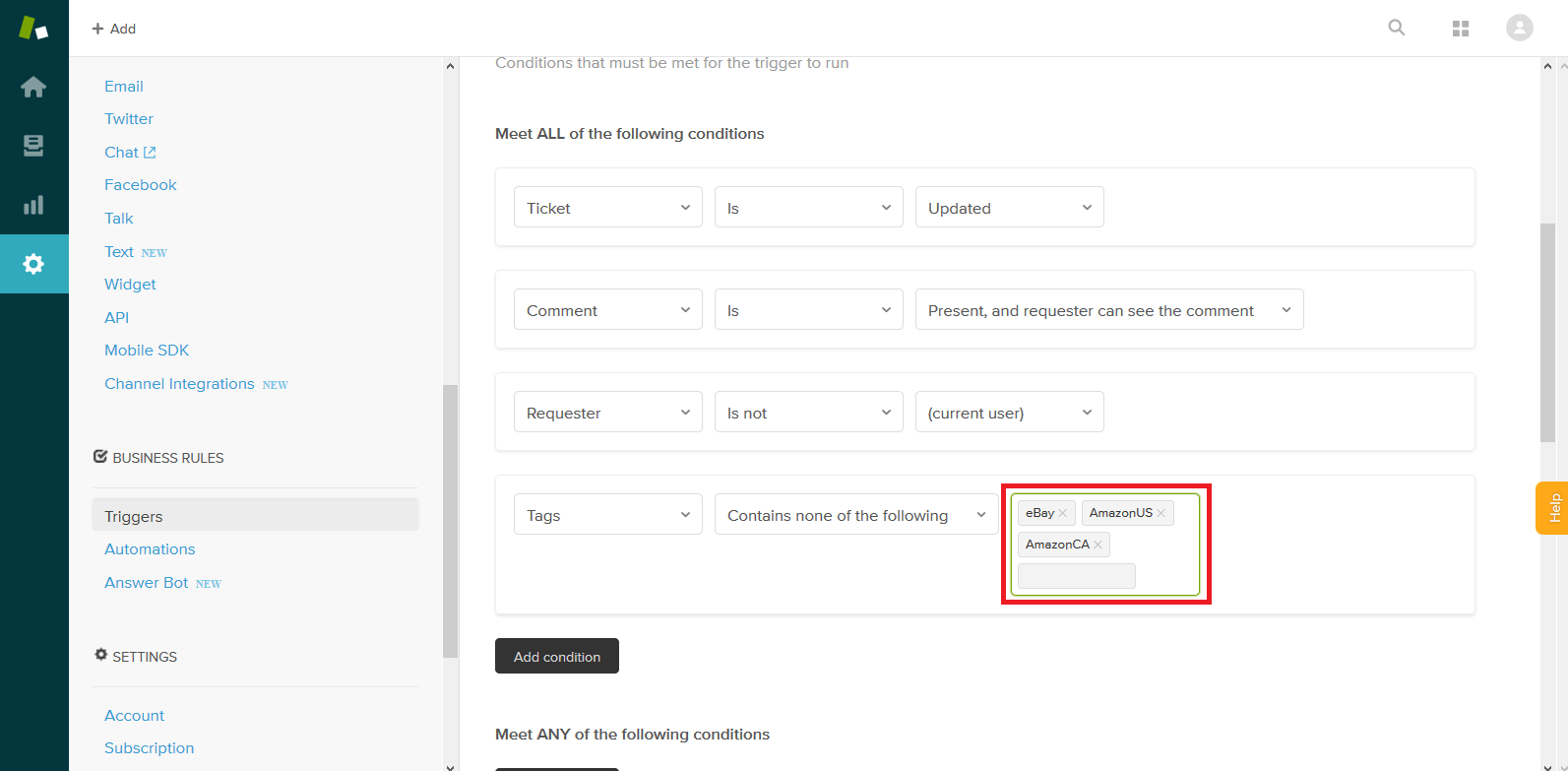 Where Do I Find My Tags?
Can't remember which tags you chose? You can find them by logging in to your ChannelReply account and navigating to Marketplaces.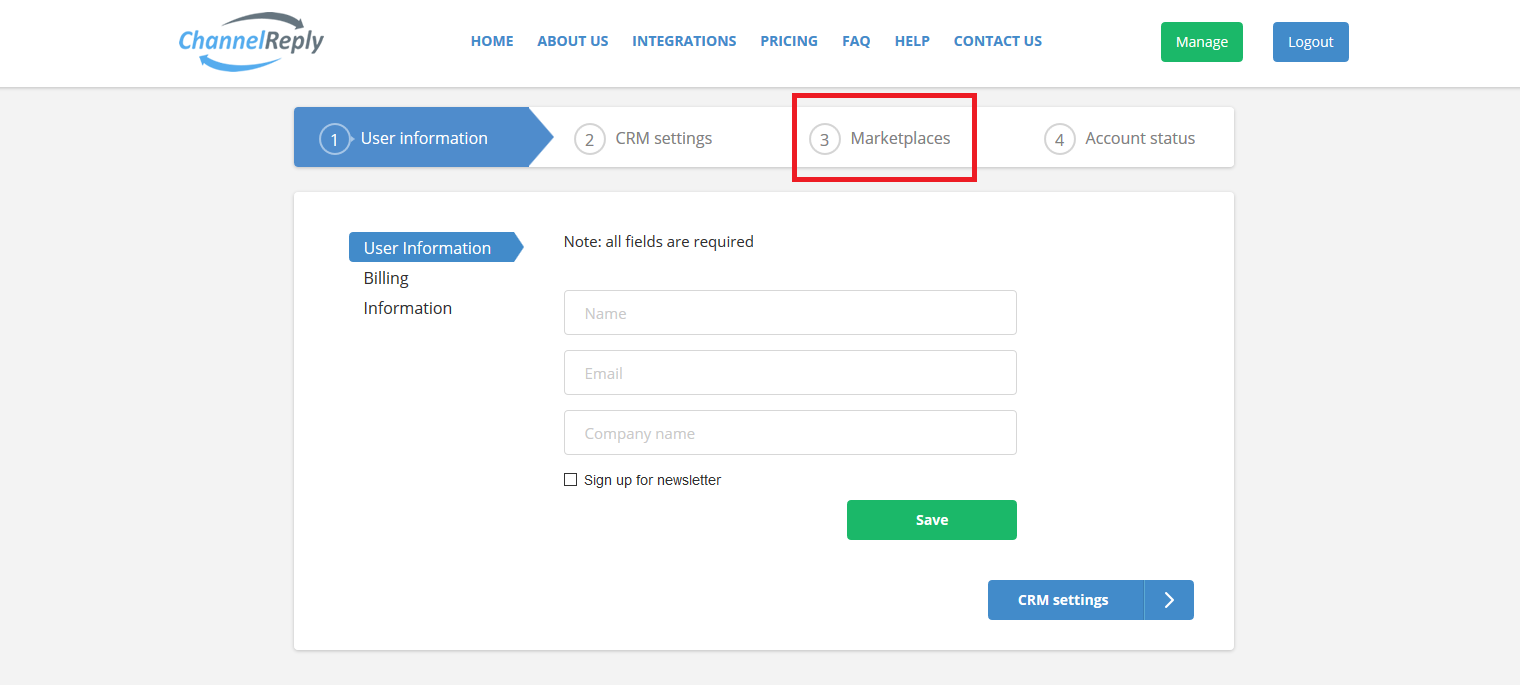 Select eBay or Amazon from the main menu on the left, then click "Connected eBay accounts" or "Connected accounts," respectively. There you'll be able to view your tags for that marketplace.

Need More Help?
Not finding the answers to your questions on this page? See our FAQ for answers to common questions or our Help page for more troubleshooting instructions. Alternatively, contact us for assistance and we'll get back to you ASAP.