We're proud to announce our official partnership with Amazon and Zendesk! Zendesk – Powered by ChannelReply is now available on the Amazon Seller Central app store.
All Your Amazon Seller Central Messages & Order Info in Zendesk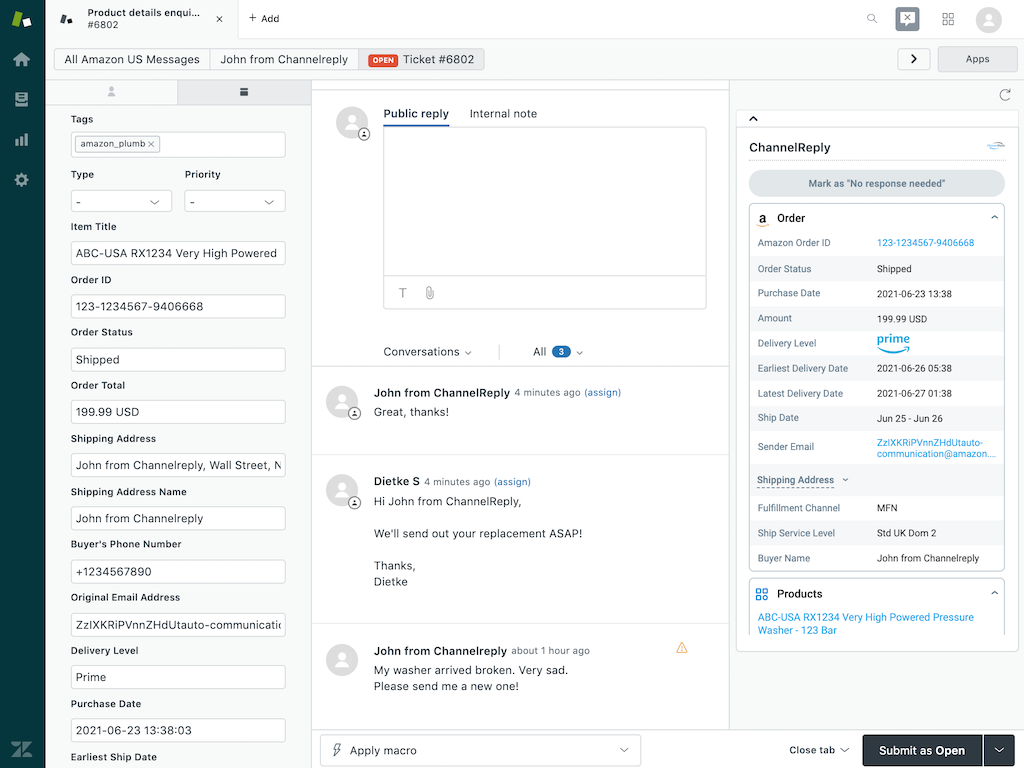 Zendesk – Powered by ChannelReply lets you answer Amazon customer messages directly from Zendesk. Every message comes with tons of info on the buyer and their Amazon order, including what they purchased, how much they paid, the order ID and more.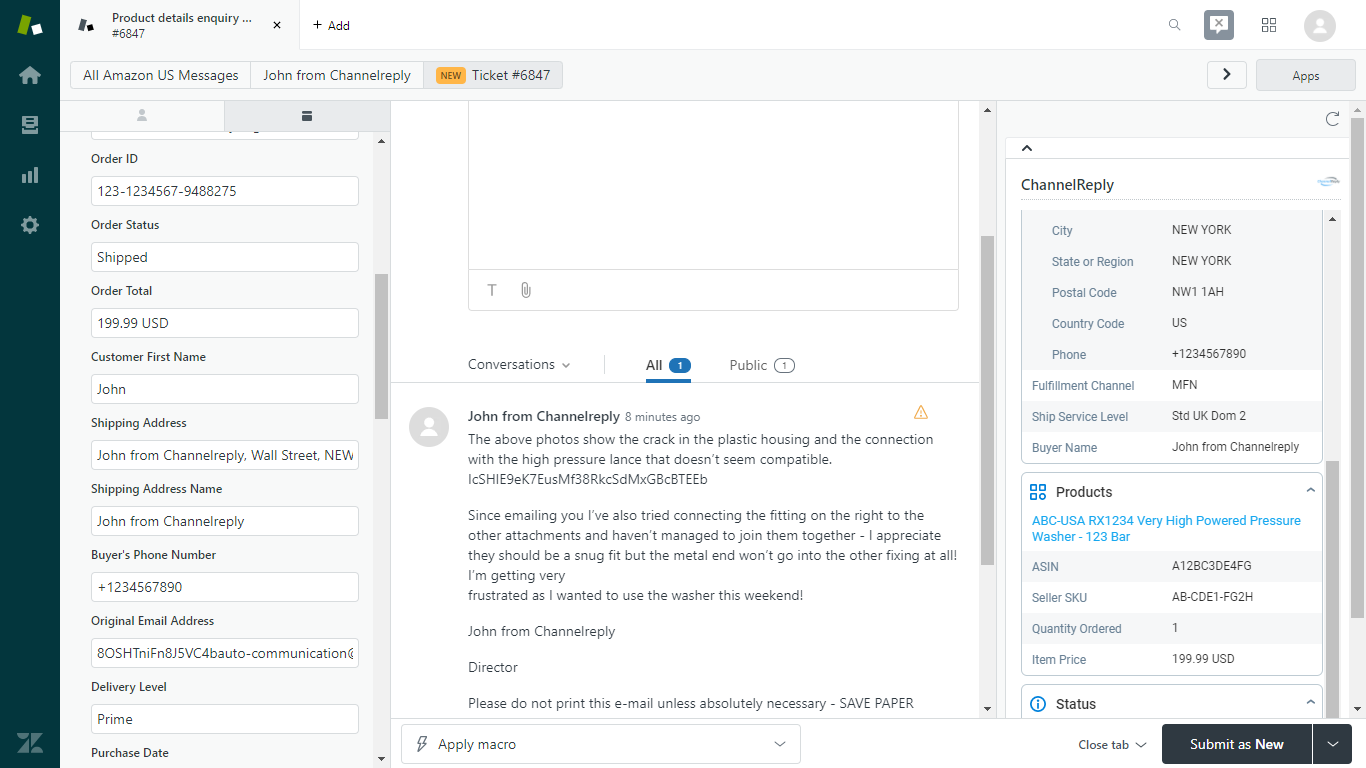 Messages thread together for simple, painless messaging. Page-long links and boilerplate text are stripped away. You can finally focus on the conversation instead of the clutter!
To make Amazon support even faster, you'll be able to:
Connect unlimited Amazon accounts and marketplaces and support them all on one screen
Send personalized replies to customers in two clicks with Amazon data in Zendesk macros
Easily sort tickets by brand, account and location with tags
Automate busywork with Zendesk rules
Mark messages as "no response needed" without logging in to Seller Central
View data on up to 10 previous orders from any return customer
… and more, of course! Zip through your support queue every day and get back to doing what you rock at—selling stuff on Amazon! Start your free trial here.
Included: Up to 20% off Zendesk and ChannelReply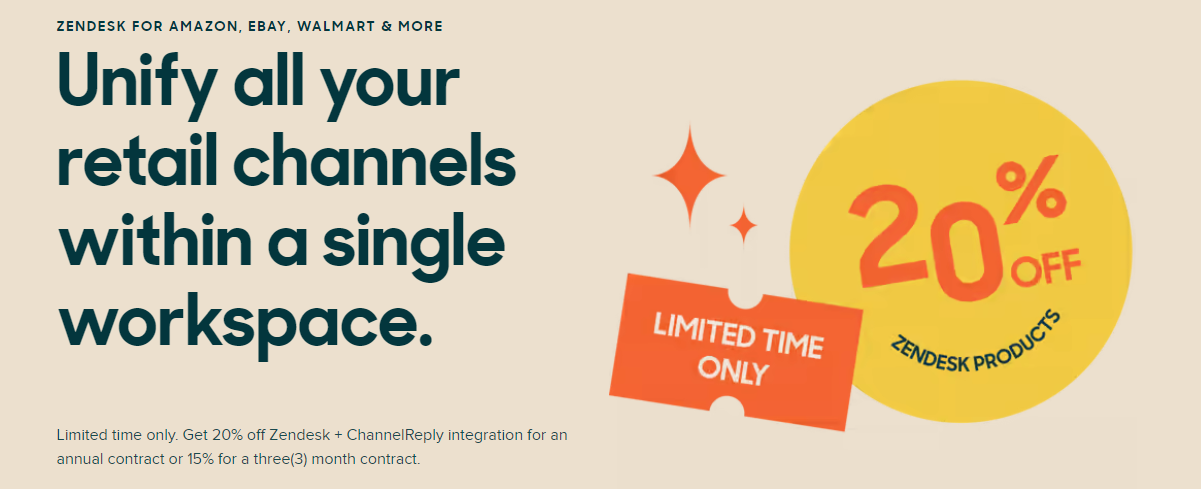 If you do not yet have Zendesk or ChannelReply, you can get up to 20% off both of them!
New customers will receive 15% off monthly plans for three months or 20% off yearly plans for the first year of service. The same discount applies to both Zendesk and ChannelReply!
Note that you must be a new customer, and you must integrate Zendesk with ChannelReply to redeem both discounts.
What Is Zendesk – Powered by ChannelReply? Is It Different from ChannelReply?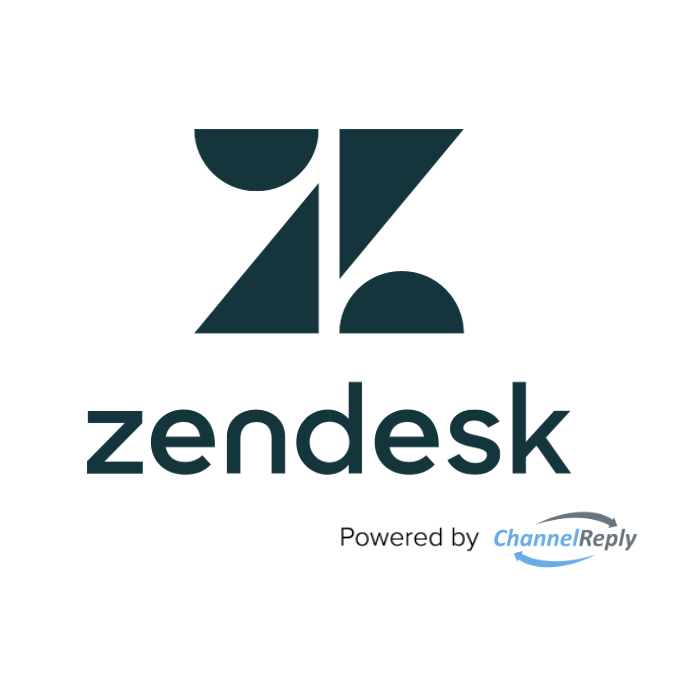 Zendesk – Powered by ChannelReply is a partnership between Zendesk, Amazon, and ChannelReply. You will get the full normal features of ChannelReply and Zendesk, but with the following upgrades:
Extra-fast setup for integrating with Zendesk
Discounts on Zendesk and ChannelReply
Extra support, with both ChannelReply and Zendesk working together to give you the best experience possible
In short, it's ChannelReply and Zendesk, just faster, easier, and more affordable than ever before!
The only catch is that you must integrate Zendesk if you create an account with this offer. (Try a normal ChannelReply account if you're more interested in integrating a different helpdesk.)
You don't need Zendesk – Powered by ChannelReply if you already have Zendesk and ChannelReply. But if you want to try out Zendesk and ChannelReply, it's the perfect solution.

Get started in two easy steps:
For detailed step-by-step instructions complete with screenshots, see "How to Integrate Zendesk and Get Up to 20% Off."
We look forward to making Amazon Seller Central support a whole lot easier for your business!