This article will guide you through the Freshdesk integration process step by step. Watch the video below or read the instructions that follow, and you'll connect your Freshdesk account with ChannelReply in no time.
Notes: Click on any image to see the full-sized screenshot. Article last updated 9/5/2019; video last updated 7/6/2017.
1. Sign In
Click "Sign In" to sign in to your ChannelReply account. If you don't yet have an account, click "Start Free 14-Day Trial" to try out the software—no payment info required!

Next, you'll need to sign in to Freshdesk. Make sure the agent account you use has no restrictions on viewing or replying to tickets.
2. Go to "CRM Settings" and Select Freshdesk
You will have a chance to enter your basic user information, but you can skip this for now if you want. Click "CRM settings" and choose Freshdesk as your service desk.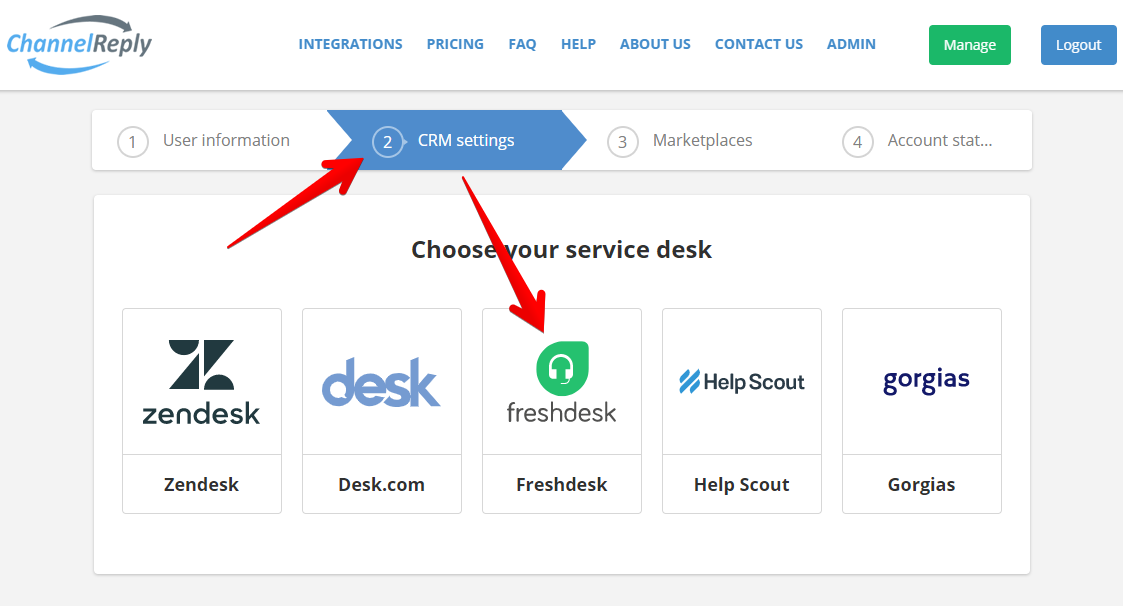 3. Enter Your Freshdesk Info
To connect your Freshdesk account to ChannelReply, we'll need some details from your account, starting with your Freshdesk domain.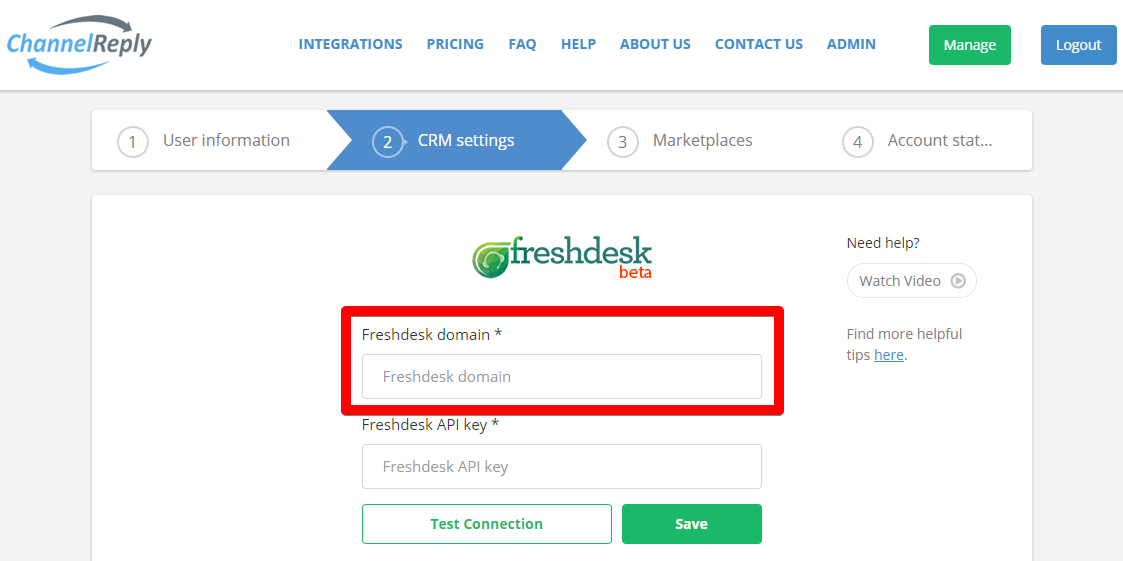 Domain
Your Freshdesk domain can be found between https:// and .freshdesk.com in your Freshdesk support URL. In the example shown below, "channelreply" is the Freshdesk domain.

Therefore, "channelreply" is all we'd enter.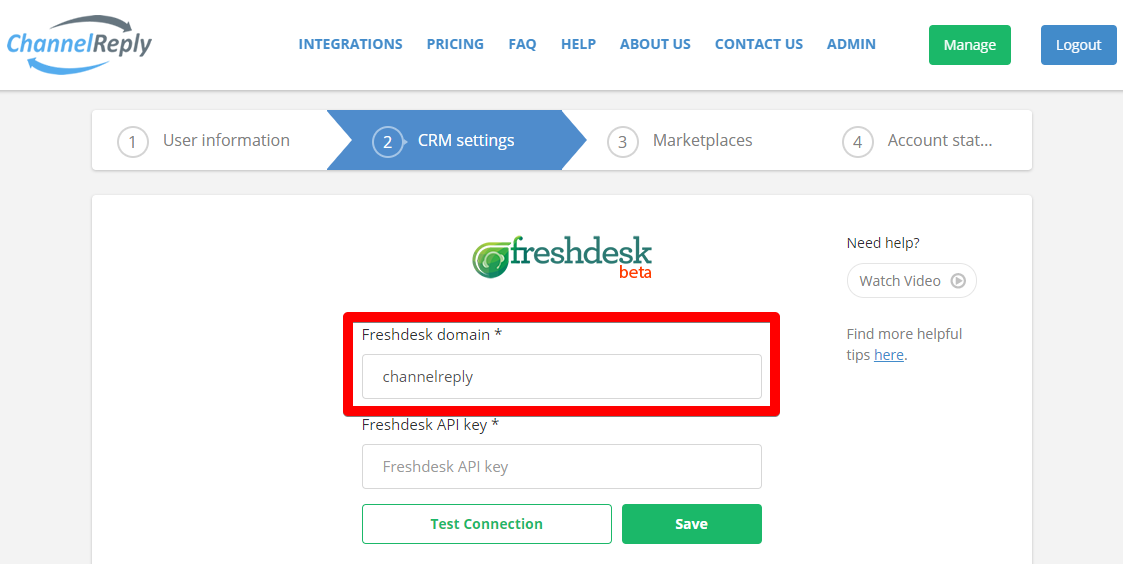 If you don't see .freshdesk.com in your URL, it means you have a custom domain. To find your original Freshdesk domain, first go to Admin > Helpdesk.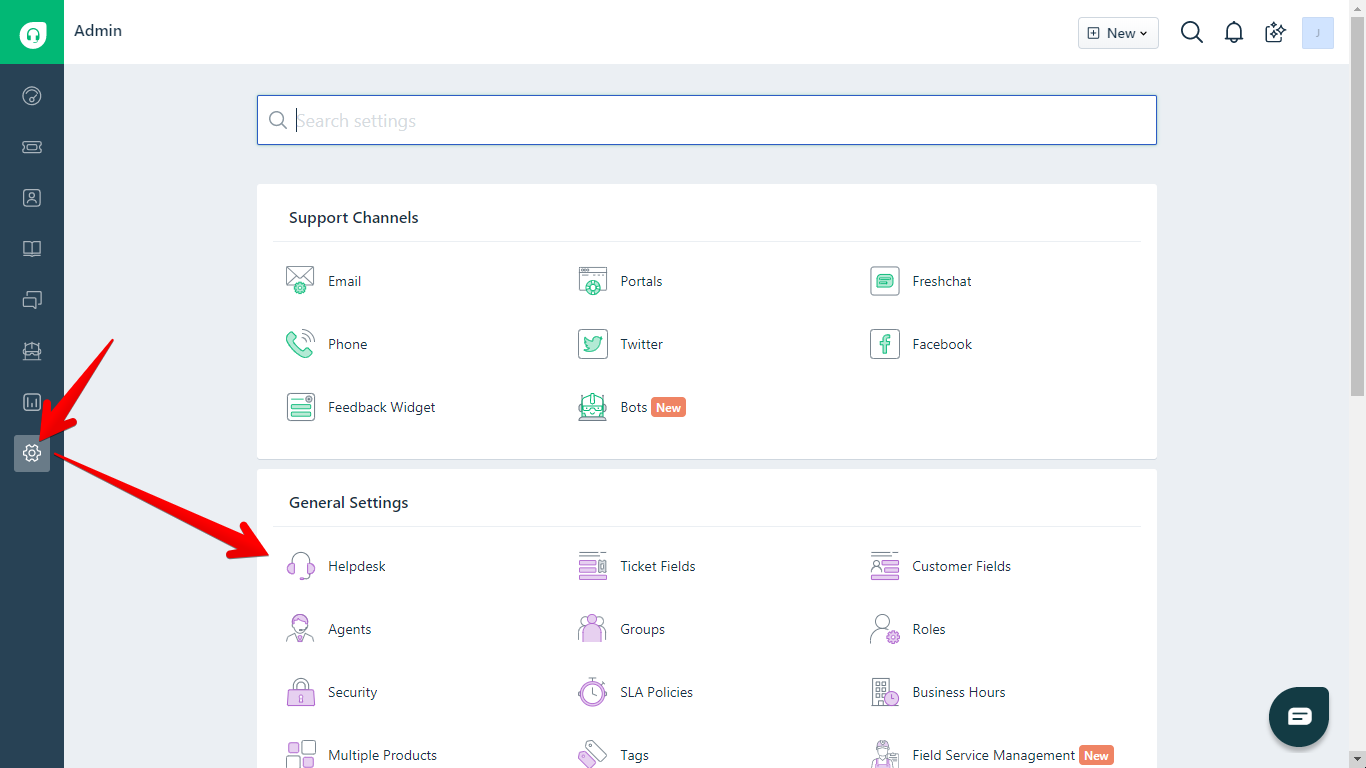 Click "Edit Portal" near the bottom of the screen.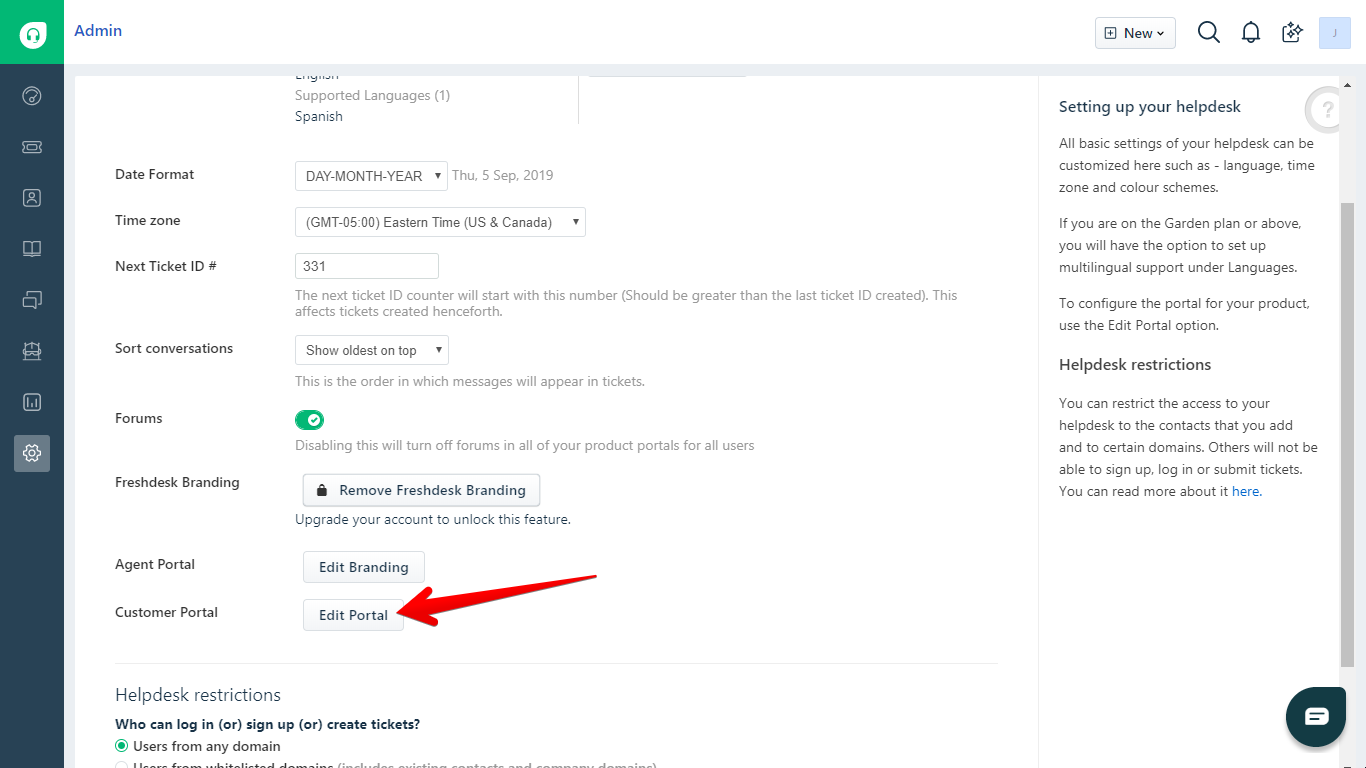 In the Portal URL section, you'll see instructions for pointing a custom domain to your .freshdesk.com domain. Copy the part before the first period in the .freshdesk.com domain. In the example below, we'd once again just copy "channelreply."

Return to ChannelReply and enter the domain in the Freshdesk domain field.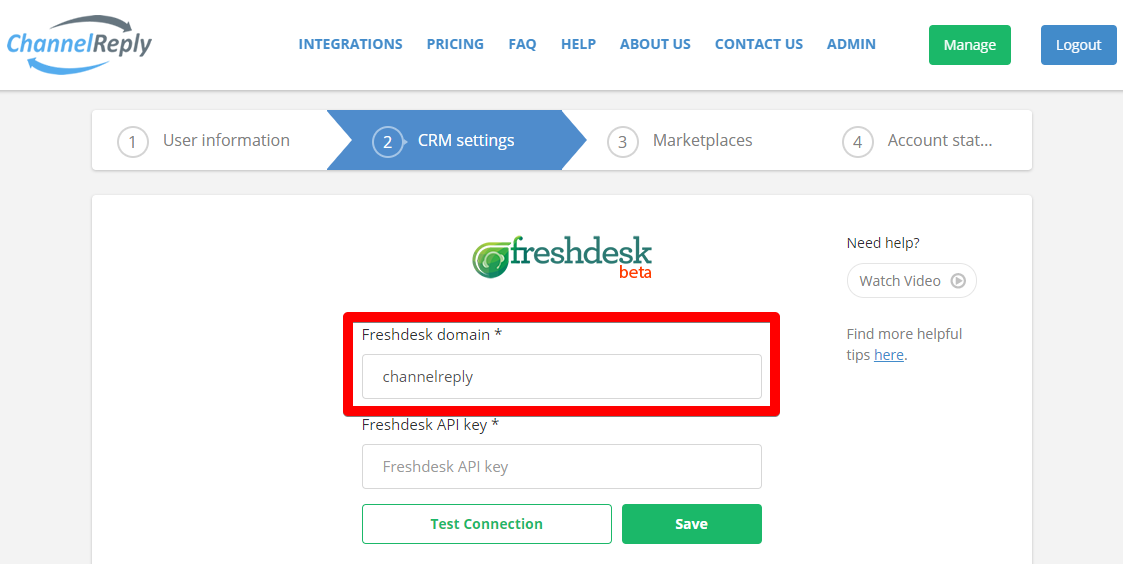 API Key
Next up is entering your Freshdesk API key. From your Freshdesk admin page, you can find this by clicking on your profile picture in the upper right and selecting "Profile settings" from the drop-down menu.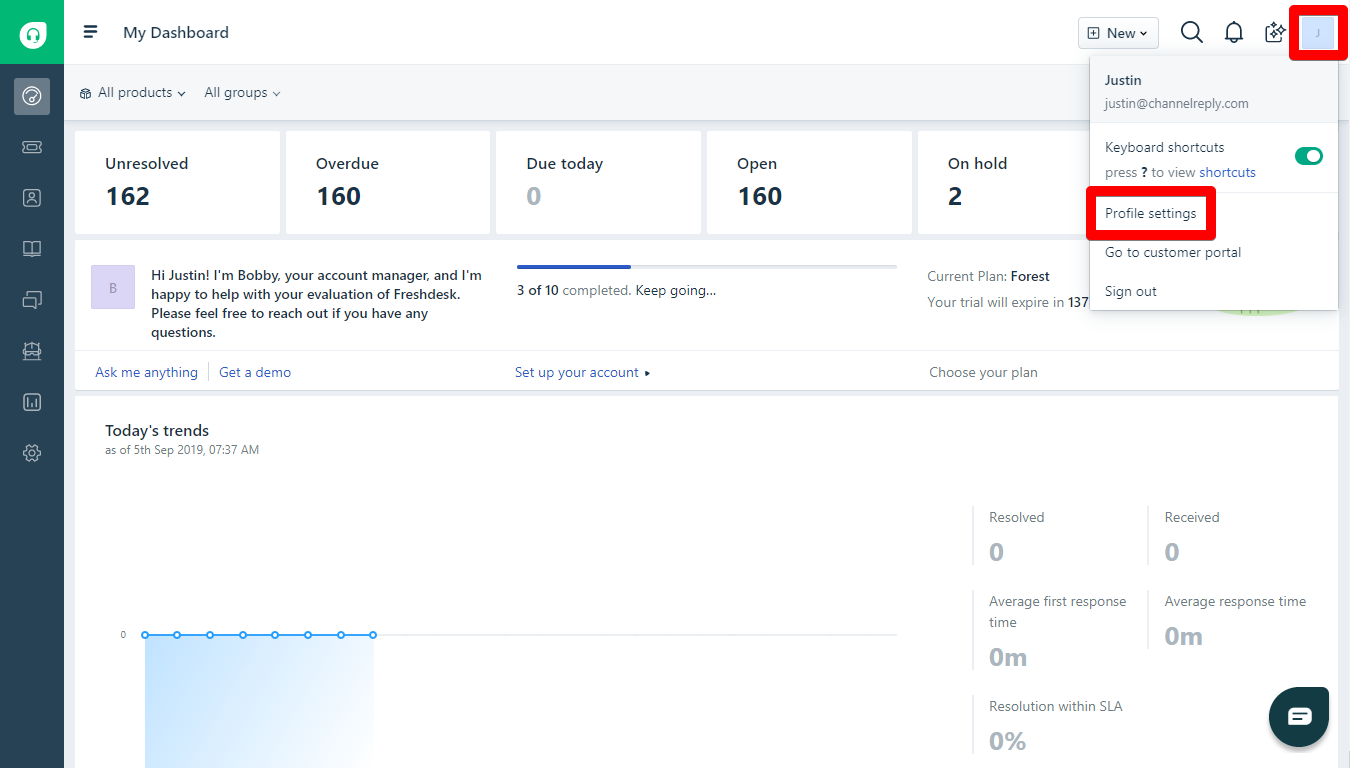 You will find your API key in the lower right. Copy it before returning to ChannelReply.
Paste the key into the "Freshdesk API key" field. Then click "Test Connection."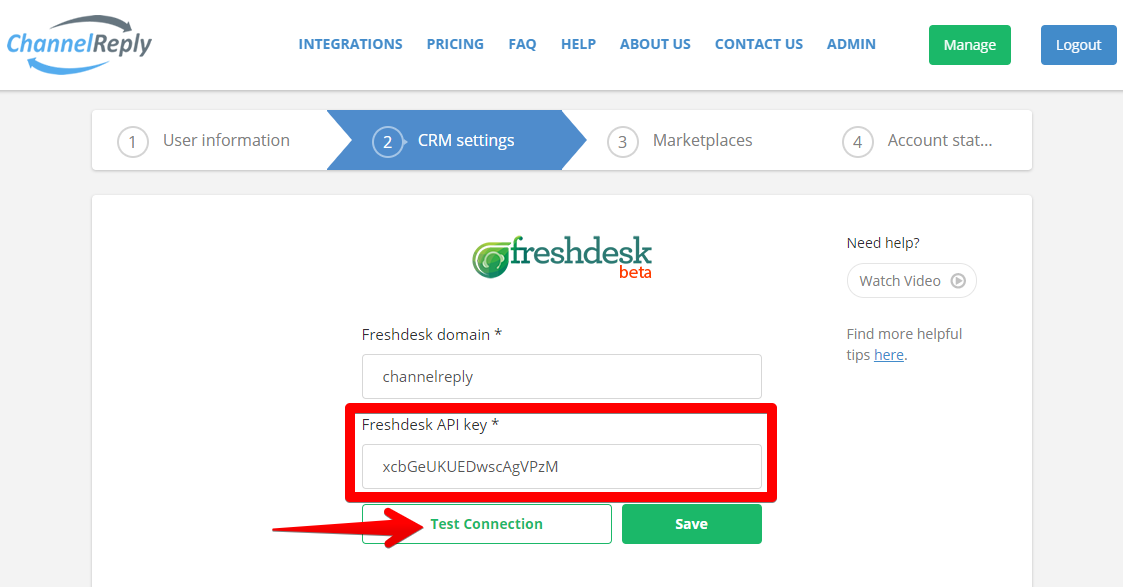 A success notification should pop up. Click "OK" to close it.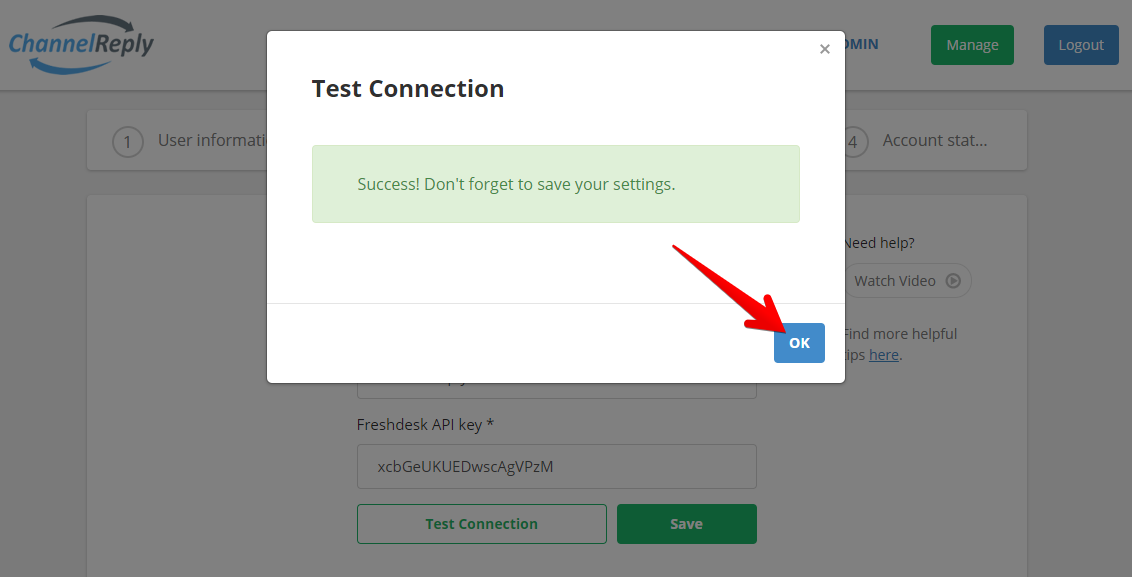 Click "Save."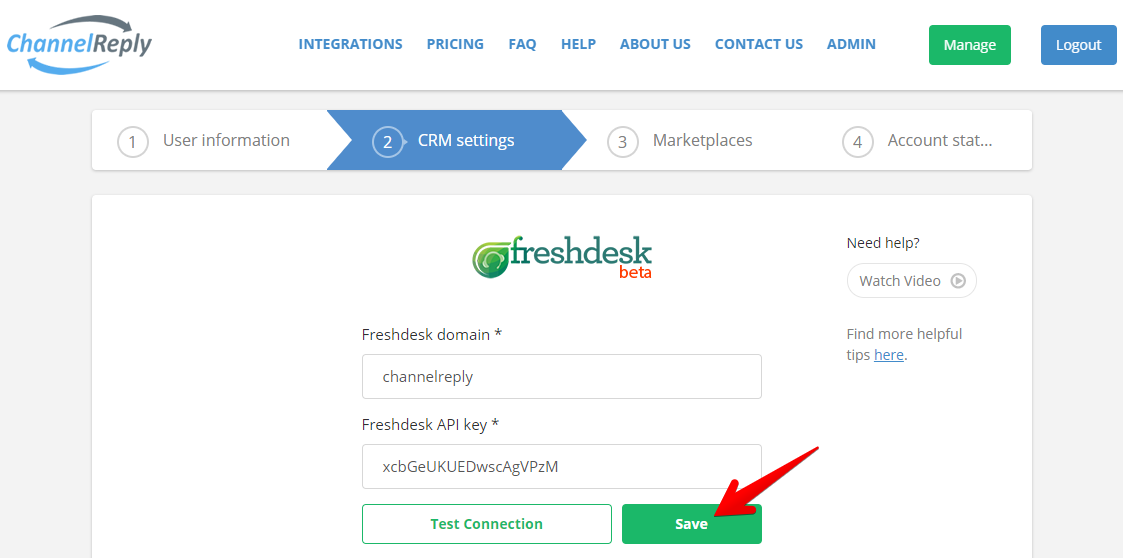 If you see another straightforward success notification, just click "OK" to close this one too.
4. Install the ChannelReply Application on Freshdesk
Return to Freshdesk. If necessary, copy your API key again.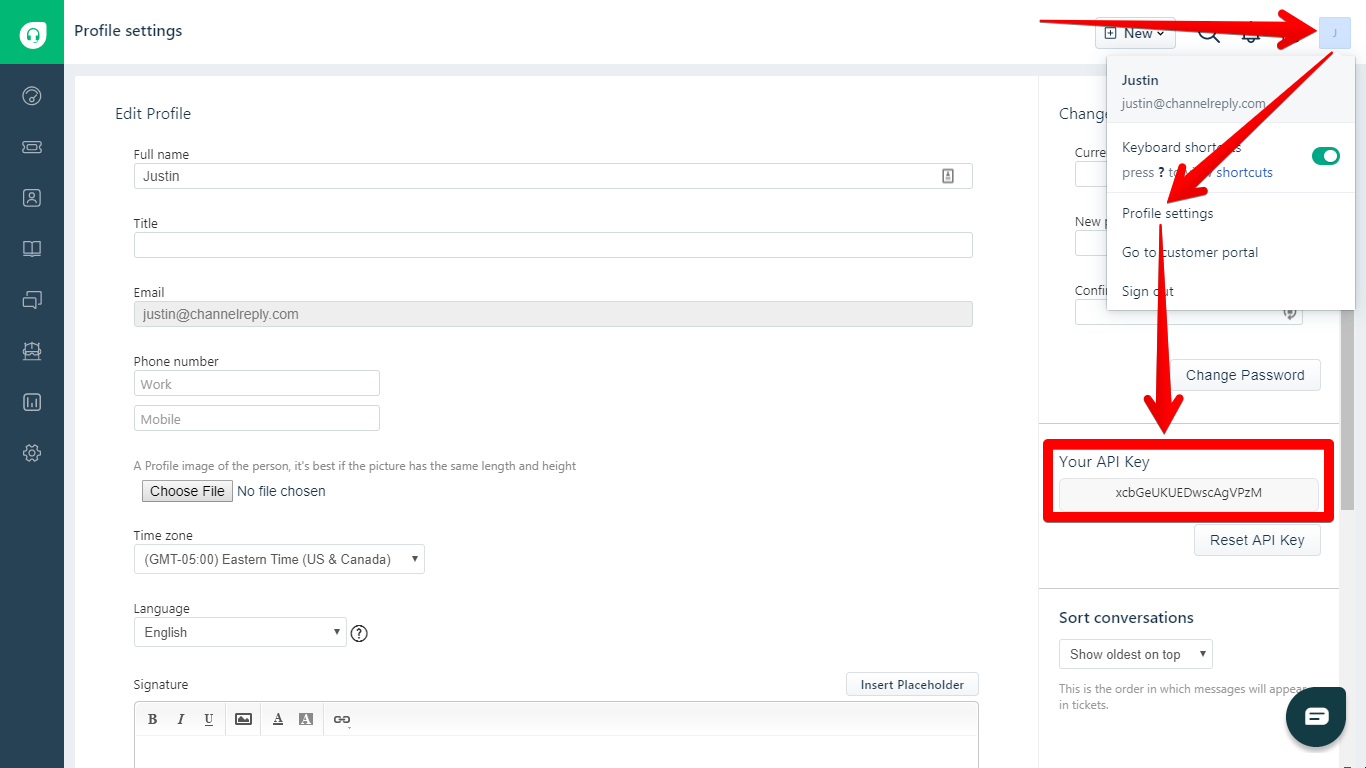 Now go to the Admin tab. Scroll down to "Helpdesk Productivity" and select "Apps."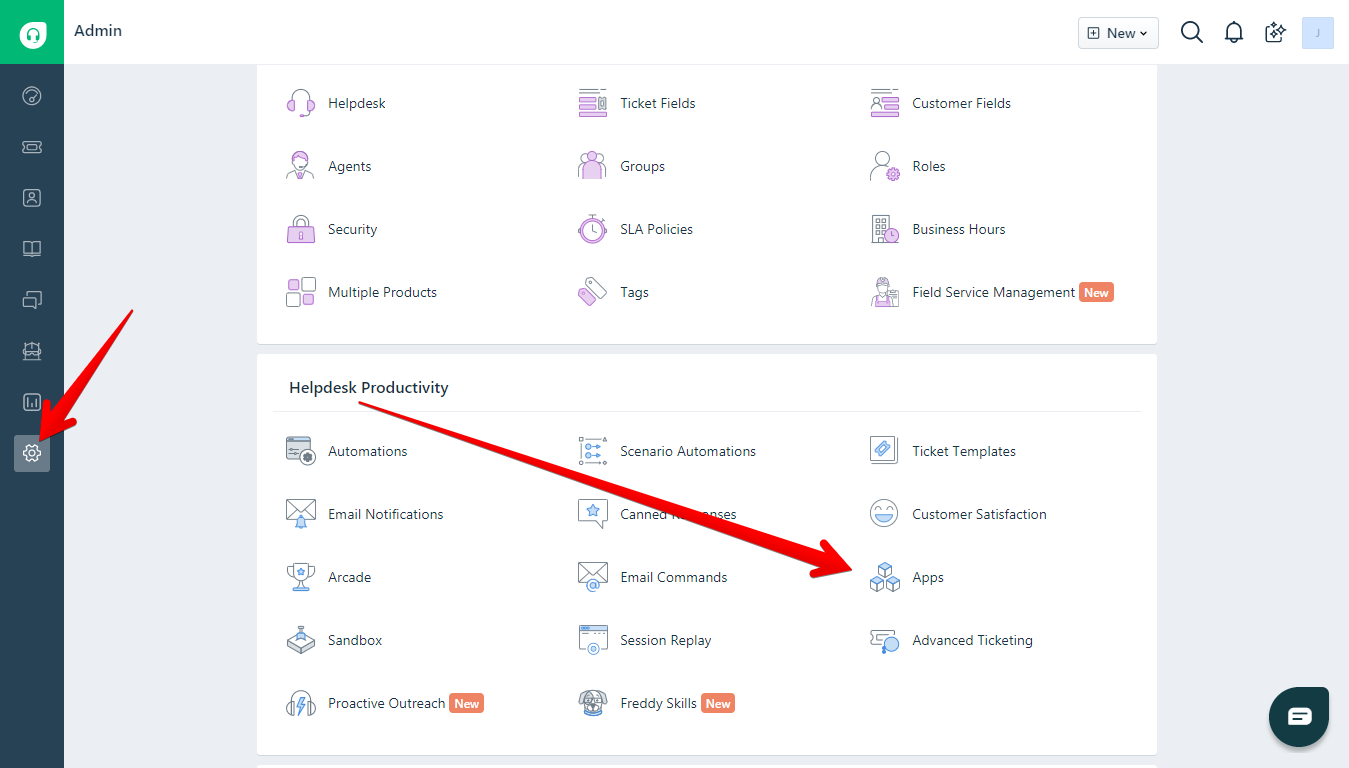 Once you arrive at the destination page, click "Get More Apps."

Choose ChannelReply from the E-Commerce section or use the search feature to jump straight to it.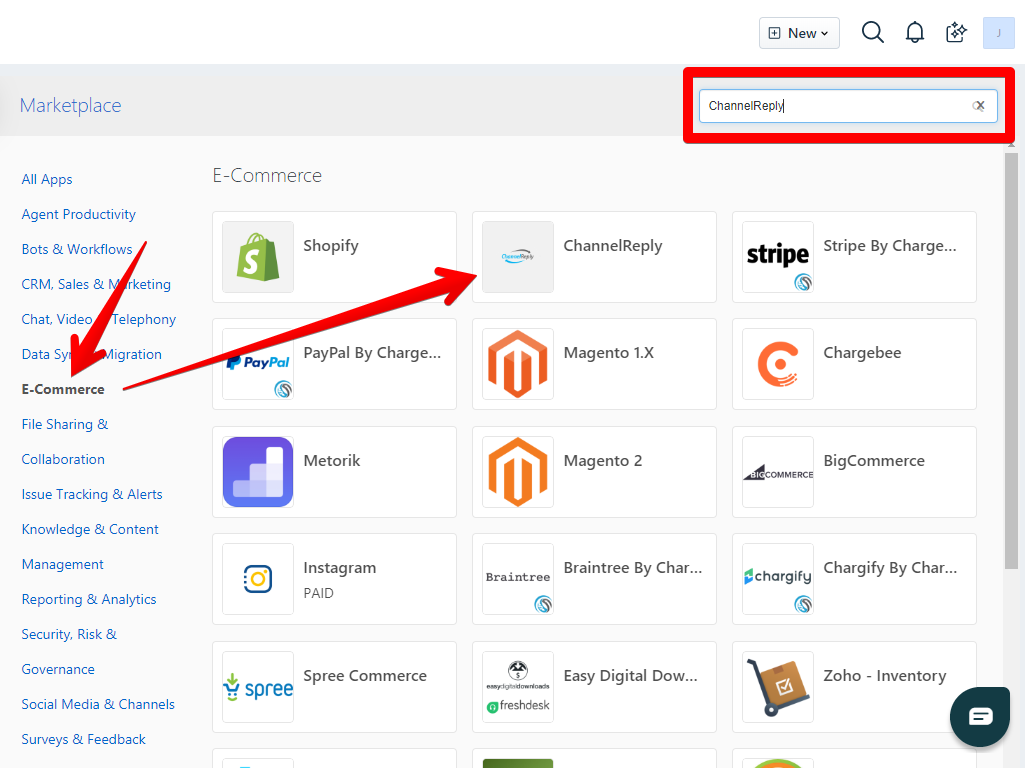 Click "Install" on the ChannelReply app page.

On the next page, paste in your API key and then click the new "Install" button.

You should see ChannelReply on your list of installed apps, plus a success notification. Freshdesk integration is now complete!

Optional: Enter Custom Fields
ChannelReply's custom fields allow you to do all kinds of awesome stuff in Freshdesk. For example, you can auto-enter eBay and Amazon data in your canned responses, and set up automations (triggers) based on order details. Setting them up is entirely optional, and you can skip it now and do it later if you want.
Ready to tackle it now? Visit "How to Use ChannelReply Data in Freshdesk Canned Responses & More" for instructions.
What Next?
Congratulations on integrating Freshdesk with ChannelReply! See our instructions on Amazon integration and/or eBay integration to finish ChannelReply setup and start managing your marketplace messages on a single screen. If you ever need help, please contact us and we'll happily assist you.