Need to support Amazon customer service for more than one country, or for multiple Amazon accounts? You can do it all in one place with ChannelReply. Here's how:
Note: Click on any image to view it at full resolution.
1. Connect Your First Amazon Account and Marketplace
If you haven't already done so, follow our Amazon integration instructions to connect one Amazon account for one marketplace.*
*An Amazon marketplace is Amazon for a specific country. For example, Amazon.com is the Amazon U.S. marketplace, Amazon.es is the Amazon Spain marketplace, etc.
2. Add More Marketplaces (Countries) for the Same Amazon Account and Region
Currently, ChannelReply supports three regions:
North America (Canada, the US, and Mexico).

Europe (the UK, France, Germany, Spain, and Italy).

Australia.
If you've connected one marketplace and sell on others in the same region (for example, you've connected the US and also sell in Canada), adding the others is easy:
A. Copy Your ChannelReply Email Address
You'll need the @channelreply.email address that you created while connecting your first marketplace for this region. To find it:
Click "Manage."

Click "(3) Marketplaces."

Click "Amazon" on the left.

Scroll down to "Connected accounts" and find the account you connected earlier. You'll see your @channelreply.email address at the top, in the "Email" field. This is the email address you want your Amazon messages to go to.

Copy your @channelreply.email address to your clipboard now. (Note that you may have to click "Edit Account" to view the full address.)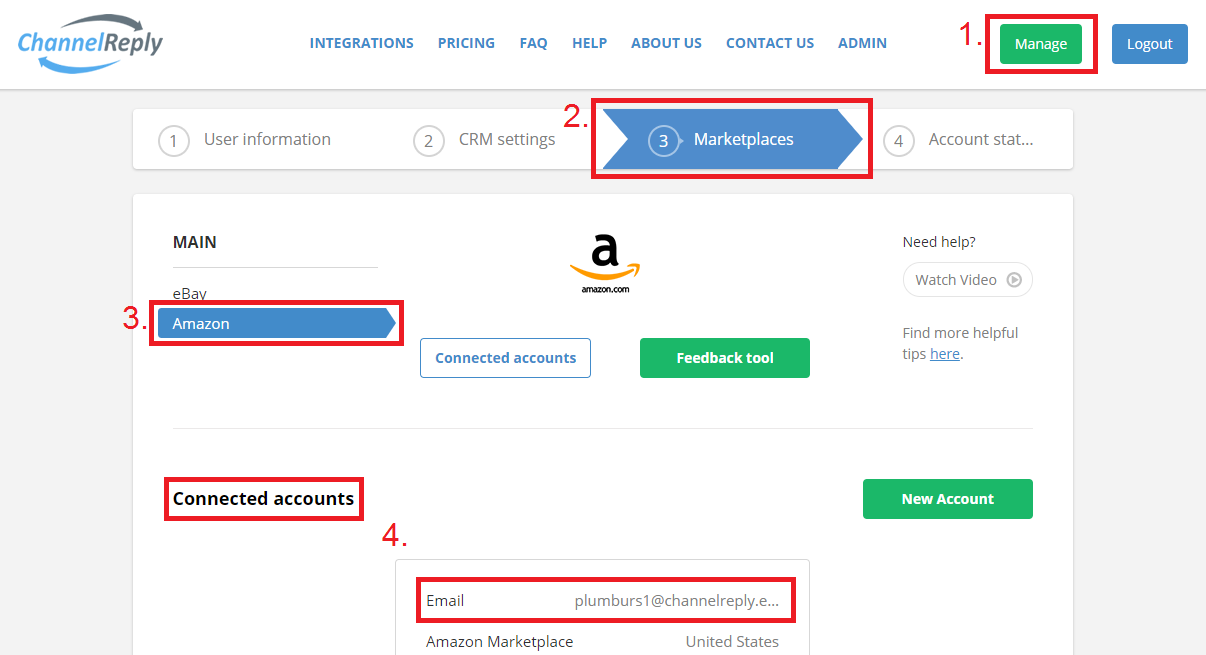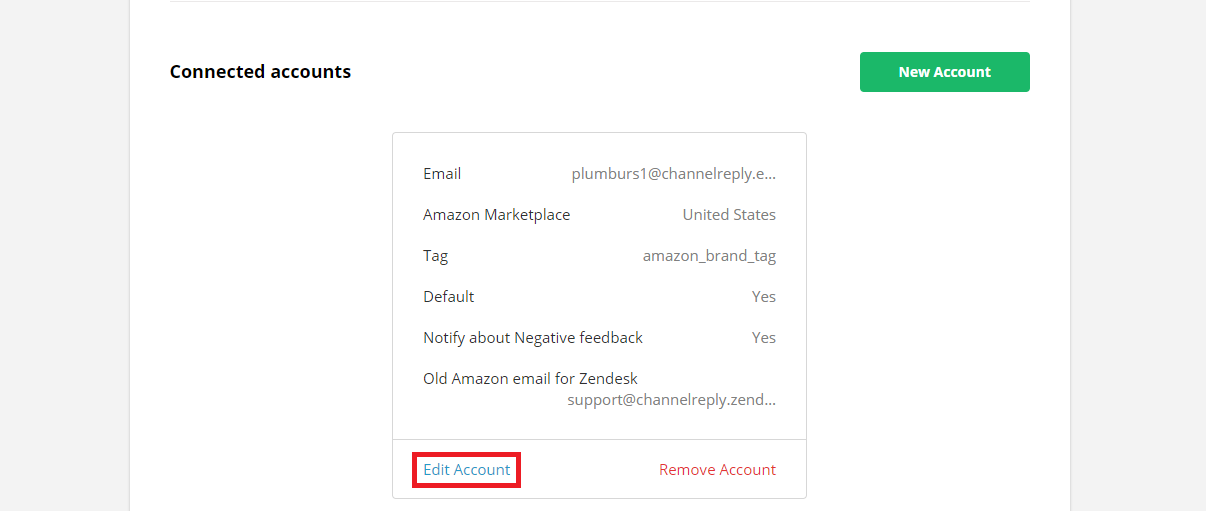 Note: Make sure you use your own ChannelReply email address, not the one shown in the screenshots.
B. Paste It In
Log in to Amazon Seller Central for the country you want to add (or for any country if you have single sign-on enabled).

Click "Settings."

Click "Account Info."

Click "Your Seller Profile."

To the right of "Customer service details" for the marketplace you're adding, click the blue "Edit" text.

Then do the following:
Paste your @channelreply.email address into the "Customer Service E-mail" and "Customer Service Reply-to E-mail" fields.

Click "Submit."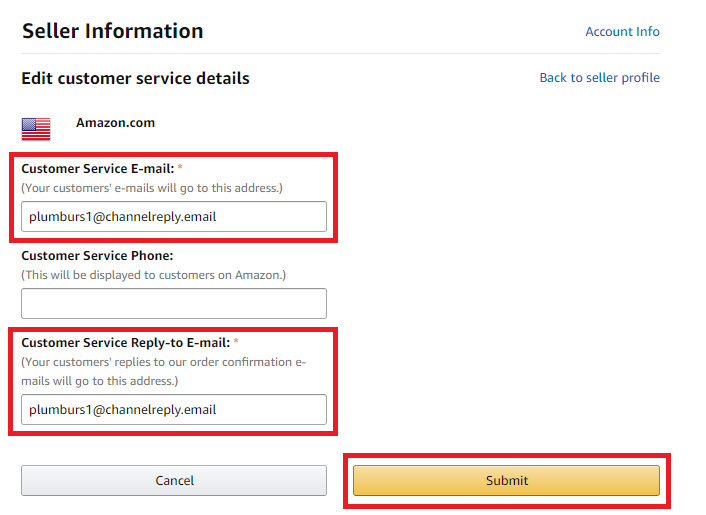 Finally, we want to make sure Amazon is actually sending out buyer messages for this account:
Click "Settings."

Click "Notification Preferences."

Scroll down to "Buyer Messages."

Make sure the box next to "Buyer Messages" is checked off and, if it isn't already there, enter your @channelreply.email address in the E-mail field.


And you're done! Repeat Part B for any other countries you need to connect in the same region.
3. Add Marketplaces for the Same Account in Different Regions
ChannelReply counts different regions as different Amazon accounts. The different regions we currently support are:
North America (Canada, the US, and Mexico).

Europe (the UK, France, Germany, Spain, and Italy).

Australia.
If you want to connect a marketplace in a new region (for example, you want to add Italy from the Europe region when you've only connected marketplaces in North America), then you will need to integrate it as a separate Amazon account. Follow our Amazon integration instructions from the beginning to connect your first marketplace in the new region.
You will create a new @channelreply.email address during setup. Once you have connected one marketplace in the region, any others can be connected by following Step 2 using this new email.
Confused? Here's a breakdown:
Example
Red Widget Company sells in Australia, the US, Canada, the UK, and France. The first marketplace they decide to integrate is Amazon Australia. During setup, they create the ChannelReply email address redwidgetcompany_au@channelreply.email and enter it in their Amazon Australia settings.
Next, they decide to add Amazon US. Since the US is in a different region, North America, they go back through the full Amazon integration process, creating the new address redwidgetcompany_na@channelreply.email and entering it in their Amazon US settings.
Amazon Canada comes next. Since Canada is also in the North America region, they follow Step 2 and simply enter redwidgetcompany_na@channelreply.email in their Amazon Canada settings.
The UK and France are both part of the Europe region, so the Red Widget team goes through the Amazon integration process one last time for the UK, creating the email address redwidgetcompany_eu@channelreply.email and entering it in their Amazon UK settings.
Finally, they repeat step 2 for France, doing nothing but entering redwidgetcompany_eu@channelreply.email in their Amazon France settings.
4. Support Multiple Amazon Accounts
If you want to add an Amazon account for a totally different company, simply go through the Amazon integration instructions again. You can then add additional marketplaces and regions as described above. Just be careful not to mix up the @channelreply.email addresses that are unique to each account.
Worried about getting in trouble for linking multiple Amazon accounts? We don't think you have anything to fear. For more info (plus ways to play it safe), see "Can Amazon Tell if I Have Multiple Amazon Accounts on ChannelReply?"
Confused? Stuck? Contact us and we'll be happy to help!