You can import one-way communications from eBay directly to your helpdesk. Here's how:
Click on your name in the upper-left corner and select "Account Settings."
Click Communication Preferences.
To the right of "Notification Delivery Format," click "Show."
Edit your registered email address and enter an address that forwards all messages to your Zendesk, Freshdesk or Gorgias account, or enter a Help Scout mailbox.

Do not enter an email address related to your helpdesk in "Receive messages from other members." Use a personal, junk, or otherwise unrelated email address instead; see "Duplicate Tickets from eBay" for the reason why. Only your registered email address needs to go to your helpdesk.
Buyer messages don't need to be forwarded to your helpdesk because ChannelReply will deliver them automatically using the API. (If you don't have a ChannelReply account yet, you can start your free trial here.)
Note that eBay may automatically update your other addresses to match your registered email address. You may have to switch them back after making the change.
Using Resolution Center Support or Advanced Options
Important: This section uses the classic ChannelReply interface. You can access the classic interface here.
If you've subscribed to Resolution Center Support in your ChannelReply account, or used advanced options to enable management of inquiries, cases, returns and/or new orders, we'll send you our own notifications. These will be in addition to any emails eBay sends you about these actions. As a result, you may see some duplicate notifications if you use both methods at once.
Not sure if you're subscribed? Log in to ChannelReply and go to the Marketplaces tab. If you see a button labeled "Unsubscribe from Resolution Center Support" under your eBay account, you are currently subscribed.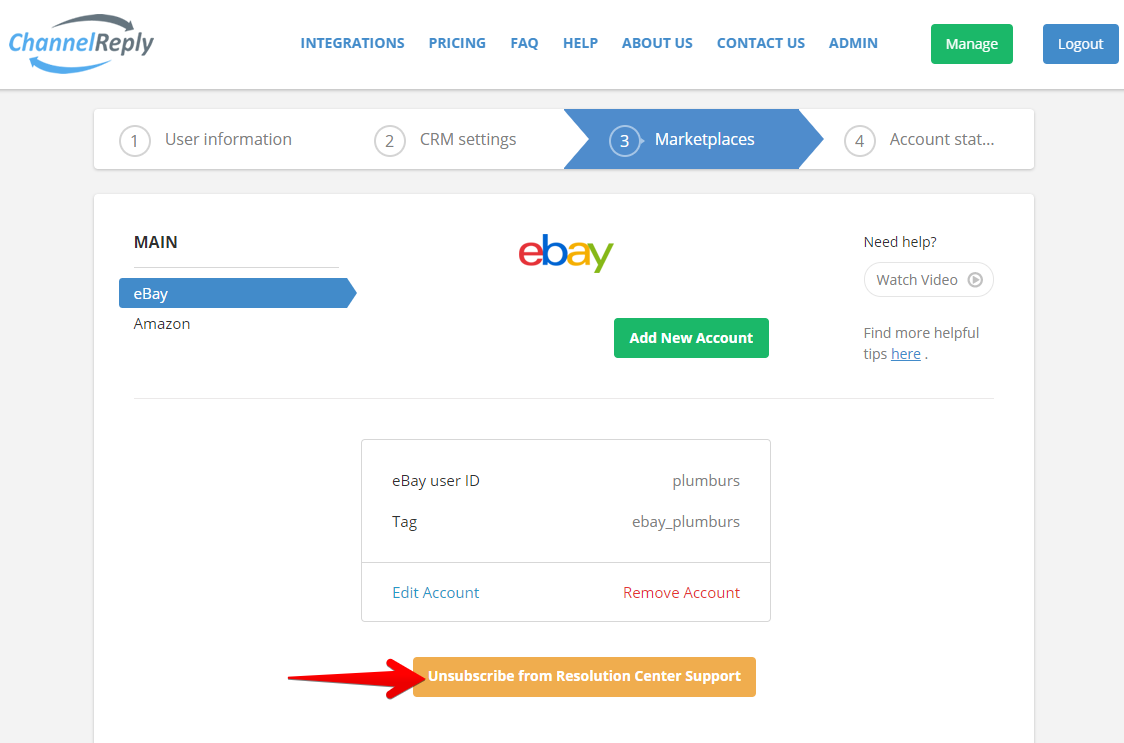 To check your settings in Advanced Options, click "Edit Account," then click the grey "OPEN ADVANCED OPTIONS" bar.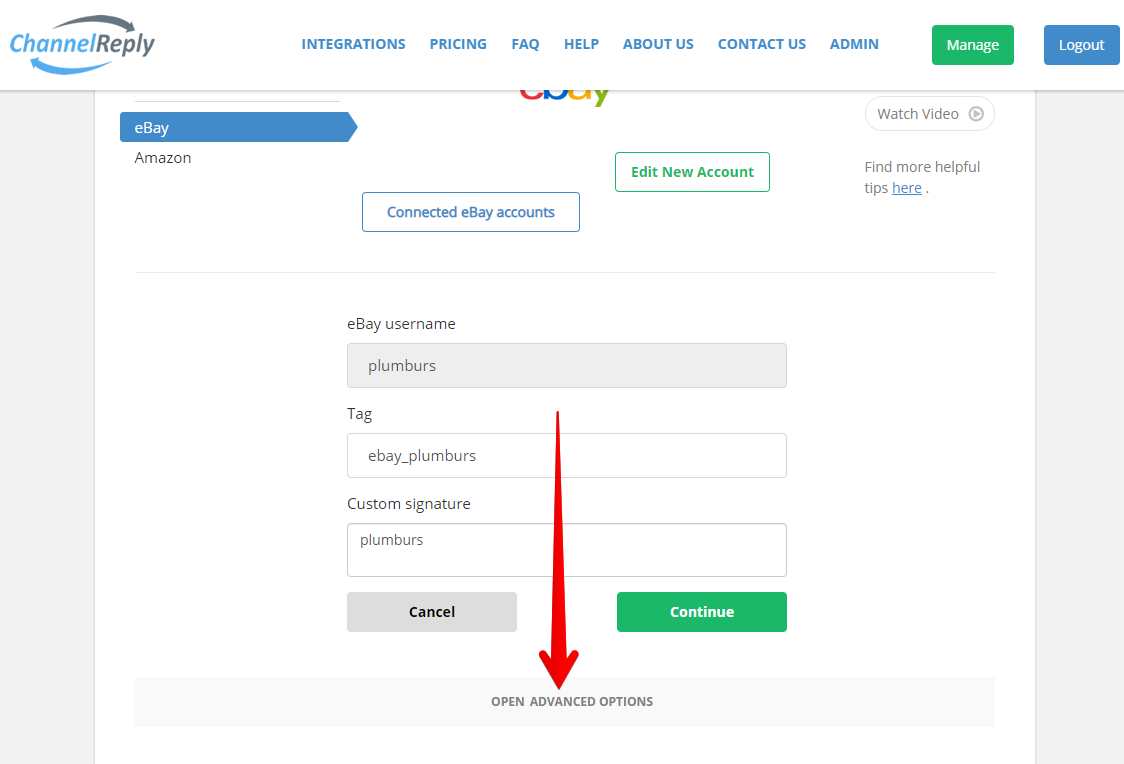 This will let you manage exactly which eBay notifications you receive from ChannelReply.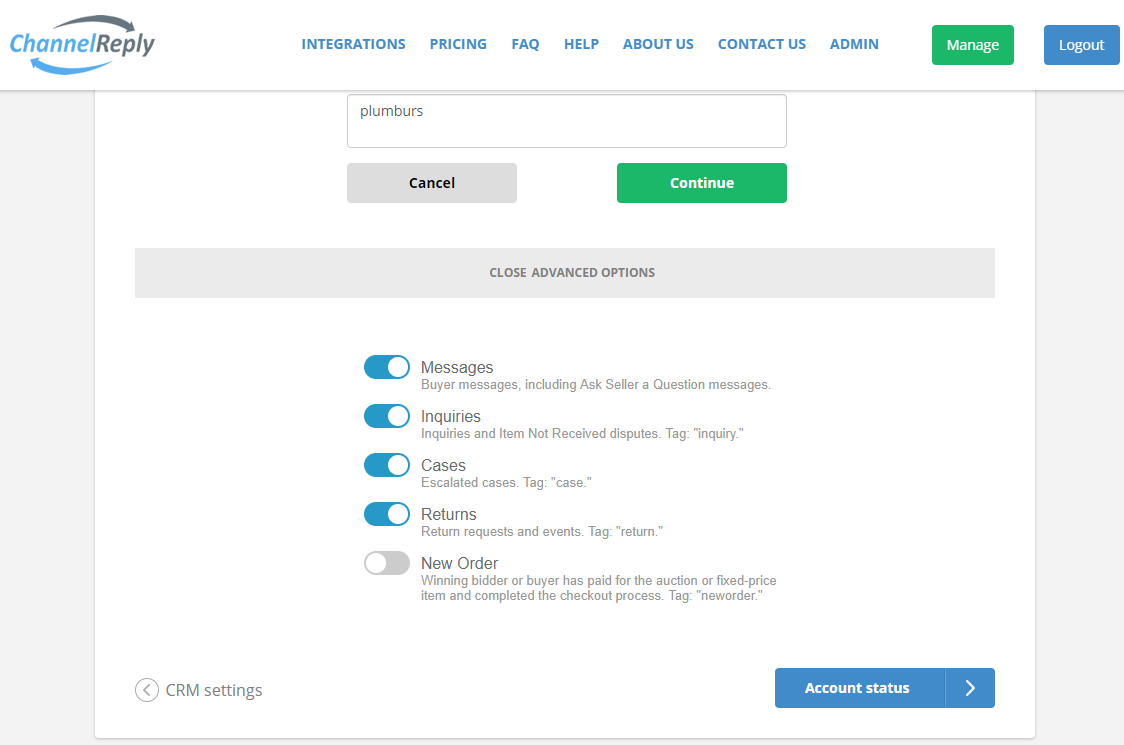 Notifications delivered by ChannelReply are much more powerful than those delivered by email. You can reply directly to ChannelReply's new order notifications, meaning you can message eBay users even if they haven't messaged you.
Zendesk and Freshdesk users can also perform actions in inquiry, case and return notification tickets. For example, they can approve or decline returns. See our article on Resolution Center Support to learn more.
Need help or clarification? Contact us here.