This step-by-step guide will walk you through the Zendesk integration process. Follow along with the instructions, screenshots and video below to see how it's done.
Notes: Click on any screenshot to see the full-sized image. Article last updated 12/30/2019.
1. Sign In
You'll first need to sign in to ChannelReply. (If you don't have an account yet, you can start your free trial here.)
In a separate browser tab, log in to your Zendesk account as an admin.
2. Select Zendesk
Select Zendesk from the list of helpdesks. You can do this during the introduction, right after you create your account: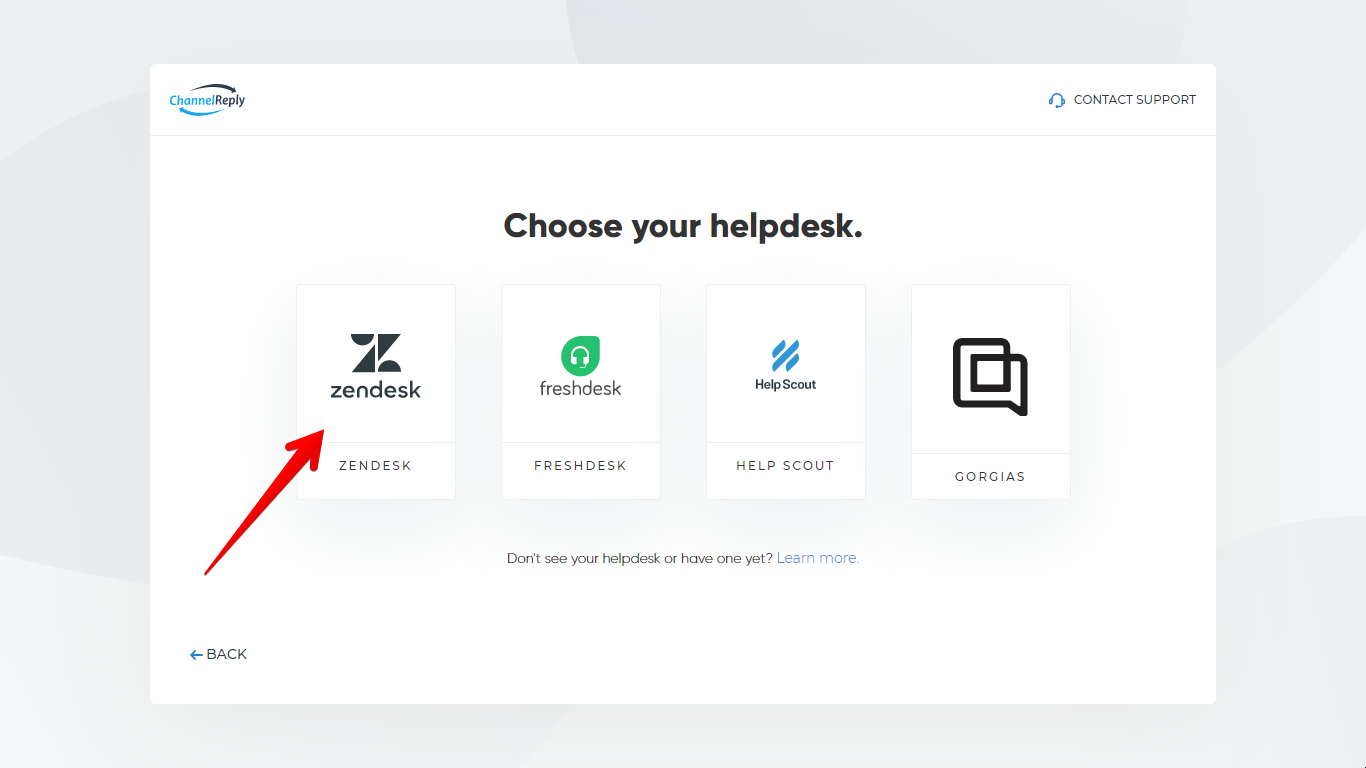 Alternatively, you can do it from the ChannelReply dashboard: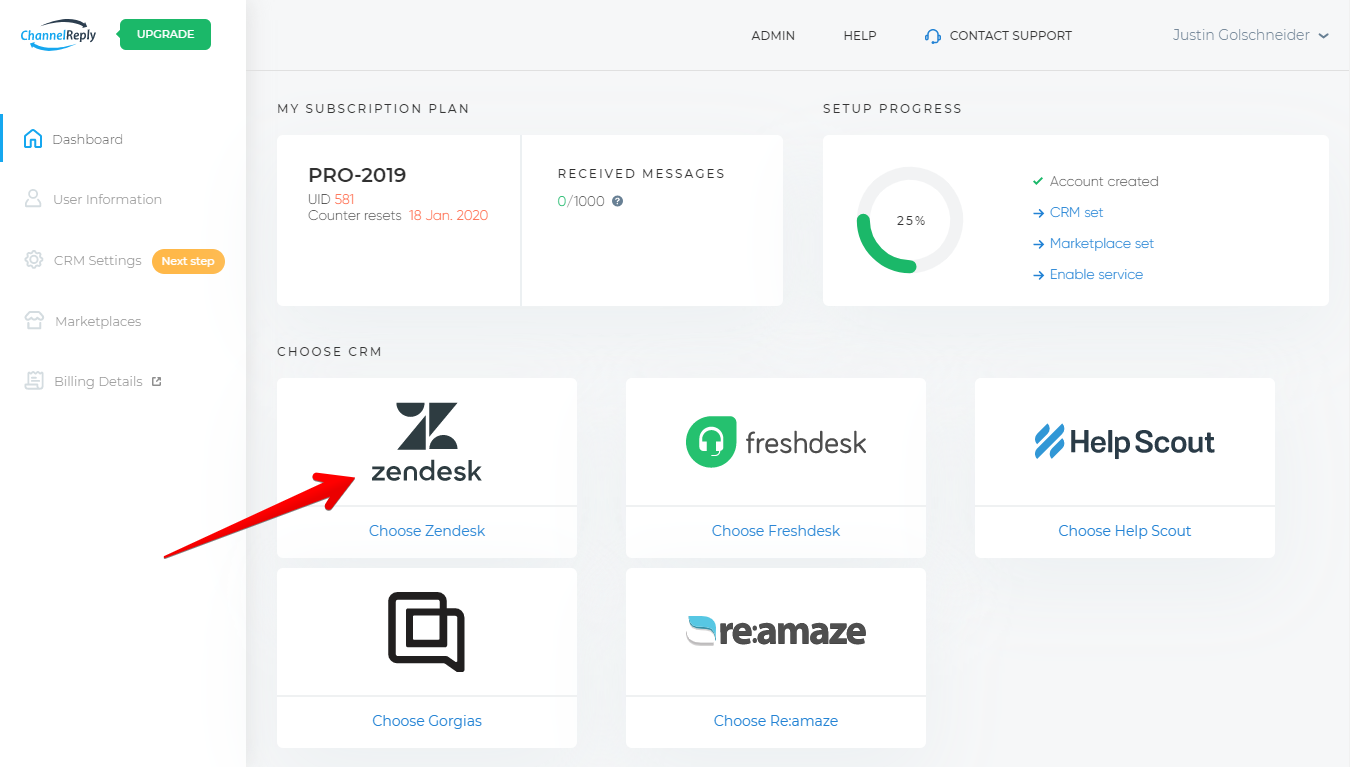 3. Install the ChannelReply App for Zendesk
After choosing Zendesk, click "INSTALL CHANNELREPLY IN YOUR ZENDESK ACCOUNT."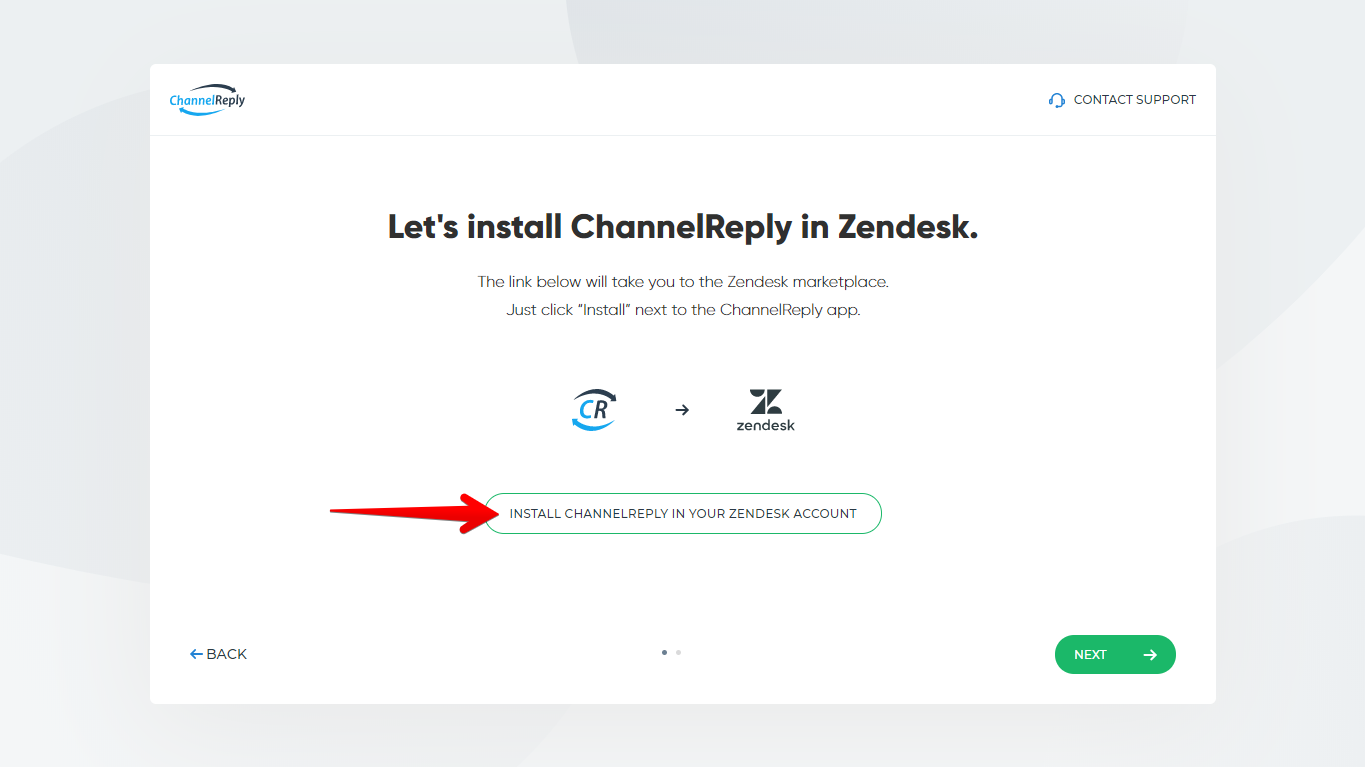 You'll arrive on the page for our app in the Zendesk marketplace. The app itself is free—there are no further charges for installing it. Click on the blue "Install" button to begin.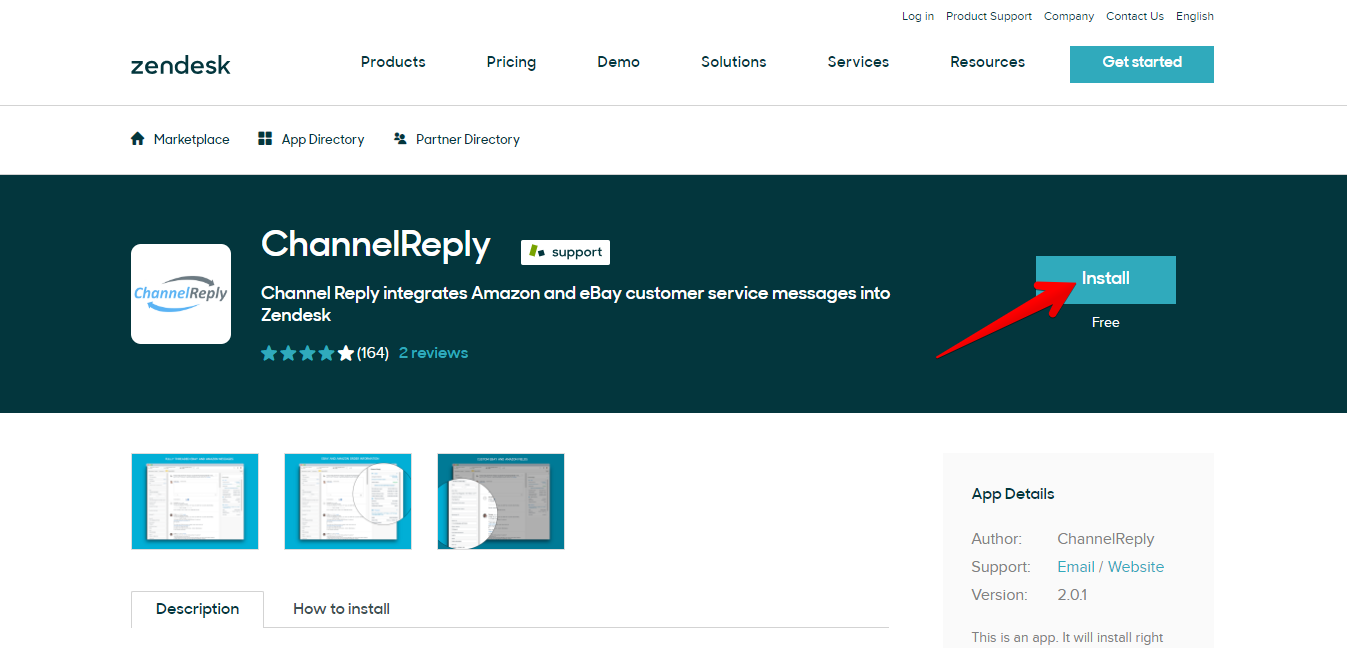 On the next page, make sure the correct Zendesk account is selected, then click "Install."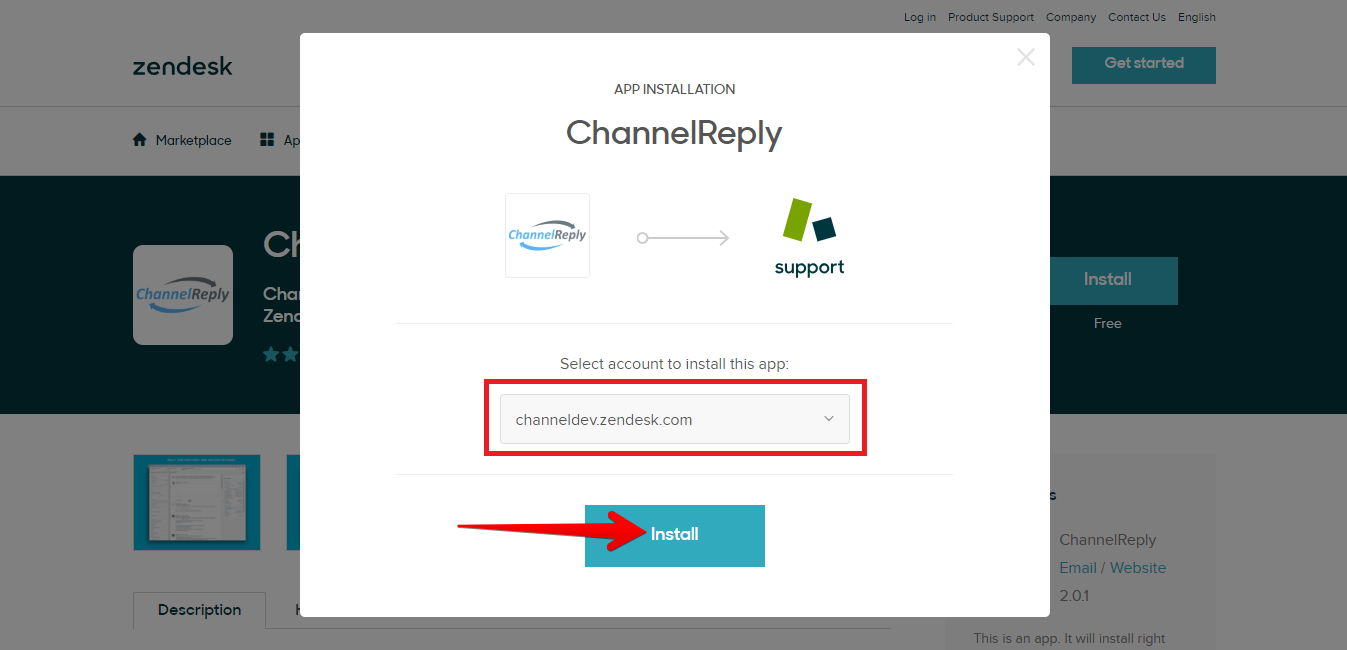 Zendesk will provide you with a few options on the next page. If you're happy with them, click "Install."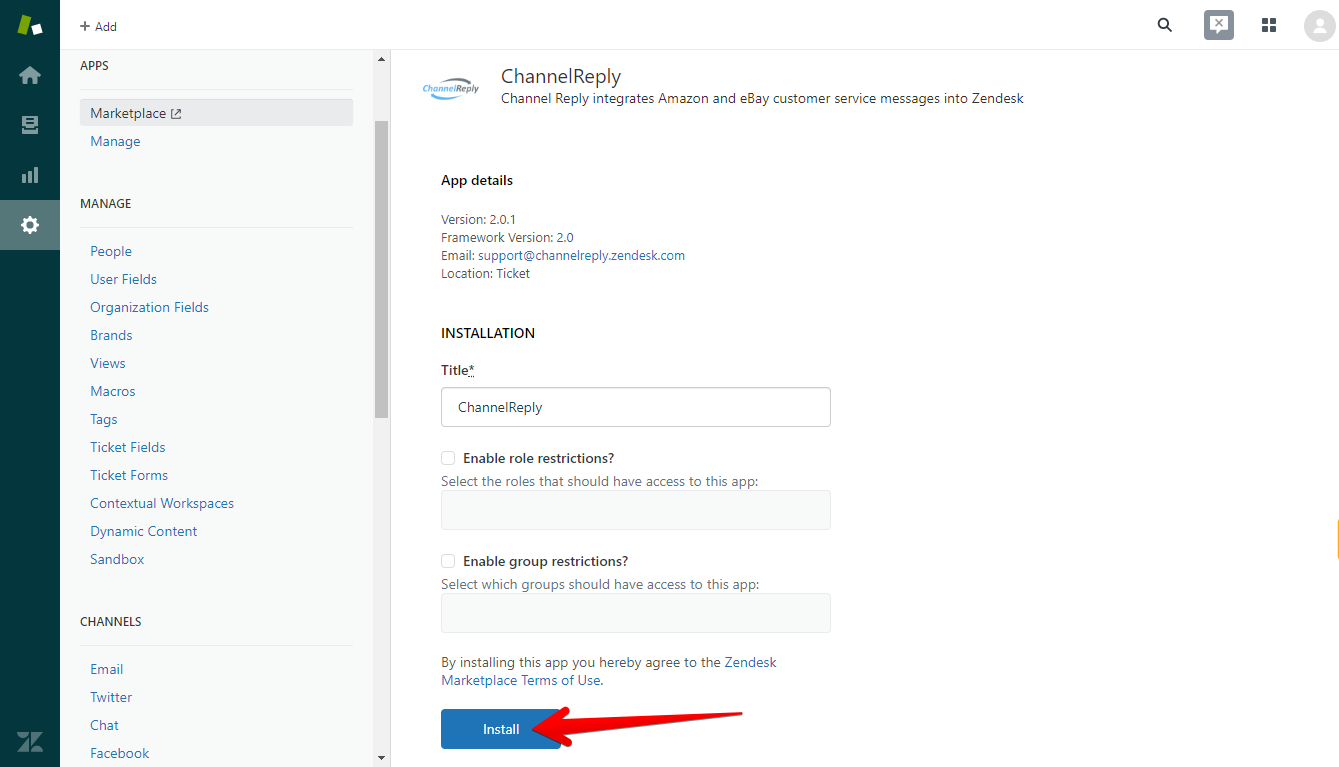 App installation is now complete! You should see ChannelReply in your currently installed apps, plus a success notification in the upper right.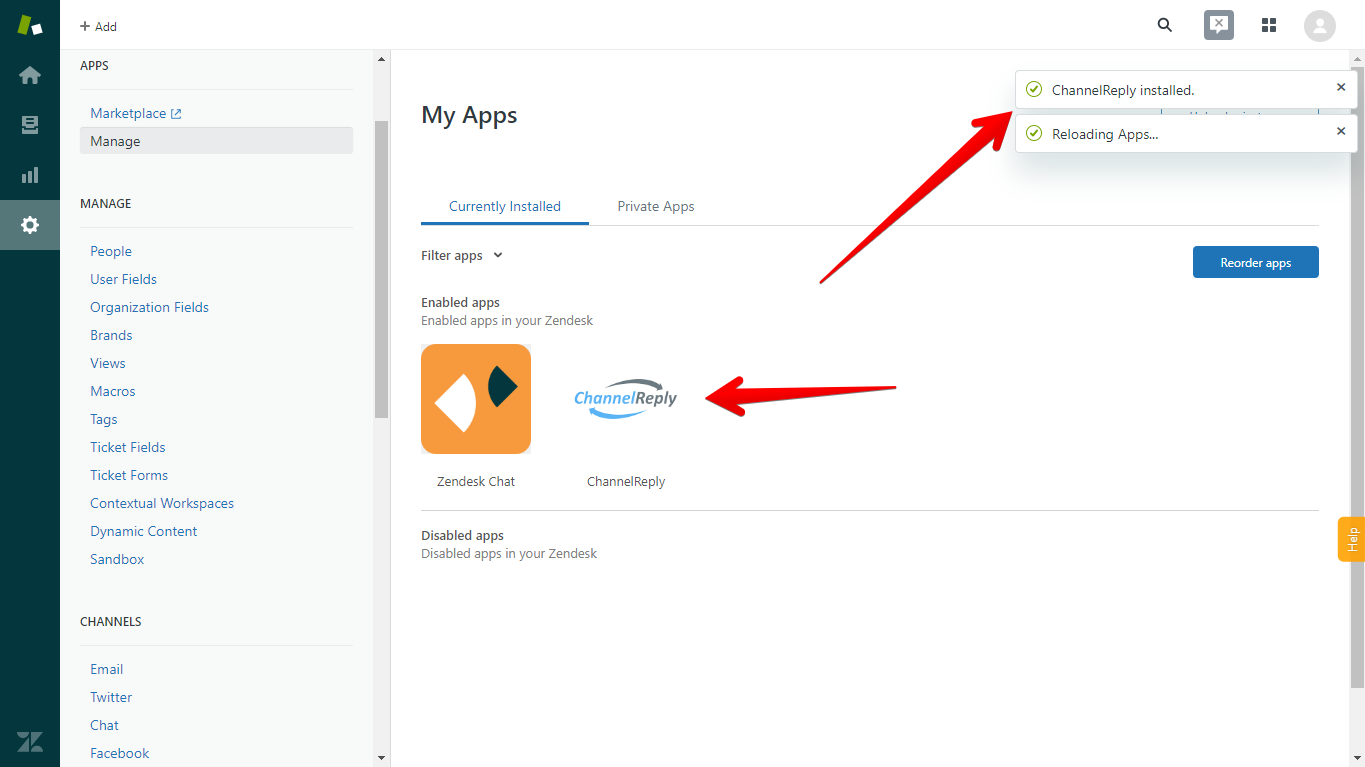 Now, open any ticket in your Zendesk account. If you don't already have the apps sidebar open, click the "Apps" button in the upper right.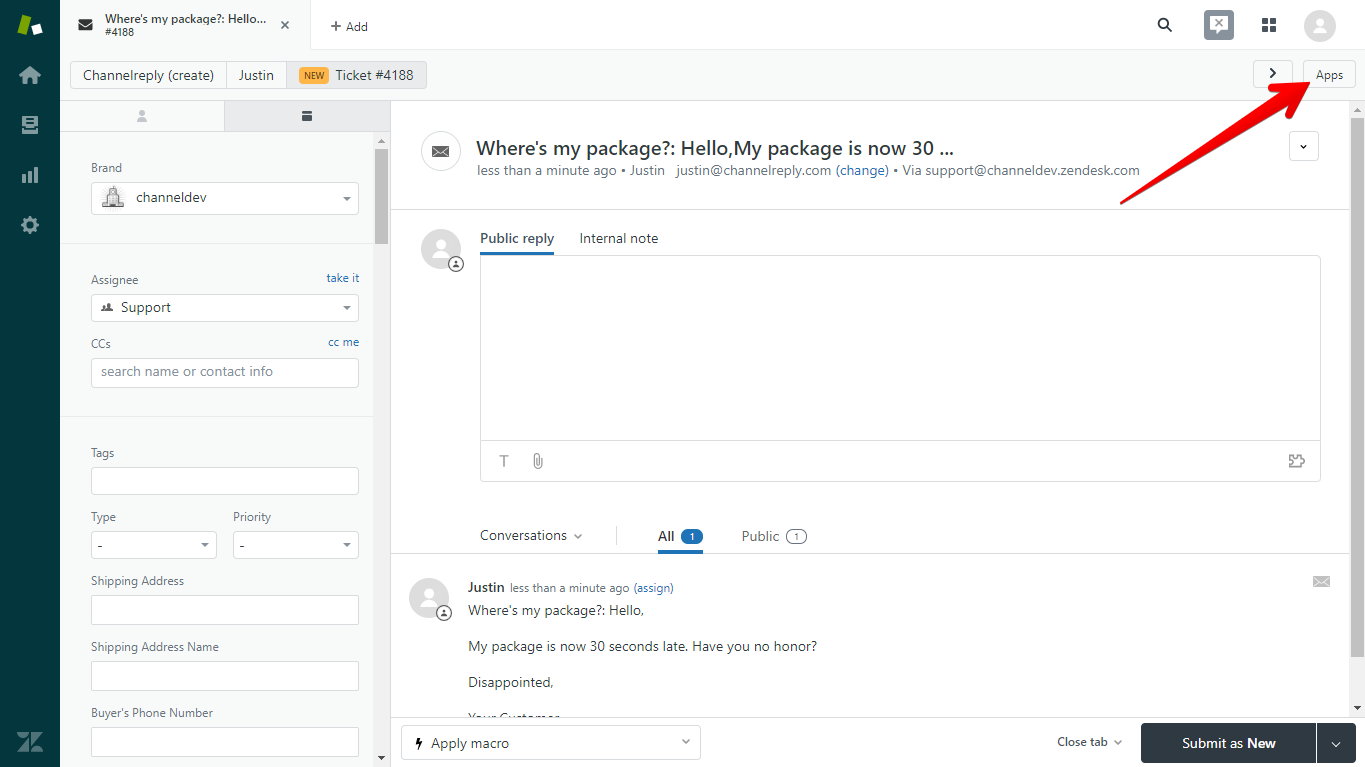 The ChannelReply app will appear and display a login screen.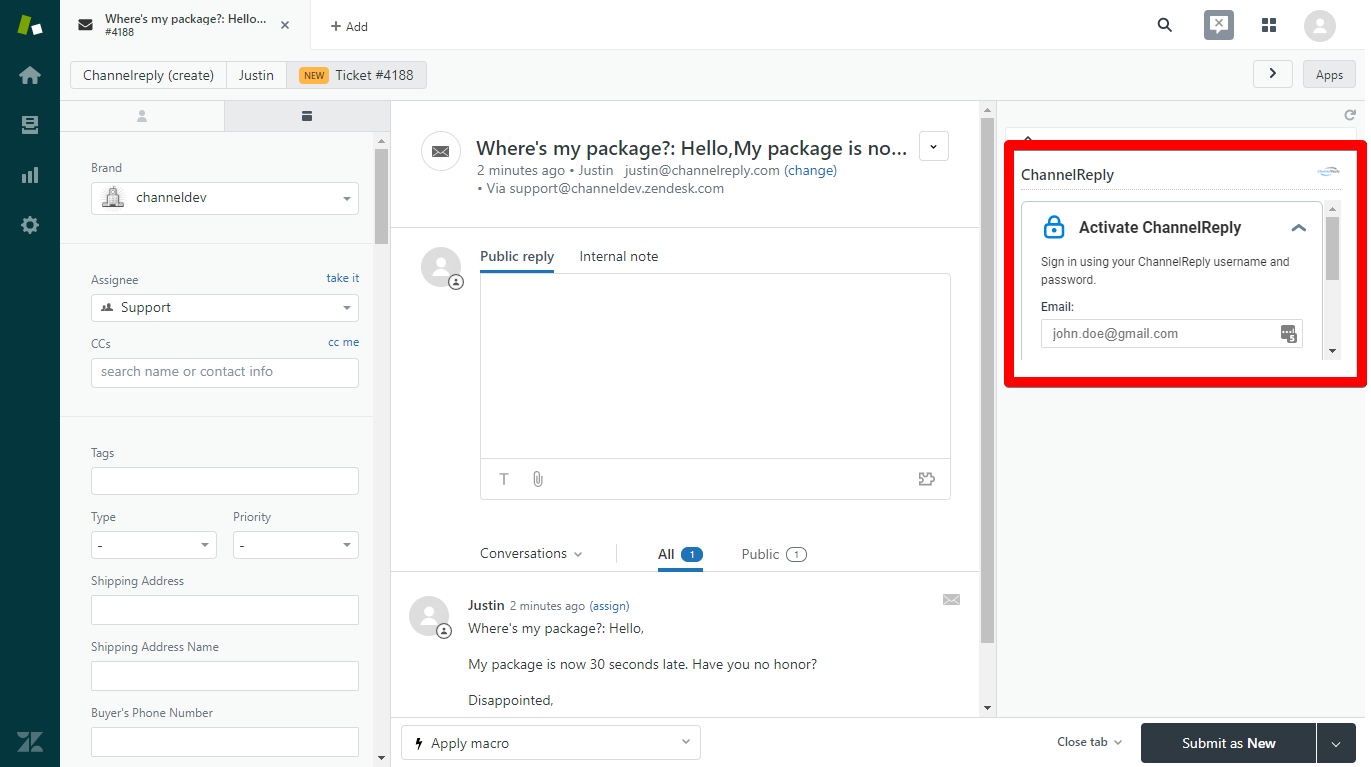 Enter the same email address and password you use to sign in to ChannelReply, then click "UPDATE."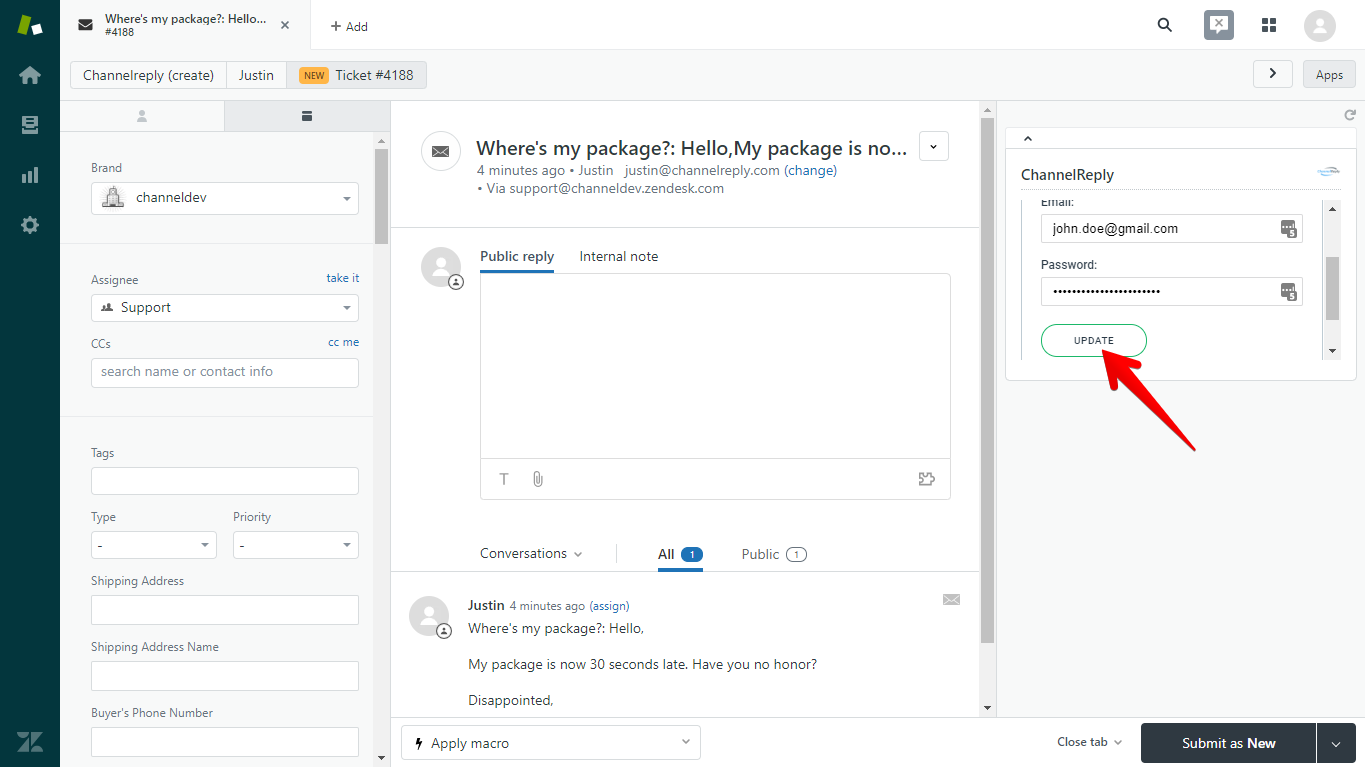 After you've finished setup and integrated eBay, Amazon, and/or Walmart, the ChannelReply app will start working. You'll see detailed info about the customer and their order on any new buyer message.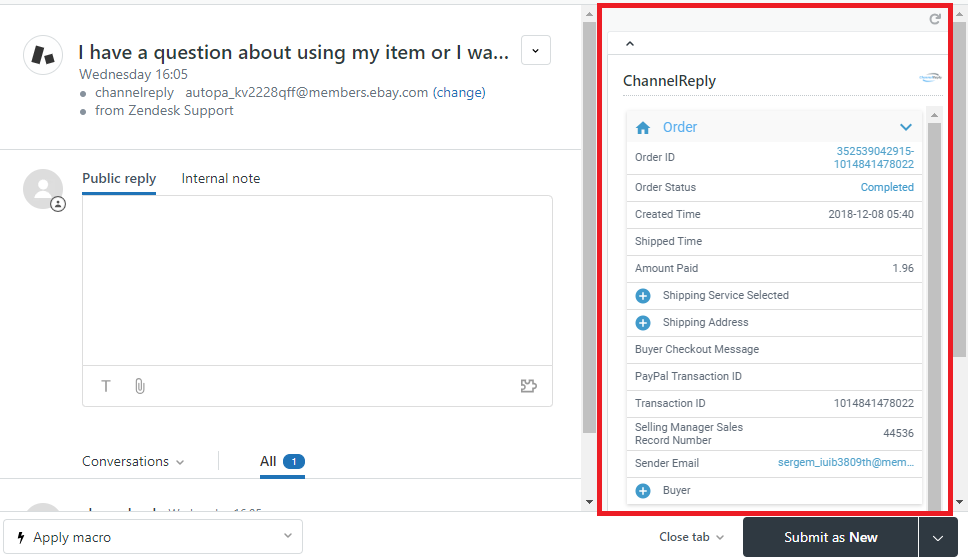 4. Fill in Your Zendesk Details
This step can be completed by either following along with the video below or continuing to follow these written instructions.
To finish integrating your Zendesk account with ChannelReply, we need info unique to your Zendesk account. You will find most of what we need under Channels > API on your Zendesk admin page.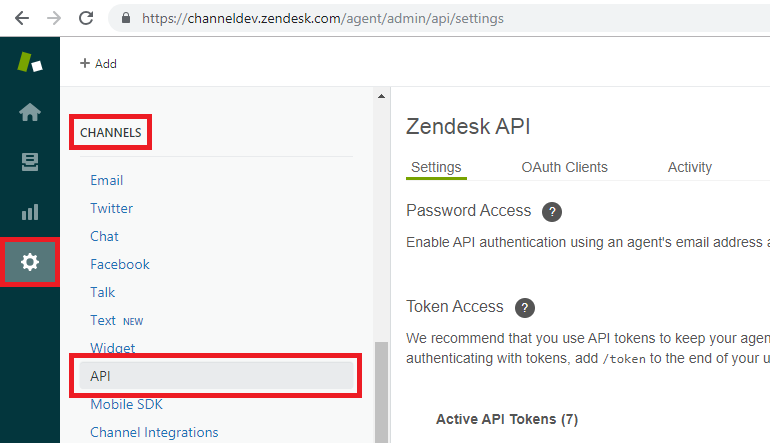 Following the instructions below, copy and paste that info into ChannelReply:
Zendesk Domain
Copy the URL at the top of your Zendesk screen.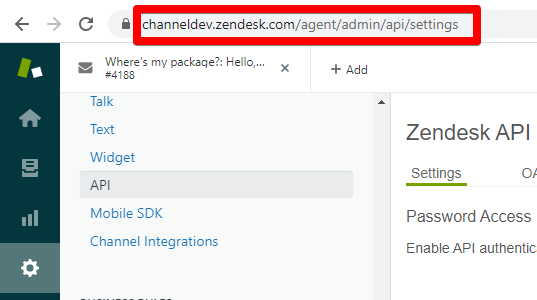 Next, paste it into the "Zendesk Domain" field in ChannelReply. Most of the URL will automatically be removed, leaving only the part of your domain that's unique to your Zendesk account.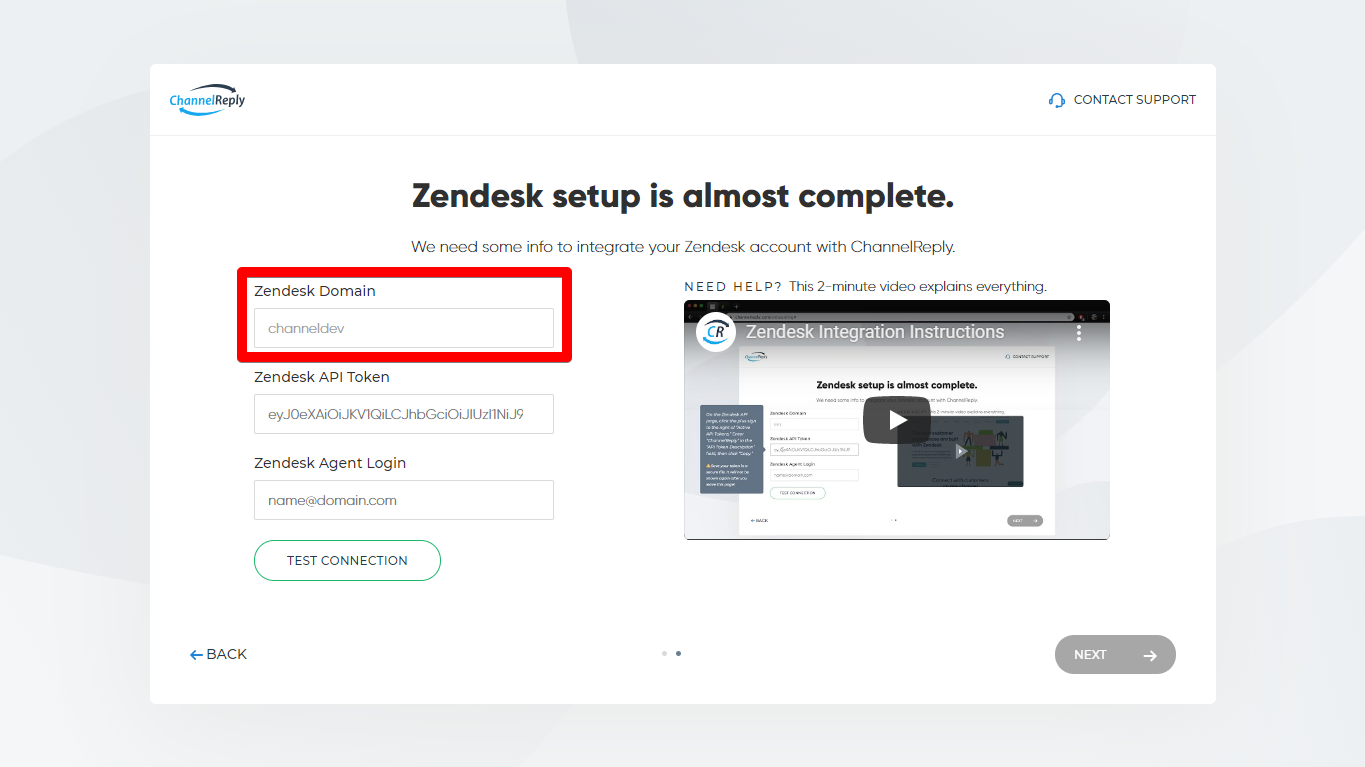 Zendesk API Token
Back on the Zendesk API page, click the plus sign to the right of "Active API Tokens."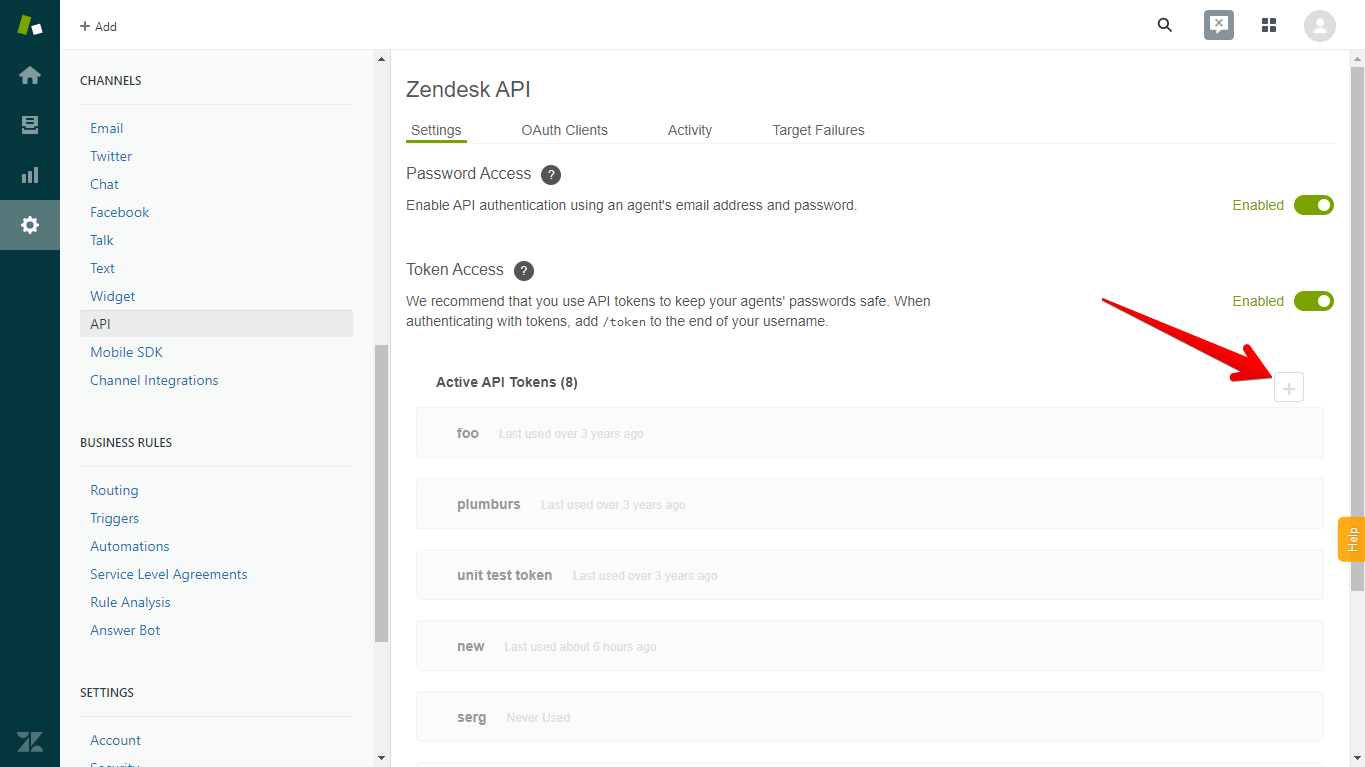 Enter "ChannelReply" in the "API Token Description" field, then click "Copy."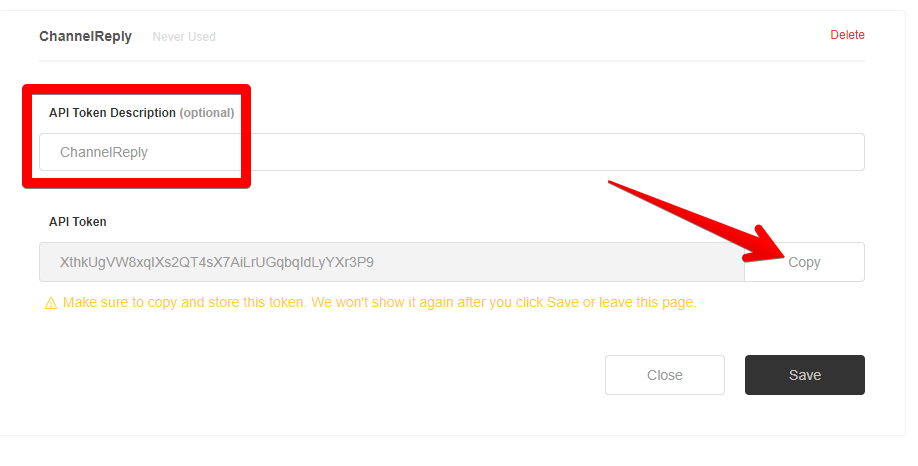 IMPORTANT: Save your token in a secure file. It will not be shown again after you leave this page!
After you have saved your token to your computer or another secure location, click "Save."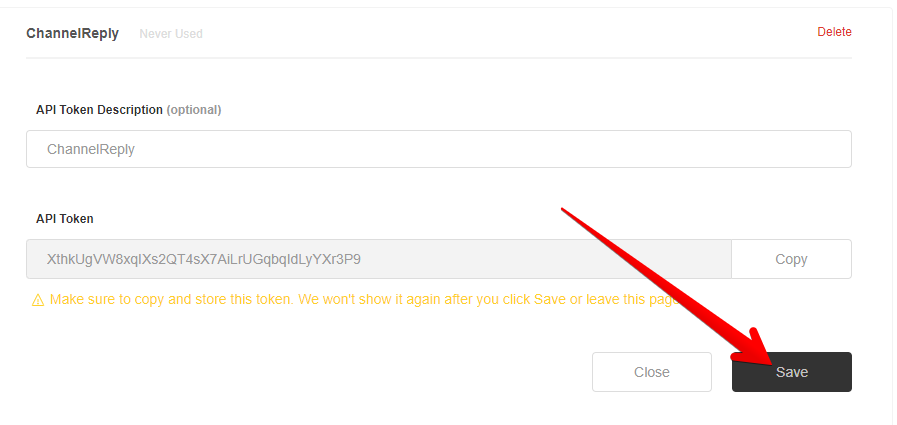 Finally, return to the ChannelReply page and paste your token into the "Zendesk API Token" field.
Zendesk Agent Login
Enter your Zendesk agent login email. Once finished, click "TEST CONNECTION."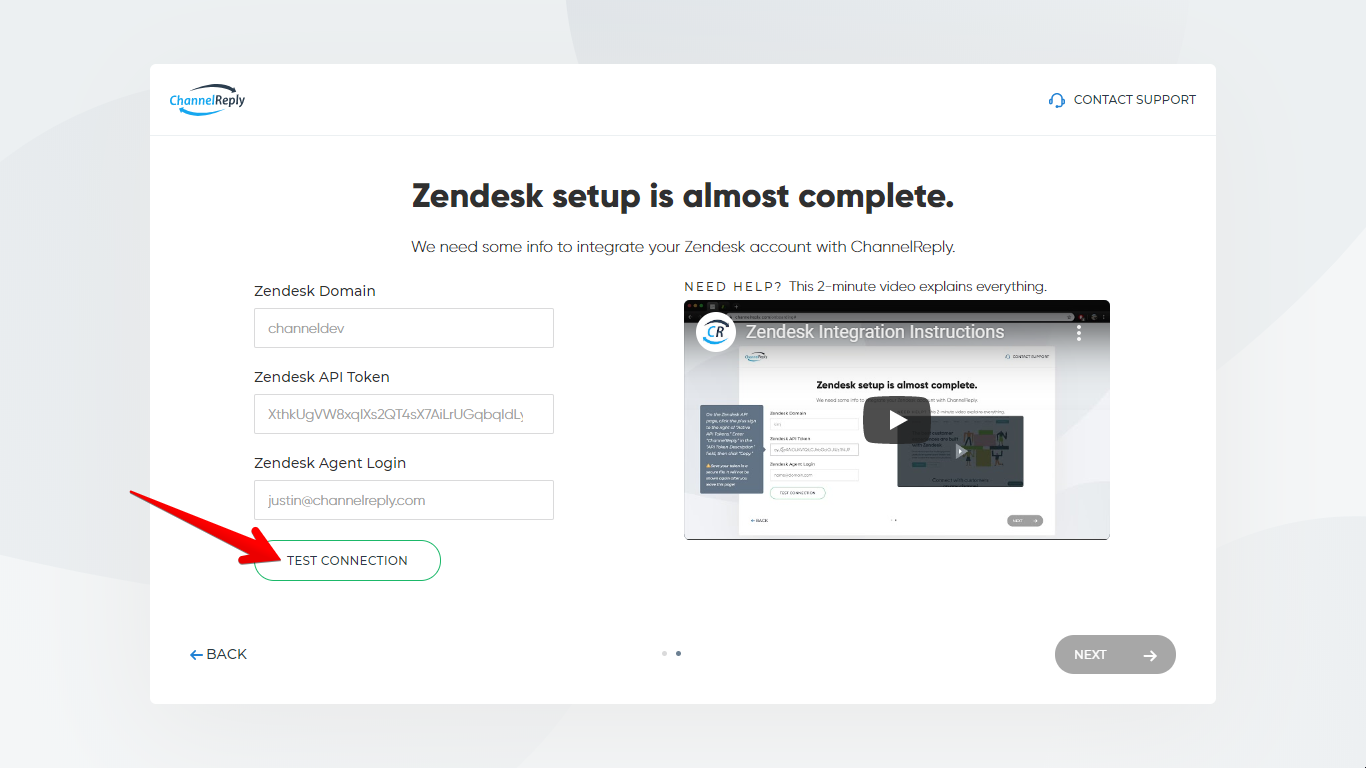 If you have entered everything correctly, you'll see green checkmarks on all entries. "TEST CONNECTION" will also change to "CONNECTED." Click "Next" to finalize the connection.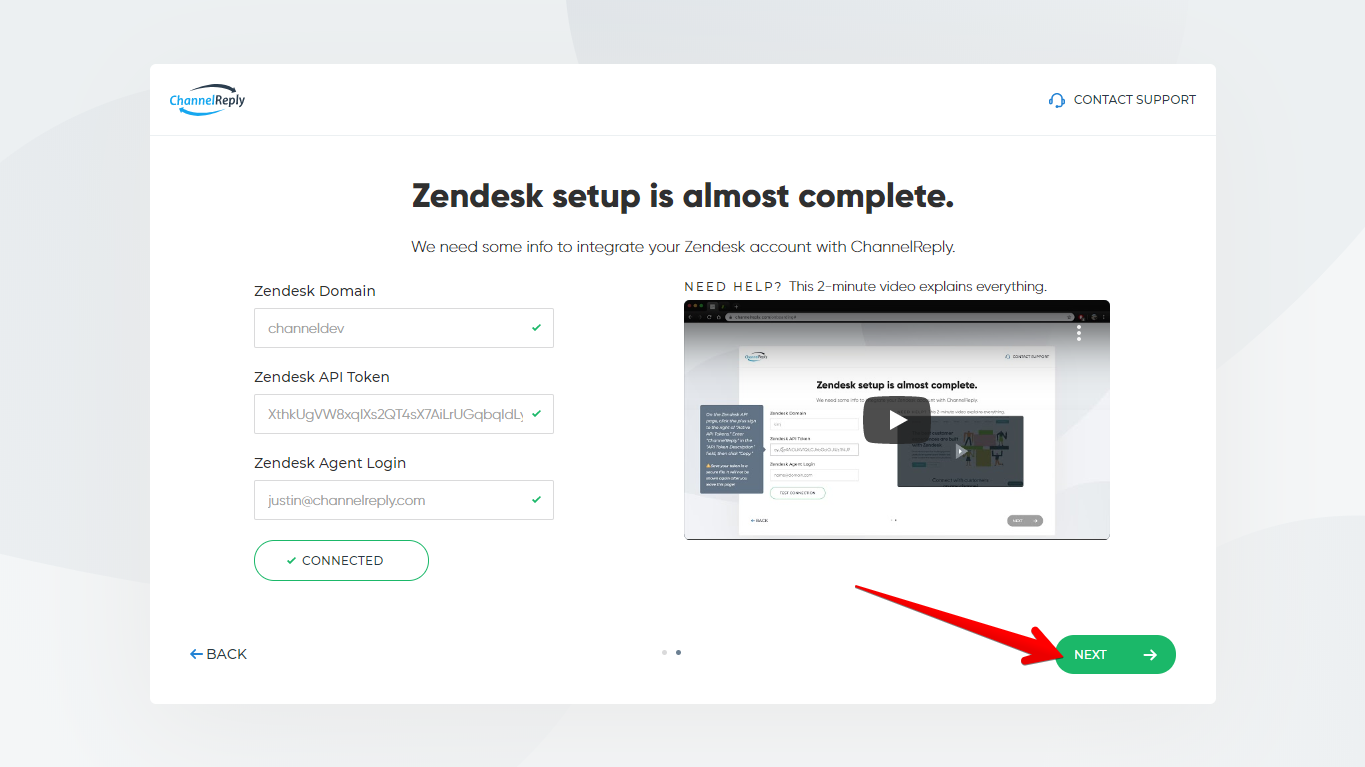 Congratulations—you have completed the Zendesk integration process! Here's what's left to complete setup:
Follow these instructions to make sure Zendesk's default triggers don't cause any trouble.
Continue following the setup walkthrough to connect eBay, Amazon and/or Walmart.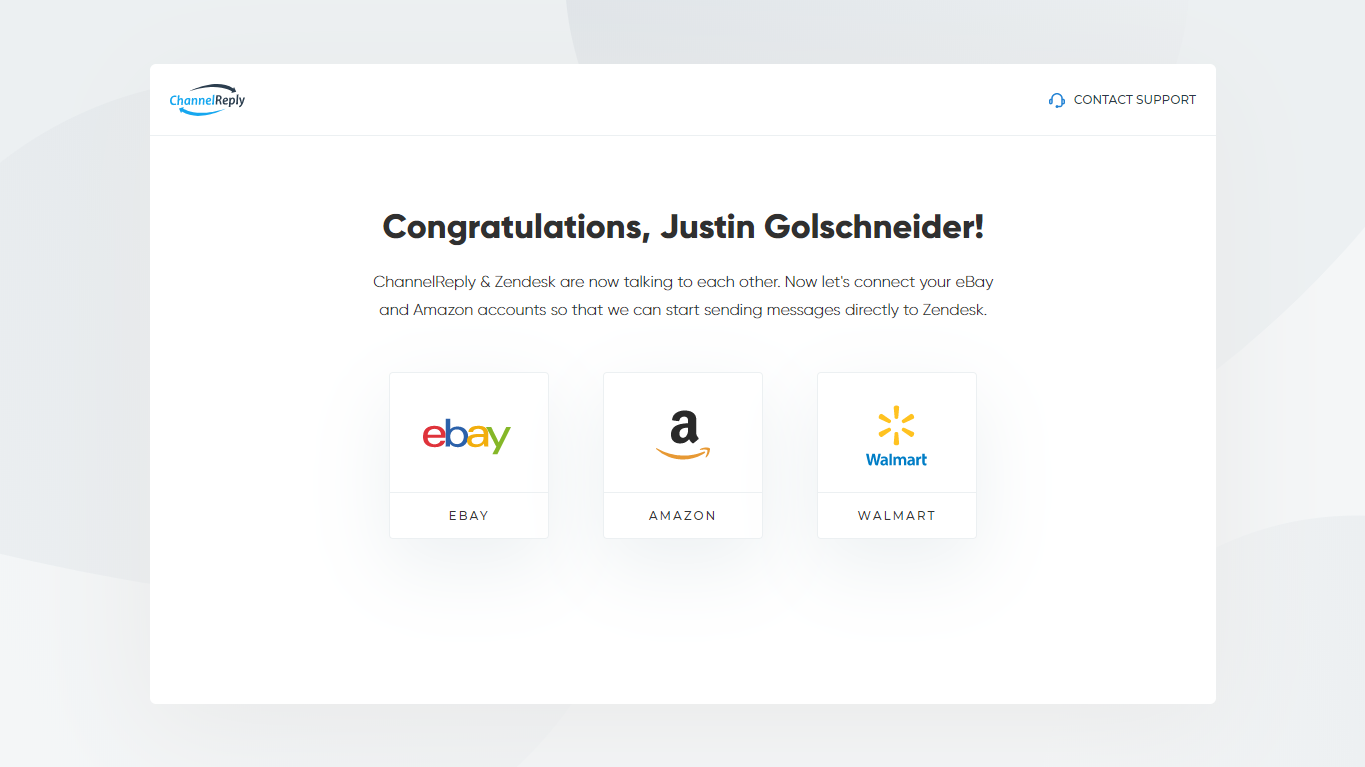 You can safely exit setup now if desired. You'll be able to continue anytime by choosing a marketplace from your account dashboard.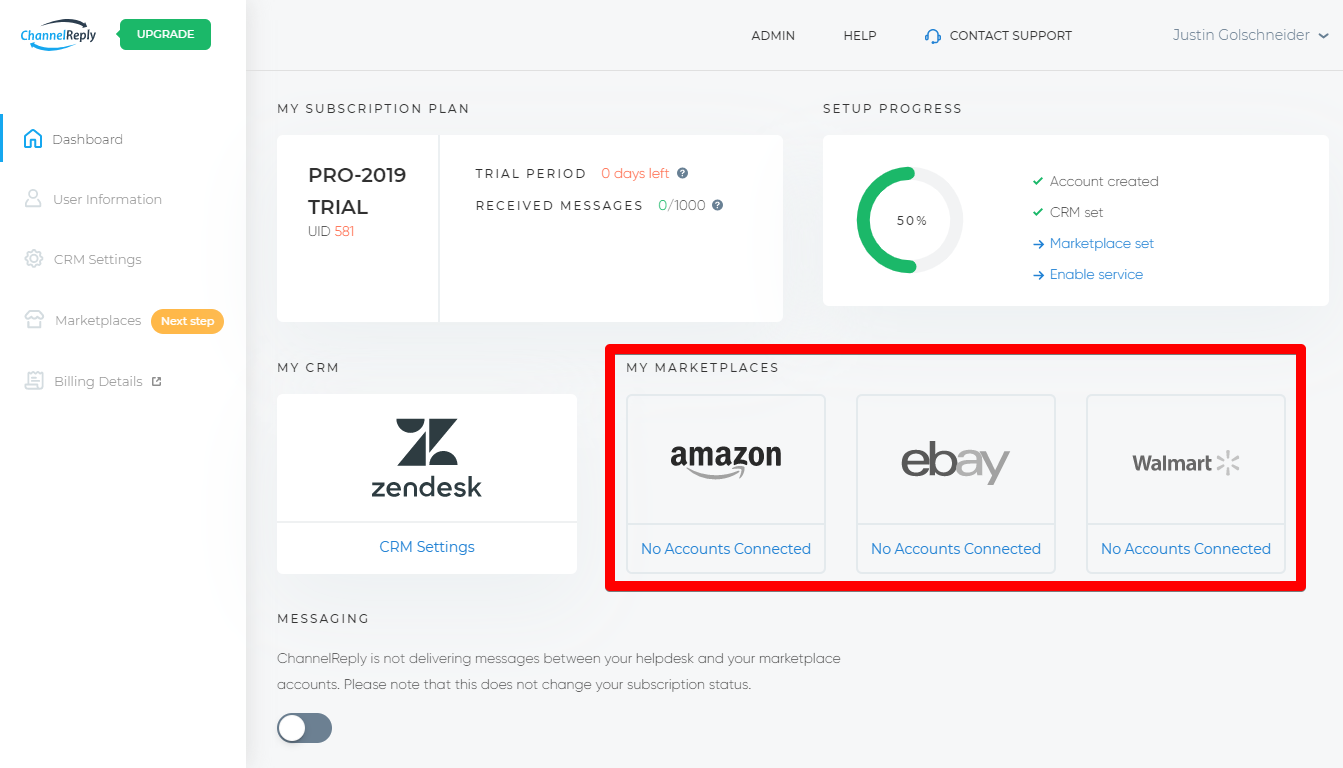 If you ever need assistance, please don't hesitate to contact us.
Optional: Enter Custom Fields
One of the most powerful advanced options in Zendesk is custom fields. These allow you to automatically personalize your messages. For setup instructions, see "How to Use Custom Fields from ChannelReply in Zendesk Macros."
Below, you'll see what your marketplace messages will look like in Zendesk with our app installed and custom fields added. Critical information about your tickets will appear in the app on the right. You will also see the custom fields you created on the left.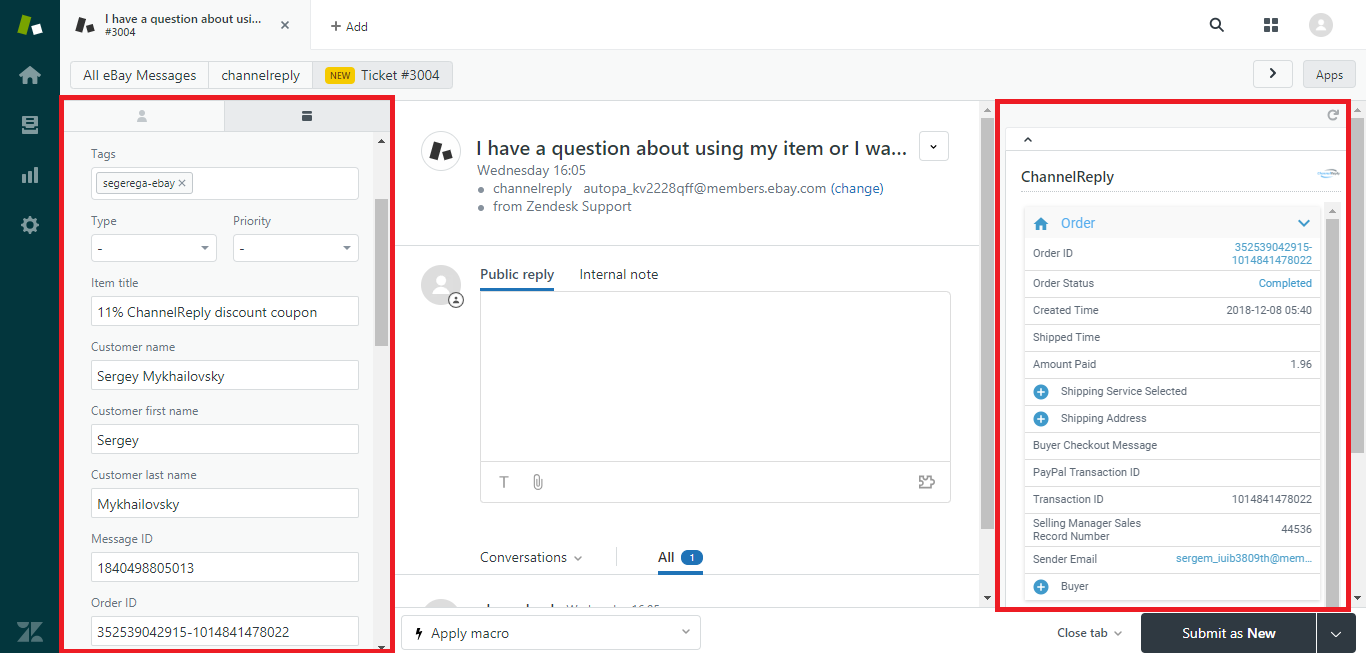 What Else Can I Do with ChannelReply and Zendesk?
A complete breakdown of all available features is available in "Everything You Can Do with ChannelReply in Zendesk."