eBay returns procedure can take a while to figure out. Their sellers' guide to returns clocks in at a whopping 3,500+ words and then links all over the place to further details. We're here to give you a quick overview of how everything works so you can spend more time selling and less reading about policy.
When Customers Can Initiate eBay Returns
A customer can request a return if:
The conditions from your return policy are met, or
The item that reaches the buyer doesn't match your description
It's really that simple.
If you decide to accept returns, then eBay gives you the ability to customize your return policy extensively. You can decide how long the buyer has to request a refund, whether the refund will be full or partial, and whether you'll charge the buyer for shipping and/or restocking.
You can find out how to create an eBay return policy here. Be sure to follow the best practices of creating a good ecommerce return policy when you do. Otherwise, you'll be at risk of damaging your eBay Feedback score and therefore your ability to make sales.
Note that you can only achieve Top Rated Plus status if you accept returns within 30 days.
When the eBay returns procedure begins, you can do any of the following:
Give a Partial Refund
You can only give a buyer a partial refund if you let them keep the item they want to return.
This can be a good option if you would have a tough time reselling the item, such as if you delivered something, they opened it and found that it was damaged, and the packaging is now impossible to reuse. It also saves both parties the time and money involved in dealing with shipping.
Give a Full Refund
Give the buyer all of their money back and allow them to keep the item.
This choice is the best option for keeping customers happy and maintaining the highest possible eBay feedback score, but it can also do a lot to drag down your profits.
Take the Item Back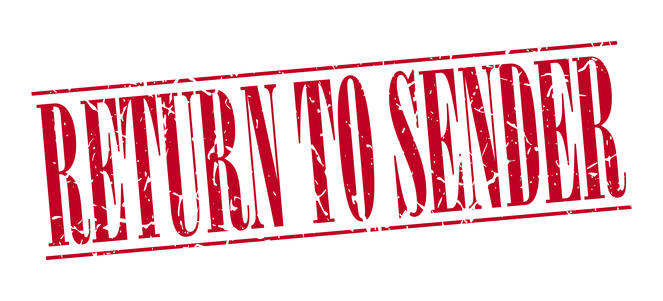 You can give the buyer a full refund or a replacement in exchange for them sending the item back to you.
Accepting a Return and Providing a Refund
If you accept the return, you must generally give the buyer back exactly what they paid.
Charging the buyer for shipping: You can charge the buyer for the return shipping if that's part of your return policy and the item was as the listing described. You cannot charge for shipping if the item does not arrive exactly as described.
Having the buyer pay for return shipping is the default setting for quick listings.
Charging a restocking fee: This works just like charging the buyer for shipping. The item must arrive as described and the charge must be included in your returns policy.
Replacing a Return
The buyer can request to send a damaged or otherwise unsatisfactory item back and have you replace it with a satisfactory one.
If you accept the request, send a replacement, and the customer never returns the original—as experienced by the unfortunate gentleman on the right—you can charge them for both the original and the replacement.
You can just give the buyer a refund if you're out of stock.
How Shipping Works for Returns
1. You tell the buyer where to ship the item back to.
If you only have one address, then you don't need to worry about this. If you have multiple addresses, though, then you need to send them a quick message informing them of where they should ship the item.
2. You make sure the buyer has a shipping label. (You will need one too if you're providing a replacement.)
The fastest and easiest way to get one is to buy one from eBay for the customer to print out, which you can do when going through eBay's standard process to complete a return. You can also choose to buy one from a courier of your choice and send it to the customer as an image file.
3. The item is packaged and sent.
When it arrives, you send the buyer the refund. If you're providing a replacement, you send it out as soon as possible, even if the customer hasn't sent the original back to you yet.
Further Reading
This article has covered the big picture, but there are little details like how quickly you have to respond to certain requests and how to handle situations that go outside standard eBay returns procedure. You can find those details on eBay here and their Returns FAQ here.
By the way, if you're having a tough time keeping track of your eBay returns, then we recommend you connect eBay to Freshdesk, Zendesk or Desk.com to make customer support much easier. It's made a huge difference for us, and we are sure it will for you, too!