What does it cost to sell on eBay? Many will point to the final value fee of 10% and say that's it.
However, that's a grossly oversimplified answer. There are tons of hidden costs and fees involved in selling on eBay. If you don't know about them, you could lose money on items you thought would turn a profit.
We provided a quick explanation of the costs in our earlier article, "Selling on eBay for Beginners: 5 Steps to Success." That's a good place to learn the basics of how the fees are calculated. This article, though, is for those who want to go deeper.
Final Value and Listing Upgrade Fees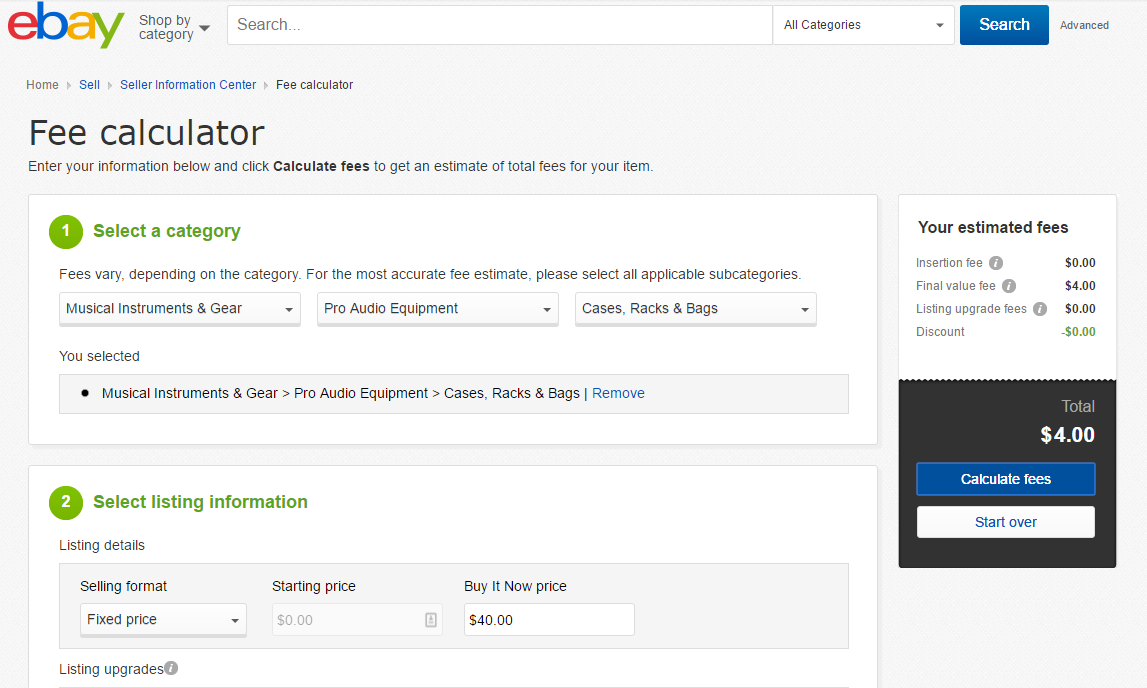 Short version: Determine your basic eBay final value and upgrade fees using their calculator.
The fastest way to calculate your basic eBay fees is to use eBay's fee calculator. This saves you from doing a lot of math and from having to memorize rules for different categories, store levels, etc.
The calculator is a great place to start and determine which fees you'll need to pay. However, it isn't complete. It only covers the final value fee and some upgrade fees.
To really grasp the full price you'll be paying, you also need to consider . . .
Insertion Fees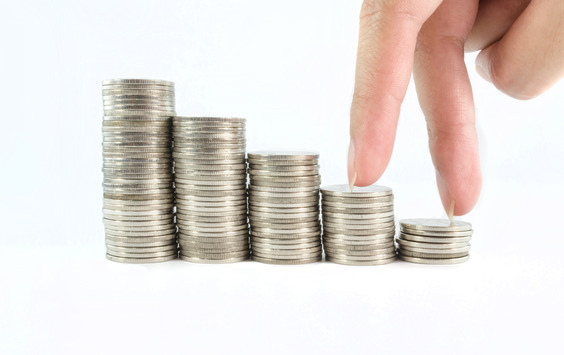 Short version: If you list a lot of items, you may need to pay an extra $0.30 or so for some of them.
Every eBay seller gets to list a number of items every month without paying insertion fees. For most categories, these are as follows:
No eBay store: 50 items.
With a store:

Basic store: 250 fixed-price items and 250 collectible/fashion auction listings.
Premium store: 1,000 fixed-price items and 500 collectible/fashion auction listings.
Anchor store: 10,000 fixed-price items and 1,000 collectible/fashion auction listings.
Anything above those limits costs the following:
No eBay store: $0.30 per listing.
With a store:

Basic store: $0.25 per auction, $0.20 per fixed-price listing.
Premium store: $0.15 per auction, $0.10 per fixed-price listing.
Anchor store: $0.10 per auction, $0.05 per fixed-price listing.
Now, you might be wondering why you get so few free auctions. Don't sweat it. If your auction succeeds and the item sells, eBay will refund your insertion fee (as long as it isn't in an excluded category).
They'll also refund insertion fees on fixed-priced listings if they sell and the buyer doesn't pay up.
For some categories (mainly big-picture stuff like real estate and vehicles), there are no free listings. You are always required to pay an insertion fee. This fee can range to well over $100.
Shipping and Handling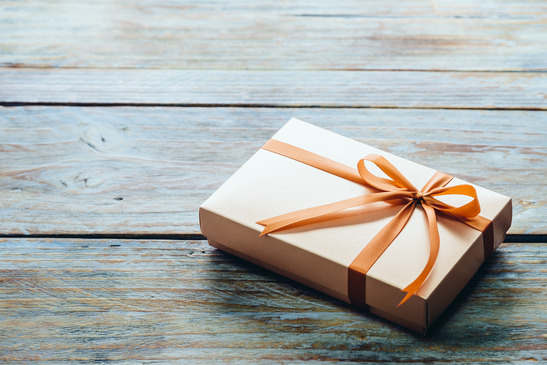 Short version: Decide how much you'll charge for shipping, because this charge counts toward your final value fee.
Now you know what eBay's going to charge you . . . sort of. eBay will also charge its final value fee on any shipping costs you charge. You therefore need to know how much shipping and handling will cost so you can get an accurate grasp of the fees you'll need to pay.
For those of you offering free shipping, knowing these costs is even more important because you need to factor them into every price.
Either way, you can't really understand the cost of selling on eBay until you understand shipping and handling. Read our guide to shipping and handling costs to determine how much yours will run you.
PayPal or Other Payment Processing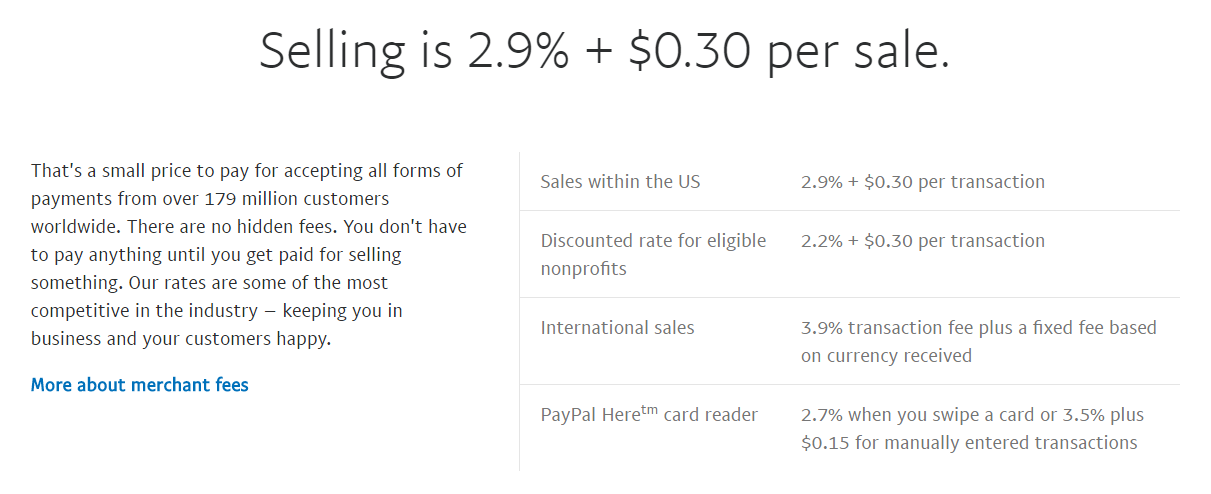 Short version: Whether you're accepting payment by credit card or PayPal, you can expect your payment processor to take a fixed fee and a percentage out of every transaction.
PayPal and other payment systems like credit cards all have to make money somehow—typically through complicated fee structures of their own. These usually consist of both a percentage and a fixed fee per transaction. For example, PayPal fees for selling from one US location to another total 2.9% plus $0.30.
These fees are charged on the gross value of the transaction, before the final value fee and shipping costs are taken out. It's therefore important to consider your payment processing fees before setting your final price.
Let's hold off on doing any calculations for now. Since these fees stack with the final value fee, it's best to calculate both at the same time. Just find out how much your payment processors will charge you for now and write those numbers down.
Note: If you accept multiple payment methods, compare the different fee structures for each and try to determine how much you'll pay on average.
Advanced Final Value / Payment Processing Fee Calculation

Short version: If you want your customers to cover the cost of selling on eBay, calculate your price using the following formula: x – [(total percentage fees * x) + total fixed fees] = amount you want to receive after fees.
So, you know the final value fee is going to cost you 10%. But you can't just go slapping an extra 10% on your prices and expect that to cover the fee.
Say you plan to sell something for $40. The final value fee on that will be $4. Yet if you just increase your price to $44, that won't cover the whole final value fee—10% of $44 is $4.40, so you still lose $0.40 to the final value fee. Not to mention your PayPal fee just went up an extra $0.12!
If you want to make sure that your final price covers both the final value fee and your payment processing fee, you need to use algebra.
First, add up all of your fixed fees for the transaction. Start with PayPal's $0.30 fee or any other fixed payment processing fees. Then add any other fixed fees, such as insertion and/or listing fees if this is a unique item (these fees will be spread out across numerous sales if you're using one listing to sell a product again and again). This value will be "z" in the formula below.
Next, tally any percentages charged on the sale price. In most cases, that means add PayPal's 2.9% to eBay's 10% final value fee, for a total of 12.9%. (Yours might be lower if you have an eBay Store.) This value will be "y."
Finally, determine how much you need to receive from each transaction in order to cover the costs of buying/manufacturing + shipping and handling the item while still making an acceptable profit. This value will be "p."
Now solve the following equation for "x." You can do this easily by plugging the formula into an algebra calculator like Math Papa.
x – [(y*x) + z] = p.
Example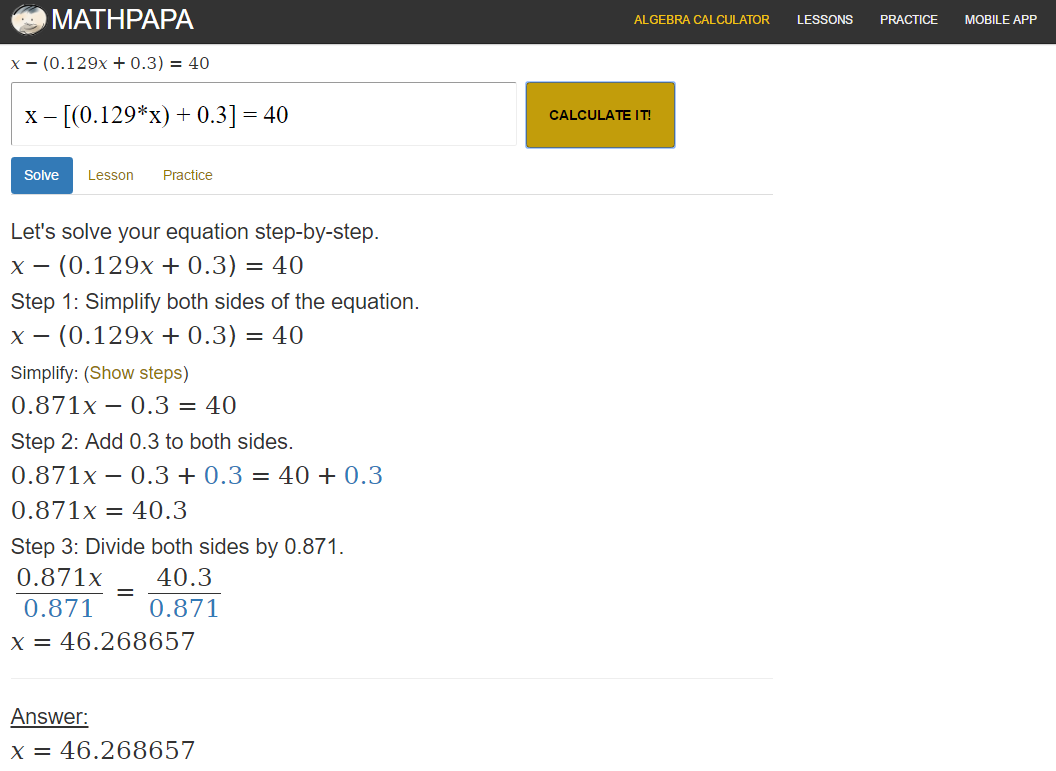 Let's say I upload an item as one of my free monthly listings. Since I only accept payments via PayPal, the only fixed fee I have to deal with is the $0.30 PayPal fee per transaction. Therefore, I enter 0.3 as "z."
My final value fee (10%) plus my PayPal fee (2.9%) total 12.9%. I therefore enter 0.129 as "y."
After adding up the cost of shipping and handling and the cost of buying the item I'm reselling, I determine that I need to receive an average of $40 after fees in order to cover my expenses and make an acceptable profit. I enter 40 as "p."
So the equation I get is: x – [(0.129*x) + 0.3] = 40. After running that through an algebra calculator, I get $46.27 as "x." That's how much I need to charge if I want to receive $40 from each transaction.
Need proof that it works?
eBay final value fee: $46.27 * 0.1 = $4.63.
PayPal percentage fee: $46.27 * 0.029 = $1.34.
PayPal fixed fee: $0.30.
Total fees: $6.27. That leaves me with an even $40 after fees.
Sales Tax

Short version: Sales tax should have no impact on your price calculations when selling on eBay.
US sellers will sometimes be liable for sales tax. You can get a detailed understanding of how it works in our article "A Quick Guide to Online Sales Tax."
Really, though, this has no effect on what it cost of selling on eBay. Sales tax is added after the customer places the order and isn't visible during shopping. And since it varies by customer, trying to take sales tax into account when setting your price is just going to make things unnecessarily complicated.
Sales tax may increase your startup costs a little. You will likely need to pay a one-time fee to register for a sales tax permit, and potentially some other registration fees as well. Most sales tax permits are cheap and cost $50 or less. Some are completely free.
Conclusion: What Does It Cost to Sell on eBay in Reality?
The real cost of selling a given item on eBay is made up of the following:
The costs of making or buying the item you're selling.
Any fees you're paying eBay and your payment processor for the transaction.
These costs are in addition to your overhead: customer service, government permit fees, paying freelancers to take photos or write descriptions for you, the opportunity cost involved in researching the item and dealing with suppliers, etc. Make sure your margins are healthy enough to cover these expenses as well.
We knocked our own costs way down by integrating eBay with a helpdesk. We highly recommend it if you want to stay in the black!
Now that you have your accounting under control, you can focus on the more exciting aspects of running an eBay business. Start by figuring out what to sell on eBay. Once you have that under control, learn how to get a great eBay Feedback score so you can keep the sales coming in!