Hello, Gorgias! ChannelReply now integrates Walmart, Back Market, eBay and Amazon with the helpdesk built for Shopify. Ecommerce customer service has never been easier!
Last updated 1/4/2022.
Answer Walmart, Back Market, eBay and Amazon Messages in Gorgias
Gorgias offers the world's best tools for Shopify customer service. Add the option to answer messages from Amazon, eBay and more on the same screen and it becomes the perfect helpdesk for online sellers.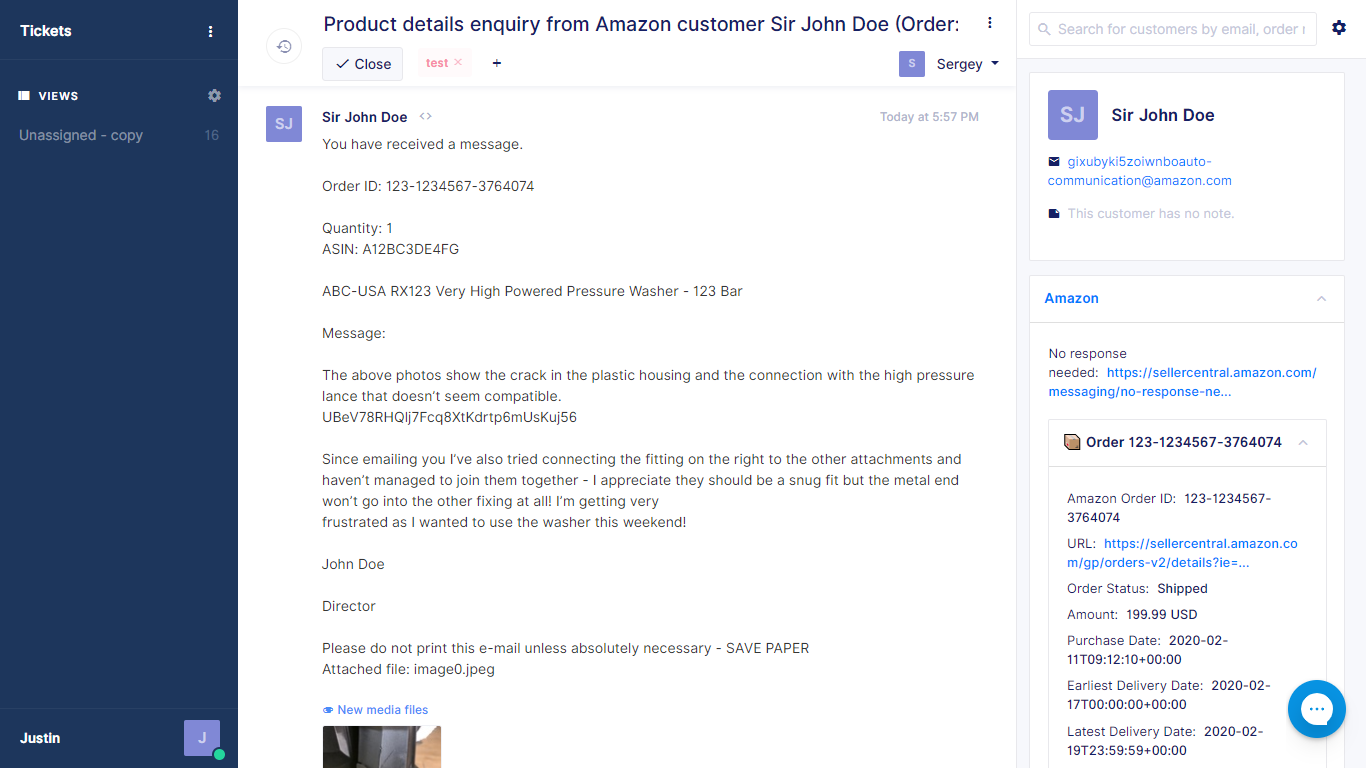 An Amazon ticket in Gorgias with data from ChannelReply on the right.
Start a free 14-day trial of ChannelReply and transform your customer service. Help getting started is available in our quick and easy Gorgias integration instructions.
All Your Questions Answered
ChannelReply provides detailed info about the customer and their order. Here are a handful of the details included:
Name
Item title
Order ID
Amount paid
Shipping address
Shipping service used
Pretty much anything else you can think of!
That means you don't need to switch tabs to look things up or send answers. Everything you need is right there in Gorgias.
Simpler Support
Always find yourself answering the same questions? Gorgias macros let you save your answers so you can enter them in a flash. Even better, every bit of data pulled in by ChannelReply can be used as placeholders in macros.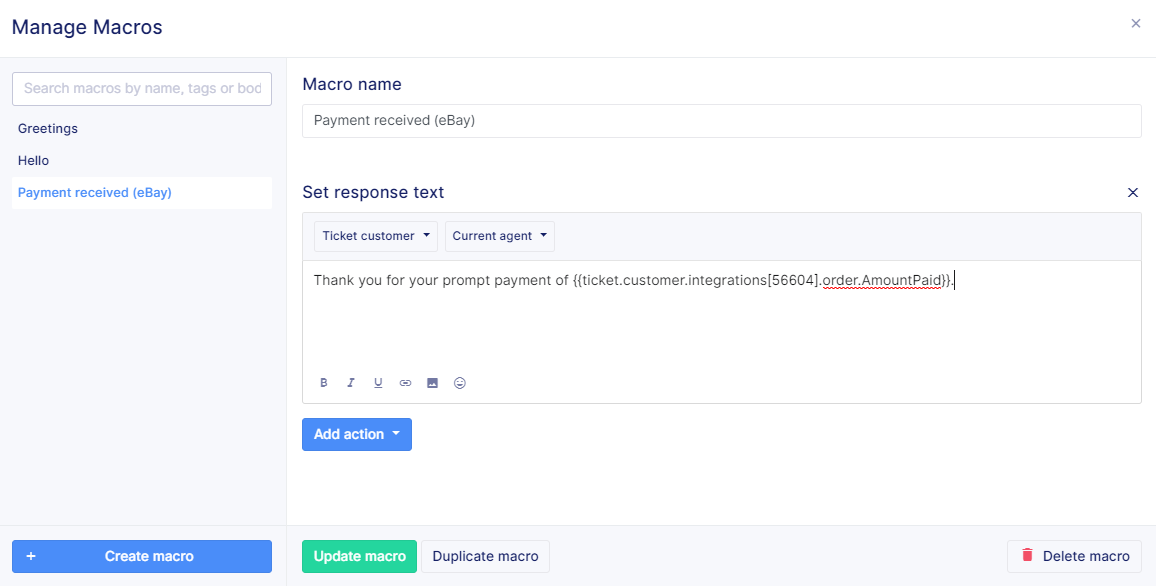 When entered in a reply to an eBay customer, the code in the curly brackets above transforms into the amount the customer paid.
That means you can autofill specifics like the customer's name and what they ordered. Time to recycle your keyboard!
Gorgias's rules can save just as much time. For example, you can auto-assign eBay tickets to a specific agent…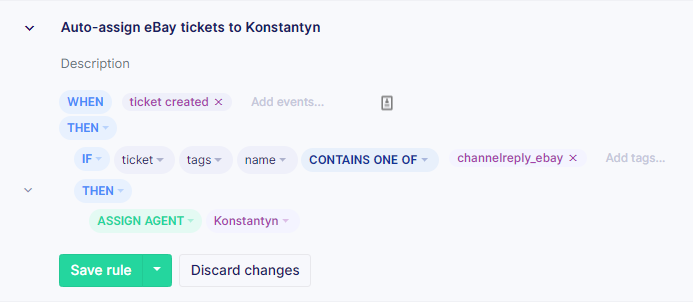 …or auto-reply to common Shopify tickets, notify a supervisor about each new Walmart message, or do tons of other boring tasks that don't need human direction. Use your staff where brains are essential instead!
No Interruptions
ChannelReply threads Walmart, Back Market, eBay and Amazon messages so conversations are easy to track in Gorgias. That means no time wasted looking for what a customer wrote last week—all their messages and your replies are available in the same ticket.
Work on the Run with the Mobile App
Gorgias offers an iOS app that's perfect for ChannelReply users. Answer marketplace tickets just like any other message…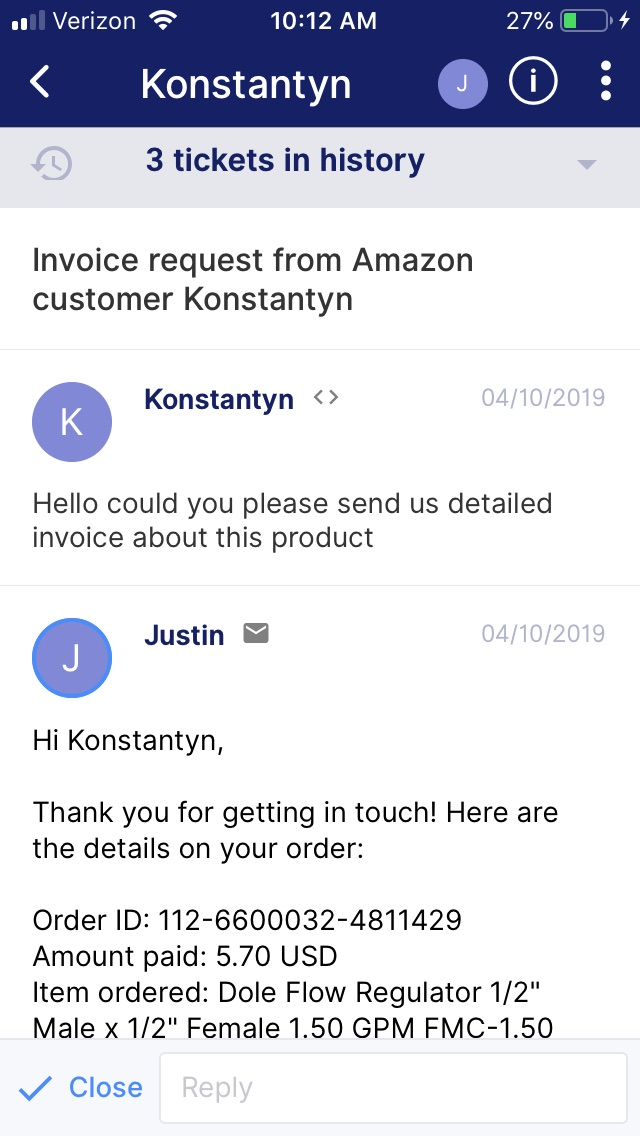 The same Amazon message shown earlier.
…and use the info button to view the ChannelReply app and see your customer and order details.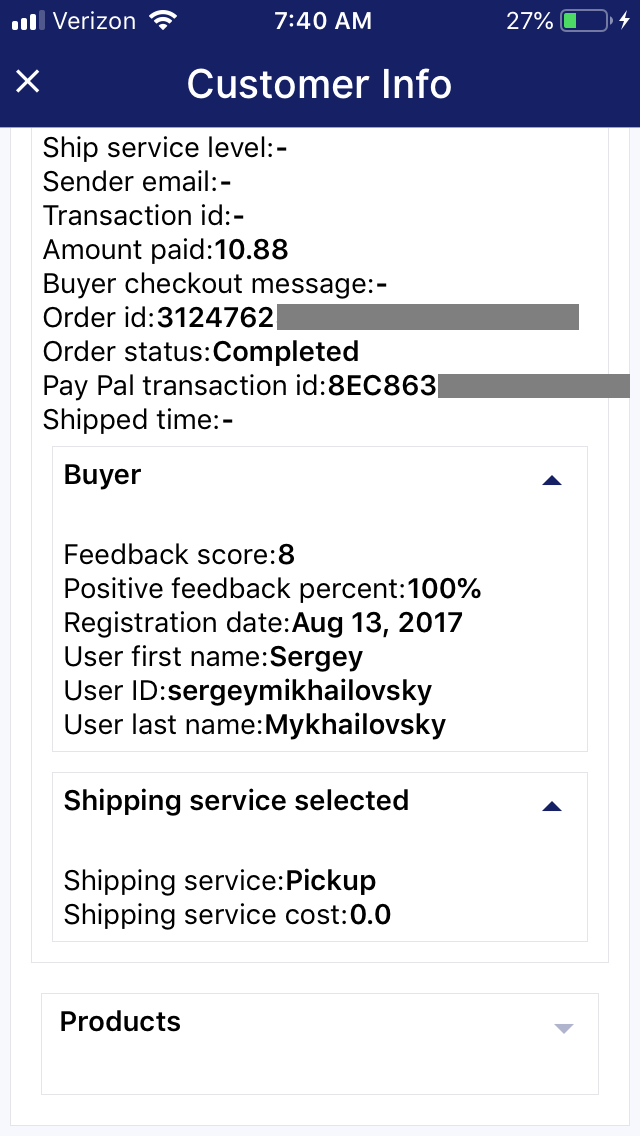 Order details on an eBay message.
No more hurrying back to your computer just to answer one Amazon message!
Track Performance
Gorgias automatically creates detailed reports, such as overall ticket volumes…

…ticket statistics organized by tag (making it easy to track each marketplace account)…

…individual agent performance, macro use, customer satisfaction and more. Get all the data you need to make decisions fast!
Ecommerce Support Solved
With Shopify and marketplace messages all in one Gorgias screen, ecommerce customer service gets a whole lot simpler. Start your free trial of ChannelReply and set up your Gorgias integration with Amazon, eBay, Back Market and Walmart in minutes!