Our Zoho Desk integration with Amazon, eBay, Shopify, Walmart, Back Market and Newegg is now live! With Zoho's technical horsepower and ChannelReply's ecommerce data, you can clear messages in record time.
Answer All Your Messages from Zoho Desk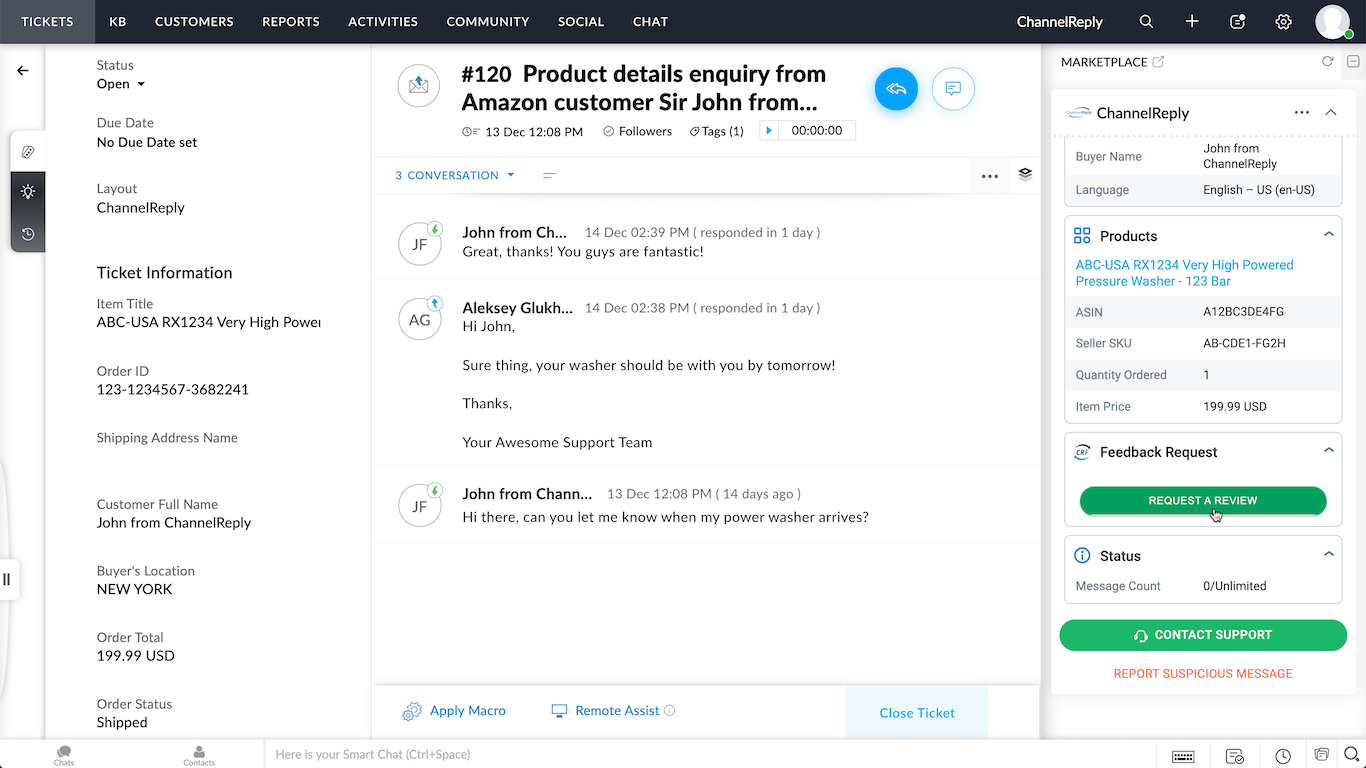 How many tabs do you have to flip between in a normal day of support? When you have to switch to looking up order info on Amazon or answering a message on eBay, it's not just annoying. It can eat up to 40% of your productivity.
With ChannelReply and Zoho Desk, switching is virtually eliminated. It doesn't matter whether the message comes from plain email, Facebook, Shopify, eBay or Amazon. You can answer it all from the same screen. Try it yourself with a free trial of ChannelReply.
Already have ChannelReply? Just follow our Zoho Desk integration instructions to get started!
Lower Prices than Any Competitor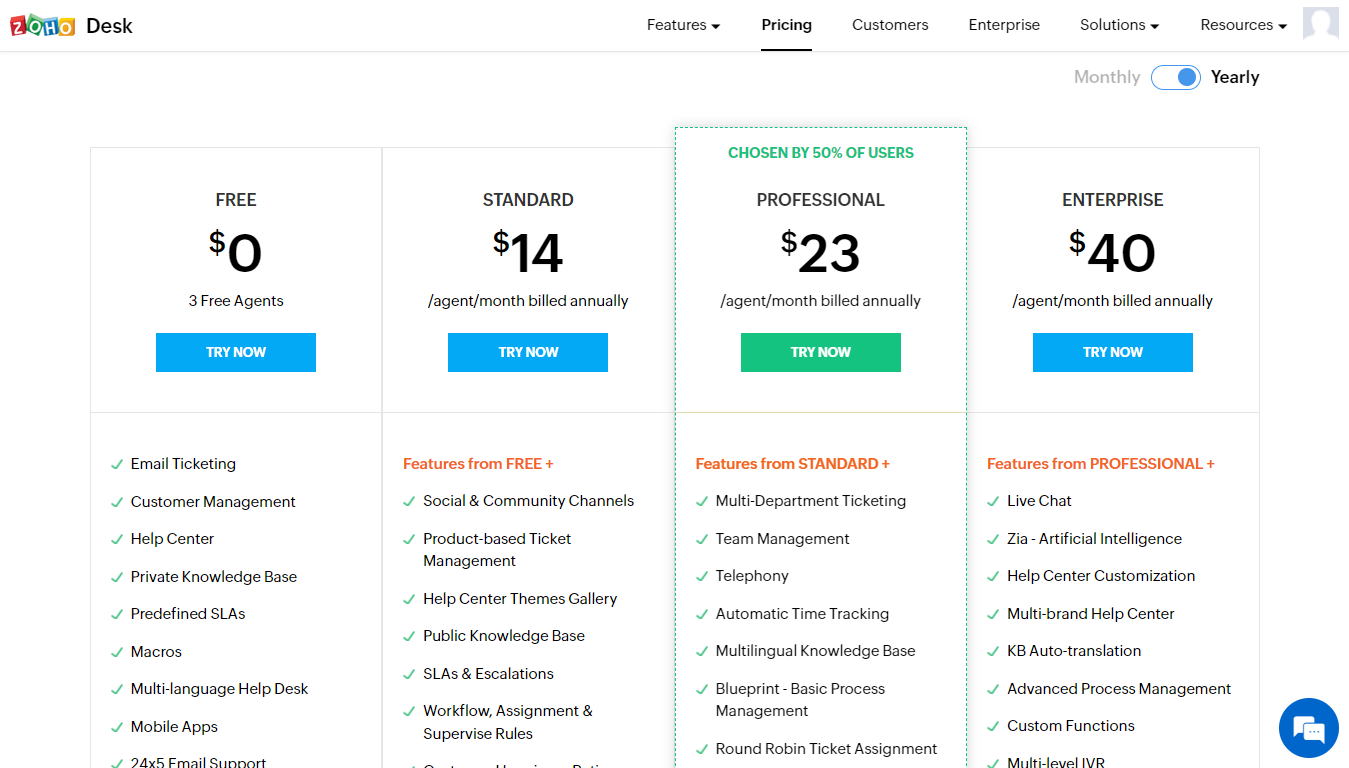 Zoho Desk is incredibly affordable. Its Standard plan supports all ChannelReply features and costs as little as $14 per month per agent.
That beats the entry-level prices of Zendesk, Freshdesk, Help Scout and more. Zoho is officially our new lowest-cost option! You won't find more affordable customer service software that works for Amazon, eBay, and so many other channels at once.
Get Order Info on Every Ticket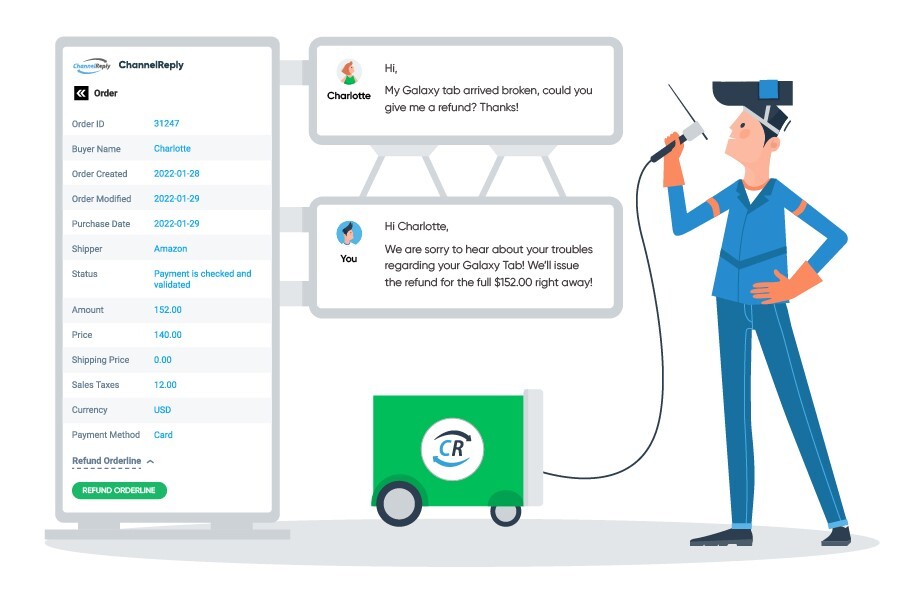 ChannelReply shows everything you need to know with each message. From the item the customer ordered to their shipping address, you'll have all the details it takes to provide exceptional support.
Here are just a few highlights of the info we provide:
Amazon Data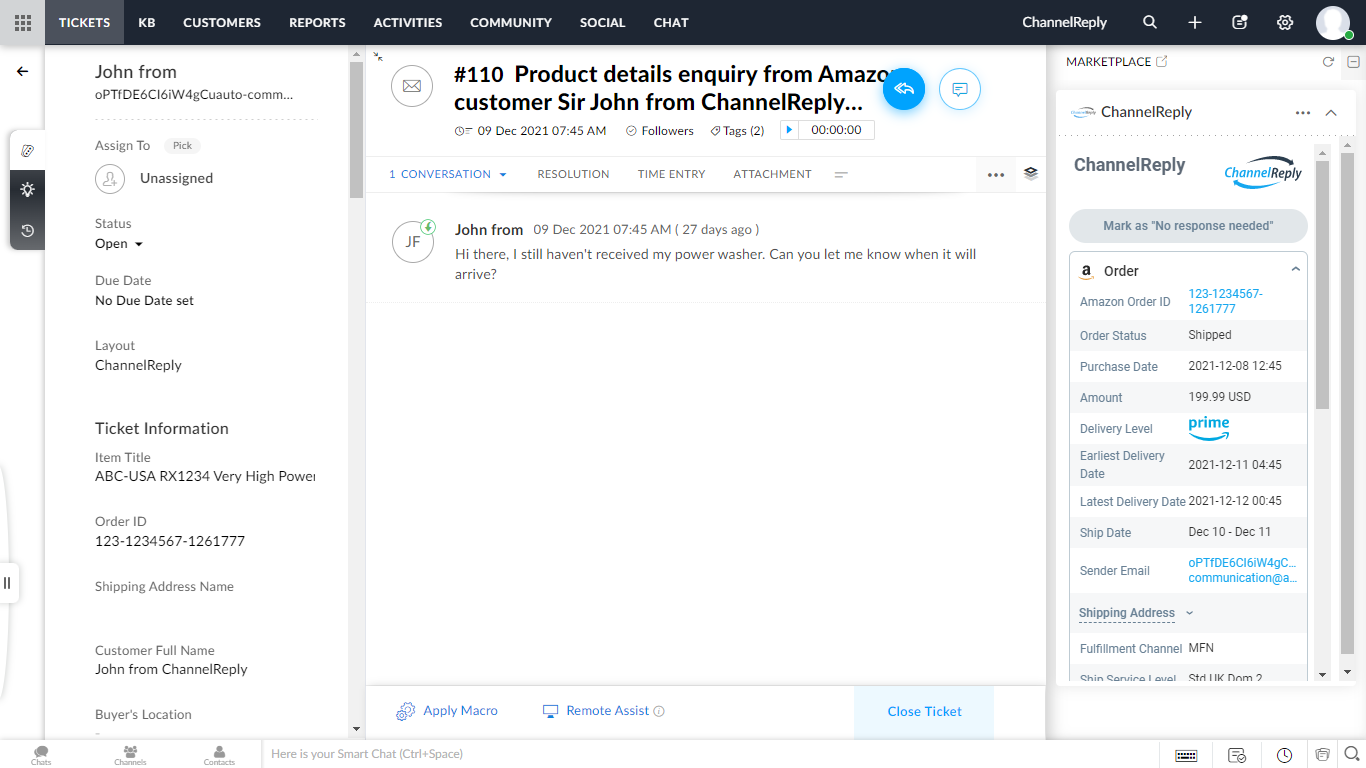 Order ID
Order status
Items ordered
ASINs
Amount paid
More than 15 other critical details
eBay Data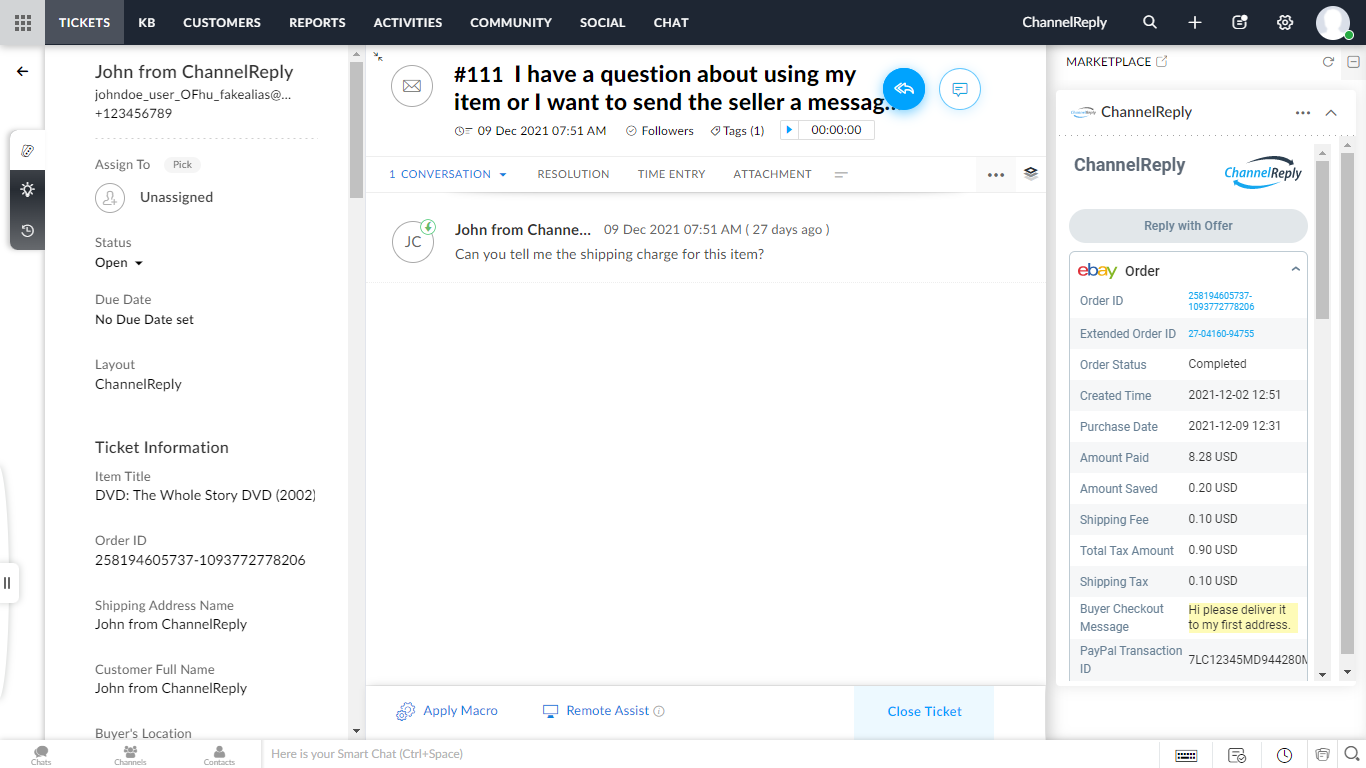 User ID
Buyer note
Feedback history
Order tracking ID
Real email address (when available)
Nearly 40 other eBay order fields
Walmart Data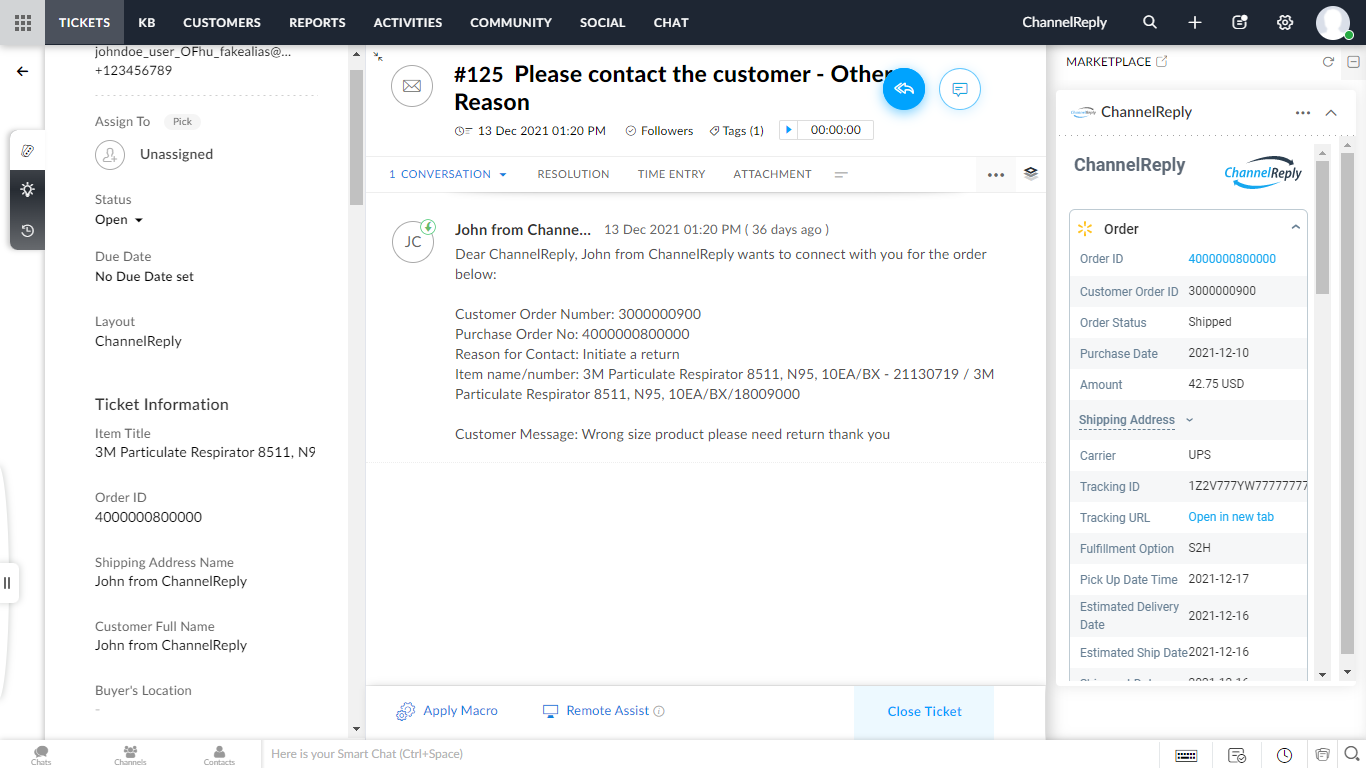 Customer & seller order IDs
Fulfillment option
Shipping carrier
Tracking ID & URL
Estimated delivery date
Over 20 additional details
Shopify Data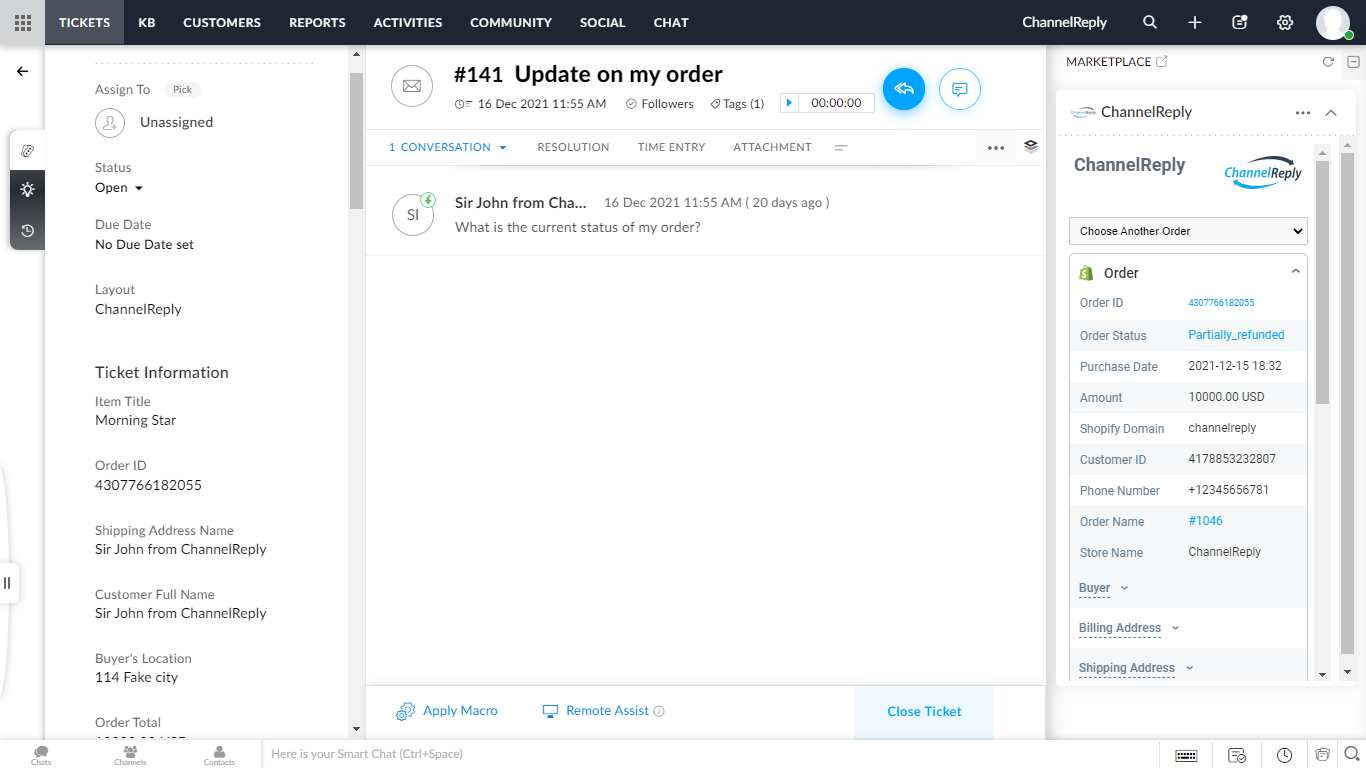 Order ID & Order Name
Items purchased
Item SKUs
Billing & shipping addresses
Tracking ID & URL
Over 25 more pieces of Shopify order info
Back Market Data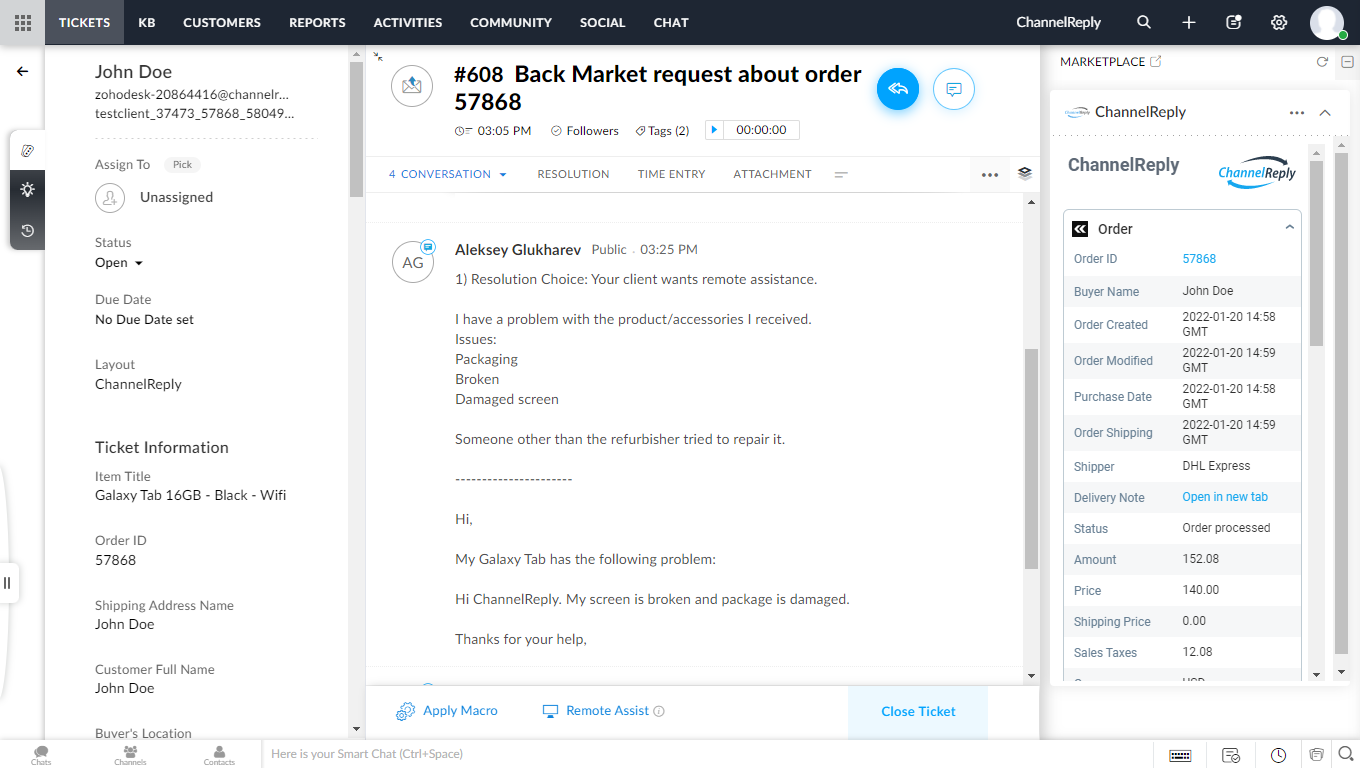 Order creation & last modified dates
Amounts paid broken down by items, shipping, BackCare, sales tax, and total
Tracking ID & URL
Payment method
Items and brands purchased
Over 40 other datapoints
Newegg Data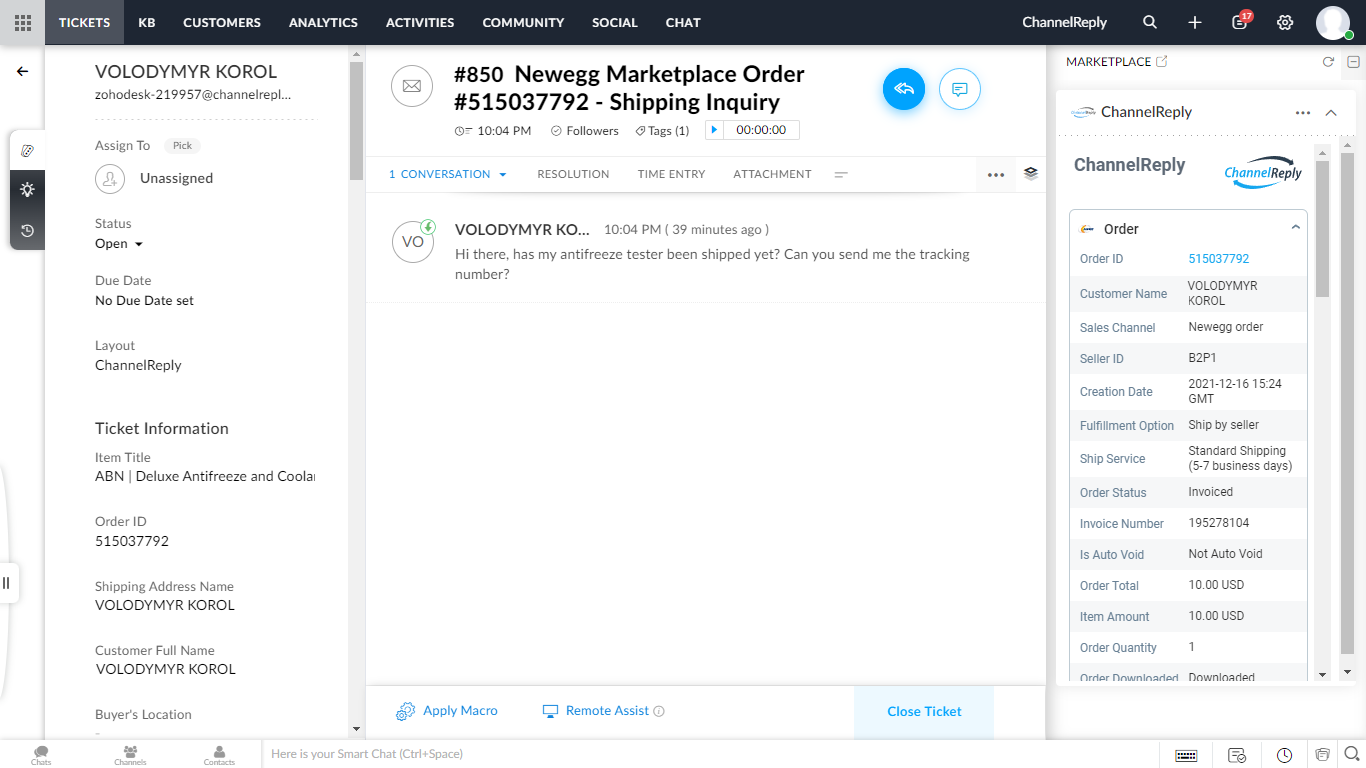 Shipping service level
Order status by package
Tracking numbers
Newegg item numbers
Sales tax, VAT, duty, and recycling fees paid
More than 45 other Newegg order details
Want even more screenshots and details? Check out our Zoho Desk + ChannelReply infographic. Or, see it in action by watching our demo video below:
Automate Anything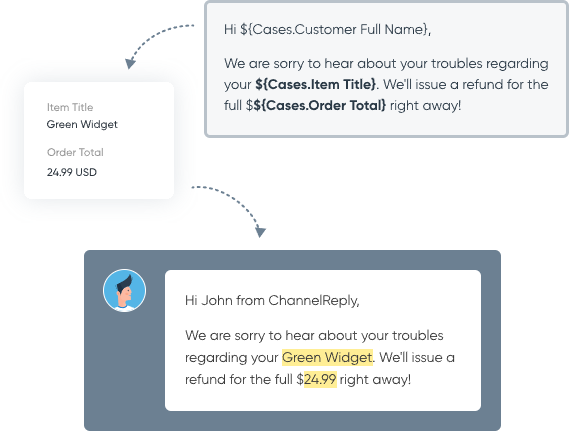 ChannelReply lets you pull order data into Zoho Desk custom fields. Now, this might sound like some small technical detail. But it's really a superpower that can make your team exponentially faster:
Create snippets and templates that personalize themselves with zero typing
Automatically prioritize and assign tickets based on details like item ordered
Build shockingly helpful Zoho autoresponders that actually answer questions and count as replies
Auto-sort tickets into any of thousands of possible organizational systems
Generate detailed reports on everything from response time by marketplace to number of tickets per SKU
Solve Problems Directly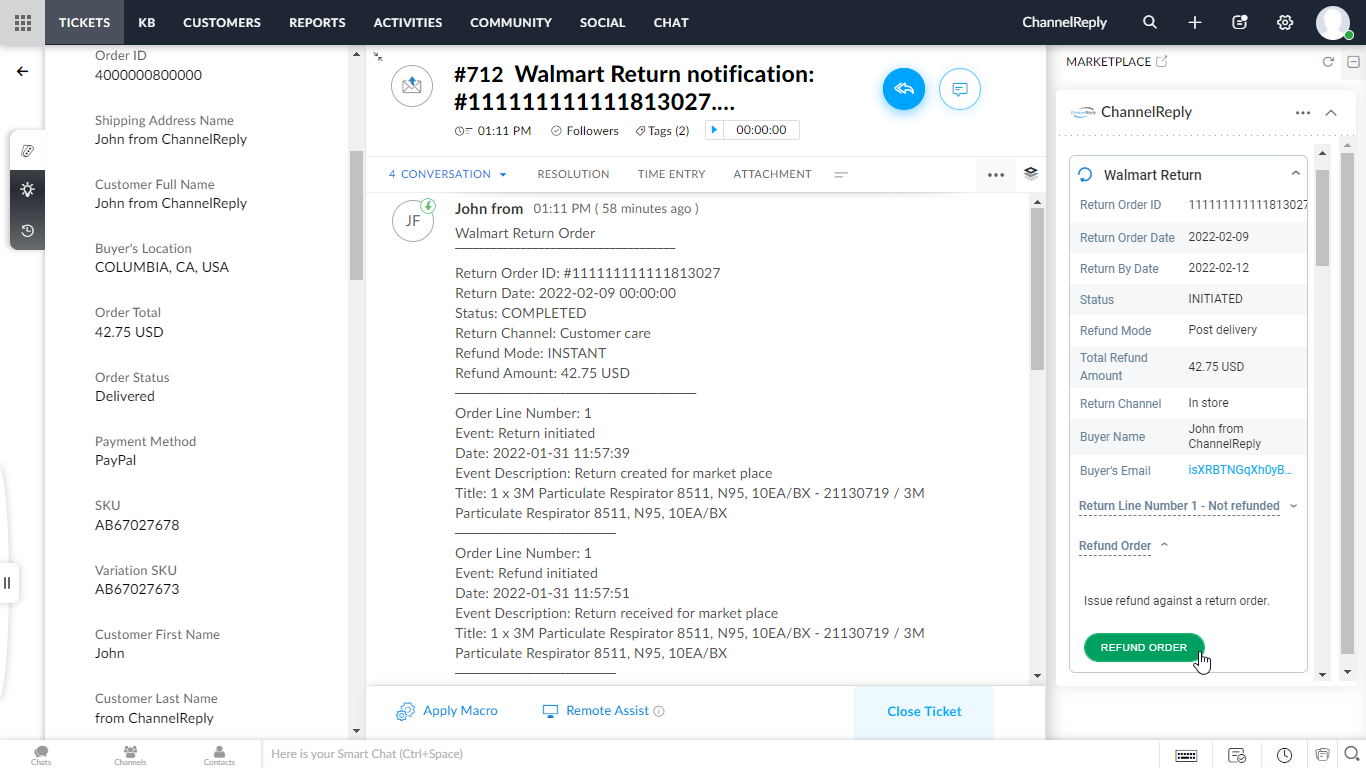 Take a huge variety of actions in the ChannelReply app without leaving Zoho Desk:
Issue refunds on Shopify tickets, Walmart returns, eBay Resolution Center cases and more
Trigger Amazon's "Request a Review" or "Mark as No Response Needed" actions
Cancel orders on Newegg, Shopify, Walmart or eBay
Upload shipping info to eBay cases or Back Market or Newegg tickets
Validate Back Market orders, review previous Shopify purchases, and take tons of other actions
Why waste time switching between Zoho and your marketplace accounts when you can do it all in one place? Start your free trial of ChannelReply.
Answer Messages from Your Phone
Zoho Desk's popular mobile apps [iOS] [Android] let you answer your marketplace messages straight from your smartphone.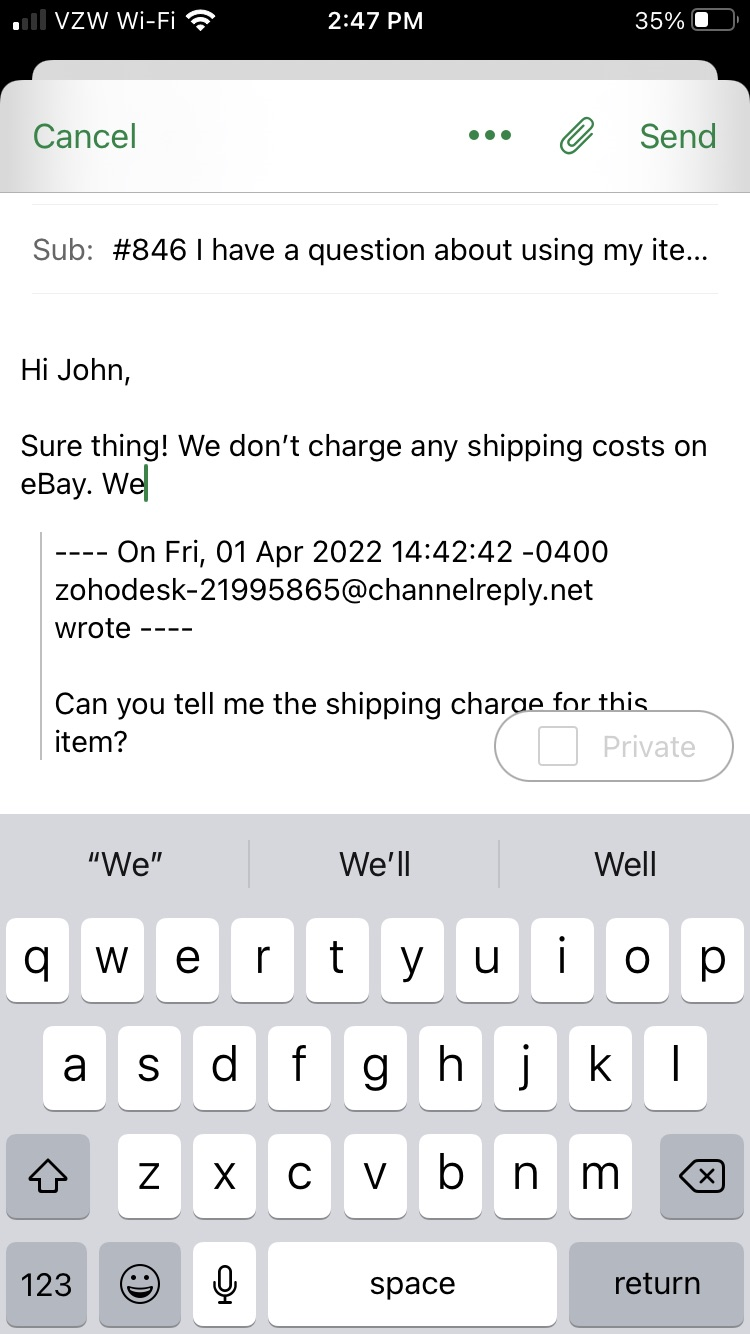 While apps like ChannelReply can't be accessed inside the Zoho mobile app, our custom fields are fully supported. That lets you view more than 45 order details without booting up a computer.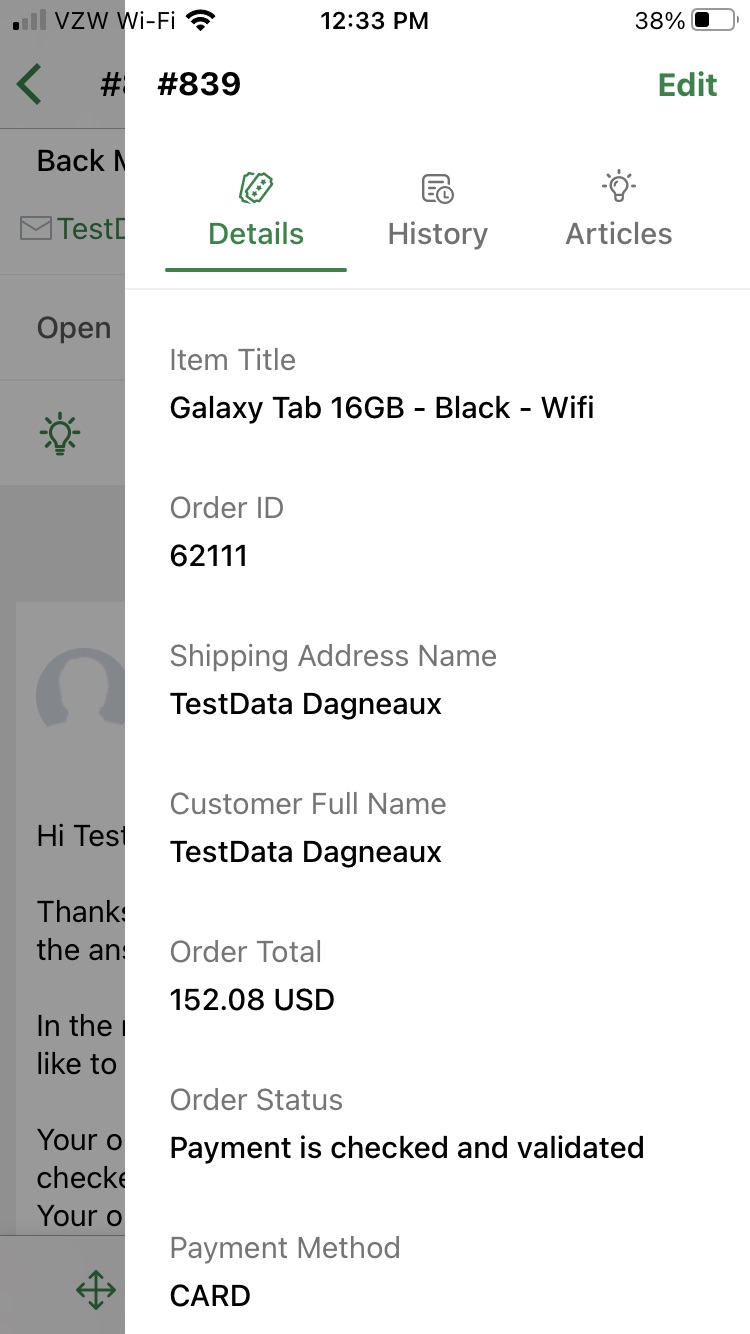 It also means your auto-personalized templates will work perfectly. Support your customers on the go without endlessly tapping tiny keys!
All Your Ecommerce Support in Zoho Desk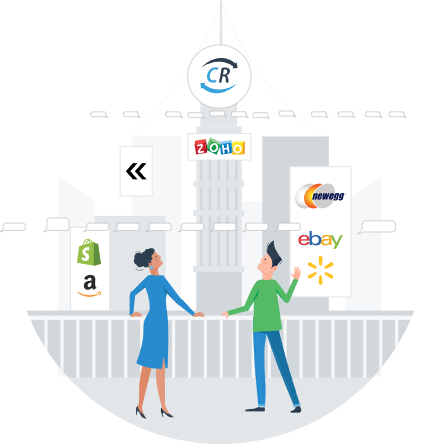 It's fast and easy to set up Zoho Desk integrations with Amazon, eBay, Shopify, Walmart, Back Market and Newegg. Just start your free trial and then follow these instructions. Minutes of setup will save you countless hours on support!