As Amazon sellers, we've gotten to know Amazon returns from the seller's perspective pretty well. But a few poorly received gifts over the holidays left us scratching our heads as we tried to figure out the Amazon return policy for buyers.
How long, exactly, do you have to return a product? Do you need tracking or insurance? What are the differences between returning a product to Amazon and returning a product to a third-party seller?
After looking through the labyrinthine results on the official policy page, we decided to put together this guide—as much for our own benefit as for yours.
Last updated 4/9/2020.
How Do I Return an Item to Amazon?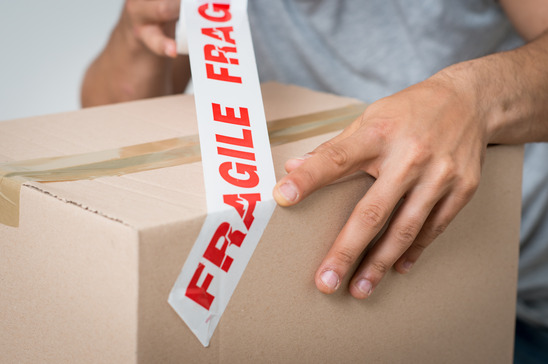 You can find Amazon's instructions for returning an item in video form here. Here's a list version:
Sign in to your Amazon account and click "Returns & Orders."
Find the item you want to return in your list of orders, then click "Return or Replace Items."
Choose the reason for your return.
Select how you'd like to receive your refund.
Pick an option for returning the item.
Once you've finished the steps above, you'll have to actually return the item! The exact steps will depend on the return method you chose.
Returning an Item to Amazon by Mail
After you complete the steps above, a return label will be provided on Amazon and by email. You may also get additional paperwork. Print these materials. (If you don't have a printer, you can ask to have the printed materials sent by mail.)
Pack any paperwork with the item you're returning.
If you have the packaging the item arrived in, you can just put it back inside and replace the old shipping label with your new one. Otherwise, you'll need to get a good box for it and padding materials like newspaper, packing peanuts or bubble wrap. Make sure the box is taped securely shut and that your padding does not allow the item to bounce around inside.
Follow any remaining instructions provided by Amazon.
Note: Amazon used to state that every item had to be returned in a separate box, even if items arrived together. This statement seems to have disappeared. It may be permissible now, but it's best to ask Amazon directly before trying it.
Returning an Item to Amazon by Drop-Off
You may get the option to drop off the item at an Amazon location or with one of their partners. For example, an Amazon locker, a Kohl's, or a UPS Store may be able to take your return. These options depend on the item and your location.
If you choose a drop-off option, you usually need to pack it securely and attach a shipping label, just as described for sending a return by mail.
You'll sometimes have the option of a box-free return. If so, it's your lucky day! All you need to do is bring the item to the drop-off location and show them the QR code that Amazon gave you. No tape or packing peanuts needed.
How Do I Return a Gift to Amazon?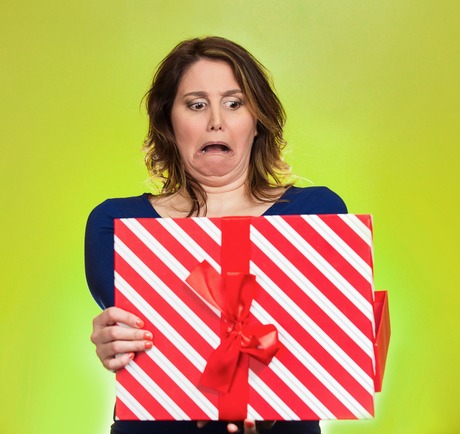 Returning a gift to Amazon works much like returning an item you purchased yourself. The key difference is what you need in order to return it: your order ID, or info about the gift giver.
How Do I Find My Order ID?
Your Order ID appears in the upper-left of the packing slip sent with the order, as shown below. (Please excuse the horrible image quality, as this was originally intended only as evidence for Amazon.)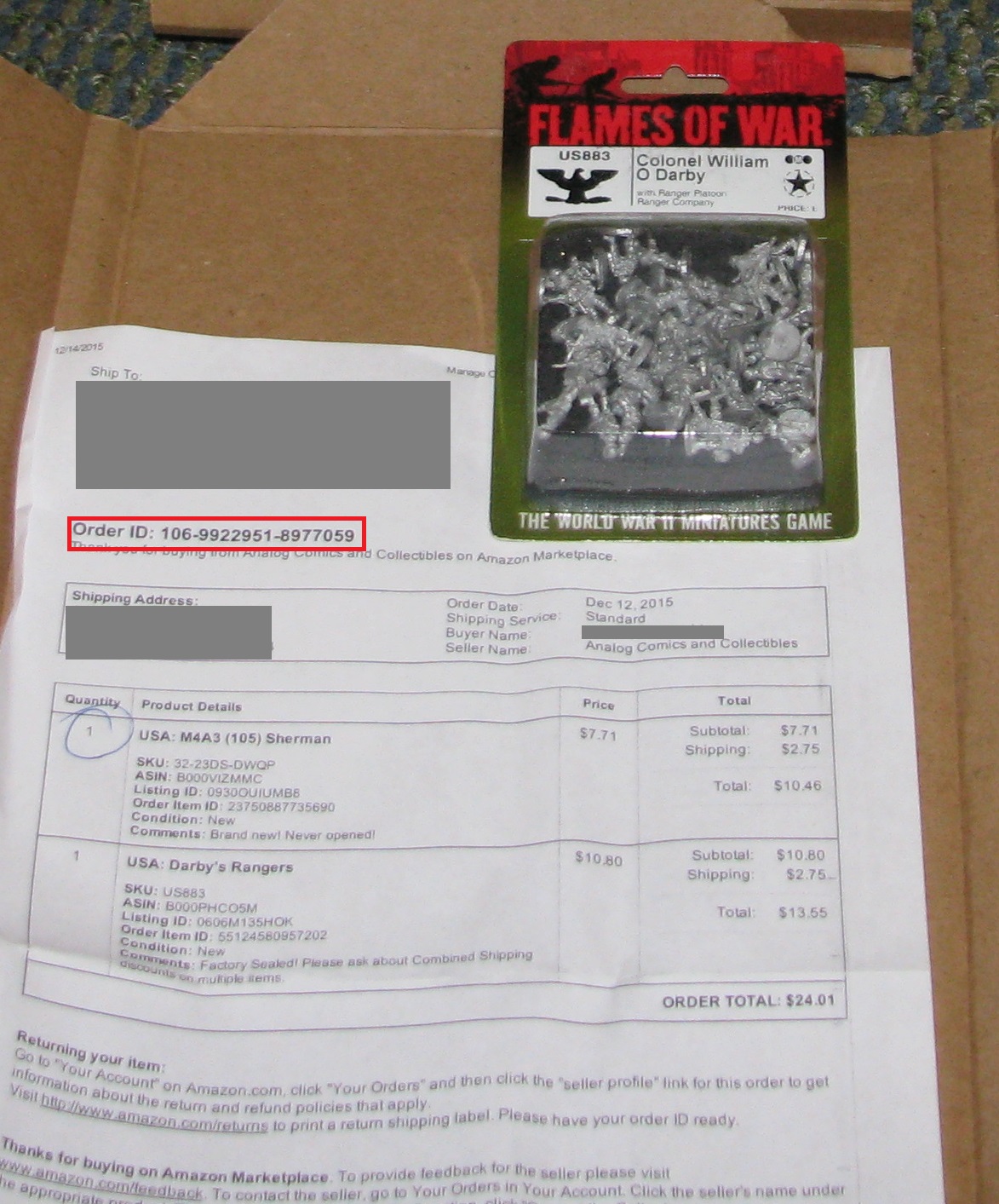 Of course, the packing slip also has the price of your gift on it, so it's not always popular to include it when giving a present. That means if you don't have it, you'll have to get it from the gift giver. Good luck!
What If the Giver Lost the Packing Slip?
They can still find it on their Amazon account. They just need to log in to Amazon, click "Returns & Orders," and find the order that included the gift. The order ID will be in the upper right.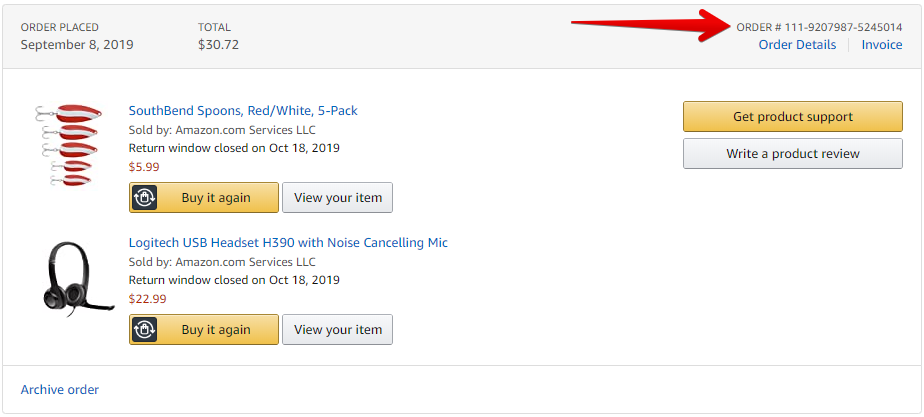 What If I Can't Get the Order ID?
In that case, just put together as much info about the order as you can. Any of the following can help:
Giver's name.
Giver's phone number.
Email address giver uses for Amazon.
Tracking number on the package.
Shipping address where the package was delivered.
You don't need all of that, but the more you have, the better! Contact Amazon once you have enough info and they will try to identify the order for you.
How Do I Return the Gift Once I Have This Info?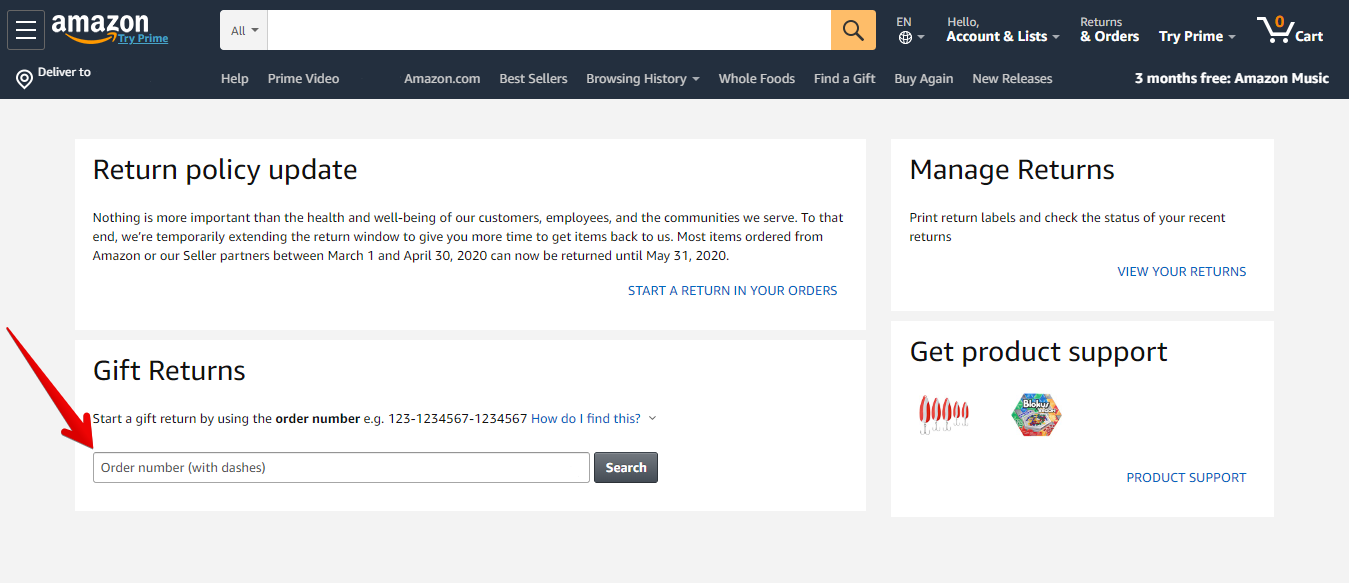 Above: Step 2 from the instructions below.
You can find Amazon's gift return instructions here. Here's our version:
Go to the Amazon Returns Center and sign in if requested. If you don't have an Amazon account yet, you'll need to create one—but don't worry, it's free.
If you have the order ID, enter it in the order number field under "Gift Returns," as shown in the screenshot above. Then follow Amazon's prompts. (If you don't have the order ID, contact Amazon instead.)
If your return request is approved, Amazon should provide a return label and return authorization slip for printing immediately, and send you copies via email. Print these materials or choose to have them mailed to you.
Pack the return authorization with the item you're returning.
If you have the original packaging used to deliver the product to your door, you can just put the item back inside and replace the old shipping label with your return label. Otherwise, you'll need to get a good box for it and padding materials like newspaper, packing peanuts or bubble wrap. Make sure the box is taped securely shut and that your padding does not allow the item to bounce around inside.
Follow any remaining instructions given to you by the Amazon return center.
What If the Seller Won't Approve My Return Request?
You may still be able to return the gift. However, you'll have to get the giver involved and ask them if they can file an A-to-z Guarantee claim. That can be a painful experience for everyone involved, so only turn to that option if absolutely necessary.
How Long Do I Have to Return Something I Bought on Amazon?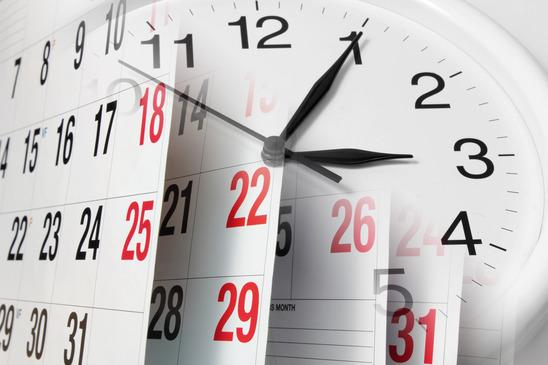 You just had to ask, didn't you? It's complicated—it depends on what you bought, when you bought it, and whom you bought it from. It sometimes even depends on why you made the purchase!
Look for the statement that most closely matches your situation below. The amount of time you have to initiate your return appears in front of it.
Coronavirus update: Amazon has extended the return window for "most" items. If you ordered any qualifying item between March 1 and April 30, 2020, then you have until May 31 to return it. They haven't explained much about what qualifies, but we believe the extension applies to any item that would normally have a 30-day return window.
If You Bought Your Product from Amazon or from a Seller Eligible for Amazon Prime:
Never: I purchased hazardous materials; live insects or plants; food for people or pets; wine; gift, game or phone cards; downloadable/streamable games, software, music or videos; something I printed with Amazon Photos; full-sized mattresses or mattresses that have been removed from their packaging or expanded; or theme park tickets.
You have to admit: shipping your can of propane, bucket of nightcrawlers, bottle of fancy wine, or World of Warcraft card was probably a hair-raising experience for the delivery guys the first time around. And if you try sending back a live plant or insect, it's just not likely to survive another three days bouncing around in the back of a delivery van.
Returns for these items are out of the question. However, if you get a box of dead crickets when you have a house full of hungry lizards to feed, or someone clearly used your oxygen tank to fight off Jaws, you might be able to get a refund. Learn more here.
See the note on purchases with Alexa below for one exception.
7 days: I bought an ebook for my Kindle; accidentally bought the wrong digital music using Alexa; bought any physical item using Alexa; or purchased digital educational materials that I haven't downloaded yet.
You can "return" any ebook you've purchased within a seven-day period. If you receive an ebook as a gift, you can choose to trade it in for Amazon gift card credit rather than accepting it.
Digital music bought using Alexa works similarly. If you tell Alexa to buy some Creedence Clearwater Revival from the Digital Music Store and she accidentally purchases Creed instead, you can "return" that within seven days as well. (Phew!) However, the same guarantee doesn't apply if you make the purchase from your computer instead.
Any non-digital item purchased with Alexa is also eligible for a free return within 7 days. In theory, that even includes the potted peace lily that you substituted for a basketball.
Finally, unlike most digital products, digital educational resources can be returned in this 7-day period. But only if you haven't downloaded them yet! If you want to say adios to your Spanish lessons two minutes after getting started, you're two minutes too late.
30 days: I just bought a normal product at a normal time of year.
You have 30 days from the time you receive your purchase to return it to Amazon.
31 to 92 days: I need to return something I bought during the holidays.
Amazon goes easy on everyone during the holidays. If your item was shipped between November 1 and December 31, you have until January 31 to return it.
Note that Amazon sometimes removes this information from its website after January ends, but as of 2020, they've brought it back every year.
90 days: I've got these baby items I don't really want; my Amazon Renewed computer doesn't work; I want to send back this Amazon Warehouse Certified Refurbished item; or I want to return an app or in-app product I bought on the Amazon Appstore.
Did everyone at the baby shower give you boy-themed stuff, only for a daughter to join your family two months later? No worries—with the exception of baby clothes (which follow the normal 30-day rule), you have 90 days to give back your baby items. (See also the 365-day return period for baby registry gifts, below.)
Amazon Renewed items sold by Amazon can also be returned within 90 days. If you bought one from a third-party seller, you only get the normal 30 days for standard returns.
Amazon Warehouse Certified Refurbished items and some Amazon Appstore apps and in-app products also qualify for 90-day returns.
180 days: I want to send back something bought through my wedding registry.
You have up to 180 days to initiate wedding registry returns. However, this only applies to gifts, not to items the registry owners bought for themselves. This is marriage we're talking about—no cheating allowed!
365 days: I bought an Amazon Elements, Presto!, Mama Bear, Happy Belly or Wickedly Prime product; or I want to return a gift bought through a baby registry.
Amazon's one-year money-back guarantee on their own brands sure is nice! You have up to 365 days after you receive the product to report that you're not completely satisfied.
Gifts bought through a baby registry also have a 365-day return window.
Life of Warranty: The automotive parts I purchased failed.
If you buy something for your vehicle and it doesn't work or suffers from another failure covered by the manufacturer's warranty, you can get it replaced by Amazon or get a full refund.
All Eternity: I'm not totally happy with a Buttoned Down, Core 10, Moon and Back, Obsidian or Peak Velocity item.
Amazon owns these brands and is serious about satisfaction for them. They accept returns unconditionally at any time for all five.
If You Bought Something from a Third-Party Seller:
14 days: I bought collectible coins, or a handmade or customizable item.
You must notify the seller that you want to make the return for any of these items within 14 days of receiving them. Don't wait until it's too late!
Same as for items sold by Amazon, but never more than 90 days: Everything else.
Sellers can define their own return policies, but they should always be as good as or better than the return policy for Amazon. You should therefore have as much time as in the cases above under most circumstances.
If you can't work things out with the seller, Amazon typically gives you 90 days from the maximum estimated delivery date to file an A-to-z Guarantee claim. But they will consider claims filed after this date if you have a good reason.
We recommend contacting the seller within 30 days to make sure you have your bases covered. The sooner, the better.
What Are the Conditions for Making a Return?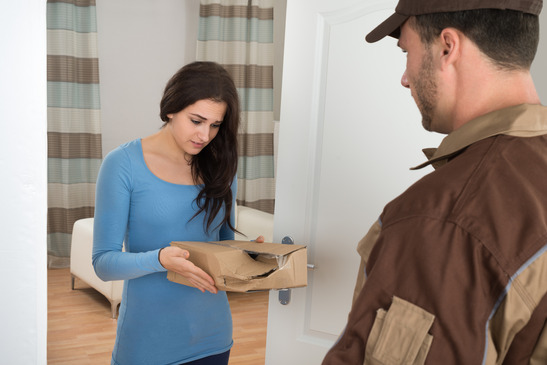 We've all opened a box and found that the thing we'd bought didn't work—or that it just wasn't nearly as cool as the commercials made it seem. Can we still return it? Or have we already lost that opportunity because we opened it? Do we need to also have the receipt, or the warranty, or... what?
Here are the answers you're looking for:
Does It Need to Be Unopened?
All of the following must be unopened in their original packaging:
TVs that were not shipped using Enhanced Delivery.
New and fully functional computers and tablets (other than Fires and Kindles).
Breast pumps (obviously).
Mattresses.
Graded and original government packaged coins must also be delivered inside their original packaging.
While most other things can theoretically be returned after you've opened them, you might get hit with penalties like restocking fees, and you'll almost certainly have to pay the return shipping if the item arrived in new condition. Third-party sellers may also have their own rules about what you can and can't open before starting a return.
Kindles and Fires need to be in the same condition as when they were purchased. You'll need to return them in the packaging they arrived in, but it's OK if you opened the box.
If you ordered a TV using Enhanced Delivery, it just needs to still be in like-new condition.
Do I Need to Return All of the Packaging, Documentation, Etc.?
Sports and entertainment collectibles, collectible coins, fine art, handmade products, customizable products, jewelry, and watches all need to be returned with their original packaging, certificates, tags, warranties, and anything and everything else that came with them.
Do I Need a Warranty?
If your item came with a warranty, you may need to return the item and warranty together, as described above. But you generally only need a warranty if Amazon / the seller won't accept a return. In that case, check if your item is covered under warranty and contact the party responsible for honoring it.
Amazon will directly honor the warranty for defective products in the Automotive Items category. Anything in that category sold by Amazon (not a third-party seller) and covered by a warranty is eligible for return.
Should I Take a Picture of It Before I Send It Back?
Taking a picture of the product in the condition in which you received it is a great way to prove that it was in good condition before you sent it back, or that it was broken when it arrived. Amazon therefore requests that you photograph all sports and entertainment collectibles, collectible coins, and fine art items before returning them.
Can I Still Return It If It's Been Damaged Since I Got It, or If I Made Any Changes?
You can just about always return something that was damaged or defective when it arrived. But if you cause damage or make alterations, things can get ugly.
You cannot return any jewelry, watches, fine art, or collectible coins that have been damaged or changed in any way since you received them.
You may be able to return altered or damaged products from other categories, but there's no gaurantee. It's often not worth it even if you can. For example, if you you broke a computer or popped off a lid and fiddled with the innards, a steep restocking fee could eat up most or all of your refund.
Do I Need to Use a Delivery Confirmation Service?
Amazon suggests that you use the USPS delivery confirmation service for returns of all items priced below $35 when dealing with a third-party seller. This will prevent disputes if you return an item and the seller claims they never received it.
Do I Need to Use a Trackable Shipping Service?
An item valued at $35 or more must be returned with a trackable shipping service if it was purchased from a third-party seller and/or falls under one of the following categories:
Collectibles (sports & entertainment)
Collectible Coins
Fine Art
Jewelry & Watches
Do I Need to Insure the Shipment?
Returns must be insured during shipping if they:
Were purchased from a third-party seller and are worth $100 or more.
Are sports or entertainment collectibles worth over $500.
Are fine art items worth over $500.
How Do Amazon Refunds Work?
That's a topic for another article! See "How the Amazon Refund Policy Works."
In Conclusion
The Amazon return policy has a lot of rules and can certainly be confusing. However, you can almost always return an item, whether it was a gift or something you bought yourself. We hope that by rephrasing it here, we made it just a little easier for you to understand so you can get the refund you deserve.
By the way, if you're a seller trying to make better sense of all these policies from the buyer's perspective, you can tame the madness! Integrating Amazon with a helpdesk lets you handle all your messages (even those from eBay or your online store) in one place. Make your life easier.