Both buyers and sellers need to understand Amazon refund policy if they want to avoid unpleasant surprises. Yet the system is immensely complicated, filled with one what-if after another. Who wants to spend hours reading through every detail?
We decided to spend the time studying how Amazon refunds work so you don't have to. Here's the short version:
How Big Are Amazon Refunds on Returns?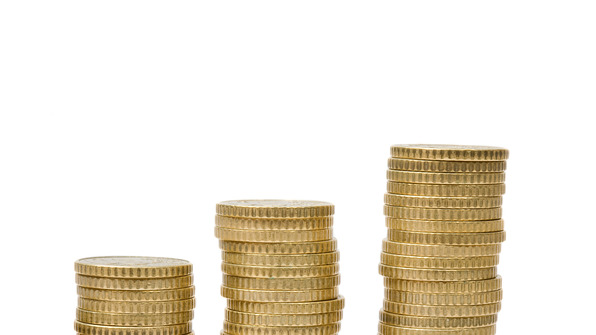 You can almost always get a good refund on an item you return to Amazon. However, returns are complicated before we even get into the refund process. I recommend reading our Amazon return policy article first.
Returned on Time and As Received
"Amazon Return Policy Explained" covers how long you have to return an item to Amazon—usually 30 days. You will generally get a full refund for items returned on time but may need to pay the return shipping, possibly along with a restocking fee and taxes.
Returned Late and As Received
It's not always the end of the world if you've gone past the return window. If the item is still in exactly the condition you received it, you may be able to return it for 80% of the price.
Returned Opened
Physical copies of movies and music (such as records or DVDs) can be returned for a 50% refund. When you add in the cost of the shipping, restocking, and so on, this refund can be too small to be worth it. The lesson: don't try to use Amazon as a video rental.
For policies on other opened items, see our Amazon returns article.
Returned Damaged or Used
Amazon will give you a full refund if they are at fault for any damage to an item. If you're at fault, though, then you'll get no more than 50% of what you paid, and often less. This applies to anything that you've clearly used or that has lost parts.
For more information, see Amazon's About Refunds page.
How Do Third-Party Seller Refunds on Returns Work?
If the item you bought came from a third-party seller rather than Amazon itself, then the seller will have to provide at least as good a refund as Amazon would. However, they can decide to offer a better return policy than Amazon's if they want.
Always contact your seller first. They may decide to give you a full refund without requiring a return or otherwise make the process easier for you.
Note to sellers: Providing a relaxed refund policy is a good way to get a great Amazon seller rating. Having simple rules will also cut the time you spend on customer service almost as effectively as integrating Amazon with a professional helpdesk.
When Will I Get My Refund?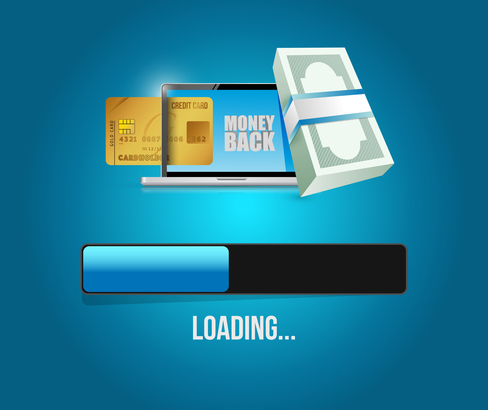 Amazon generally does not begin processing the refund on a return until they have received the item. How long that takes will depend on shipping. In most cases, they should receive your item within two weeks.
Credit Cards and Gift Cards
If you made your purchase using a credit card, gift card, or a mixture of the two, it will take between 3 and 5 days for Amazon to process your refund and return it to the payment method you used.
Some items qualify for instant refunds. That means you could get the balance put on your gift card immediately or back on your credit card account in 2 or 3 days.
Checking Accounts
It can take up to 10 days for Amazon to process a checking account refund.
Additional Processing
On top of the time it takes Amazon to process your refund, you may need to wait a little extra while your credit card company or bank processes the refund. This depends on the efficiency of your financial institution.
Credit cards generally take no more than 2 or 3 days to process a refund. Bank accounts, on the other hand, generally take between 7 and 10 days.
So, How Long Do I Have to Wait?
Combining a minimum of 2 days of shipping with the processing times for Amazon and your financial institution, here's how long it could take you to get a refund from the time your return enters the mail system to the time the money appears back in your account:
Instant refund:
Gift card: 2–14 days.
Credit card: 4–17 days.
Standard refund:
Gift card: 5–19 days.
Credit card or gift/credit combination: 7–22 days.
Checking account: 12–34 days.
How Will I Get My Money Back?
You can almost always have the money sent back to the method you used to make your purchase. You can also choose to have it credited to an Amazon gift card. In fact, Amazon will default to providing the refund as a gift card, so be sure to change this if that's not what you want.
What If the Seller Makes a Mistake—or I Do?
In addition to refunding returns, a seller is required to cancel the order and refund you if any of the following happens:
The item you ordered is out of stock or they otherwise can't send it to you.
You request that the seller cancel an order before they ship it.
You enter an invalid address.
What If the Seller Really Screws Up?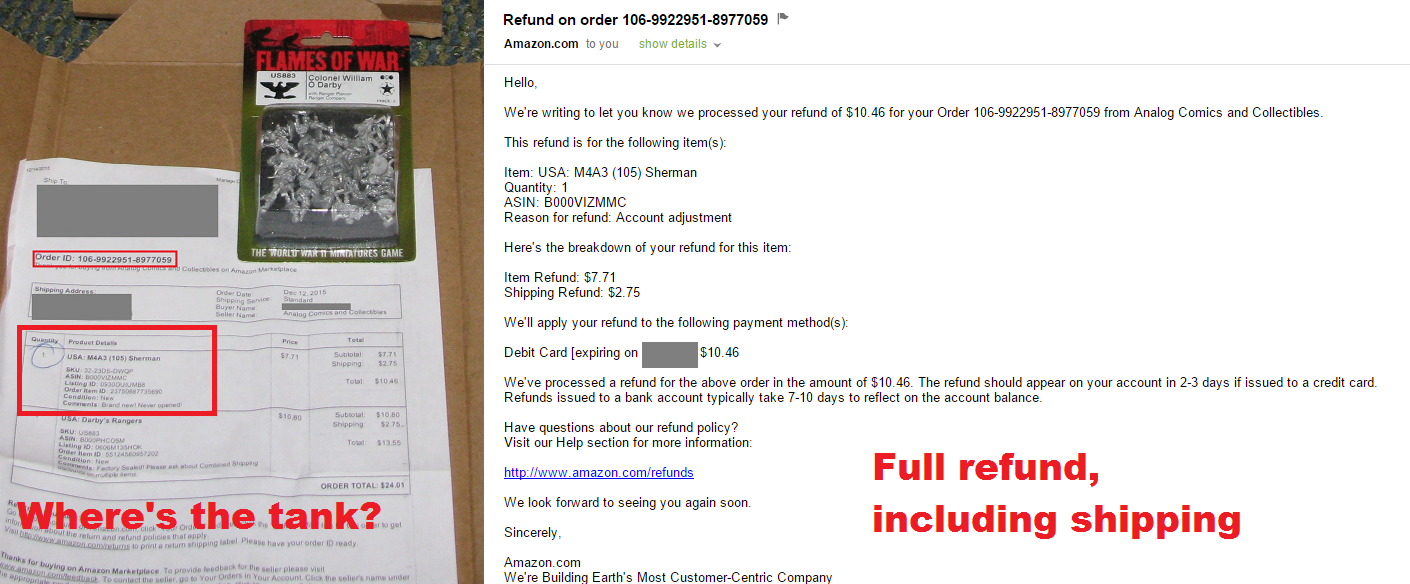 This third-party seller sent only one of the two items I ordered, but gave me a full refund for the missing item when I contacted them.
What if the seller makes a mistake and your order arrives broken, or contains the wrong item? What if they never even ship it to you or lie about its condition? What if you send the item back and they never give you your refund?
Don't sweat it. In these cases, you're covered under the Amazon A-to-z Guarantee.
If you encounter any issues like these with something eligible for Amazon prime, then their customer service team will handle your situation directly. This is because they were in charge of shipping and returns. My own experience has been that Amazon handles these situations extremely well and you should have no trouble getting your money back.
In order to file an A-to-z Guarantee claim against a third-party seller, you must first contact them and give them a chance to redeem themselves. You can then file the claim if they don't respond to you within 2 days or they refuse to solve the problem.
The A-to-z Guarantee promises that you will get refunded the full price, up to $2,500, even if the seller refuses to cough up the cash. There's really very little risk for buyers.
Learn how to file an A-to-z Guarantee claim here.
Summary
Amazon refund policy has plenty of fine print and can be hard to completely understand if you're not a lawyer. However, the vast majority of transactions will follow the rules discussed here. Only request refunds when it's reasonable to do so and you should never have any trouble getting your money back.
Considering selling on Amazon but not sure it's worth the trouble? Discover the benefits of selling on Amazon—or find out if you prefer the advantages of eBay.
Works Cited
"About Refunds." Amazon.com. Amazon, n.d. Web. 02 Mar. 2016.
"Returns, Refunds, & Cancellations." Amazon.com. Amazon, n.d. Web. 02 Mar. 2016.
"About A-to-z Guarantee." Amazon.com. Amazon, n.d. Web. 02 Mar. 2016.
"A-to-z Claim Conditions." Amazon.com. Amazon, n.d. Web. 02 Mar. 2016.