Your ecommerce business has taken off. Orders are pouring in, and you've popped a few champagne corks. But now you're spending most of your time—and a lot of money—printing labels and taping boxes. You need to find a worthwhile shipping solution before shipping eats your entire schedule!
What can one do to save time and/or money on ecommerce shipping? Here are 10 of the best options available.
Last updated 7/20/2020.
1. ShipStation
ShipStation is wonderfully helpful for anyone selling on multiple websites.
Perhaps the biggest perk to using ShipStation is its ability to integrate with a hard-to-beat number of selling channels. It imports orders from all your channels and lets you rate shop among carriers before setting up your shipping labels. No more going through one channel at a time! You can just log in to ShipStation and print out the labels for all pending orders at once.
ShipStation integrates with several couriers, including USPS, UPS, FedEx, and DHL. Choose from subscription packages ranging from $9/month for 50 shipments to $159/month for 10,000 shipments. As packages get pricier, you gain access to more features, more customer support, and more user accounts.
ShipStation allows you the freedom to add your own branding to your slips, labels, and tracking page. It also has a mobile app!
ShipStation can save a one-person operation hours of work every week or a big business from the cost of hiring more staff. But keep in mind that it is not a complete supply chain service. You will still need to store your products and ship them to customers yourself.
2. Veeqo
Veeqo is shipping software for fast-growing ecommerce brands that allows you to sync orders from every sales channel and manage your entire shipping process in one easy-to-use platform.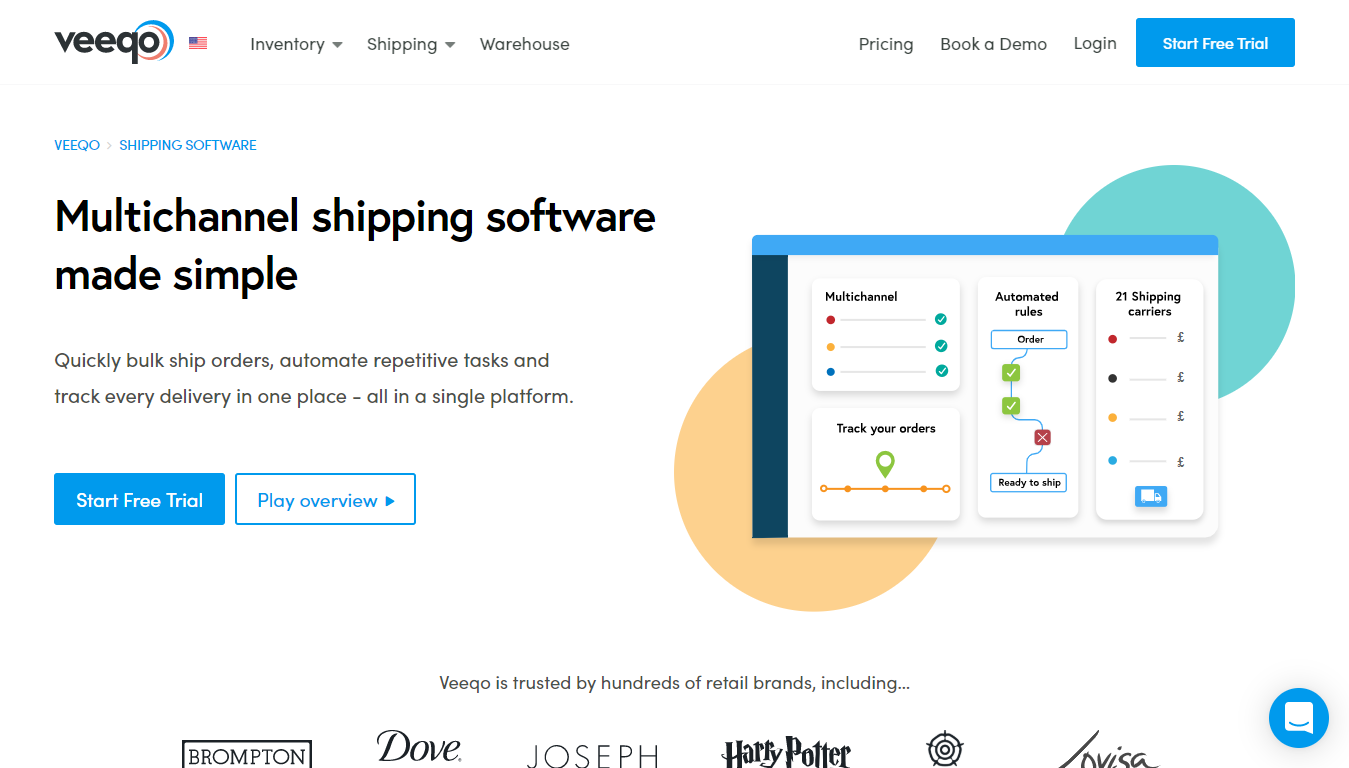 By integrating with the world's leading shipping carriers, Veeqo allows you to generate shipping labels in bulk for any of your orders, from any of your channels—a feature designed to save retailers selling on multiple channels valuable time. With one of the best USPS integrations available, Veeqo makes it easy for US retailers to expand their business globally.
The service also allows retailers to create automation rules to easily customize shipping and order fulfilment processes, view a range of shipping quotes on a single screen, and track the status of any order and package without ever having to log in to carrier accounts.
3. Amazon Sellers: FBA
FBA (Fulfillment by Amazon) is probably the simplest shipping solution for Amazon sellers. You simply send your inventory to Amazon and they handle all of your shipping and customer service.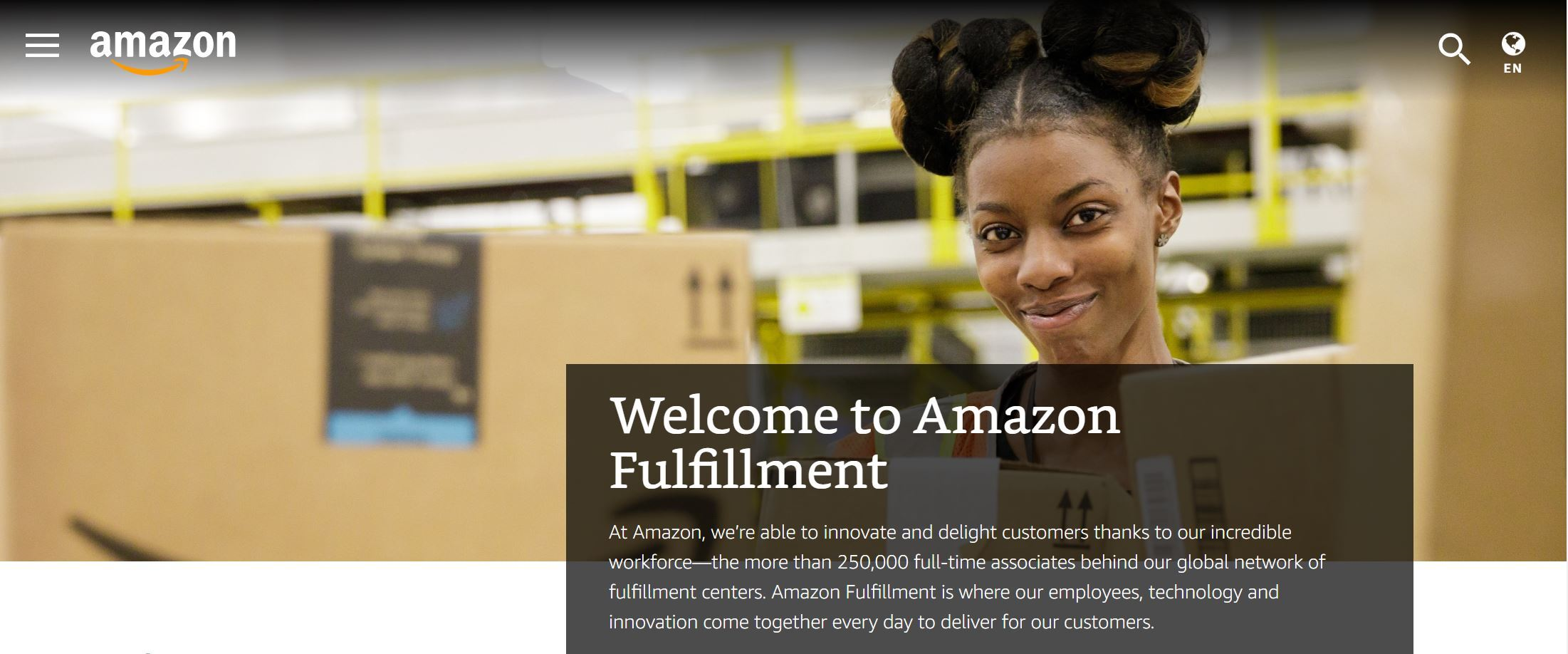 FBA has been around for almost 15 years and has high standards for fast and quality service. Online shoppers are more likely to buy Prime and Buy Box items, and with FBA, your product is instantly eligible for Prime and meets some of the tougher requirements for the Buy Box.
Other benefits you will enjoy when using FBA include:
But be aware that FBA has strict requirements for packing materials, methods, and labelling. If these requirements are not met, your package might get rejected. This can be difficult for some companies to get the hang of.
FBA is also known for being pricey. In addition to paying the normal cost to sell on Amazon, FBA sellers must pay a fulfillment fee, short- and long-term storage fees, and sometimes other fees as well.
4. eBay Sellers: eBay's Advanced Shipping Options
Many sellers aren't aware that eBay can help them save time and money on shipping. For example, the Global Shipping Program allows US sellers to simply send any item sold internationally to a US-based shipping center that handles the hard stuff like customs. eBay also has excellent negotiated rates with USPS, FedEx, and UPS.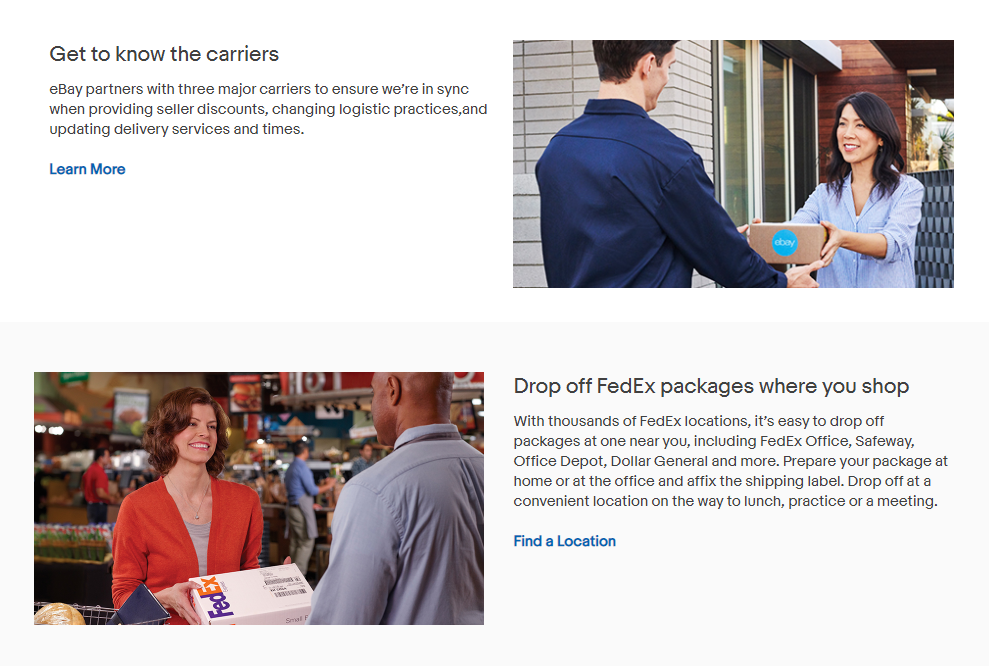 If you're an eBay seller, go through their advanced shipping options to learn the many different ways you can make shipping with eBay easier. The time you spend reading will be more than worth it for the savings.
5. Walmart Sellers: Walmart Fulfillment Services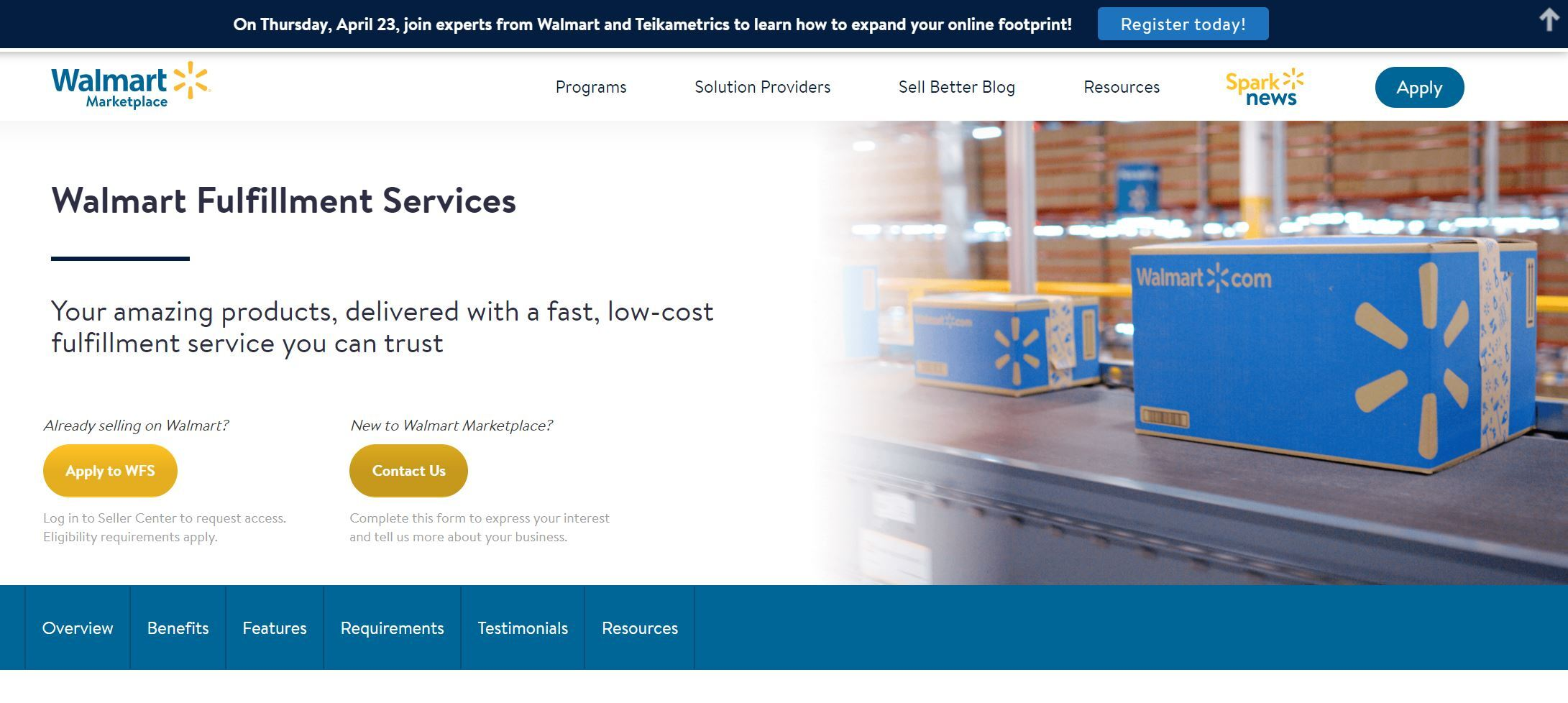 Walmart Fulfillment Services (WFS) launched in February 2020 and is still in its infancy. But Walmart is already an American staple with a brand that customers trust.
Here are some benefits of using WFS:
Guaranteed two-day shipping.
TwoDay tags that improve product visibility.
Returns and customer service handled for you.
Walmart is gearing up to be a huge competitor of Amazon. But there are a few things to be aware of. You can only use WFS if you have already managed to get approved to sell on Walmart, and it only fulfills orders placed on Walmart.com. That means no multichannel fulfillment.
6. Deliverr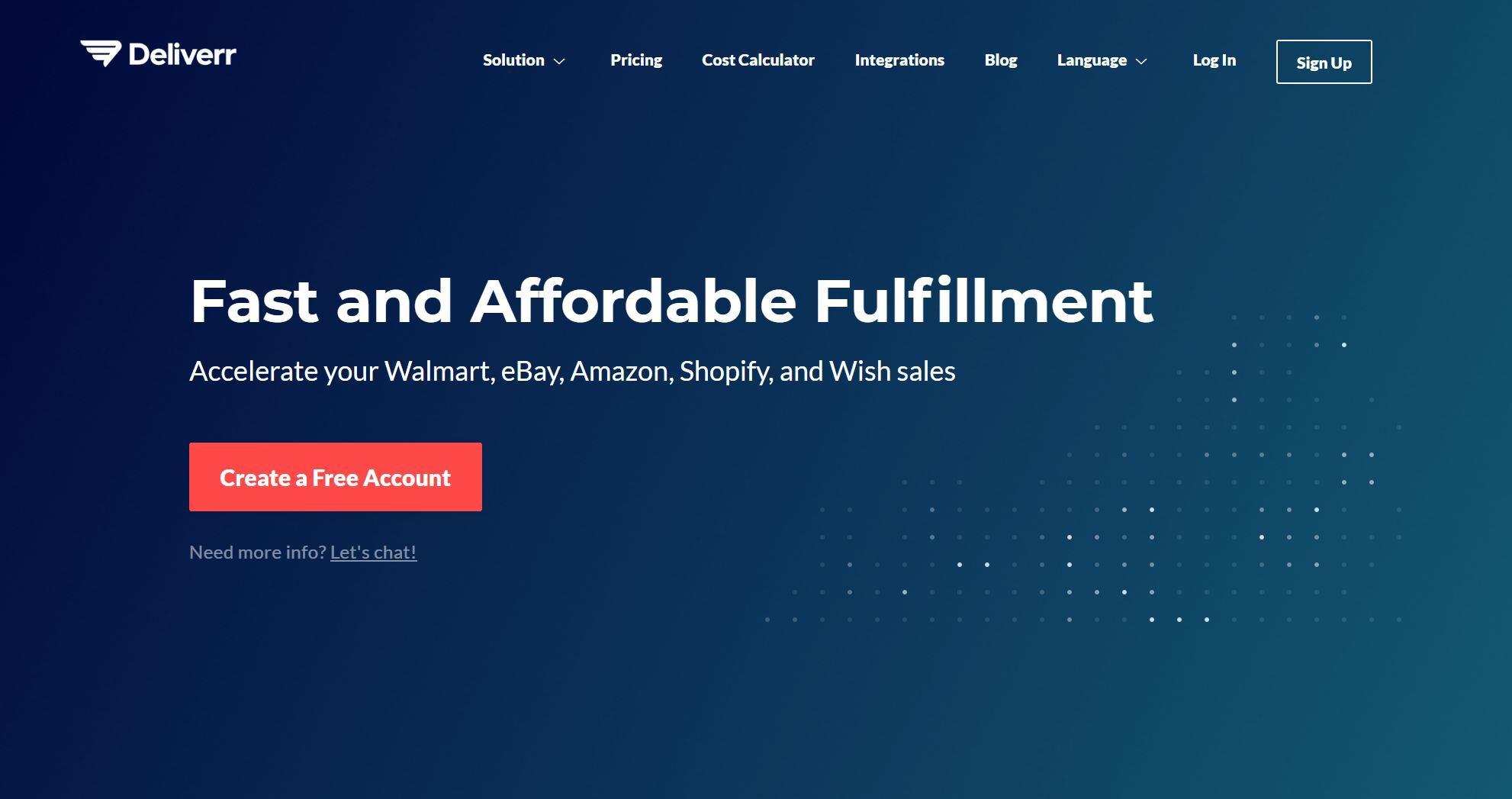 Deliverr markets itself as an "Amazon-like fulfillment" service for multi-channel sellers. Deliverr helps you level the playing field across your sales channels by providing shipping on par with FBA, but with greater control over your inventory.
Using Deliverr qualifies your product for shipping programs like:
Seller Fulfilled Prime
Walmart 2-day shipping
eBay guaranteed delivery
Using Deliverr is simple—just create a free account, connect your sales channels, and ship your inventory to one of their warehouses. You can use their nifty cost calculator to estimate their fulfillment rate for your business.
7. FedEx Fulfillment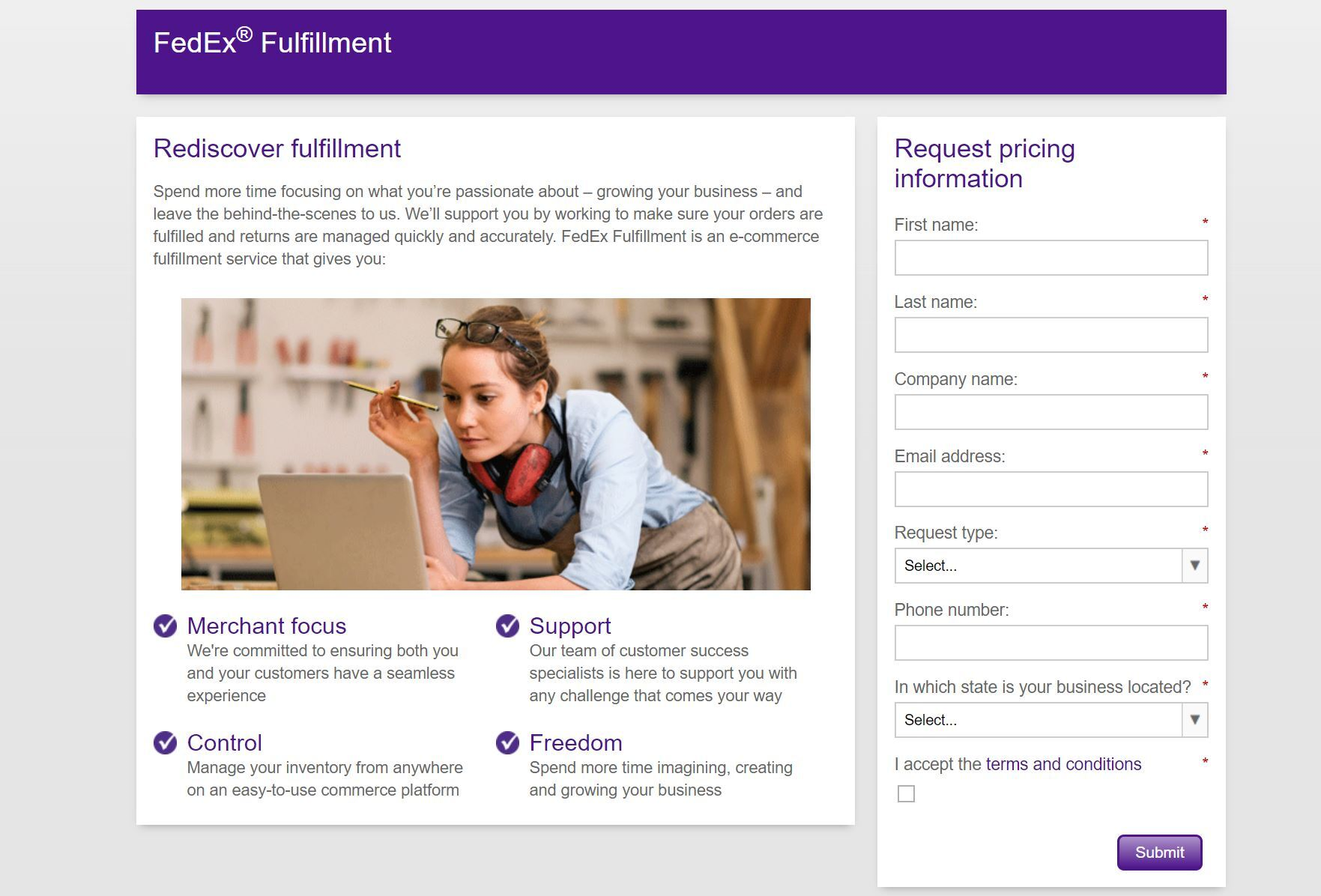 FedEx Fulfillment is an end-to-end supply chain service. Upload your inventory to its platform, integrate with your marketplaces, and ship your product to a FedEx warehouse. FedEx will do the rest.
FedEx Fulfillment uses its parent company FedEx's established transportation and warehousing infrastructure. FedEx Fulfillment is a subsidiary of FedEx Corporation. This allows you to utilize FedEx's other services like return management and its large network of partners. This makes FedEx ideal for large and medium companies needing a fast and efficient service.
Note that FedEx does not integrate with Amazon. Sorry, Amazon sellers—FedEx Fulfillment is a direct competitor of Amazon FBA.
8. Rakuten Super Logistics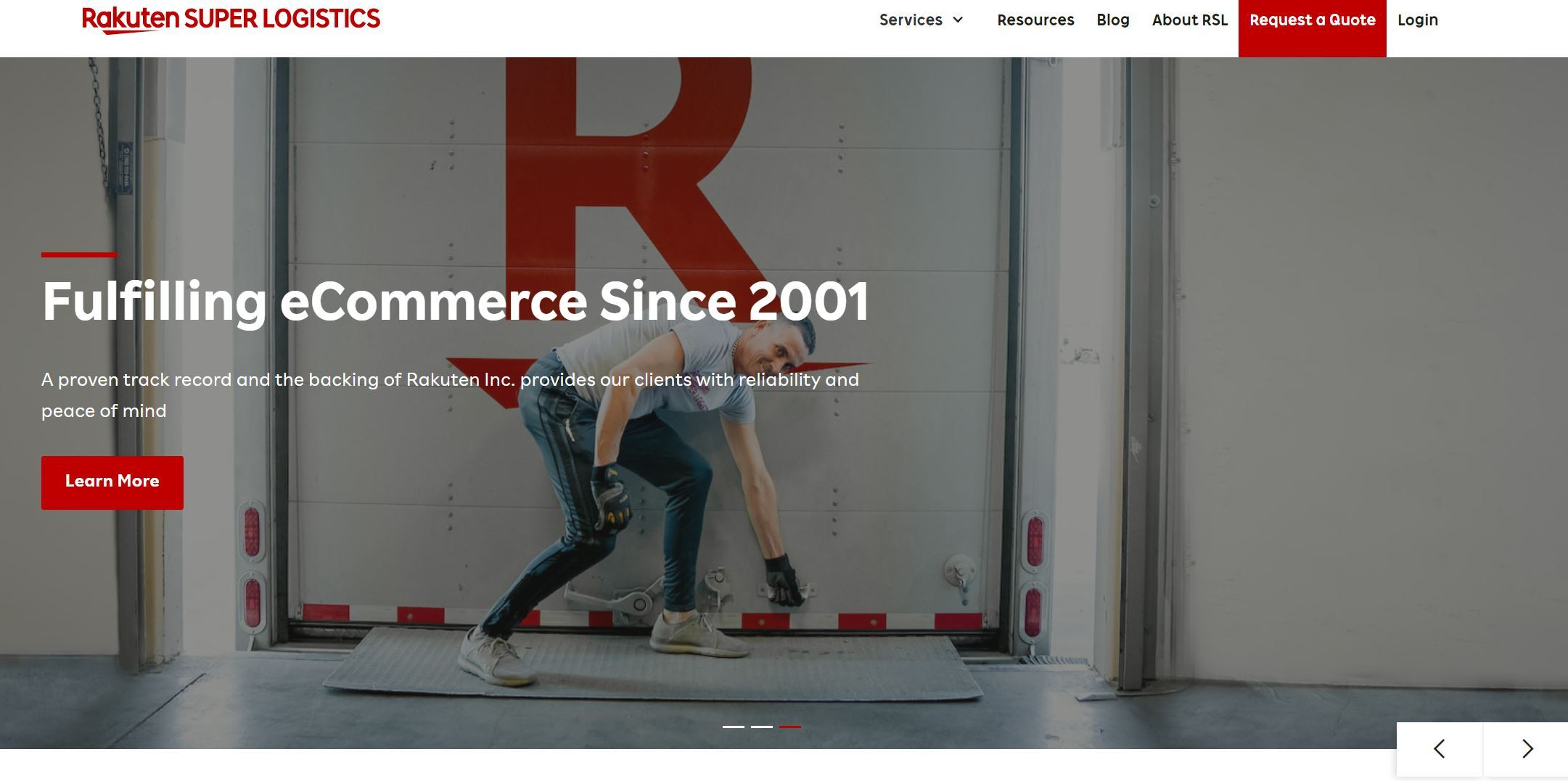 Rakuten Super Logistics is an experienced ecommerce order fulfillment company. It offers complete supply chain services, integrates with most major ecommerce platforms, and partners with USPS, FedEx, UPS, and DHL for shipping. With 15 fulfillment centers around the U.S., it promises:
100% order accuracy
Next-business-day order turnaround
2-day shipping
Rakuten is so confident in its fulfillment methods, it will refund the cost of your order if it ships the wrong number or type of product.
Rakuten offers SmartSuite, which includes several fulfillment technologies. You can use SmartFill to manage your order fulfillment on a dashboard and integrate shopping cart systems. Or, use SmartShip Optimizer to automatically determine which shipping method costs you the least.
9. ShipBob
ShipBob fulfills ecommerce orders for B2C businesses. It works best for startups, small businesses, and crowdfunded products. It integrates with major ecommerce retailers and partners with major shipping carriers.
If you sell on Amazon, be aware that ShipBob isn't an Amazon Prime–approved shipping service. Sellers wanting Prime eligibility should use a Seller-Fulfilled Prime partner, like Deliverr, or FBA.
If you decide that you want to use FBA for Amazon and ShipBob for everything else, you can also have ShipBob prepare your inventory for shipment to Amazon. They can provide labels and packaging compliant with FBA requirements and transfer your inventory to the specified FBA facility. This may be a good option if you don't want to spend time meeting Amazon's prep requirements.
10. Red Stag Fulfillment
Red Stag Fulfillment holds the award for "Best Fulfillment Service for High-Value, Large & Specialty Goods" from Fit Small Business. Red Stag specializes in fulfillment for businesses selling items such as:
Luxury items.
Oversized or bulky goods.
Heavy products.
Special-handling goods.
Items needing customization before shipping.
This provider promises it will process your order the same day it's purchased, boasting 100% order fulfillment accuracy. And if for some reason something goes wrong, it will remedy the issue for free and pay you $50.
Other Options
The above are our top 10 choices for ecommerce shipping solutions. Depending on the unique needs of your business, you might want to check out these additional options:
What Next?
Ecommerce shipping solutions like these let you sell way more without hiring more staff. However, with increased sales comes the next bottleneck: an increased need for customer service.
You'll have to spend much more time answering customer support requests. Soon you'll find you either don't have time to grow your business or that support costs are strangling your profits.
To learn how to provide great support while minimizing the time you spend on it, read our articles on ecommerce customer service and multichannel integration. You can save your business an enormous amount of time and money by doing it right from the beginning. Clear the way for success now, and let your business really spread its wings.