Your ecommerce business has taken off. Orders are pouring in, and you've popped a few champagne corks. But now you're spending most of your time—and a lot of money—printing labels and taping boxes. You need to find some worthwhile ecommerce shipping solutions before you spend your whole business week putting things in the mail!
What can one do to save time and/or money on ecommerce shipping? Here are five of the best options available.
Last updated 8/22/2018.
Multichannel Sellers
1. ShipStation
ShipStation is wonderfully helpful for anyone selling on multiple websites.
You can add just about any selling channel to your account. ShipStation then imports all of your orders and sets up shipping labels and more according to your specifications. No more going through one channel at a time! You can just log in to ShipStation and print out the labels for all pending orders at once.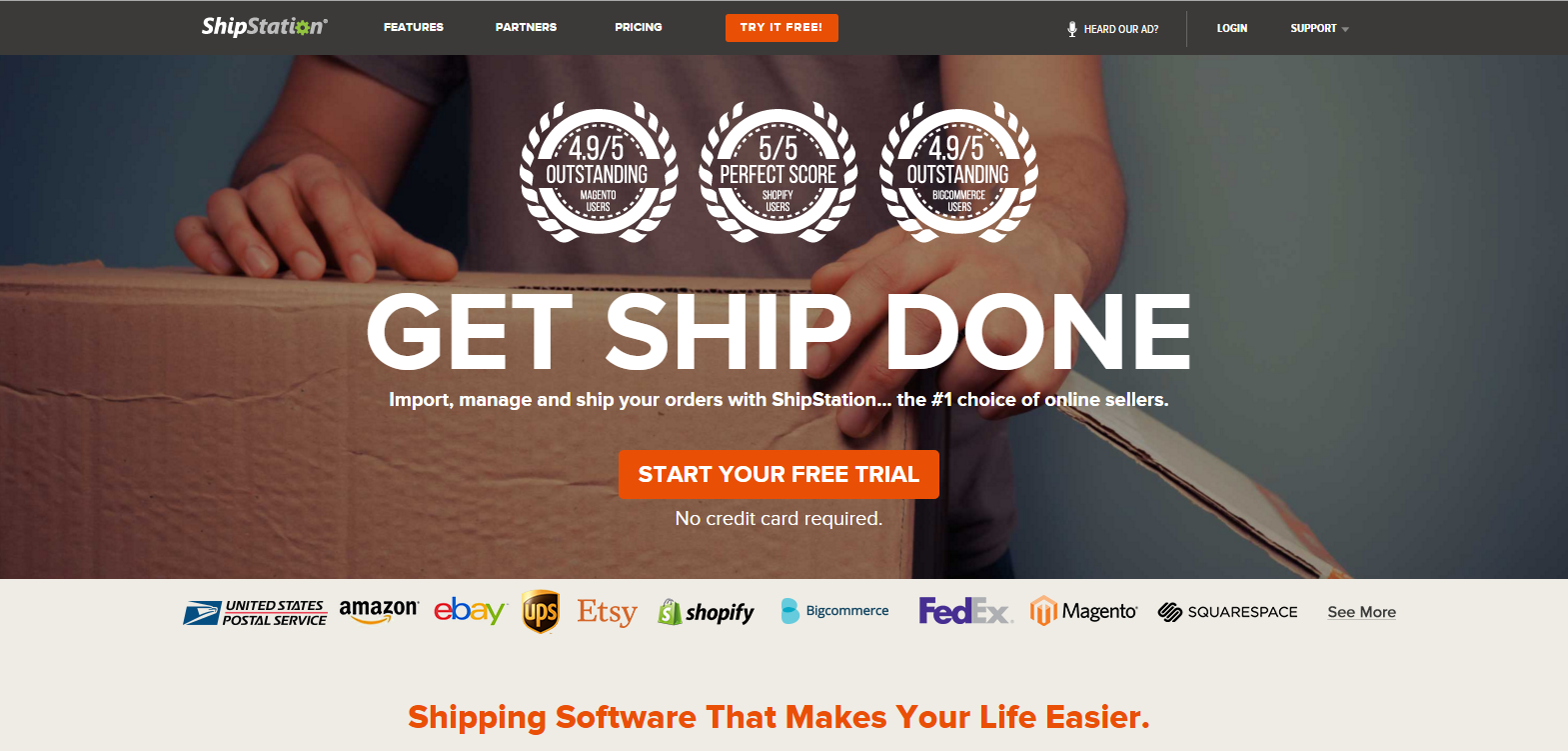 ShipStation also integrates with several couriers, including USPS, UPS and FedEx, to automate other important shipping services. It can save a one-person operation hours of work every week and a big business from the cost of hiring additional staff.
I asked Mike Dash, our CEO here at ChannelReply, about his experience using ShipStation for Plumburs. "It has helped Plumburs to easily and effectively manage shipping in the most cost-efficient manner," he said. Since Plumburs sells on eBay and Amazon in addition to its own site, it's an enormous timesaver.
2. Volo Commerce
Volo Commerce has a massive array of features for multichannel sellers. In addition to some wicked cool features for managing your products across multiple channels, they also offer some solid ecommerce shipping solutions. Volo can automatically generate shipping labels and tracking numbers specific to your courier and even submit the tracking info to Amazon and eBay.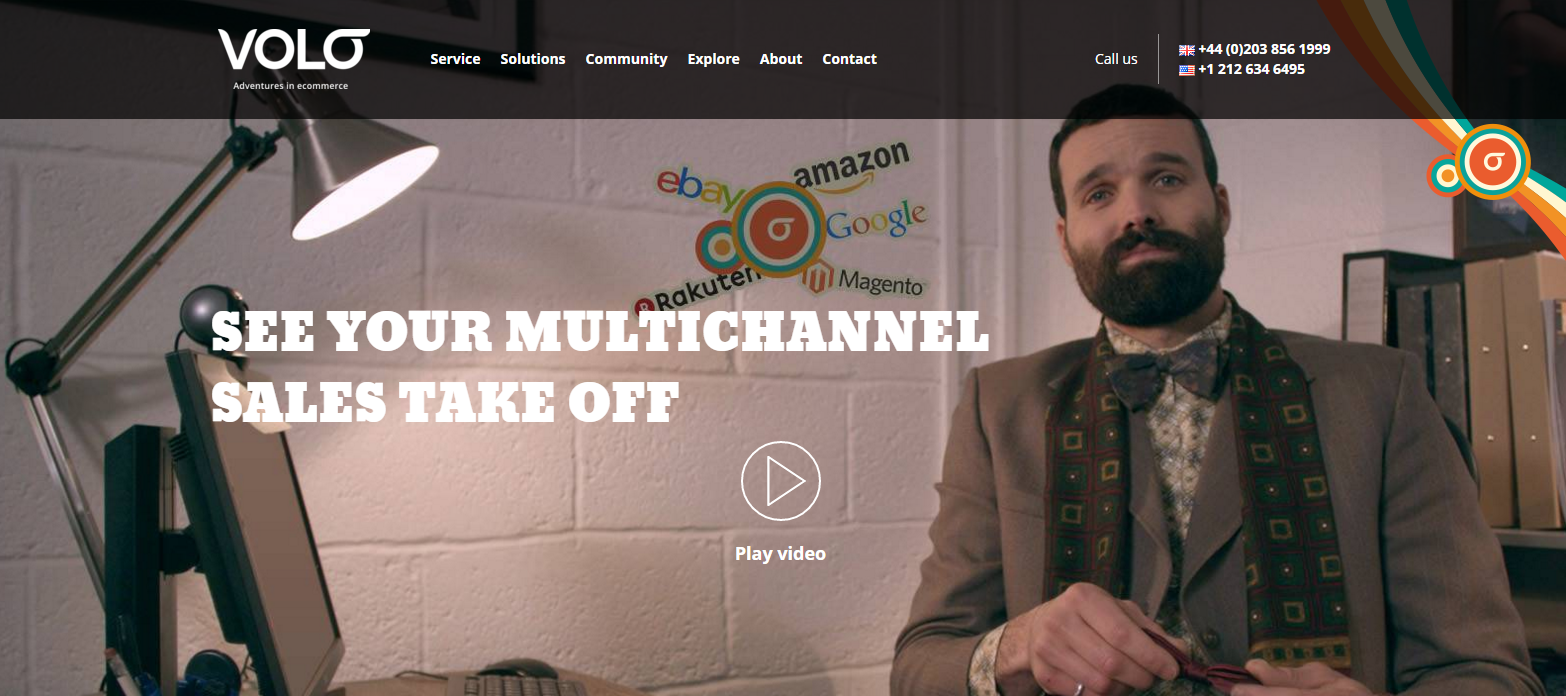 If you want help with streamlining your entire ecommerce operation and not just your shipping, Volo might be the way to go.
3. Veeqo
Veeqo is shipping software for fast-growing ecommerce brands that allows you to sync orders from every sales channel, and manage your entire shipping process in one easy-to-use platform.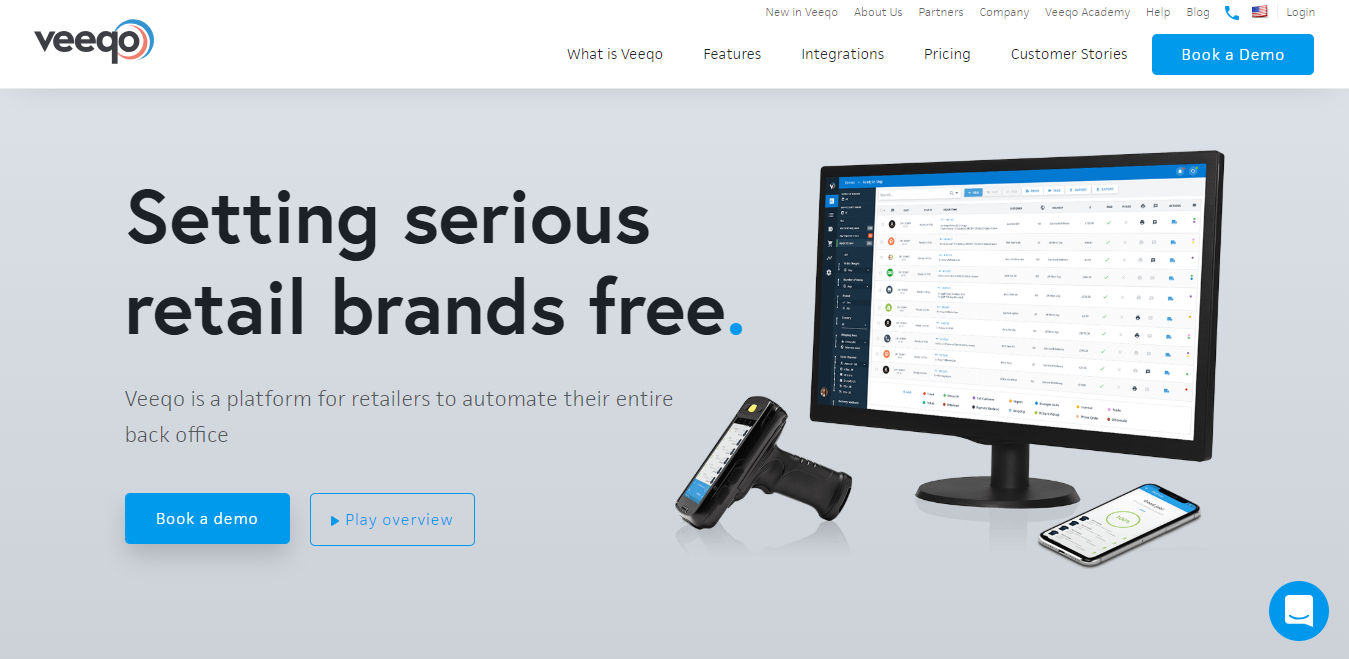 By integrating with the world's leading shipping carriers, Veeqo allows you to generate shipping labels in bulk for any of your orders, from any of your channels—a feature designed to save retailers selling on multiple channels valuable time. With one of the best USPS integrations available, Veeqo makes it easy for US retailers to expand their business globally.
The service also allows retailers to create automation rules to easily customize shipping and order fulfilment processes, view a range of shipping quotes on a single screen, and track the status of any order and package without ever having to log in to carrier accounts.
Major Businesses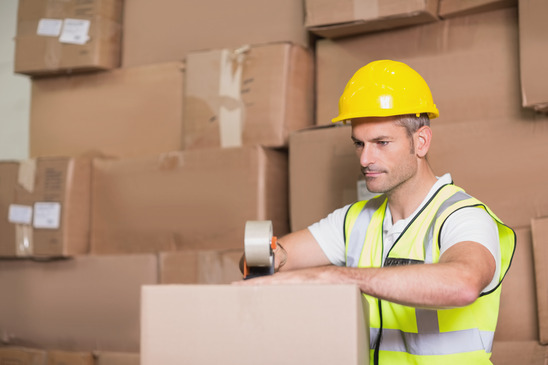 4. Temando
Temando is a magnificent solution for large businesses shipping from multiple locations. Its most impressive feature: it automates routing so your deliveries always travel the shortest distance. It also provides you with a brandable tracking interface and selects the best courier for each job, among many other things.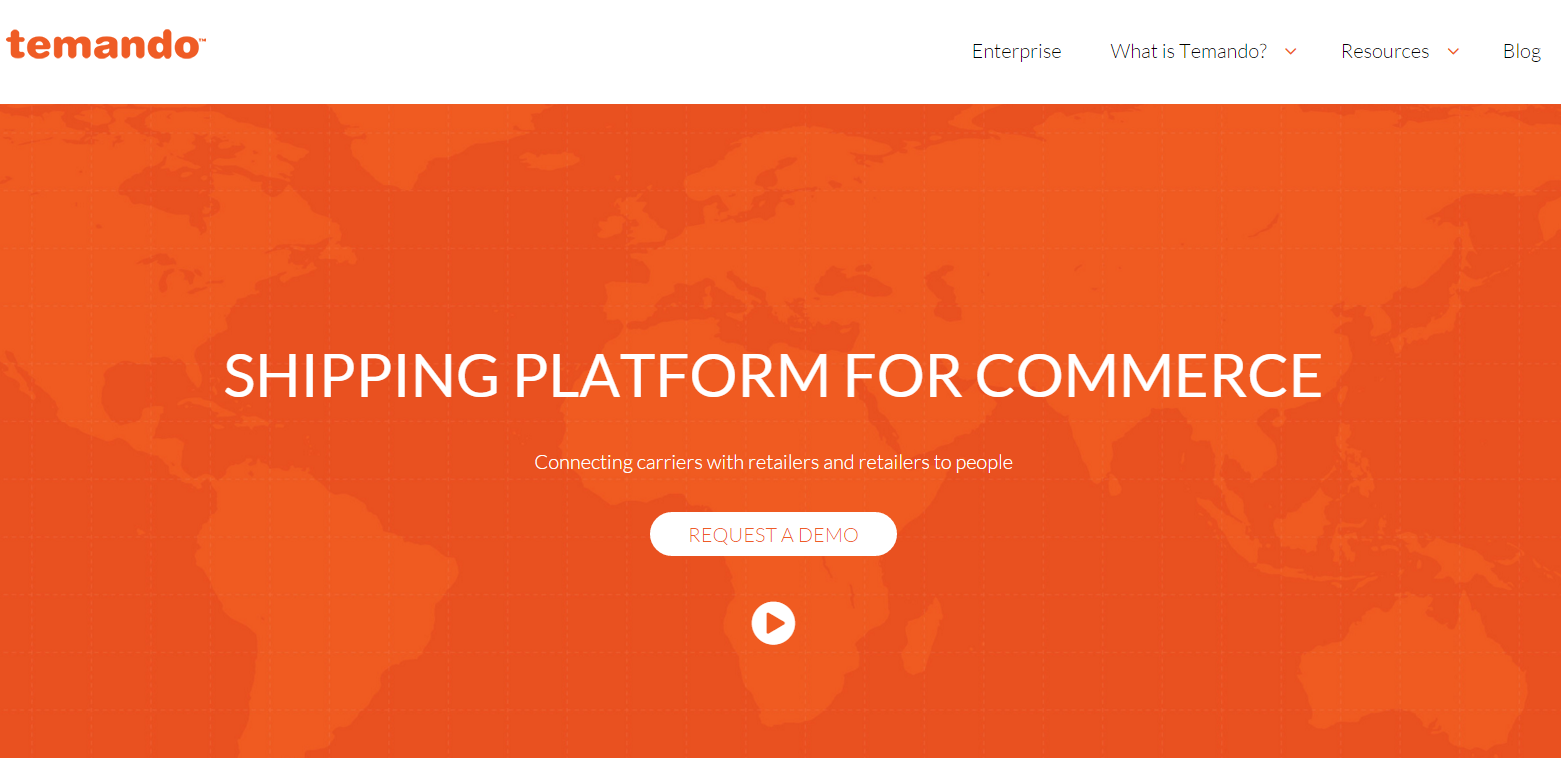 The result for your customers is a consistent brand experience throughout the buying and shipping process. Shopping on your site becomes a lot like shopping on Amazon. Meanwhile, you get to handle all of your shipping through a single interface while doing a lot less math and pencil pushing.
You also maximize the benefits of having multiple shipping centers. Each delivery costs you less and reaches the customer as quickly as possible.
Big businesses would do well to consider this one.
Small Amazon and eBay Sellers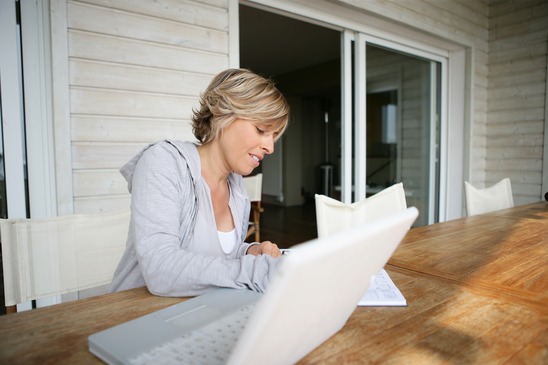 There's a saying about companies that don't list their prices: "If you have to ask, you can't afford it." Volo and Temando don't list their prices. And even though ShipStation is affordable, it's generally only worthwhile if you sell on several sites. None of these options work for everyone.
What are some of the easier, more affordable shipping solutions for ecommerce businesses that can't use those options?
5. Amazon Sellers: FBA
FBA (Fulfillment by Amazon) is probably the simplest shipping solution for Amazon sellers. You simply send your inventory to Amazon and they handle all of your shipping and customer service.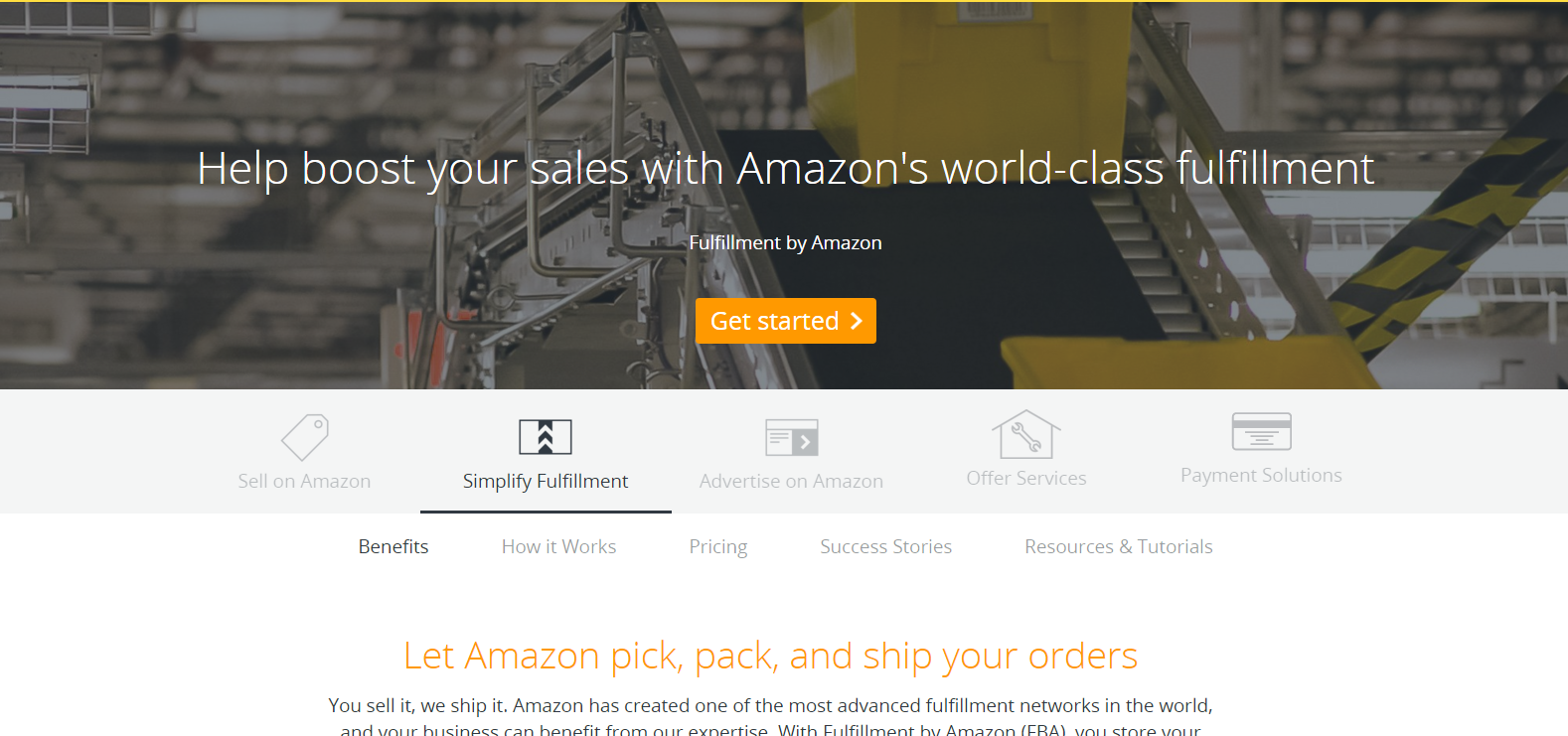 Yet as we discussed in "How to Sell on Amazon for Beginners," FBA can really eat into your profit margins and pose major tax challenges. This can make it unviable for many sellers considering that Amazon already charges a lot. However, if you have healthy margins and can make more money by spending less time packing boxes, it can definitely be worthwhile.
6. eBay Sellers: eBay's Advanced Shipping Options
Many sellers aren't aware that eBay can help them save time and money on shipping. For example, the Global Shipping Program allows US sellers to simply send any item sold internationally to a US-based shipping center that handles the hard stuff like customs. eBay also has excellent negotiated rates with USPS, FedEx, and UPS.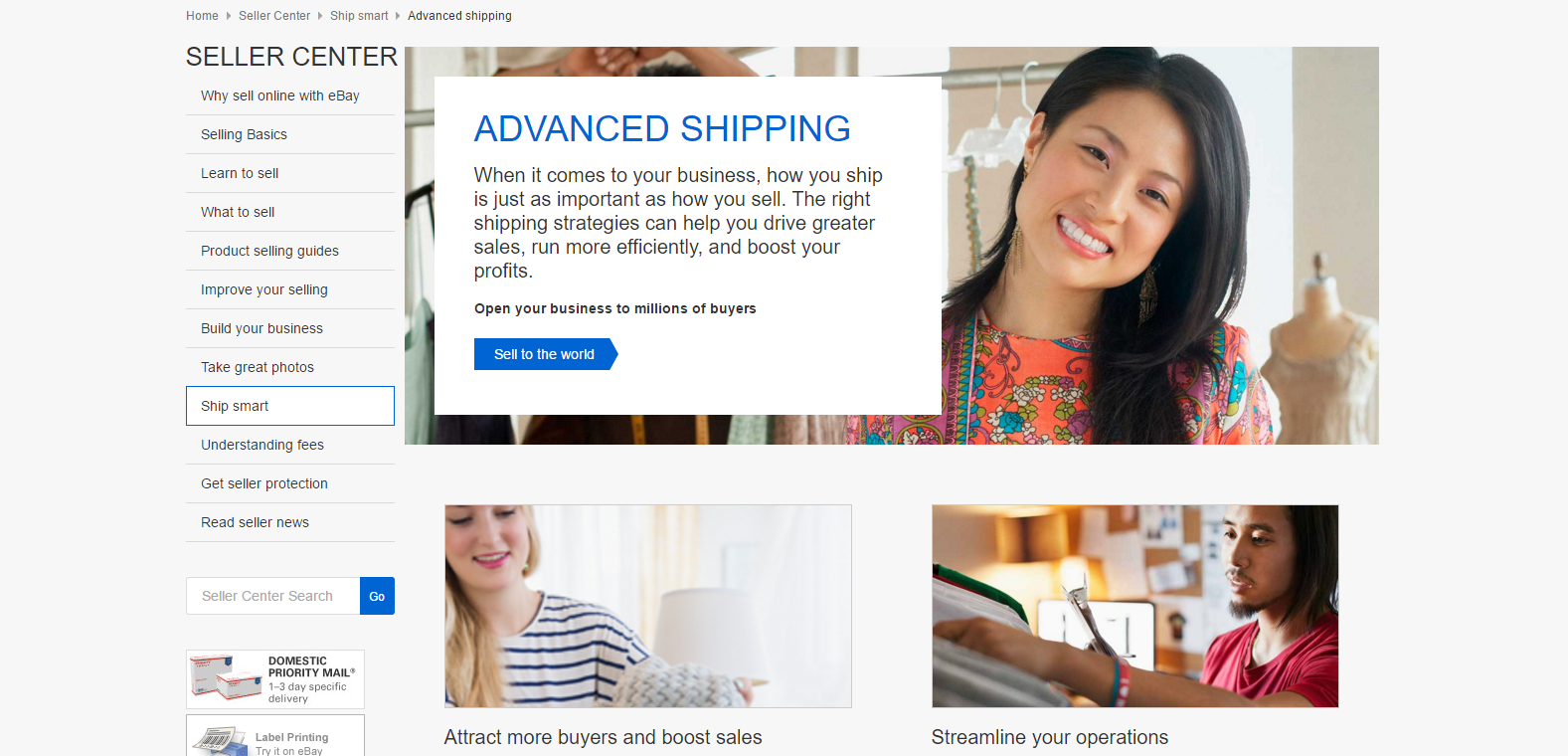 If you're an eBay seller, go through their advanced shipping options to learn the many different ways you can make shipping with eBay easier. The time you spend reading will be more than worth it for the savings.
What Next?
Ecommerce shipping solutions like these let you sell way more without hiring more staff. However, with increased sales comes the next bottleneck: an increased need for customer service.
You'll have to spend much more time answering customer support requests. Soon you'll find you either don't have time to grow your business or that support costs are strangling your profits.
To learn how to provide great support while minimizing the time you spend on it, read our articles on ecommerce customer service and multichannel integration. You can save your business an enormous amount of time and money by doing it right from the beginning. Clear the way for success now, and let your business really spread its wings.