With 113 million unique monthly visitors and only about 80,000 sellers, Walmart Marketplace is an ecommerce paradise. But you must prove yourself worthy or risk permanent rejection at the gates. Here's how to get approved to sell on Walmart on your first try.
Last updated 3/1/2021.
How to Get Approved to Sell on Walmart Marketplace in 7 Steps
1. Establish a Real Ecommerce Business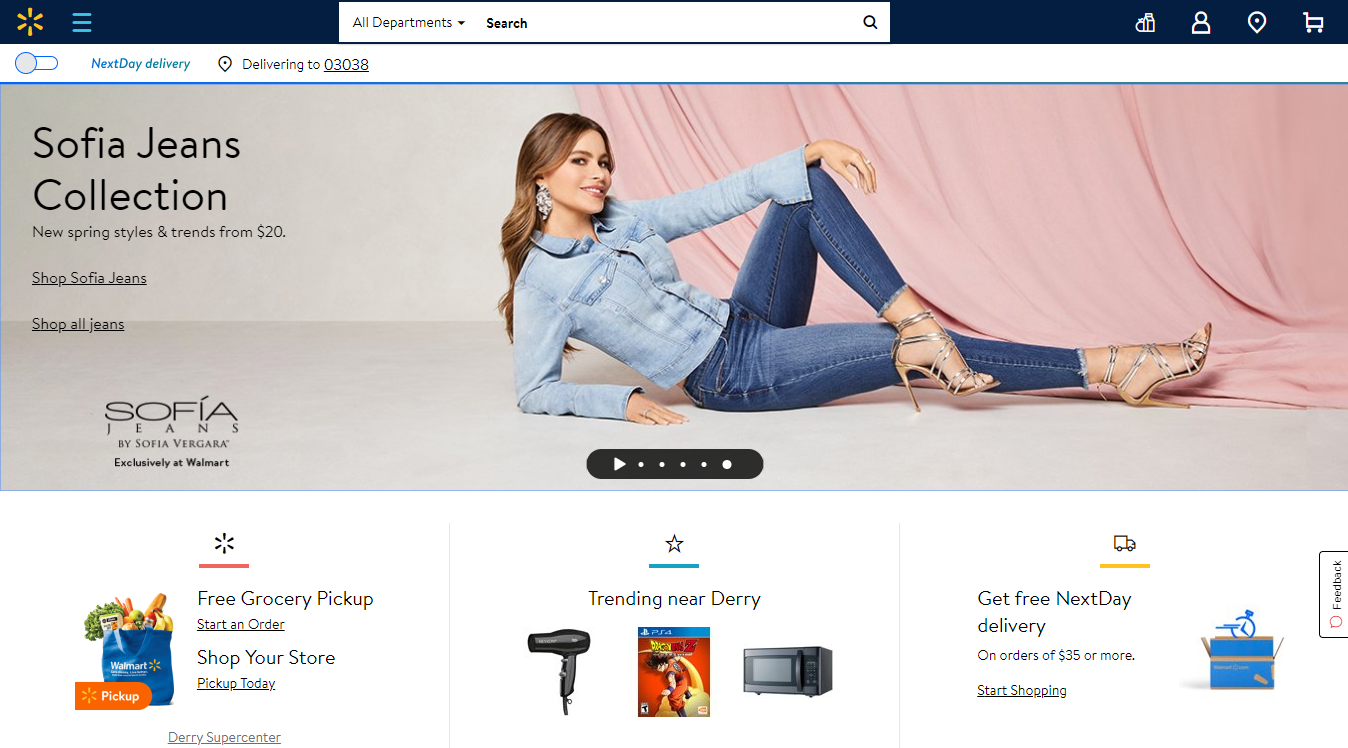 Can you compete at Walmart's level of price, service and quality?
If you want to sell on Walmart Marketplace, start selling on eBay and Amazon first.
That's not a joke. Walmart specifically asks about your experience on these sites in their application: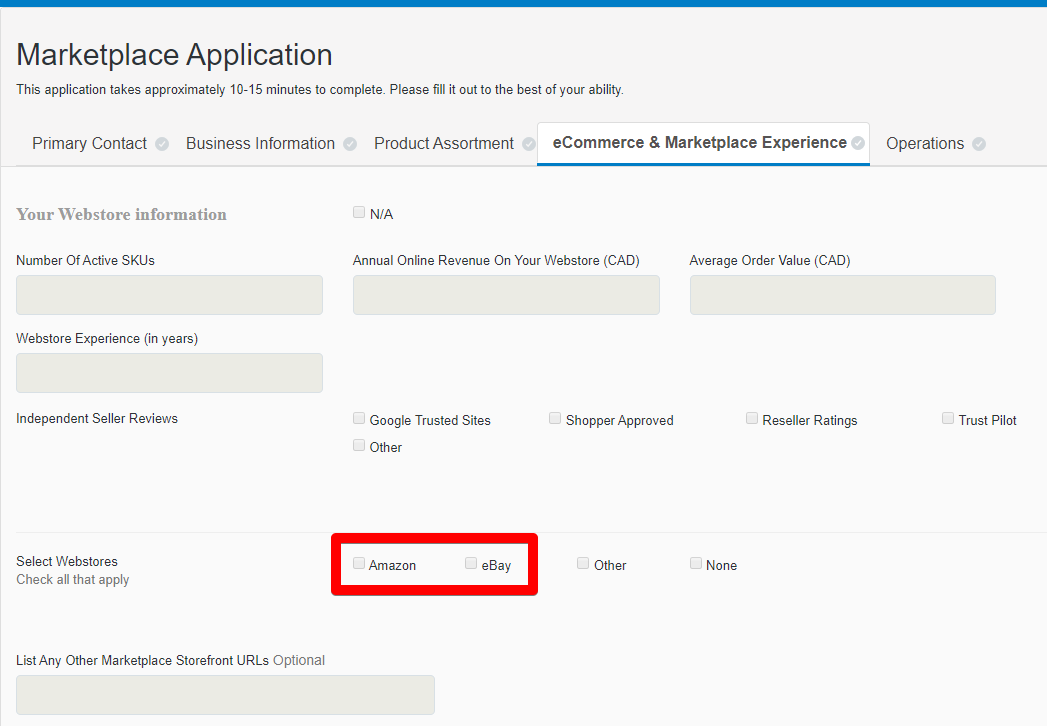 You may have also noticed that they ask how many years of webstore experience you have. "Zero" isn't going to cut it.
"Have I shown you the exit? We have a very nice exit."
While any kind of ecommerce experience might be enough, Amazon and eBay experience is ideal. It shows that you can play by the rules in a major marketplace. Plus, their feedback systems are some of the most trustworthy on the web, giving Walmart a clear idea about your ability to keep buyers happy.
If you don't have experience on either site yet, we recommend selling on eBay to get started. They have the lowest barriers to entry. It will then be easier to learn how to sell on Amazon.
But even selling successfully on both marketplaces for years won't be enough. You have to build a company.
For example, most marketplaces don't have strict requirements for tax documentation. Give them your social security number and they'll let you start selling.
Walmart is not most marketplaces. When you apply [US] [Canada], you'll need to provide your business tax information, such as the EIN for a US business. You'll also need a business address and other documentation to prove you're the real deal.
Any incorporated business should have no trouble with the paperwork. Put in the time and money to incorporate now and things will go smoothly when you apply.
2. Meet Intense Customer Service Requirements
Anyone who wants to sell on Walmart must "provide first-class customer service." What's the best way for Walmart to check whether your customer service is first-class? By looking at metrics like your eBay feedback score and Amazon seller rating. These should show that you have a long history of making online shoppers happy.
Success on eBay and Amazon will also show Walmart that you can handle things like Amazon's 48-hour response time requirement. Walmart has the same rule, but that's one of the easier ones to deal with. Wait until you see the rest.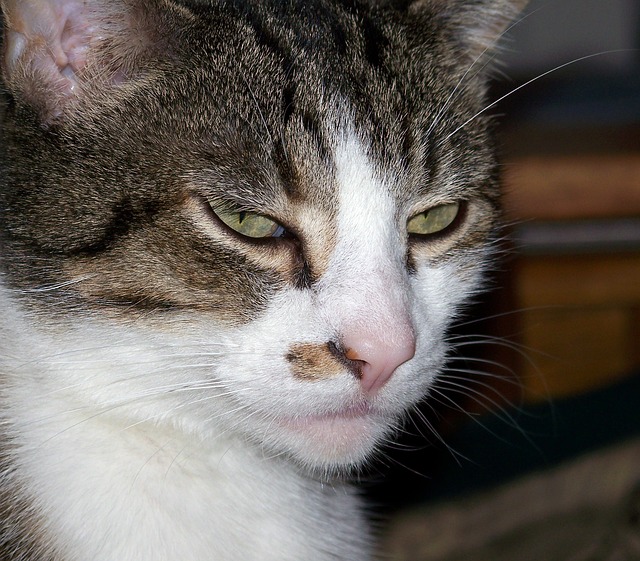 I'd rather not.
The customer service requirements for Walmart Marketplace include:
Answer any email with a "high-quality response" written by a human within 48 hours.
Respond to Better Business Bureau or Attorney General inquiries within one hour. It's unlikely you'll ever need to do this, but you'll need an emergency notification system just in case!
Provide phone support in English, with voicemail available when agents cannot answer.
Call back any customer who leaves a voicemail within 48 hours.
Do not provide a number for a cell phone, residential phone, or internet phone service, or an international phone number. Your business needs a real office number in the country where you sell to meet Walmart's requirements.
Walmart will also ask, "Do you have customer service representatives available from 9am-6pm (EST-PST)?" on the application.

Those dashes both mean "through," so this means 12 hours a day, not 9! Another way to phrase this is, "Is your support team available from 9:00 AM to 9:00 PM EST?"
Answering with a "No" is not going to improve your odds of getting accepted. Make sure your team can handle these support hours before you apply.
Worried about whether you'll still be able to keep up with Amazon and eBay while meeting the requirements for Walmart? Make things easier on yourself by integrating eBay, Amazon and Walmart support. Helping customers on three sites is simple when all your messages are on one screen!
You may be able to dodge Walmart customer service requirements partially or completely by using Walmart Fulfillment Services. WFS works just like Fulfillment by Amazon (FBA): Walmart takes over delivery and customer service for a fee. However, the customer service requirements don't mention any exceptions for WFS sellers.
3. Sell Stuff Walmart Needs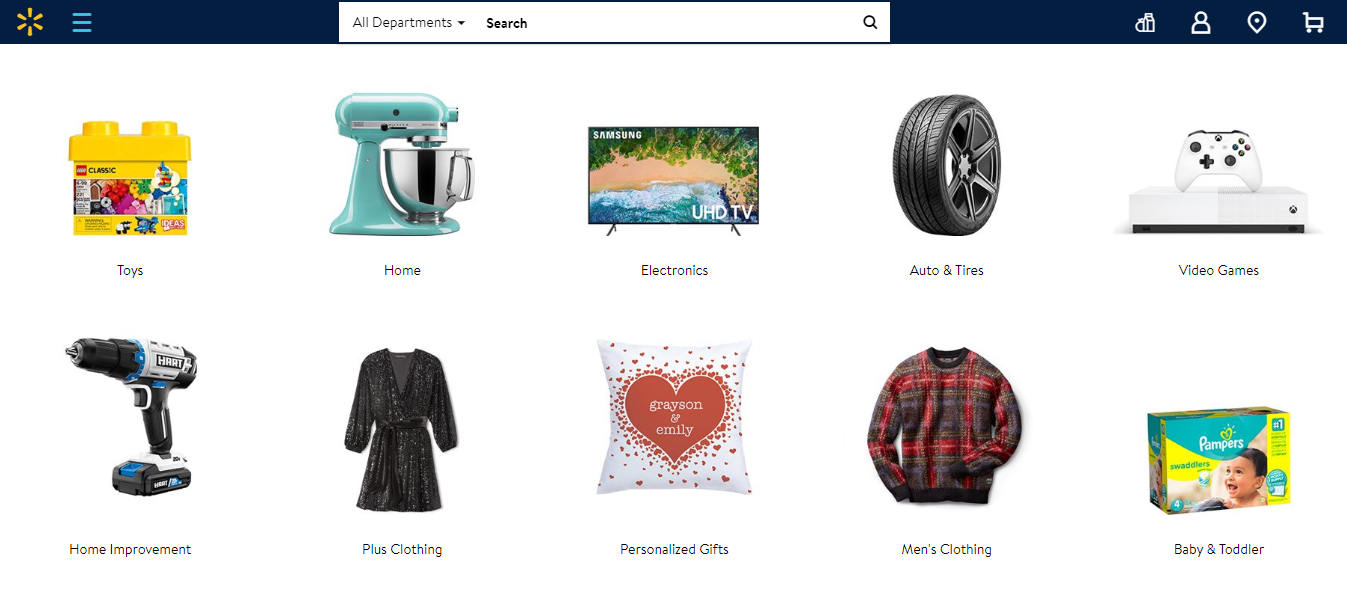 Walmart demands a "compelling" assortment of products from each seller. Our interpretation of this is that Walmart only wants products they can sell. In fact, they regularly remove underperforming items. They'll have no interest in onboarding a new seller whose entire product line will get taken down.
Ask yourself two important questions before applying:
Are my items unique, or do I at least have some clear advantage over existing Walmart sellers like a better price?
Do my items sell well?
If you answered "No" to either question, then don't apply yet. That's a fast way to get rejected, and once they've turned you away, they might not consider you again.
What if you sell seasonally? Don't sweat it—Walmart's evaluation system makes sure seasonality isn't a problem.
Finally, be aware of Walmart Marketplace's prohibited items. Many things sold in Walmart stores (such as firearms and fresh food) cannot be sold on the website.
4. Offer Walmart-Friendly Prices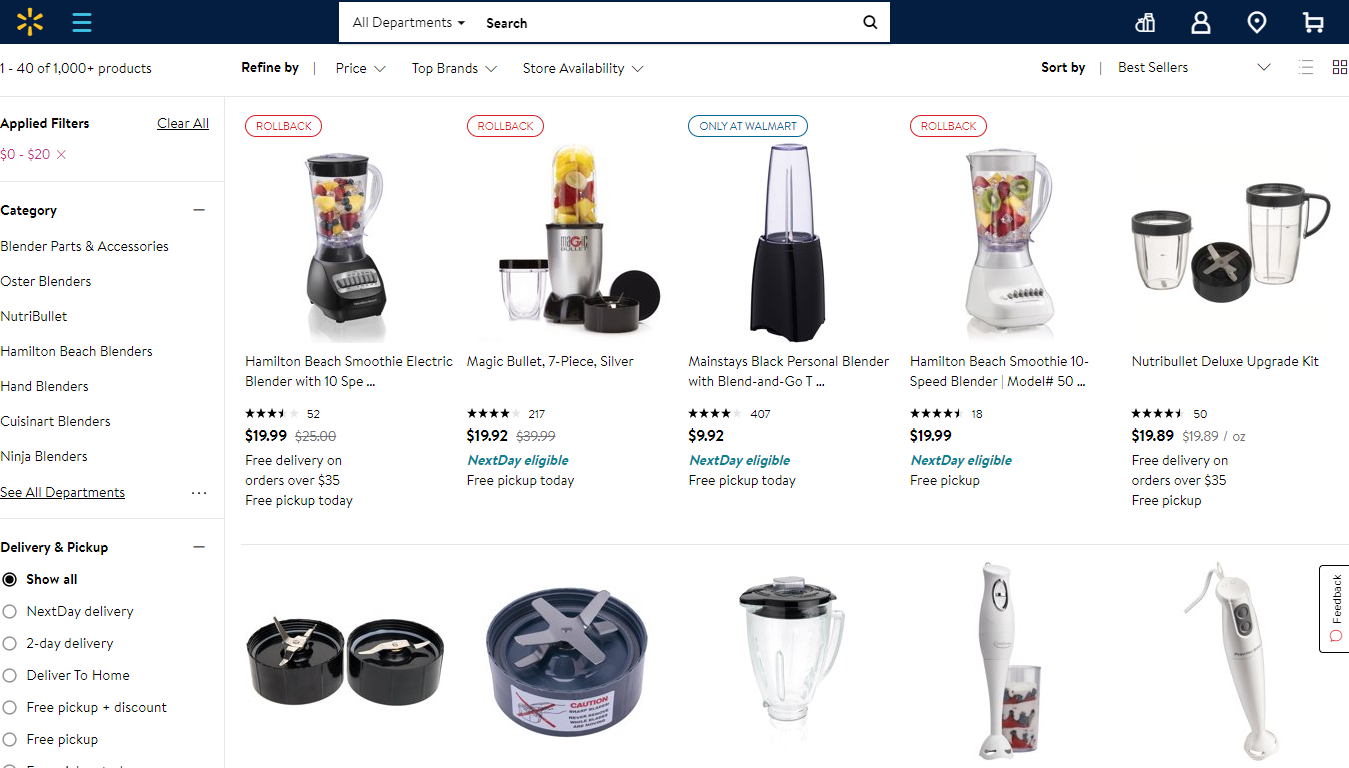 Walmart's slogan is "Save Money. Live Better." They stand by that slogan on their marketplace and remove any item with too high a price. If your items are overpriced when you apply, they'll save themselves the trouble of de-listing them later by rejecting you now.
What makes a price too high? Walmart formerly provided an example where a seller had listed an item at $10. A competing website then listed the same item for $8. Walmart immediately took down the $10 listing.
The rules aren't spelled out in detail, but there are a few things we can presume:
You don't need the lowest price on the web, but you need to be close!
Walmart auto-checks prices on competing sites, likely including Amazon, eBay, Target and others.
If your price is 25% higher than the best price online, it's probably too high. Even smaller price differences might still be too much.
Walmart's algorithm is almost certainly smart enough to tell the difference between new, used, and refurbished items. Your brand-new item doesn't have to undercut eBay's cheapest used listing.
What if nobody else sells the exact same items you sell? In that case, Walmart will undoubtedly compare your prices to those of similar items when reviewing your application.
Here's one example. Walmart sells plenty of big-ticket items like computers. However, the most expensive one they sell online right now is $1,295, compared to the $3,000+ beasts you can find on sites like Newegg. A $1,295 computer is a much better match for Walmart than a $3,000 one.
Walmart mainly wants good stuff that everyone can afford. While they do occasionally sell luxury goods, affordability is the heart and soul of their business. Sellers that cater to middle- and low-income shoppers will have the best chance at getting approved.
5. Excel at Fulfillment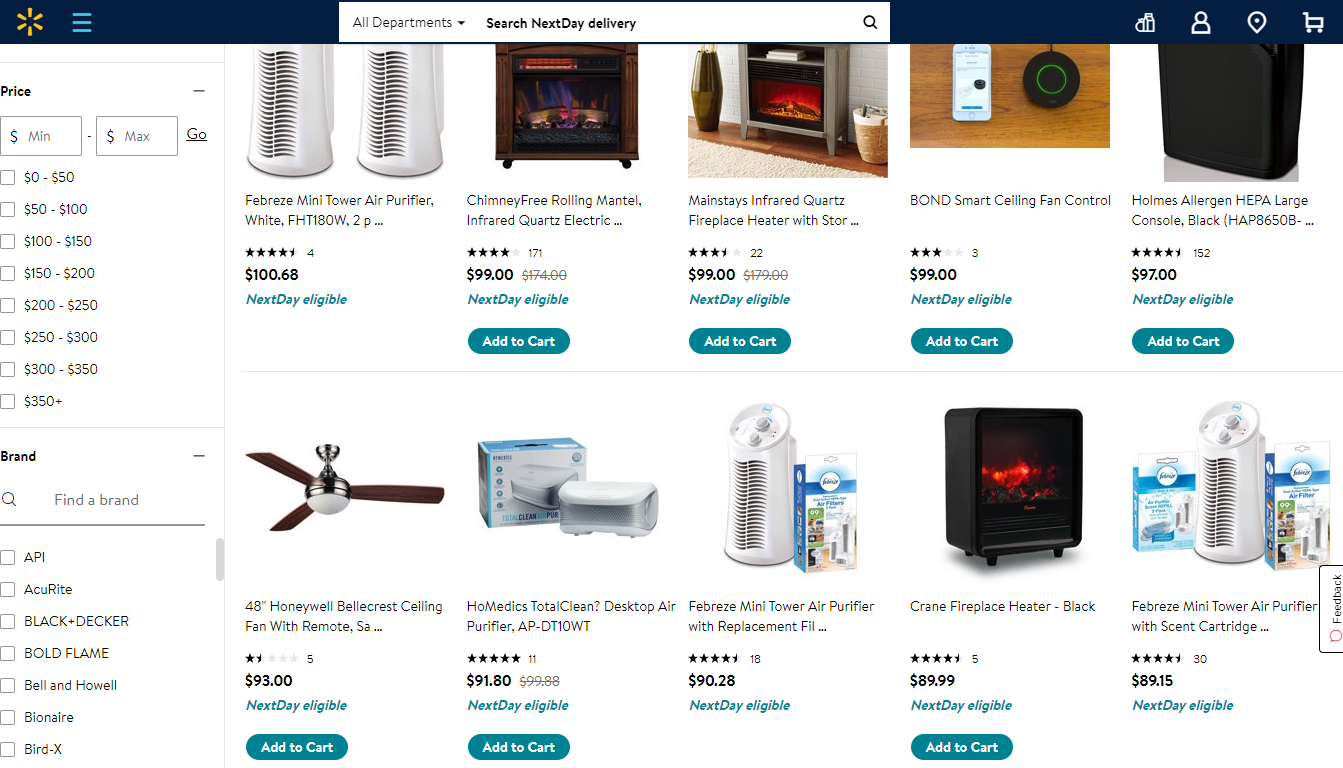 Everything shown above is eligible for NextDay delivery.
If you take care of your own shipping, Walmart requires you to offer "fast, reliable fulfillment."
You should have no trouble getting accepted if you have your own warehouses or use a good, independent fulfillment service.
If you rely on Amazon FBA, though, you might have a hard time. Walmart asks what percentage of your orders are fulfilled by Amazon on their application. They also ask whether you can fulfill US orders without using FBA.
Why do they ask? Because you are not allowed to use FBA for Walmart orders. Heavy reliance on Amazon's fulfillment services may make your business unattractive to Walmart, as you might not be able to make deliveries on your own.
To the relief of many sellers, Walmart began offering its own fulfillment program in 2020, Walmart Fulfillment Services (WFS). This is very similar to FBA, covering fulfillment and customer service. It also automatically qualifies you for TwoDay Delivery.
However, even current Walmart sellers must apply to use WFS. If you are not a current Walmart seller, you can apply to start as a WFS seller from day one here.
WFS can only be used to fulfill Walmart Marketplace orders. If you want to to use one service for multi-channel fulfillment, consider Deliverr, Walmart's official fulfillment partner. Deliverr can automatically qualify your items for Walmart's TwoDay Delivery badge just as easily as WFS. You can connect them with Amazon, eBay or Shopify, any of which could be a good way to test the waters before you apply to Walmart.
Other fulfillment partners and systems can work well, too. Even drop shippers (DSVs) are allowed to sell on Walmart with a bit of extra work. As long as you can get items to Walmart buyers fast and in unbranded packaging, you'll be in good shape.
6. Organize Your Inventory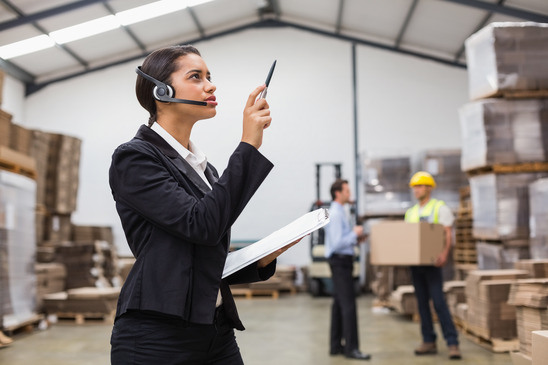 Walmart expects you to upload your items quickly after approval. They'll ask how you plan to do so on the application, so educate yourself now! Read up on Walmart's inventory integration options and figure out which method you plan to use.
You'll also need to answer questions about your inventory. For example:
Which Walmart categories do you sell in?
Which one is your largest source of sales? Second largest? Third?
What's your annual revenue in each category?
How many SKUs do you have in each?
How many SKUs in each category do you plan to upload to Walmart?
With such detailed questions, it's a good idea to sort everything according to Walmart's categories before you apply.
7. Apply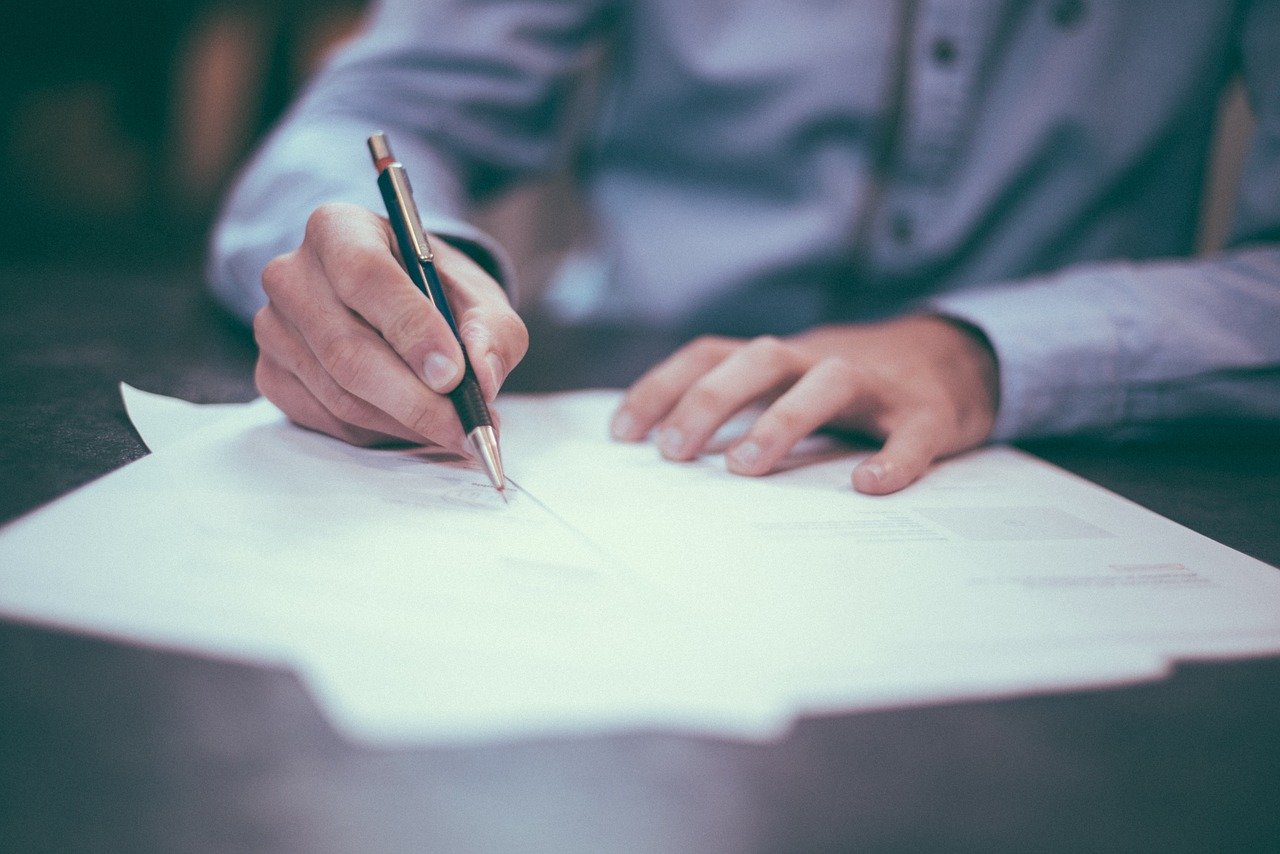 If your business meets all the requirements above, apply!
What Happens Next?
It could be anything from several days to several weeks before you hear back from Walmart. Don't get too worried even if you haven't heard from them after a month—it takes time, and a lot of people want to sell on Walmart! Be patient and focus on making your ecommerce business even better.
Once you're approved, Walmart will expect you to start selling fast. You'll need to upload inventory, complete Walmart's business readiness requirements, and then tell them you're ready. They'll carefully review everything. If they agree, you'll finally be allowed to sell on Walmart.
Completing the seven steps above won't be easy, but that's how to get approved to sell on Walmart Marketplace! Don't look at it like creating an eBay account. Look at it like getting a dream job. It might take years of experience, long hours of hard work, and more than a touch of luck, but it could also be the best thing you ever do.