We've already covered the benefits of selling on Amazon: done-for-you SEO, the fact that you get to skip building a website, and customer trust are just a few. But even with all those advantages, you can easily lose money if you don't know what you're doing. We put together this guide on how to sell on Amazon for beginners so you could jump over the pitfalls and go straight to making a profit.
Last updated 1/6/2022.
1. Decide What to Sell
This might be the biggest challenge of selling on Amazon for beginners: finding something worth selling.
How to Determine if Something Will Be Profitable
Amazon generally takes about a third of a product's price in fees (as we'll discuss in Choose a Selling Plan below). You also have to worry about the price of buying or making it.
Say you're planning to sell used copies of a popular book. You go on Amazon and find that other used copies in similar condition sell for about $15 and decide to sell at the same price.
If it costs you $10 to buy that book, and one-third of the price ($5) to sell it on Amazon, then you aren't going to make any money with each sale.
On the other hand, if you're digging up copies for $4 each, then you get to take home $6 on each $15 sale. Not a bad deal for you!
Note: We're keeping the descriptions of expenses simple here. Exact costs can vary significantly, and we have not covered shipping, which is a whole world of accounting on its own. Read "The Full Cost of Selling on Amazon" if you want an in-depth explanation of the costs involved.
Where to Buy Products to Sell on Amazon
If you aren't making your own products, a great way to find profitable items is to buy wholesale. You can go to brick-and-mortar retailers like Costco for starters.* Just compare their prices to Amazon's on your phone to find out if you could resell anything for a worthwhile profit.
You can also try buying from wholesalers online or even directly from manufacturers. Just be warned that the internet is LOADED with scams. It's a good idea to use a trusted source of suppliers like SaleHoo or Alibaba and do some extra investigating to avoid getting burned—though that does mean additional costs that will eat further into your profits.
*Reselling products labeled "Not Marked for Individual Resale" is a legal grey area. Check for such labels and think twice before listing.
How to Make Sure Something Will Sell
Look for things that are already selling on Amazon. If the product is up on the site and has no reviews, then it probably doesn't sell well. If it has dozens of five-star reviews and half the sellers are out of stock, then you're practically guaranteed to make loads of sales—if you can compete with the other sellers on price and/or rating.
A good rule of thumb is to look for products with at least 15 or 20 reviews. That means there are lots of buyers and a real market for the product.
You can also try selling something nobody else has listed. Just be judicious about how much you spend on these things, and try test-selling a few before investing hundreds of dollars in purchasing them en masse.
Want more info? Learn more about deciding what to sell on Amazon.
2. Choose a Selling Plan
Amazon offers two selling plans:
Individual
This is the closest you can get to selling for free on Amazon. You have no monthly fees. However, you'll have to pay $0.99 per sale, then a referral fee of 15% or so, and if you're selling media items like books or video games, a closing fee of $1.80.
Let's go back to the $15 book. Your fees would total $5.04, and then you would be done paying Amazon.
If you sold 10 of these books in a month, you would get $99.60 (minus how much you paid for them) and pay Amazon $50.40. If you sold 100, you would get $996 and pay Amazon $504.
Professional
Choose this plan if you will sell lots of items every month. When you use it, the $0.99 fee per sale disappears. However, the other fees are still there, and you have to pay $39.99 monthly.
You will lose money if you don't sell at least 41 items. Using the example above, 10 sales of the book would get you just $69.51, while $80.49 would go to Amazon. In that case, you would've been a lot better off using the Individual plan.
But once you start selling a lot, it really pays off. 100 sales would cost you $444.99—meaning you'd have a profit $59 higher than if you'd used the Individual plan.
Which Should I Choose?
It's a good idea to start with the Individual plan if you aren't selling for a major company. See if you can hit 41 sales a month first. Once you pass that number, you'll know the Professional plan will be more profitable and you can make the switch over.
However, note that some products can only be sold by Professional sellers. If you want to sell jewelry or watches, for example, you have no choice but to sign up for a Professional account.
3. Plan Your Shipping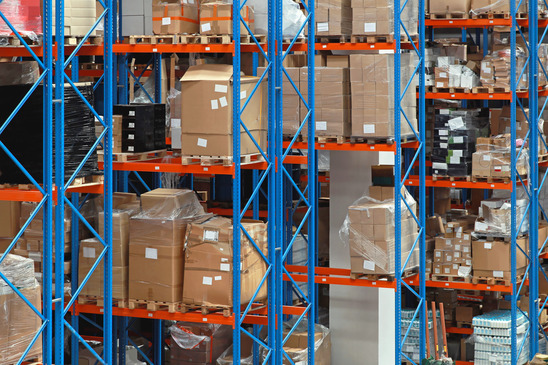 Will you handle your own shipping, or use Fulfillment by Amazon (FBA)?
Handling Your Own Shipping
If you decide to ship products on your own, you will have many more logistical difficulties. You have to figure out storage, and you need to process all your orders on your own.
On the other hand, you get much more control over your costs. FBA would charge you for storage every month. They would also charge you for the handling on their end, and you'd need to pay to ship the item to their warehouse.
Managing your own shipping and handling is frequently cheaper. You can therefore charge less for your product or take more money home on every sale.
Read more about shipping and handling costs to make a more informed decision.
Using FBA
Using Fulfillment by Amazon means your fees continue to stack up. You have to deal with storage fees, fulfillment fees and possibly more, on top of the costs of shipping the product to Amazon rather than directly to the customer.
The Fulfillment by Amazon Revenue Calculator indicates that for a 2.2-pound hardcover book, the FBA fulfillment fee alone will be about $5.30. That means you are now paying at least $9.35 per $15 sale with the Professional plan, without counting the cost of shipping to Amazon or paying your Professional plan fees.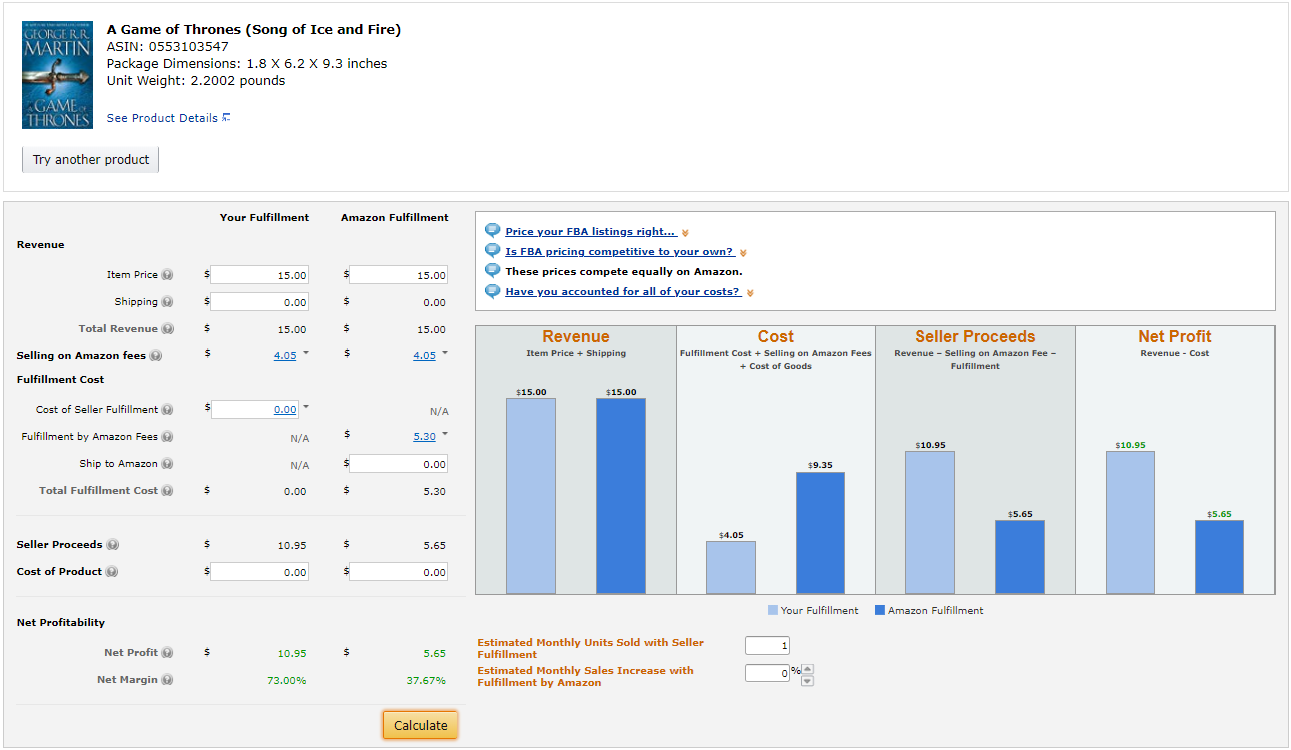 Change that to a 67-pound mini fridge and the fulfillment cost goes to $67.25.
It really starts to add up. And on top of that, it can change your online sales tax situation from pretty easy to very complicated.
Yet it also comes with some major advantages:
Your product becomes eligible for Prime, making it more appealing to customers.
You don't need to worry about storage or handling individual packages.
You don't have to run to the post office nearly as often.
The easier logistics and improved sales can make up for the higher costs. See "Is Amazon FBA Worth It?" for a detailed analysis.
So, Which Is Better for Me?
Those who want the maximum level of control, the highest profit potential, and the smallest amount of paperwork will generally be better off shipping on their own. Those who want to streamline daily operations and prefer more total sales to higher profits per sale should probably use FBA.
Either way, as long as you follow the tips above, you should be able to make some good money!
For more advanced options, read our article on ecommerce shipping solutions.
4. Sign Up
Select your selling plan and complete the sign-up process. Amazon will walk you through all the steps of creating a seller account.
Once you've signed up, you're ready to start selling! Go and list your carefully picked products and let the sales start rolling in. With a little luck, you'll successfully start an online business and be well on your way to building an ecommerce empire.
Want to continue learning how to conquer the world's largest ecommerce marketplace? Find out how to improve your Amazon seller rating and get a handle on the Amazon seller return policy.
If you found "How to Sell on Amazon for Beginners: A 4-Step Plan" useful, be sure to use the share buttons below. You just might convert one of your friends into a business partner!