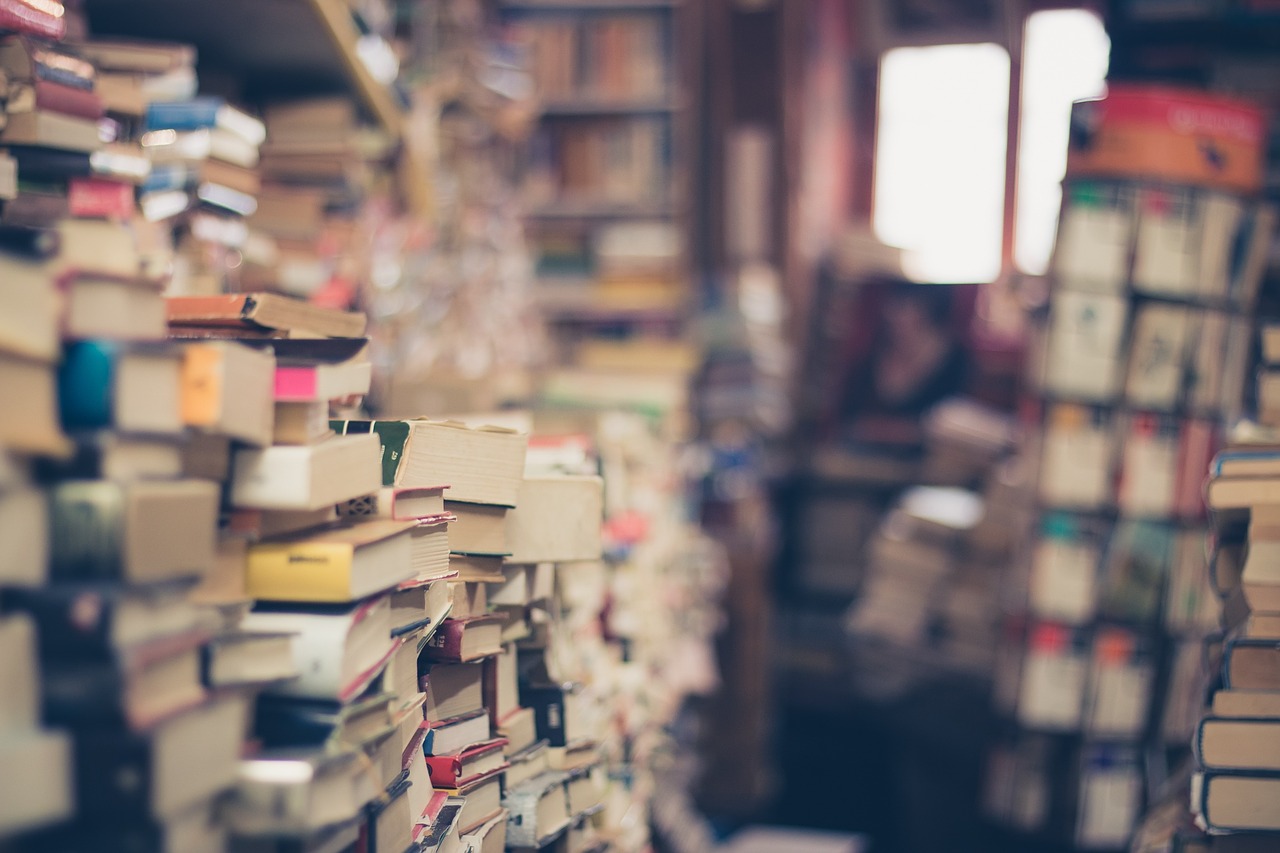 Selling books on Amazon is a really good idea. According to The Atlantic, "Amazon controls 64 percent of sales of printed books online." They also "have the largest share of the e-book market… with 67 percent."
Whether you want to work from home as an online seller, sell your own book, or just free some space on your bookshelf, Amazon is the place to get started.
But where do you begin? How do you deal with shipping, competition and everything else? Can you really make money doing it?
Last updated 2/26/2021.
Shortcuts
What you need to know depends on what you want to do! Click on your goal:
Step 1: Know Which Books to Sell on Amazon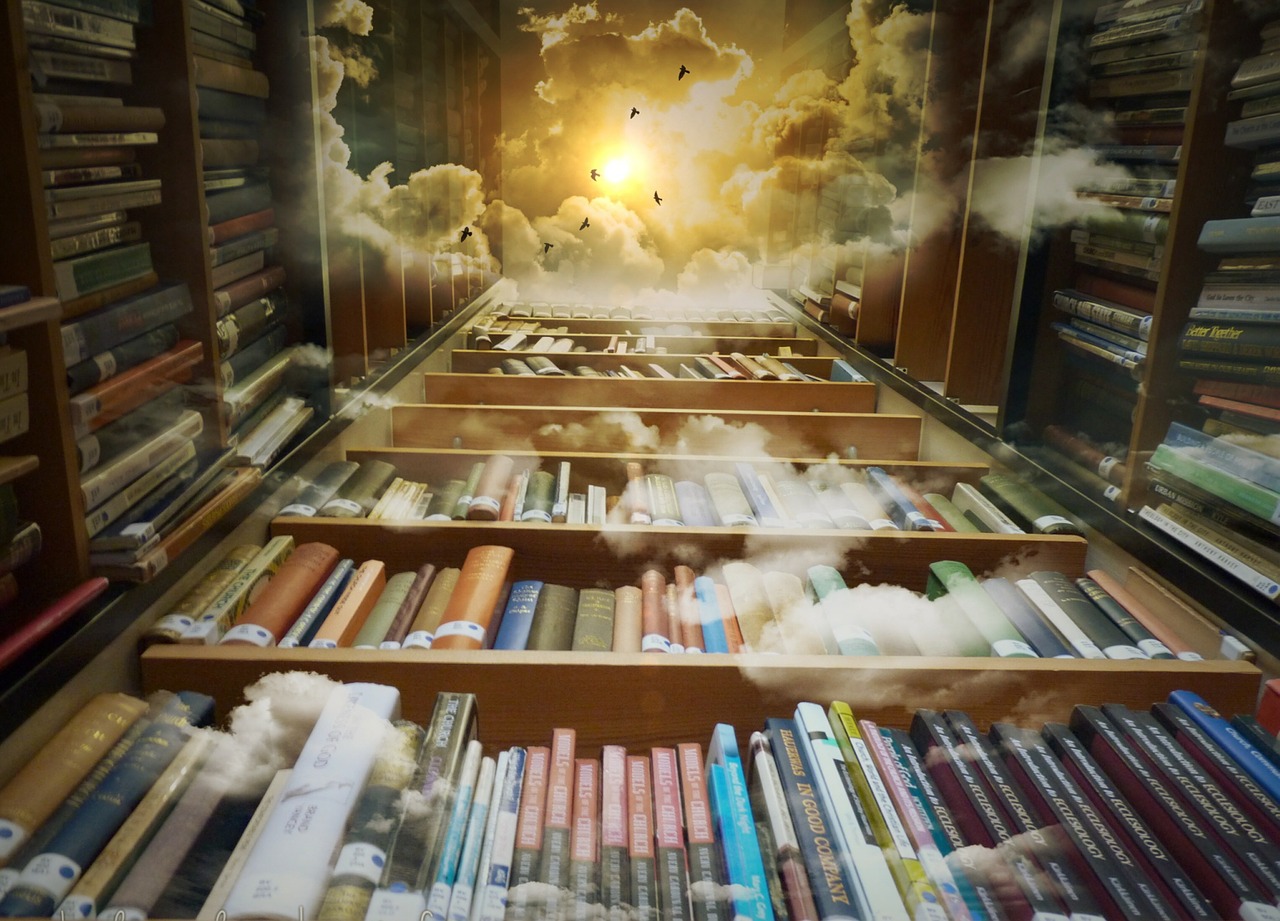 If you plan on selling books on Amazon for profit, then you need to know what makes a book profitable. To do that, you have to know what it really costs to sell each book, as well as which books have decent chances of selling.
Account for the Cost of Selling Books on Amazon
Amazon fees are no joke. They charge:
A 15% referral fee on books.
A $1.80 closing fee on all media items, including books.
Either $0.99 per item (Individual sellers) or $39.99 per month (Professional sellers).
And never forget that your time is valuable!
Many Amazon sellers set a minimum sale price like $12 or $15. If the book can't sell for that price due to competition, condition, or lack of demand, they won't touch it. They know the thin profits won't make up for the lost time and the risk of problems like Amazon chargebacks.
For detailed info on Amazon fees and calculating profits vs. losses, see "What Does It Cost to Sell on Amazon?"
Use the Best Sellers in Books List
Whether you plan to sell new or used books, you can't waste money on losers. You have to find books that will sell. Luckily, all you need to determine that is Amazon's Best Sellers in Books list.
Best Sellers in Books only displays the top 100 sellers. But all books rank somewhere on the list, and you can find it on their listing.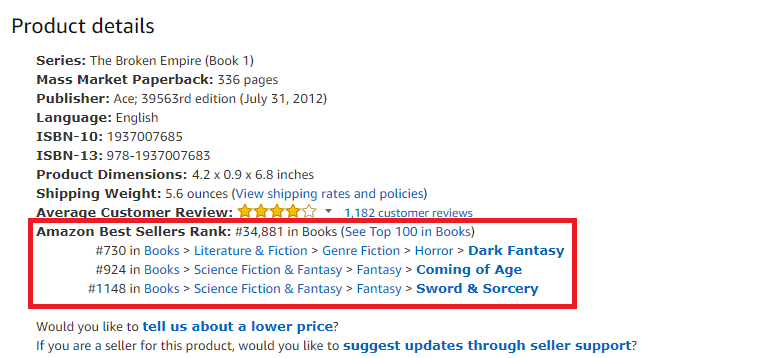 High Rank = High Competition
Extremely popular books (like those on the top 100) will have stiff competition. For example, the #1 bestseller shown below has 218 used copies and 119 new copies available. The used price drops as low as $1.61. That's less than Amazon's closing fee—they're paying Amazon to take their book!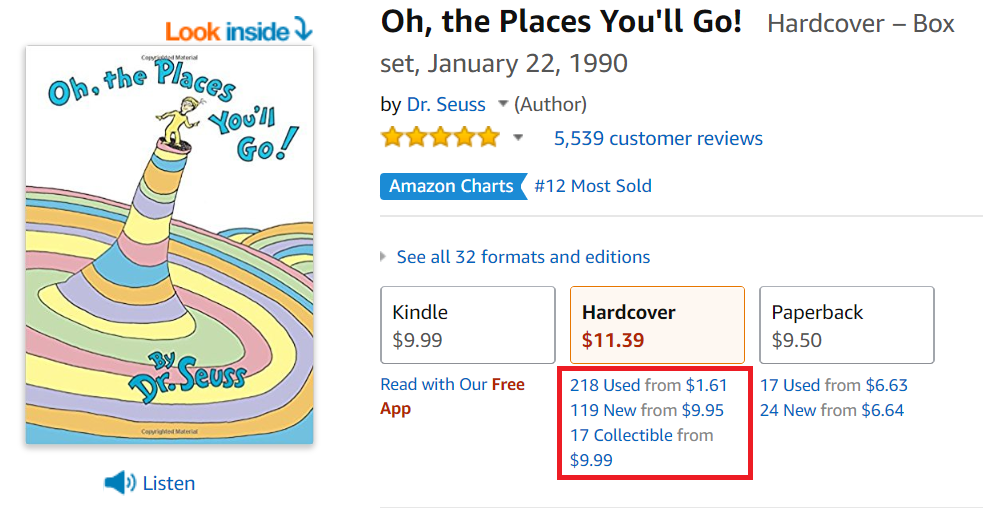 You'll see this a lot with the top 10,000 books. Sometimes, the fast sales can make up for it, but not always.
Low Rank = Slow Sales
Now for the other end of the spectrum: unpopular books will take forever to sell. For example, this book is ranked lower than #650,000 (no reflection on the quality of the book, I personally thought it was great!). Look at the number of offers and the prices:

That pileup of new and used copies of a book published in 1992, for prices as low as $10 new and $1 used, shows that it just isn't a fast mover these days. The price competition has become as difficult as for a bestseller.
Medium Rank = Just Right
What you generally want is something in the middle. For example, this book ranks around #30,750. Look at the prices and the number of sellers again: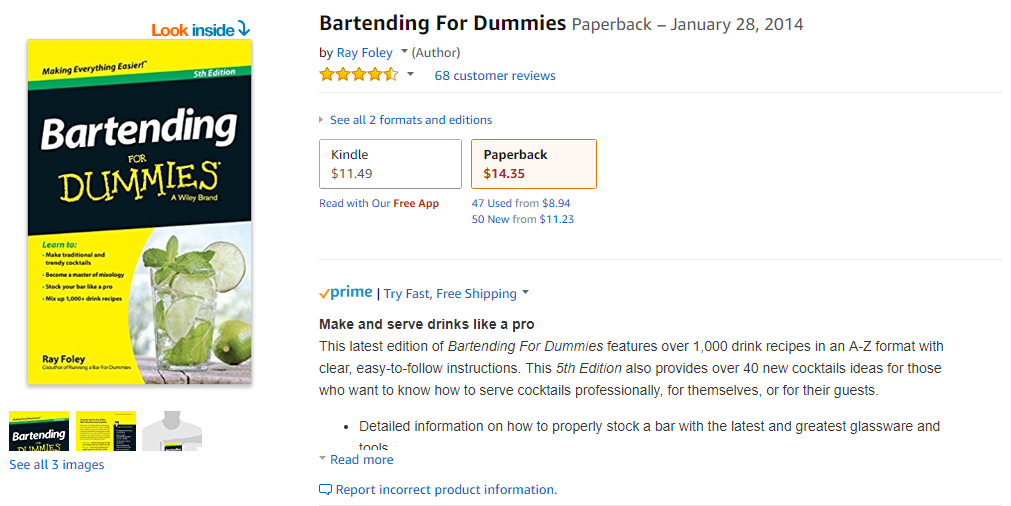 None of the nearly 100 sellers drop much lower than $9 used or $11.25 new. Most likely, anybody who has gone lower made a near-instant sale. Plus, Amazon's own price is $14.35, suggesting people are still happy to pay that much for it.
For the most part, aim for books like this—books in a price range you can work with that sell at a decent rate. These are often books in the middle range, below spot 10,000 (like The Andromeda Strain at #10,549 when this article was published)…

…but above the multi-hundred-thousands (unlike this former bestseller, which dropped to #329,779).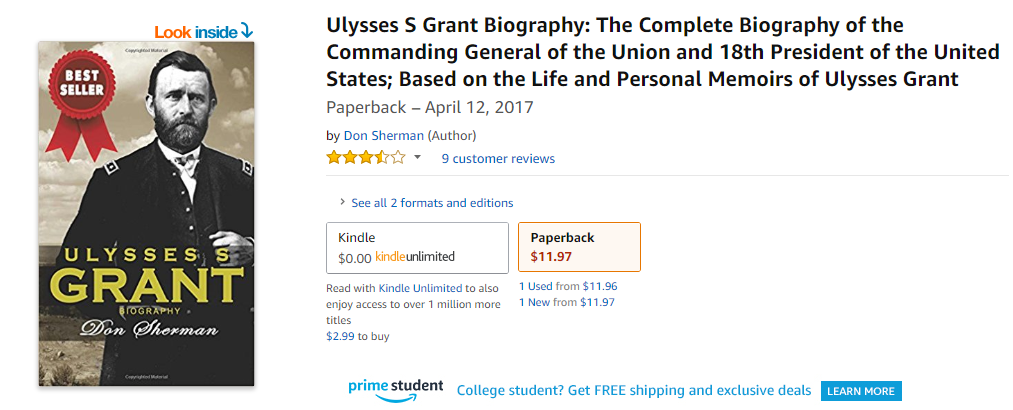 Set your own ceiling and bottom based on experimentation and your storage capacity.
Book Condition
Go for books in good condition. You can sell any book that's still reasonably readable. However, anything worn out, torn, and/or covered in writing has lost enough value that you probably won't make money off it. Brand-new, nearly new and lightly used books should make up most of your inventory.
Step 2: Sourcing Books to Sell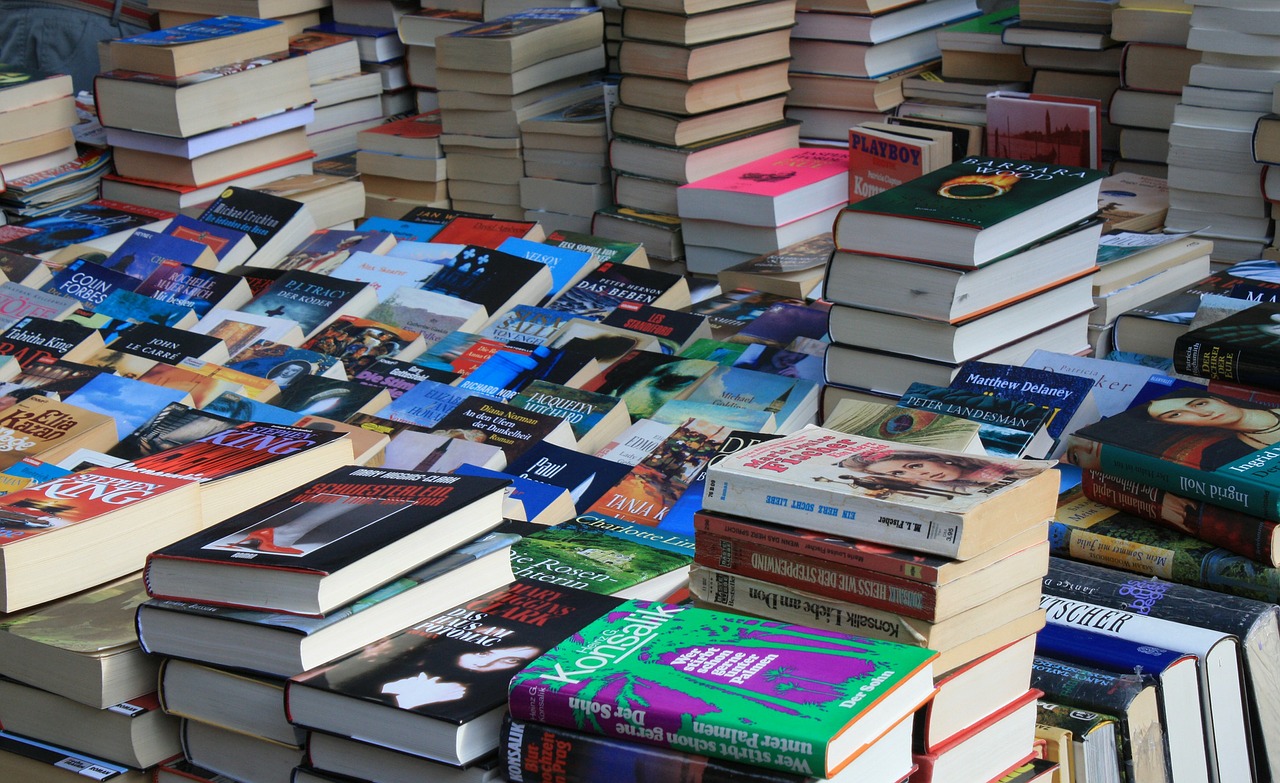 Now you know which books are worth selling. But where do you buy books to sell on Amazon?
Where to Source Used Books to Sell on Amazon
You can start selling used books on Amazon on any budget. It's a low-risk, low-cost, easy way to get started, and highly recommended for beginners. Here are a few places where you can find them:
Your Bookshelf
Nothing's better than zero-cost inventory that's already nicely stored! Check your bookshelf (and closet/basement/floor) for any books in good condition that you're willing to part with. List all of them, even if they have a low chance of selling.
Remember to put these books aside so you don't accidentally lend one out or lose it! They're inventory now. Nobody touches your inventory.
Yard Sales and Flea Markets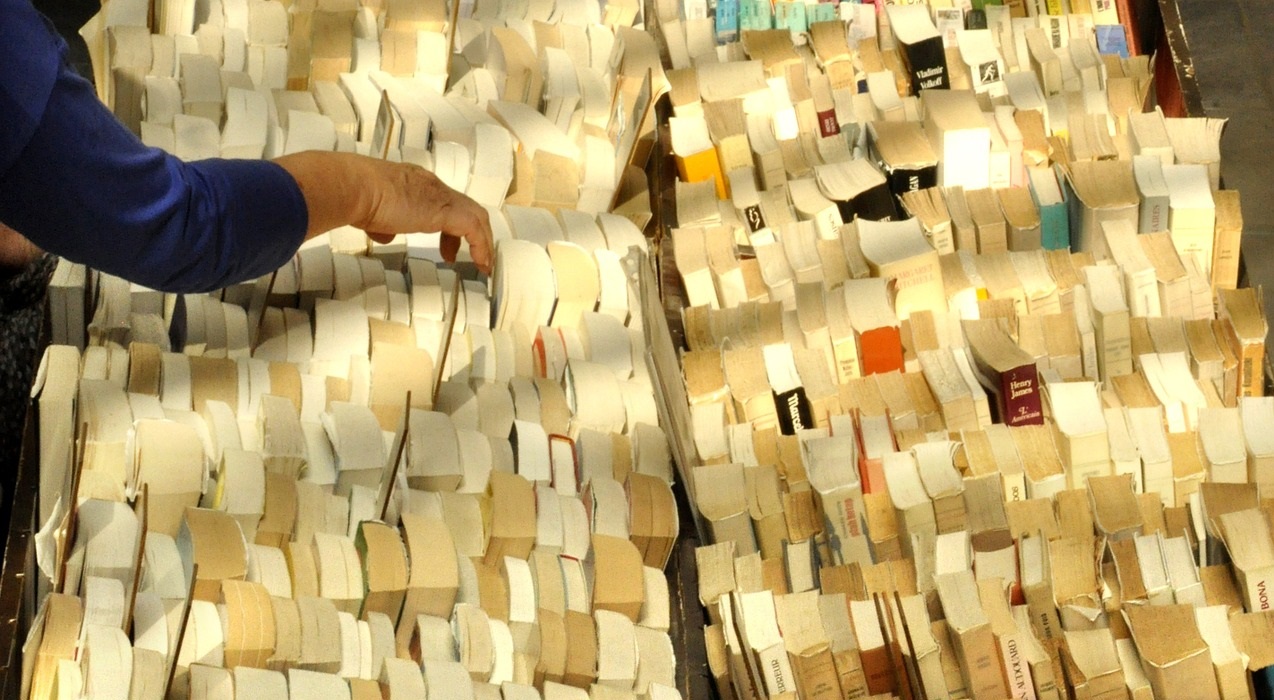 People always want to get rid of old books when they move. Yard sales and flea markets are great places to find like-new and lightly used books.
There are two options here: buy them in bulk or pick out the best.
Buy in Bulk
Most people will happily sell you a whole box of books for a fraction of the cost of buying them one at a time, because it means they get rid of a whole lot at once. You may have to toss most of them (preferably into a donation bin), of course. But more often than not you'll find enough winners to make a solid profit. Plus, the time you save makes a big difference!
Always give the box's contents a good look over before making the purchase. Look for good signs like authors you recognize and bad signs like mildew.
Pick Carefully
Bring your smartphone along. Follow the steps outlined earlier for finding books you can sell for a profit, and only choose those. Doing this means you won't waste money or space on losers, but it takes longer and increases the risk that someone else will buy the winners first.
The Web
There are plenty of places online to buy second-hand books en masse. You can take a gamble on a used books lot on sites like eBay…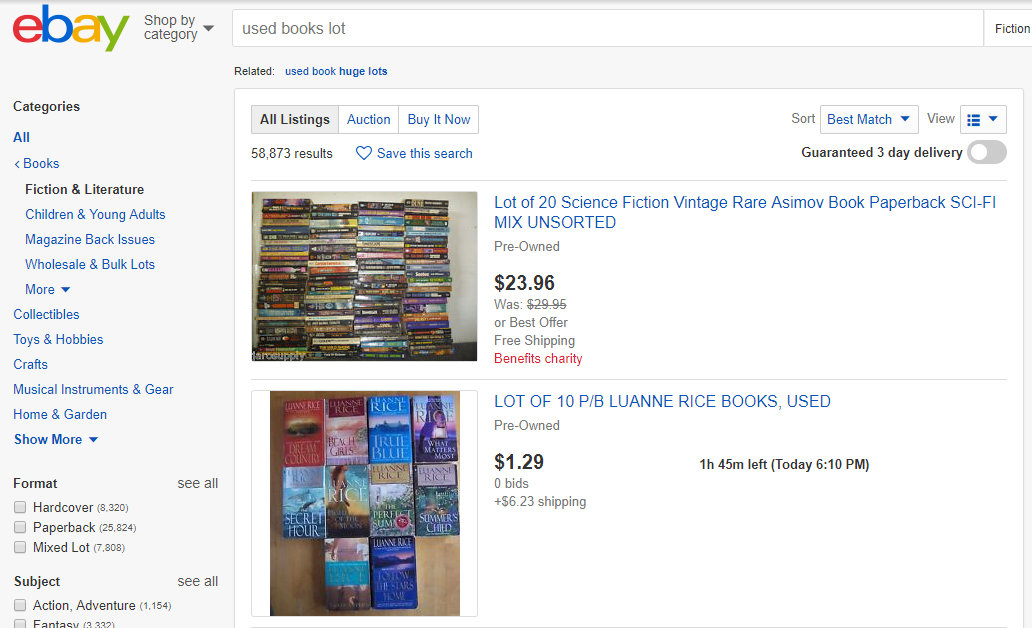 …Craigslist…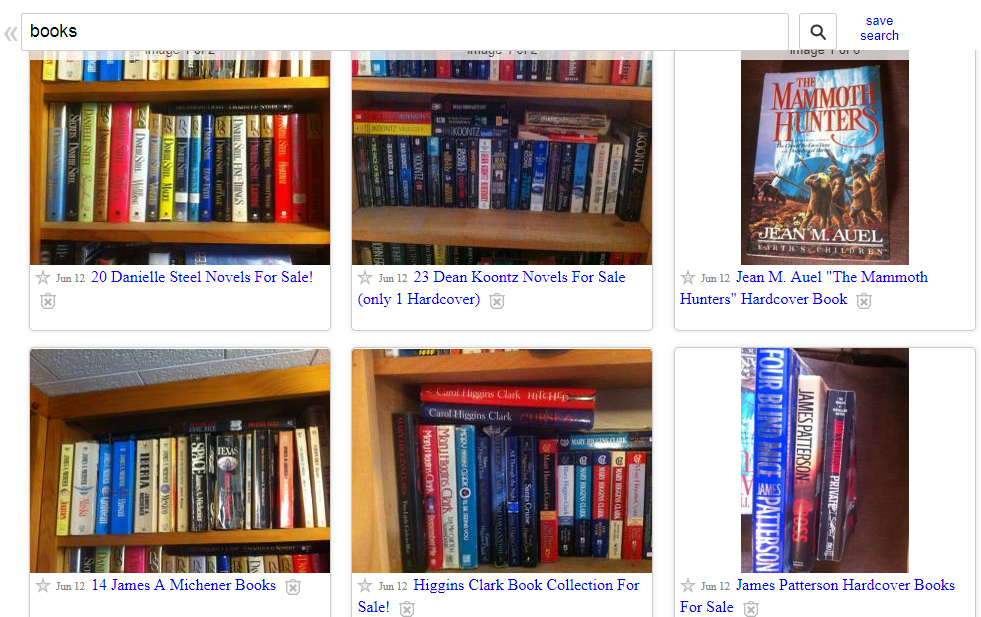 …and even specialized used book wholesaling sites like UsedWholesaleBooks by ThriftBooks.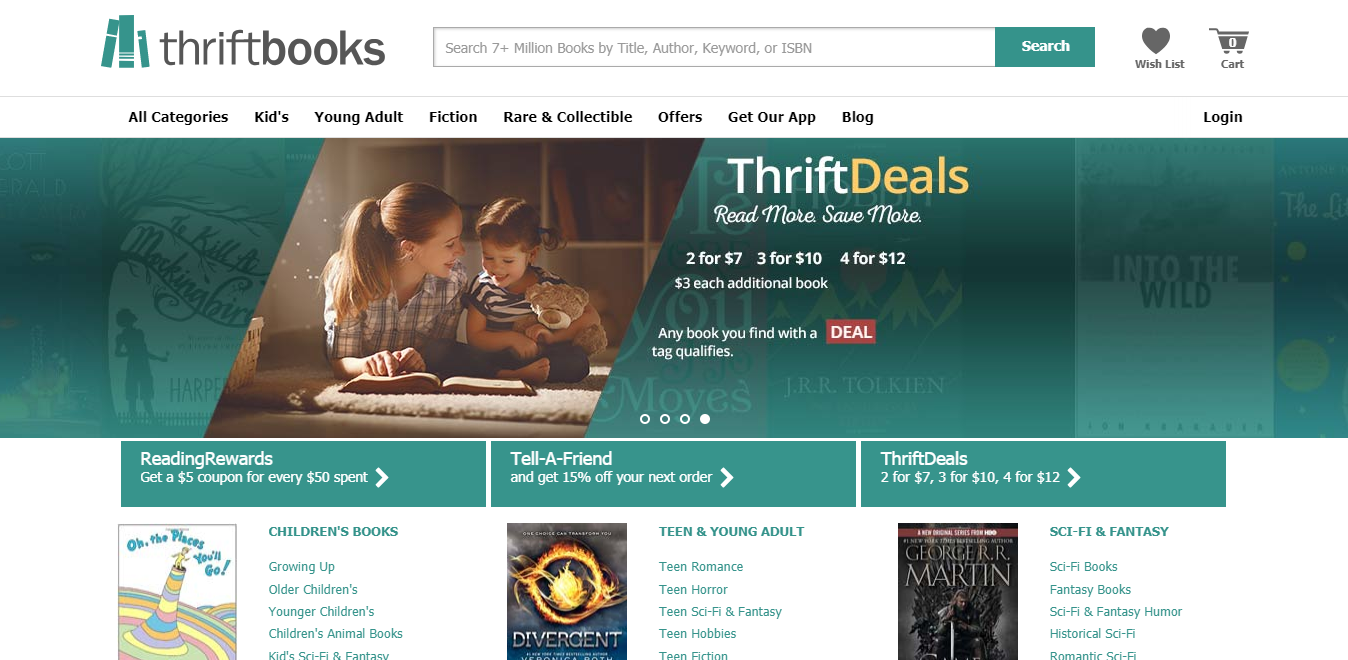 Due to the cost of shipping and the inability to check each book's condition, this is riskier than buying a box of books at a yard sale.
Buying small lots on eBay or Craigslist risks little financially but means paying more per book.
Buying huge lots off wholesale sites like UsedWholesaleBooks means risking lots of money and needing tons of storage, but gets you much lower prices per book.

ThriftBooks is highly respected, but many sites claiming to sell wholesale are scams. Always verify a wholesaler's reliability before placing an expensive order!
I only recommend this method if you can afford to lose money on the order. Most of the time, this will turn a solid profit, but you have to buy smart and be prepared for the occasional batch of duds.
Used Bookstores
Used bookstores often sell at prices too high to turn a profit from (usually much higher than the prices on Amazon), but sometimes have good deals. Plus, it's always worth asking about buying their unsold inventory whenever they decide to clear shelf space. This goes double if they don't sell on Amazon themselves.
Libraries

Libraries frequently host sales to clear space. Reach out to libraries in your area to find out if and when they hold sales, and mark your calendar. A quick online search will almost always reveal something, too!
Estate Sales
eBay sellers love estate sales. They often provide rock-bottom deals on libraries full of old, antique, and collectible books.
If you aren't familiar with estate sales, they're essentially a classier form of yard sale. They're usually performed following a homeowner's death or preceding a move to a smaller living space. Frequently, they're run as auctions and require attendees to register.
You won't always find books worth selling at estate sales (or win the bid for them). But if you have an eye for antiques and collectibles, there are few better places to find them.
Other Opportunities
Keep your eyes open and explore. Plenty of thrift stores will sell second-hand books for pocket change. Non-profits like churches and schools sometimes accept donations of used books and then resell them for peanuts. If you donate your unsold books to these organizations, they may even be happy to let you walk out with a few of theirs for free.
Where to Source New Books to Sell on Amazon
Selling new books on Amazon is a tough business, and not one I recommend for beginners. But it can be lucrative and steady if you pull it off.
Be very careful to pick the right books to sell here. Amazon sells most new bestsellers directly, sometimes for as little as half the list price. Plus, new books with manageable competition may have too little demand. You'll need a lot of business savvy to make the right decisions.
Here's where to get new books to sell:
Wholesalers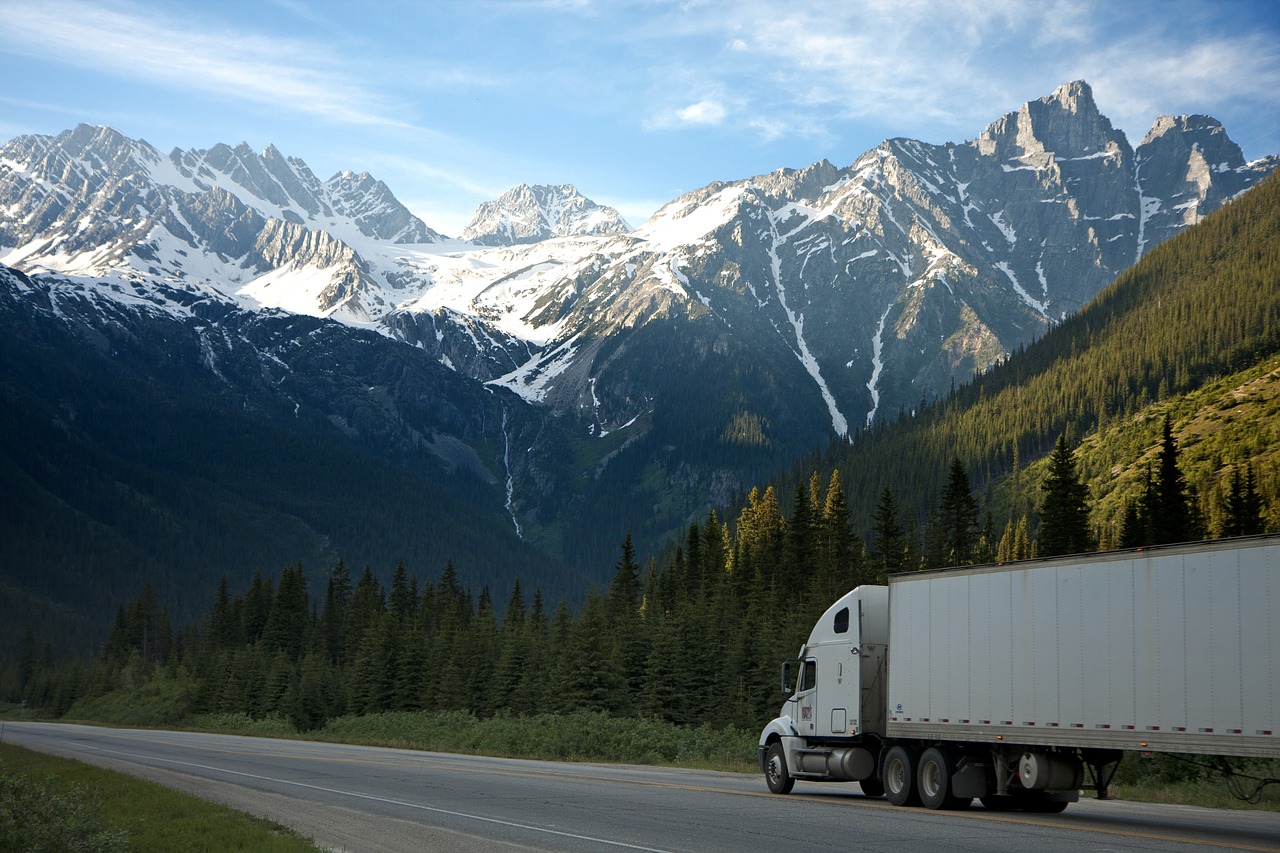 I mentioned wholesalers above as a source for used books. For new books (and new products of any kind), wholesalers are the go-to source. These guys buy huge amounts of books from publishers, then sell them to mass consumers of books like bookstores, libraries, and you.
There are plenty of popular, well-known wholesalers. Ingram and Baker & Taylor are two such giants. You can find other major wholesalers in this helpful article, even though it's aimed at authors.
These major wholesalers have a lot of power. They can buy from the publishers at crazy-low prices, and then pass a lot of those savings on to you. But how much of a savings depends on your purchasing power.
If you buy books by the thousands on a monthly basis, you can often negotiate lower rates with wholesalers. But if you can only buy in handfuls, you'll always face high prices that seem impossible to profit from.
Your goal should be to build strong business relationships with your wholesalers. The longer you work with one and the more you buy from them, the lower the prices you'll be able to negotiate.
Major wholesalers like Ingram are challenging to negotiate with because you're just one of a million customers. They often have demanding requirements and applications as well. But, they are safe and reliable.
With smaller wholesalers, you'll have an easier time closing a deal and driving down prices. But you'll also have to find them, make sure they're not scamming you, and determine if they'll do their job. Finally, they'll only be able to drop their prices so far. They can't command the same discounts from publishers as the big boys.
Distributors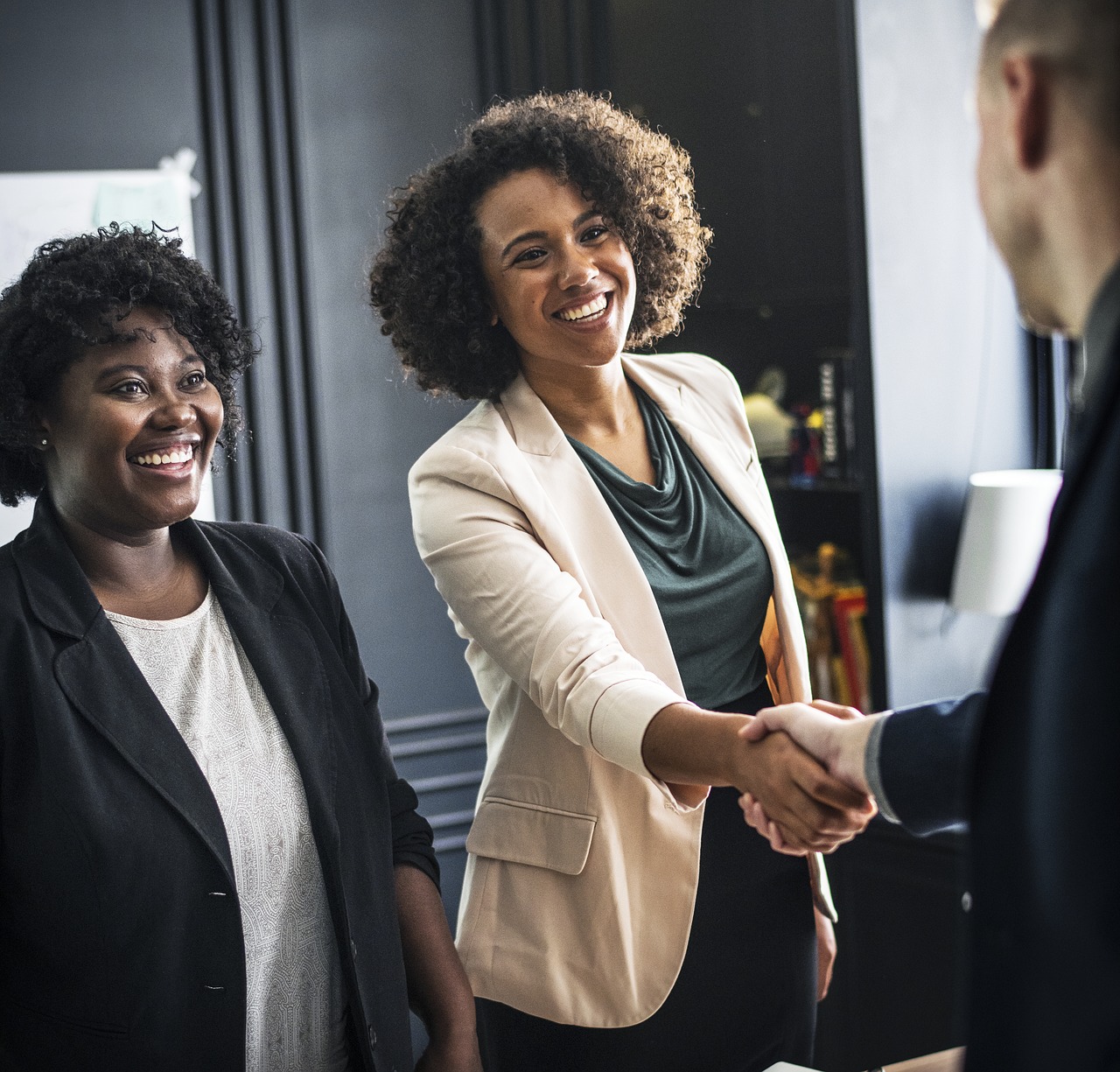 Distributors are always hunting for new retailers to buy the books they sell, so they may come to you once you're established.
You can also reach out to them. IBPA offers a list of book wholesalers and distributors with contact information. But remember to be careful of scams! Just because a company is on a list doesn't mean it's safe. Also, note that the contact info is for publishers, not retailers, so you may have to snoop out the right person to call.
Distributors charge publishers a significant fee, and you pay for that fee when you buy from one. They're not the cheapest book suppliers out there. However, they often have exclusive rights to sell certain books, so sometimes they're the only source of a hot new title.
Publishers and Authors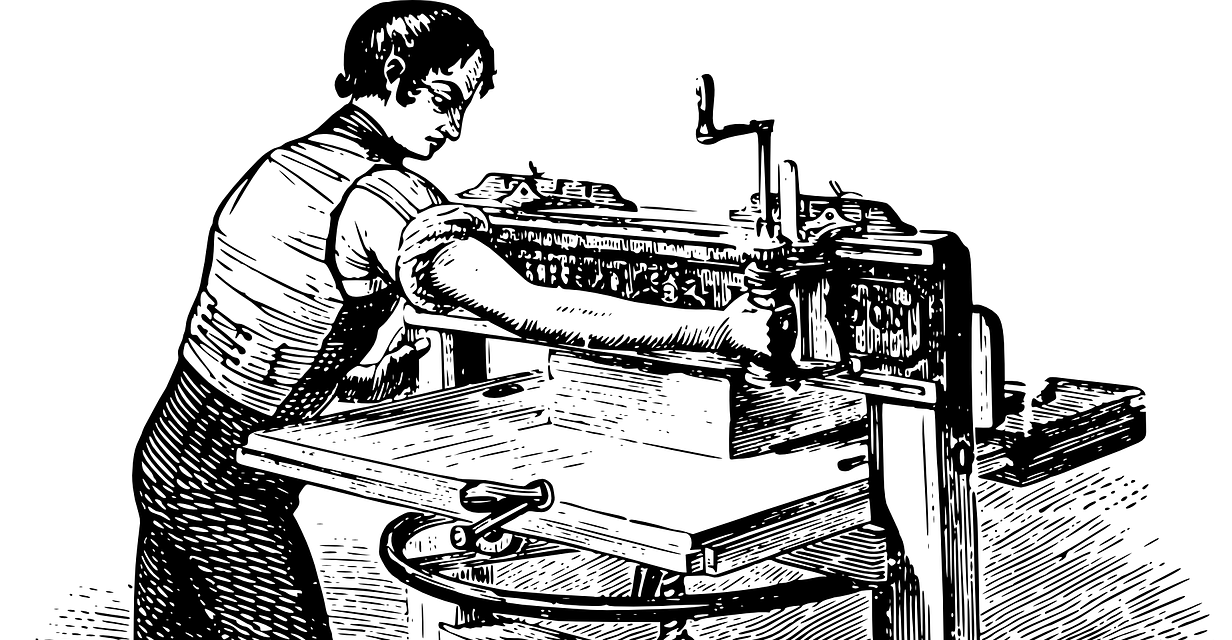 You can skip the wholesalers and distributors entirely and buy books straight from the publisher. Even major publishing houses like Penguin may sell to you. You just have to agree to buy hundreds or thousands of books at once.
This is a big-money strategy. You need the funds to pay four or five figures at a time. You'll also risk a lot on a single purchase, but you just might land unbeatable prices—and unbeatable profits.
Another option is to buy from small publishers and self-published authors. Since they often lack the weight needed to win the attention of major wholesalers, they may be thrilled to sell any number of books to you for low prices. Just keep in mind that most self-published books are bad and most small publishers only have a niche audience. Be extremely selective.
Selling Unique, Antique, or Collectible Books on Amazon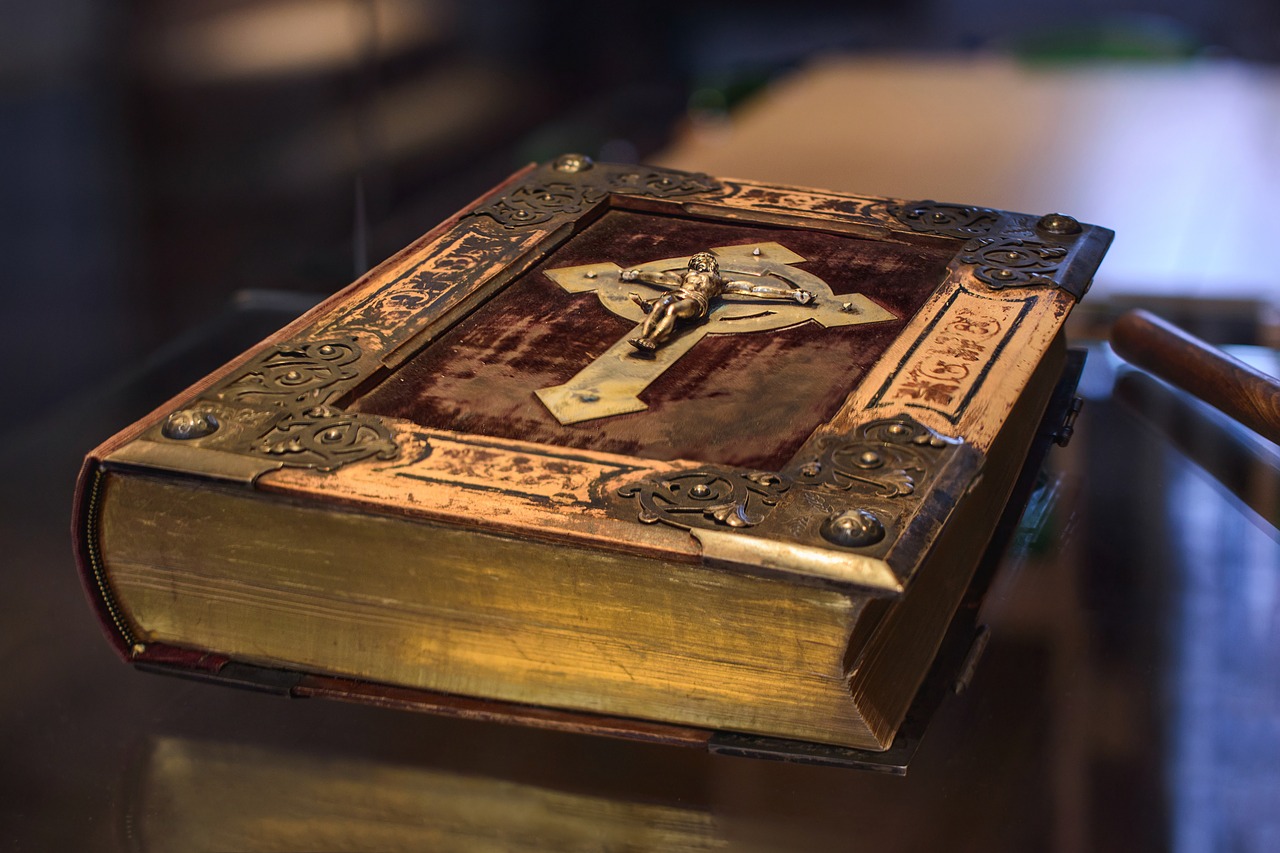 OK, so what if you have a unique book? A classic signed by the author, a 200-year-old manuscript you found in your attic, a first-edition comic book? You can't just pile it in with all the normal stuff!
These would be categorized as collectible books on Amazon. Unfortunately, the process of selling collectible books on Amazon seems to be a bit of a mess these days.
Amazon may require you to have approval to sell collectible books. But with their emphasis on essentials during the COVID-19 pandemic, it seems they don't have time to approve anyone.
In addition to getting approval, you have these hoops to jump through:
You should consider auctioning valuable books on eBay. Although Amazon certainly has the lion's share of book buyers, it can't always outdo a good eBay auction. eBay is also the obvious choice if Amazon won't approve you to sell collectibles. See our guide to selling on eBay for beginners to get started.
Step 3: Selling Books on Amazon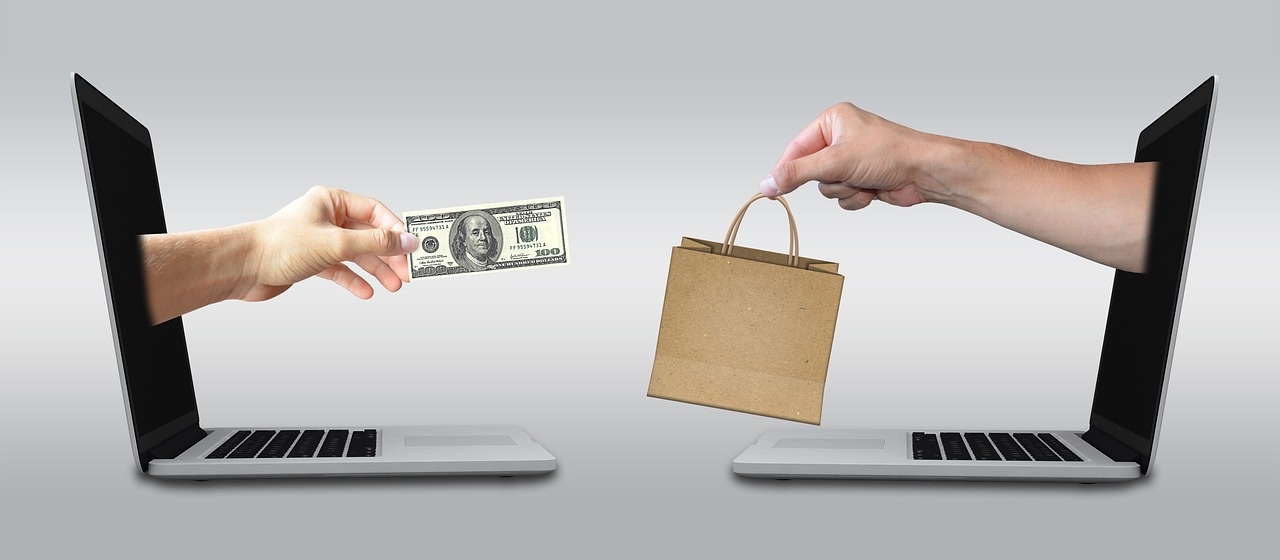 You have the book(s) you want to sell and you're ready to make some money. You've earned a high five! But, uh… how do you actually get the book on Amazon?
How to Become an Amazon Seller
Create an Amazon selling account if you haven't already done so. (See our beginner's guide to Amazon selling for help deciding what kind of account to create and answers to common questions like whether you should use FBA.)
How to Sell a Book That's Already on Amazon
If somebody else is already selling the same book, all the hard work is done. All you have to do is find the listing on Amazon. The best way is to search by ISBN or a similar identifier. (Note that hyphens are optional.)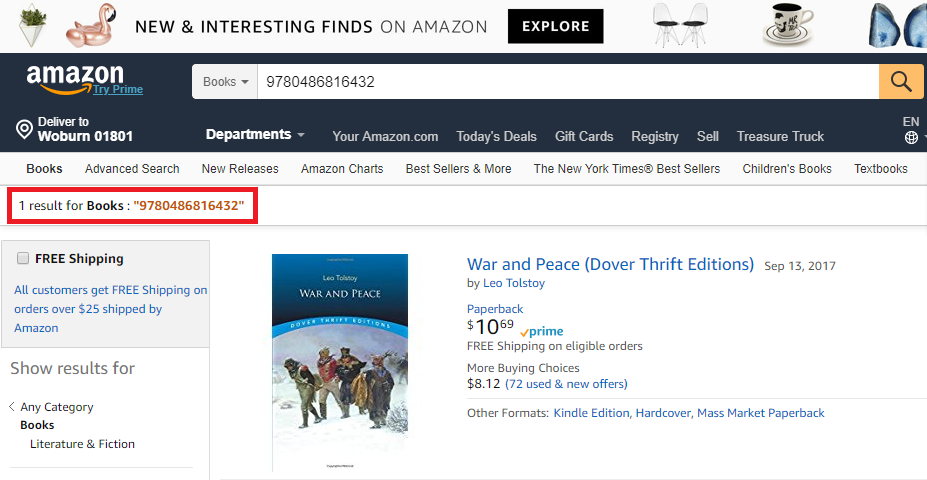 You can generally find the ISBN for your book on the copyright page. Some will show multiple ISBNs, such as one for paperback and another for hardcover, so be careful to choose the right one!
On Amazon, you can also check the ISBN or other identifier under Product Details.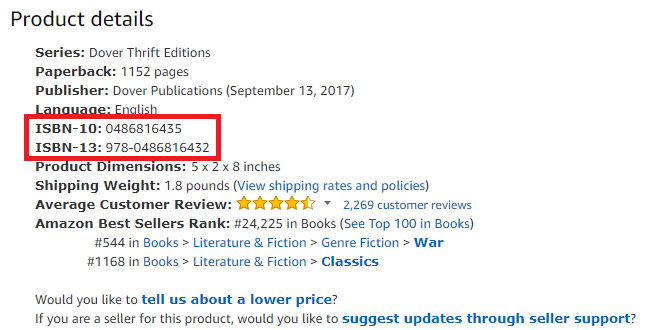 When you're sure you have the right one, click the Sell on Amazon button.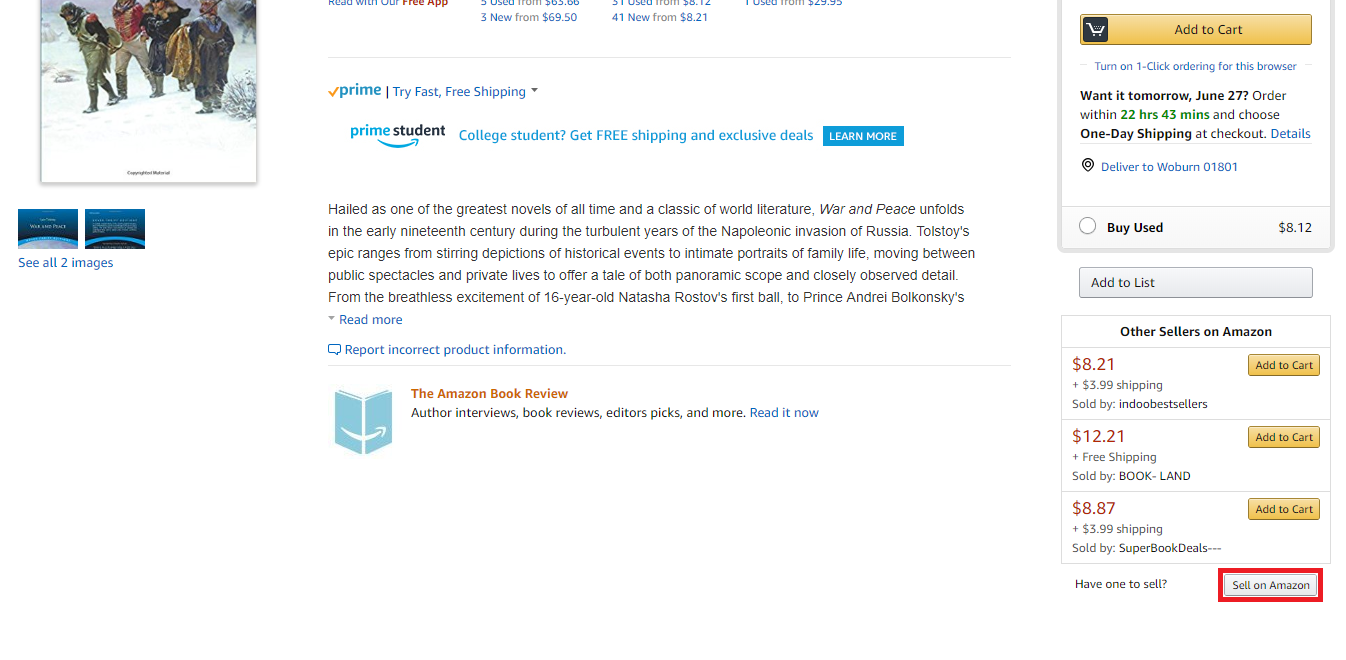 Then fill out the little form that pops up.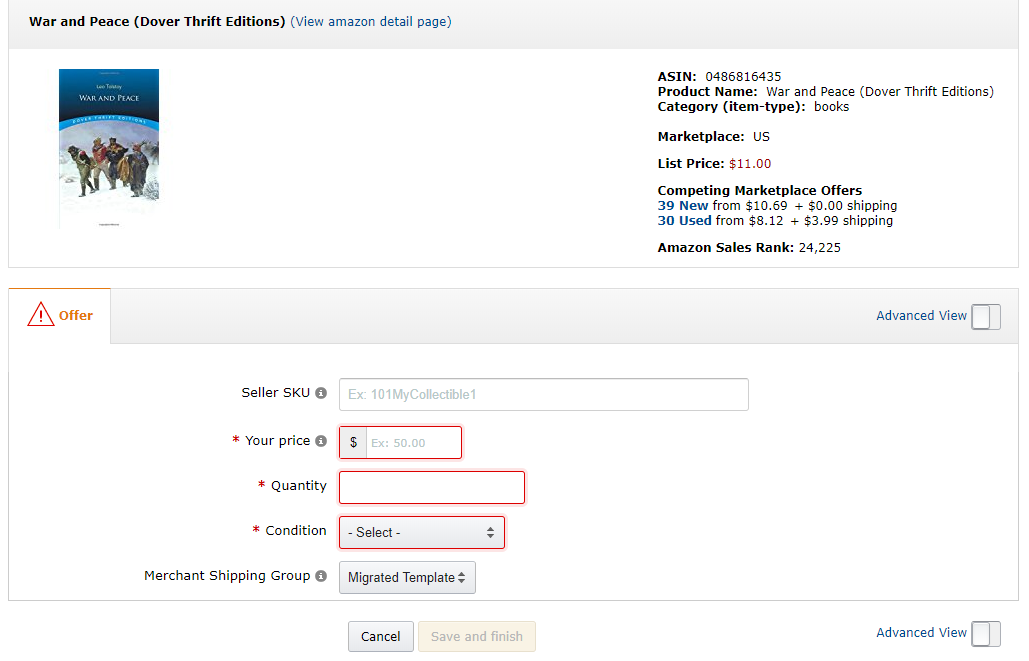 Be 100% honest about the book's condition. Honesty about the condition is crucial for all of the following:
You can find Amazon's guide to book conditions here. If you can't tell for sure which condition a book falls under, go for the lower rating.
Once you've filled out the form, you're done! Skip down to Step 4.
If you can't find the book on Amazon, read on to the next section.
How to Sell a Book Nobody Else Is Selling
Listing a unique book or something you've written yourself takes a bit more time and effort. You'll need to create a listing, which involves steps like writing a description.
Rather than reinvent the wheel, I'll just point you to this Amazon tutorial for the basics:
Creating a listing is fairly straightforward. But creating it well, and making sure people will find your book and want to buy it, is a little more complicated. These resources will help you do it right:
Once you've listed your book, move on to Step 4.
Selling Your Own Book on Amazon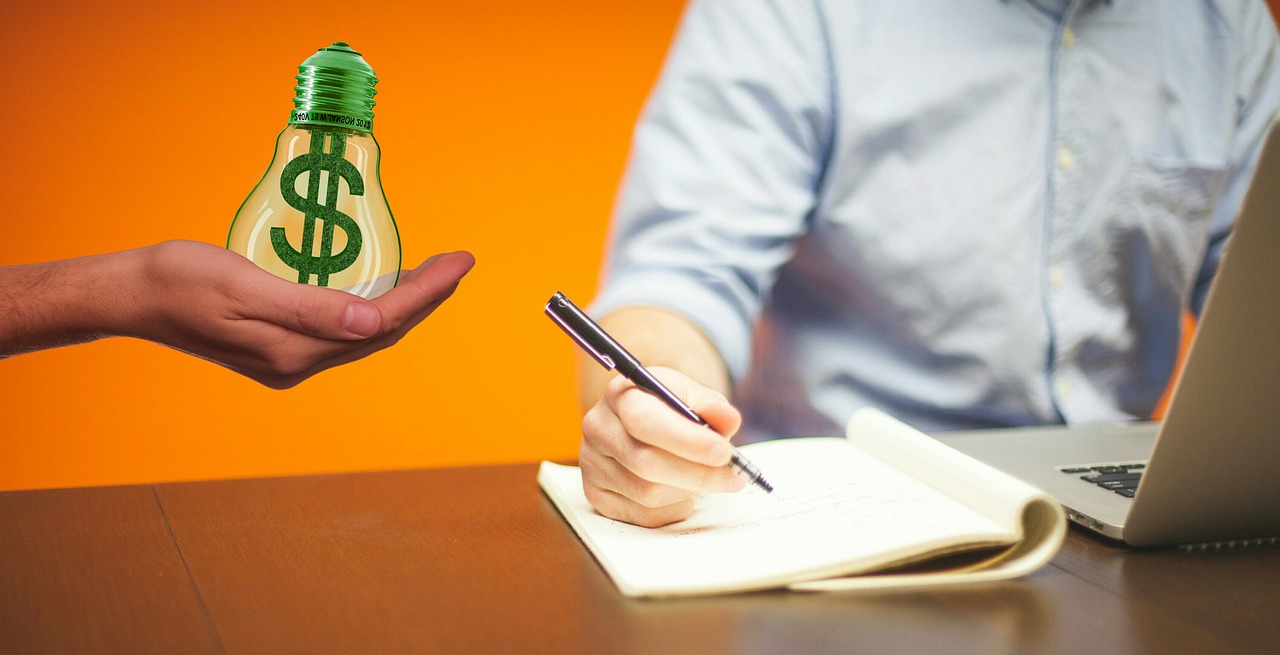 Professionally Published Authors
If you've been professionally published, your publisher should have an Amazon expert ready to upload and promote your book. But I've seen even major publishing houses miss the mark.
It's wise for any author to have an understanding of selling books on Amazon. To learn the basics, see the previous section on listing a book no one else is selling.
Self-Published Authors
Let me lead by saying I advise against self-publishing. The risk can be high and the odds of success tiny, so it's like playing an extremely time-consuming lottery. And if you're young, you may publish something you believe is awesome now and then kick yourself when you see it with older eyes—and be unable to dissociate from it.
But if you're going to do it, Amazon's Kindle Direct Publishing (KDP) is the way to go.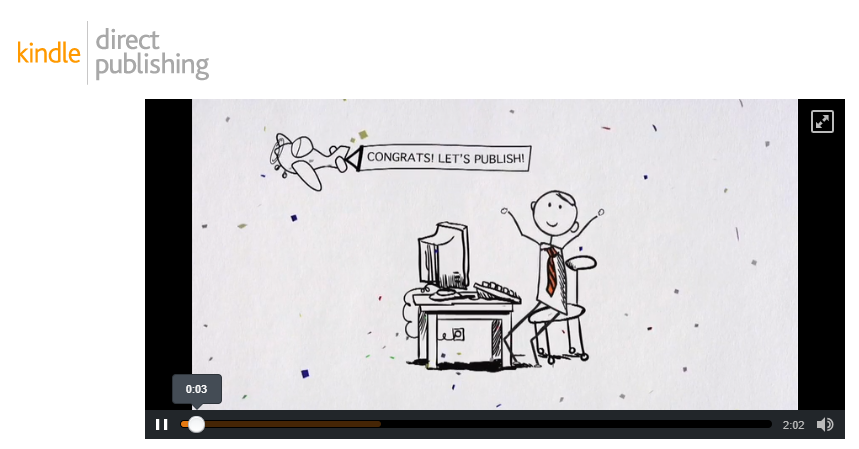 With KDP, you get access to the massive Amazon ebook market and never have to risk a dime printing your book. That eliminates most of the financial risk and gives you instant distribution.
You do have to deal with some quality standards and content restrictions from Amazon, though. You don't have the true total freedom you get with other self-publishers. Still, Amazon's standards are loose.
There are no upfront costs to publish through KDP. However, Amazon will take a bite out of your profits. Depending on the options you choose, you can earn as much as 70% of each sale or as little as 35%.
KDP now has a paperback publishing program as well. They use a print-on-demand model, printing one copy at a time to fulfill individual orders, so there are once again no upfront costs. Just be warned that Amazon will eat over 40% of your profits.
If you decide to go with KDP, Amazon will walk you through the publishing process. You can get started here.
Not your cup of tea? If you print your book on your own, all you'll need to do is make sure it receives an ISBN and then list it on Amazon. See the earlier section on listing a new book.
Step 4: Deliver Your Books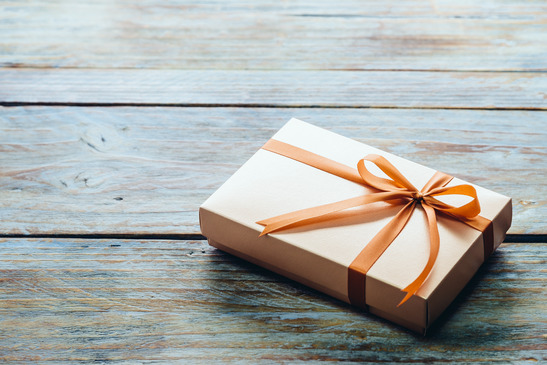 Your first order has just come in! But unless you're selling an ebook or someone else has the shipping under control, keep the champagne corked—you still have work to do!
You'll want to have packaging and shipping worked out well before you really get that first order. For help buying and accounting for shipping supplies, see our guide to packaging costs.
Packaging Tips
You can pack a book a lot of different ways. Keep in mind that books can see a lot of abuse in shipping! If it arrives damaged, the customer will be within their rights to demand a refund.
This video shows a fast, cheap and somewhat risky approach with reused packing materials:
And this one a fast and more expensive approach that's much safer:
Be careful to protect the corners, edges and dust jackets of valuable books. A book sandwich (a book secured between two larger pieces of flat cardboard) or book burrito (a book wrapped in one larger piece of cardboard) will keep corners and edges safe from most impacts. The extra cardboard on all sides of the book, or at least the top and bottom, acts as a shield in those vulnerable spots.
If you use one of these techniques, consider covering the book with a protective wrapping like bubble wrap first. Make sure the cardboard is secure and never tape directly to the book cover.
Once you've put your book in a box or envelope, always make sure it's snug with packing supplies like crumpled kraft paper or bubble wrap.
Research other sellers' techniques and experiment. Over time, you'll find the system that offers the best combination of saved time and money for you and a great experience for your customers.
Shipping Tips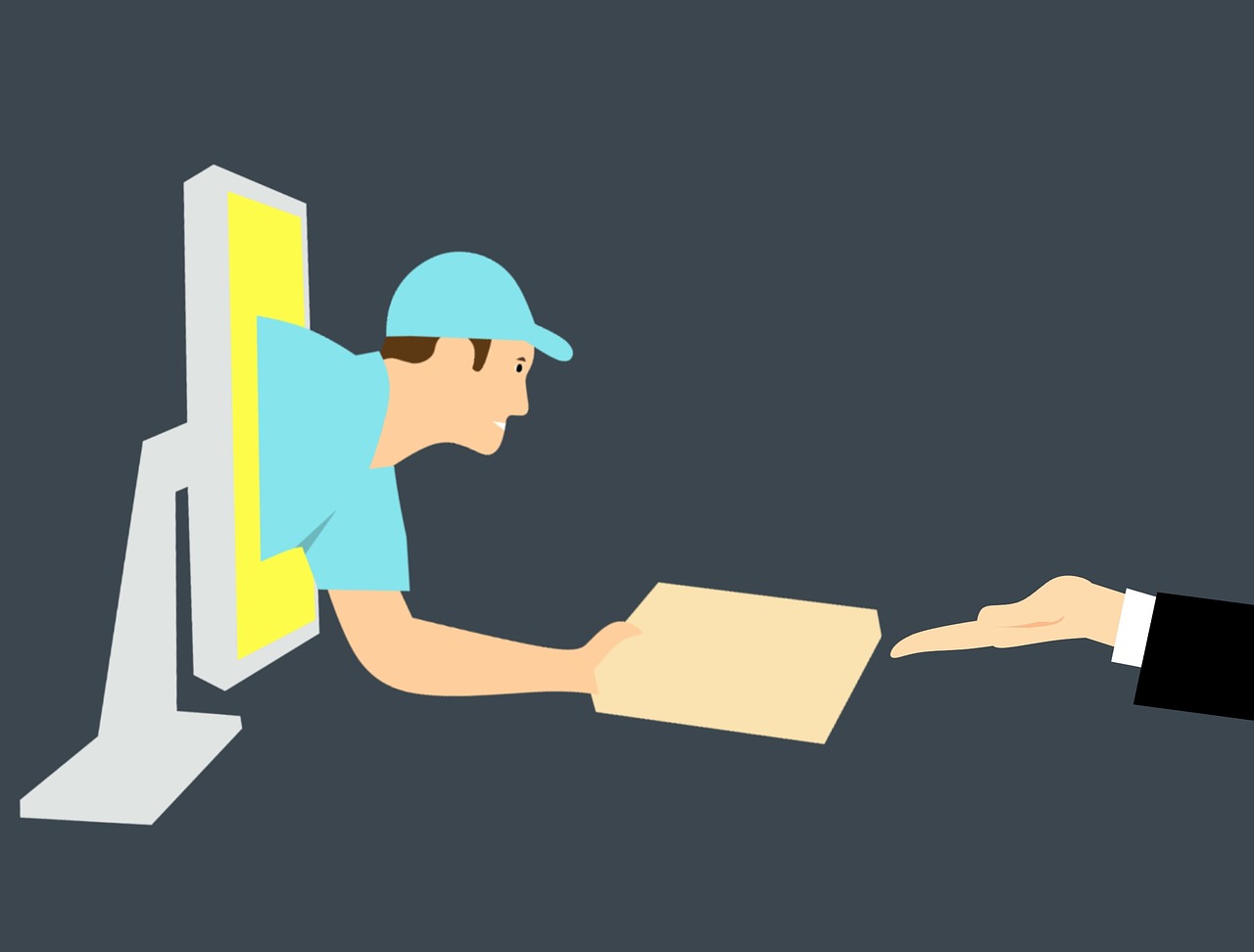 You can send books cheaply in the U.S. via Media Mail. This is extremely affordable compared to other shipping methods, and delivers in two to eight days.
Amazon sets shipping rates for books on the assumption that you will use Media Mail for most sales. Their shipping rates will cover the Media Mail charges for any packaged book weighing two pounds or less, and all but a couple cents for books weighing between two and three pounds. When selling heavier books, you may want to raise the book's price accordingly.
Thankfully, Amazon now allows Professional sellers to set their own shipping rates for books—but only after jumping through yet more hoops. Learn more here.
Step 5: Provide Great Customer Service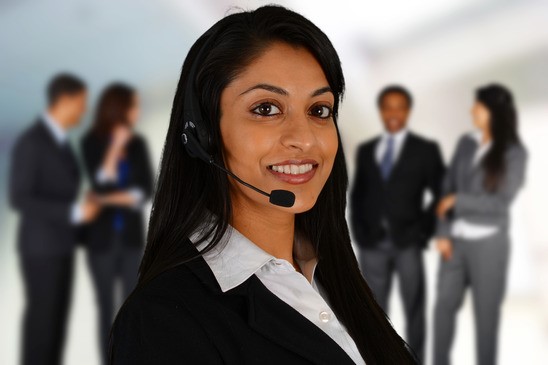 You've successfully sold several books, but now you're getting questions left and right. Why hasn't my book arrived yet? What's your return policy? How do I cut through this indestructible packaging you used?
Amazon demands a high standard of customer service. If you don't provide a great customer experience, you can lose your selling privileges.
Amazon encourages replying to any message within 48 hours to avoid getting hit with an A-to-z Guarantee claim, which is one of the worst things that can happen to seller. They've also previously stated that sellers who take more than 24 hours to reply get double the negative feedback of sellers with faster support. The faster the better!
The more your business grows, the faster requests will pile up and the harder they'll get to keep up with. It gets even worse if you decide to start selling on eBay and Amazon and possibly other platforms at the same time. Then you not only have to answer more questions, you have to answer them in different places using different tools.
If you reach this level of success, you can stop the madness by integrating Amazon with an ecommerce helpdesk. Platforms like Zendesk and Freshdesk can manage all your support—Amazon, eBay, Walmart, your own website, social media, even phone calls—on one screen! All it takes to connect them is ChannelReply.
Step 6: Cash In!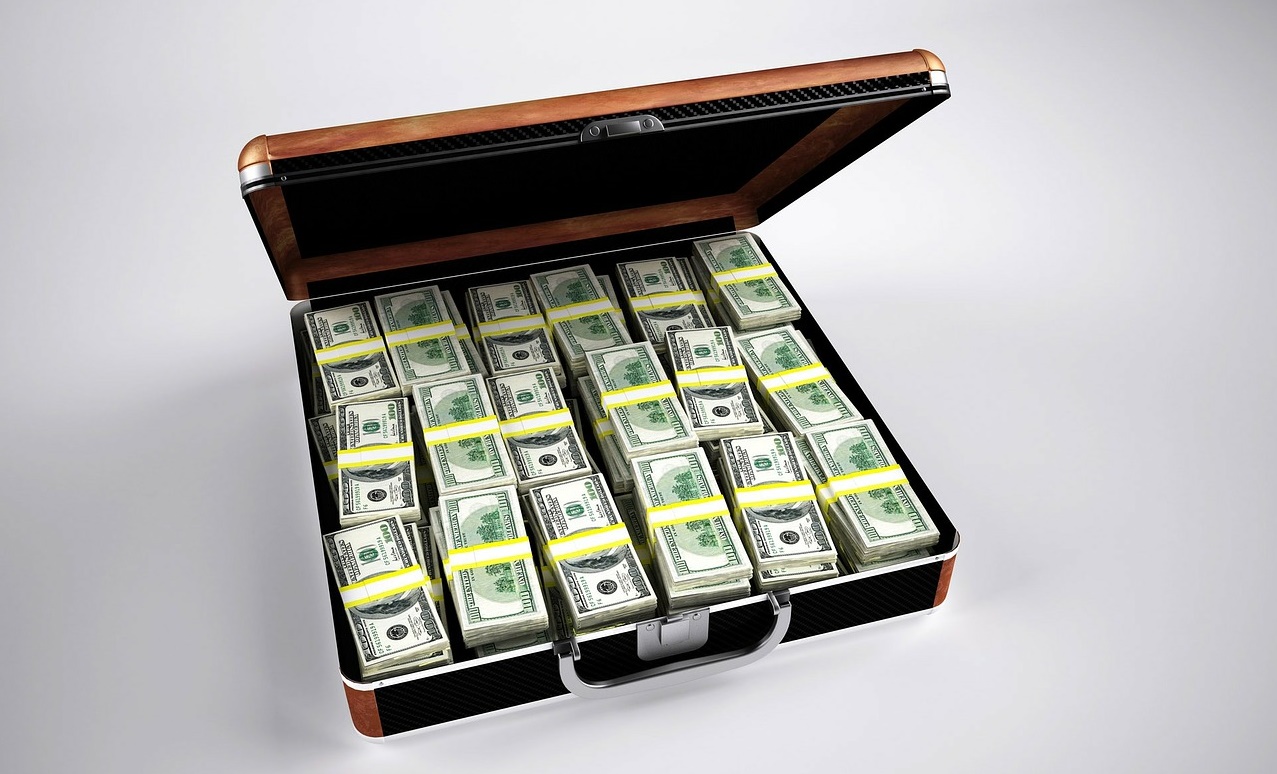 With a steady stream of well-packaged books leaving your doors and an army of happy customers leaving you great reviews, you'll make a living selling books on Amazon in no time. But why stop there? Try selling other things, or expand to more great online marketplaces. There's a world of opportunity waiting!