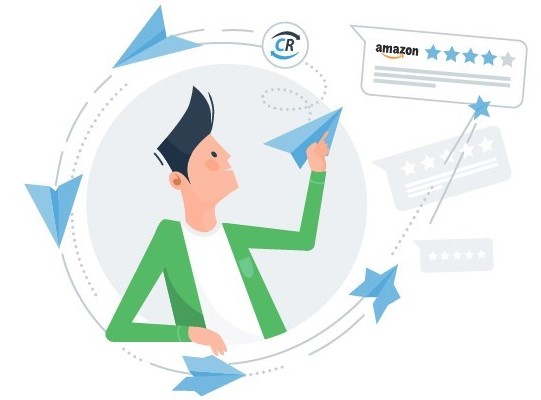 If you want Amazon buyers to leave you feedback, you have to ask. But you don't have time to email everyone who buys from you! That's why we built our new Amazon feedback request tool: CR Feedback.
Create custom email templates, or automate Amazon's "Request a Review" button to send generic requests.
Trigger requests whenever an event like package delivery occurs.
Stop sending feedback requests all day and get back to selling!
Ready to try it out? Start your free trial of CR Feedback.
Last updated 4/27/2021.
Risk-Free, Zero-Setup Feedback Requests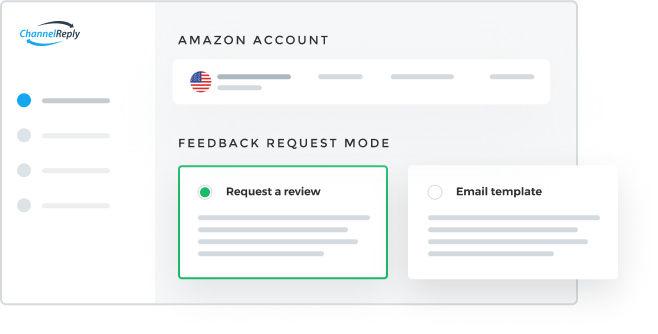 Our "Request a Review" option triggers Amazon's default feedback requests on your schedule. Since the request uses text written by Amazon, there's zero risk of breaking any rules about what you can and can't write.
The other big plus? You don't have to spend any time fiddling with advanced settings or crafting the perfect request. It's fast, easy and safe!
Advanced Customization with Email Templates
If you choose to send custom email templates, you can instantly personalize every request you send.
Sound Human with Placeholders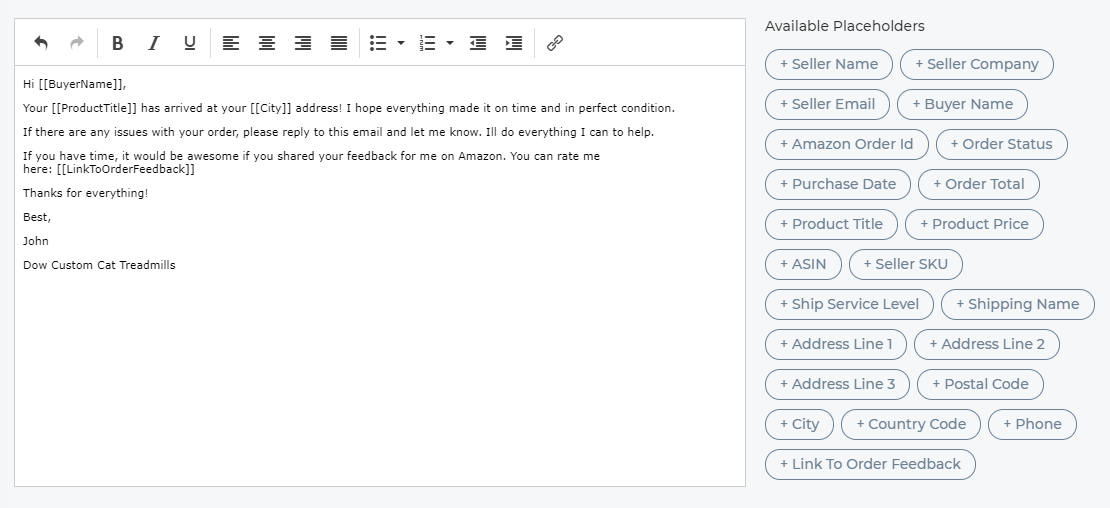 Enter any of our 20+ placeholders in your messages, and when the request goes out, we'll fill in the blanks.
Thank customers by name.
Let them know where the order was shipped to.
Tell them the status of their package (e.g. Unshipped, Shipped or Delivered).
And much more, of course!
Be Forever Friendly with Fallbacks

We pull in all available data for use in your placeholders. However, Amazon doesn't always provide every detail of every order. Under some circumstances, they won't even provide the buyer's name!
So, what happens to your beautifully personalized email templates when info is missing? Nothing you can't prepare for with fallbacks! Simply enter the text you'd like in place of the personalized info, and we take care of the rest.
For example, say your email template starts with "Hi [[BuyerName]]" like in the screenshot above. You can set the Buyer Name placeholder to "there." That way, if we know your buyer is named Stacy, she'll see "Hi Stacy," and if we don't have her name, she'll see "Hi there" instead.
Set-and-Forget Scheduling

CR Feedback doesn't need babysitting. Tell it what to do and it will message buyers whenever your conditions are met.
You can use any of the following events to trigger requests:
Order purchased.
Order shipped.
Order delivered.
Set it to send a message right after one of these events occurs, or delay it to go out 1 to 20 days later.
These settings allow you to get a lot more creative than sending a standard feedback request! Send a personal thank-you note whenever a customer places a purchase, or follow up a week after the order is delivered to make sure the customer is happy. CR Feedback adapts to your unique business strategy.
Unlimited Accounts
Automate feedback requests for unlimited Amazon accounts across 20+ countries around the world. You can even connect multiple accounts located in the same country—it's no problem at all!
Works Alone or with ChannelReply
CR Feedback works completely on its own. No other software needed—no helpdesk, no ChannelReply subscription, nothing! Just start your free trial to get set up right away.
But if you want to use both, good news: CR Feedback and ChannelReply are meant for each other.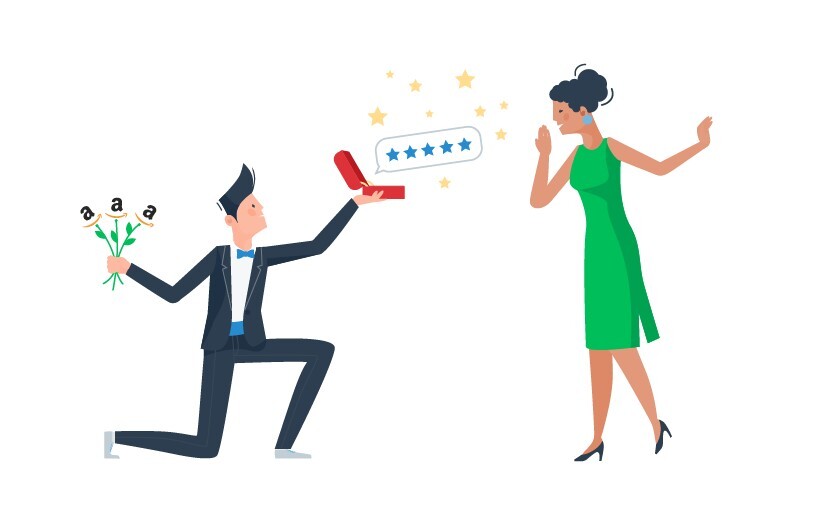 If you don't know already, ChannelReply integrates Amazon messaging and more with your favorite helpdesk. Whether you use Zendesk, Freshdesk, Help Scout, Gorgias or Re:amaze, ChannelReply makes Amazon support easier!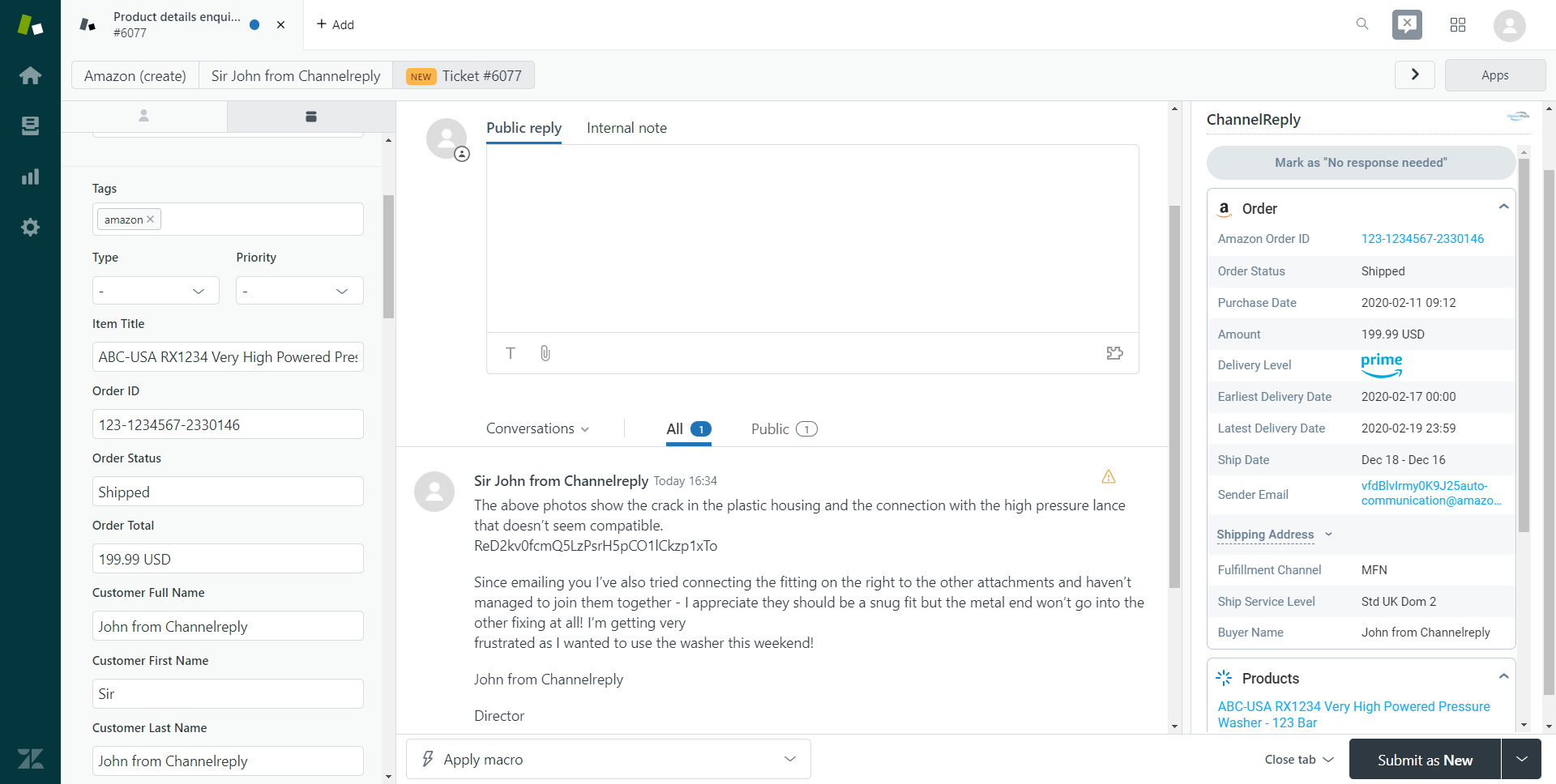 Above: An Amazon ticket in Zendesk with ChannelReply data on the right.
One of the most popular ChannelReply features for Zendesk, Freshdesk and Re:amaze users is the Amazon autoresponder. While CR Feedback sends out feedback requests, the autoresponder can answer buyer messages. It even counts toward Amazon's 24-hour SLA.
With both a ChannelReply autoresponder and CR Feedback, you can automate all your most repetitive messaging. It would be surprising if you didn't cut support costs in half!
Already have ChannelReply? Just sign in and visit the CR Feedback tab to add it to your account!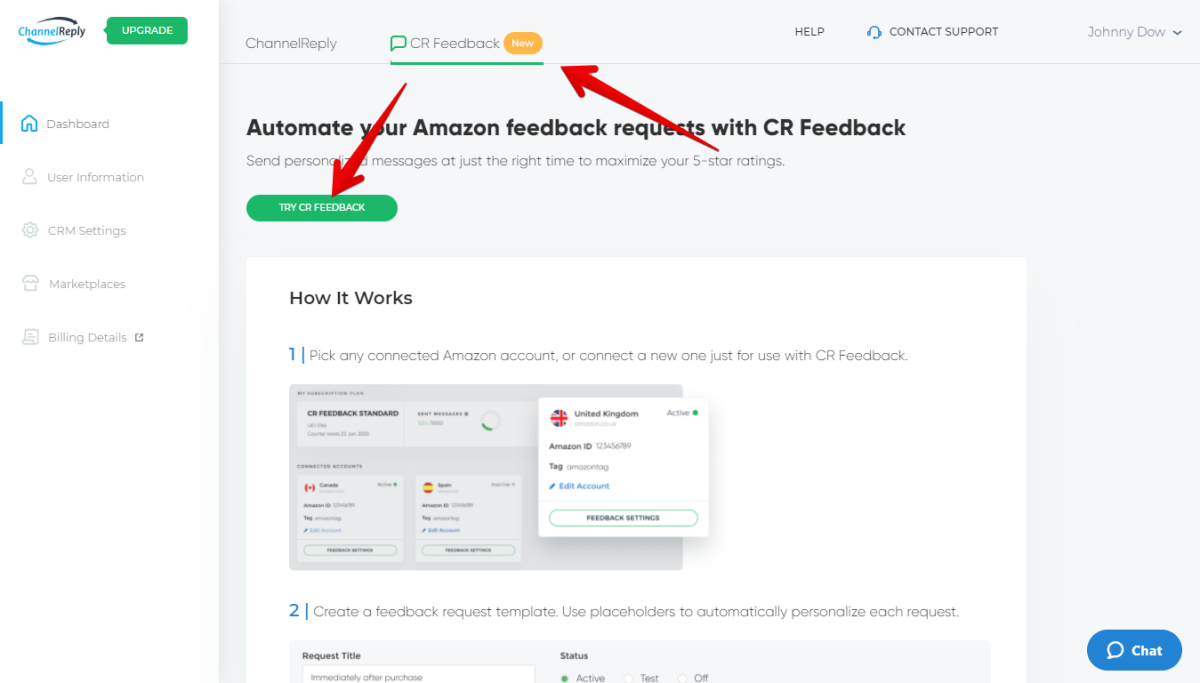 Easy and Affordable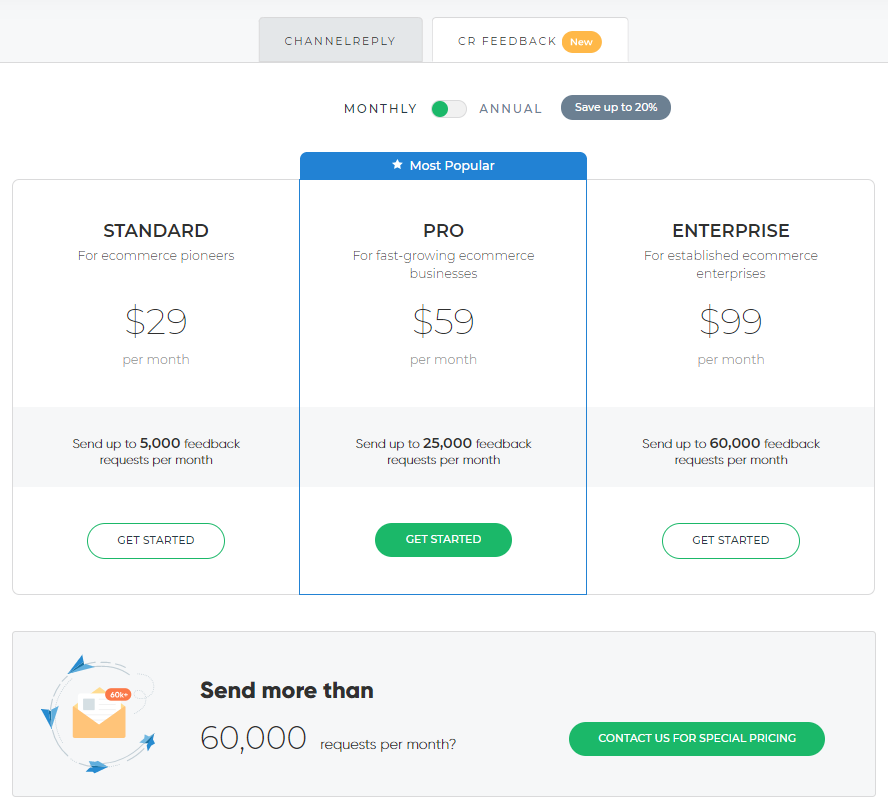 We've priced CR Feedback to be one of the most affordable feedback request tools on the market. Medium and large businesses can save up to 50% compared to the costs of leading competitors.
Plus, setup is incredibly easy! Once you start your free trial, all you have to do to connect an Amazon account is sign in and authorize ChannelReply as a developer. Then, choose between "Request a Review" or email template mode, schedule your request, and let the ratings fly in!
We're sure this feedback request tool will boost your seller rating while saving you time and money. Give it a try for free!