Our Walmart integration has just been completed! You can now answer customer messages from Walmart, Amazon, and eBay on one screen. No more logging in to Walmart just to handle customer service!
Last updated 6/8/2020.
How the Walmart Integration Works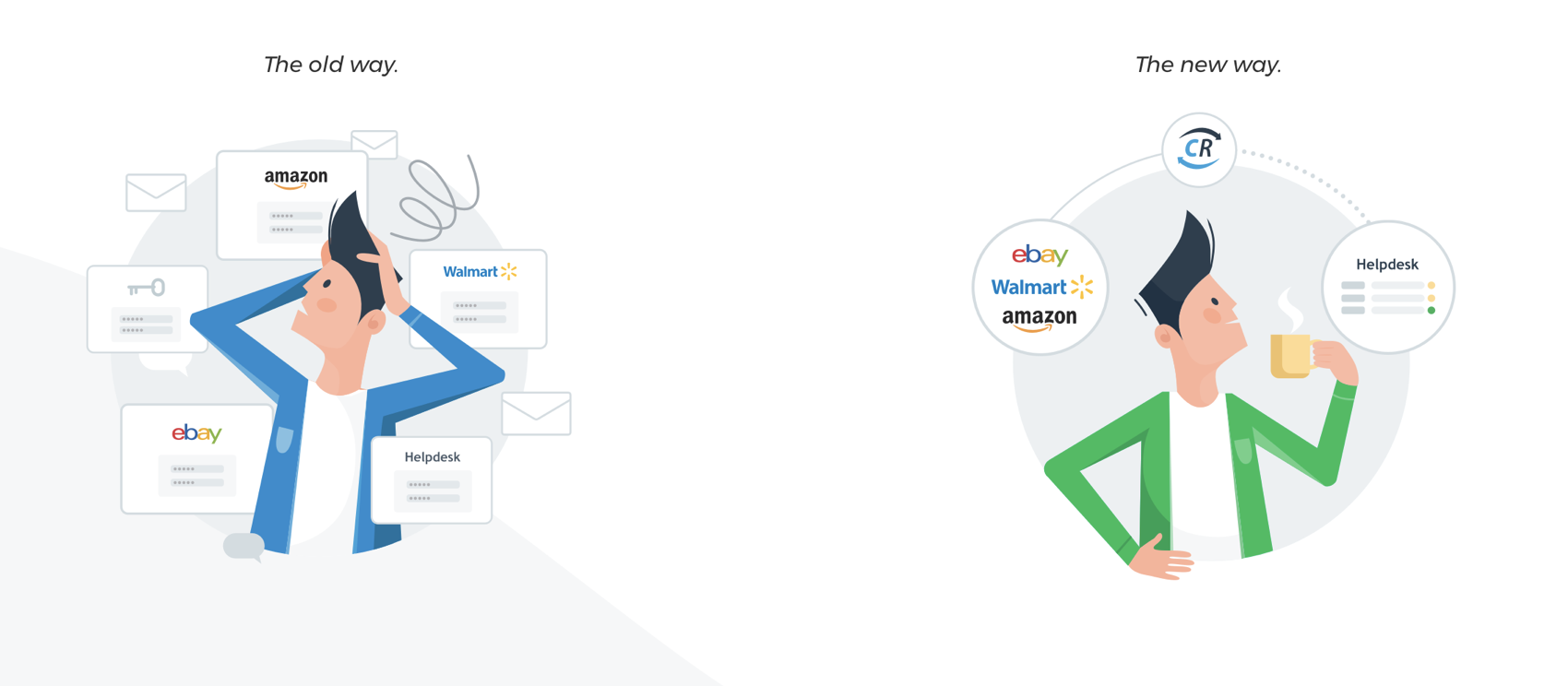 Link Walmart to Your Helpdesk
ChannelReply lets you answer Walmart messages inside your Zendesk, Freshdesk, Help Scout, Gorgias or Re:amaze account. Use your helpdesk's most powerful tools to answer messages faster and get back to selling! All you need to do is start our free trial.
Don't have a helpdesk yet? Find our advice on picking one in "Which Helpdesk Should I Use with ChannelReply?"
Answer Walmart Messages like Emails
The ChannelReply Walmart integration lets you answer Walmart messages just like emails. It also displays tons of useful data about your customers and their orders.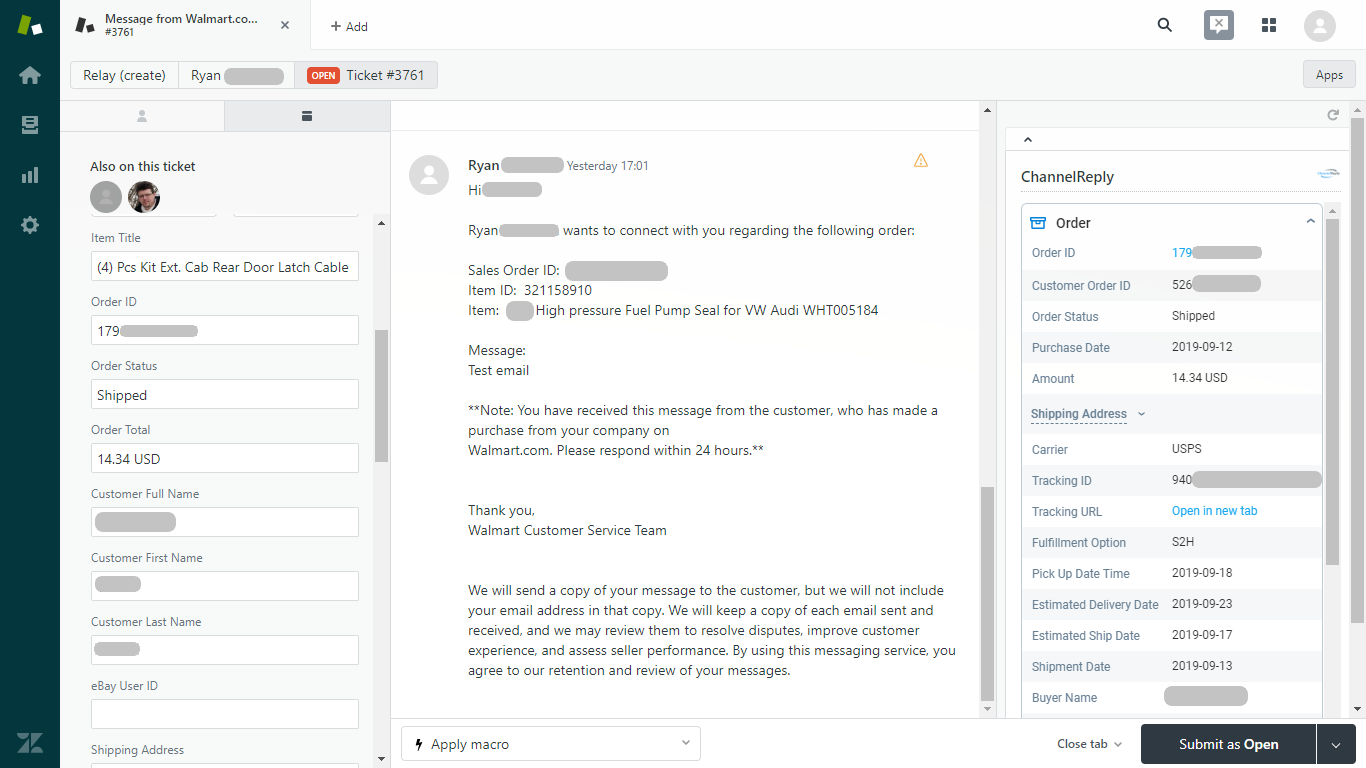 Above and below: A Walmart message in Zendesk with the ChannelReply app on the right and ChannelReply custom fields on the left.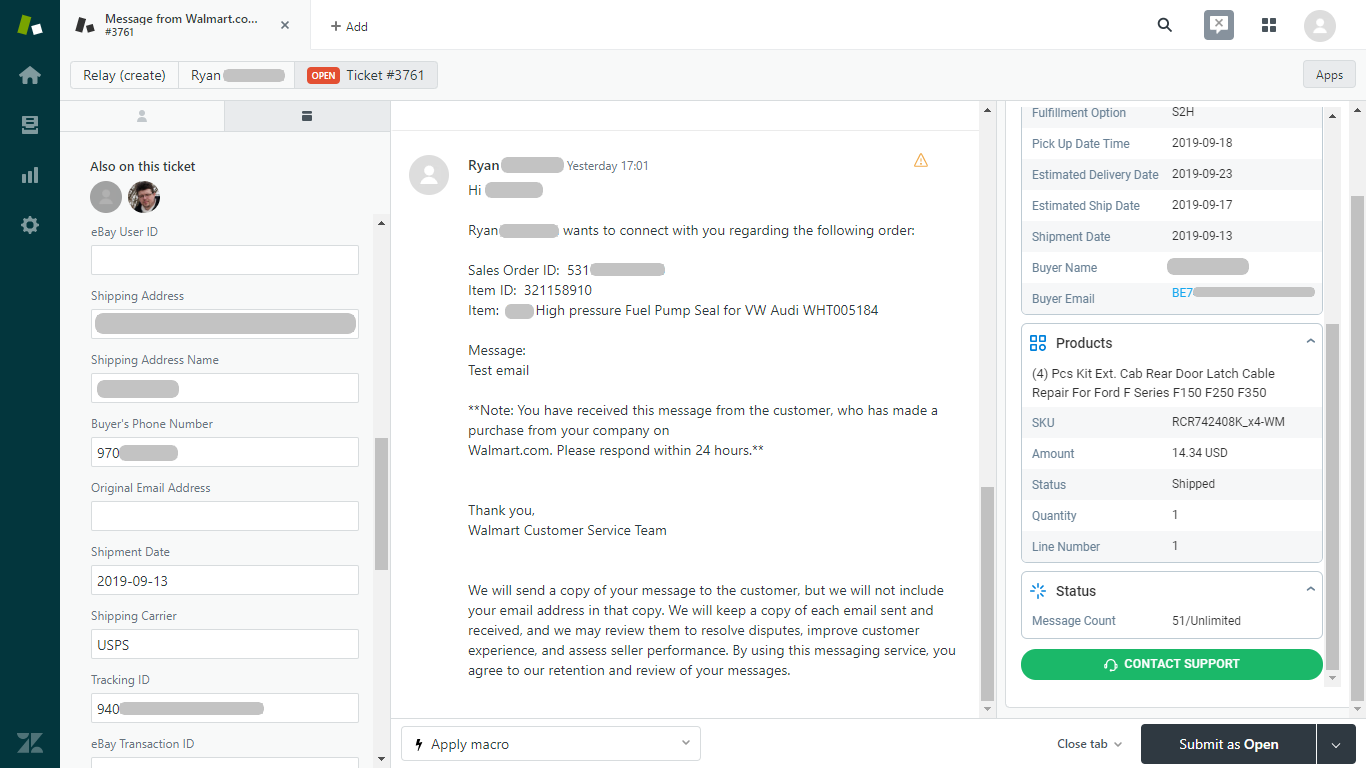 With all your messages and data on one screen, you'll never have to log in to Walmart just to see what your customer is talking about.
Take Actions Inside Your Helpdesk
The ChannelReply app can perform the following actions on Walmart tickets:
Acknowledge orders
Update shipping status
Issue refunds
Cancel orders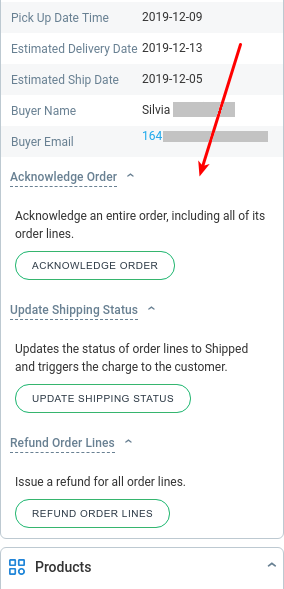 All these actions are available in the ChannelReply apps for Zendesk, Freshdesk and Re:amaze. We also aim to add these features to the Help Scout app in the near future.
Use Walmart Data in Advanced Support Tools
Our custom fields are snippets of customer and order info that you can use in advanced support tools. For example, here's a Zendesk macro with ChannelReply custom fields: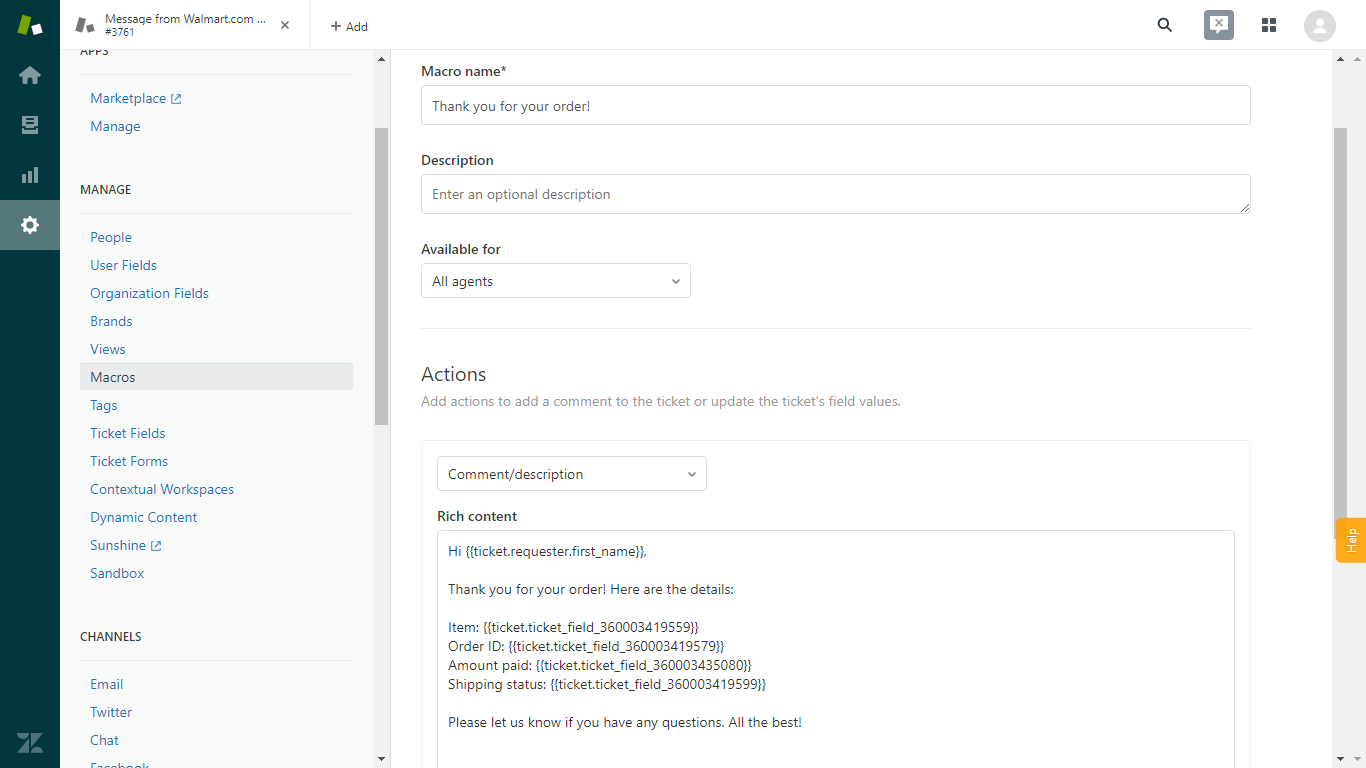 And here's what happens when you use it on a Walmart ticket: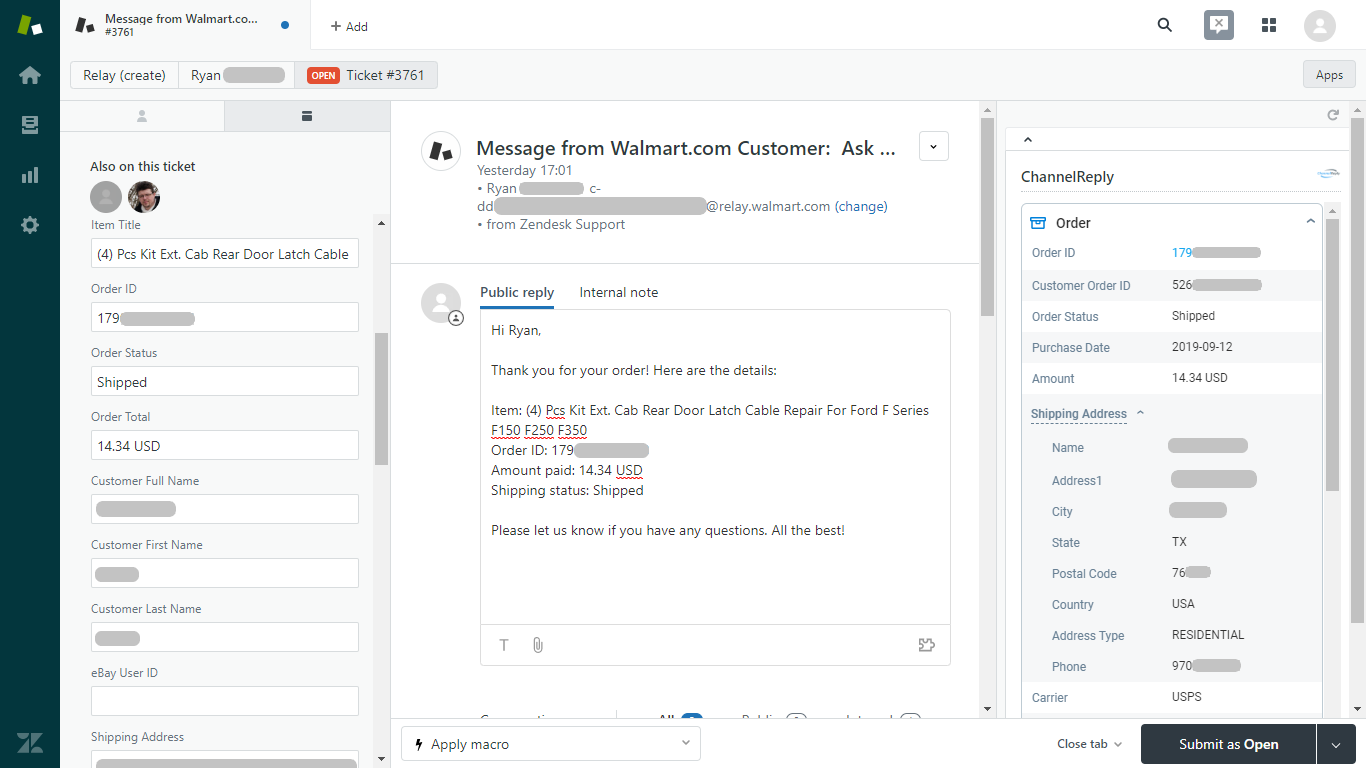 Intrigued? See what Walmart data can do in each of our supported helpdesks:
As a bonus, our custom fields work for eBay and Amazon messages, too!
Create a Walmart Autoresponder
ChannelReply allows you to use you to use Zendesk, Freshdesk or Re:amaze as a Walmart autoresponder. Better yet, these autoresponders can also work with Amazon and eBay! They are highly customizable and work with advanced features like business hours.
What Walmart Data Can I See in the ChannelReply App?
Order data:
Order ID
Customer Order ID
Order Status (e.g. Shipped)
Purchase Date
Amount (total paid for the order)
Shipping Address

Name
Address
City
State
Postal Code
Address Type (e.g. RESIDENTIAL)
Phone

Carrier
Tracking ID
Tracking URL
Fulfillment Option (e.g. S2H for "ship to home")
Pick Up Date
Estimated Delivery Date
Estimated Ship Date
Shipment Date
Buyer Name
Buyer Email
Product data (available for each product in the order):
Item Title
SKU
Amount (total paid for the item)
Status (e.g. Shipped)
Tax
Quantity
Line Number (indicates the item's place in the list of all items in the customer's order)
Returns:
Return ID
Estimated Refund Amount
Buyer Name
Status (e.g. Shipped)
Shipping Address
Customer Order ID
Return Lines (indicates the item's place in the list of all items the customer is returning)
Return Channel
Return Order Date
Return By Date
Refund Mode
Pick Up By
Buyer Email Address
Don't see a field you need? Contact us and let us know! We regularly improve our app based on customer requests.
Support Walmart, eBay, Amazon & More on One Screen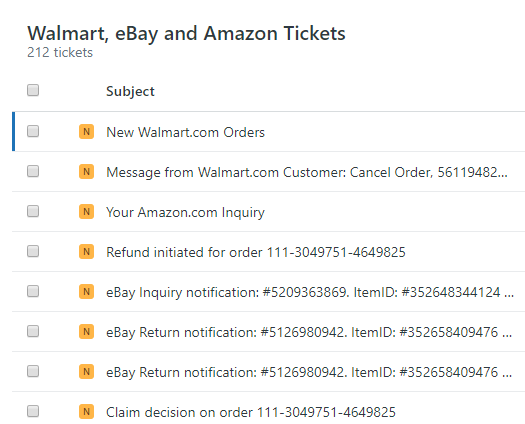 Our eBay integration and Amazon integration both work similarly. You can answer customer messages, see buyer and order details, use custom fields / variables to speed up replies, and more. All that in the same helpdesk where you manage Walmart support!
Plus, your helpdesk will have its own integrations. The specifics depend on which one you use, but here are a few that you can almost always connect:
Shopify, BigCommerce, WooCommerce and other store builders
Email
Phone support
Live chat
Social media like Facebook and Twitter
If you're supporting all these channels separately, you have no idea how much time you could be saving right now. Combine ChannelReply with a good helpdesk and get your free time back!
How Do I Start?
If you don't have an account yet, start your free trial to begin. Our setup walkthrough will guide you through every step of the process.
If you already have a ChannelReply account, then the integration is available to you right now! Just log in to your account and click "Walmart" to get started.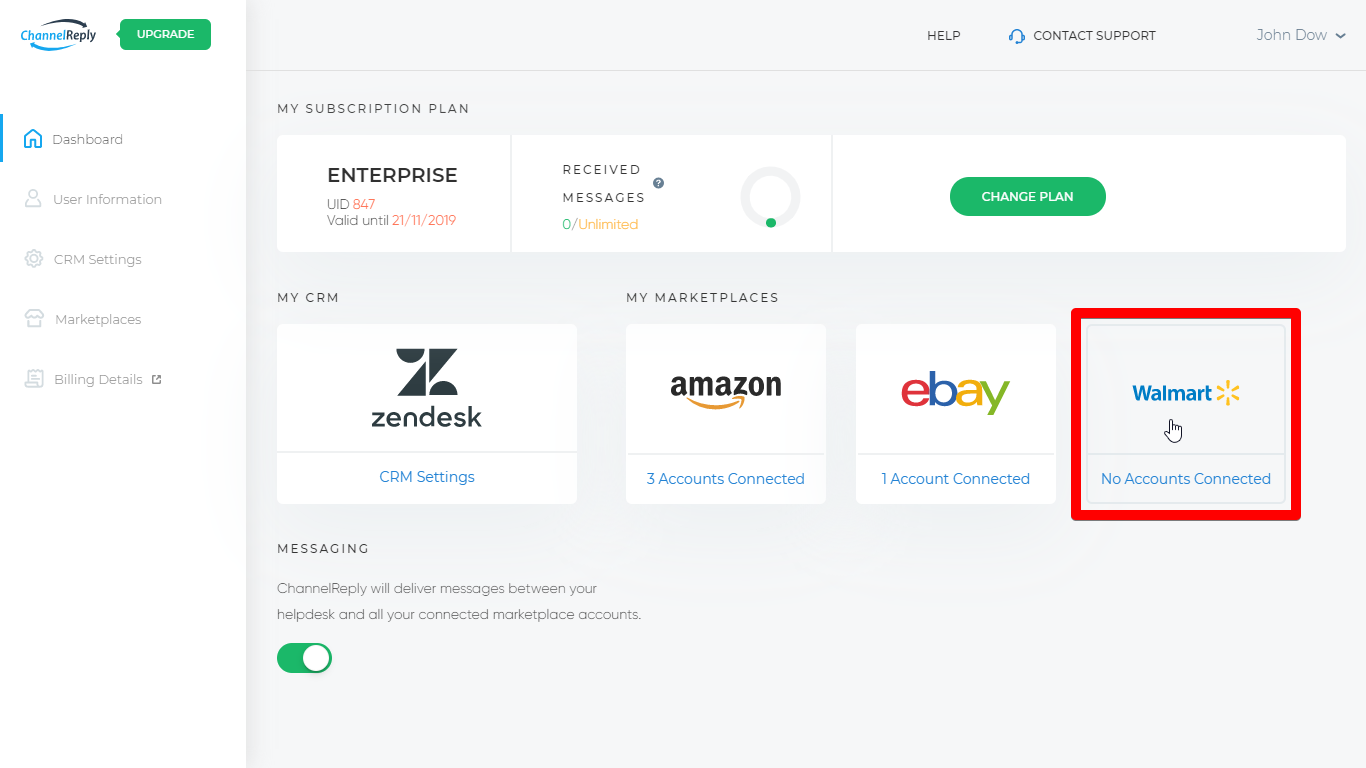 Still have questions? Reach out to us! One of our agents will get back to you ASAP.