ChannelReply can now integrate Kustomer with Amazon, eBay, Walmart, Etsy, Shopify, Back Market and Newegg! No more logging in and out of all your support channels and switching from screen to screen. You can finally help everyone from a single helpdesk built for speed and efficiency.
All Your Ecommerce Support in Kustomer
ChannelReply pulls messages from unlimited accounts across all seven supported marketplaces into Kustomer. It also displays the customer's order details beside each message. That way, your team can answer questions without looking things up in another tab.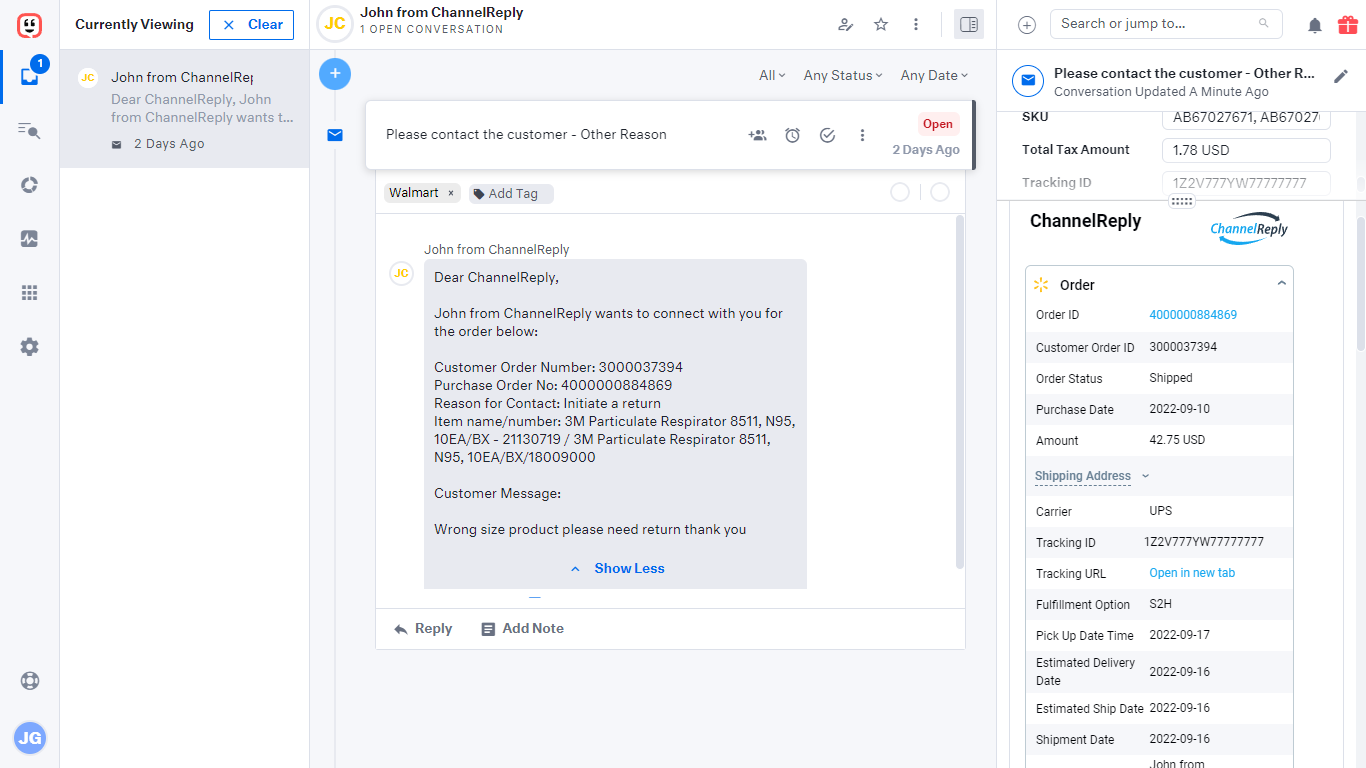 Above: A Walmart ticket in Kustomer with the ChannelReply app on the right.
Most importantly, you can reply to messages from any marketplace right inside Kustomer:
Send replies through the messaging systems on Amazon, eBay, Walmart and Newegg, ensuring they count toward all metrics and SLAs
Respond directly to Walmart escalations to contact the customer—no more copying email addresses
Use our advanced eBay integration to manage Resolution Center cases, contact buyers through order and feedback notifications, and more
Link with CR Feedback to manage Amazon feedback requests from inside Kustomer
Reply by email to any of your Shopify customers
Answer any Back Market ticket to message the CCBM agent who's supporting your customer
Email Etsy shoppers directly from Kustomer, or hit "Reply on Etsy" in the ChannelReply app to jump to the conversation on Etsy
ChannelReply also threads your conversations and removes clutter. No more boilerplate text from Amazon or space-consuming formatting on eBay emails! Combined with Kustomer's incredible Timeline system, it's easy to view all conversations with a customer at the same time.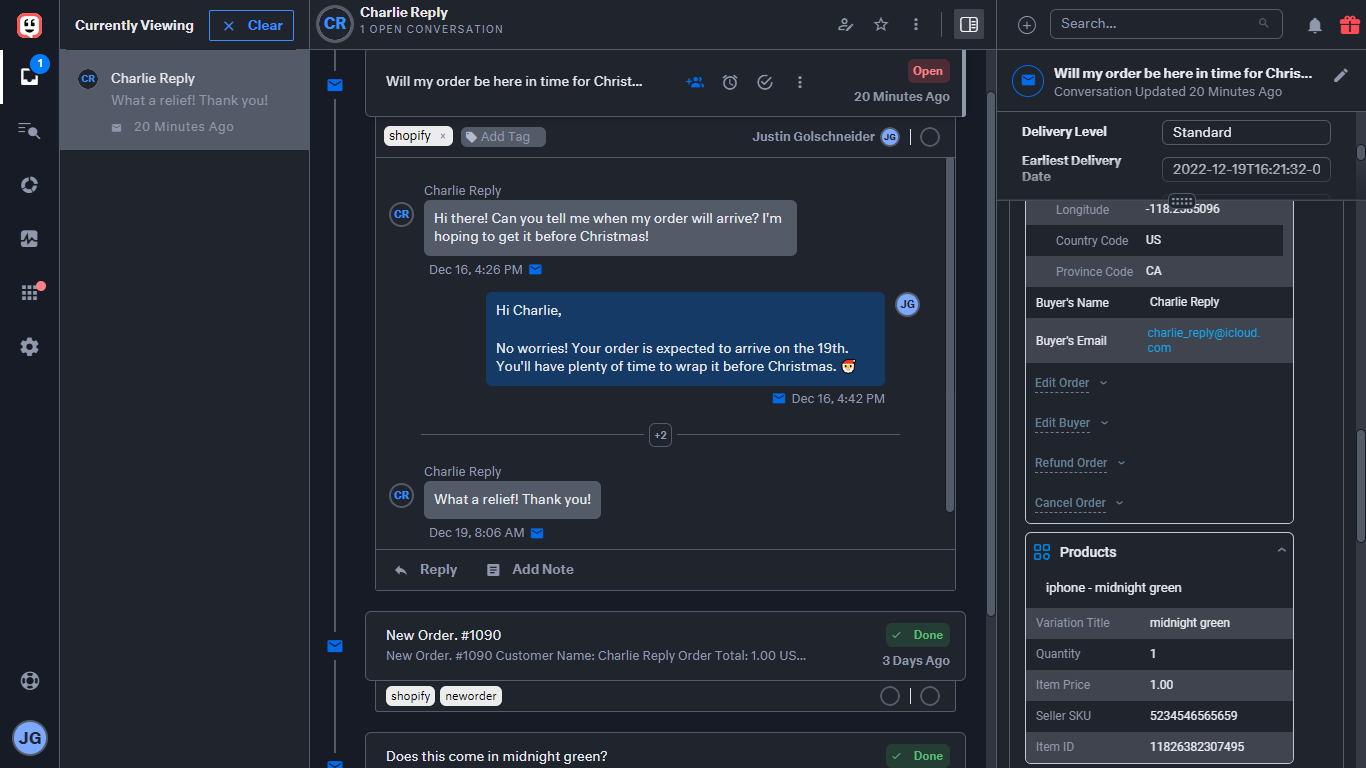 Above: A conversation with a Shopify customer in Kustomer's Timeline view. The customer's previous orders and conversations can be viewed below without switching screens.
For example, anytime a customer's real email address is available, their conversations can all be viewed in a single Timeline. You can scroll through eBay, Etsy and Shopify conversations without ever switching tabs. And that's just one possibility.
Not enough? You can also use ChannelReply to dive deep into Shopify and Amazon order histories. Review up to 10 of the customer's most recent orders beside each conversation. It's simple—just select one of their previous orders in the ChannelReply app.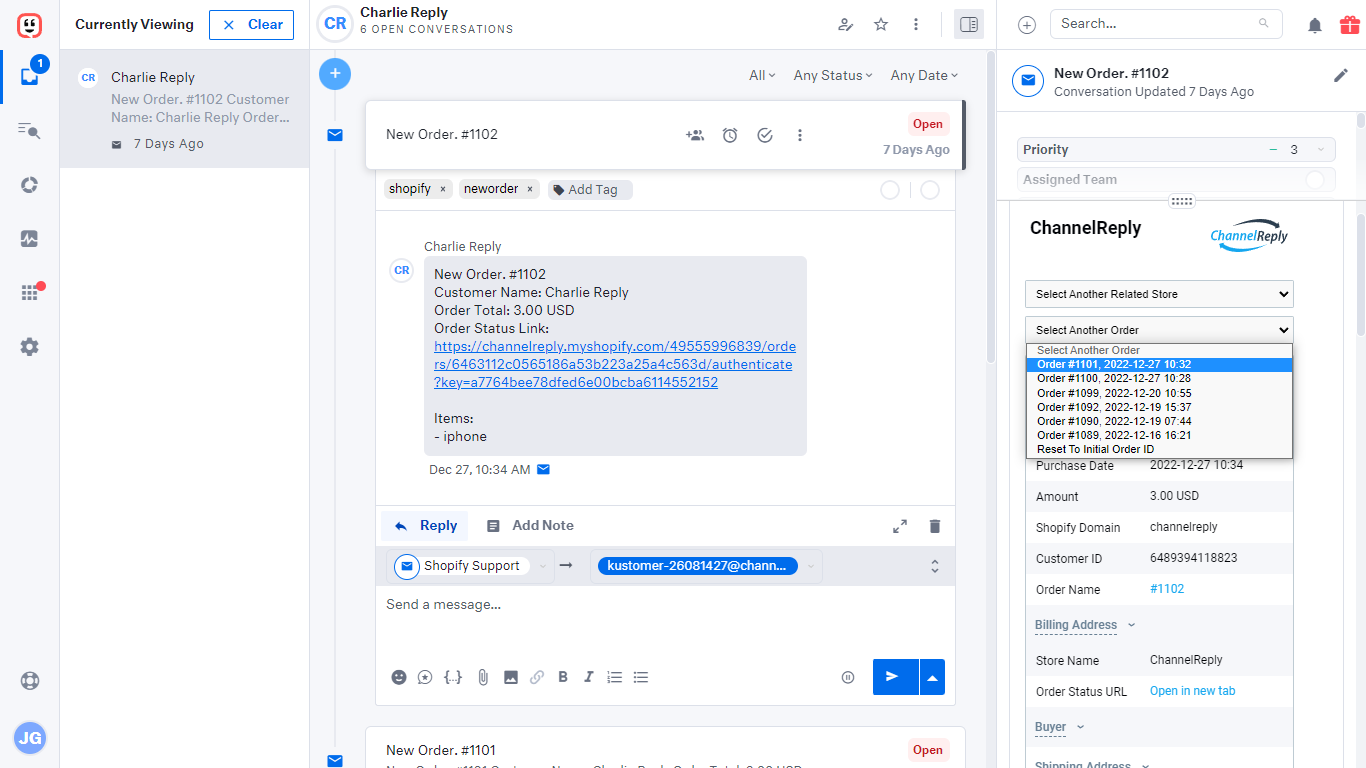 Switching to a different Shopify order in the ChannelReply app.
No other solution lets you sift through a customers' messages and order history this effortlessly. It's so efficient, it almost feels lazy!
Data That Does Your Work for You
Why type out every single response? Use ChannelReply custom fields in Kustomer to create canned replies that personalize themselves! Pull more than 45 order details from ChannelReply into your Kustomer Shortcuts and you'll fly through each day's support queue.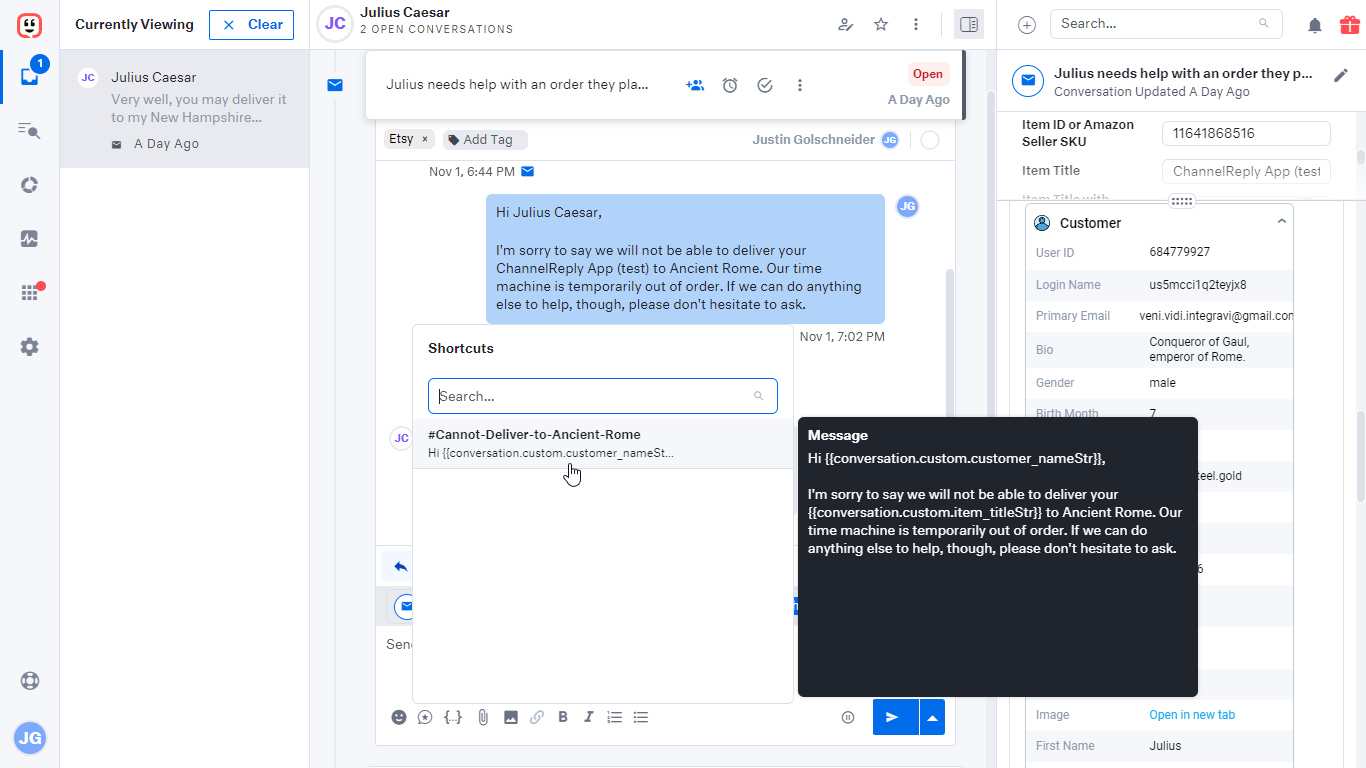 Above: Entering a Kustomer Shortcut with ChannelReply custom fields on an Etsy ticket. The Shortcut is shown on the black background. The message that populated when the Shortcut was entered can be seen against the blue background at the top of the screenshot.
But that's only the most basic thing you can do with ChannelReply data. Use details like the item(s) the customer purchased to target and personalize ecommerce autoresponders. Plus, build advanced automations, sort conversations and more. Learn how to set it all up in "Kustomer Custom Fields Setup."
Mobile-Responsive Interfaces
Kustomer may not have a mobile app, but their browser interface works remarkably well with smartphones. You can easily flip back and forth between answering messages and viewing ChannelReply order details.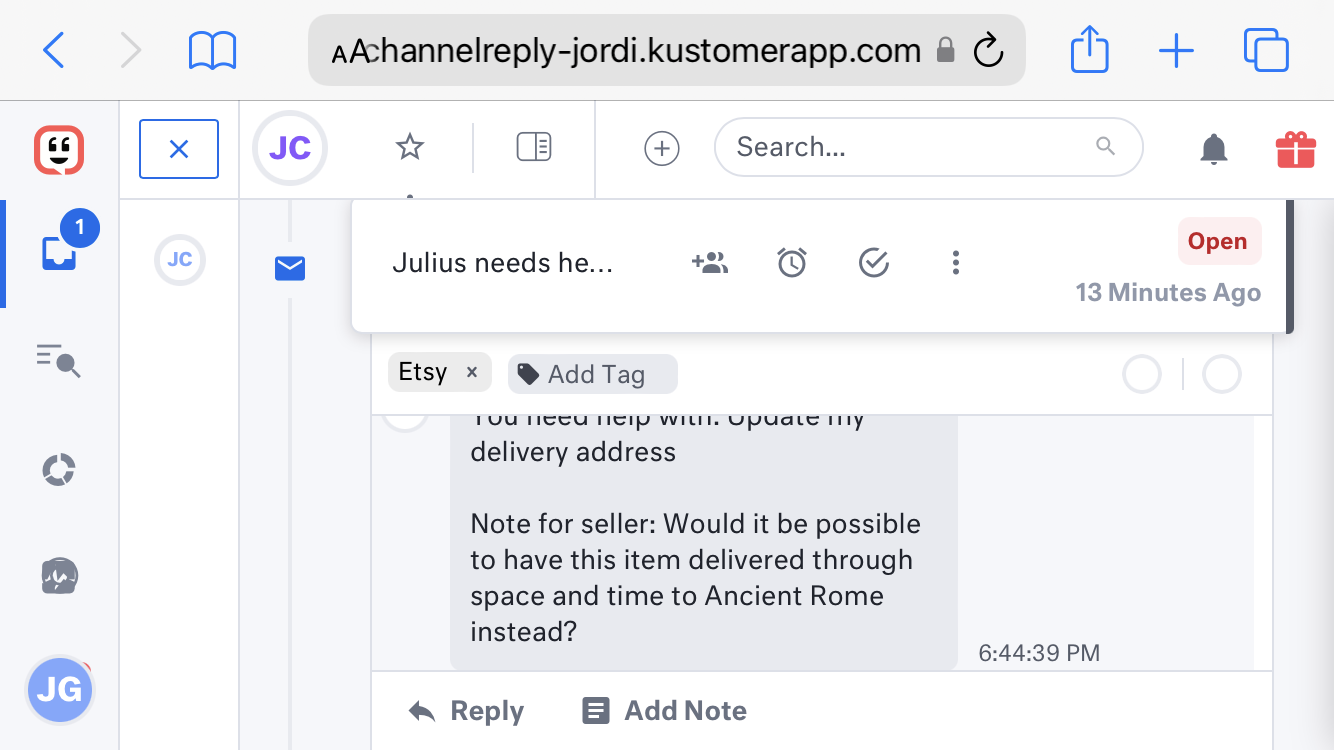 Above: Reading an Etsy message in Kustomer on an iPhone (horizontal view).
Below: Viewing Etsy data in the ChannelReply app on the same conversation (vertical view).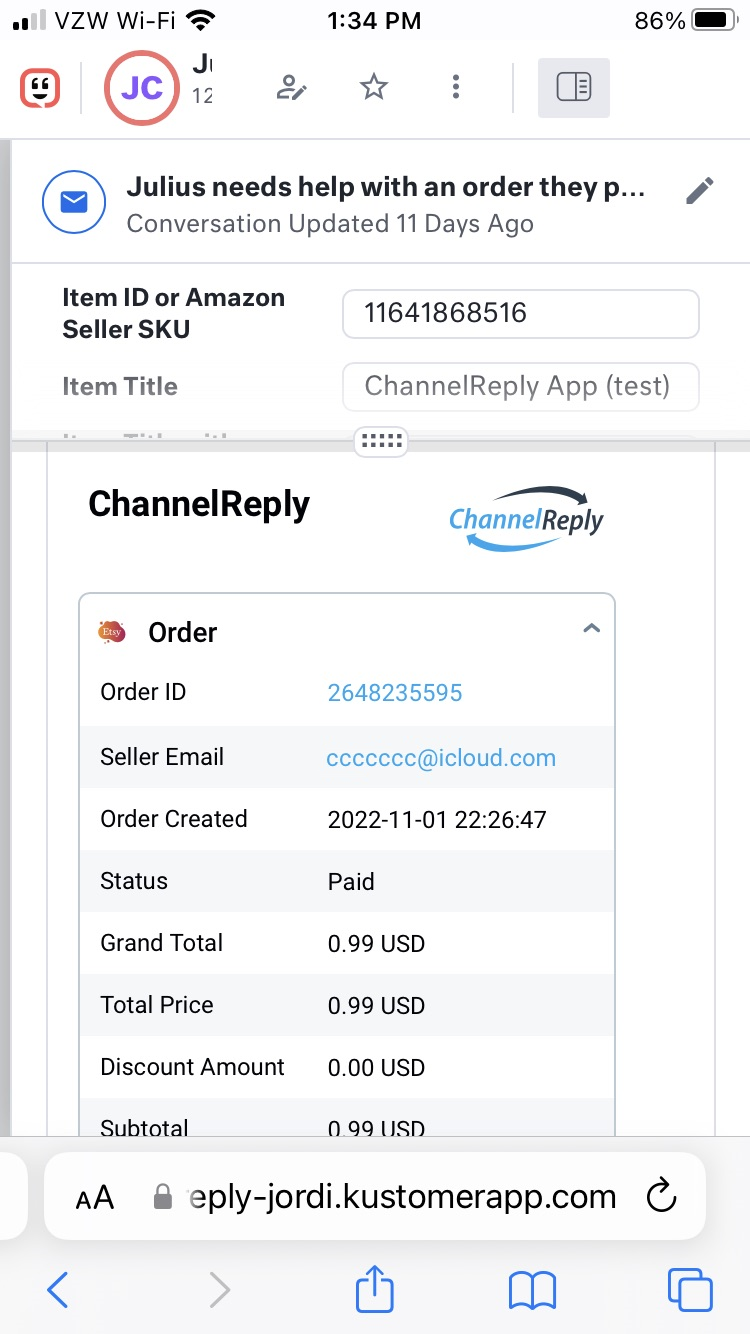 Plus, you can answer almost any question without struggling to punch out a message with your thumbs. Just set up a few Kustomer Shortcuts with ChannelReply custom fields.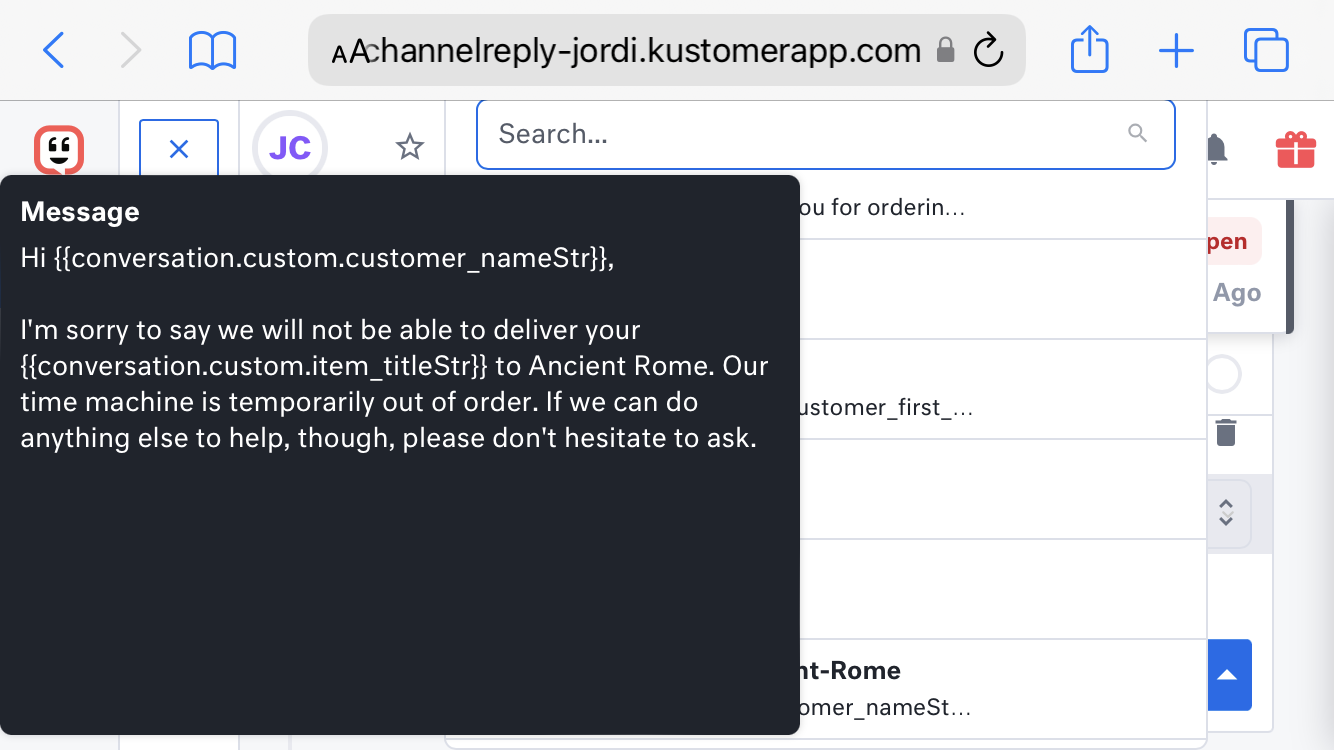 Above: Entering a Shortcut with ChannelReply custom fields in Kustomer on an iPhone.
Below: The automatically personalized message that appears when the Shortcut is entered.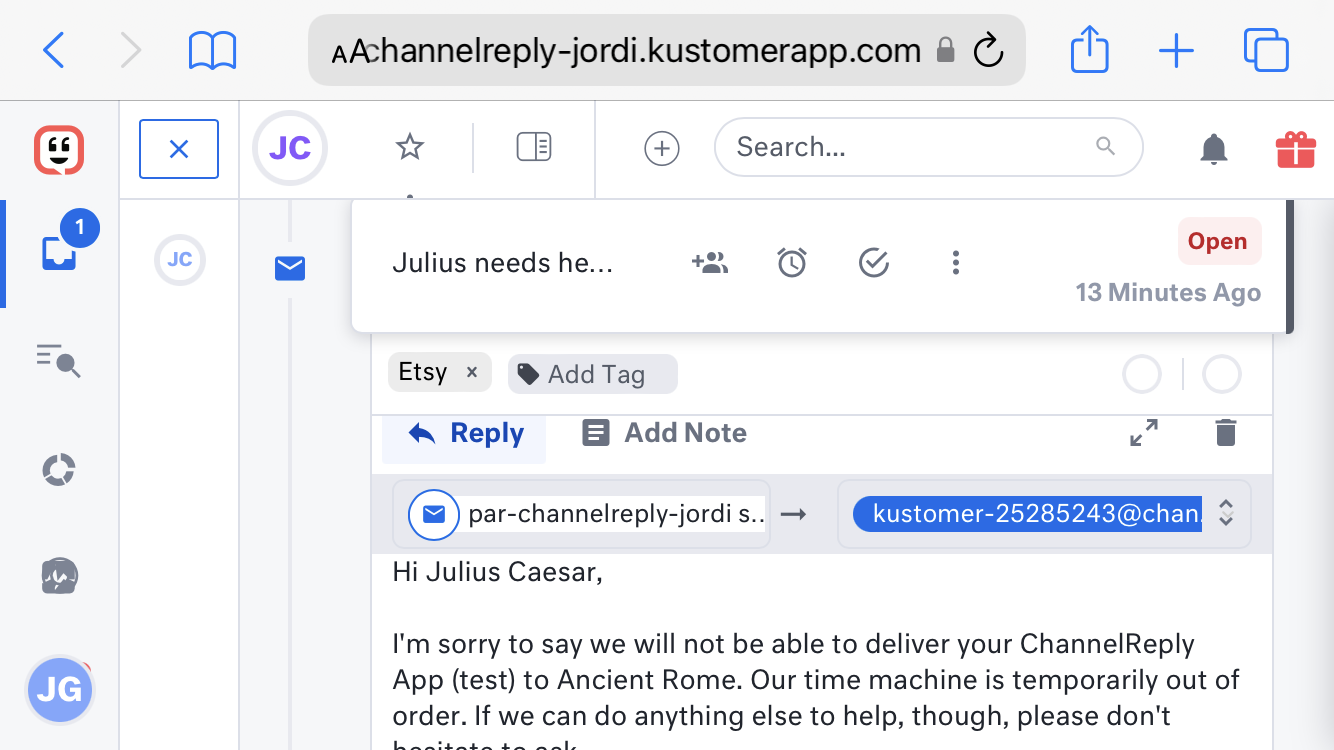 Few of Kustomer's competitors come close to being this useable on your phone. This makes it one of the best mobile platforms available for ecommerce customer service.
Bundles of Order Info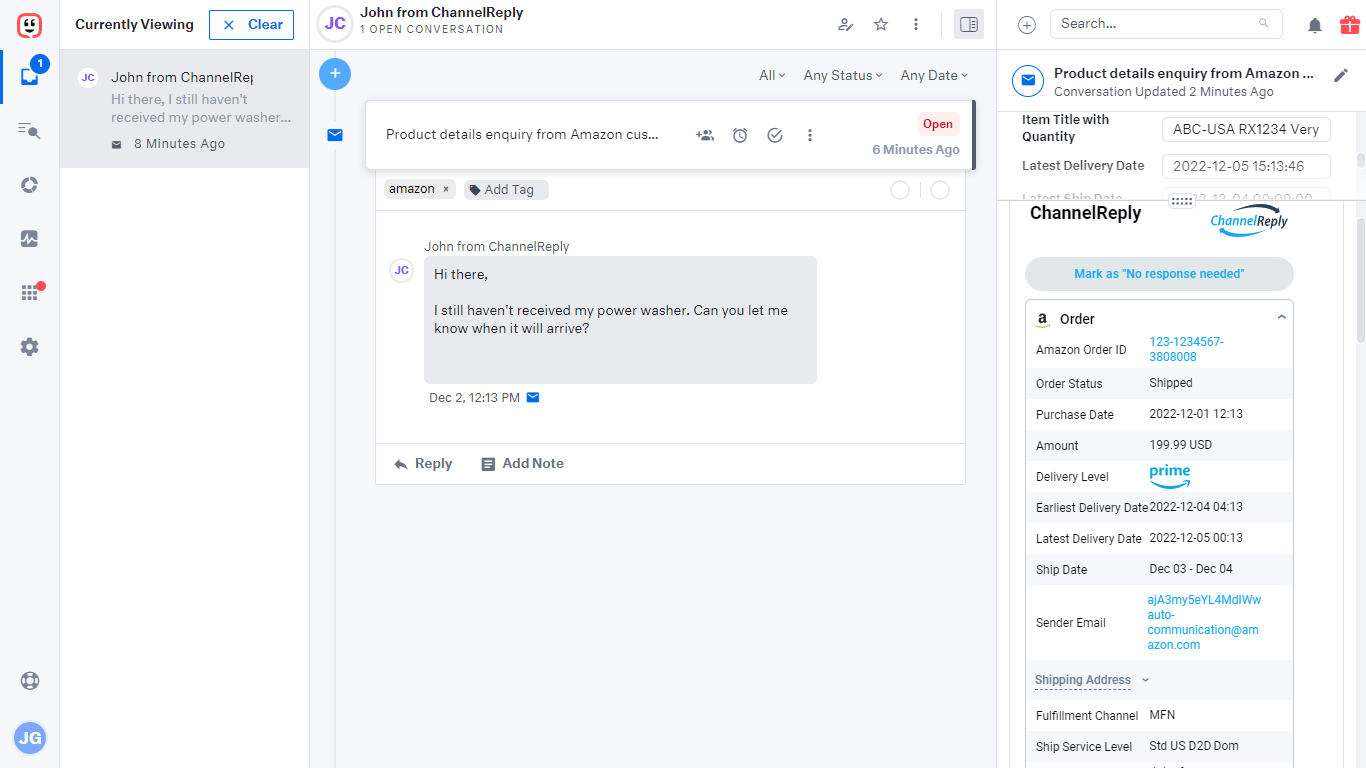 Above: An Amazon ticket in Kustomer.
Kustomer's expansive interface makes it easy to view order info from ChannelReply. And that's a good thing, because we have a lot of info to show! You can view all the following from inside Kustomer:
Amazon Data
Order status
Order ID (with hyperlink to order)
Listing name (with hyperlink to listing)
Product ASIN
Shipping address
Up to 29 other data fields
eBay Data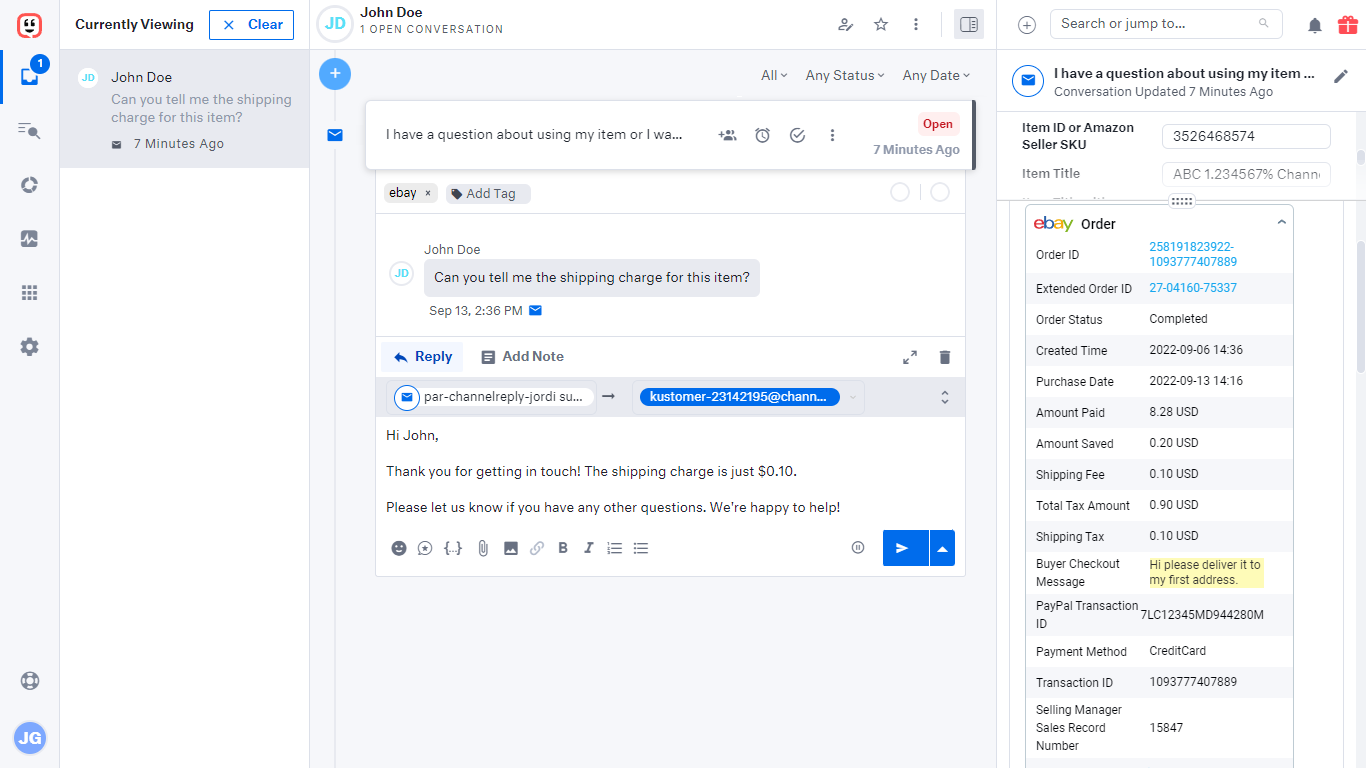 Above: Answering an eBay message.
Customer name
Buyer's user ID
Order ID
Item title
Tracking ID
Nearly 40 other details
Walmart Data
Buyer name
Buyer email
Item title
Tracking ID
Shipping address
20+ additional order details
Etsy Data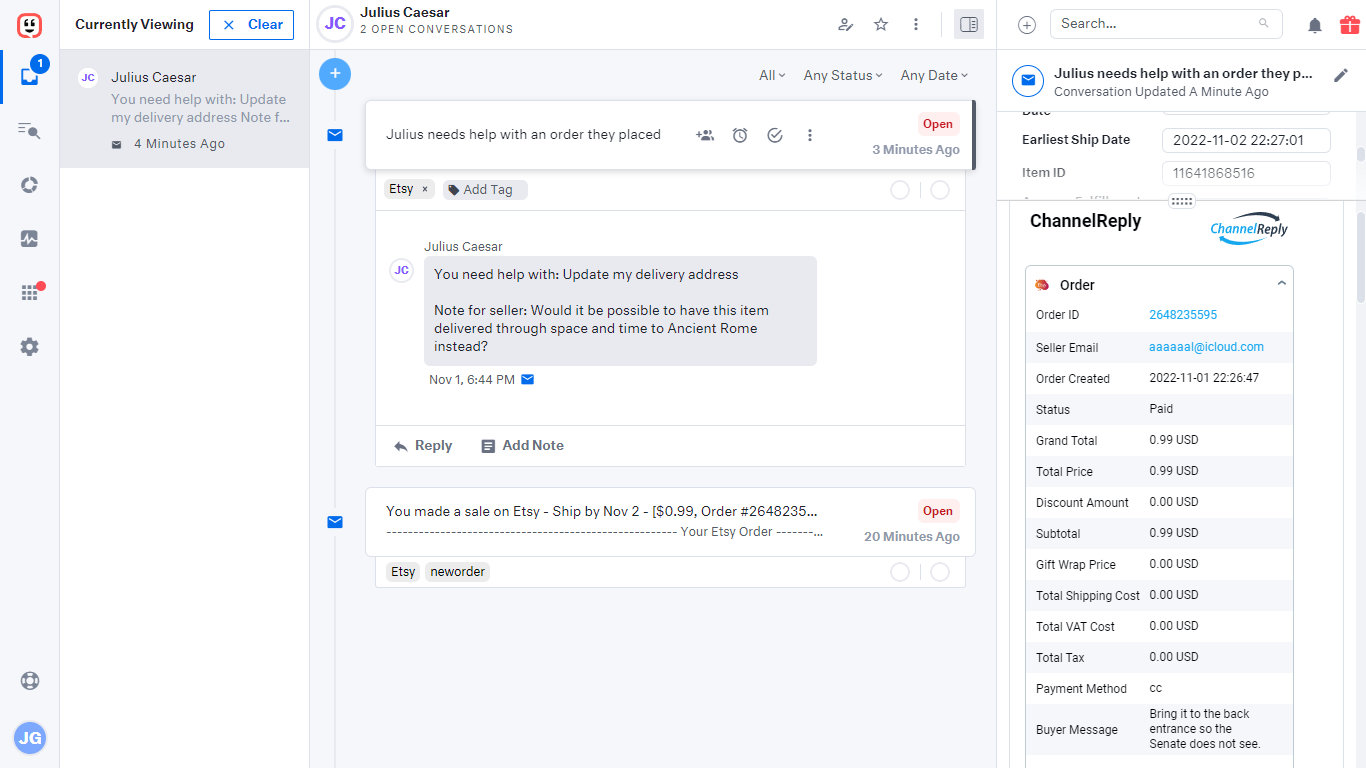 Above: An Etsy message in Kustomer. The order notification for the customer's purchase is visible below the message in Kustomer's Timeline view.
Order status
Amounts paid, including amounts for gift wrap, shipping, tax and more
Tracking code
Number of items the customer has bought & sold on Etsy
Title of the item(s) the customer purchased (or of the listing they contacted you through)
Up to 14 additional order details, 14 more product details, 17 other customer details, and 43 more listing details
Shopify Data
Order date
Product prices
Item SKUs
Tracking number
Estimated delivery date
60+ other details
Back Market Data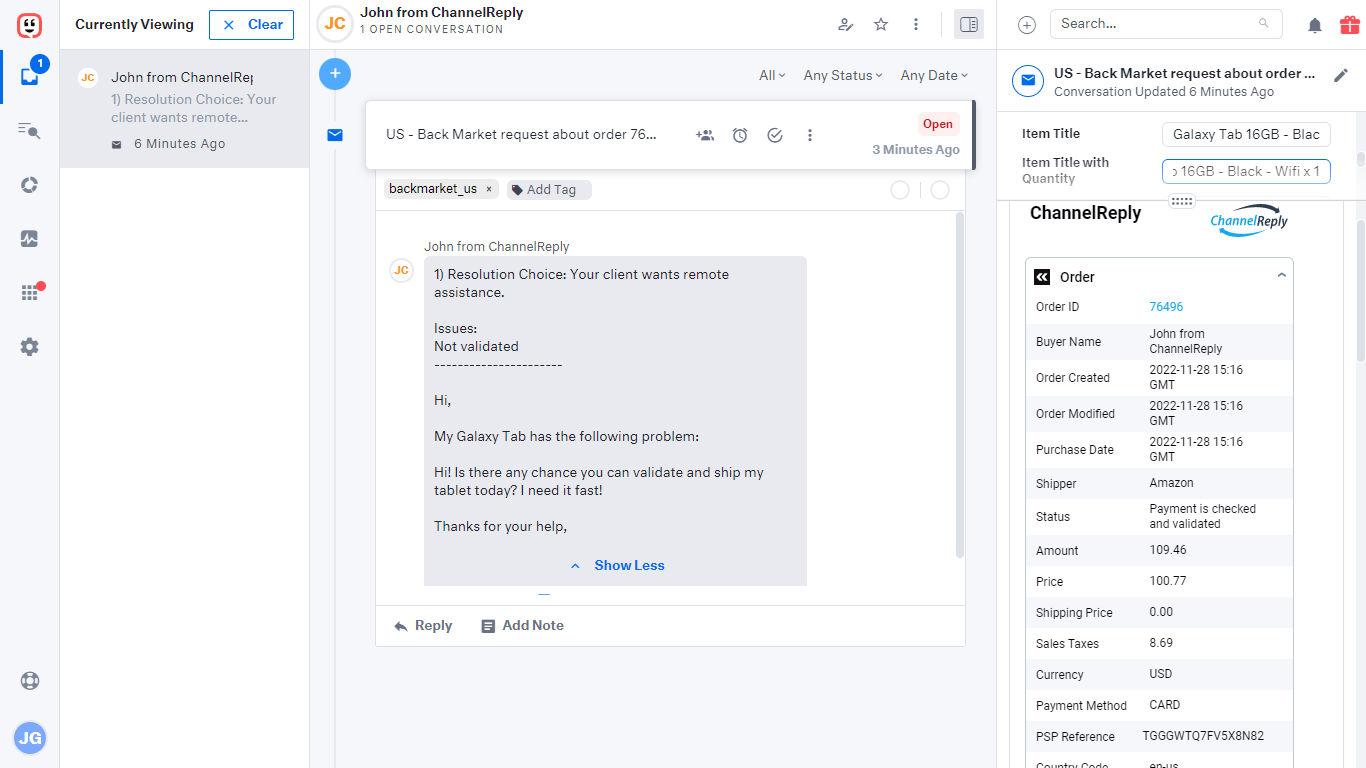 Above: A Back Market message in Kustomer with ChannelReply data on the right.
Order creation & last modified dates
Amounts paid broken down by items, shipping, BackCare, sales tax, and total
Tracking ID & URL
Payment method
40+ additional order details
Newegg Data
Shipping service level
Order status by package
Tracking numbers
Newegg item numbers
50 additional data fields
Our Kustomer app also has a built-in copy function for every field. Simply mouse over the info you want and click the Copy icon that appears on the right. No clicking and dragging needed!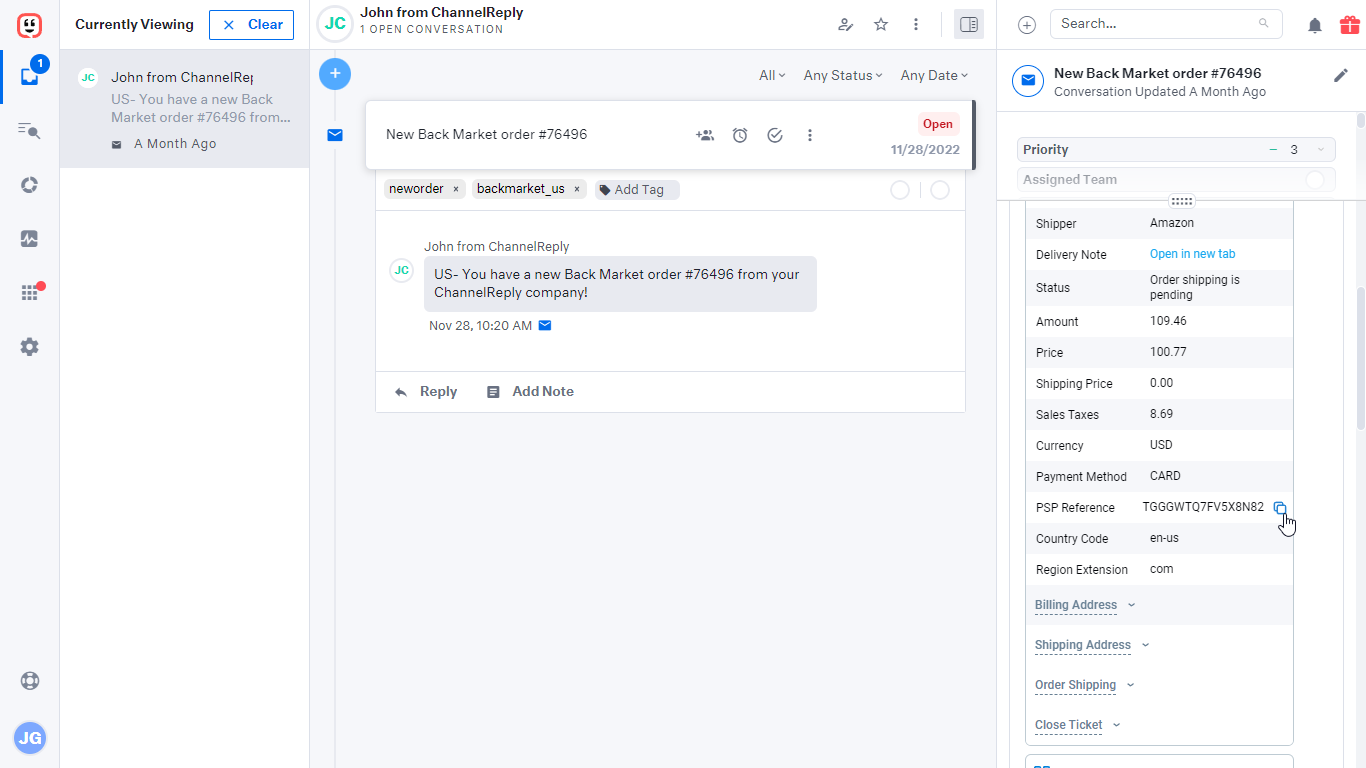 Above: Using the Copy button on a Back Market ticket. Copy buttons are available on all fields but invisible until you mouse over them.
Notifications Galore (If You Want Them!)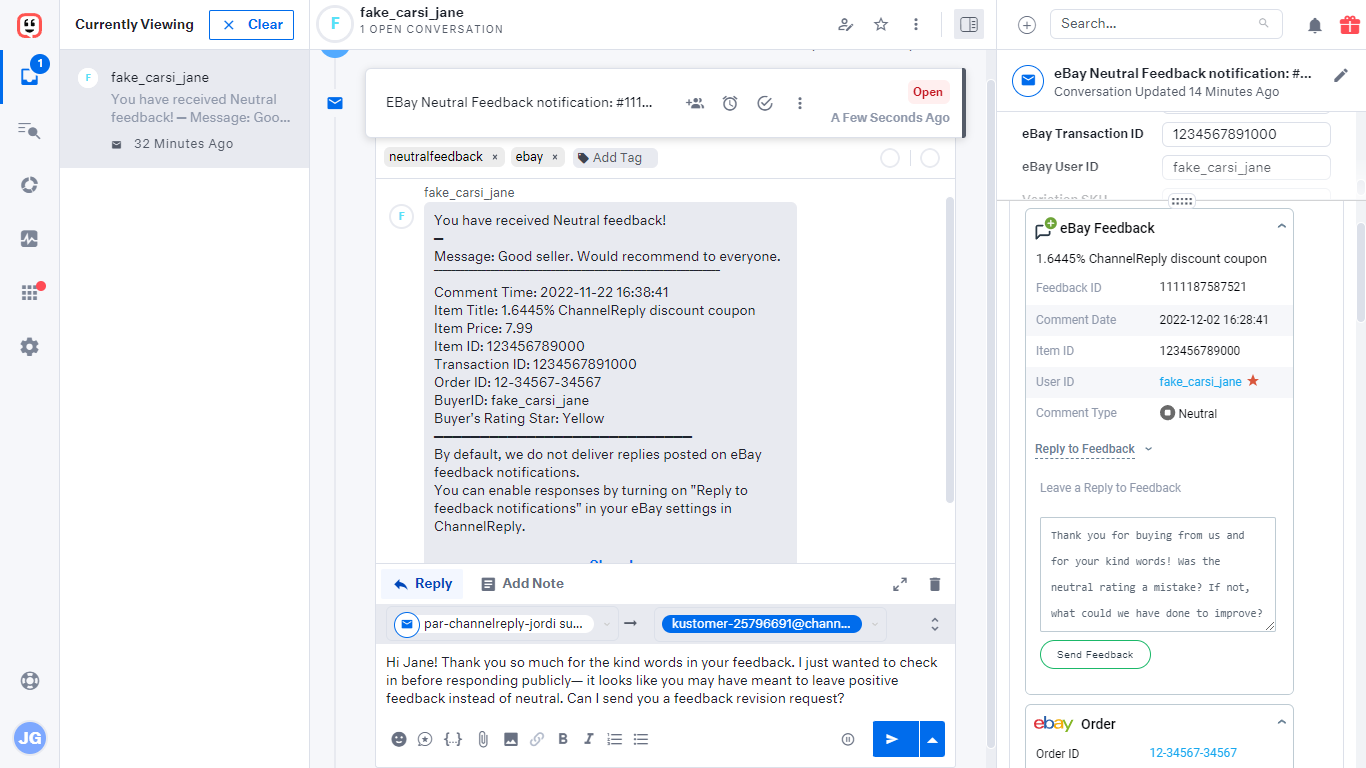 Above: An eBay Neutral Feedback notification. The seller can send the buyer a private message on eBay by responding to the ticket like normal. Alternatively, they can post a public response by hitting "Send Feedback" in the ChannelReply app on the right.
ChannelReply makes it easy to get all your notifications from all your selling accounts. It's even easier to block the ones you don't want!
Opt in or out of order notifications for all seven marketplaces
Get all your normal Amazon notifications, plus negative feedback alerts each time you receive a 1- to 3-star rating
Pull in eBay notifications that support everything from countering Best Offers to solving Resolution Center cases
Get Walmart return notifications that let you issue refunds from Kustomer
Receive all your other normal email notifications—plus some notifications you can't get by email!
More Action, Fewer Trips
ChannelReply is meant to let you manage all your support on one screen—and there's a lot more to support than just answering questions. Save countless screen switches by tackling refunds, cancellations and more, right inside Kustomer!
Amazon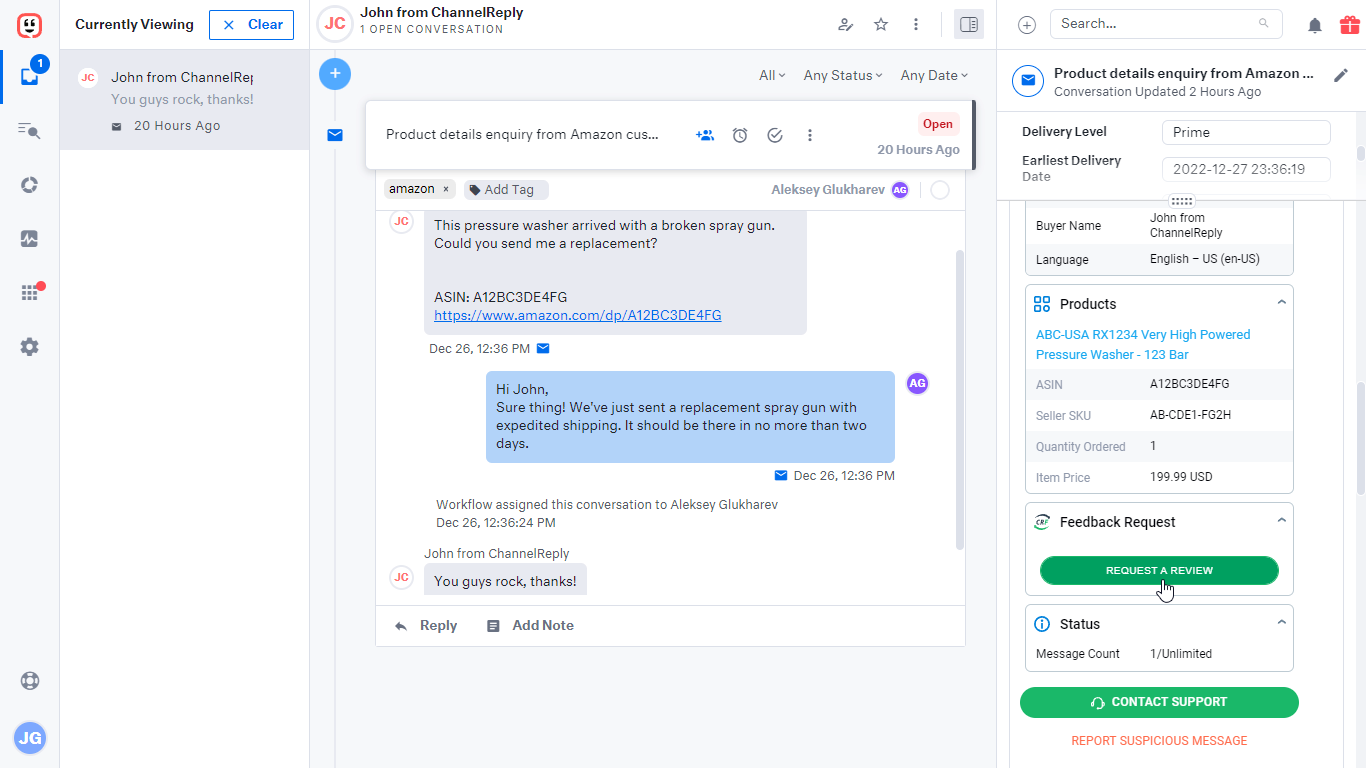 Triggering Amazon's "Request a Review" button in Kustomer.
Mark messages as "No response needed"
Trigger Amazon's "Request a Review" button
Cancel, switch, or send feedback requests from CR Feedback inside Kustomer
eBay
Approve or decline cancellations
Accept, reject, or counter best offers
Reply privately or post public responses to buyers who leave you feedback
Manage Resolution Center cases: approve returns, issue refunds, upload required info, etc.
Walmart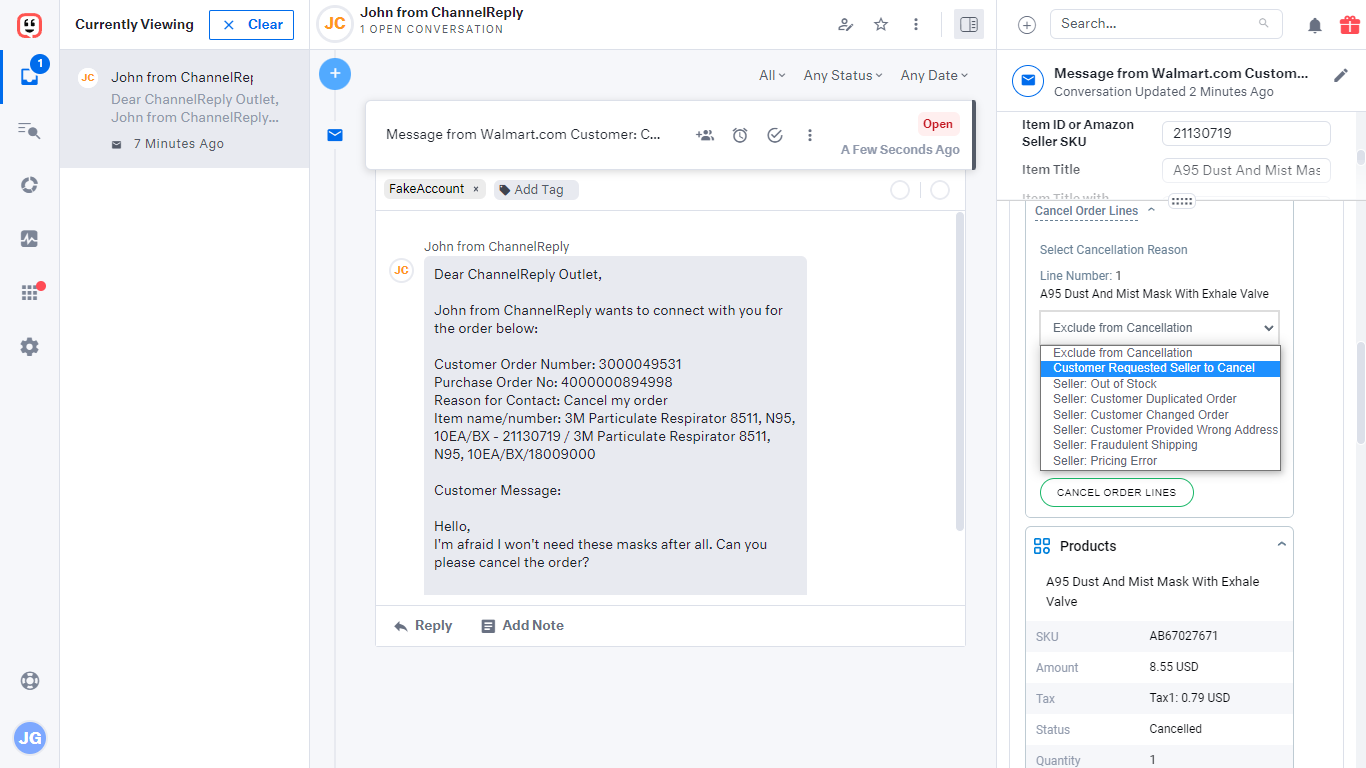 Above: Choosing the reason for cancelling a Walmart order.
Acknowledge orders
Update shipping statuses
Cancel orders
Issue refunds on returns
Etsy
Complete orders by uploading shipping info from Kustomer
Shopify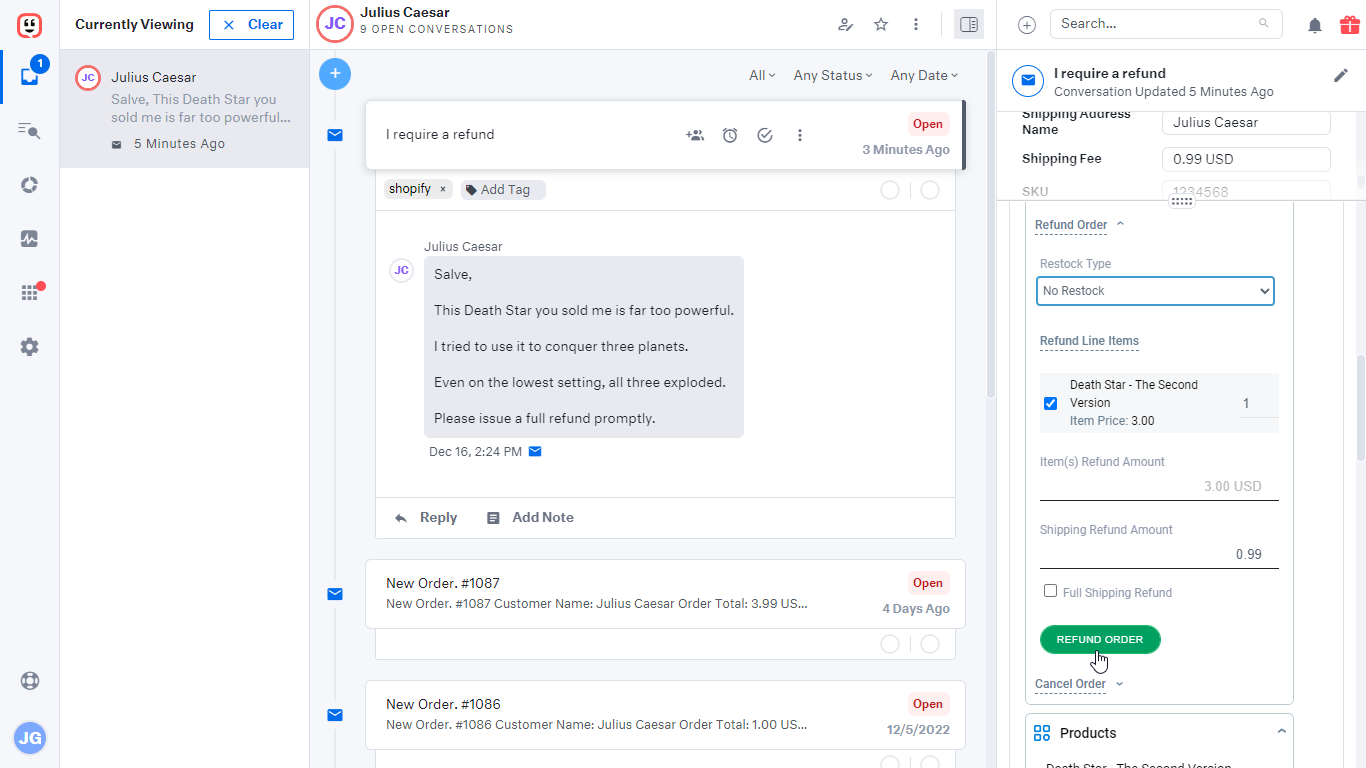 Above: Managing a Shopify refund.
Issue precise refunds
Cancel orders
Update your stock levels while cancelling or refunding
Edit order info
Edit customer info
Back Market
Cancel orders that have not yet been validated
Validate orders, item by item
Upload shipping info
Issue refunds, item by item
Newegg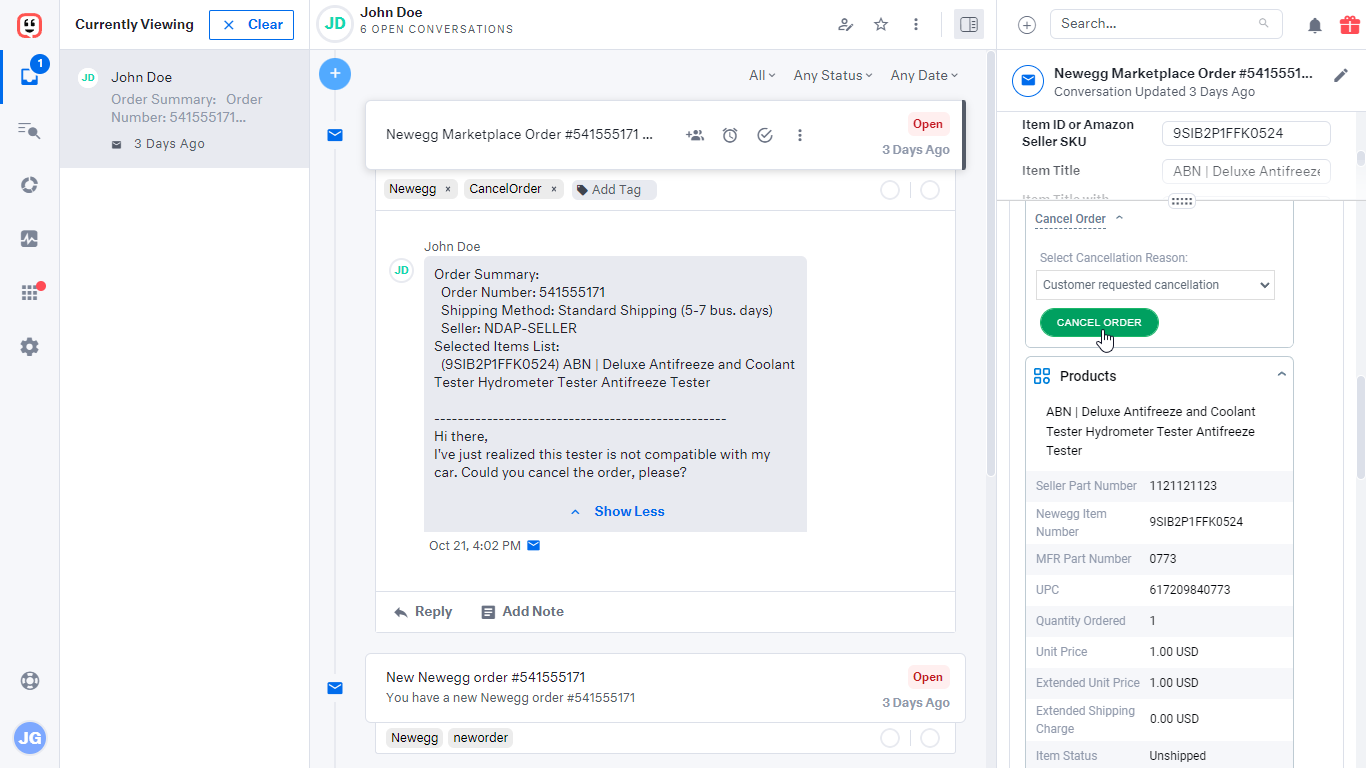 Above: Cancelling a Newegg order on a customer's request.
Upload shipping info
Cancel orders
Remove specific items from multi-item orders without cancelling the others
Don't see an action you want? Let us know! We frequently add support for new actions, and your requests drive our development!
Transform Kustomer into the Perfect Ecommerce Helpdesk
Give your customer service team the best tools available. With Kustomer's platform and ChannelReply's integrations, you'll quickly cut costs and outrun your competitors. Start your free trial of ChannelReply now and launch Kustomer integrations with Amazon, eBay, Etsy and more in minutes!