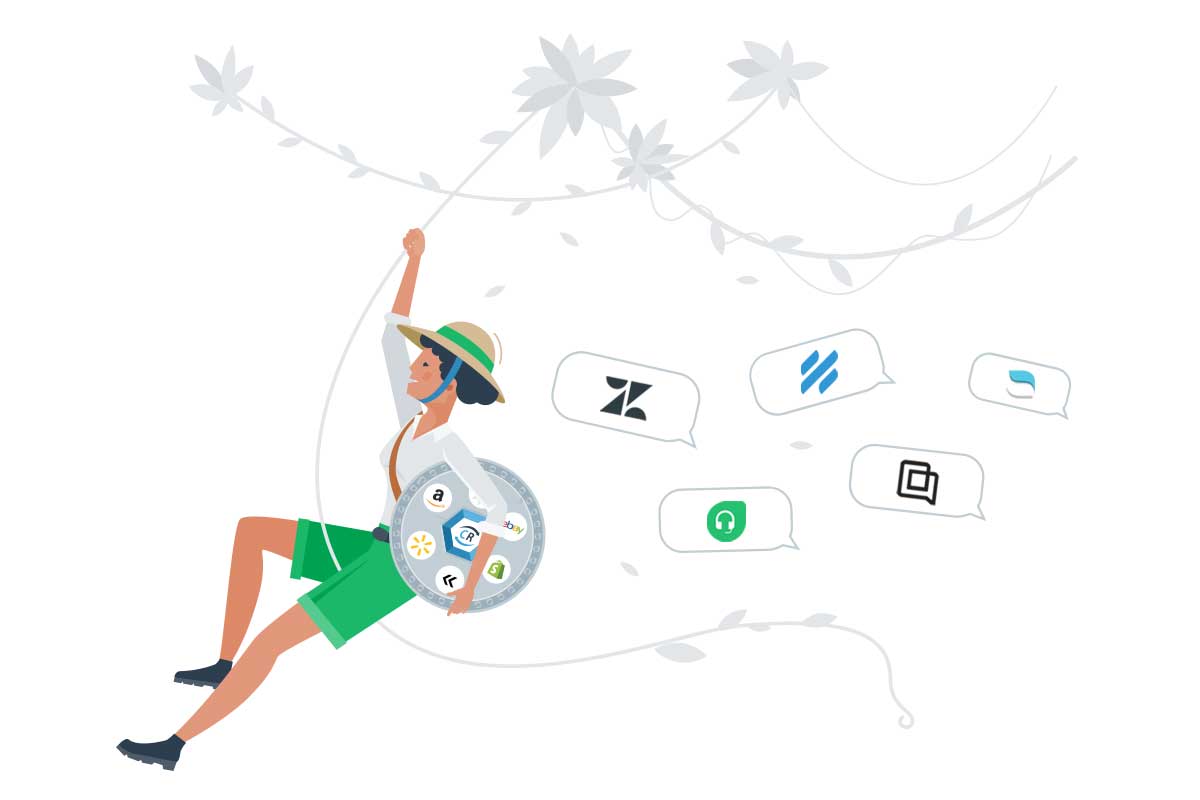 If you want to grow your ecommerce business, then you need to consider using a helpdesk.
For one thing, this affordable tool helps you save tons of time and effort on customer messaging. It can also help you keep shoppers happy. That leads to improved brand reputation and increased sales. Finally, it can help ensure positive reviews on sites like Amazon and eBay.
In this article, we'll cover the customer service statistics you need to know. We'll also explain exactly what an ecommerce helpdesk is. Plus, we'll discover the top 5 helpdesk providers on the market for 2022. And finally, we'll explore how ChannelReply connects you to them.
Customer Service Stats You Need to Know
In a moment, we'll get into what a helpdesk is. But first, let's look at a few ecommerce customer service statistics that show why you need to use one.
Gladly shows that 90% of consumers stop buying from a company after three negative customer service experiences.
Another 68% of respondents are willing to pay more for brands that offer good customer service. A 2019 Zendesk survey showed similar results. They found that 84% of consumers cite customer service as a key factor in helping them decide where to shop.
Part of providing great customer service is responding quickly to inquiries and issues. In fact, 82% of consumers expect an immediate response from brands when they ask a question. This is where an ecommerce helpdesk comes in…
Use an Ecommerce Helpdesk to Delight Shoppers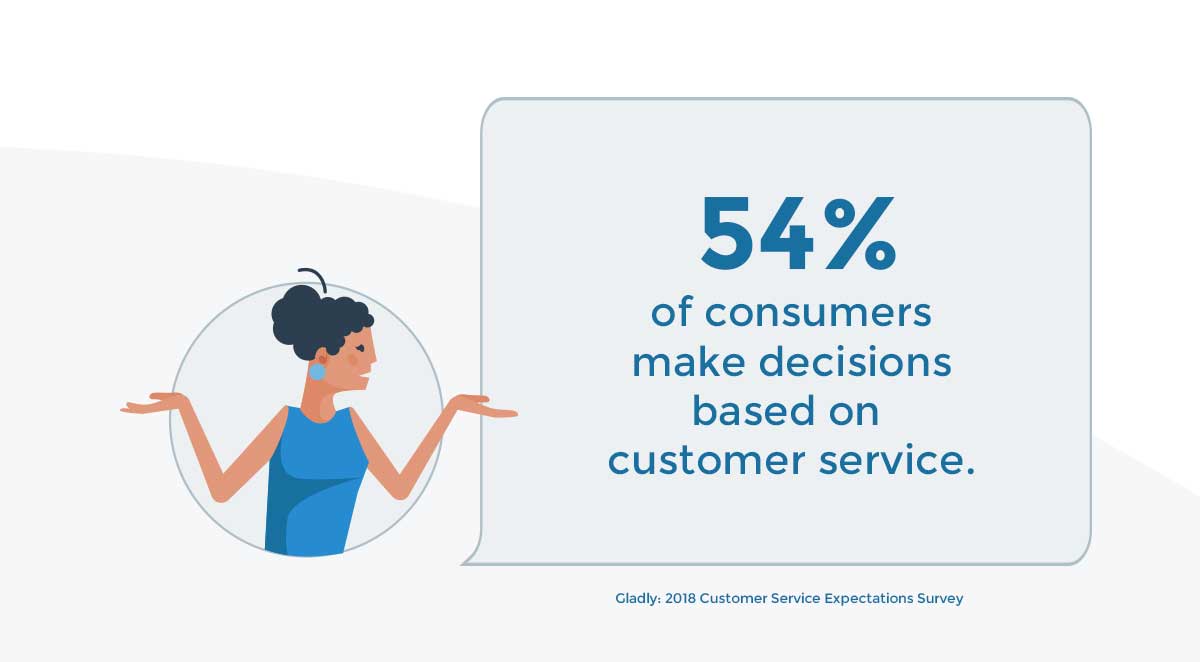 A helpdesk is a tool that enables ecommerce sellers to centralize their customer messaging. This means sellers can view and respond to all messages from their marketplaces and selling channels in one single inbox.
No more having to log in to Amazon, eBay, Walmart, Shopify, etc.
With a helpdesk, you can access a single customer service dashboard to view and respond to all your messages.
Plus, helpdesks aren't just for email support. Most providers enable sellers to streamline all of their customer support channels. That includes email, live chat, social messaging, and more.
Many helpdesk providers offer a range of tools to help sellers stay on top of customer support. A few features to look for in a good helpdesk include:
Messaging templates.
Automation functionalities (like autoresponders).
The ability to sort and prioritize messages.
Performance / efficiency monitoring.
Keep reading to discover our top 5 picks for helpdesks. These providers offer everything sellers need to crush their customer support.
Note: The one thing most of these helpdesks don't offer is support for marketplaces. That's where ChannelReply comes in handy. Our app lets sellers connect their helpdesk to major marketplaces like Amazon, eBay, Shopify, Walmart, and Back Market.
Zendesk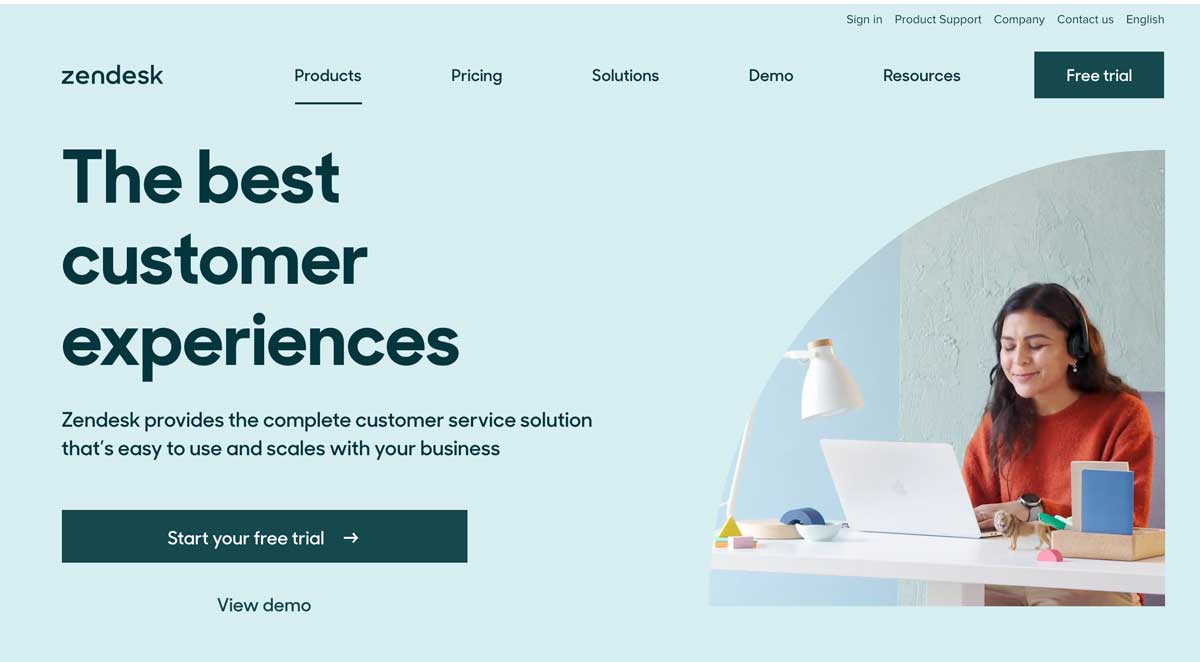 Zendesk is a popular and well-known ecommerce helpdesk. This provider has been around for quite a while. PC Magazine gives it a 4-star rating of "Excellent" for its customizable interface, in-depth reporting, and extensive app marketplace.
Zendesk lets you manage the customer emails from all of your selling channels in one place. It also lets you provide multichannel support for social media, live chat, and phone (with a few simple upgrades).
With Zendesk + ChannelReply, users can respond to messages from Amazon, eBay, Walmart, Back Market, and Shopify.
Sellers can get started with Zendesk for $19 per agent, per month, but you'll be limited on available features. We suggest starting with a Suite Team plan for $49 USD per agent, per month. A free trial is available.
For a limited time, Zendesk and ChannelReply have joined forces to offer Amazon sellers 20% off the regular price.
Gorgias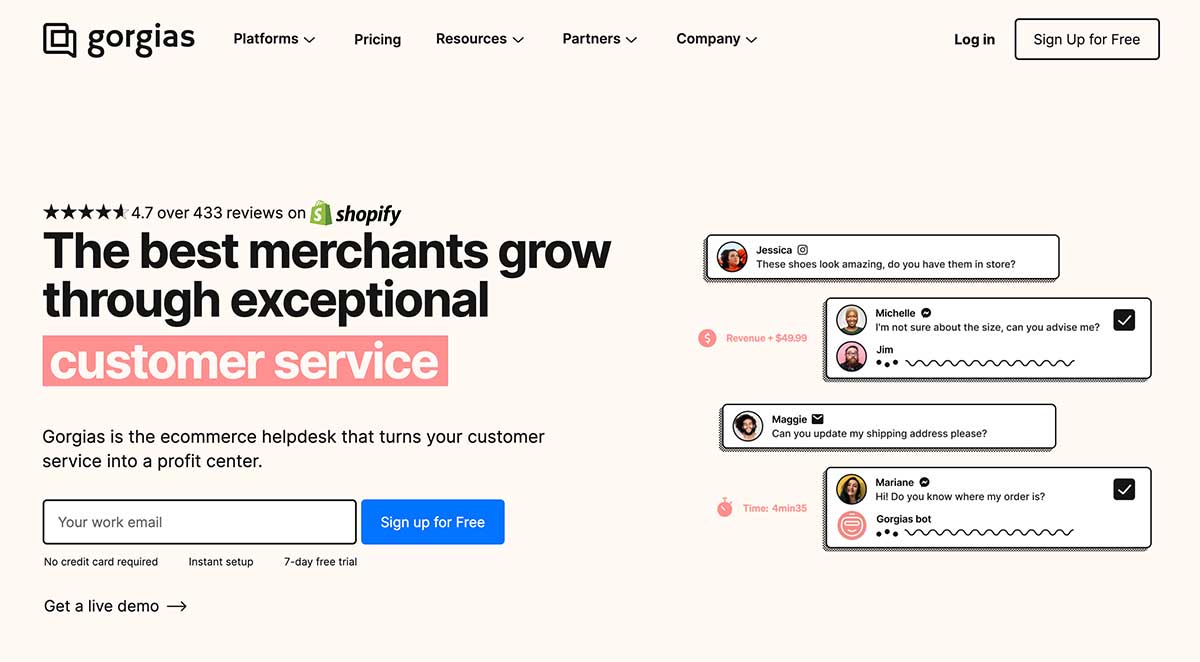 If you run a Shopify, Magento, or BigCommerce store, Gorgias might be the perfect choice for you. This helpdesk enables sellers to check orders, issue refunds, engage customers with well-timed popups, and so much more.
Support for Amazon, eBay, Walmart, and Back Market is only available through ChannelReply.
Gorgias offers unlimited users and a ticket-based pricing model, charging for the number of tickets you process each month. Their Basic annual plan starts at $50 USD per month for 350 tickets and they also offer a free trial.
Freshdesk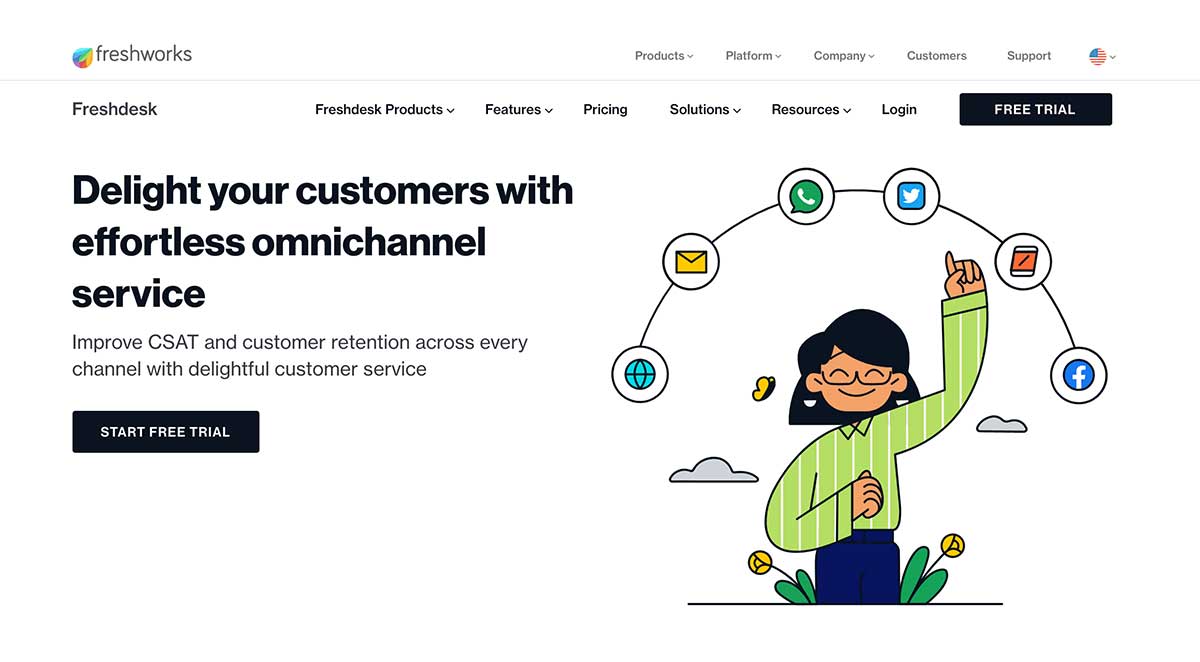 Among the most affordable ecommerce helpdesk options is Freshdesk. This platform is a great choice for small Amazon and eBay sellers. Freshdesk provides:
A 21-day free trial.
24/7 email support.
24/5 phone support.
All of these are available to all paid subscribers (not just those who subscribe to higher plan levels).
The ChannelReply integration is even available on Freshdesk's lowest-priced paid plan, Growth. This plan starts at just $15 per month.
Re:amaze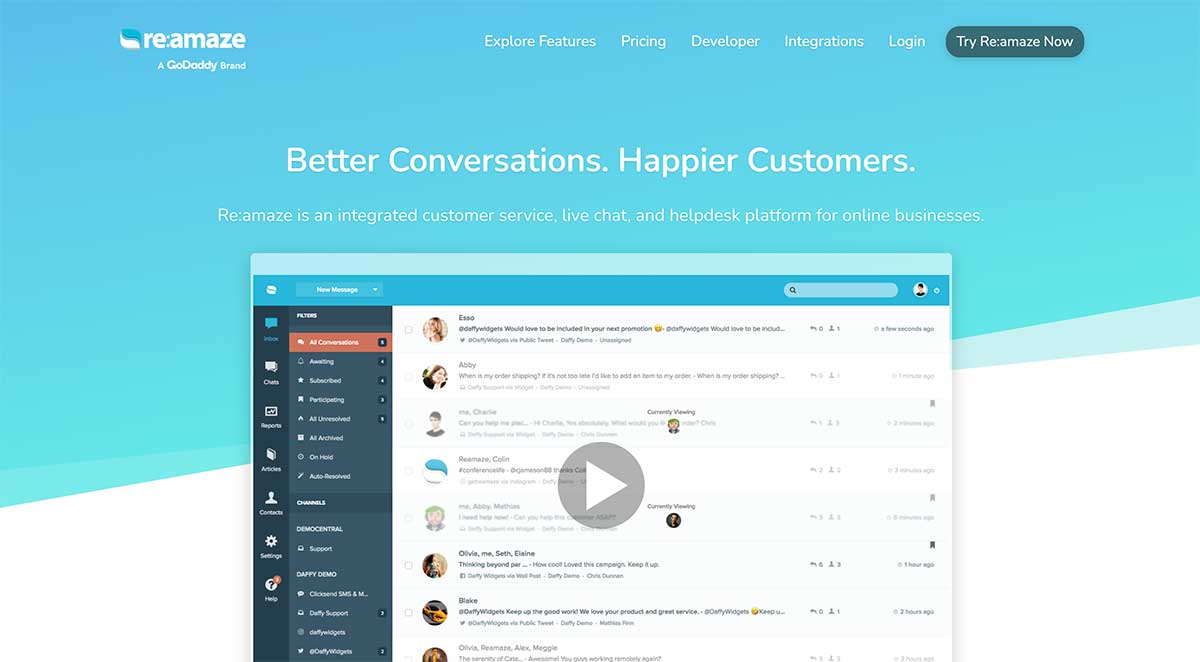 Re:amaze, a GoDaddy brand, isn't a huge or well-known helpdesk provider. However, it packs a real punch. This provider offers:
Powerful native social media integrations.
Incredible built-in support for Shopify sellers.
An innovative, flexible mobile app experience.
Pricing starts at $29 per team member, per month for their Basic package. They also offer a free 14-day trial.
With ChannelReply and Re:amaze, sellers can view order data, issue refunds, and even respond to messages right from their phones.
Using ChannelReply, Re:amaze integrates with Amazon, eBay, Back Market, Walmart, and Shopify.
Help Scout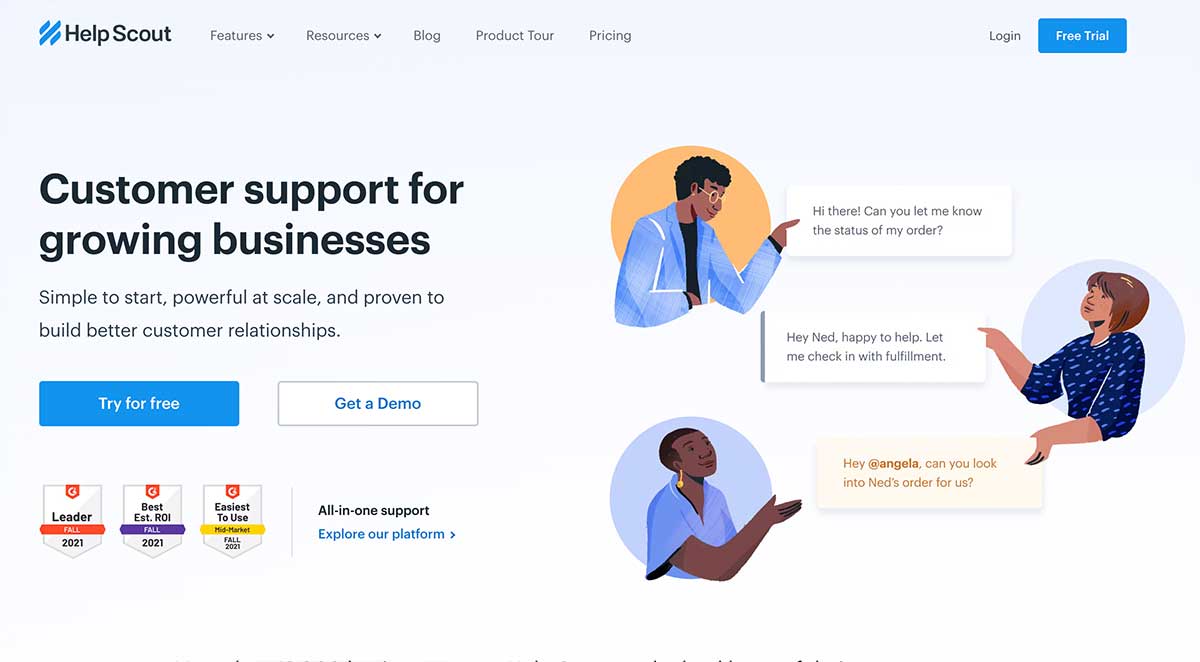 Is your business focused on any sort of humanitarian or environmental causes? Help Scout might be an advantageous ecommerce helpdesk option for you.
Help Scout offers discounts to companies that protect human rights, the environment, or diversity. They also offer savings to all B corporations or nonprofits, regardless of focus area.
Help Scout Standard pricing starts at $20 per user / per month for annual plans and comes with a 15-day free trial.
Help Scout also uses ChannelReply to integrate with Amazon, eBay, Back Market, Walmart, and Shopify. It offers a unique feature in Beacon—a live chat / self-help app that comes free with all plan levels.
Connect Your Marketplaces Using ChannelReply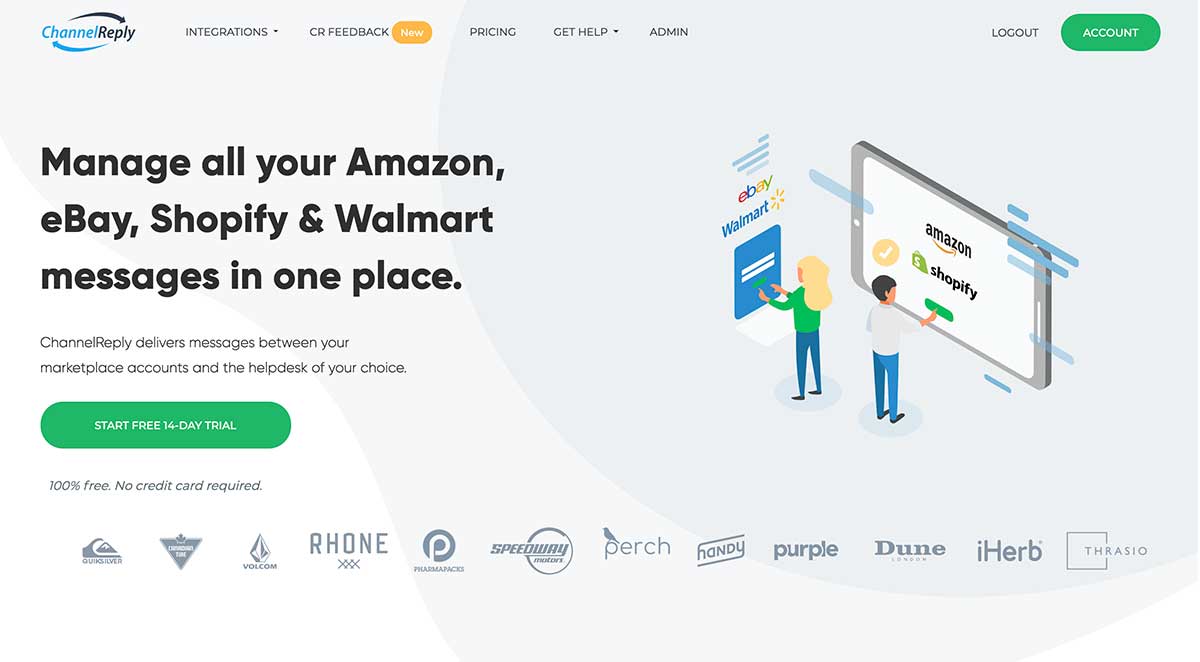 As we've already stated, one thing most of these helpdesks don't offer is support for marketplaces.
ChannelReply bridges that gap by connecting the marketplaces you sell on to your favorite helpdesk. With ChannelReply, you can truly take your customer service game to the next level.
Just a few of the benefits of using ChannelReply to connect to your preferred helpdesk include:
Centralized messaging for all of your marketplaces (Amazon, eBay, Walmart, Shopify, Back Market, etc.) in one place.
The ability to view order and customer data all on one screen.
The convenience and improved organization of threaded messages.
Easy access to process returns and refunds (features vary depending on the helpdesk and integration).
Autoresponders to satisfy marketplace SLAs after-hours or during the weekend.
Amazon "No Response Needed" button.
And so much more.
Ecommerce Helpdesks: Final Thoughts
As you can see, online sellers have lots of choices when it comes to selecting helpdesk software. Deciding which one is right for your business comes down to features, integrations needed, price, and a range of other factors.
That said, using a helpdesk can save you time and effort on your customer messaging. That helps you respond to shoppers more quickly and improve customer support.
Regardless of which provider you go with, ChannelReply's integrations can make the entire experience easier. No more logging in and out of multiple dashboards.
Start your 14-day free trial and discover the difference ChannelReply can make for your ecommerce business! (No payment info required.)