Onsite Support is the ultimate Amazon helpdesk. By letting you link Amazon buyers to your own branded help site, it helps you dodge returns and build better customer relationships. And now, with ChannelReply included free, it also supports eBay, Etsy, Walmart, Shopify, Back Market and Newegg!
Already know you want to link Onsite with ChannelReply? Check out our Onsite Support integration guide.
Next-Level Amazon Integration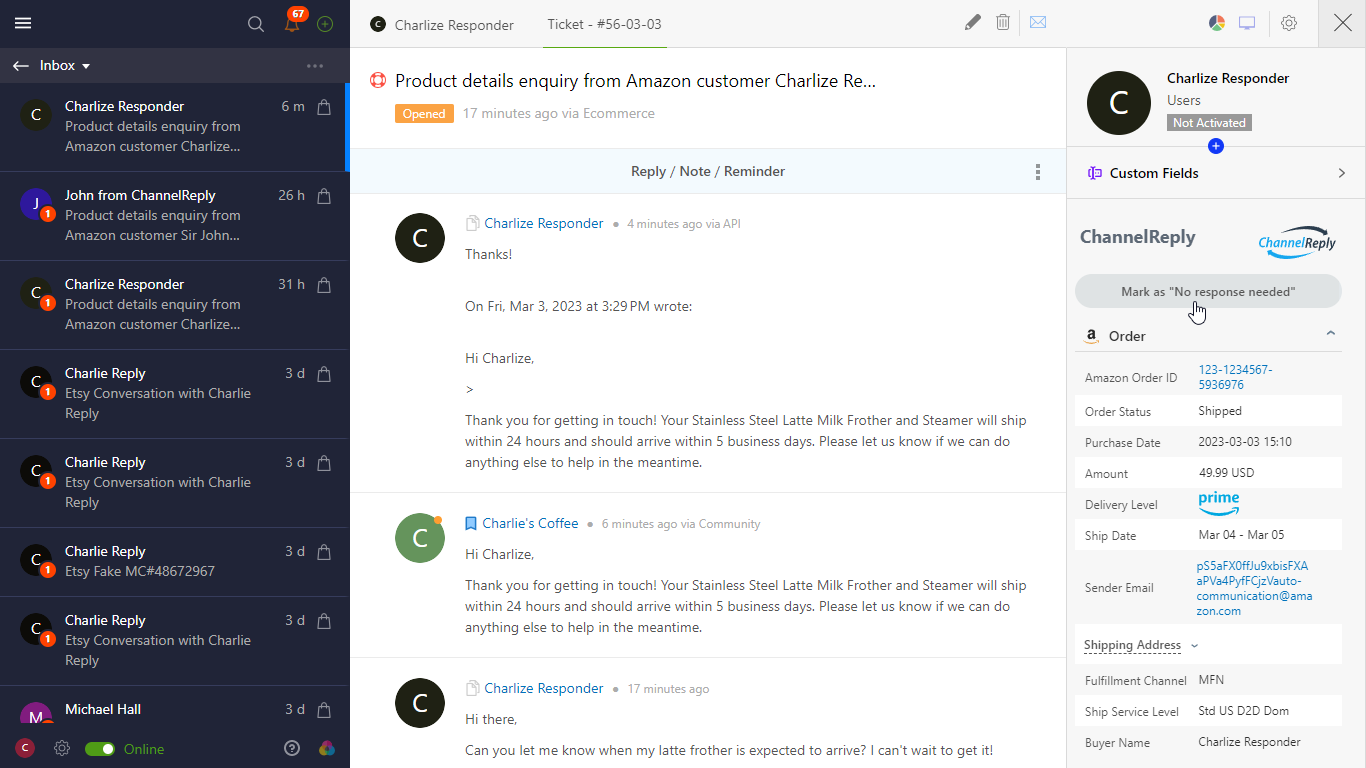 Above: An Amazon message in Onsite Support with the ChannelReply app on the right.
Onsite Support combines the power of ChannelReply's Amazon integration with its own unique upgrades:
Link Amazon Return Pages to Your Custom Help Site
Onsite ties directly into the Amazon PLS (Product Lifetime Support) program. Add a "Get product support" button to Amazon return screens to deflect returns. Pull customers straight into your own custom help site instead!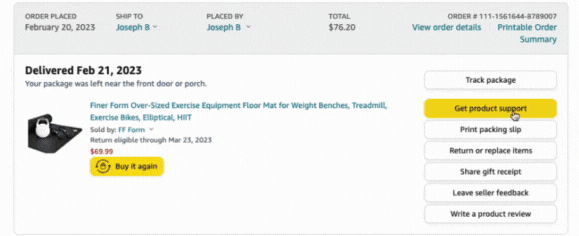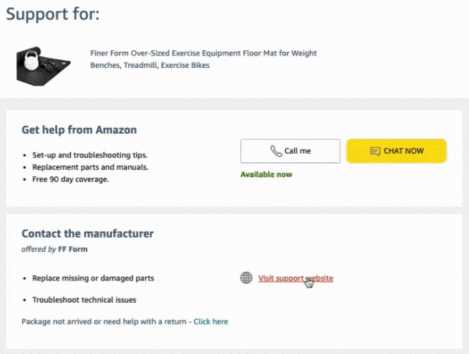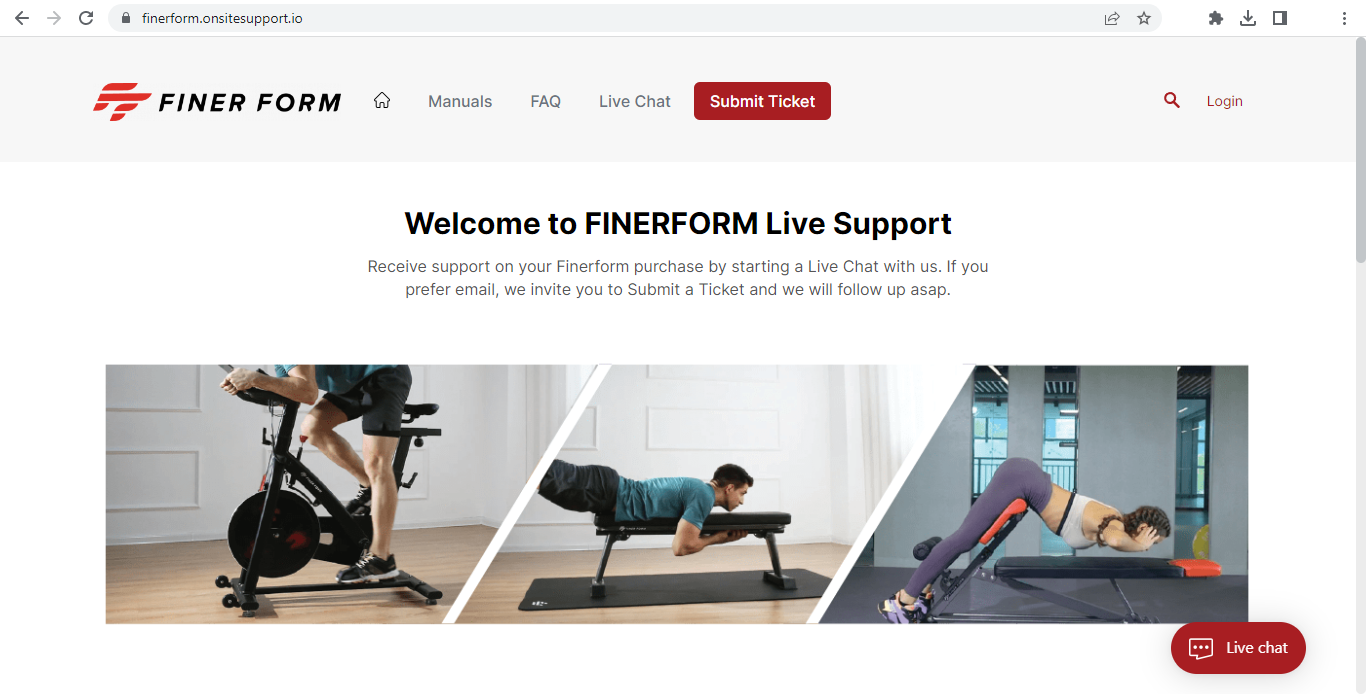 Onsite will build your help site to your specifications while ensuring full compliance with Amazon policy. You can use it to provide infinitely better support for your customers than you could on Seller Central. Offer live chats, help articles, videos, forums and more to prevent returns and boost customer loyalty.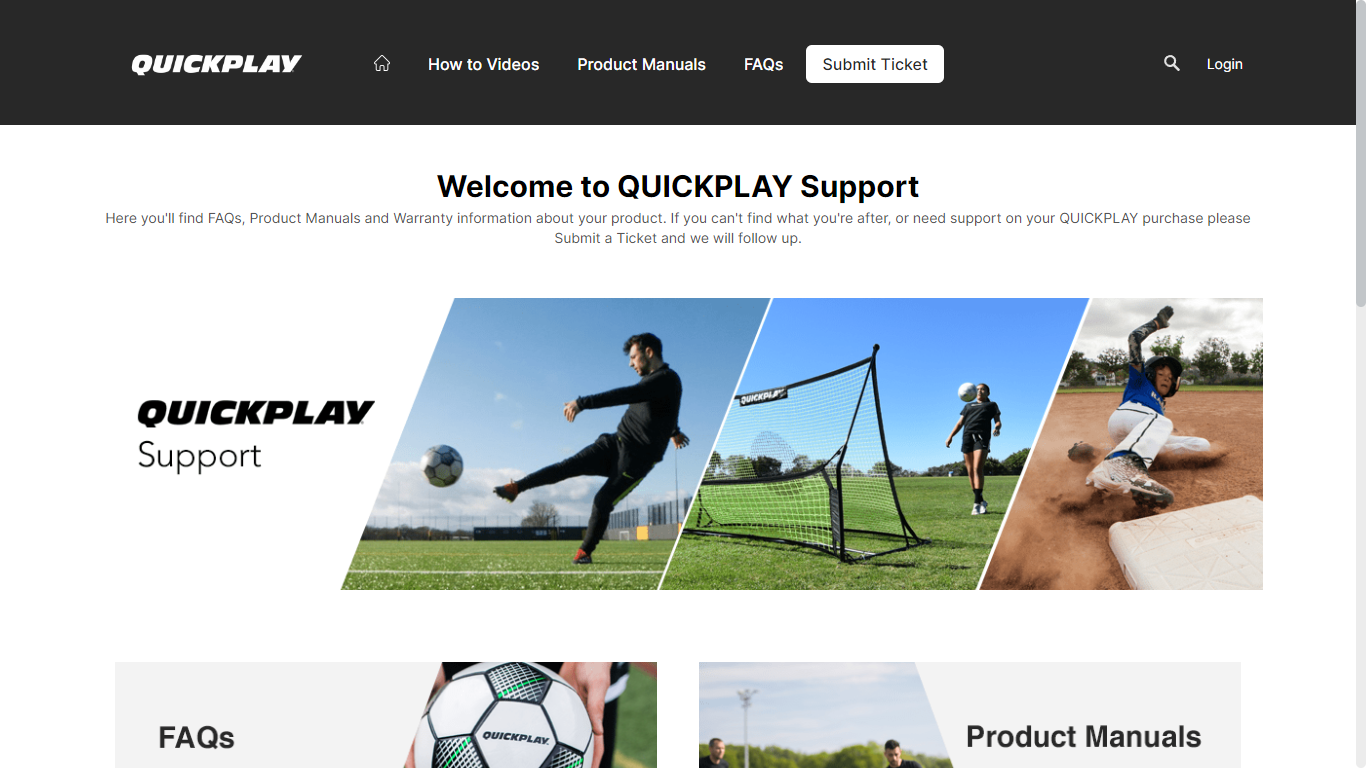 Get Amazon Data with Seller Central Messages and Onsite Live Chat Tickets
Getting your customers off Amazon and into your help site is one thing. But won't your agents need to check Seller Central anyway?
Not at all! With ChannelReply, you can answer all your Buyer-Seller Messaging from Onsite. You can even view order details beside each message.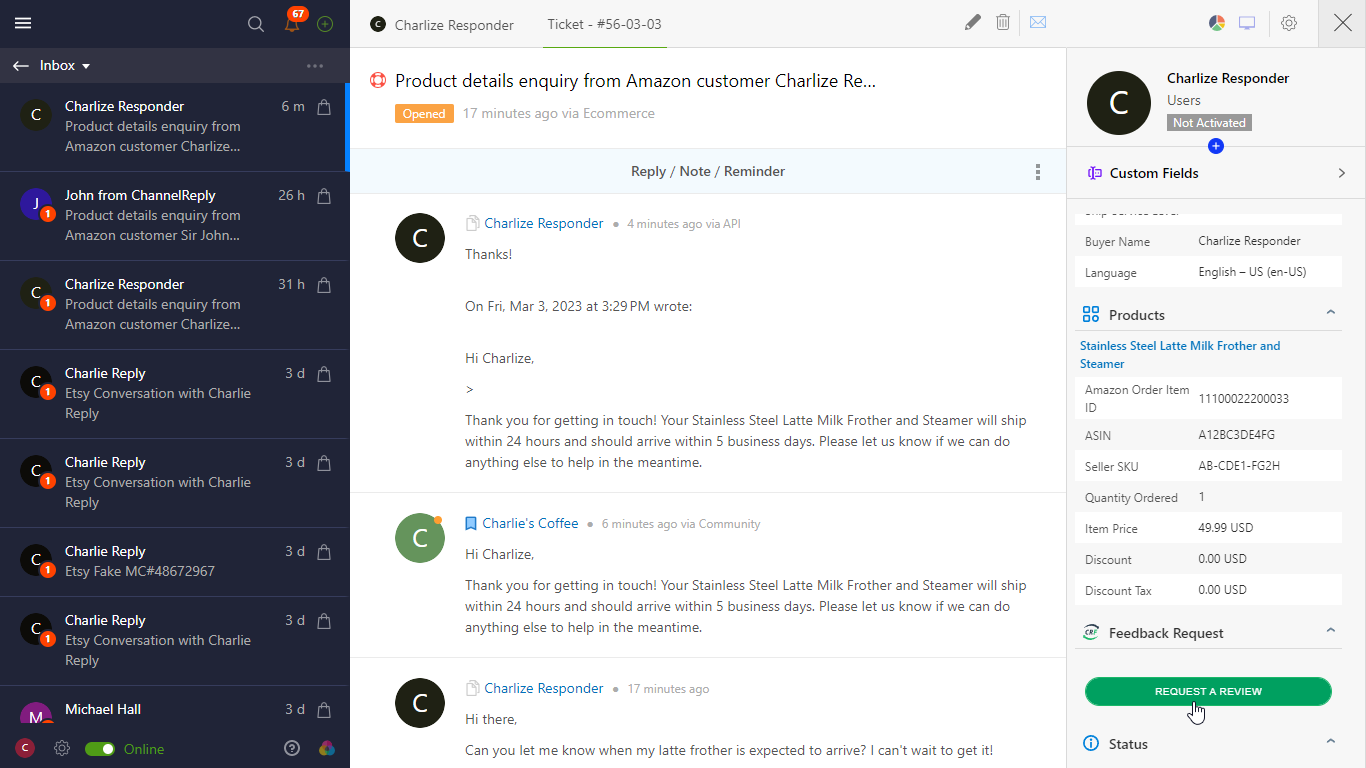 Better yet, Onsite is the first helpdesk to ever integrate live chat with ChannelReply. This feature is still in its infancy, but it's already possible to view Amazon order data on completed chats. We plan to add support for viewing order data in real-time chat in the near future!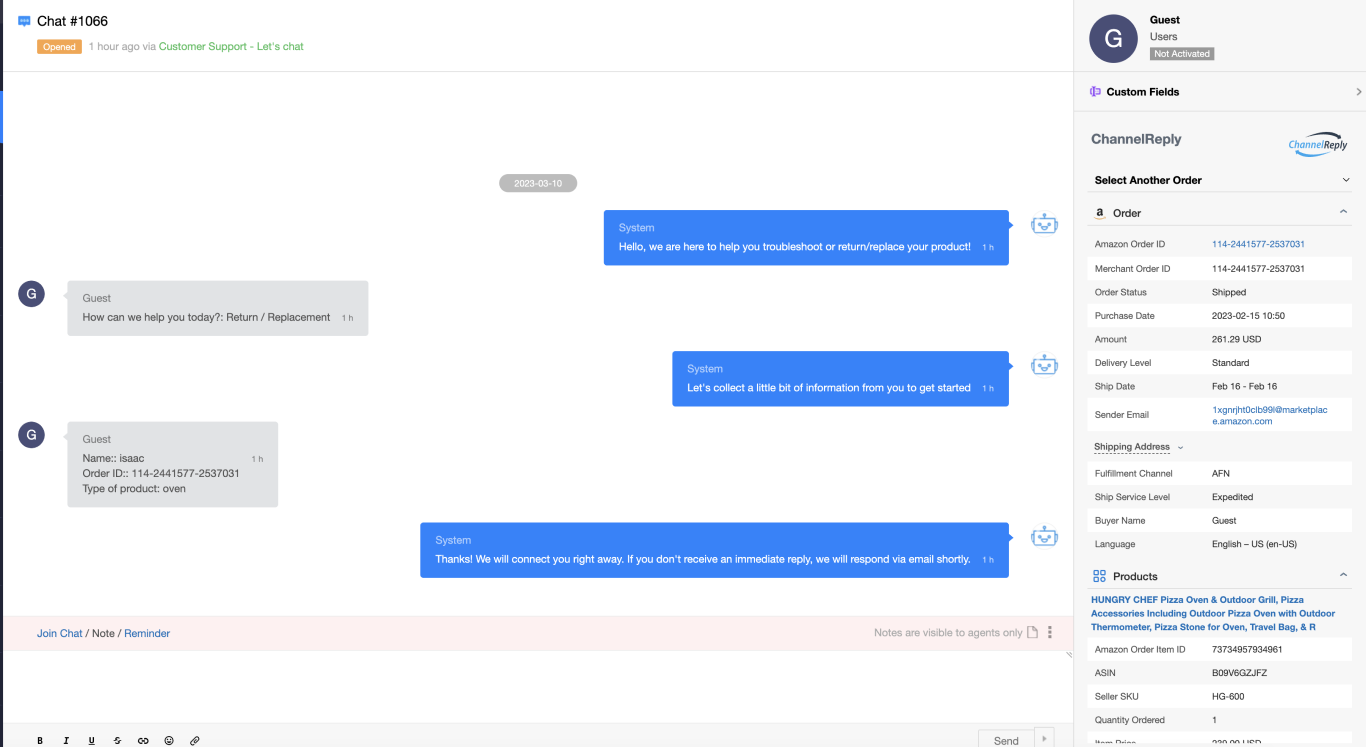 With all the info you need to provide great support right in Onsite, you can amaze your customers and improve agent efficiency at the same time.
Take Actions from Onsite
Not every message needs a reply. That's why the ChannelReply app comes with the Amazon "Mark as 'No response needed' " button built right in!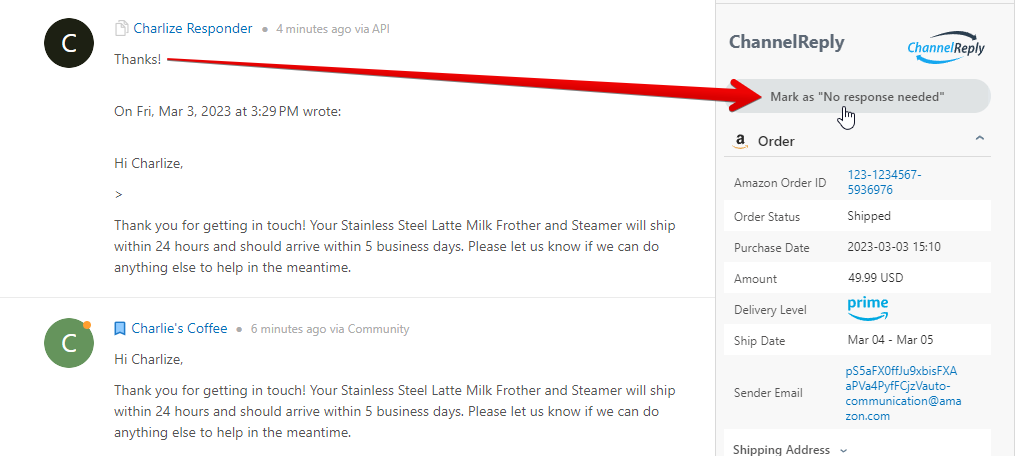 And if you're really nailing it on support, there's no need to jump through hoops to ask customers for feedback. Just whack the Amazon "Request a Review" button in Onsite! We'll trigger Amazon's default feedback/review request, helping you build your seller rating and product reviews.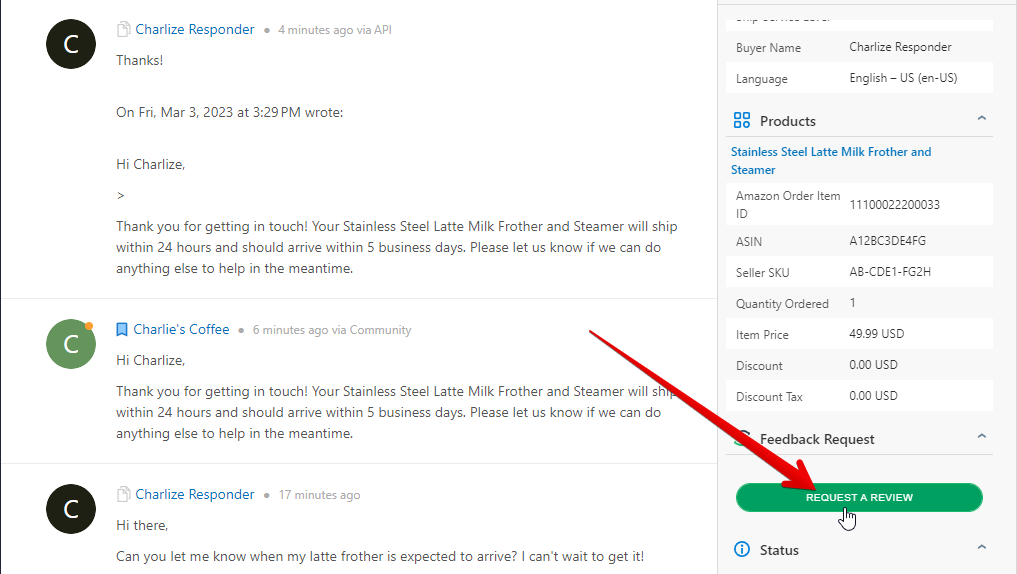 Up to 10 Amazon feedback requests per month are included with ChannelReply. Additional feedback requests require CR Feedback.
These are just some of the features unique to Amazon. There are dozens of other ways Onsite and ChannelReply can help you save time on ecommerce support!
Multichannel Customer Service Simplified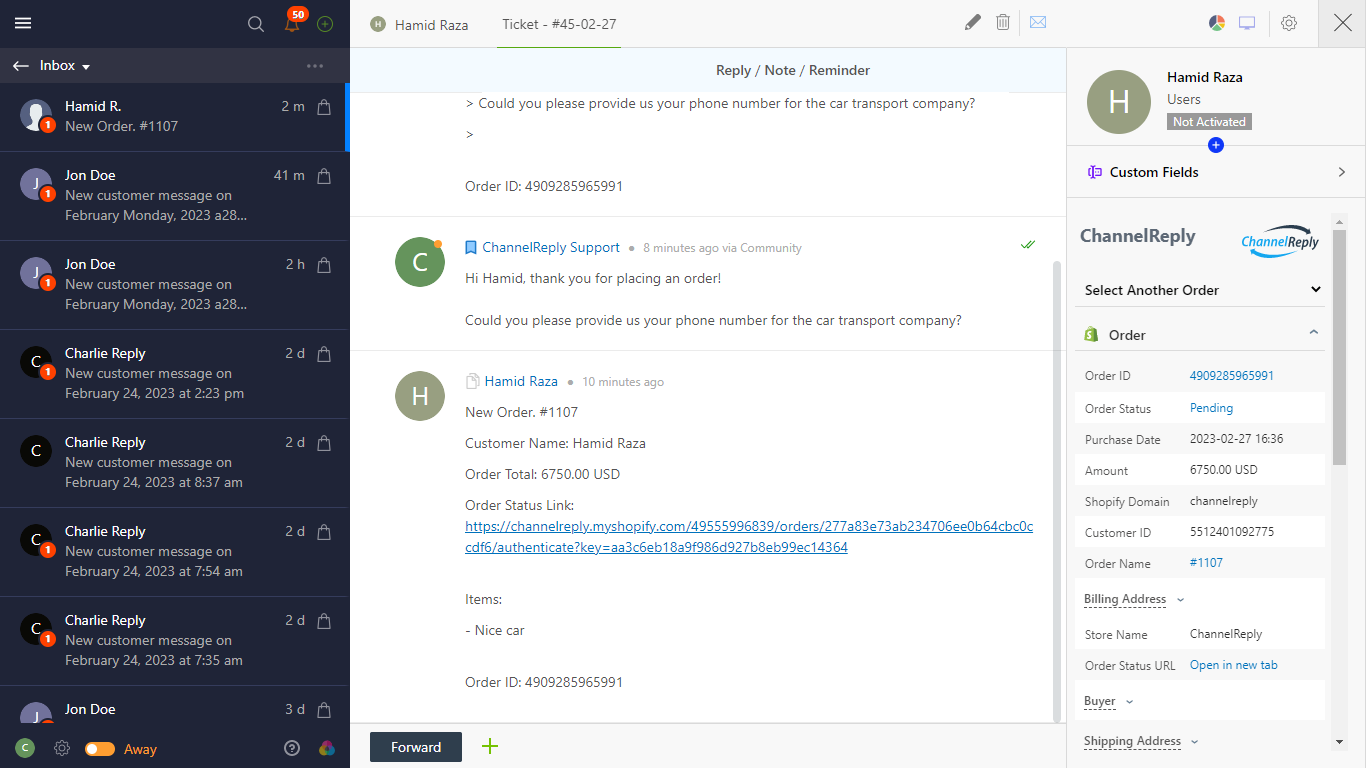 Above: Supporting a Shopify customer in Onsite Support.
The best thing about ChannelReply is that it pulls all your ecommerce messages onto one screen. You can integrate unlimited seller accounts with Onsite.
Answer Messages from Every Marketplace
Respond directly to Amazon, eBay, Shopify, Walmart, Back Market and Newegg messages from Onsite

Replies to Amazon, eBay, Walmart or Newegg customers will appear inside the marketplace's messaging system
Answers to Back Market tickets will go to the Back Market support agents helping your customer
Messages will count toward all response time requirements, including the 24-hour SLAs for Amazon and Newegg
Replies to Shopify messages go directly to the customer's email address as usual

Email Etsy customers by responding directly from Onsite,* or hit "Reply on Etsy" to jump to the conversation on Etsy
*Replying to Etsy messages by email is possible if the customer's email address is available in the Primary Email field of the ChannelReply app. This is available on all order-related tickets and some other tickets as well.
Order Details from Every Marketplace
ChannelReply displays order data next to messages from all supported marketplaces. View countless order details on every ticket, from shipping address to items purchased to amounts paid.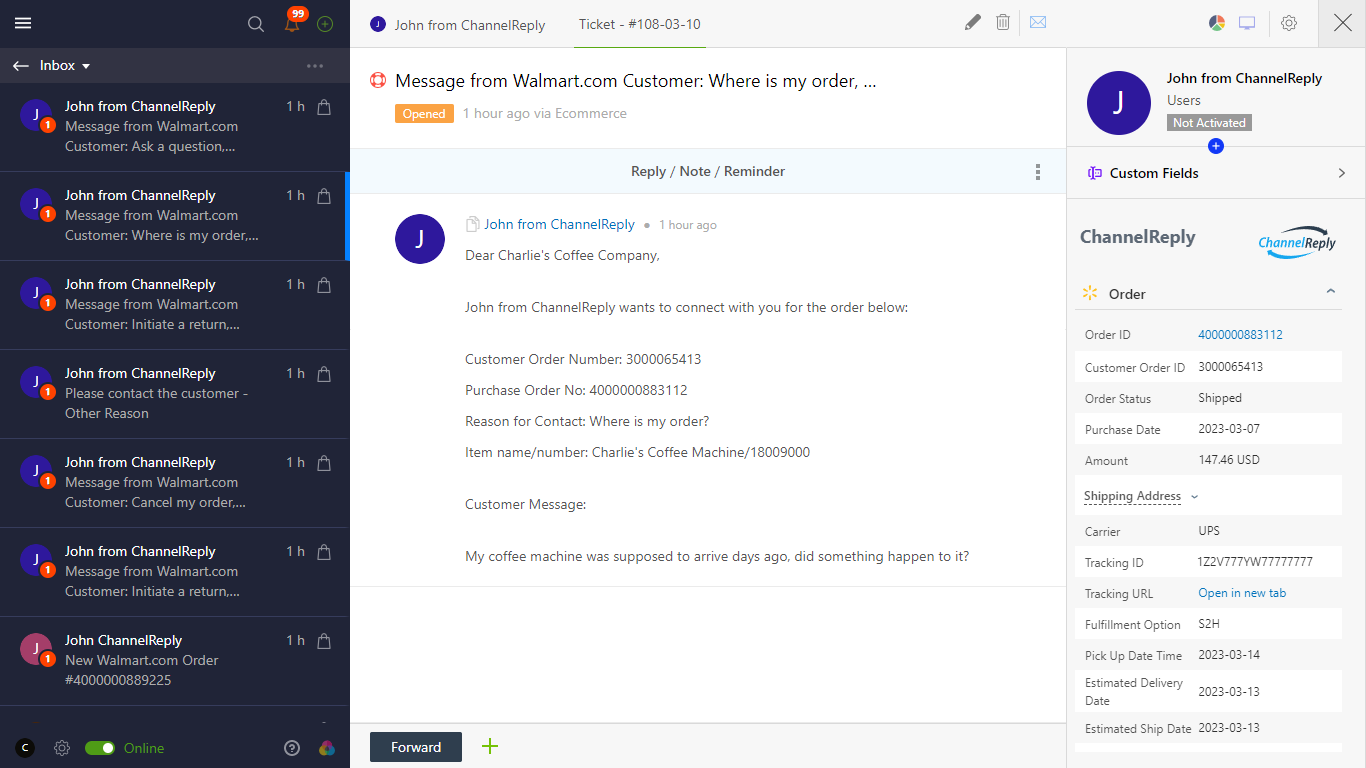 Above: A Walmart ticket with ChannelReply data including order IDs, order total, shipping carrier, tracking ID and more.
From Data to Automation
ChannelReply lets you turn order data into your own automations and organization tools. Use ChannelReply custom fields for Onsite:
As placeholders in canned responses, letting you send personalized replies in two clicks
As conditions like "ASIN is X" and "Order Status is not Y" in triggers that set priorities, notify specific agents and more
To create reports (views) that organize tickets by marketplace, item ordered, or just about anything else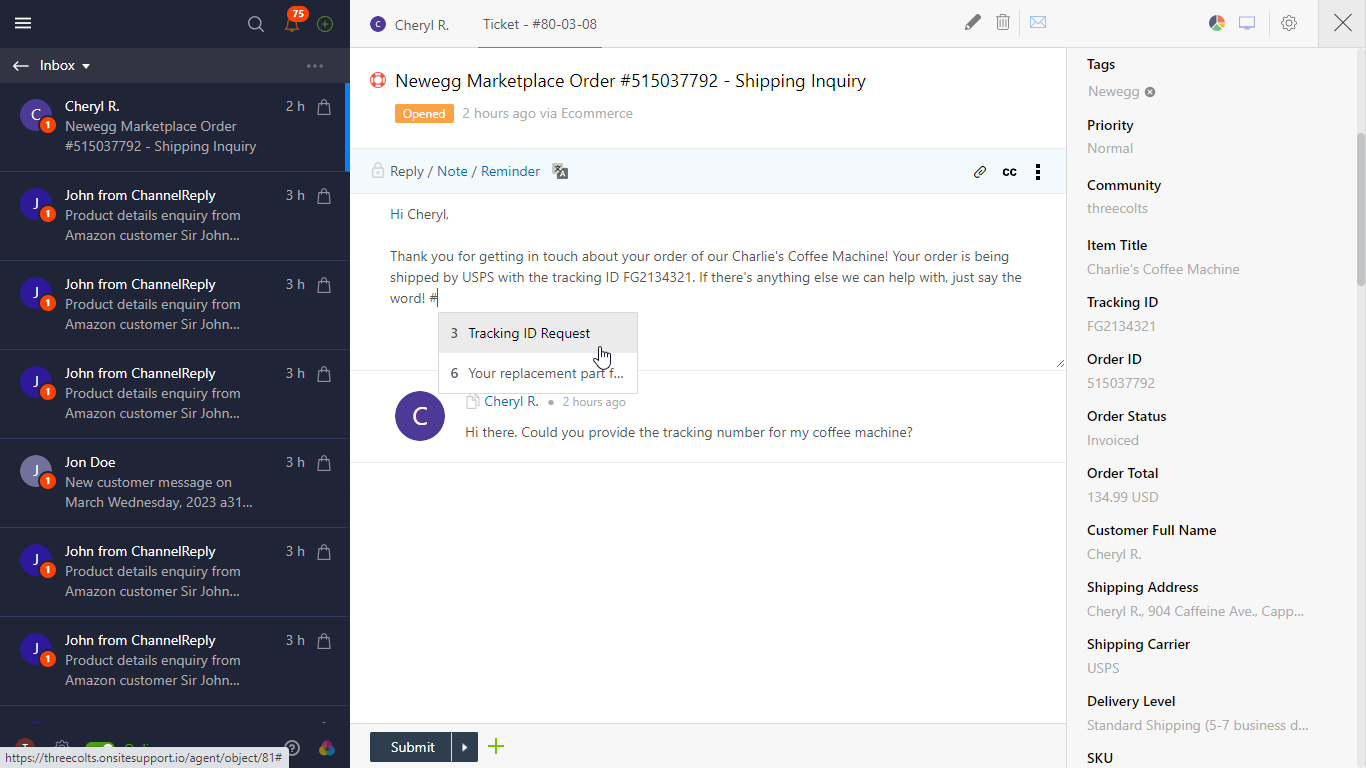 Above: A canned response with ChannelReply placeholders entered on a Newegg ticket. Some of the custom fields used to automatically personalize the message are shown in the right-hand sidebar.
Plus, you can combine the power of canned responses and triggers in our ecommerce autoresponder for Onsite Support! Create advanced autoreplies that personalize themselves with details of the customer's order.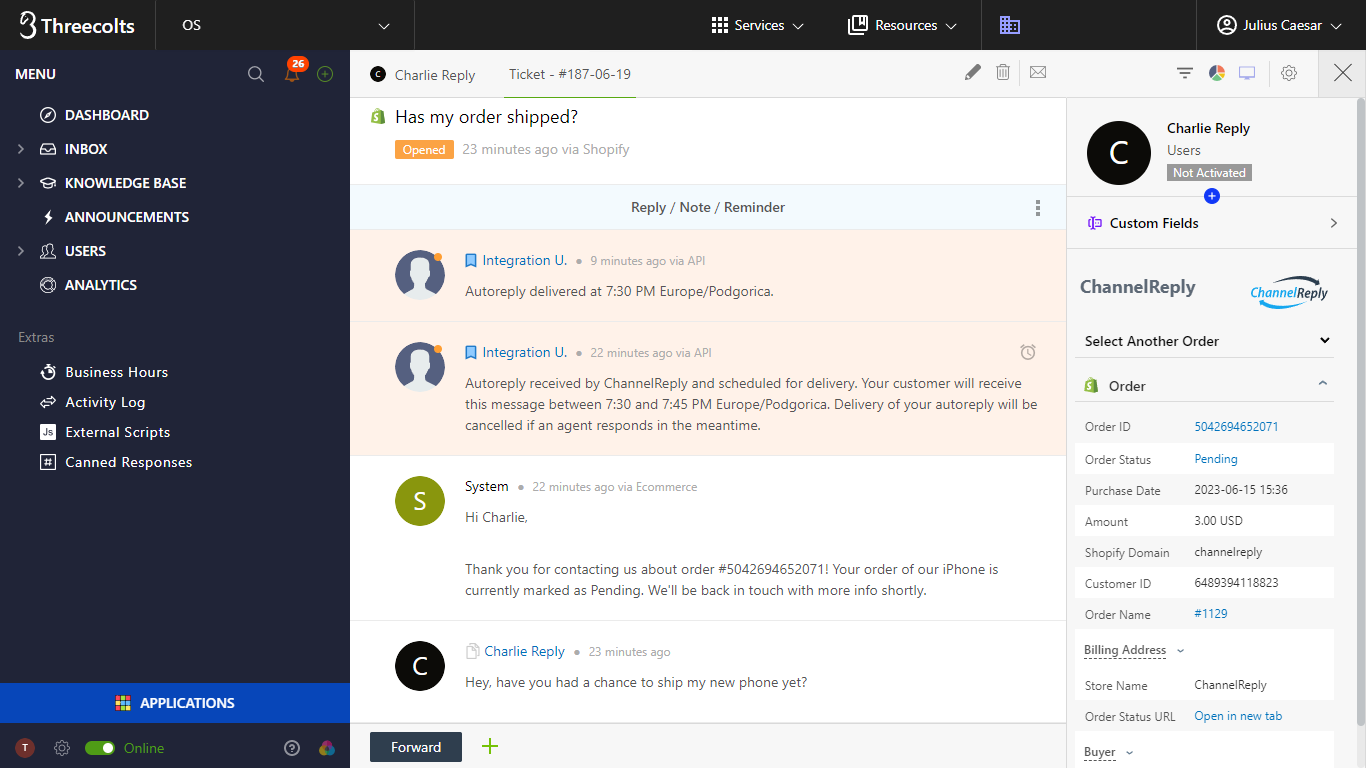 Above: An autoreply (posted by "System") personalized with Shopify order data and delivered by ChannelReply.
You can even use order data in conditions so different SKUs or marketplaces trigger totally different autoreplies.
Even better, these autoreplies count toward Amazon's 24-hour SLA and more. You can finally take a day off!
Unlimited Messaging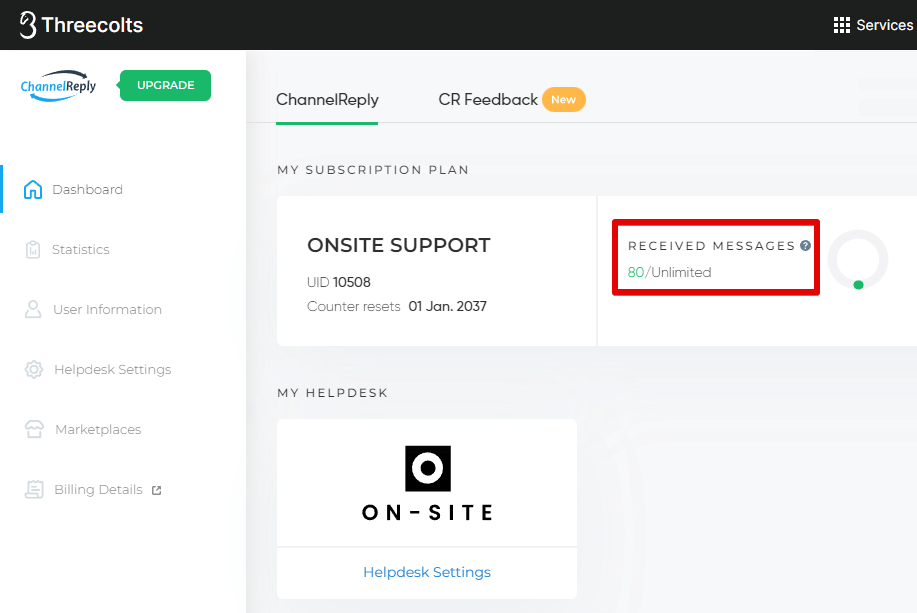 Onsite Support includes unlimited ChannelReply messaging. It is the only helpdesk where ChannelReply is completely free like this. So make the most of it—connect everything you can to Onsite!
Take Action Everywhere
Go beyond answering questions. With ChannelReply's in-app actions, you can actually solve customer issues.
Amazon
Mark messages as "No response needed"
Trigger Amazon's "Request a Review" button
Cancel, switch, or send feedback requests from CR Feedback inside Onsite Support
eBay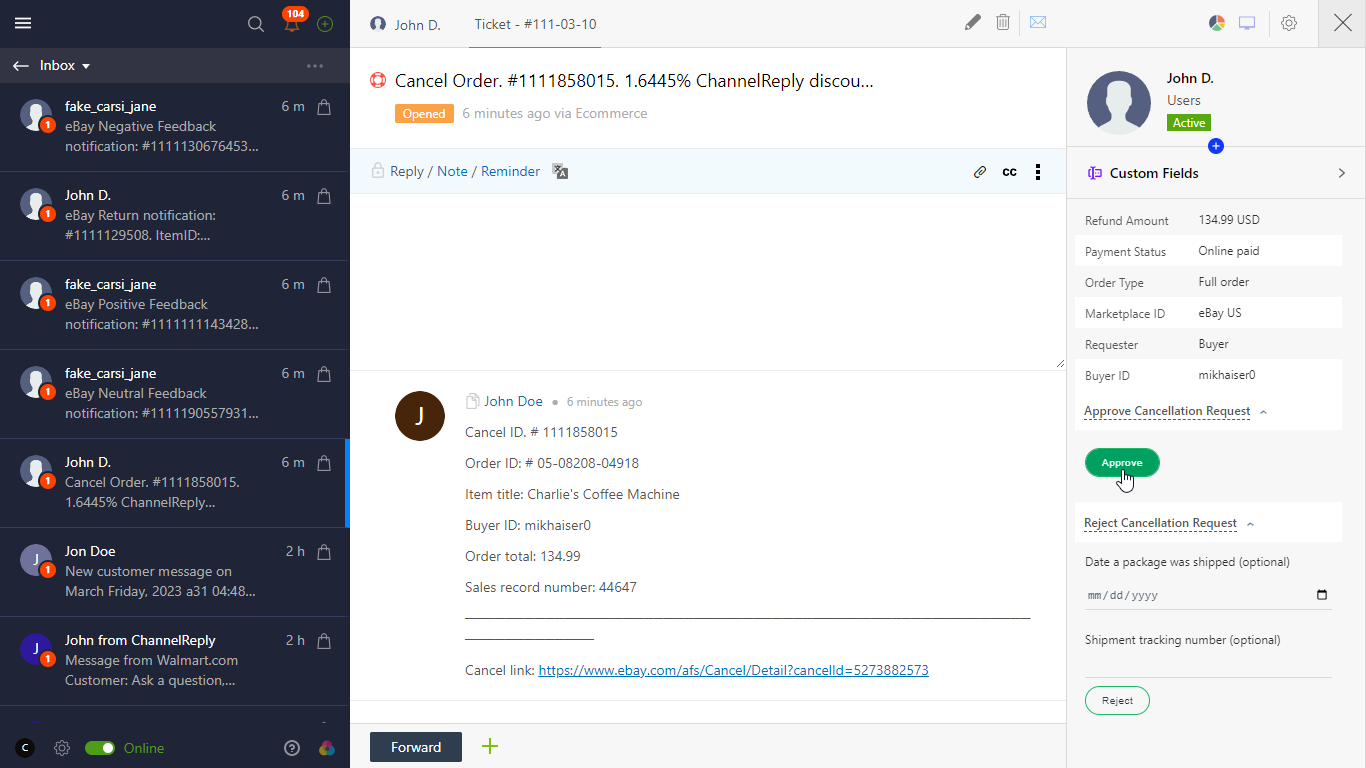 Approve or decline cancellations
Accept, reject, or counter best offers
Reply privately or post public responses to buyers who leave you feedback
Manage Resolution Center cases: approve returns, issue refunds, upload required info, etc.
Walmart
Acknowledge orders
Update shipping statuses
Cancel orders
Issue refunds on returns
Etsy
Complete orders by uploading shipping info from Onsite Support
Shopify
Issue precise refunds
Cancel orders
Update your stock levels while cancelling or refunding
Edit order or customer info
Back Market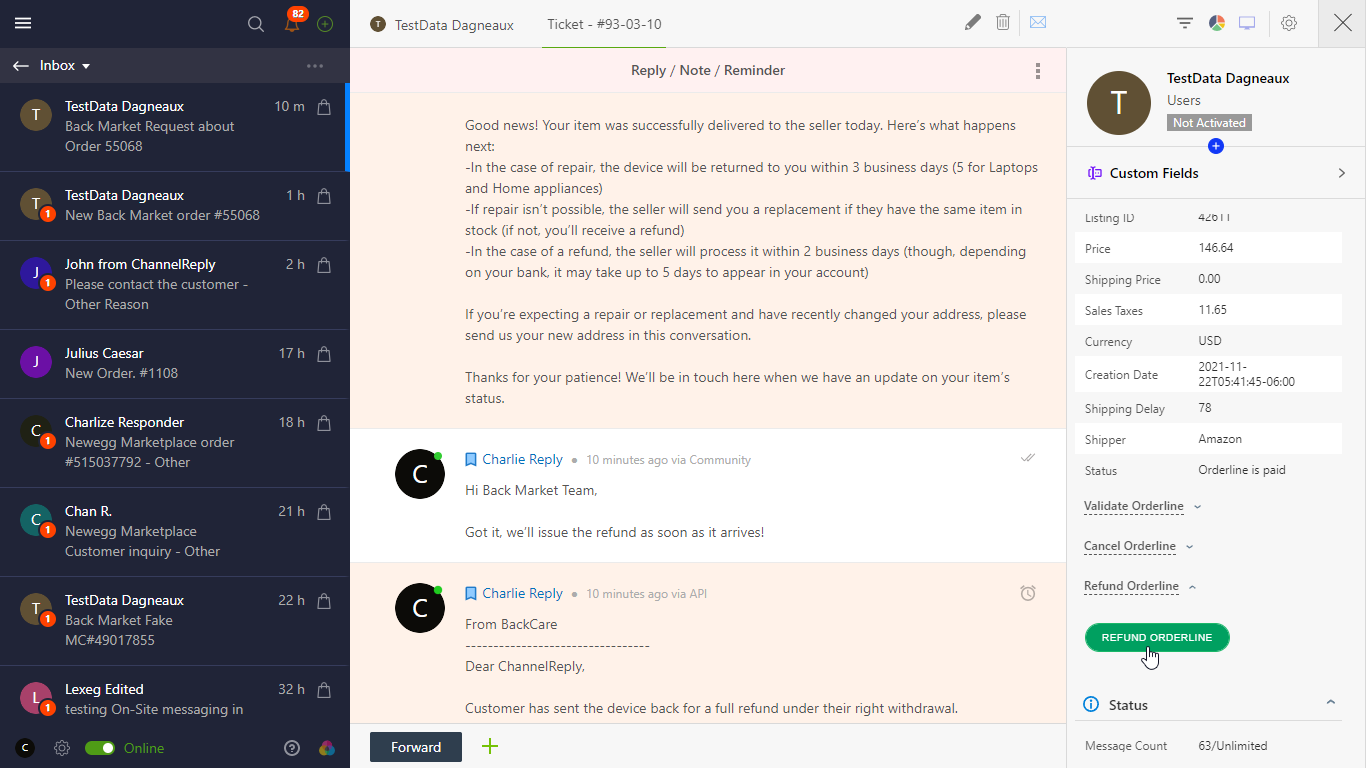 Above: A conversation with Back Market support agents. This user has enabled an option to post Back Market staff messages as internal notes rather than as customer messages.
Cancel orders that have not yet been validated
Validate orders, item by item
Upload shipping info
Issue refunds, item by item
Newegg
Upload shipping info
Cancel orders
Remove specific items from multi-item orders without canceling the others
Get Notified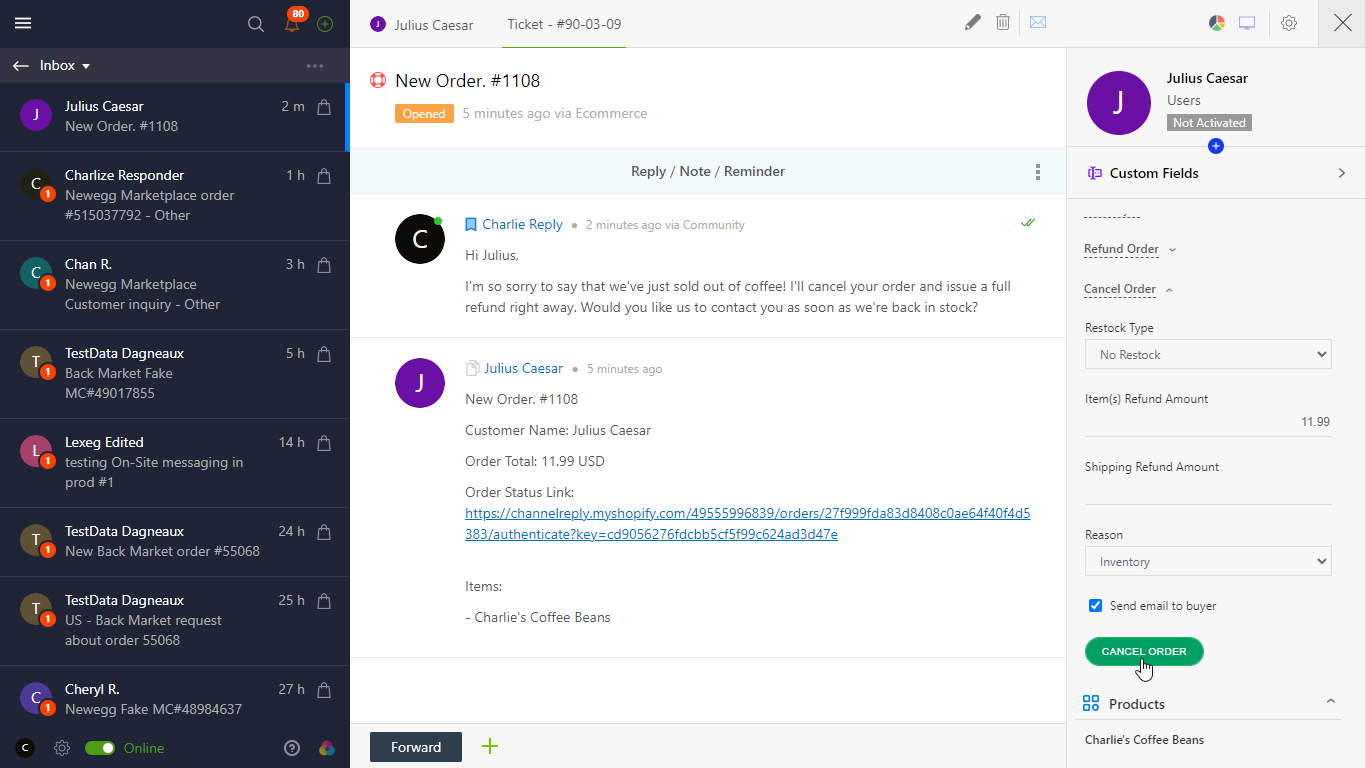 Canceling a Shopify order on a New Order notification. The seller has already replied directly to the notification to contact the customer.
ChannelReply can help you get all the notifications you could want. Choose to get anything from a few critical notifications like A-to-z claims to detailed updates on almost any event imaginable. You're in full control!
Receive all your normal email notifications from any marketplace
Send Amazon notifications through ChannelReply to receive them with all related order data
Get upgraded notifications, like special New Order notifications you can respond to directly
Opt in or out of unique ChannelReply notifications like Amazon negative feedback warnings
Take advantage of notification-specific actions, like issuing refunds on Walmart returns
With unlimited messaging, Onsite is the perfect helpdesk for companies that want to stay in the know. Enable as many notifications as you want without paying a penny more!
Onsite Support: The All-in-One Ecommerce Helpdesk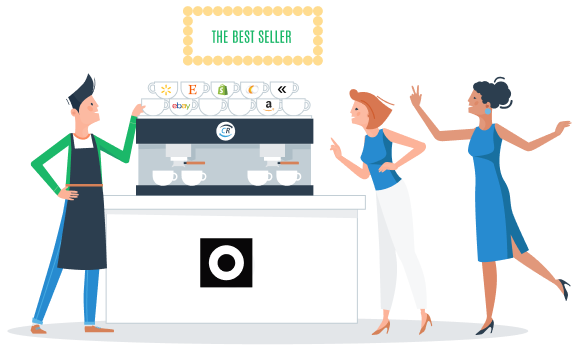 No more juggling logins, switching screens or worrying about message counts. Onsite Support includes everything you need to help all your ecommerce customers from one place. Link Onsite with Amazon, eBay, Walmart, Etsy, Shopify, Back Market and/or Newegg today!