With the coronavirus changing everything, many sellers wonder how they'll be affected. Amazon has restricted the sale of non-essential items through FBA. Changes in demand could limit seller approvals on Walmart Marketplace. Do eBay sellers also have cause for concern?
Last updated 4/3/2020.
eBay's Response to COVID-19
This is a unique time calling for unique measures. eBay has taken several steps to help sellers stay in business through the COVID-19 pandemic. At the same time, they've left some sellers with no way to sell their stock.
Restrictions for eBay Sellers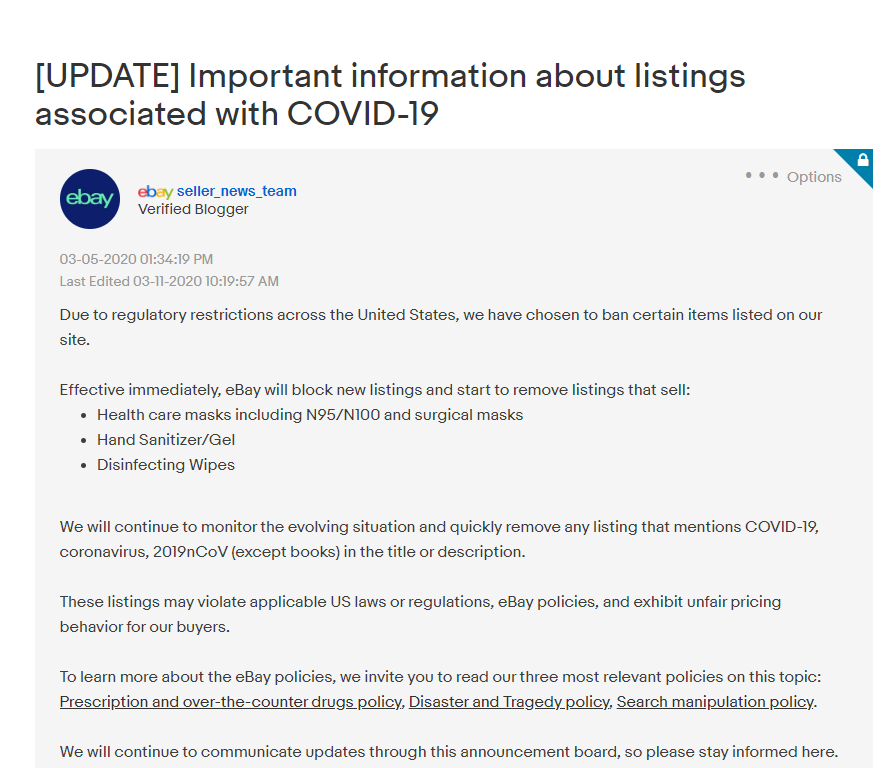 Some eBay sellers have begun hoarding high-demand health products and selling them at high prices. But those who take advantage of the crisis are living to regret it. To prevent sellers from price gouging or breaking new regulations, eBay has set an outright ban on the following items:
Hand sanitizer.
Healthcare masks (N95/N100 and surgical masks).
Disinfectant wipes.
This policy went into effect on March 5 and applies to both new and existing listings.
Later in March, eBay restricted the sale of the following items:
Toilet paper (to nobody's suprise).
Baby wipes.
Diapers.
Baby formula.
Tampons.
You can only sell these items if you have an eBay business account, and only in a fixed-price format. No auctioning TP.
Be sure to also review eBay's disaster and tragedy, search manipulation, and price gouging policies. eBay has implemented a price gouging reporting tool so anyone can report severely overpriced listings. Don't forget to check your state's price gouging laws before raising prices, either.
eBay is removing any listings that sell prohibited products, post misleading claims, or mention the virus in titles or descriptions. (There are some exceptions in the title/description rules for books).
The good news is that the list of banned and restricted items is short. This won't affect most sellers.
With that said, some honest sellers will be hurt by this. It also makes it harder for consumers to buy these necessary items.
In the meantime, medical professionals urge people with stock of needed health products to donate to the treatment of COVID-19. If you are a seller of personal protective equipment or other relevant health products, consider donating today. You could save lives.
Since eBay sellers handle their own shipping, we don't expect to see restrictions akin to those at Amazon. eBay's openness to new sellers also means there should be none of the difficulties getting accepted like on Walmart Marketplace.
Customer Service Delays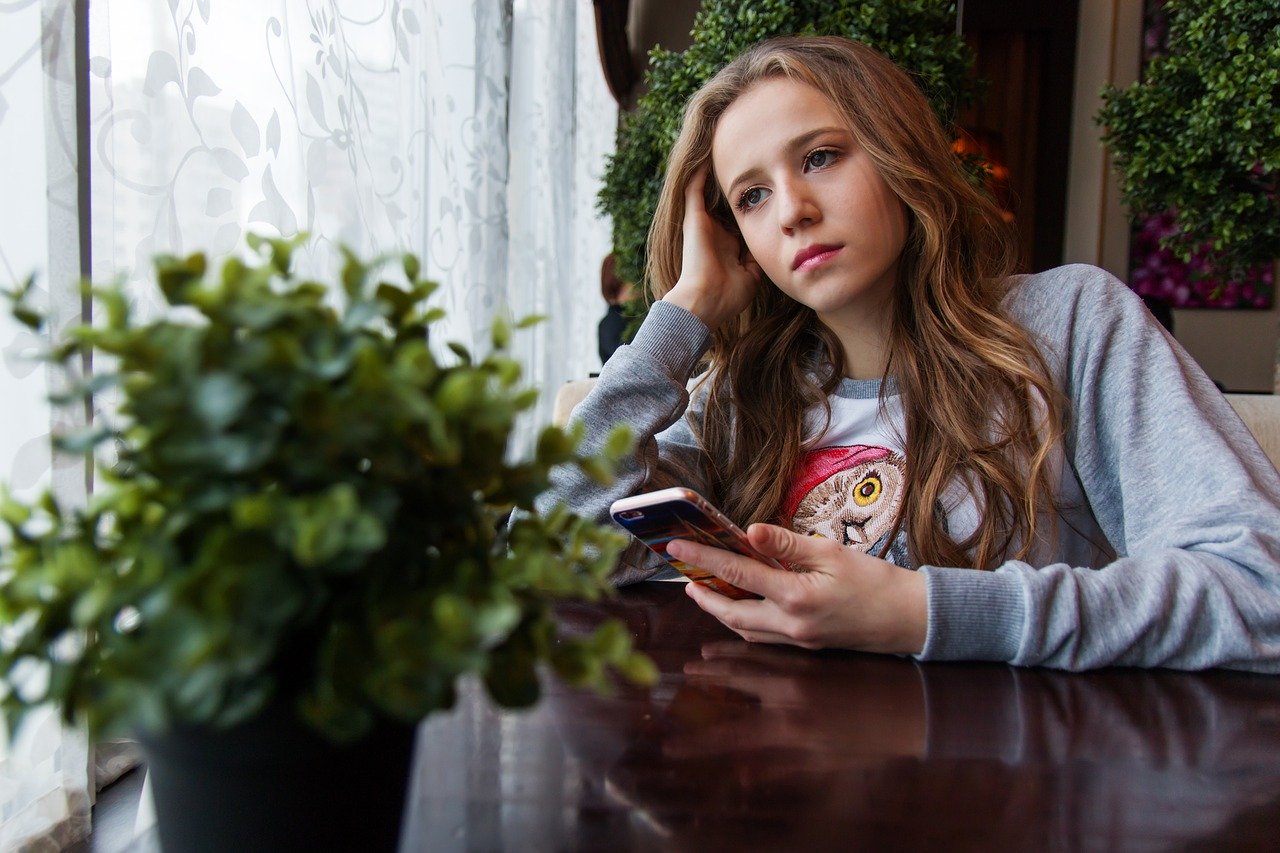 For the most part, eBay is running normally. There are currently no disruptions to eBay's systems. However, buyers and sellers alike may experience long customer service wait times as eBay's support staff moves to working from home.
Will the COVID-19 Outbreak Affect Your Seller Performance?
Sellers often struggle to keep up with eBay's seller performance standards even under normal circumstances. eBay rates a seller's performance on if they:
Solve customer issues fast.
Ship items on time.
Avoid stockouts and cancellations.
Charge reasonable shipping and handling costs (free shipping is always safest).
Live up to their return policy.
Answer buyer questions fast.
Provide high-quality customer service.
Deliver items as described.
Sellers can keep track of their performance through their Seller Standards Dashboard. If performance standards aren't met, sellers may experience the following:
Restrictions on selling activity.
Lower search placement.
Increased eBay fees.
Store account downgrades.
Complete restriction on selling.
eBay recognizes that the coronavirus pandemic creates challenges for businesses. On March 18, they announced that sellers "will not be penalized for being unable to carry out usual operations… [and] Seller Performance Standards will not be negatively impacted during this period."
For each seller performance evaluation from March 20th to June 20th, eBay seller accounts will not be downgraded. If sellers experience complications that affect their performance, they will have time to make up for it. Thankfully, upgrades will continue as normal, so you can still become a Top Rated Seller.
eBay Is Deferring Some Seller Fees
eBay sellers have been expressing concerns about cashflow and payments. In response, eBay announced on March 21 that it would "defer most selling fees for eligible Store subscribers for 30 days." Details came in on March 25:
You must have been a Store subscriber for "more than 30 days" when you apply.
Your account needs to be in good standing.
Fees that qualify for deferral are:

Final value fees.
Insertion fees.
Listing upgrades.
Promoted listings.
Store subscription fees.

The deferral will give you a month off from making these payments, but you'll still have to pay. The payments will be split evenly between your next two invoices from eBay.
You can apply to have your fees deferred here. You must apply by the end of the day (Pacific time) on April 10th to qualify.
Finally, on March 23, eBay announced another break for Store subscribers. If you have a Store, you can list up to 50,000 fixed-price listings by the end of March without paying any insertion fees. You'll have the chance to create another 50,000 insertion-fee-free listings in April as well.
Thinking about upgrading to a Store account? See "When Is an eBay Store Worth It?" for more info.
How Will the Coronavirus Impact Ecommerce on eBay?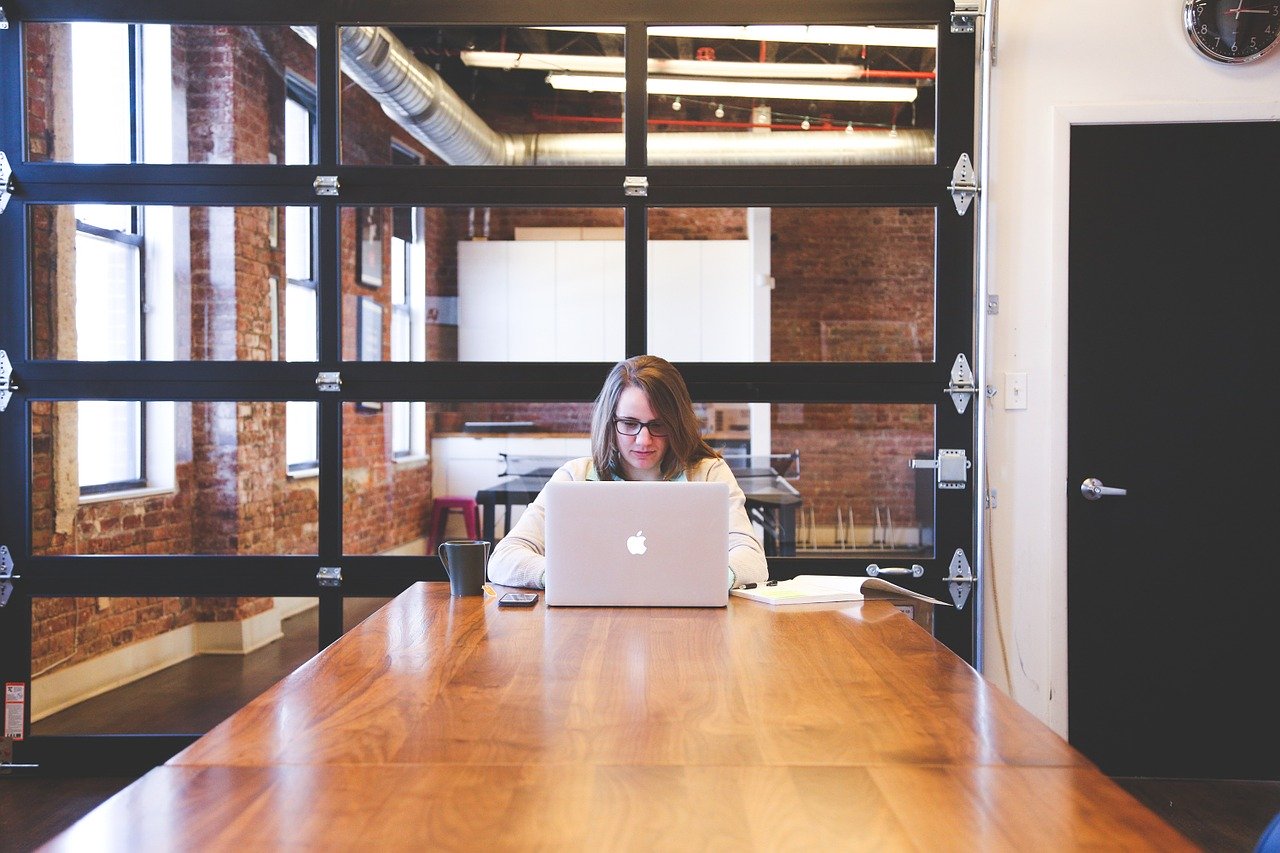 The coronavirus is turning the world upside down. As the situation becomes more serious, spending behaviors change. Governments are tightening regulations on social distancing. Many people are unable to take part in everyday activities.
Since eBay has applied few restrictions, most effects on sellers will come from the market. Here are the trends we expect to see in the coming months as a result of COVID-19:
An increase in eBay sales as governments ask people to stay home. Sellers of food, solo activity, and healthcare products should do especially well.
Reduced sales for items related to travel and social gatherings/events.
A strain on supply chains. Companies that rely on manufacturing in China and other hard-hit countries could face major shortages.
This reflects short-term impacts on eBay sellers. If predictions of the virus lasting months are correct, we could see spending fall thanks to economic uncertainty.
How Can eBay Sellers Prepare for the Impacts of the Coronavirus?
Impacts of the COVID-19 outbreak are unavoidable, but sellers can take steps to lessen the blow. These steps will help in keeping your eBay business afloat:
Stay up to date on restrictions (national, local, and eBay).
Communicate possible delays with buyers.
Put in place a remote work strategy.
Improve your eBay marketing strategy—learn how to use promoted listings and eBay SEO, and consider marketing your eBay Store.
Adjust your communications strategy to consider changes in customer behavior.
Adjust your budget, targets, and forecasts for 2020.
Diversify your supply base.
Secure your inventory.
Consider making a coronavirus ecommerce checklist.
Summary
At least for the short term, we expect eBay to fare well. Most sellers should see normal or higher-than-usual sales. Exceptions include those facing special restrictions, like sellers of hand sanitizer.
Sellers should prepare for disruptions in shipping and other aspects of supply chains. But rest assured that eBay is taking care to protect sellers and help them weather the storm. Watch for more announcements from eBay here.
The effects of COVID-19 on eBay could go far beyond the next few months. Sellers must act fast to limit the damage to their businesses. For more information on what could happen later this year and beyond, see our article on the long-term impact of coronavirus on ecommerce.