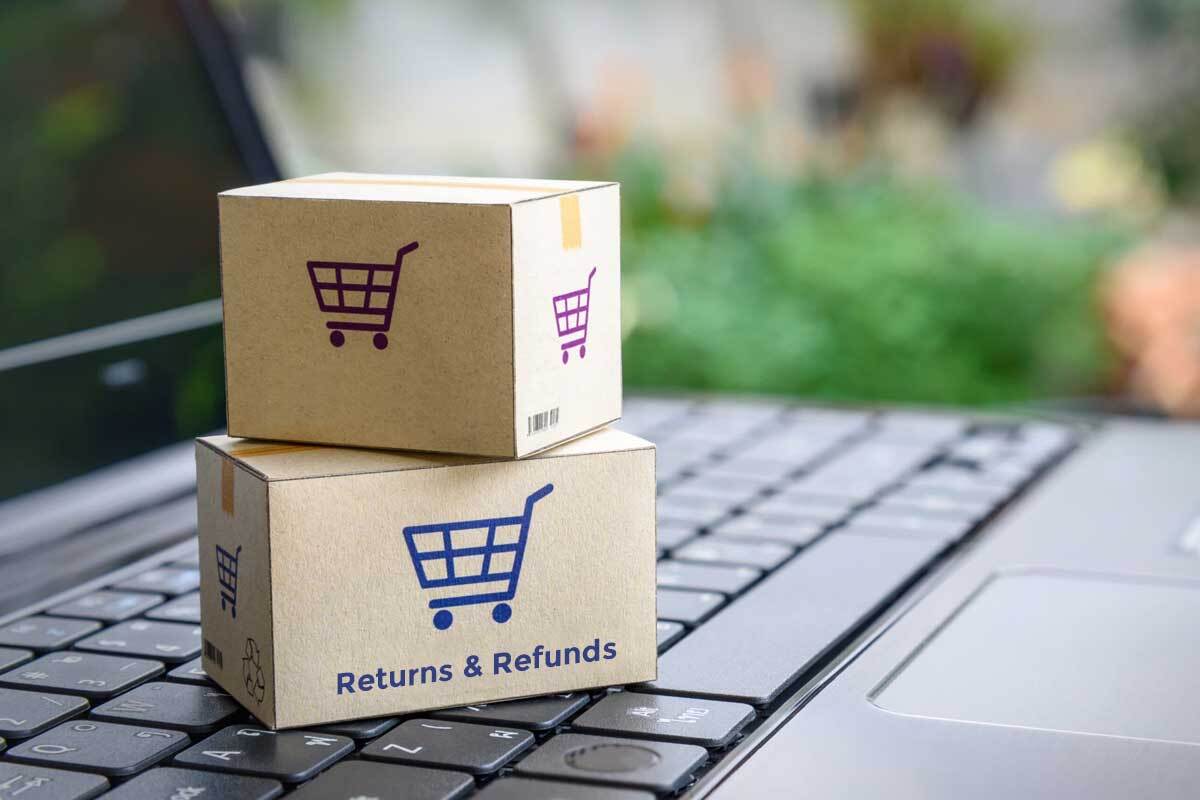 The way you handle marketplace returns and refunds can make or break your ecommerce business. First of all, it's important to follow each marketplace's return/refund rules and regulations. Second, you need to make sure you're keeping customers happy and protecting your brand's reputation.
Today, we'll cover a few best practices for specific selling channels. Keep reading to discover what online sellers need to know about processing returns and refunds.
Ecommerce Returns & Refunds Statistics
Before jumping into best practices, let's explore some facts and stats related to returns and refunds.
According to recent data from IMRG.org, a quarter of all consumers "believe they return between 5% and 15%" of the merchandise they buy online. The National Retail Foundation shows that "online returns more than doubled" amid COVID-19.
Certain industries also see more returns than others. The three with the highest rate of returns (including online and POS purchases) include:
Automotive (almost 20%).
Apparel (12.2%).
Housewares (11.5%).
When it comes to customer expectations, 25% of customers say a delay in return processing results in a negative experience. Furthermore, 92% of shoppers will buy again from companies that do a good job handling their returns.
Returns & Refunds Best Practices by Marketplace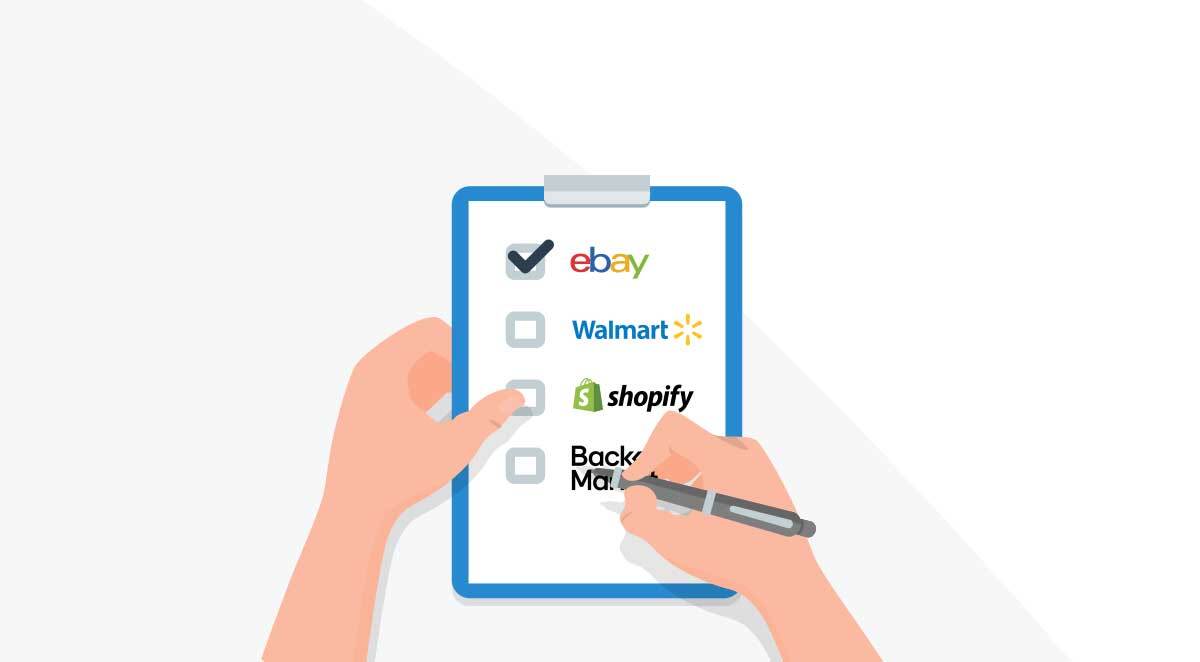 Those last two statistics illustrate why it is so crucial to get the return and refund process right. Let's look at how you can elevate your return and refund game on each marketplace or selling channel.
We've already covered Amazon returns for sellers here. So now, we'll dive into some of the other marketplaces where you might be selling:
eBay
Technically, you can choose whether to accept returns as an eBay seller. However, if a buyer receives a damaged, incorrect, or otherwise defective item, you'll generally need to process a return.
According to eBay's rules for sellers, you need to add your return policy when creating a listing. In this policy, you can set your options for when customers decide to return items due to a "change of mind."
If the buyer reports the item arrived damaged or didn't match the listing description, you'll have options for how to respond. If the return qualifies for eBay's "Money Back Guarantee," though, you'll have to accept it, even if you have a "no returns" policy.
When a customer requests a return, you'll be notified via the email used for your eBay account. You then have 3 days to respond and resolve the issue.
Learn more about eBay returns for sellers here.
Walmart
If you sell on Walmart, you'll need to set up your "Returns Configuration." To do this, follow the steps in Walmart's "QuickStart" guide:
Access your returns information.
Configure refund processing.
Select your label printing settings.
Provide return center(s).
Set your return rules.
Create "Keep It" rules. (For some lower-cost items, you may opt to issue a refund while having customers keep the merchandise.)
Finish setting your return policy.
There are minimum standards that all Walmart sellers must meet to remain in good standing. They include:
Processing returns/refunds within a 30-day window, which begins seven days after items ship (with some exceptions).
Processing returns/refunds anytime a customer meets the requirements in the seller's return policy.
Refraining from accepting returns on specific restricted items (such as firearms or ammunition).
Offering return labels.
Configuring at least one return center.
Refraining from charging shipping or restocking fees on returns, unless items qualify for an exception.
Learn more about the Walmart marketplace return policy.
Shopify
When getting started on Shopify, you'll need to create your refund policy. Luckily, Shopify provides a free refund policy generator. To use this tool:
Enter your email and company information.
Wait for your refund policy to arrive via email.
Customize your policy according to Shopify's suggestions.
Once your policy is all set up, Shopify also provides a step-by-step checklist for processing returns and refunds. Those steps include:
Going to "Orders" from your Shopify admin page.
Clicking the order you want to refund.
Clicking "Return items."
Entering the number of items being returned.
Choosing "Create return label," "Upload return label," or "No return shipping" in the "Return shipping options" section.
Clicking "Create return."
You can also filter orders by return status, cancel returns, and refund entire orders or just part of an order.
Back Market
Back Market outlines a few general rules for returns and refunds in their terms and conditions. They include:
Buyers have 30 days to change their minds.
If buyers receive a damaged, defective, or incorrect item, they can ship it back for free.
If buyers believe their item was damaged during transit, they should let sellers know within 3 business days of receiving their order. (This gives the seller time to contact the carrier within the carrier's cut-off period.)
Back Market also offers a 1-year warranty on items sold through their platform.
All Your Returns in One Place
If you're selling on multiple stores or marketplaces, centralizing all your return requests in one place can be a big time saver. That's why ChannelReply connects marketplaces to your favorite helpdesk. In addition to showing order data alongside customer inquiries, we let you process returns and refunds from the same screen.
Here's how it works, broken down by marketplace:
eBay Returns & Resolution Center Cases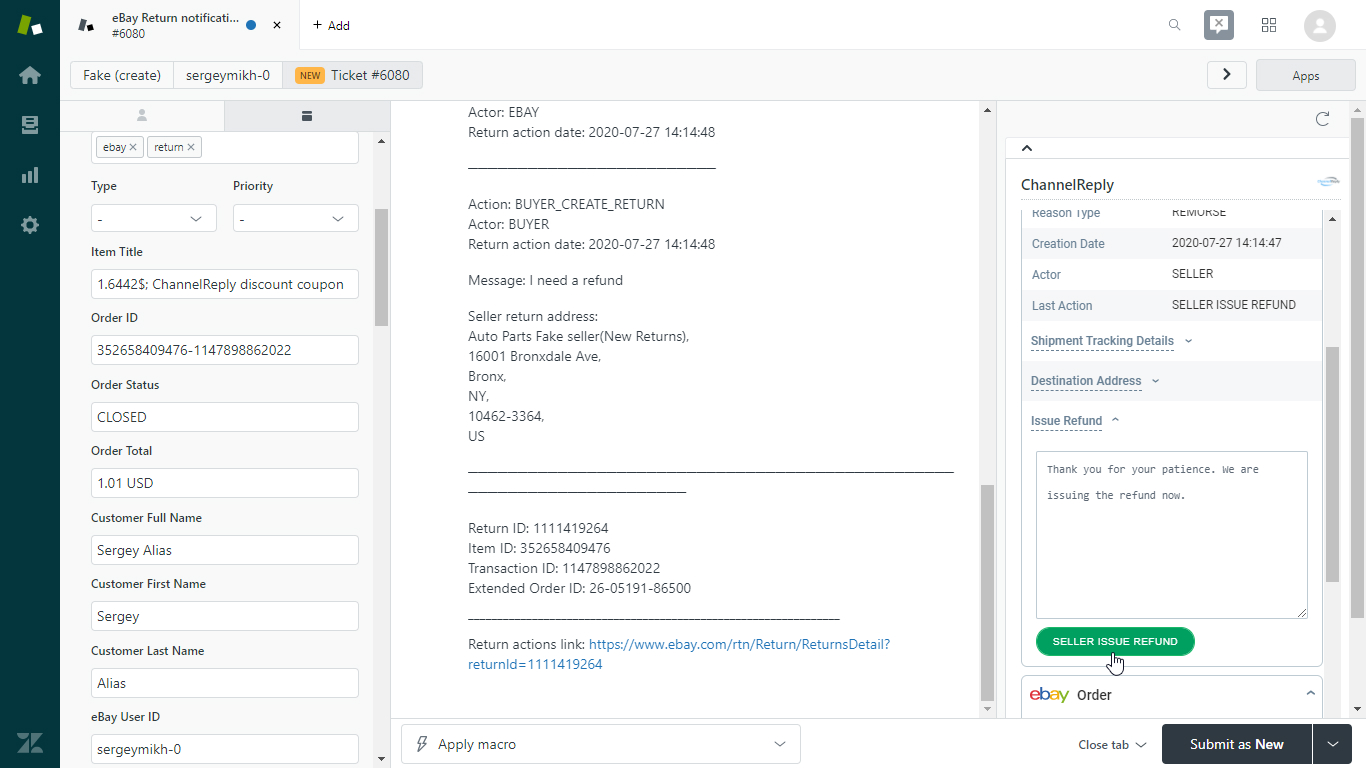 ChannelReply makes it easier to issue refunds on eBay return requests and Resolution Center cases.
Anytime someone sends a return request on eBay, we generate a notification. These notifications include order info for easier processing. If you use Zendesk, Freshdesk, or Re:amaze, you can issue refunds from within the notifications.
The following actions may also be available on return notifications:
Providing return merchandise authorizations (RMAs) and return labels.
Setting the refund amount.
Adding comments to refunds issued.
Walmart Refunds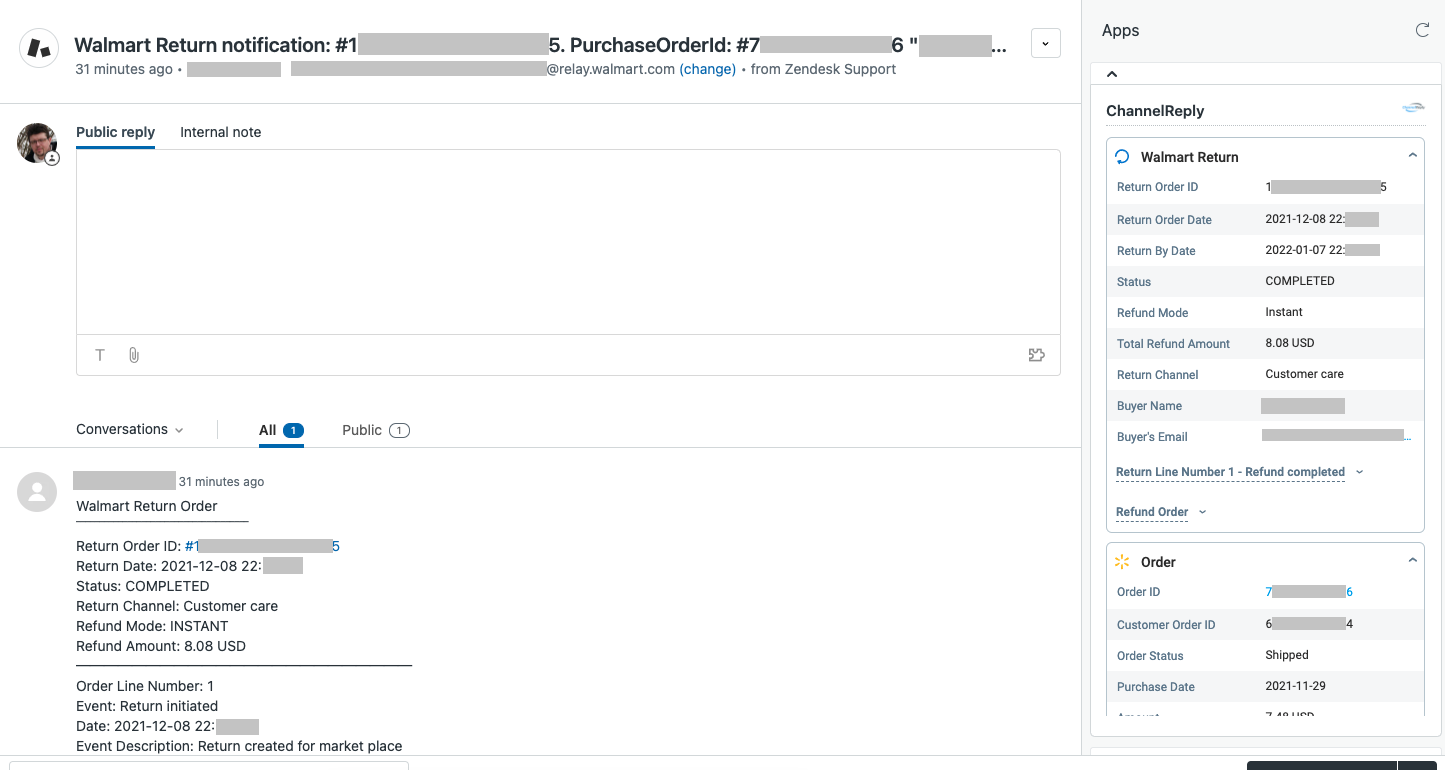 If you're a ChannelReply user, we offer notifications for Walmart that work much like those for eBay. The notifications appear only when someone submits an official return request. However, instead of logging into Walmart to process the return, you can do it directly from your helpdesk.
Notifications also include order data alongside messages.
In Zendesk, Freshdesk and Re:amaze, these come with a single action, "Refund Order." Clicking this issues a refund on all returned items from the order.
Shopify Refunds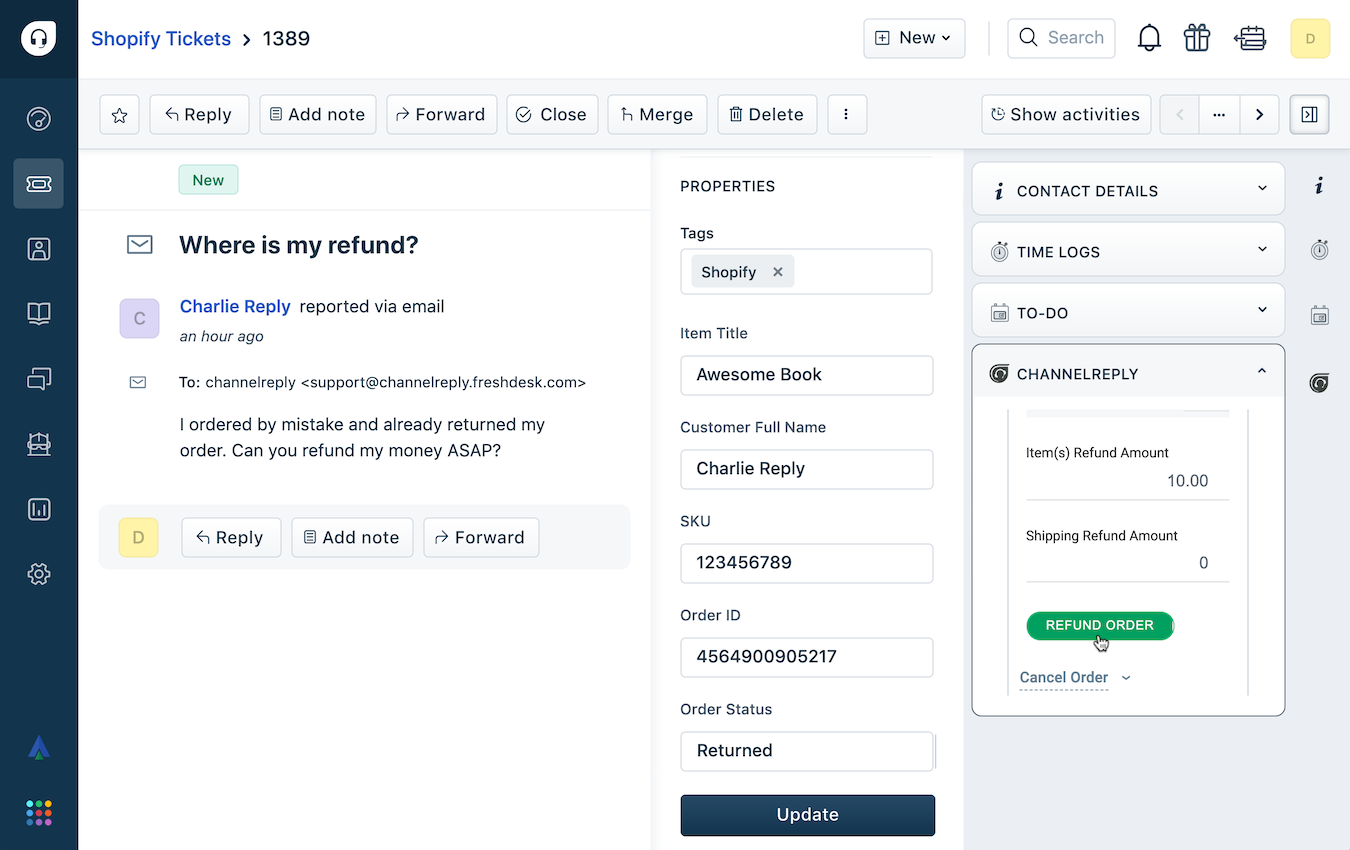 If you have ChannelReply and are a Zendesk, Freshdesk, or Re:amaze user, you can issue refunds on any Shopify ticket. Issuing a refund can include multiple actions/options, such as:
Choosing whether or not to restock an item on Shopify, and if so, which type of restock you want to perform.
Setting the shipping refund amount, if any.
Selecting the item refund amount, if any.
Issuing a full or partial refund.
Back Market Refunds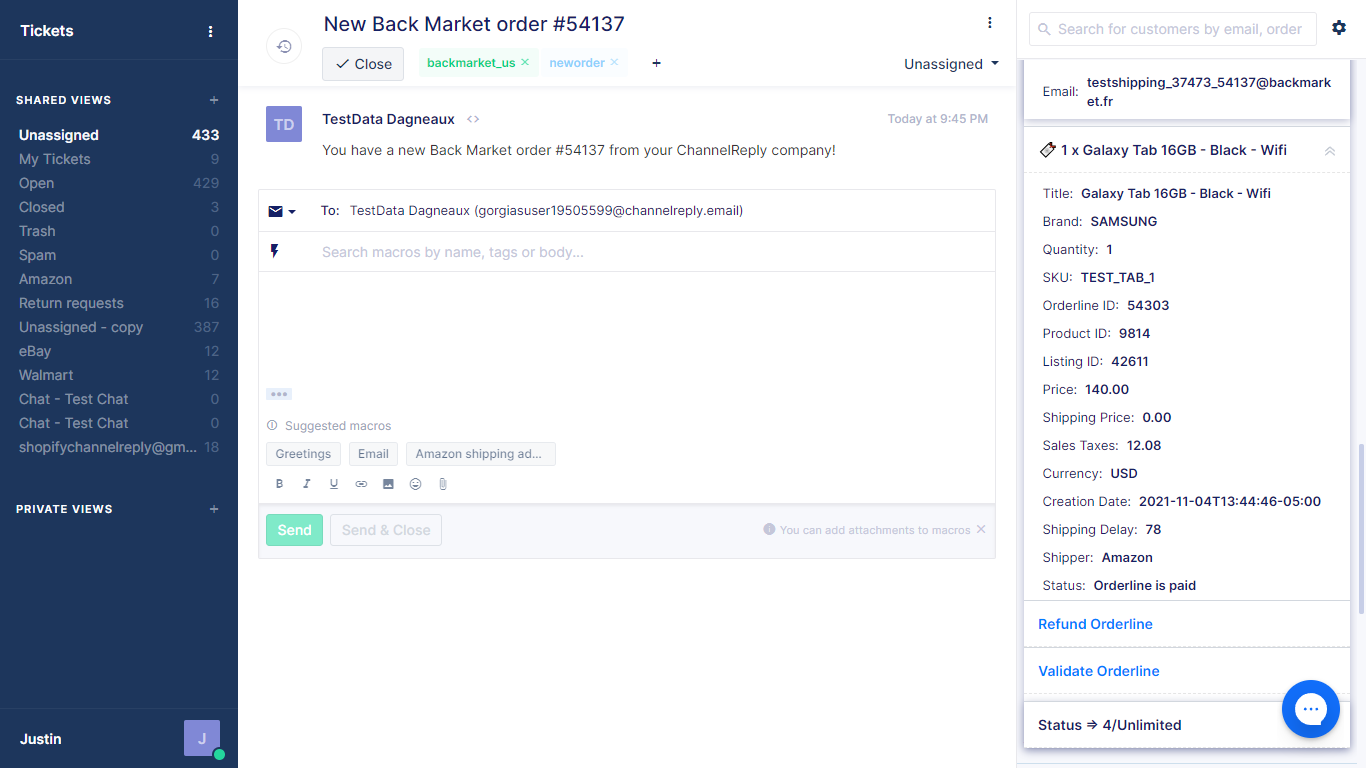 If you're a ChannelReply user, you can issue refunds for Back Market orders in any supported helpdesk. That includes Help Scout and Gorgias!
You can issue a Back Market refund by hitting the "Refund Orderline" button that appears below each item in the ChannelReply app. Clicking it will refund that one specific item. Super easy!
Final Thoughts + Tips for Reducing Returns
In addition to processing returns and refunds well, you should do everything you can to prevent them from occurring in the first place. That means selling high-quality items, providing accurate info in listings, and shipping with care.
But when returns happen, you need to provide the best customer service possible. Respond quickly to refund requests. Offer convenient options to your shoppers and go the extra mile to keep them happy.
With ChannelReply integrating all your marketplaces with the helpdesk of your choice, you can do this with ease. Many sellers are able to answer tickets four times faster than before. Start your 14-day free trial now to start saving time and inspiring customer loyalty today! (No credit card required.)