eDesk is the latest in xSellco's series of helpdesks. Before that, it was two products—xSellco Helpdesk and ReplyManager—and before that, XSellco Fusion. After years of forced updates and sudden price hikes, it's no surprise many eDesk customers want to know how ChannelReply stacks up.
Both eDesk and ChannelReply let you answer messages from eBay, Amazon, Walmart, and your own online store from a single window. When you examine the two side by side, though, the better choice is obvious. Here's how xSellco and ChannelReply compare in six key areas:
Last updated 11/11/2020.
1. Pricing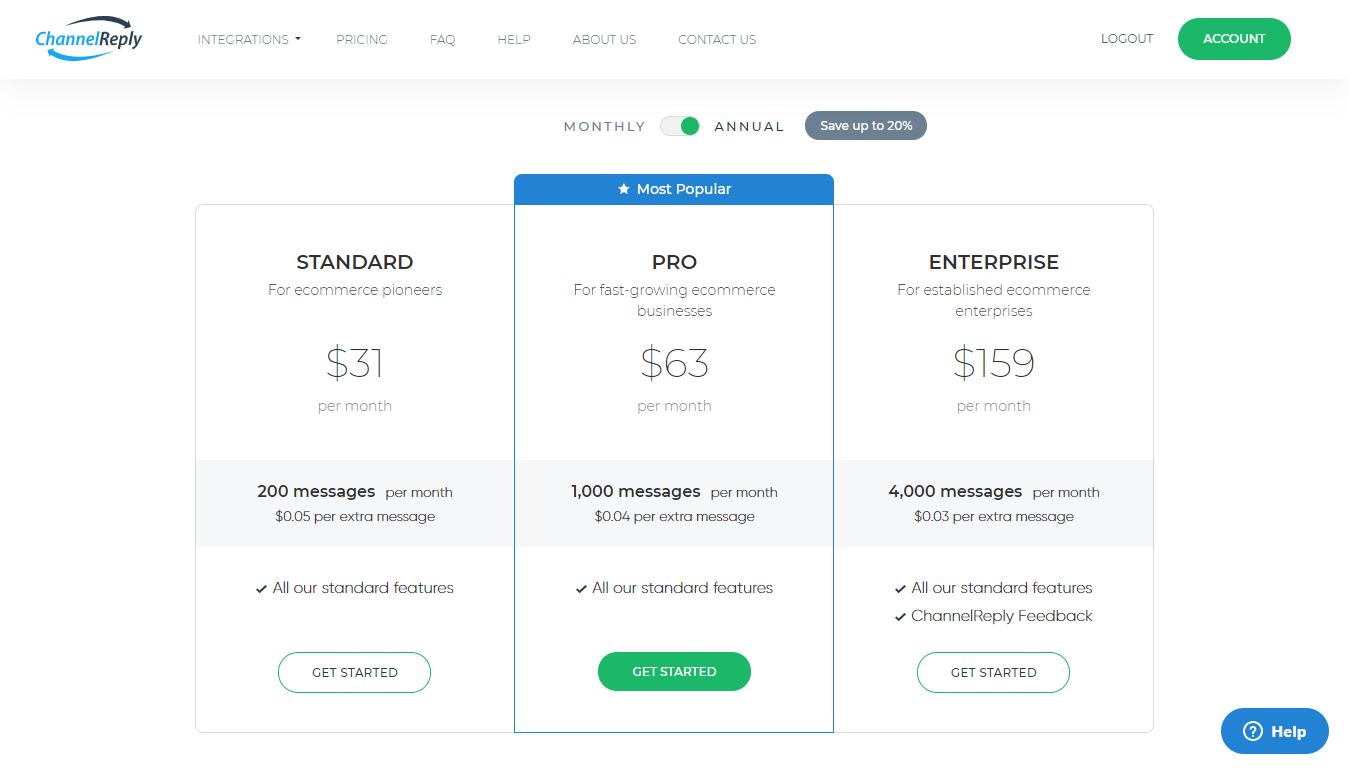 eDesk is an all-in-one solution, and they use that to justify a much higher price in general. ChannelReply customers can save a lot in exchange for a little extra setup time connecting to a separate helpdesk.
Let's take a look at some sample business situations and compare the price of ChannelReply and a helpdesk vs. eDesk.
The eDesk plan that's the most apples-to-apples for a ChannelReply comparison is eDesk Team. This is their most affordable plan with critical features like an ecommerce autoresponder. So, we've used it to build the chart below.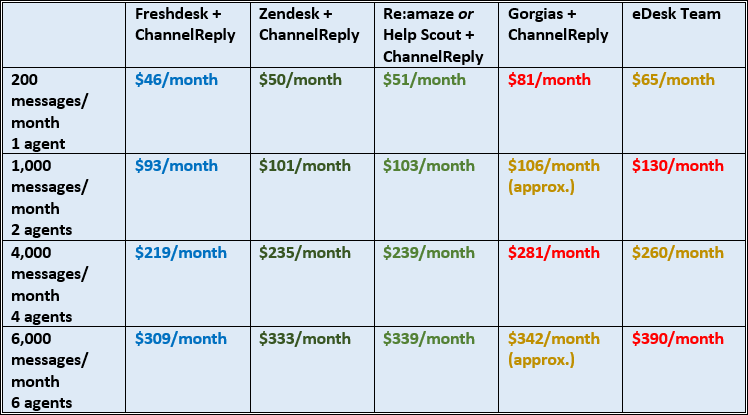 All examples use yearly pricing. Prices are higher for all services listed when paid monthly instead. Prices are accurate as of 11/9/2020.
If you have similar support needs, you could save up to $972 per year by using ChannelReply rather than eDesk.
2. Flexibility and Reliability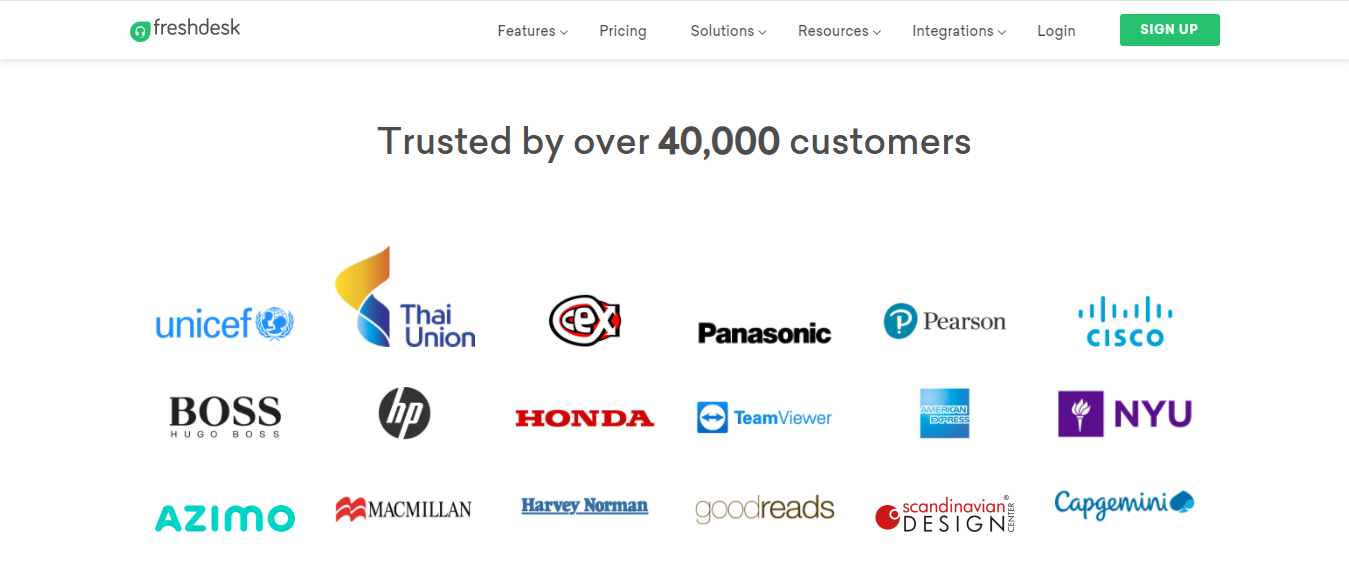 ChannelReply gives you the option to choose between Freshdesk, Zendesk, Help Scout, Gorgias, and Re:amaze. These are all popular and well-proven services:
Our original research for this article in 2016 found that xSellco had over 9,000 customers. In 2020, after combining all their xSellco Helpdesk and ReplyManager customers in eDesk, they have… "5,000+."
Above: A screenshot from the eDesk homepage.
Ouch. Looks like that merger didn't work out so well.
Freshdesk, Zendesk, Help Scout, Gorgias and Re:amaze have achieved their success by providing some of the best products on the market. And in the extremely rare event that something goes wrong with one, ChannelReply has your back. Read "What Happens to My Emails When Zendesk Goes Down?" to see how it safeguards your messages.
What if you decide you don't like the helpdesk you start out with? ChannelReply allows you to easily switch to another at any time. Some helpdesks can even pull in messages from others after a switch—see Help Scout's Zendesk import tool for an example.
3. Integrations and Add-Ons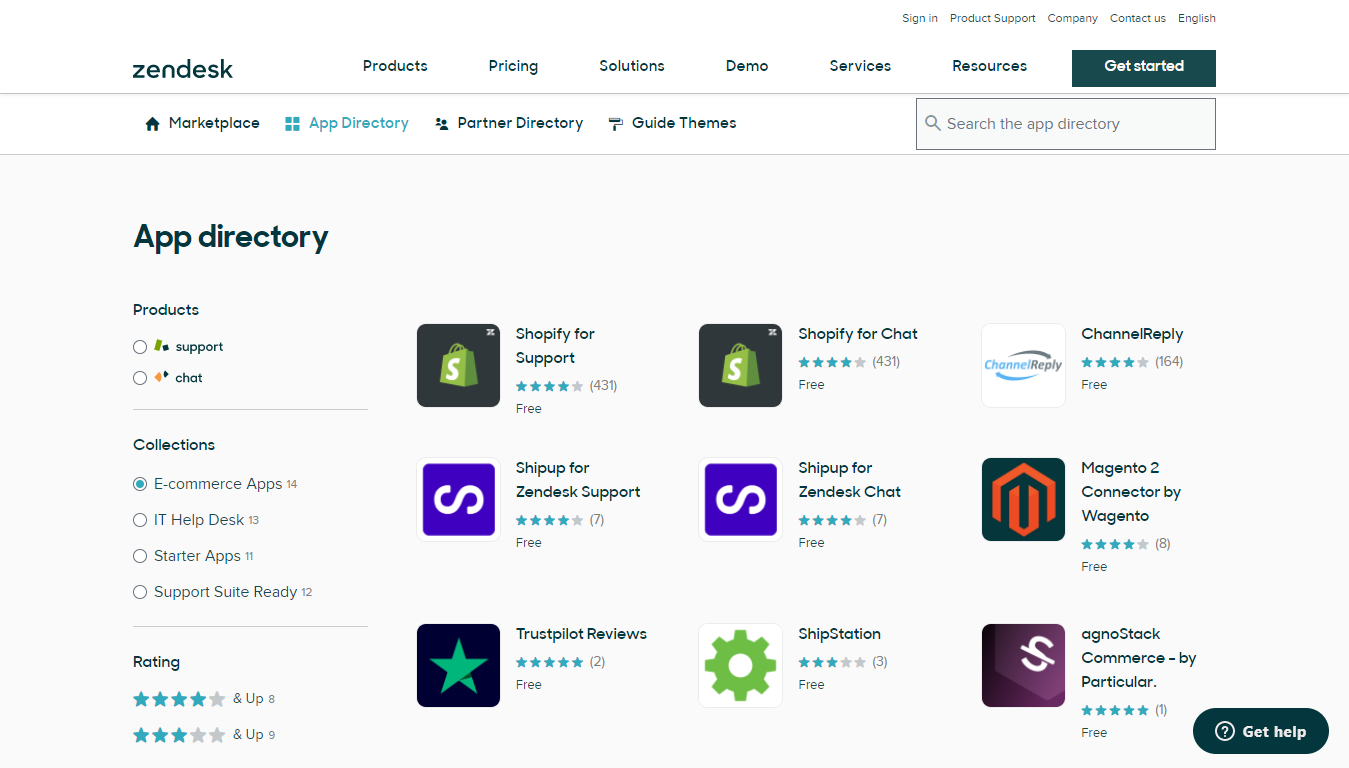 The main reason to use eDesk or ChannelReply is to manage support for your marketplace accounts and your ecommerce site on one screen. Either service can handle this.
ChannelReply connects your helpdesk account with Amazon, eBay and Walmart. Freshdesk, Zendesk, Help Scout, Gorgias and Re:amaze alike all offer support for your own website's email addresses. They also have integrations with Shopify and often support other storebuilders like Magento.
Freshdesk and Zendesk can also manage Facebook and Twitter support. Gorgias supports Facebook and Instagram. Re:amaze connects with all three: Facebook, Twitter and Instagram.
There's a lot more, though! All helpdesks compatible with ChannelReply sport impressive collections of integrations. This is where Zendesk really separates itself from the pack:
The XSellco Fusion webpage once advertised "60+ integrations." eDesk only shows 36. With their smaller customer base, xSellco can't hope to integrate with nearly as many other services as big dogs like Zendesk and Freshdesk. Meanwhile, even their smaller competitors at Help Scout and Gorgias are swiftly outrunning them.
4. Ticket Organization and Management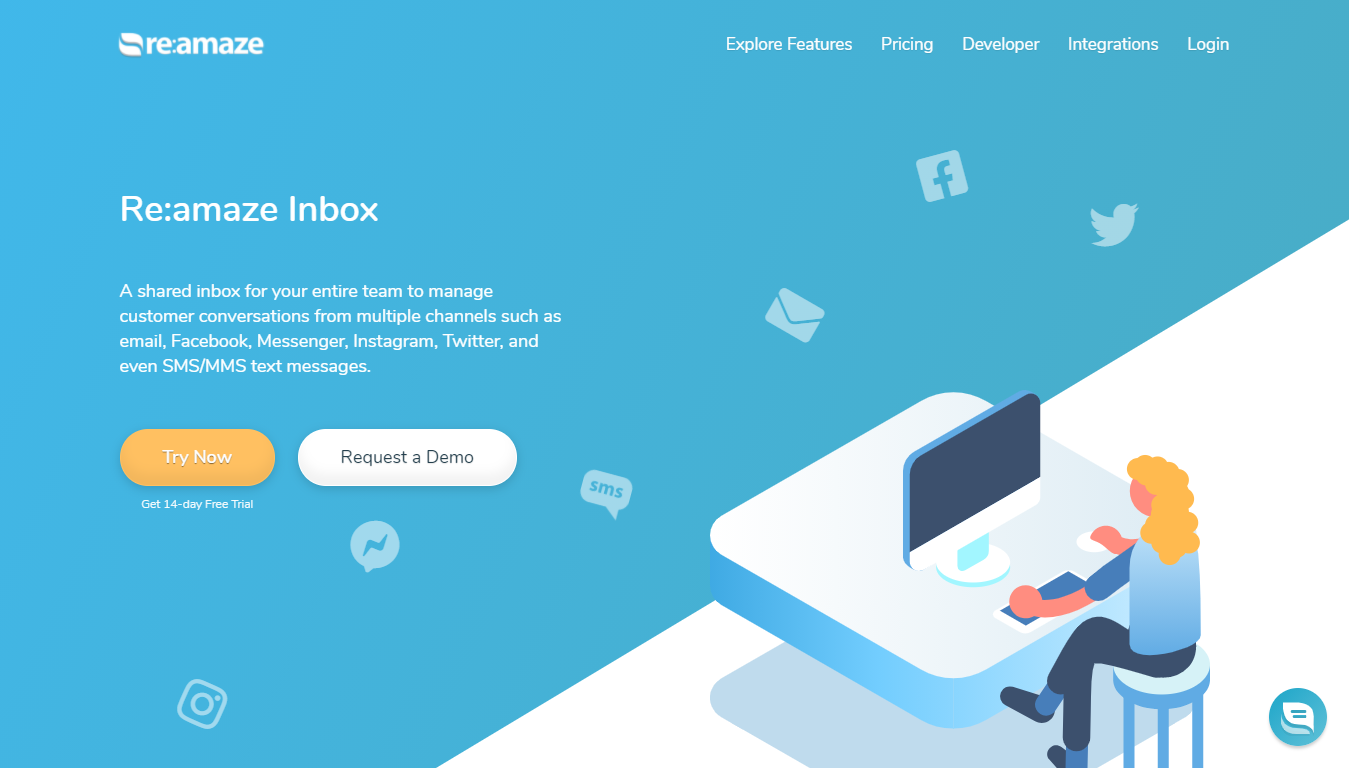 All six options have powerful ticket organization and management capabilities. Here's a list of the most popular features—and which ones are available on which platform: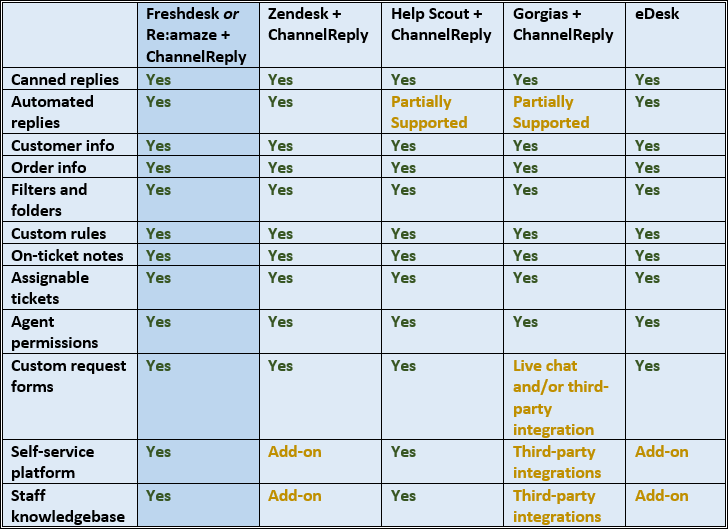 5. Live Chat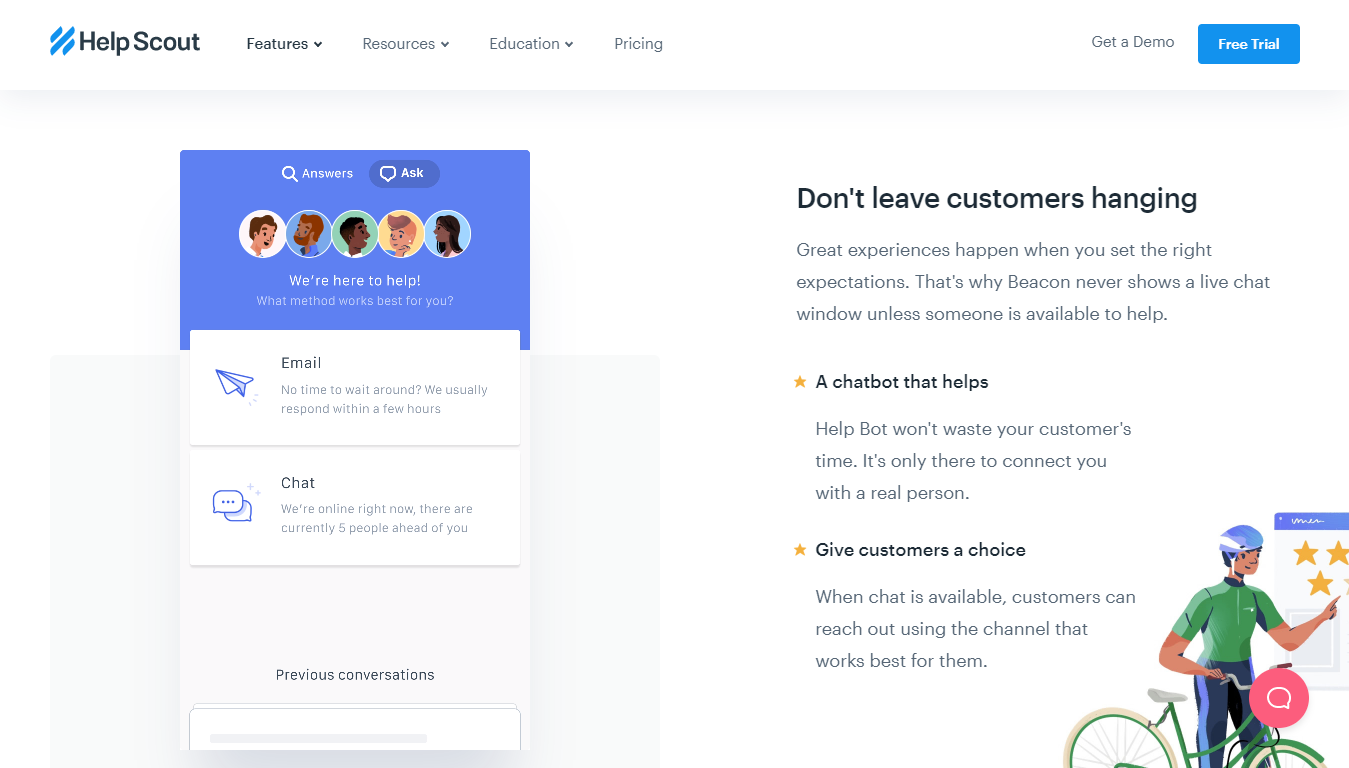 Help Scout includes their famous Beacon live chat app with all plans. In addition to letting you manage live chat inside Help Scout, it can guide customers to help docs or email support and even has a basic chatbot.
Gorgias works the same way. Their live chat app comes with any plan. Although it isn't made to coordinate with help documentation the way Beacon is, it's awesome for Shopify support. It can immediately pull up info about the customer from within Shopify, giving you the info you need to close sales fast.
Re:amaze, too, has an amazing free live chat integration built into all plans. It also includes powerful features like chatbots and advanced Shopify integration at no additional cost.
eDesk has a live chat widget, but you have to either use their most expensive plan or pay an extra $25/user/month. Given their high prices to begin with, that adds up fast.
For Freshdesk users, Freshchat provides a free chat integration. Paid upgrades are available for companies that use live chat intensively.
Zendesk only has limited chat support available for free, but Zendesk Chat (formerly Zopim) is an industry leader. In most cases, it's still less expensive to use Zendesk, a paid Zendesk Chat plan and ChannelReply than it is to pay for eDesk with live chat.
The Final Verdict
So, how do these different platforms stack up against each other? Let's take a quick review in chart form, with scores based on the needs of an average online seller: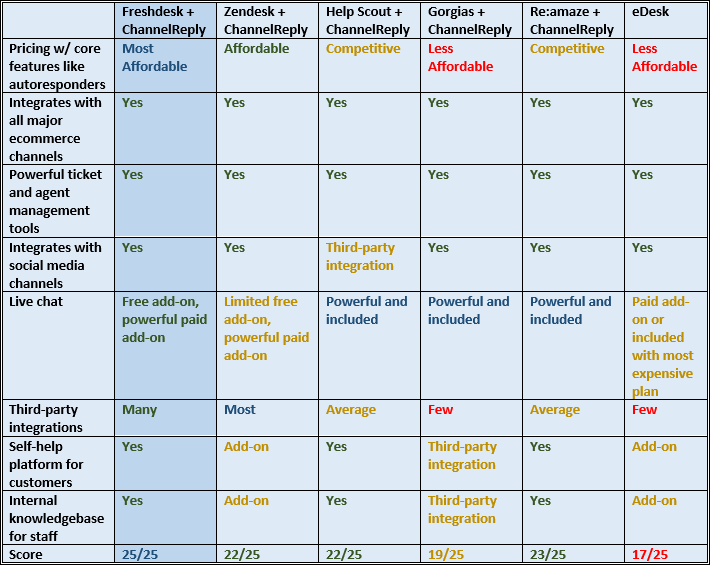 Freshdesk wins! However, these scores are based on very generalized criteria. Each helpdesk performs better for different groups:
Help Scout is often the most affordable helpdesk, especially for medium-sized businesses.
Gorgias would easily win if we were focusing on Shopify support.
eDesk has the most advanced translation features—if you're willing to pay for their most expensive plans.
Zendesk's ability to scale with a complex, growing business is unmatched.
Re:amaze has the best mobile support app for ecommerce sellers.
All six will do a great job. But in the end, using ChannelReply will give you more features, more freedom, and almost always a significantly lower price than eDesk. Why spend more for less? Try ChannelReply free now.
Disclaimer: eDesk and xSellco are a trademarks of xSellco Limited. ChannelReply is not affiliated with xSellco Limited in any way.