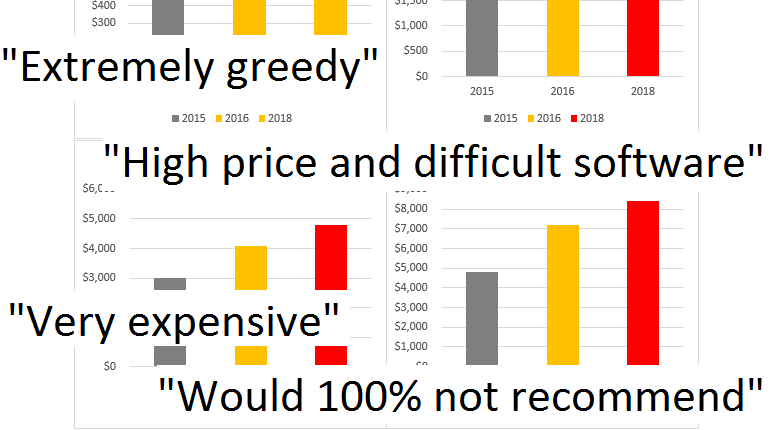 xSellco is popular among ecommerce sellers. But recently, some xSellco reviews have gotten dark.
There's a clear reason for it: the prices just keep rising. Many xSellco users are paying thousands more this year than last.
Last updated 7/3/2018 due to the second price increase this year.
xSellco Reviews
Negative reviews of xSellco products regularly focus on the cost:

The issue of price has grown steadily, and even positive reviews like the two quoted below bring it up as a major con.

You can read Edmund's review here and Emily's review here.
How high are these prices that they're bringing up so many complaints? Pretty freakin' high, especially for xSellco Helpdesk.
xSellco's Rising Prices
Here's what xSellco currently charges for their flagship product, xSellco Helpdesk:

The high prices aren't limited to Helpdesk, either. Our research into xSellco competitors found that xSellco Repricer is generally more expensive than alternatives like RepricerExpress. Their feedback tool also costs more than FeedbackExpress and WAY more than Feedback Boost.
While the prices for their starter plans are reasonable, their higher levels cost a shocking amount—and xSellco has shamelessly pumped up prices not just year after year, but month after month.
This Ecommerce Platforms review, originally published on June 3, 2015, shows the prices charged for XSellco Fusion (now xSellco Helpdesk) at that time. They ranged from just $59 to $399 per month.
While researching this article in September 2016, we recorded Fusion prices significantly higher for all four plans—$79 to $599.
Then, in February 2018, we noticed the rates had gone up yet again. And just five months later, in July, they had raised the prices even higher.
xSellco Helpdesk's monthly rates for some plans have increased by hundreds of dollars in just three years. And the ticket limits are the same as before.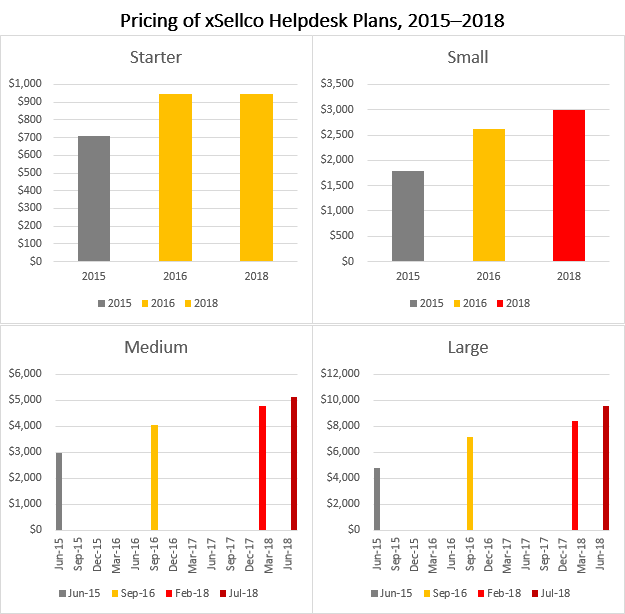 Since 2015, their pricing has increased by double-digit rates for all plans:
Starter: 33.9% more expensive.
Small: 17.9% more expensive.
Medium: 72.3% more expensive.
Large: 100.3% more expensive.
Unsustainable Price Increases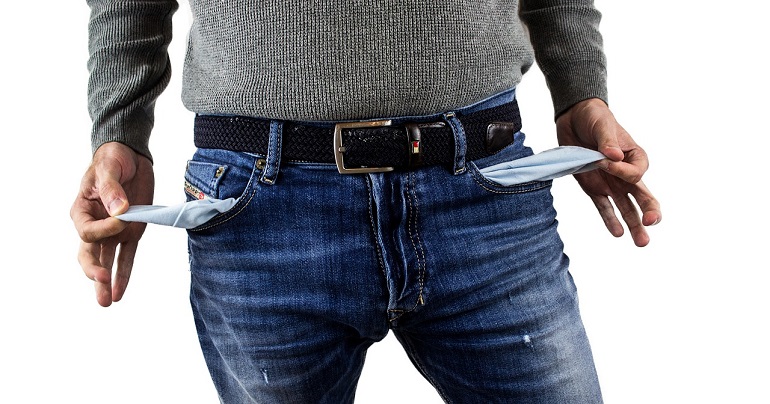 In 37 months, the price of processing 4,001–8,000 tickets per month with xSellco's helpdesk software has soared from $399 to $799, a compound annual rate of increase exceeding 25%. And rates for the standard plans may not be the only ones increasing.
xSellco users who exceed 8,000 tickets per month can pay for packages of 2,500 additional tickets at a time. These were once advertised as $99 each, but xSellco has since taken that price out of the public eye. If the price has gone up at the same rate as the Large plan, extra ticket packages could easily cost as much as $199 each.
In light of all this, we have to agree with RYN Trading Ltd.'s assessment of xSellco as "extremely greedy." Few sellers will experience annual revenue growth exceeding 25%, and as a result, many will find themselves paying a larger and larger portion of their income into maintaining their xSellco subscription. Eventually, xSellco will have to stop, or their users will have to abandon them.
Are There More Affordable Alternatives?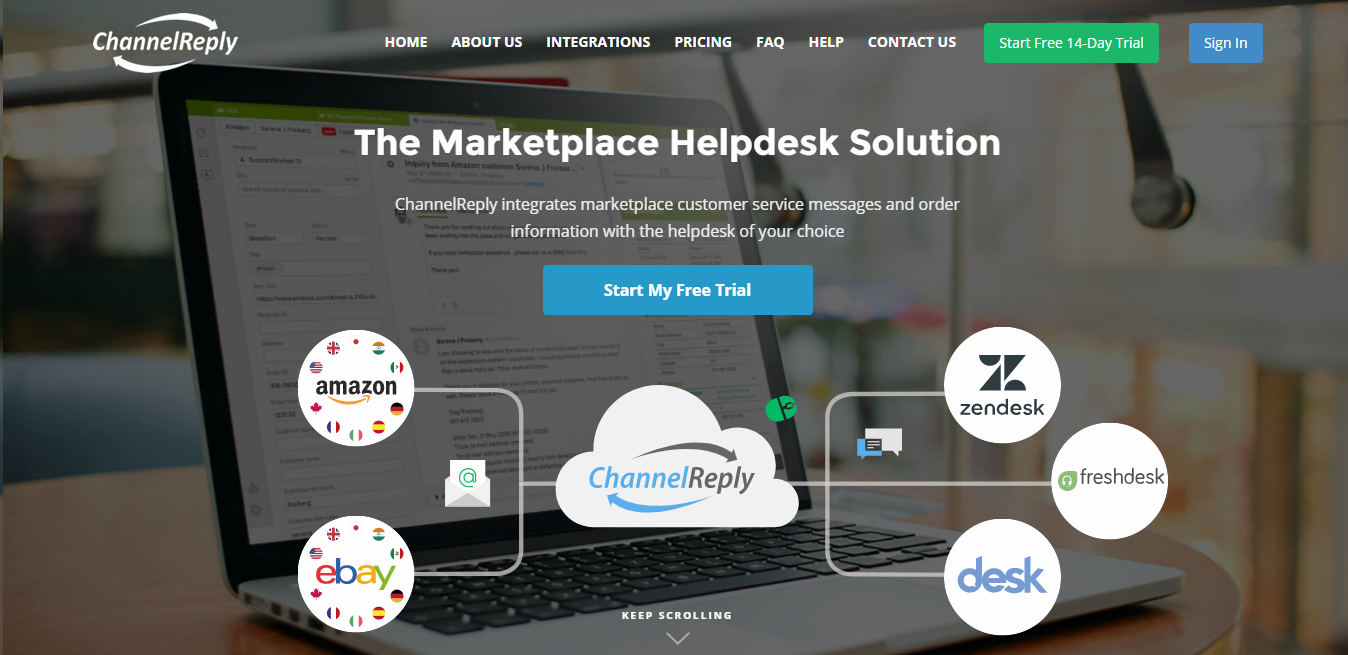 Our article on xSellco competitors has better-priced alternatives to all three of their products. And the top alternative to xSellco Helpdesk is ChannelReply.
ChannelReply connects your eBay and Amazon accounts with a professional helpdesk like Zendesk or Freshdesk. These helpdesks already integrate with tons of other customer service channels like Shopify, Facebook, Twitter, live chat and more, making them powerful ecommerce helpdesks that can go toe-to-toe with xSellco.
Using ChannelReply and a helpdesk does mean paying for two services instead of one. But ChannelReply starts at just $39 per month, and you can combine it with helpdesk plans starting from totally free.
Compared to xSellco Helpdesk, ChannelReply combined with Freshdesk or Zendesk will typically cost hundreds or even thousands less per year. For xSellco Large users, it's often possible to save over $5,000 per year with ChannelReply.
For side-by-side comparisons of ChannelReply and xSellco Helpdesk pricing, see our Freshdesk vs. xSellco Cost Calculator or Zendesk vs. xSellco Pricing Calculator.
As xSellco reviews point out, there's simply no need for ecommerce customer service to cost what they're charging. And ChannelReply has continued to offer the same competitive rates while xSellco has grown more and more expensive. Start your free trial of ChannelReply and manage all your support on one screen—without losing the shirt off your back!