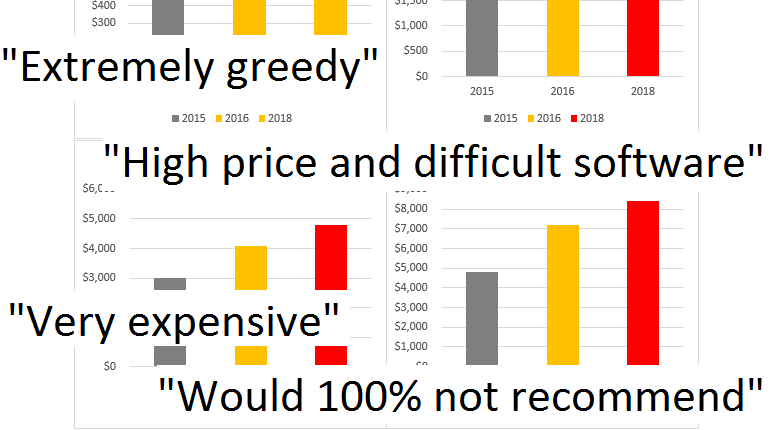 xSellco is popular among ecommerce sellers. But over time, some xSellco reviews have gotten dark.
There's a clear reason for it: the prices just keep rising. Many xSellco users are likely paying thousands more this year than last.
Last updated 11/5/2020 due to xSellco forcing switches to new platforms and increasing prices.
xSellco Reviews
Negative reviews of xSellco products regularly focus on the cost: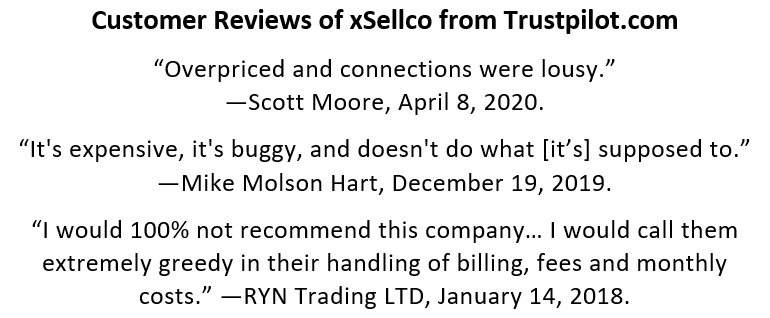 The issue of price has grown steadily, and even positive reviews like the two quoted below bring it up as a major con.

You can read VB's review here and Emily's review here.
How high are these prices that they're bringing up so many complaints? Pretty freakin' high, especially for xSellco's eDesk.
xSellco's Rising Prices
xSellco has shamelessly pumped up prices not just year after year, but month after month.
Early in 2020, xSellco charged $79 per user per month for their flagship product eDesk. Now, in November, the price ranges up to $169 per user.
That would be OK with most users if the more expensive plans had new features. But instead, xSellco restricted core features from the old $79 plan to even more expensive plans.
This review was likely inspired by this change:

Here's what xSellco charges for eDesk now:
| | | |
| --- | --- | --- |
| eDesk Plan | Monthly Payment Price | Annual Payment Price |
| Essential | $55 per agent | $540 per agent |
| Team | $79 per agent | $780 per agent |
| Professional | $105 per agent | $1,020 per agent |
| Enterprise | $169 per agent | $1,668 per agent |
You may forgive that as a normal price change for a newly released product. But this was not a one-time thing. This is a yearly ritual with xSellco.
xSellco previously sold two helpdesks: xSellco Fusion (aka xSellco Helpdesk) and ReplyManager. ReplyManager was just $29 to $65 per user—on average, less than half the price of eDesk.
In 2020, xSellco trashed ReplyManager and forced their own customers to switch to the way more expensive eDesk. Here's how customers felt: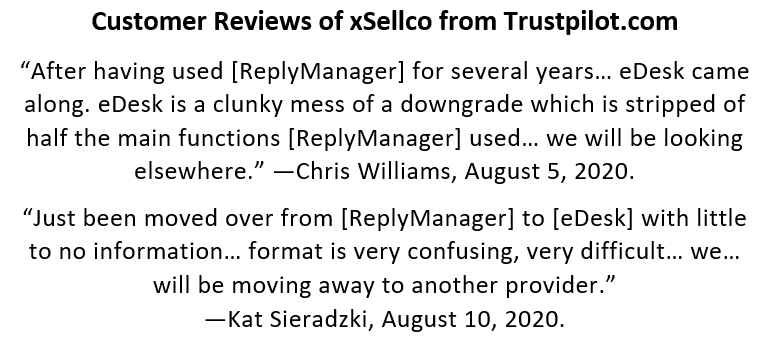 xSellco Fusion was also thrown out in favor of eDesk. Fusion had a completely different pricing system with unlimited agents, but its users were also forced to make the switch. If that's not bad enough, it was only the most recent in a series of unbelievable price hikes.
In 2015, the prices charged for xSellco Fusion (aka xSellco Helpdesk) ranged from just $59 to $399 per month, for unlimited users.
While researching this article in September 2016, we recorded Fusion prices significantly higher for all four plans—$79 to $599.
Then, in February 2018, we noticed the rates had gone up yet again. And just five months later, in July, they had raised the prices even higher. Here are charts of their price increases from 2015 to 2018: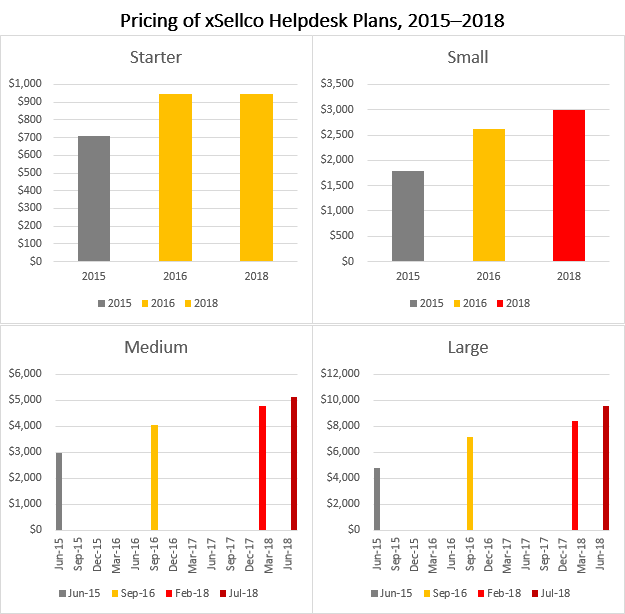 Their pricing increased by at least double-digit rates for all plans:
Starter: 33.9% more expensive.
Small: 17.9% more expensive.
Medium: 72.3% more expensive.
Large: 100.3% more expensive.
Can you imagine dealing with 4 price increases in 3 years? Then getting forced over to eDesk, with a totally different pricing system? Then seeing eDesk get another price hike less than one year later?
The high prices aren't limited to xSellco's helpdesk products. Our original research into xSellco competitors found that xSellco Repricer was generally more expensive than alternatives like RepricerExpress. Their feedback tool also cost more than FeedbackExpress and WAY more than Feedback Boost.
What has happened since then? Well, it seems xSellco quietly purchased SellerExpress, the parent of FeedbackExpress and RepricerExpress. The RepricerExpress website now displays "by xSellco" in tiny font below its logo:

What's coming next for RepricerExpress users? Forced migration, of course! Here's a screenshot of an article they published on 11/3/2020:
The RepricerExpress team says they're "delighted" about forcing all their customers to make the move. SellerExpress customers don't seem to share that delight:

When you use an xSellco product, history suggests you will pay more for it almost every single year. It doesn't seem to matter if you're a long-term customer and your business hasn't changed its size or its needs. The price inevitably rises.
Unsustainable Price Increases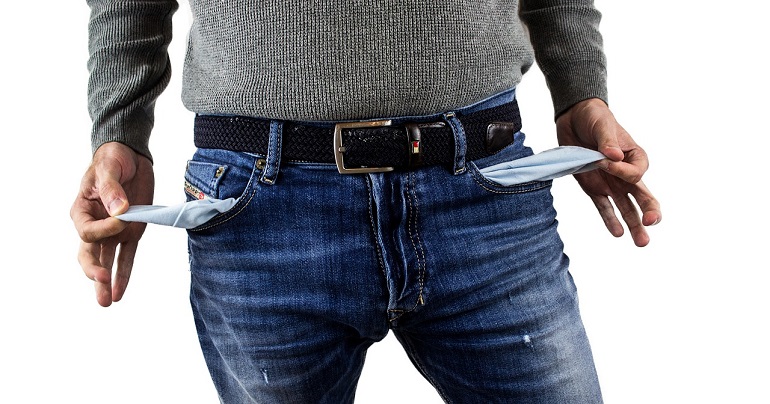 Let's say you were an xSellco customer using their helpdesk in 2015. You had a team of 12 and processed about 7,000 to 8,000 tickets per month.
The price would have soared from $399 in 2015 to $799 in 2018 to $1,020 in 2020. Zero changes in your needs. 256% increase in price.
Here's another way to look at it: that's a compound annual rate of increase exceeding 20%. Can your company's growth rate keep up with that?
In light of all this, we have to agree with RYN Trading Ltd.'s assessment of xSellco as "extremely greedy." Few sellers will experience annual revenue growth exceeding 20%. As a result, many will pay a larger and larger portion of their income into maintaining their xSellco subscription. Eventually, xSellco will have to stop, or their users will have to abandon them.
Are There More Affordable Alternatives?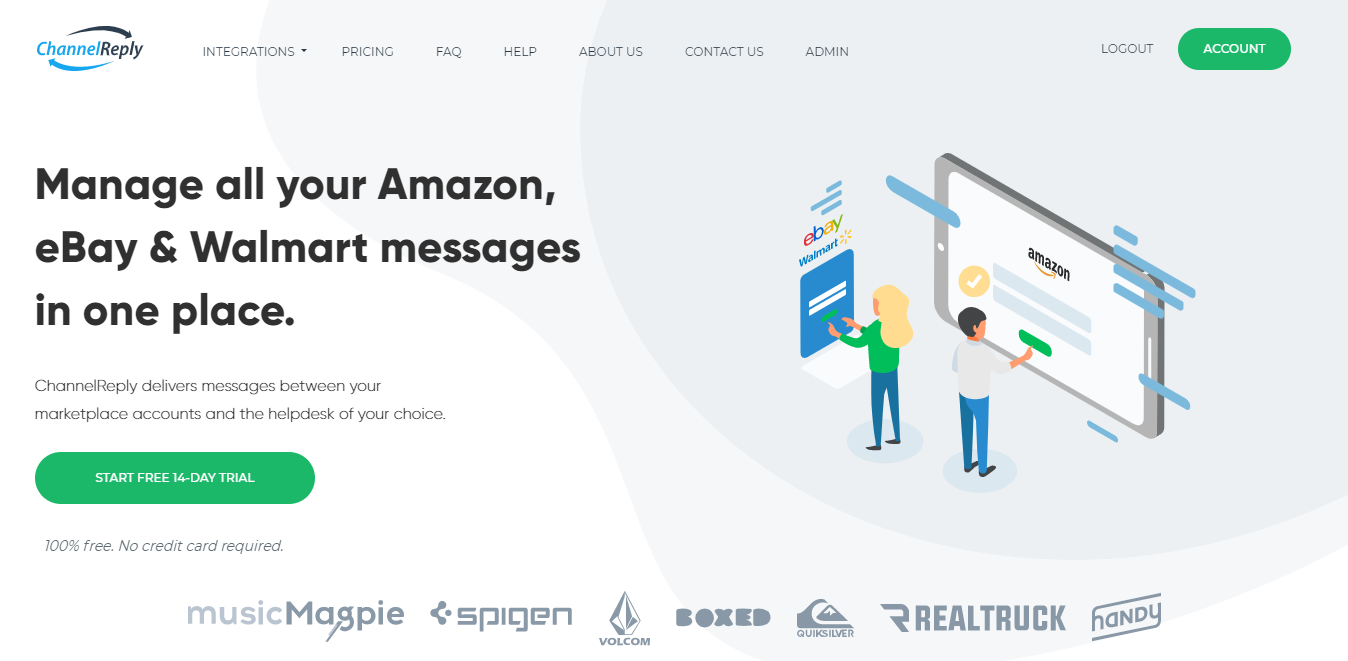 Our article on xSellco competitors has better-priced alternatives to all three of their products. And the top alternative to xSellco's eDesk is ChannelReply.
ChannelReply connects your eBay, Amazon and Walmart accounts with a professional helpdesk. Supported platforms include Zendesk, Freshdesk, Gorgias and Re:amaze.
These helpdesks already link with channels like Shopify, Facebook, Twitter, live chat and more. That makes them powerful ecommerce helpdesks that can go toe-to-toe with xSellco.
Above: A demo of ChannelReply in Zendesk.
Using ChannelReply and a helpdesk does mean paying for two services instead of one. But ChannelReply starts at just $31 per month, and you can combine it with helpdesk plans starting from $15 per month.
Compared to xSellco Helpdesk, ChannelReply usually costs hundreds of dollars less per year. That's counting the cost of a linked helpdesk.
Above: A quick overview of ChannelReply in Re:amaze.
As xSellco reviews point out, there's simply no need for ecommerce customer service to cost what they're charging. Yet, xSellco has grown more and more expensive for the last five years.
ChannelReply has only made one price change in the last five years. It reduced costs for most customers and allowed all existing users to keep their old plans. No changes forced on loyal customers. No endless across-the-board price hikes.
Start your free trial of ChannelReply and manage all your support on one screen—without losing the shirt off your back!
Disclaimer: xSellco, eDesk, ReplyManager, and RepricerExpress are trademarks of xSellco Limited. ChannelReply is not affiliated with xSellco Limited in any way.