When our business really took off on eBay and Amazon, we faced a serious problem. No eBay messaging service could send emails to our support platform, Zendesk, and turn them into clean, manageable tickets. It was even worse when we realized no Amazon messaging service met our needs either.
Couldn't You Use Email Forwarding to Get Messages in Zendesk?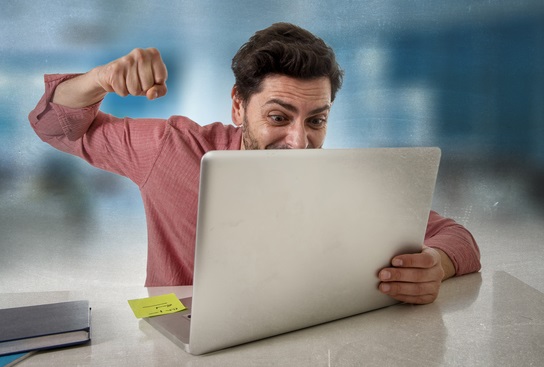 Sure, you could set up basic email forwarding. But eBay messages were terrible—they would create new tickets for every email, even replies. They included tons of unnecessary text but had no links to the item's listing. Amazon messages were better, but also lacked listing links and other important stuff like shipping info.
It was a mess. So we built our own solution: ChannelReply.
Everything in One Place
Now, you can reap the benefits of our work and get neatly organized eBay and Amazon messages in your Zendesk account. No more bouncing around between multiple screens. No more dealing with a single eBay login.
Even better, we've added support for Walmart, Shopify, Back Market and Newegg as well. Now a single system works for answering all your marketplace messages.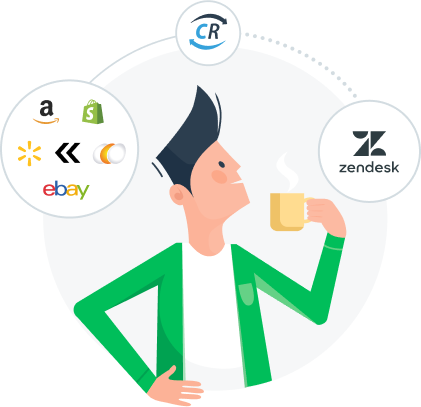 Stop tearing your hair out over customer support. Get everything in one place and get back to making sales!
The Amazon Messaging Service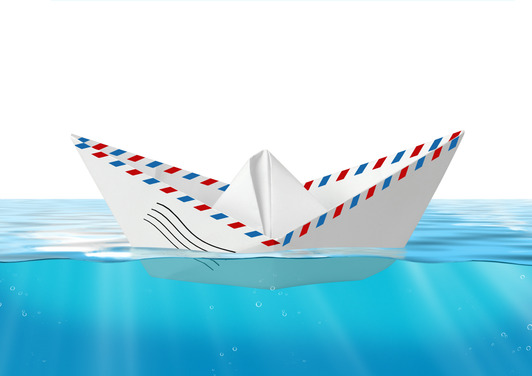 Our service sends you a plethora of details about your Amazon messages. With the help of our Zendesk app, you can see all of the following and more for each message:
Order ID
Order status
Shipping service level
Buyer's name
Shipping address
Items ordered
ASINs
Order quantity
Link to the listing on Amazon
Just take a look: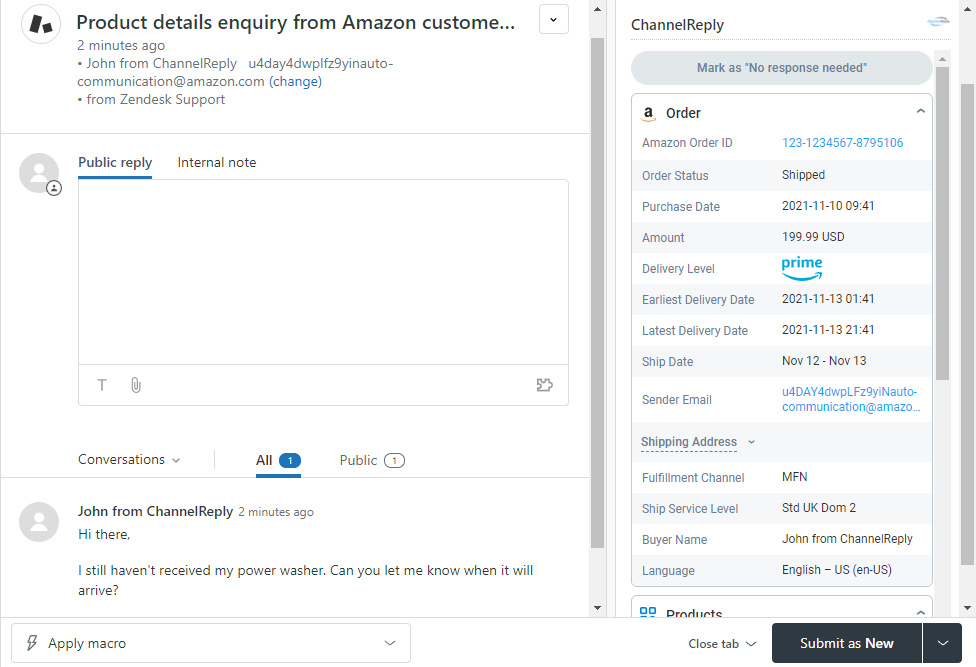 You can click on this screenshot (and others) to view it at full resolution.
ChannelReply and Zendesk make it easy to reply to a message outside Amazon while keeping every conversation threaded. And things get even better when you can manage eBay messages from within the same place.
The eBay Messaging Service
We're certain we're not the only ones who wanted a better way to receive and reply to a message outside eBay. Why? Because if you want to hire people to help you with your eBay support, you normally have to give them access to your entire account. There's no way to let someone respond to your messages from inside eBay without also giving them control over your listings.
Trusting your customer support team with helping your customers is one thing. Trusting them with the password to your account is something else entirely!
We thought that with an external eBay message tool, we could let our employees respond to messages without even entering our account. We were able to forward messages to Zendesk to do that, but again, everything was a complete mess. So we hooked the eBay messaging API up to Zendesk to make the tool we really wanted.
Just like with Amazon, you can get tons of useful data, including:
Item title and ID
Link to the listing on eBay
Message ID
Order ID
Tracking ID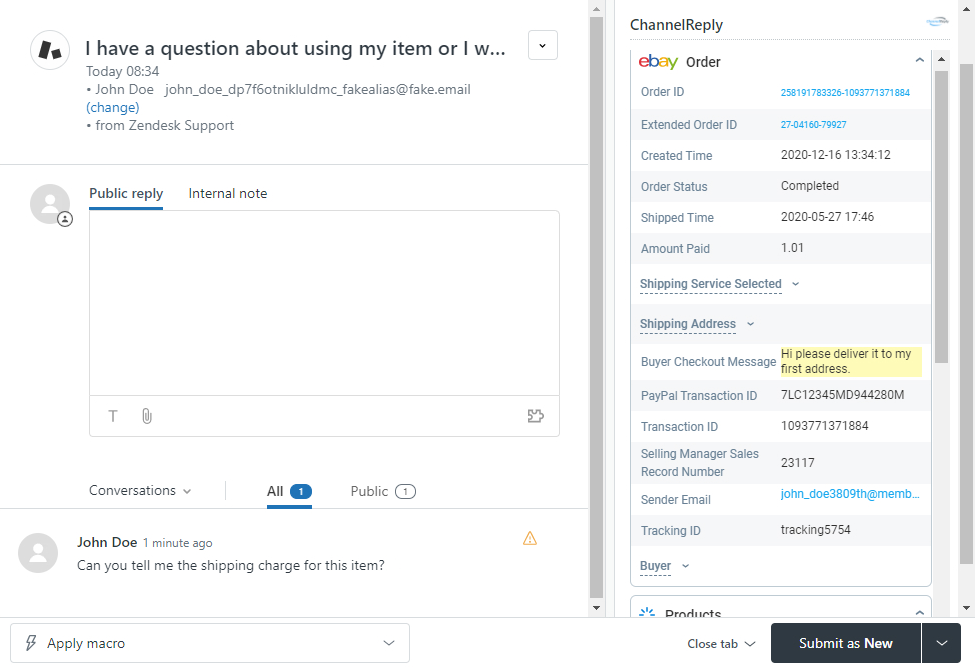 Better yet, it's all carefully organized. You don't have to deal with a bunch of clutter making it impossible to see the customer's question. All of the data appears off to the side so you can focus on your conversation.
We've also added optional interactive notifications. With these, you can take eBay actions inside Zendesk:
Resolution Center Support notifications allow you to solve cases and issue refunds.
New Order notifications let you start conversations with anyone who's purchased from you.
Cancel Order messages let you approve or decline cancellations.
Feedback notifications give you the option to post public replies to feedback or message the customer directly.
Best Offer messages let you approve, decline, or counter the customer's offer.
No more switching screens!
Interested in trying it for yourself? Start your free trial of ChannelReply here.
A Walmart Messaging Solution
A few years after ChannelReply was launched, some of the biggest sellers in the US asked us if we could give them the same features for Walmart. We were happy to do it.
The Walmart messaging service works just like the eBay and Amazon solutions. Conversations are threaded as Zendesk tickets and free from clutter. In the app, you'll see everything you need to know, including:
Both order IDs (the seller order ID and the customer order ID)
Order status (e.g. Shipped)
Tracking ID
Purchase date
Shipping address
Detailed info on each item the customer ordered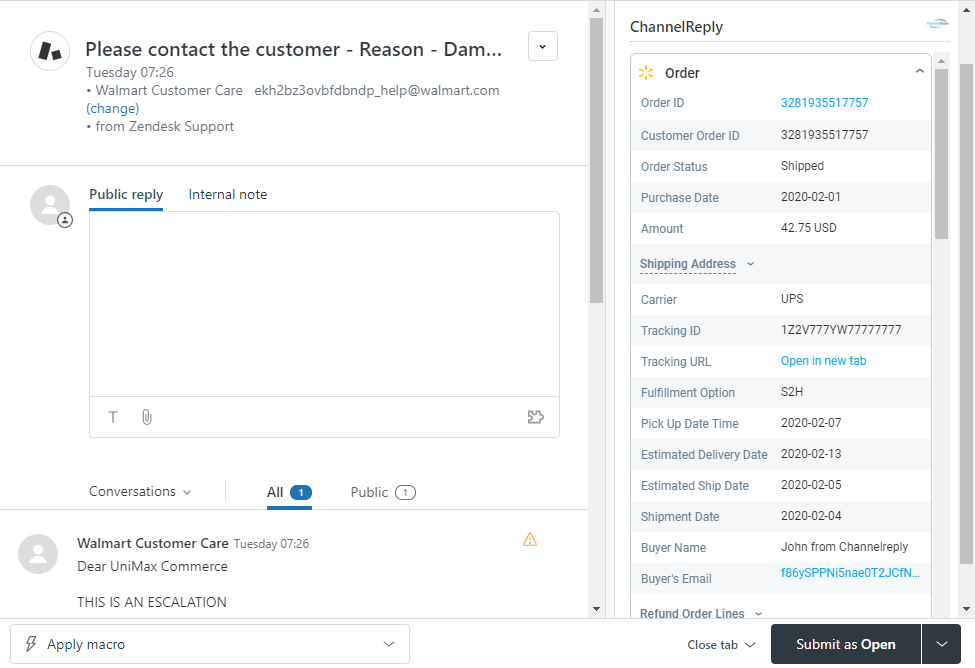 You can even use it to reply to Walmart escalations like the one shown above. While Walmart normally doesn't accept replies to escalations, we deliver a copy of your reply straight to the customer. That saves you the effort of creating a new ticket each time.
On top of that, we support a range of Walmart actions right in Zendesk. Acknowledge orders, upload shipping info, process cancellations, and even issue refunds on returns.
A Better Shopify Messaging System
After building our Walmart solution, we thought back to our original problem. It wasn't just the trouble of managing Amazon and eBay messaging that made us build ChannelReply. It was trying to juggle the marketplaces with our online store.
Zendesk already had a Shopify integration. But it was pretty basic—you couldn't do much besides answer messages and see some essential data. It didn't have options like issuing refunds, which meant you still had to make frequent trips to Shopify to manage orders.
We decided we'd build something better. In December 2020, we launched our Shopify integration for Zendesk.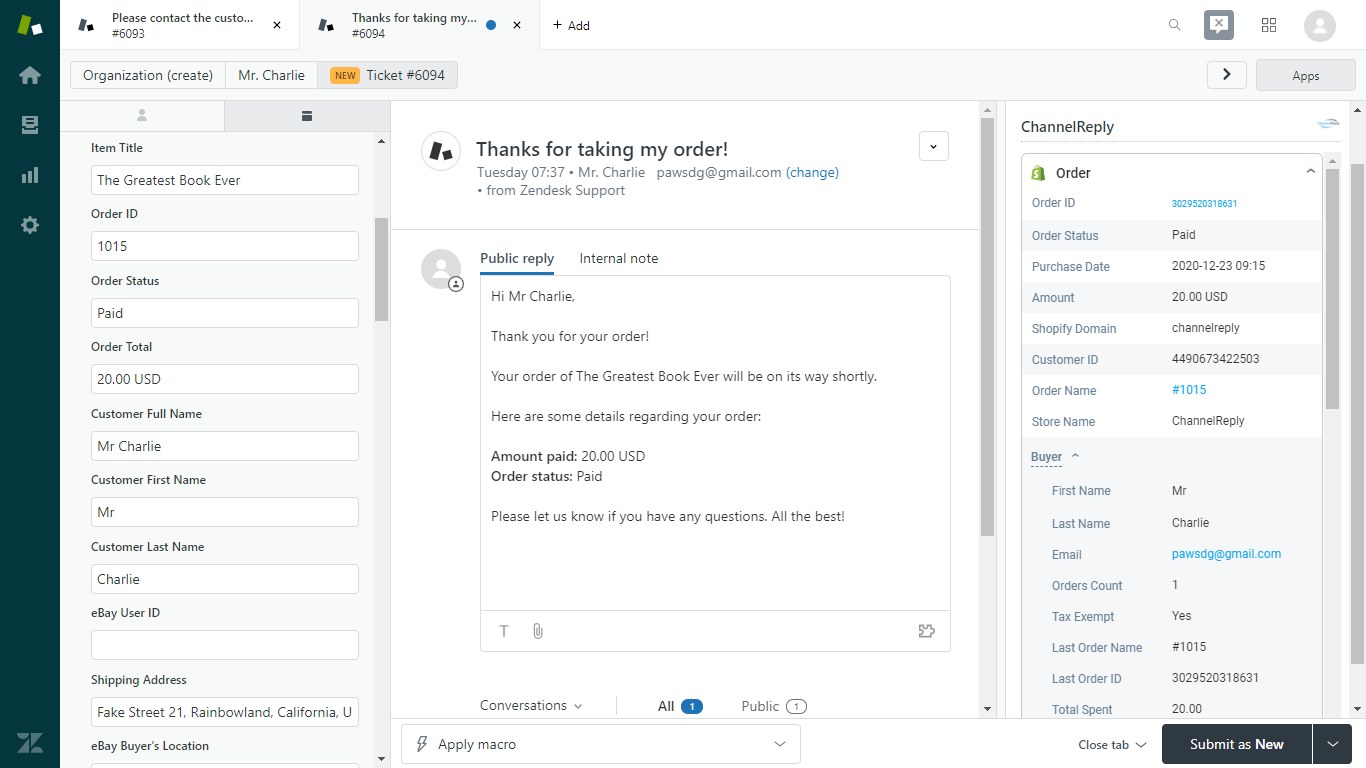 Our Shopify system shows more data than Zendesk's and supports advanced features like custom fields. But most importantly, it lets you manage refunds and cancellations. You can even issue partial refunds, restock items while refunding, and update the customer's shipping address.
Unlike the Zendesk app, ChannelReply lets you manage unlimited stores in one app instance, rather than installing a new app for each store. This means you can truly handle all your Shopify support in one place. And best of all, your Walmart, Amazon and eBay messages are right there on the same screen. Try it for yourself here.
Back Market, Newegg and Beyond
In 2021, we were contacted by Back Market, the world's leading marketplace for refurbished electronics. It was the first time a marketplace had offered to help us build an integration, and we gladly took them up on it. Our Back Market integration went live in record time.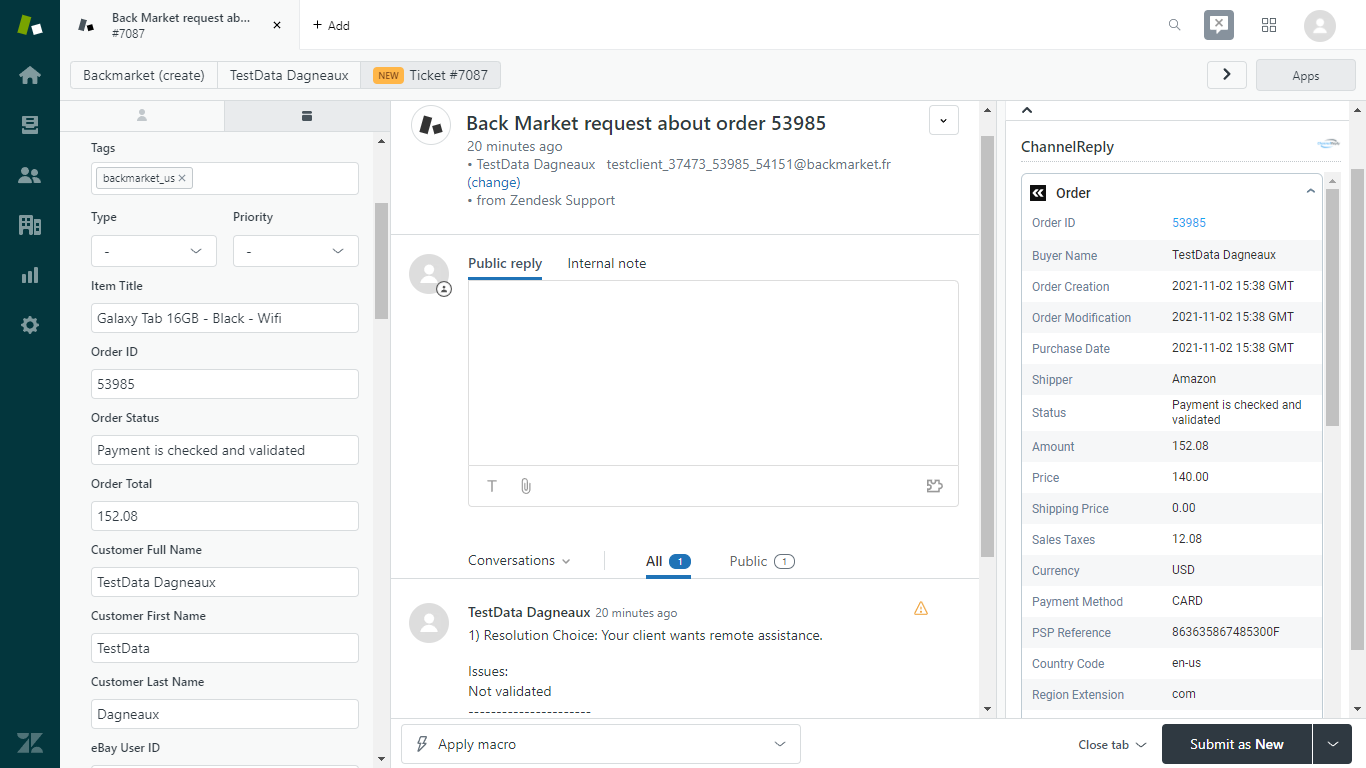 Just a few short months later, with our developers moving at full steam, we launched the open beta of our Newegg integration.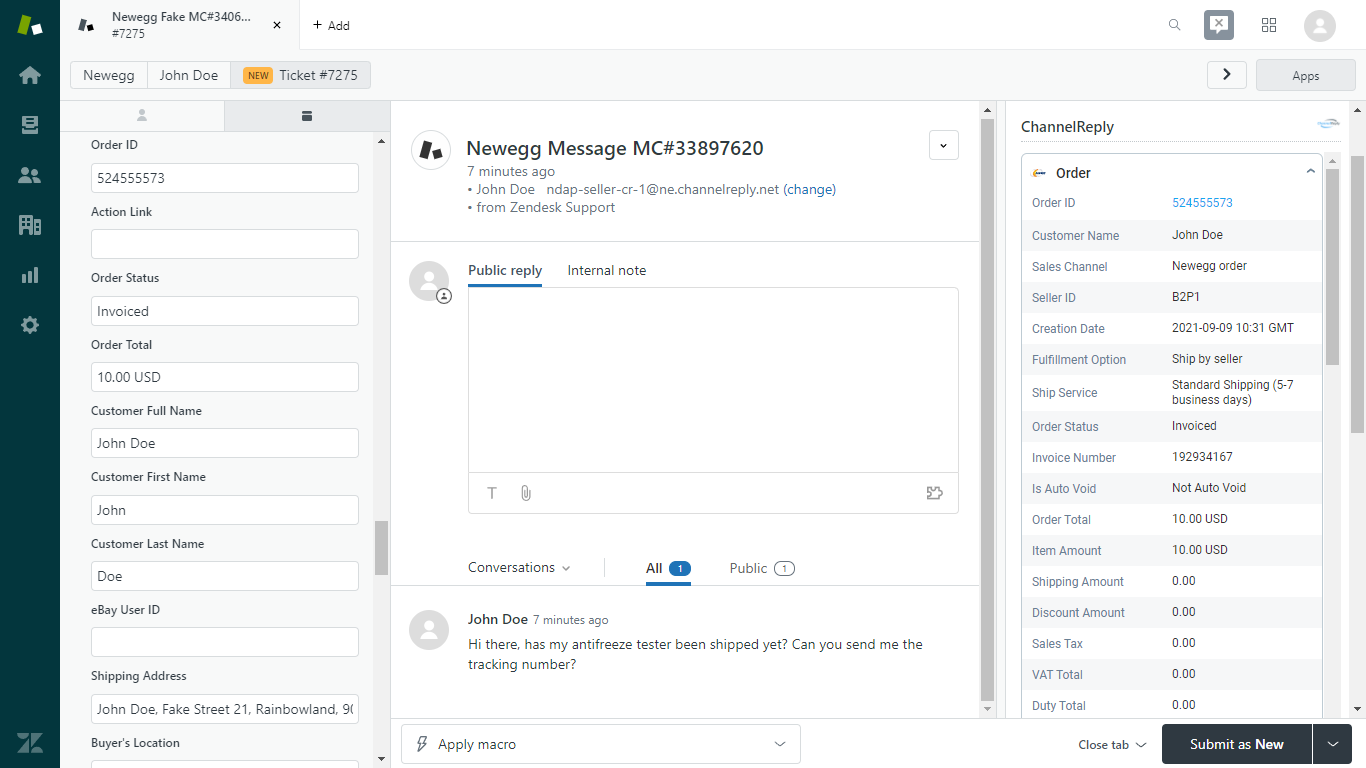 Both Back Market and Newegg messages come with the comprehensive order data our customers expect. Plus, you can take all kinds of actions from Zendesk, like issuing Back Market refunds and managing Newegg cancellations.
Even more Zendesk integrations are in the works now, driven by customer requests. Make your voice heard and let us know which one you'd like to see next!
Simplified Email Management
With ChannelReply, you can receive and reply to messages from your marketplace accounts and your online store. We believe it's the best message-to-message email management tool for sellers on eBay, Amazon, Walmart, Shopify and more. Get your free two-week trial today to streamline, save time, and boost your bottom line!