ChannelReply's Help Scout–Shopify integration is now live! The app provides tons of data about your Shopify buyers and orders right next to your conversations. It even lets you pull data straight into Custom Fields.
Even better, ChannelReply works the same way for Amazon, eBay, Newegg, Back Market and Walmart. You can manage all your ecommerce support in one place!
Stacks of Order Info
At last, you can stop looking up orders on Shopify. ChannelReply displays everything you need to know about the buyer and their order alongside their message in Help Scout.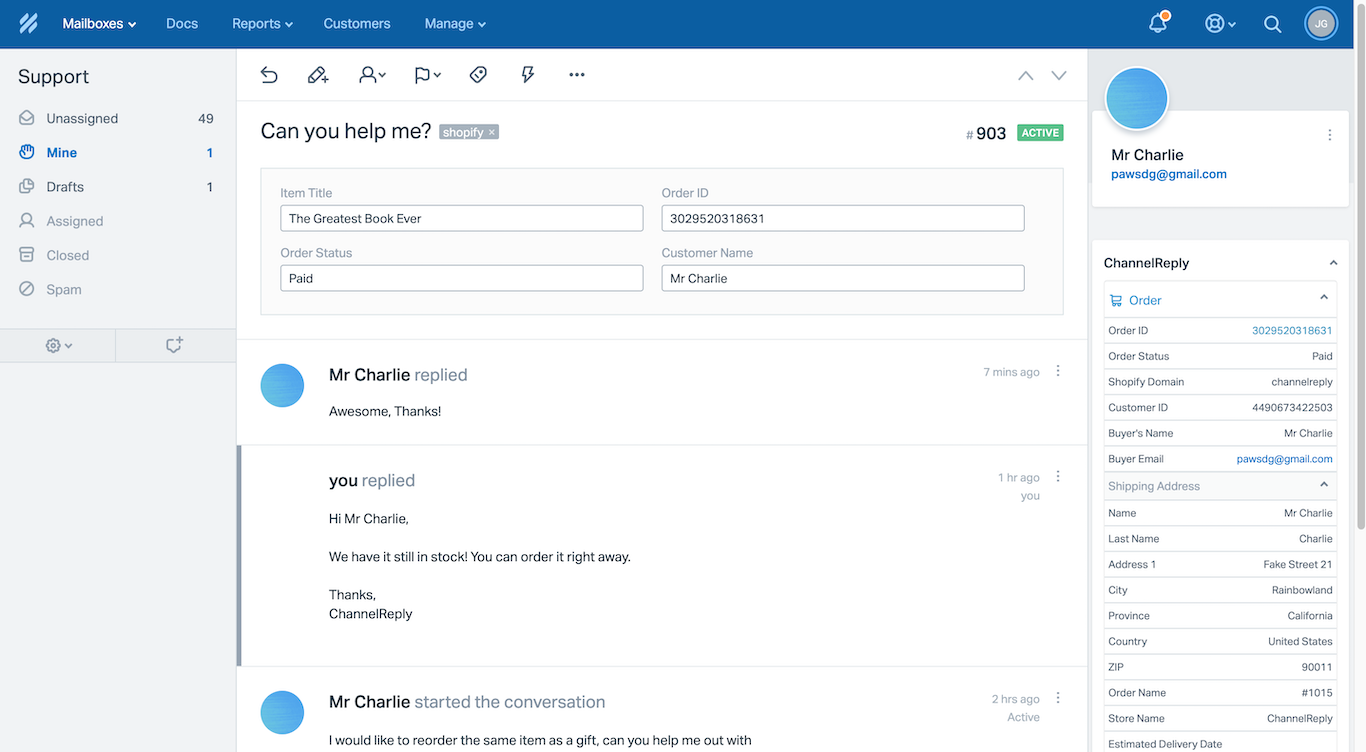 All told, you can get 65+ datapoints on any order-related conversation. And yes, it includes the data you actually want! Tracking IDs, shipping addresses, which items the customer ordered, you name it, ChannelReply has it. Here's the full list:
Order Data

Order ID
Order Status (e.g. Paid or Shipped)
Shopify Domain
Customer ID
Buyer's Name
Order Tags
Amount (total paid for the order)
Fulfillment Status
Buyer Email
Order Name
Purchase Date
Shipping Address

Name
First Name
Last Name
Address 1
Address 2, 3, etc. (these only appear if these lines exist)
City
Province
Country
ZIP (postal code)
Phone
Latitude
Longitude
Province Code
Country Code

Billing Address

Name
First Name
Last Name
Address 1
Address 2, 3, etc. (these only appear if these lines exist)
City
Province
Country
ZIP (postal code)
Phone
Latitude
Longitude
Province Code
Country Code

Store Name
Ship Date
Tracking Number
Tracking URL
Estimated Delivery Date
Date Delivered
Shipping Service Level
Shipping Fee
Order Status URL
Shipping Service
Buyer Details

First Name
Last Name
Email
Phone
Order Count
Tax Exempt (yes or no)
Last Order Name
Last Order ID
Total Spent
Currency
Accepts Marketing (yes or no)
Marketing Opt-In Level

Product Data (available for each product in the order)

Item Title
Variation Title
Quantity
Item Price
Seller SKU
Item ID
Ready to see it in action? Start your free trial of ChannelReply.
Automate Boring Work: Get Shopify Data in Help Scout Custom Fields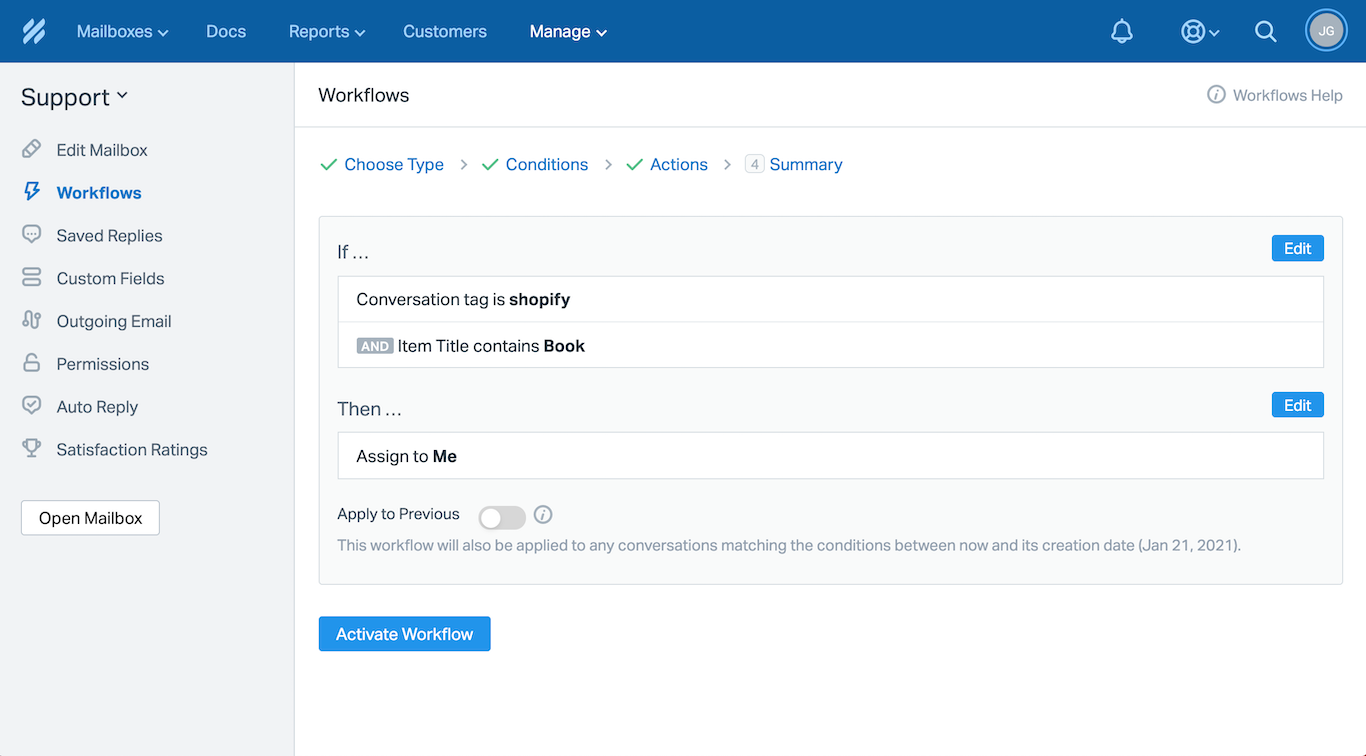 Above: Using ChannelReply's Item Title custom field to automatically assign conversations in Help Scout.
How much time do you waste assigning tickets to the right agent? Or sending the same response to every customer who writes in about the same thing? If you're trapped doing jobs better left for robots, here's how you can break free.
ChannelReply's custom fields are completely compatible with Help Scout's. Choose from over 25 Shopify datapoints and pull the ones you need into Help Scout Workflows.
What does that let you do?
Automatically assign conversations about tricky products to agents who specialize in them.
Add private notes about regional issues to conversations with customers in those areas.
Build amazing ecommerce autoresponders for Help Scout. Trigger different replies based on details like the SKU the customer ordered, the carrier shipping their package, and more.
These are just a few basic examples. With Shopify custom fields in Workflows, you can save countless hours of mind-numbing busywork. Learn how to link our custom fields to Help Scout here.
ChannelReply vs. Help Scout's Free Shopify Integration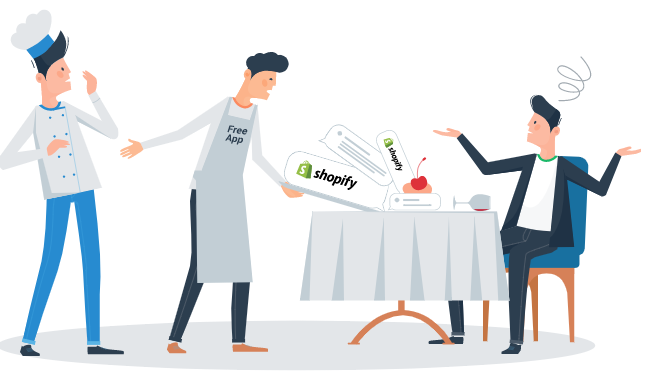 Help Scout's free app for Shopify isn't bad. It gives you a basic overview of the customer's order history with links to important pages on Shopify. Compared to just managing Shopify by email, it's a huge upgrade!
However, it doesn't actually tell you what the customer ordered or anything else you need to know to answer most questions. If the customer asks something like when they can expect their order, you'll need to look that up on Shopify. You'll likely need to open Shopify for at least one out of every three or four conversations.
ChannelReply solves that completely. Our Shopify integration with Help Scout pulls in over 6X more data than the free app!
The screenshot below shows the fully expanded free app for Help Scout. Beside it is a partially collapsed view of the ChannelReply app, with several additional fields not displayed: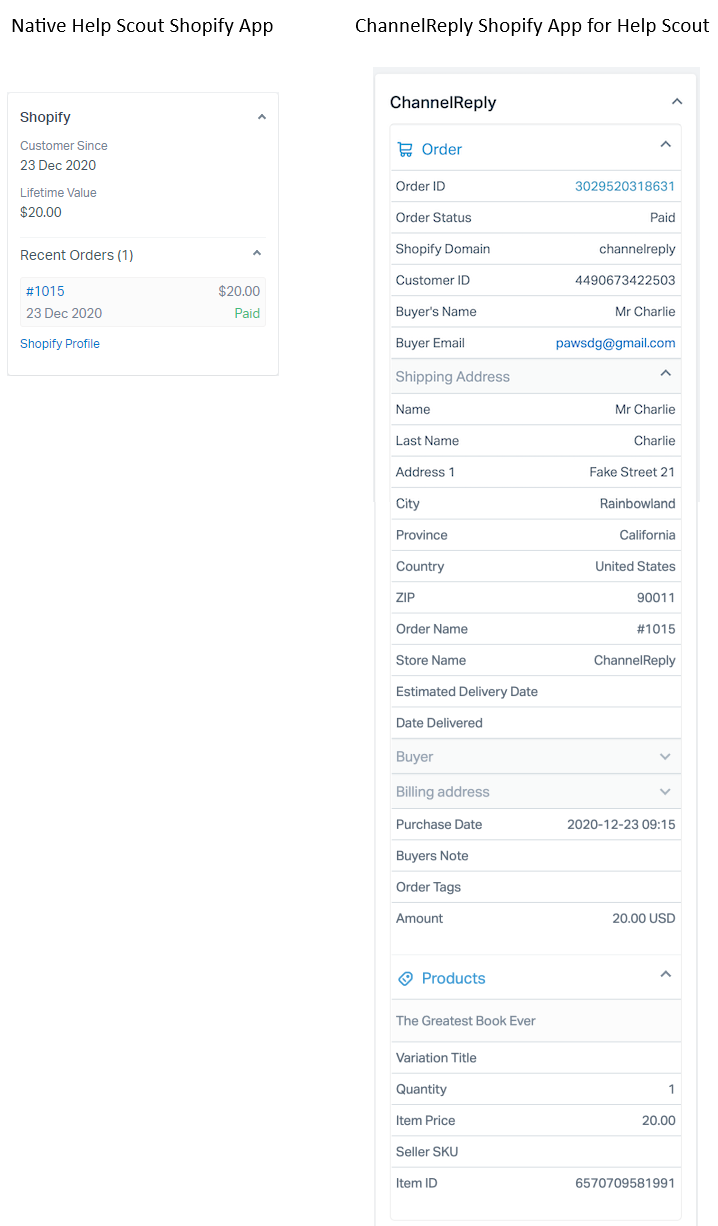 Plus, ChannelReply provides links to the order and the buyer's profile. If you still want to see those pages on Shopify, you can easily jump to them from the ChannelReply app.
Improved New Order Notifications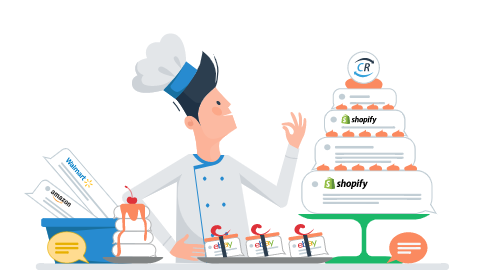 Our Shopify New Order notifications are completely free—they don't count as messages on any ChannelReply plan. But they offer major improvements over Shopify's regular order notifications!
Reply directly to start a conversation with the customer. No more copying and pasting email addresses!
Pull detailed order info into both the ChannelReply app and custom fields.
Easily create "Thank you for your order" autoreplies with our Help Scout autoresponder system.
Try Our Help Scout–Shopify Integration Free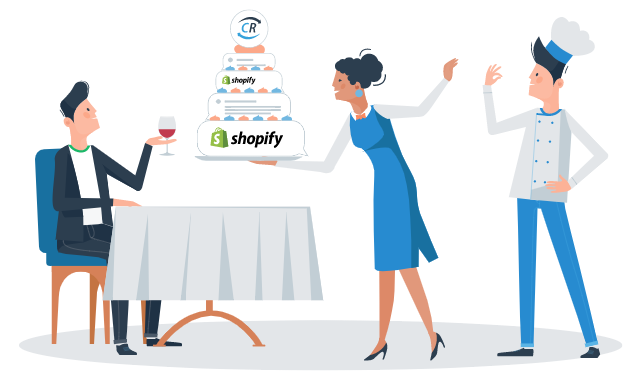 Start your free trial here and stop wasting time looking up order details. Answer all your messages from Shopify, eBay, Amazon, Walmart and more in Help Scout with ChannelReply!