When you have to deal with high-volume Amazon support, Buyer-Seller Messages just don't cut it anymore. You don't have time to manually customize every message, manage Amazon messages separately from other support channels, or dig through old messages to evaluate agent performance. You need a more powerful Amazon messaging system.
So, what options do you have?
Last updated 12/26/2019.
Upgrading to a Helpdesk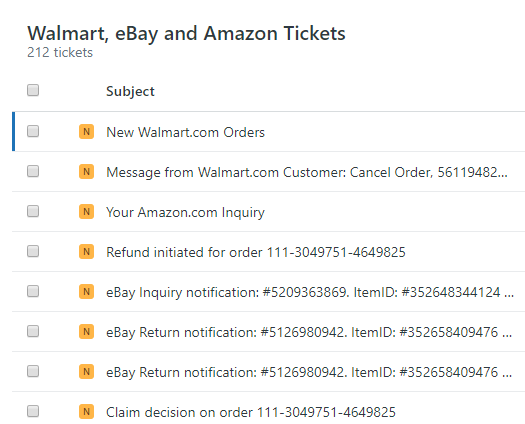 Above: Messages from Amazon and other marketplaces in Zendesk.
Professional helpdesks provide impressive suites of customer service tools. Several have integrated with Amazon, and if Amazon's messaging system were a horse-drawn buggy, helpdesks would be helicopters. The upgrade is immense.
Here are a few examples of what most Amazon-compatible helpdesks can do:
Create a library of canned replies similar to Amazon's email templates, plus…

Add placeholders to canned replies, automatically entering details such as the customer's name and info about their order anywhere you want

Search and filter your messages just like on Amazon, but with the freedom to create any filter you can dream up
Assign tickets to agents manually or automatically
Track agent performance and generate reports
Manage customer service from other channels on the same screen, including:

Email
eBay
Walmart
Social media platforms like Facebook and Twitter
Numerous other third-party platforms
Your own websites, including those built with popular store builders like…

Shopify
WooCommerce
BigCommerce
3dcart

Live chat
Telephony
These tools make a world of difference. Not only do they improve your customer service team's performance, they also make it easier for you to track and manage their work.
So, which helpdesks can provide these capabilities for Amazon sellers?
1. Zendesk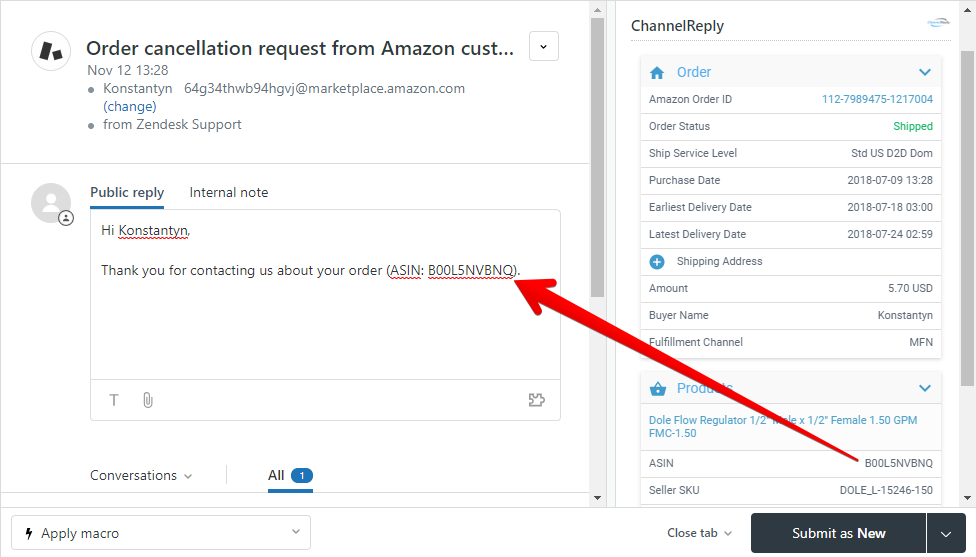 Replying to an Amazon ticket in Zendesk using a macro (canned reply) with placeholders. The text in the reply, including the buyer's name and the ASIN, was entered with two clicks.
One of the best helpdesks available, Zendesk can do everything we mentioned above. Plus, it's capable of working as an eBay, Walmart and Amazon autoresponder.
Amazon Compatibility
Zendesk integrates with Amazon via ChannelReply. Note that you must use Zendesk's Team plan or better for the integration to work correctly.
Pricing
Zendesk Team costs $19 per agent per month when billed annually. Advanced plans range up to $199 per agent per month.
Free Trial
Zendesk offers a 30-day free trial.
2. Freshdesk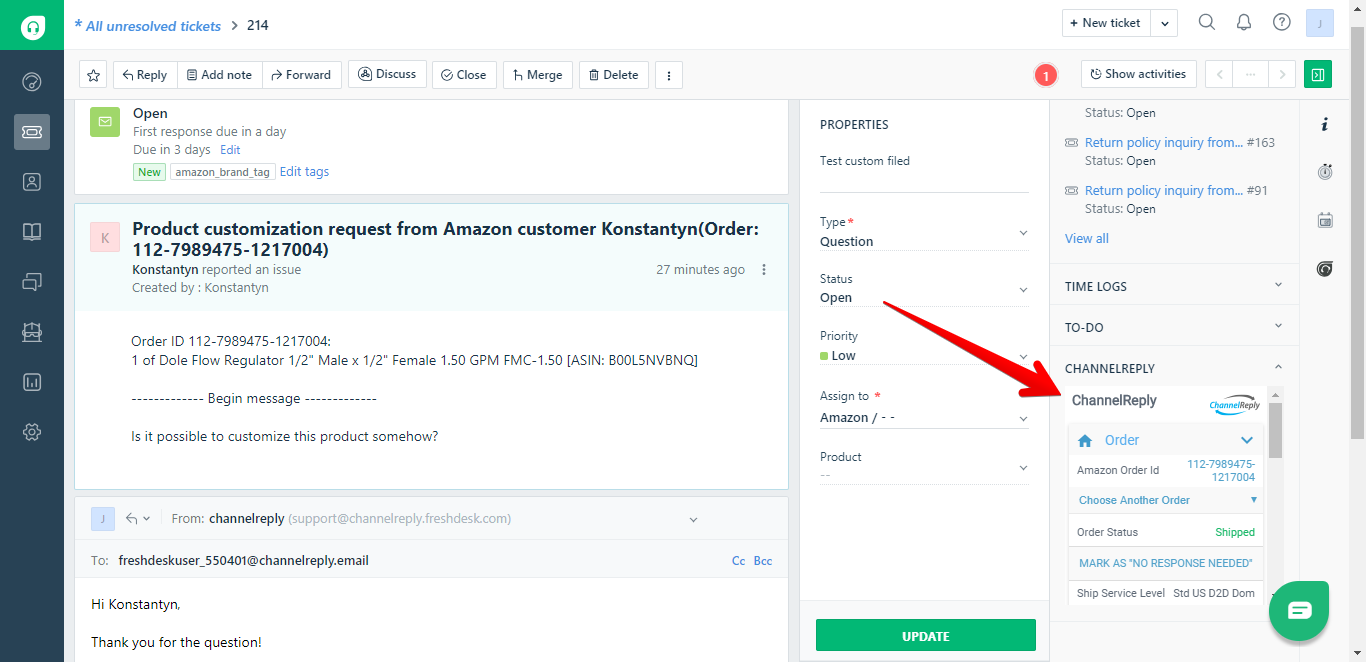 An Amazon ticket in the Freshdesk Mint interface. The ChannelReply app is indicated on the right.
Freshdesk is an affordable alternative. It has most of the same capabilities as Zendesk, often provides awesome features at lower price points, and can also work as an Amazon, Walmart and eBay autoresponder.
Amazon Compatibility
Freshdesk integrates with Amazon via ChannelReply. You'll need the Blossom plan or better for the connection to work.
Pricing
Freshdesk's Blossom plan is excellent for Amazon sellers and costs just $15 per user per month when billed annually. Although their basic Sprout plan is truly free service desk software, it just isn't built for Amazon support. Higher-level plans range up to $109 per month.
Free Trial
Freshdesk offers a 21-day free trial of their second-highest-level plan.
3. Help Scout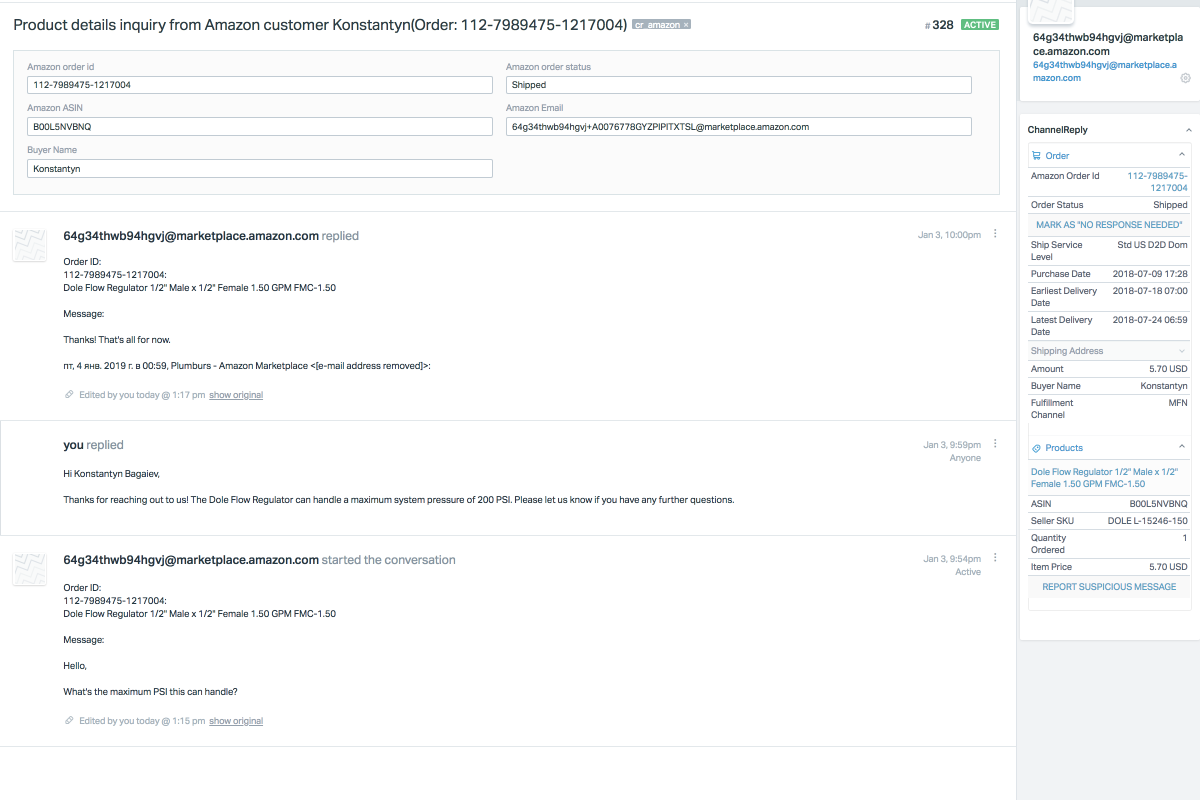 A zoomed-out view of threaded Amazon messages in Help Scout.
Help Scout is a beautifully clean and easy-to-use helpdesk. Their higher-level plans offer many of the same features of Zendesk's and Freshdesk's for just a third of the price. Plus, the Help Scout customer service team is renowned for treating even small customers like royalty.
Choose Help Scout if you want software that "just works" and don't want to spend a lot of time fiddling with detailed settings or dealing with clutter all over your screen. Just note that some advanced tools are unavailable for Amazon in Help Scout, such as using customer details in saved replies.
Amazon Compatibility
ChannelReply allows you to connect Amazon, eBay and Walmart with Help Scout. All ChannelReply features are available on Help Scout's Standard plan except Custom Fields (shown at the top of the screenshot above), which require Help Scout Plus or better.
Pricing
Help Scout Standard costs $20/user/month when billed annually, while their Plus plan costs $35/user/month. Getting the same features as Plus on another helpdesk would usually cost you around $100/user/month.
Free Trial
Help Scout offers a 15-day free trial.
4. Gorgias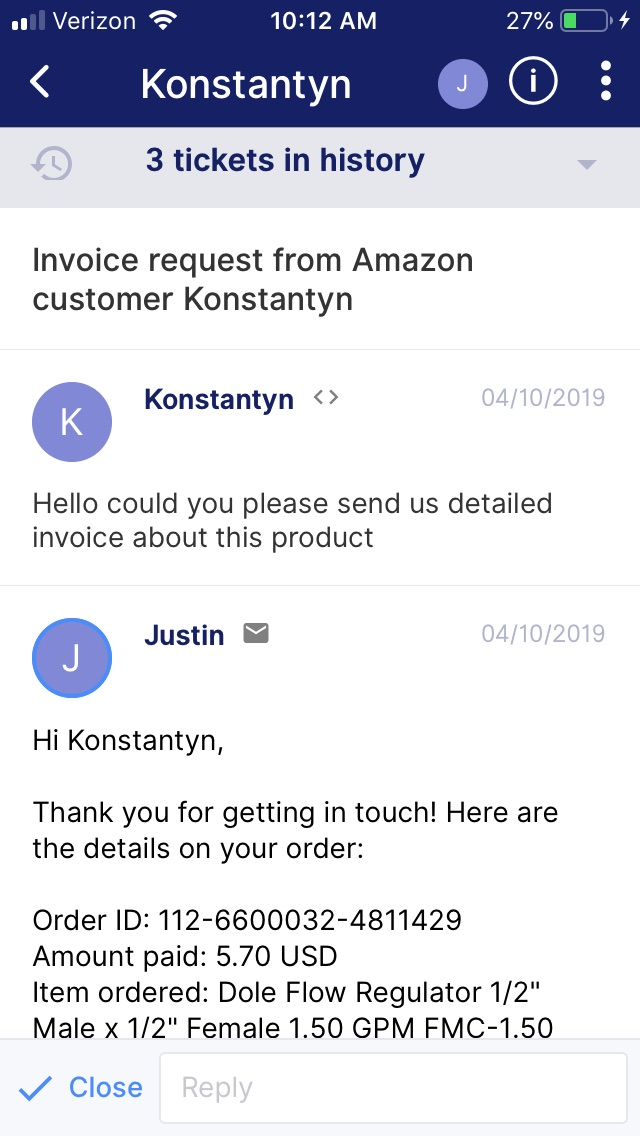 Answering an Amazon ticket from the Gorgias iOS app.
Gorgias was built specifically for online stores. If you sell on your Shopify or Magento website as much as or more than you sell on Amazon, it's probably the best choice you could make.
Gorgias pulls in every bit of data from your store into customer service, and functions as both CRM and helpdesk, storing all kinds of important info to help you land a sale. It can even let you strike up conversations with shoppers as they're browsing. This closes a huge part of the gap between ecommerce and the in-store experience.
Amazon Compatibility
ChannelReply recently added Amazon, eBay and Walmart integrations for Gorgias, and all plans are compatible. The integration gives you the same kind of info about marketplace users as you would have about Shopify customers and lets you answer them directly from Gorgias. All ChannelReply data can be used in tools like variables with no extra setup.
Just take note: some hands-on support features like starting live chats won't work on Amazon. The big river isn't likely to approve that anytime soon!
Pricing
While most helpdesks bill by agent, Gorgias gives you unlimited agents and bills by ticket volume instead. Prices start at $250/month.
Free Trial
Gorgias's free trial lasts 7 days.
Upgrade to a Better Amazon Messaging System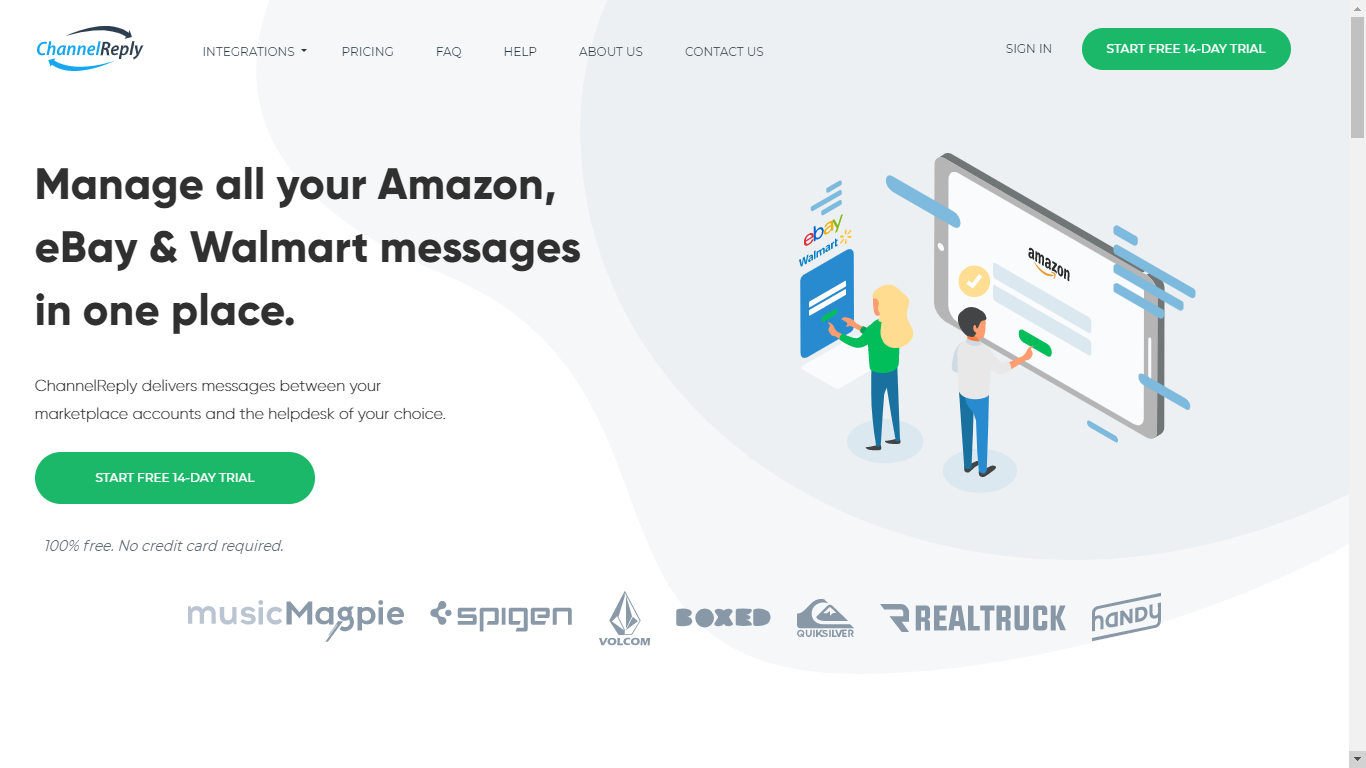 Don't limit yourself to the handful of customer service tools on Amazon. Try Zendesk, Freshdesk, Help Scout or Gorgias and integrate with Amazon using a free trial of ChannelReply. You'll never want to go back!