"Zendesk vs. Freshdesk: who would win?" It's a question many ChannelReply customers ask when trying to decide which helpdesk would be best for managing eBay and Amazon messages.
Since we work closely with both businesses, we are officially neutral. But, since people often ask, here are our opinions about which helpdesk is better for what.
Last updated 9/20/2018.
1. Freshdesk vs. Zendesk Support Pricing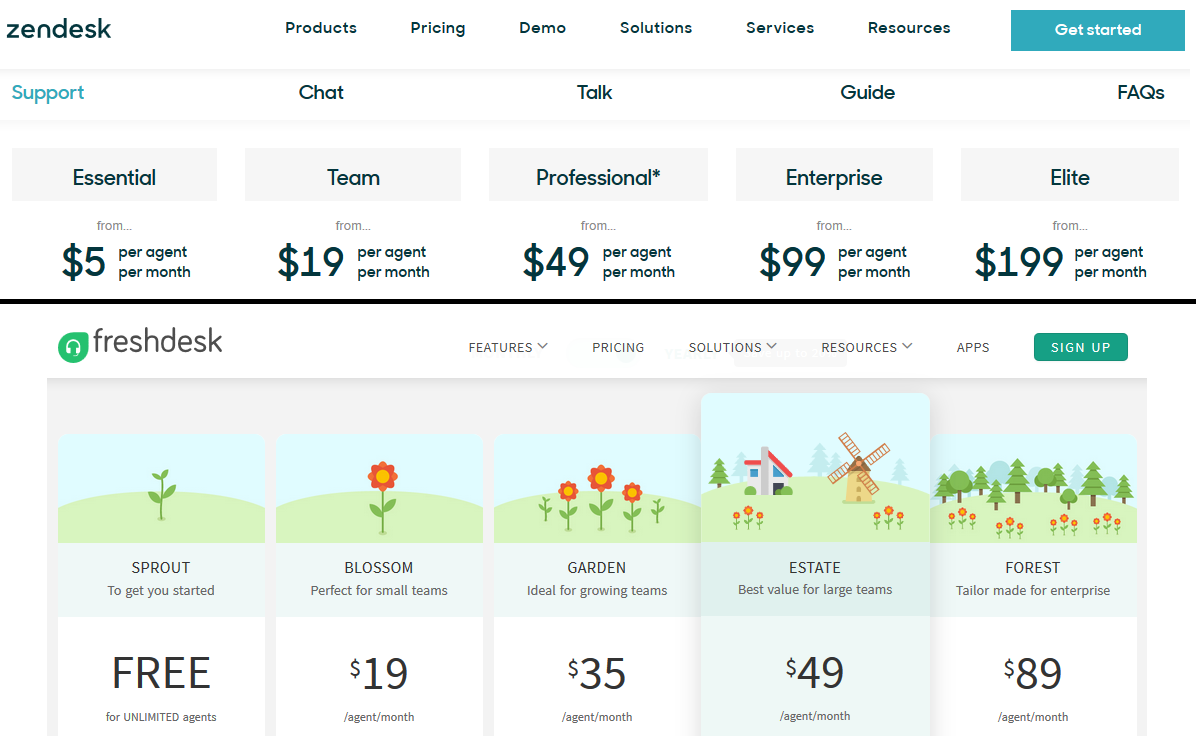 This area has a clear winner: Freshdesk. They offer totally free service desk software in the form of their Sprout plan, and many other Freshdesk plans are noticeably cheaper than Zendesk plans. The added costs of Zendesk Support are often worth it, but when budget comes first, go Freshdesk.
2. Zendesk vs. Freshdesk Features
Let's even out the playing field from this point forward. We'll focus on Zendesk Team and Freshdesk Blossom. Both of these plans cost $19 per month per agent when billed annually, so we can see how the two stack up when matched pound for pound.
Ticket Organization
In my opinion, this is a place where Zendesk really shines. Freshdesk does offer very powerful ticket filtering using views, letting you see any specific set of tickets you want. But Zendesk views provide a much more visual and informative interface.
With Freshdesk, you select a view from a dropdown menu and then see your messages filtered accordingly.

You can also very easily re-sort the tickets and combine filters to see a specific subset of messages.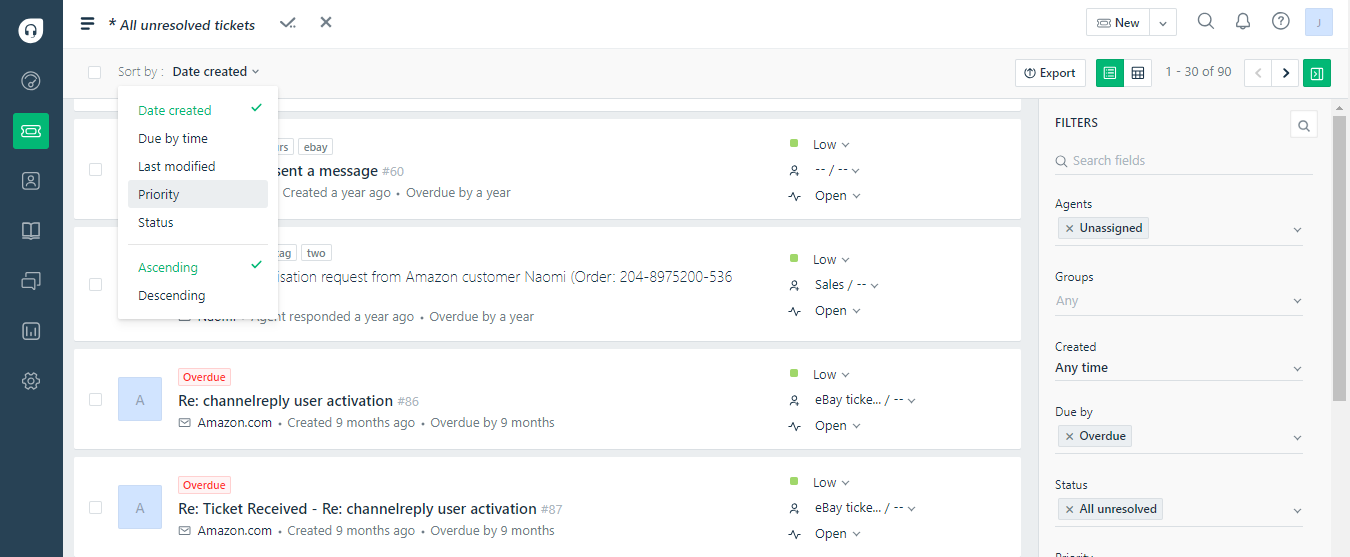 But Zendesk arranges all your views on the side of the screen and lets you select them with one click instead of two. They also all have counters showing how many messages are in each view; Freshdesk only shows ticket numbers on its dashboard. These Zendesk ticket counters are extremely helpful for monitoring message volume in real time.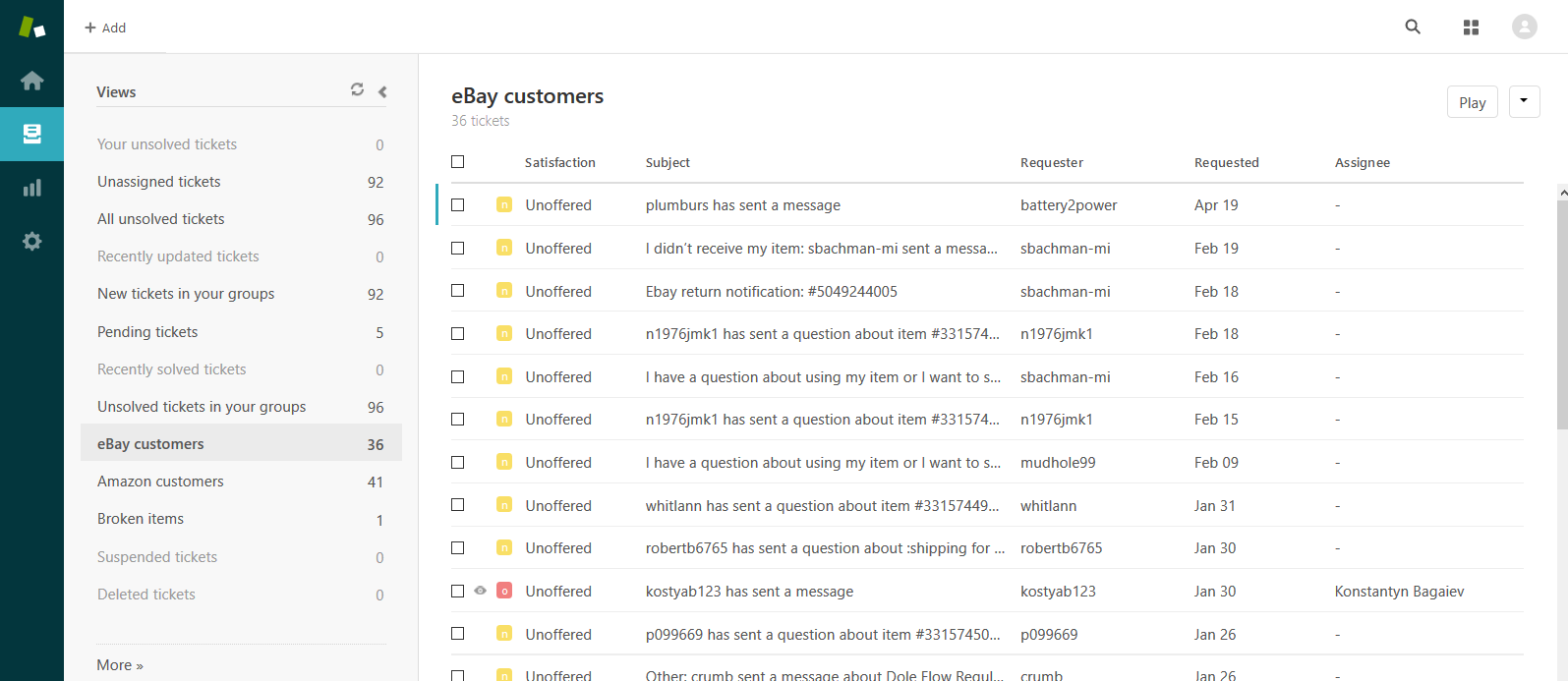 There are definitely points for both sides, but for me, Zendesk's ticket counters and clean interface win.
Want to sort ecommerce tickets into Zendesk views? See "How to Create Zendesk Views for eBay and Amazon."
Ticket Management
Both Zendesk and Freshdesk offer predefined replies / canned responses / macros, allowing you to save answers to common questions and reuse them at will.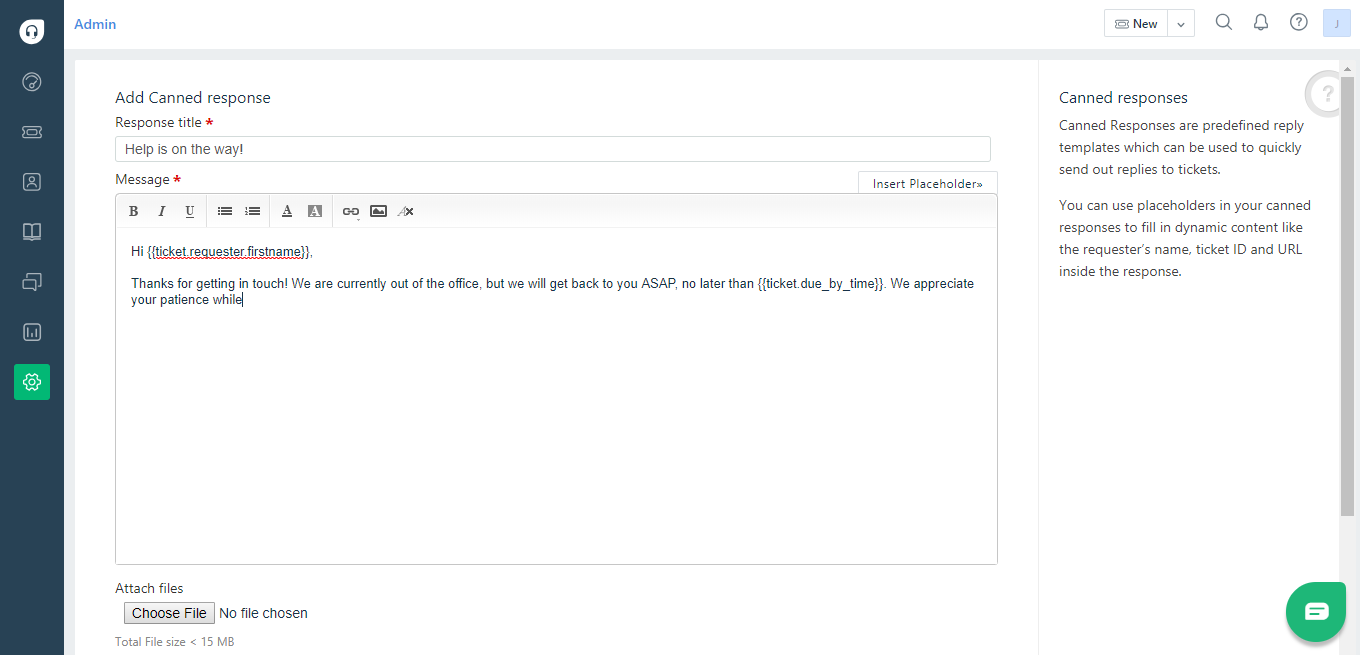 They also both include placeholders. Placeholders can automatically fill in just about any piece of information collected from a customer when they contact you. For example, the most common use of placeholders is to automatically enter the customer's name in each canned response so you don't have to type it in every time.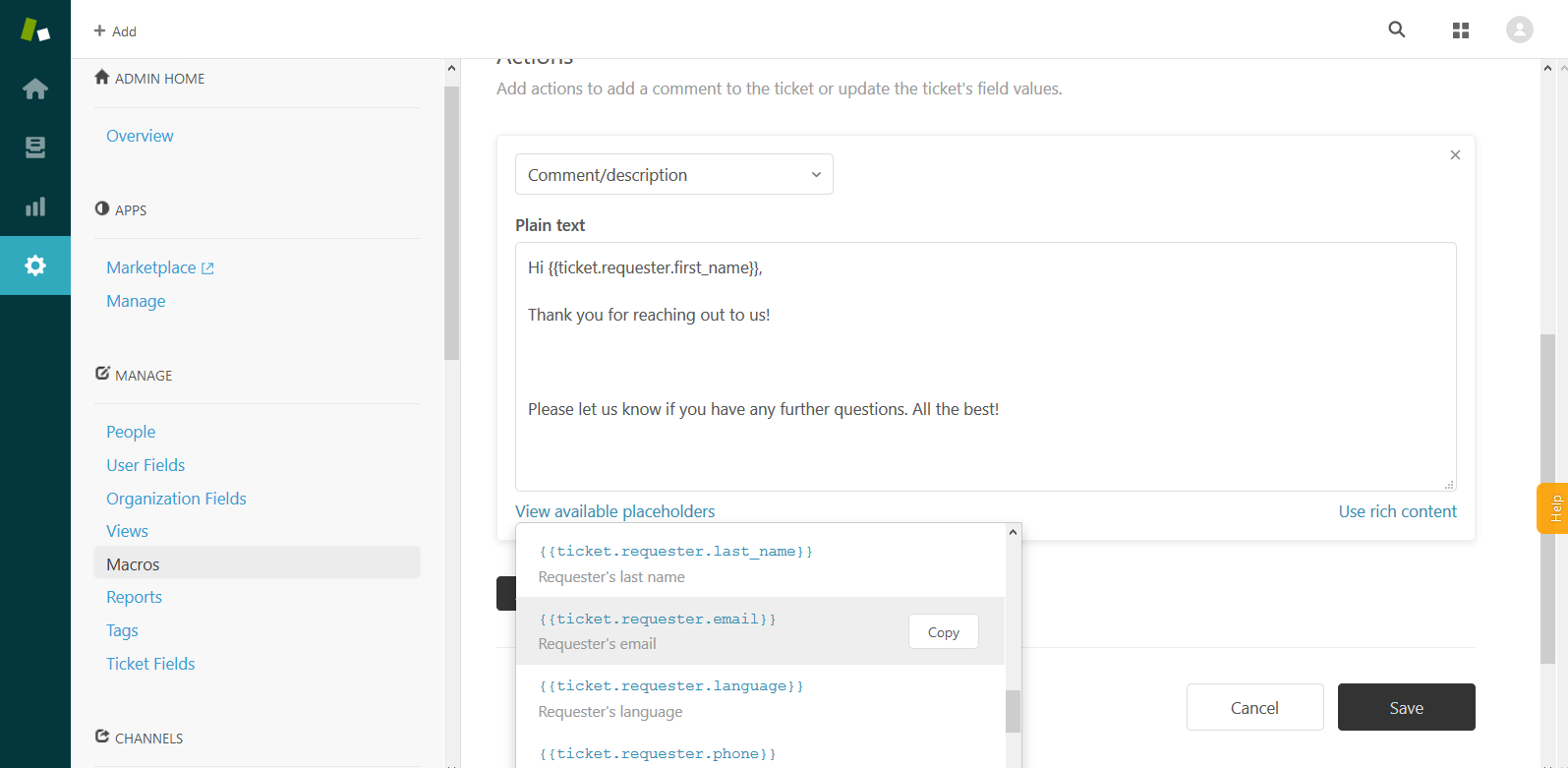 Freshdesk's placeholders are better organized and easier to enter in canned responses, as they are sorted into categories and you can enter them with a click. Zendesk simply has a long list, and you have to first copy the placeholder and then paste it into your macro.
(Want more on placeholders? See our guide to setting up ChannelReply custom fields as Zendesk placeholders or doing the same thing in Freshdesk for a few detailed examples of placeholders in action.)
Finally, Freshdesk Blossom offers basic collision detection with traffic cop. This can help prevent your agents from writing different replies to the same tickets, saving your customers a lot of confusion. Zendesk's collision detection features are only available on Professional or better.
Last year, Zendesk won this category. But in 2018, Freshdesk wins in ticket management.
Multichannel Message Management
You can integrate Zendesk and Freshdesk with eBay and Amazon, of course. But what's the difference between how those integrations work?
Zendesk's integrations have been around longer. More tools (like eBay and Amazon autoresponders and multilingual Amazon support) are currently available for merchants using Zendesk.
However, Freshdesk isn't totally behind. Their Dispatch'r allows you to build advanced triggers based on specific customer and order data from eBay and Amazon. Zendesk triggers don't have this capability.
OK, enough about online marketplaces. What about other channels?
Both Zendesk and Freshdesk can integrate with email, Twitter and Facebook.
Basic telephony integration can be added to Freshdesk for free with FreshCaller Sprout, and to Zendesk for free with the Zendesk Talk Lite plan.
Likewise, both offer basic live chat integration for free via FreshChat Sprout / Zendesk Chat Lite.
Both can integrate with tons of other services through the use of apps, including free integrations for Shopify and MailChimp.
Zendesk wins by a nose—and see the next section.
Apps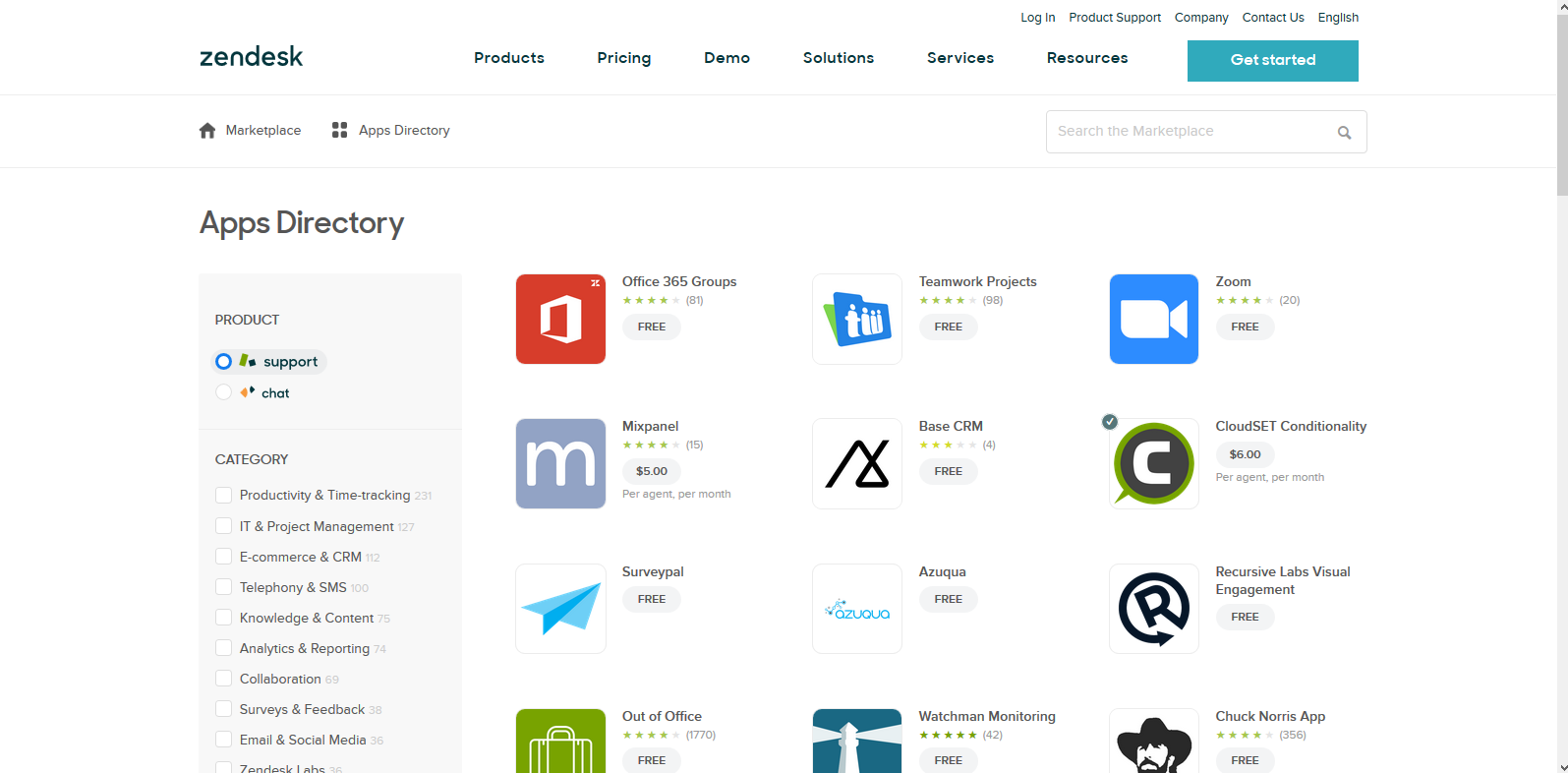 The vanilla versions of both Zendesk and Freshdesk are pretty slick, but what if you want the additional features of third-party apps beyond those mentioned above?
Both platforms will give you options for plenty of integrations. But Zendesk is the absolute king of apps. While Freshdesk provides 330+ apps, Zendesk has over 700. Whatever you want to integrate, there's a good chance it's possible with Zendesk—or will be soon.
Self-Service
Both platforms offer tools for reducing ticket volumes by letting customers support themselves. We're going to look specifically at what you get with Zendesk Team and Freshdesk Blossom without paying for anything extra.
Freshdesk's Knowledge Base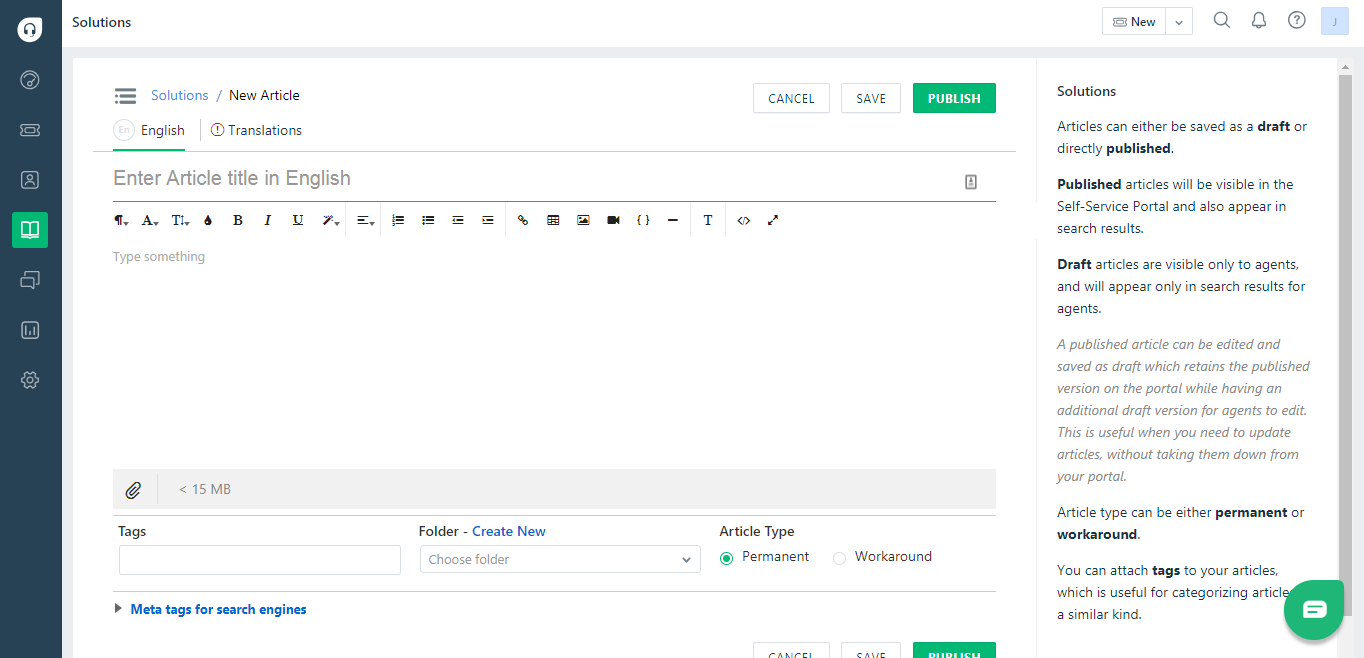 All Freshdesk plans include a knowledge base, and most of the features are available on Blossom. These include:
A public knowledge base where your customers can find answers to common questions.
A private knowledge base where you can store training materials for your agents and similar content out of view of your customers.
Automatic sitemap generation so your help articles are more likely to appear in search engine results.
"Email to Knowledge Base," a feature that lets you automatically transform replies to customer messages into drafts of new help articles.
An embeddable help widget that customers can use to search your knowledge base or contact you.
Dependent fields for your contact form; these allow you to gather more information about each problem.
Zendesk Guide Lite
With Zendesk Team, you automatically get access to Zendesk Guide Lite. Its features are:
Who Wins on Self-Service?
This is another point for Freshdesk when you're paying the same amount for Zendesk Team or Freshdesk Blossom. However, if you're willing to pay for Zendesk Guide, it's worth noting that the paid plans are much more powerful even than all the good stuff Freshdesk includes for free.
Reporting
Zendesk Reporting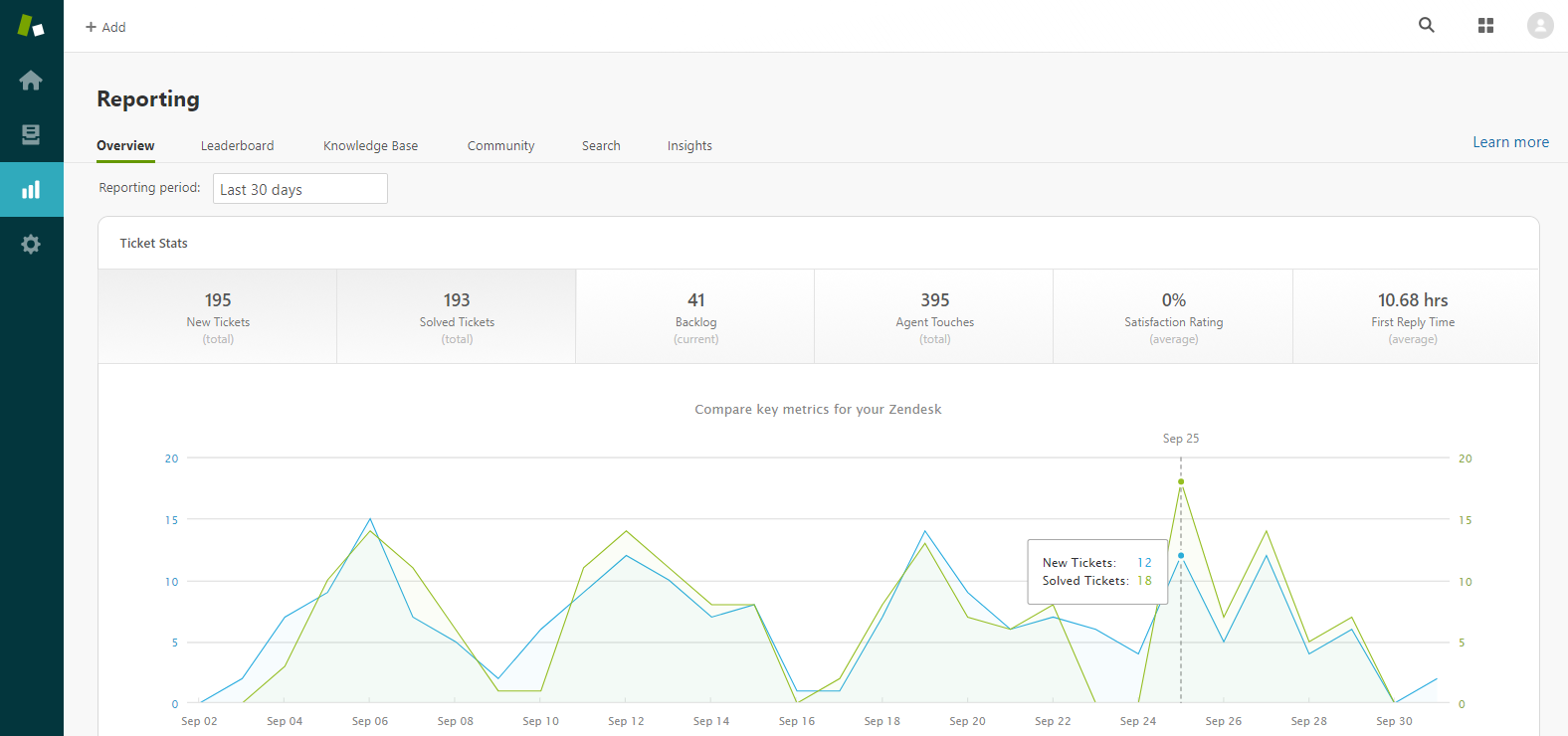 Zendesk Team comes with robust reporting features, including:
Multiple reporting dashboards, including an overview and more detailed reporting on specific areas of performance.
Benchmark comparisons against other Zendesk users in your industry, allowing you to see if your support team is performing above or below average.
Basic info on the performance of your Zendesk Guide Lite help center.
Freshdesk Reporting
Freshdesk Blossom offers:
Who Wins on Reporting?
Freshdesk wins the point for reporting. Zendesk Benchmark is a really cool feature, but you need to upgrade to Zendesk Professional to get time tracking or customer satisfaction reporting, and Freshdesk's in-depth reporting can be very useful.
Other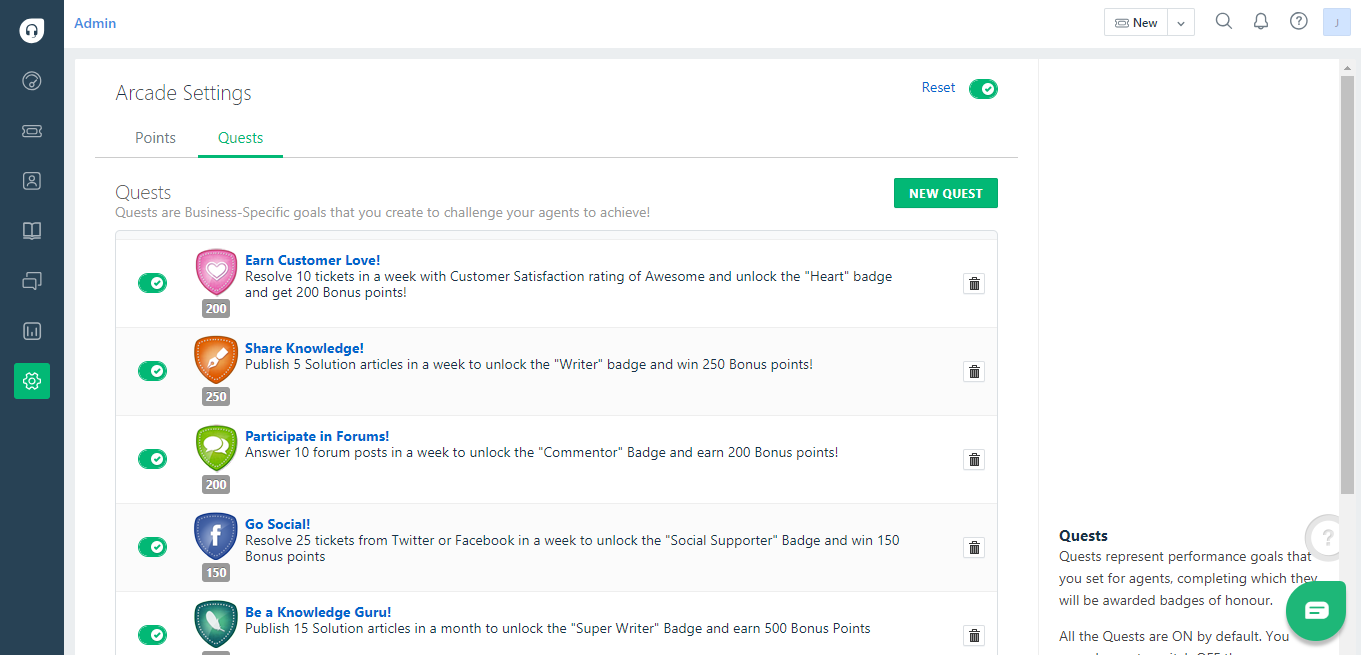 We have to give Freshdesk another point: we haven't seen any other helpdesk incorporate game mechanics. They offer cool features like high scores and achievements that make it a lot more fun to compete for Employee of the Month. Used right, these can be great morale boosters.
3. Customer Service Availability
Just because you're using the software to provide customer service doesn't mean you'll never need help yourself.
Zendesk offers Team subscribers customer service via email eight hours a day, five days a week. Freshdesk provides 24/5 phone support and 24/7 email support on all plans.
If support availability and the option to call support are important to you, then this point goes to Freshdesk.
What Wins: Zendesk Team or Freshdesk Blossom?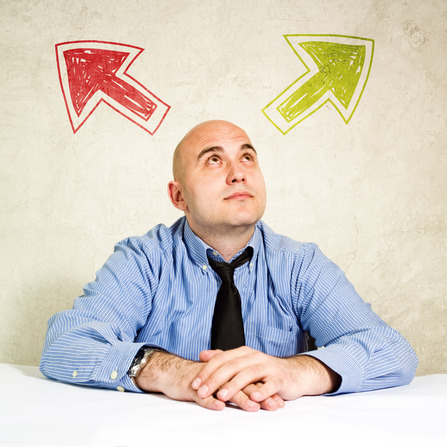 Here's a quick recap of which helpdesk won which points:
Ticket organization: Zendesk
Ticket management: Freshdesk
Multichannel message management: Zendesk
Apps: Zendesk
Self-service: Freshdesk
Reporting: Freshdesk
Other: Freshdesk
Customer service availability: Freshdesk
All told, things are pretty even, but Freshdesk has really been upping its game for Blossom while Zendesk has actually restricted some features to higher plans. Freshdesk Blossom wins!
There are exceptions, though. Zendesk currently has more advanced eBay and Amazon integrations, plus its vast selection of other third-party integrations. As a result, Zendesk Team wins for ecommerce.
This is extremely subjective and based on opinions held only by some of our team. The contest of Zendesk vs. Freshdesk is best decided by which works better for your customer service department. And it's easy to find out: both offer extensive free trials. Try out both Zendesk and Freshdesk and discover which one best fits your company!