Ever since the disastrous October 2016 update, eBay and Amazon sellers have been looking for a Reply Manager alternative. It's no surprise given reviews like the following from WebRetailer: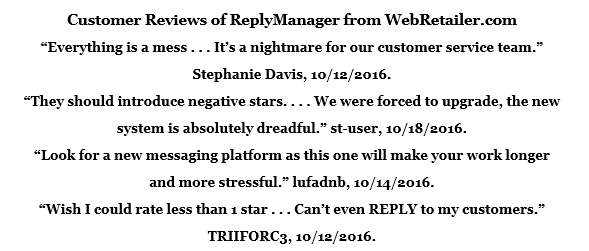 That sounds almost as fun as the Windows 10 Anniversary Update. So what can you do if you want an alternative to Reply Manager that won't force broken updates on you? What other software can manage eBay and Amazon messages in the same place as email from your own website?
Two Alternatives
There are basically two alternatives: ChannelReply and XSellCo Fusion.
We did an article on XSellCo Fusion vs. ChannelReply and found that XSellCo offers fewer features for a much higher price. On top of that, XSellCo actually owns Reply Manager:

So it's not even that different. They're the same company and just as likely to make the same mistakes with their other products.
Time to look at the only real Reply Manager alternative: ChannelReply.
ChannelReply as a Reply Manager Alternative
Both ChannelReply and Reply Manager let you manage Amazon and eBay messages—plus emails from your own ecommerce site—on one screen. Both can also work as an Amazon autoresponder, and let multiple users provide support for one eBay account. But how they do it is very different.
Reply Manager is a completely self-contained program. They built their own marketplace integrations, management tools, email interface, and everything else.
It's impressive, but it means they have a lot of balls in the air at all times. When things go wrong—like they did with the 10/2016 update—it can get very ugly.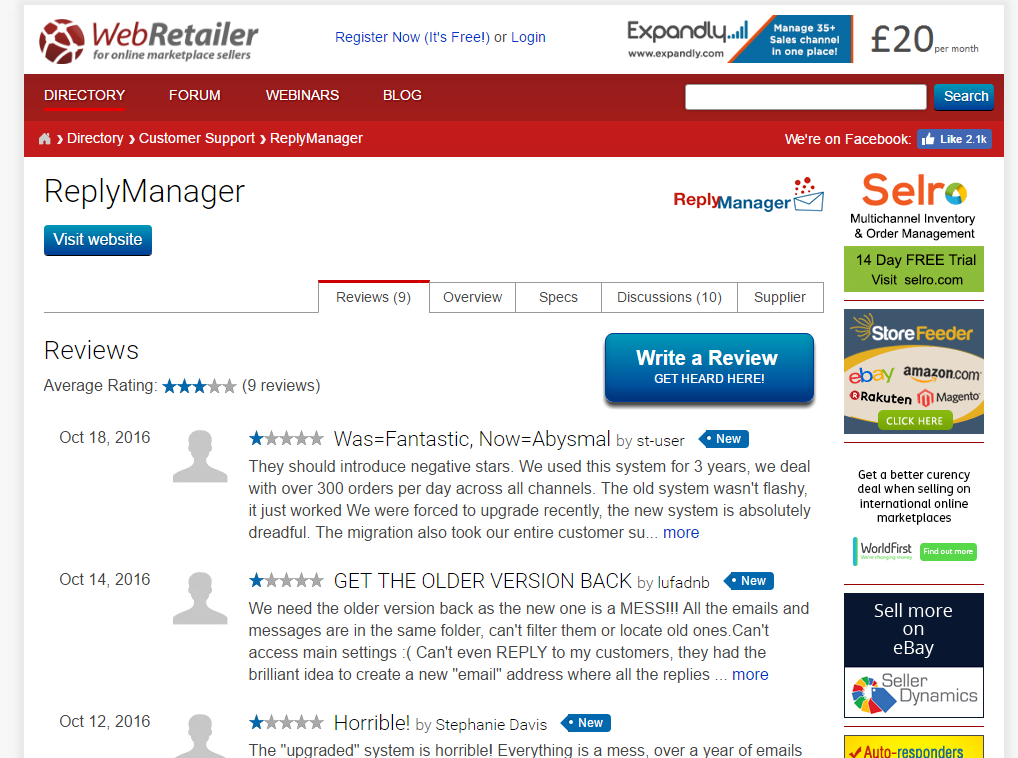 ChannelReply works a bit differently. Rather than trying to be judge, jury, and executioner, it connects your eBay and Amazon accounts to a leading helpdesk of your choice. Both Zendesk and Desk.com integration are available.
ChannelReply has one job: keep your messages flowing smoothly. It therefore offers the most reliable service possible. Meanwhile, the helpdesks work day and night to make customer service easier to manage than ever before. The result is the best Amazon and eBay messaging solution available.
Let me prove it to you.
Pricing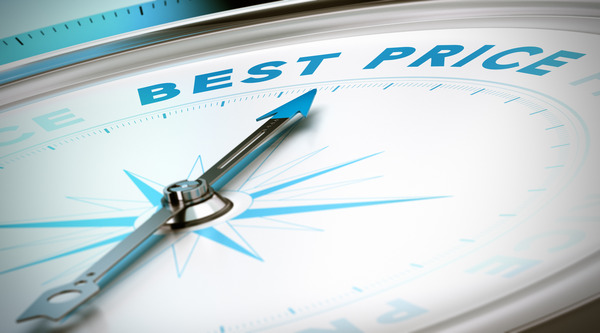 At first glance, it might seem like ChannelReply and a helpdesk will cost more than Reply Manager. But in most business situations it will either be more affordable or deliver huge advantages that are clearly worth the price.
Let's review common business situations for online sellers and find out what each service would cost.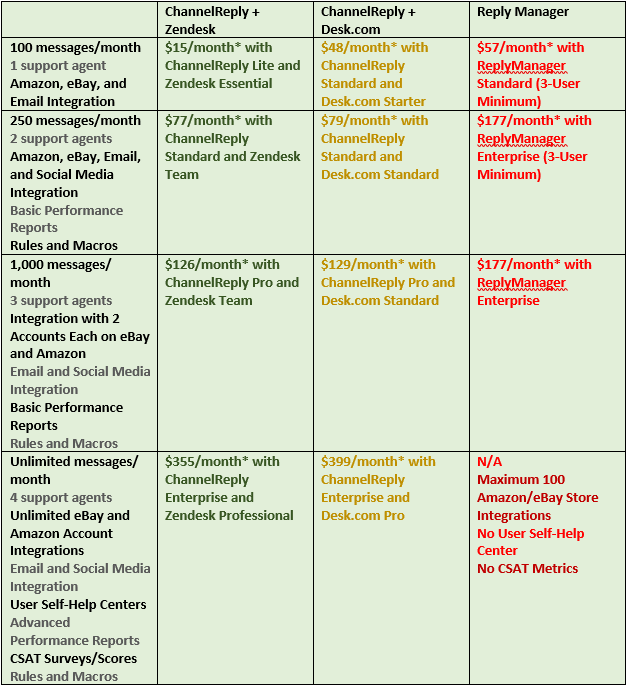 *All examples use yearly pricing and are accurate as of 10/19/2016. Prices are higher for all services listed when paid monthly instead.
If you want to learn more about the pricing plans from above, check out the following:
If your customer service needs are anything like those shown in this chart, switching from Reply Manager to ChannelReply could save you up to $1,200 per year. You can also do far more than you ever could with Reply Manager. The premium Desk.com and Zendesk account levels offer way more features, as do their broad libraries of third-party apps.
Speaking of which . . .
Integrations and Add-Ons
Most sellers who use ChannelReply or Reply Manager have the same goal: handle their ecommerce customer service messages on one screen. Either one will let you do that.
However, both Desk and Zendesk offer far more integrations than Reply Manager.
Reply Manager boasts about a handful of integrations. Besides marketplaces and social media channels (Enterprise level only), it can connect with Linnworks, Brightpearl, and ChannelAdvisor. It's a useful but small batch of add-ons.
Desk.com has over 70 integrations. It naturally connects with its mother product, Salesforce, in addition to ChannelReply and industry leaders like Shopify, Slack, and MailChimp. It's also easy to connect with major social media channels.
But Zendesk blows them all away with over 500 app integrations and add-ons. Nearly all are available for free. If there's a service you want to connect with, you'll likely find it in the Zendesk App Directory.
In short, Reply Manager limits you to the handful of services its developers have linked it to. ChannelReply lets you connect with the dozens or even hundreds of services connected to your helpdesk of choice. If you need flexibility, there's no contest.
Multilingual Support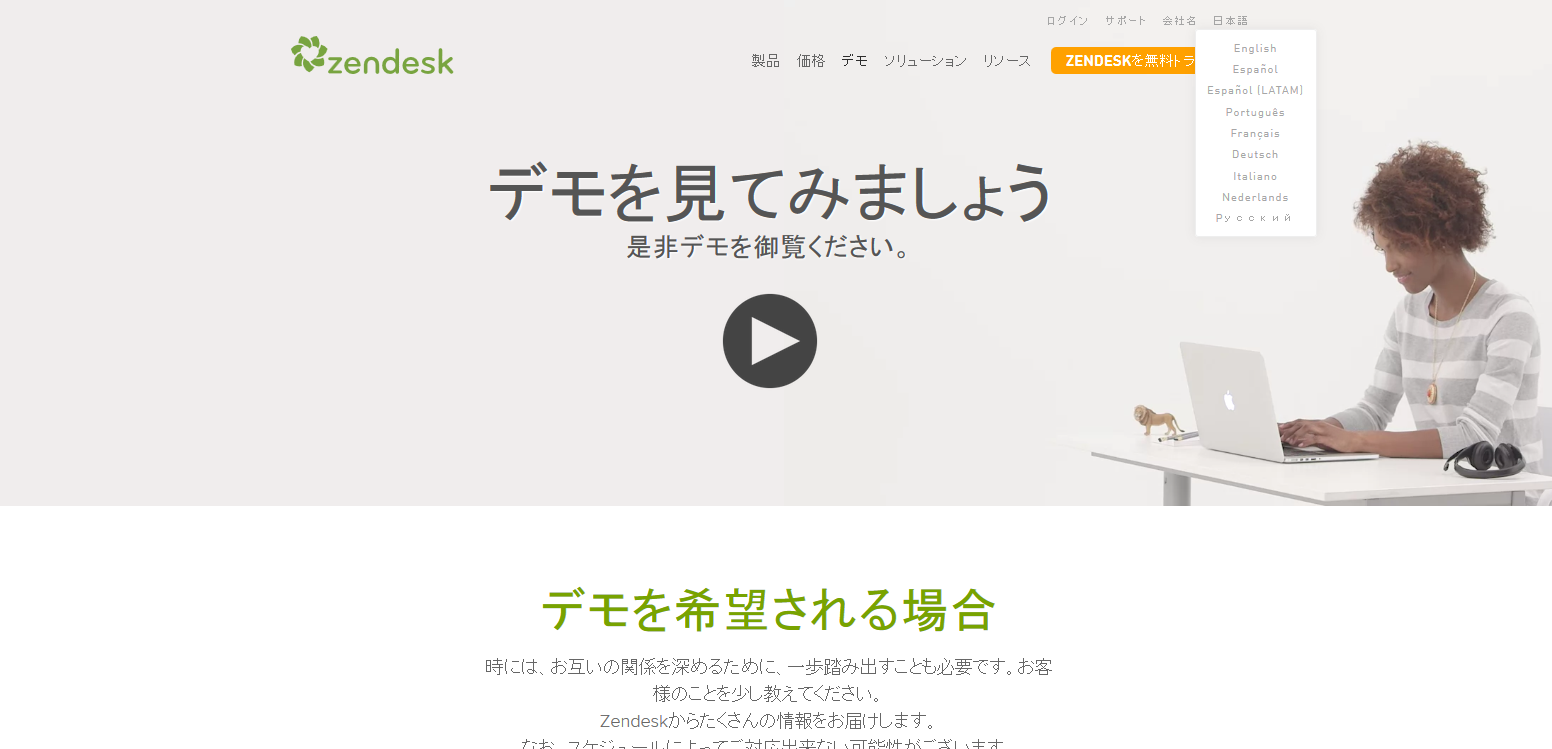 Zendesk can link with several translation apps, including Translate from Translate.com and Unbabel Translate. Both of these offer free machine translation with the option to pay for on-demand human translation. The Zendesk interface is also available in nine languages and two dialects of Spanish.
Desk, which comes with a built-in support center, allows you to create articles in 53 languages and let your customers select one when they visit. You can then use these articles as canned replies when you answer emails.
Reply Manager can be viewed in three languages and includes a spell checker for five. Not bad. But if you need to translate anything, they just tell you to install a third-party browser plugin.
Ticket Organization and Management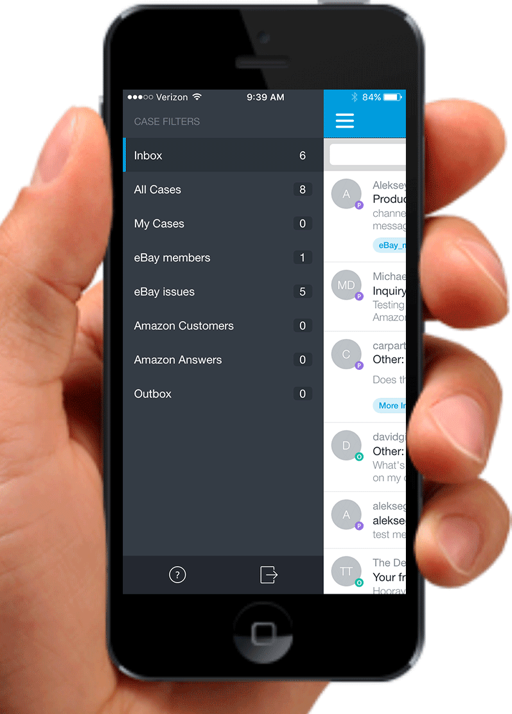 ChannelReply gives you access to powerful tools for handling your tickets, whether you choose to integrate it with Desk or Zendesk. Reply Manager offers similarly powerful tools for managing Amazon and eBay messages. However, it doesn't provide much for helping customers on your own site or let you create a staff-only knowledgebase.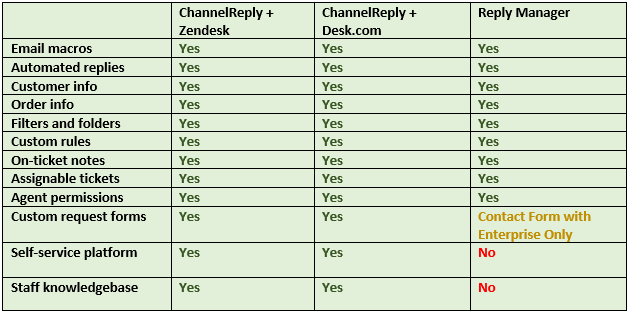 Live Chat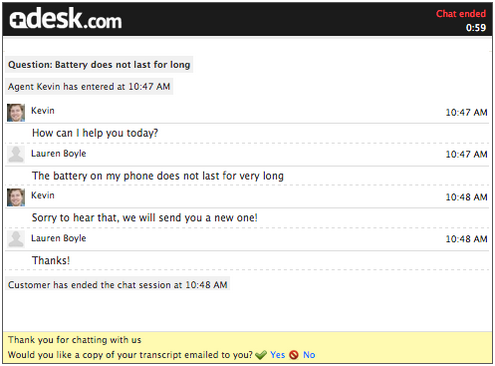 ChannelReply + Desk.com is the only option that comes with a free chat widget at any pricing level. Zendesk offers very limited free chat, but its popular add-on Zopim is considered one of the best chat systems available. Reply Manager only provides support for chat to its Enterprise-level customers.
The Final Verdict
Here's one last chart to compare the pros and cons of ChannelReply and Reply Manager: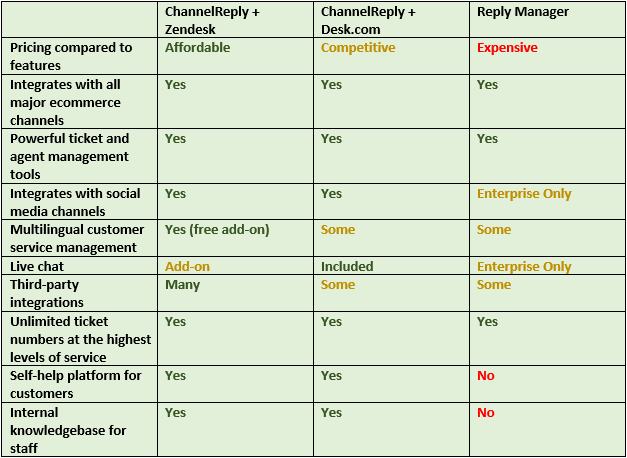 Although Reply Manager is a good product when it works, it charges too much for too little. Throw in forced updates with poor beta testing and it's clearly not a great choice.
ChannelReply is the best Reply Manager alternative and the only serious competitor that isn't owned by the same company. Try it free and see the difference it can make for you.