ChannelReply now integrates with Etsy! You can finally set up an Etsy integration with Zendesk, Gorgias, Freshdesk, Re:amaze, Help Scout, Zoho Desk or Kustomer. Finish setup in minutes and start getting Etsy Messages and order info in your favorite helpdesk!
How the Etsy Integration Works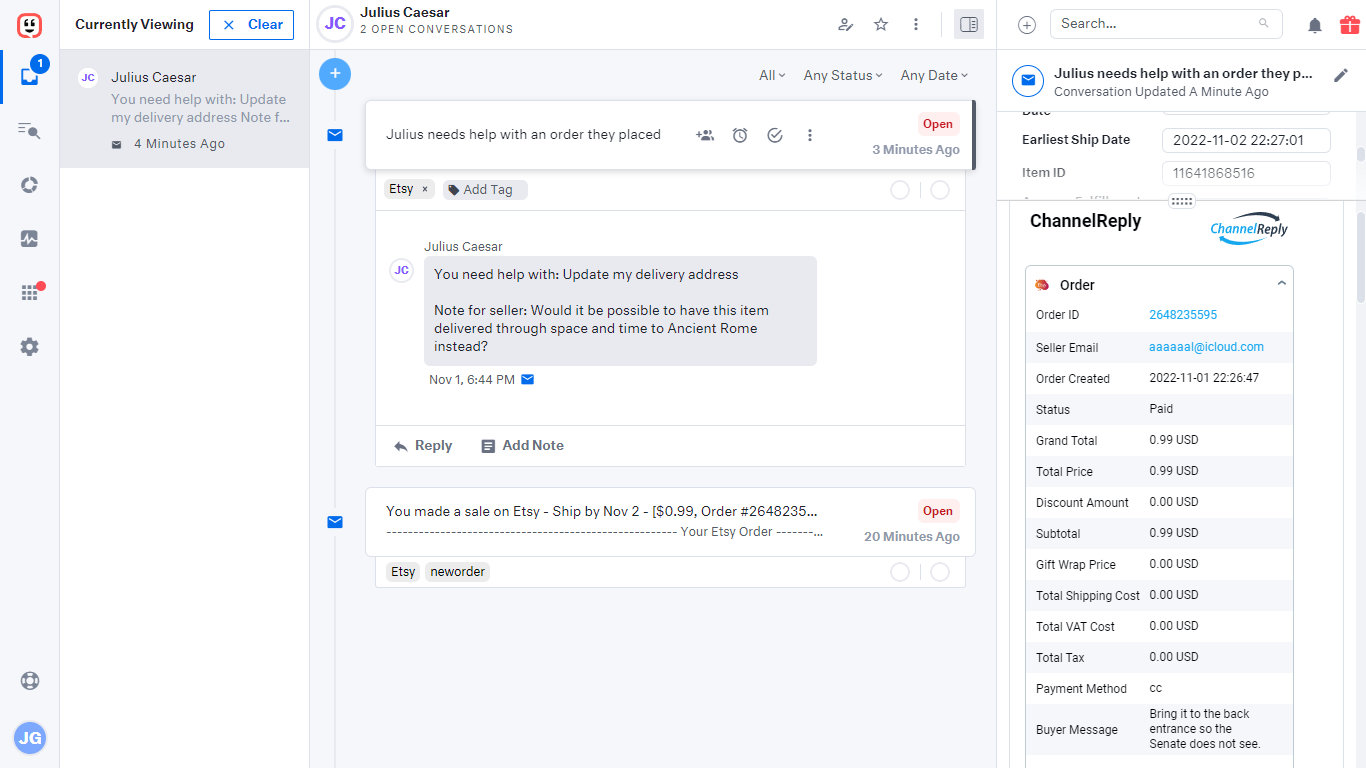 Above: An Etsy message in Kustomer with order data from ChannelReply on the right.
ChannelReply helps you pull all your Etsy Messages into your helpdesk. Plus, it displays dozens of order details beside each order-related message. Tracking IDs, items purchased, shipping addresses, you name it, everything you need to know for ecommerce support is right there in the app.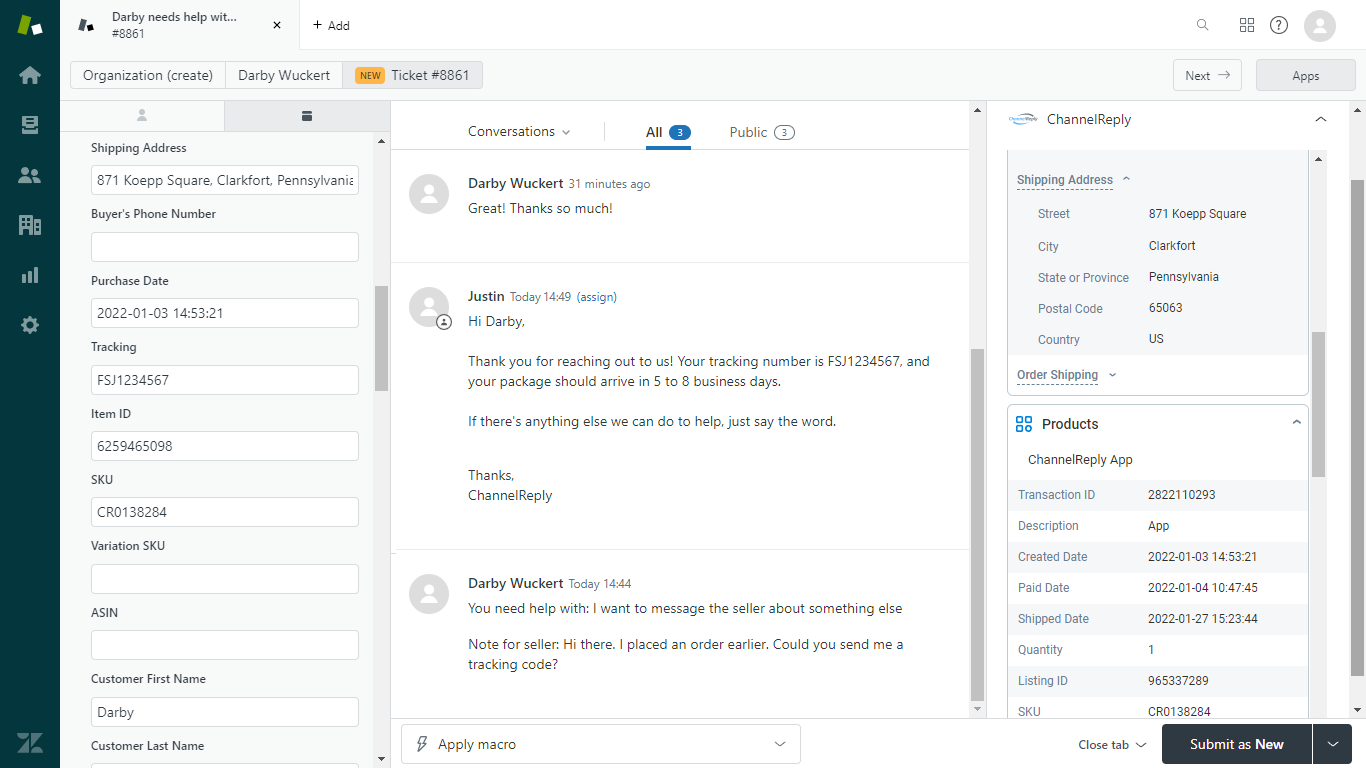 Above: An email conversation with an Etsy customer in Zendesk.
Of course, Etsy has an infamous policy: they forbid all developers from sending replies to Etsy Messages from outside Etsy. But don't worry—we've come up with two workarounds to make your life easier!
1. Email Conversations
Anytime ChannelReply is able to identify the customer's email, you can respond directly from your helpdesk. You'll see the customer's email in the Primary Email field, as seen on the right in the screenshot below.
Above: An email conversation with an Etsy customer in Help Scout. The conversation was started by replying directly to the New Order notification seen at the bottom of the image.
We'll deliver your answer to the customer's email address. We'll also thread their responses into the same ticket in your helpdesk.
This is quick and easy and complies with Etsy's Seller Policy; just note that it does not help with becoming a Star Seller.
2. Etsy Conversation Shortcuts
If you want to reply to any customer message from inside Etsy, simply click the "Reply on Etsy" button in the ChannelReply app. You'll jump straight to the conversation in Etsy Messages—no clicking around to find the right one!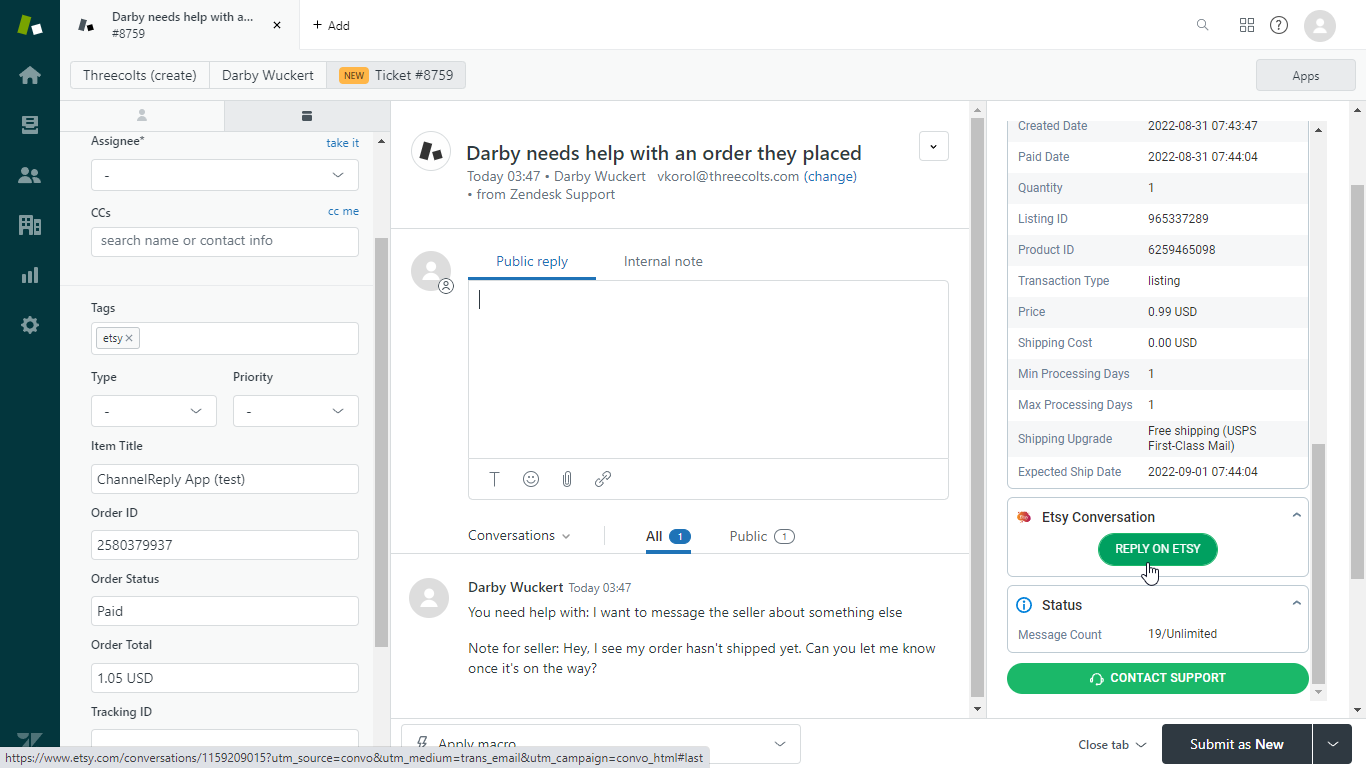 Above: The "Reply on Etsy" button in Zendesk.
Below: Where we landed immediately after clicking "Reply on Etsy."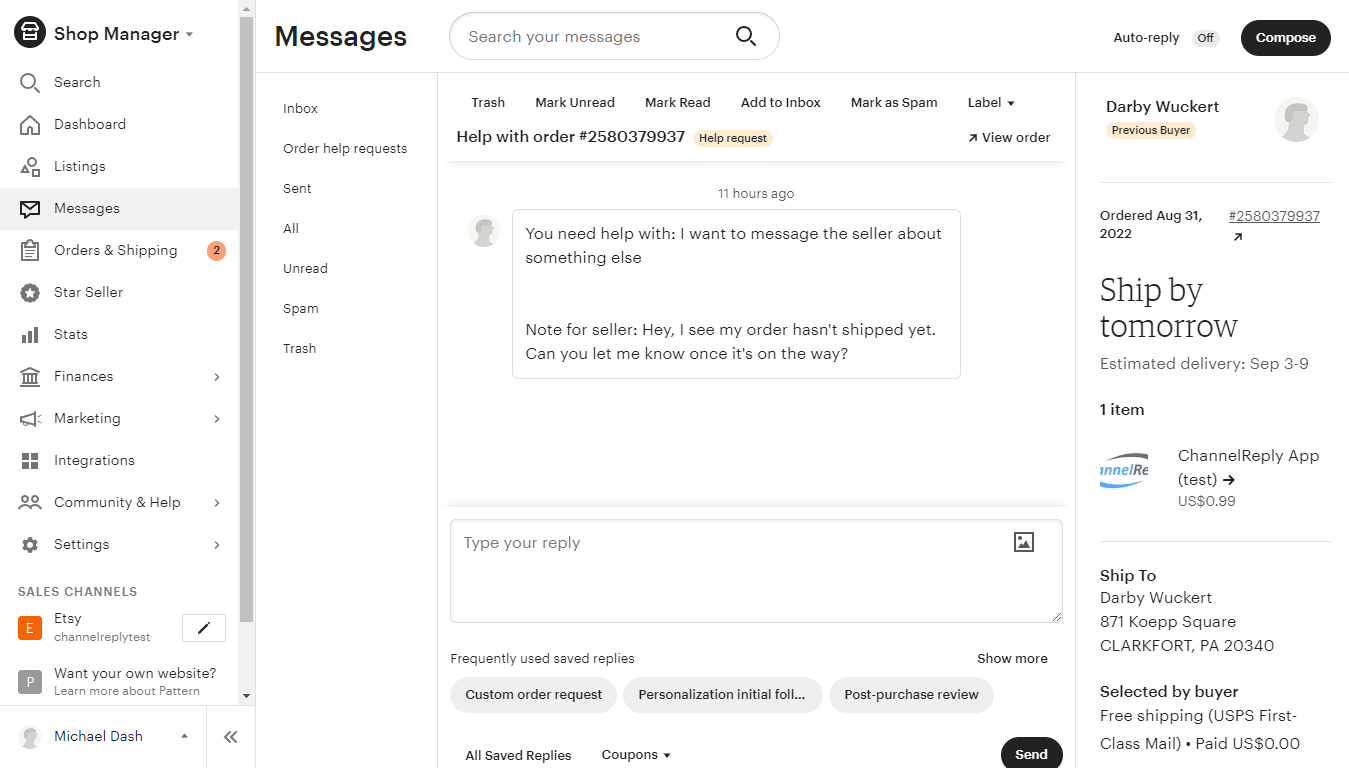 Ready to try it out? Start your free 14-day trial here or integrate Etsy with your existing ChannelReply account.
Multichannel Support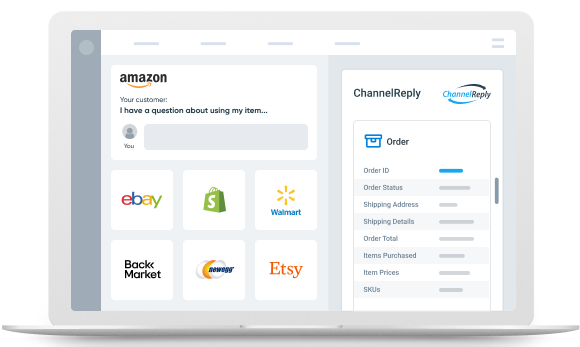 You can connect unlimited Etsy accounts with ChannelReply at no extra cost. On top of that, you can integrate unlimited Amazon, eBay, Shopify,* Walmart US and CA, Back Market and Newegg accounts!
If that's not enough, every helpdesk we support has its own integrations, most of them free. Options will depend on your helpdesk, but you can almost always connect:
Email
Voice
Live chat
Social media like Facebook, Twitter and Instagram
Shopify alternatives like BigCommerce, WooCommerce, Magento and PrestaShop
With integrations from both ChannelReply and your helpdesk, you'll truly be able to manage all your support from one platform. Get started now and discover all the time you can save!
*We don't integrate Shopify with Gorgias because Gorgias's own integration is unbeatable. All our other integrations are available for all helpdesks!
Better Saved Replies
Etsy already has a saved replies system, sure. But it only supports static text. How much time do you waste every day typing out the names of customers? How often do you have to copy and paste in the same bits of info like the tracking code or the address you shipped the package to?
ChannelReply lets you auto-personalize saved replies in your helpdesk.** Instantly fill in as many as 29 different details about each Etsy order. No more typing required!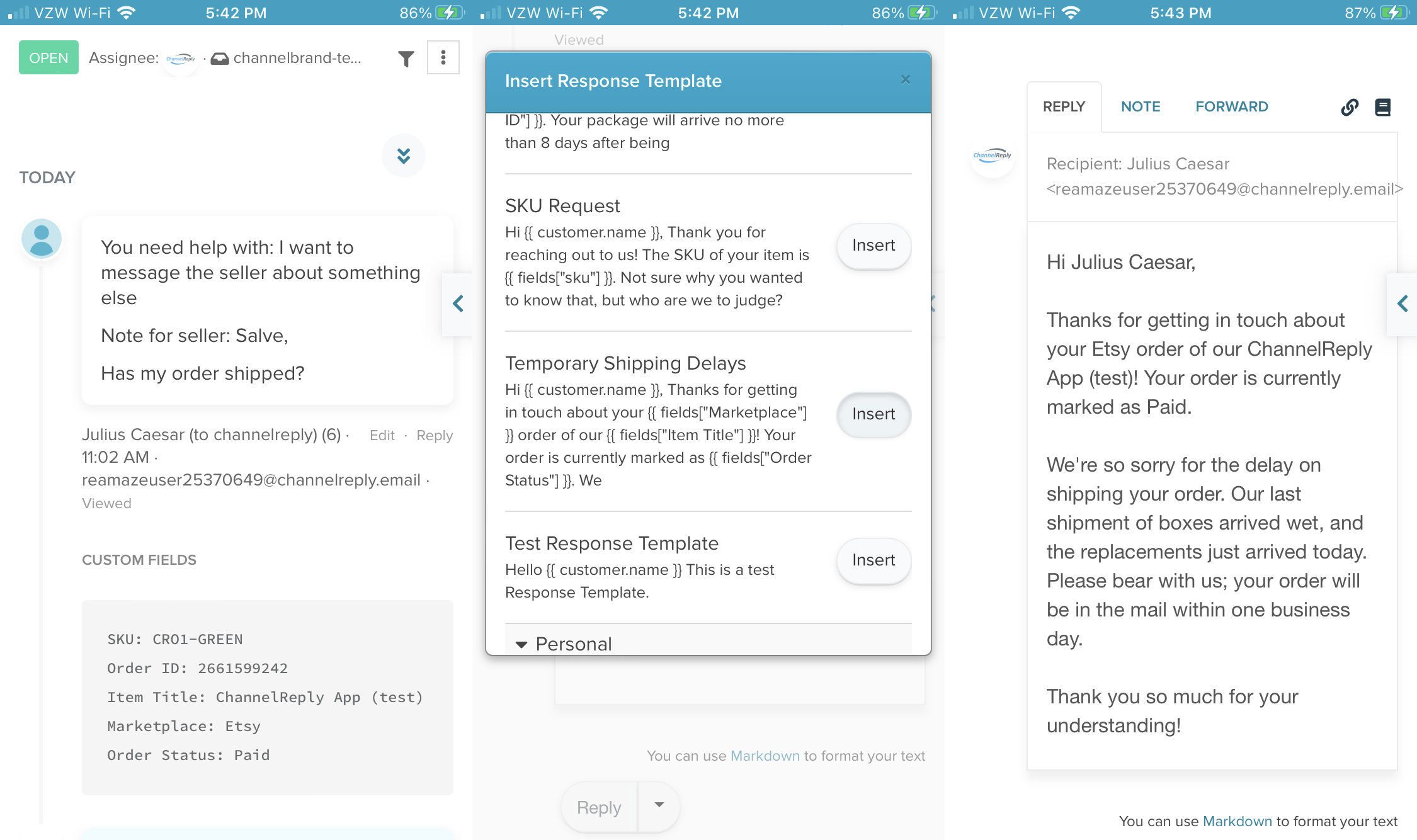 Replying to an Etsy message on iPhone using a Re:amaze response template and ChannelReply custom fields.
You can auto-populate your templates with the buyer's name, the item they ordered, the tracking code, and everything else they may have asked about. All you need are custom fields.
Even better, most custom fields that work with Etsy also work with eBay, Amazon and all our other supported marketplaces. There's no need to dig through hundreds of canned replies. A single "Where's my order?" template can work for dozens of selling accounts!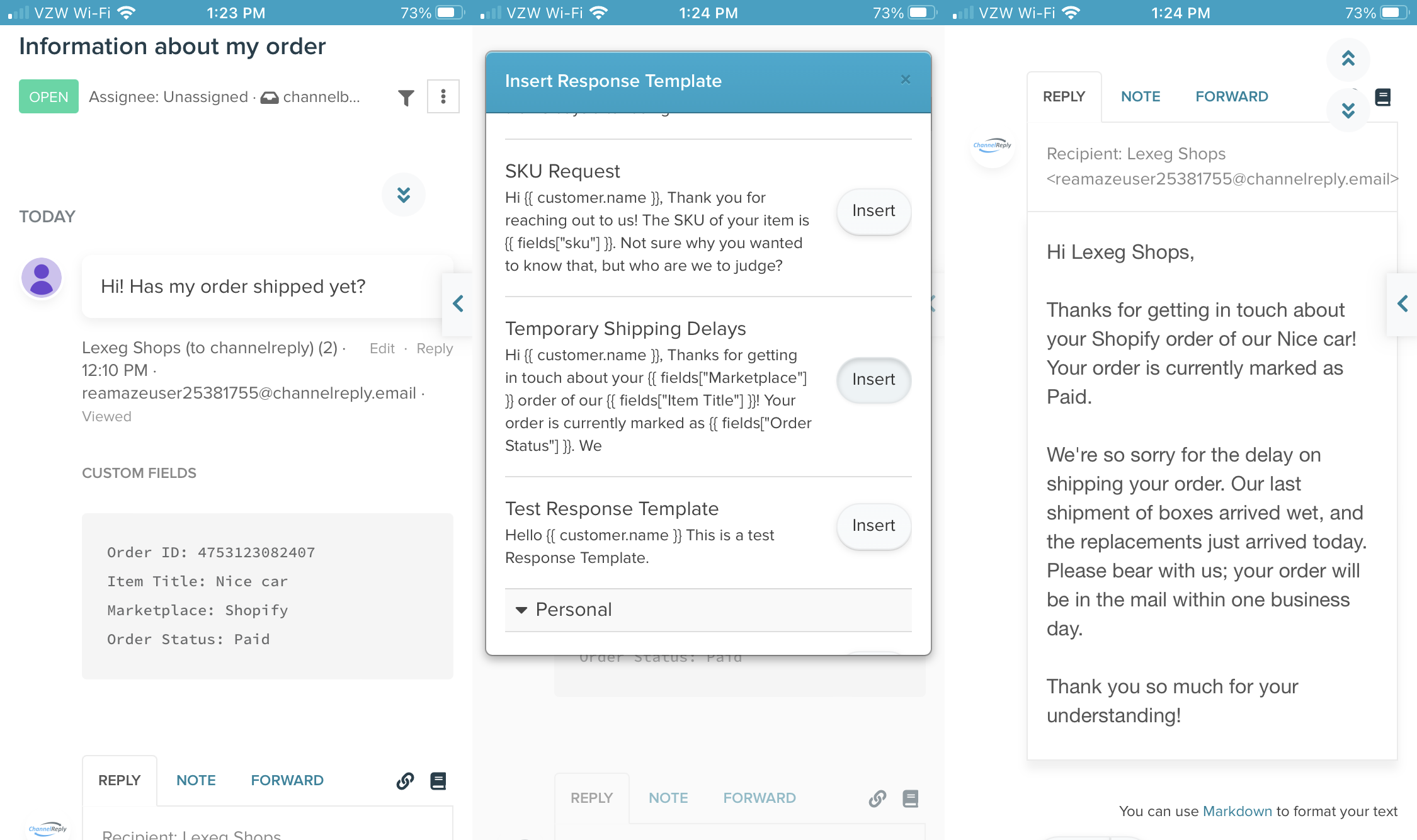 Replying to a Shopify order with the same Re:amaze response template.
Just click your helpdesk's name below for instructions on setting up custom fields:
**The only exception is Help Scout; Help Scout has custom fields, but they cannot be used in Saved Replies.
Automations, Reports, Filters & More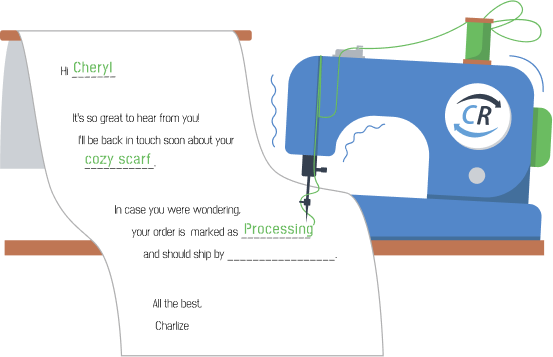 You might think a big business needs different tools than a Mom & Pop side gig. But whether you need a deep-dive report or just want to assign engraving requests to your husband, the solution is the same: custom fields.
ChannelReply can pull Etsy data straight into your helpdesk's most advanced tools.*** Depending on your helpdesk and plan, you'll be able to do things like:
Create automations that reassign tickets, update priorities, send auto-replies and more
Sort tickets by order value, item ordered, shipping level, or any other piece of critical info
Build unbeatable custom reports
Need help figuring out how to use any of these features? Contact us and we'll be happy to assist you!
***Gorgias does not yet support advanced uses of ChannelReply data like those described here.
Dozens of Order Details
ChannelReply can pull in up to 41 order details on order-related Etsy tickets, including:
Order Data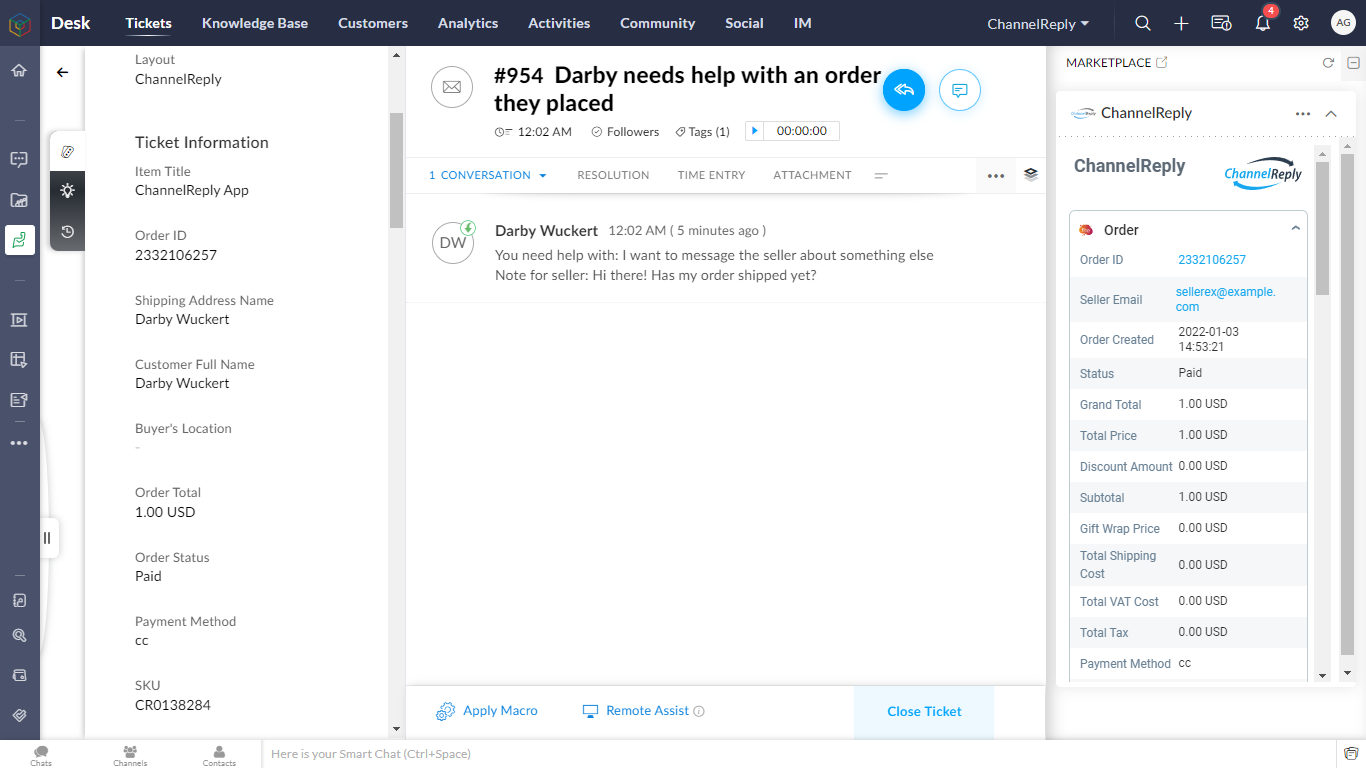 Above: Order data on an Etsy ticket in Zoho Desk.
Order ID
Seller Email
Order Created (date and time)
Status (of the order)
Grand Total (combined value of all amounts paid, including shipping and taxes)
Total Price (combined prices of all items purchased)
Discount Amount
Subtotal (Total Price minus any discounts)
Gift Wrap Price
Total Shipping Cost
Total VAT Cost
Total Tax
Payment Method
Seller Message
Buyer Message (a message left by the buyer as part of placing their order)
Shipments (can contain the following for each package related to the order):

Carrier Name
Shipment Notified (timestamp)
Tracking Number

Shipping Address

Name
Street
City
State or Province
Postal Code
Country
Product Data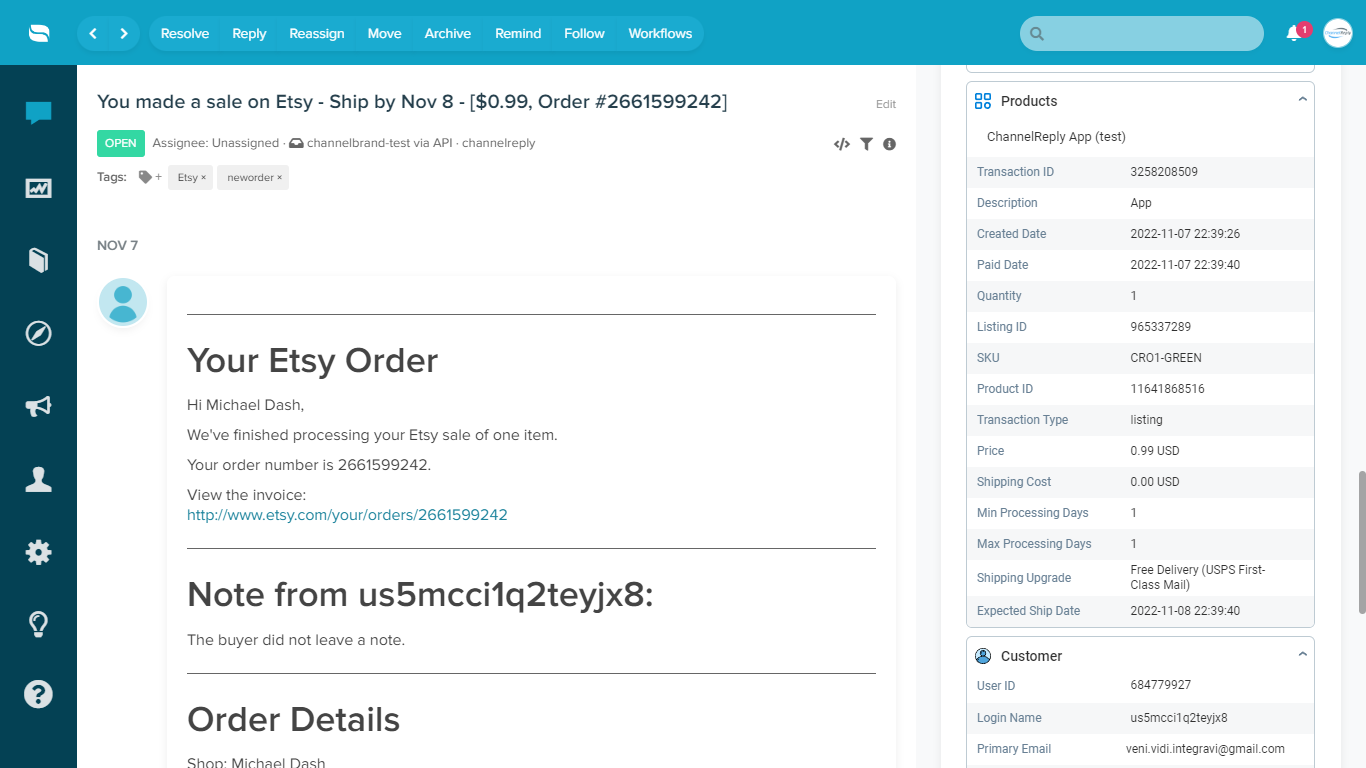 Above: Product data on an Etsy New Order notification in Re:amaze.
ChannelReply displays the following info about each item ordered:
Item Title
Transaction ID
Description
Created Date (the exact time the order was placed)
Paid Date (the exact time the order was paid for)
Shipped Date (the exact time the order shipped)
Quantity
Listing ID
SKU
Product ID
Transaction Type
Price
Shipping Cost
Min Processing Days
Max Processing Days
Expected Ship Date
Customer Data on Every Ticket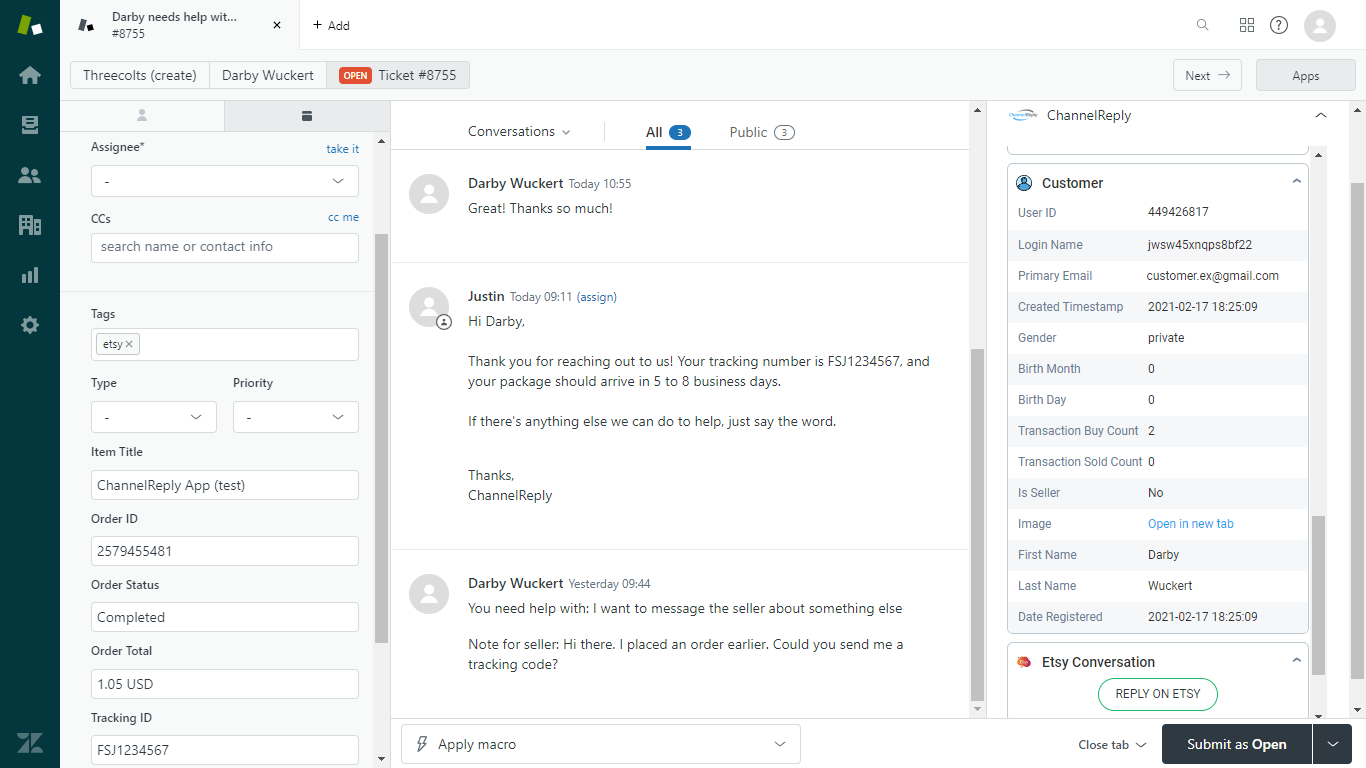 Above: Etsy customer data on a Zendesk ticket.
ChannelReply displays customer info on every Etsy ticket. In some cases, this is limited to just the customer's name and/or username, but in others, you can see all the following info:
User ID
Login Name
Primary Email
Bio
Gender (will show "private" if the customer has not made this info publicly available)
Materials (shows the customer's favorite materials if they've entered them in their profile)
Birth Month (will show "0" if not publicly available, or the month's number if available, e.g. 7 for July)
Birth Day (will show "0" if not publicly available)
Country ID
Region
City
Avatar ID
Transaction Buy Count
Transaction Sold Count
Is Seller (Yes or No)
Image (links to an image of the customer's avatar)
First Name
Last Name
Date Registered
Product Info on Non-order Tickets
If the buyer contacts you through a listing instead of an order, we will display all available Product Data and Customer Data. The product data will be pulled from the listing rather than an order, so the available info will be different: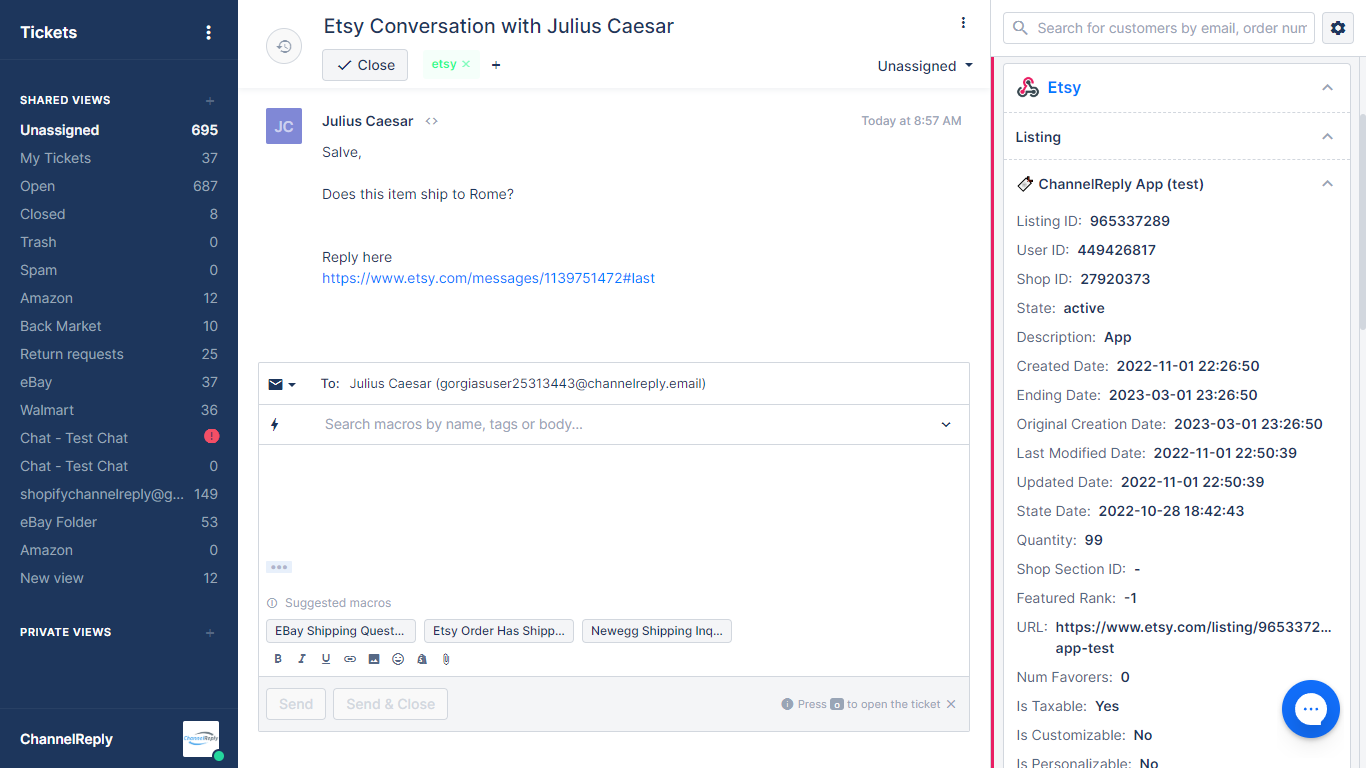 Above: A question about an Etsy listing in Gorgias with product data from ChannelReply.
Item Title
Listing ID
User ID
Shop ID
State (e.g. active)
Description
Created Date
Ending Date
Original Creation Date
Last Modified Date
Updated Date
State Date
Quantity (number currently in stock)
Shop Section ID
Featured Rank
URL
Num Favorers
Is Taxable (Yes or No)
Is Customizable (Yes or No)
Is Personalizable (Yes or No)
Personalization Is Required (Yes or No)
Personalization Char Count Max (maximum character count)
Personalization Instructions
Listing Type (e.g. physical)
Shipping Profile ID
Min Processing Days
Max Processing Days
Who Made
When Made
Item Weight
Item Weight Unit (e.g. "oz" for ounces)
Item Length
Item Width
Item Height
Item Dimensions Unit (e.g. "in" for inches)
Is Supply (Yes or No)
Is Private (Yes or No)
File Data
Has Variations (Yes or No)
Should Auto Renew (Yes or No)
Language (shows the language code for the listing, e.g. en-US)
Price
Taxonomy ID
SKU
Complete Orders from Your Helpdesk
If you use Zendesk, Freshdesk, Re:amaze, Zoho Desk or Kustomer, then you get a bonus feature. You can upload shipping info straight from your support tickets!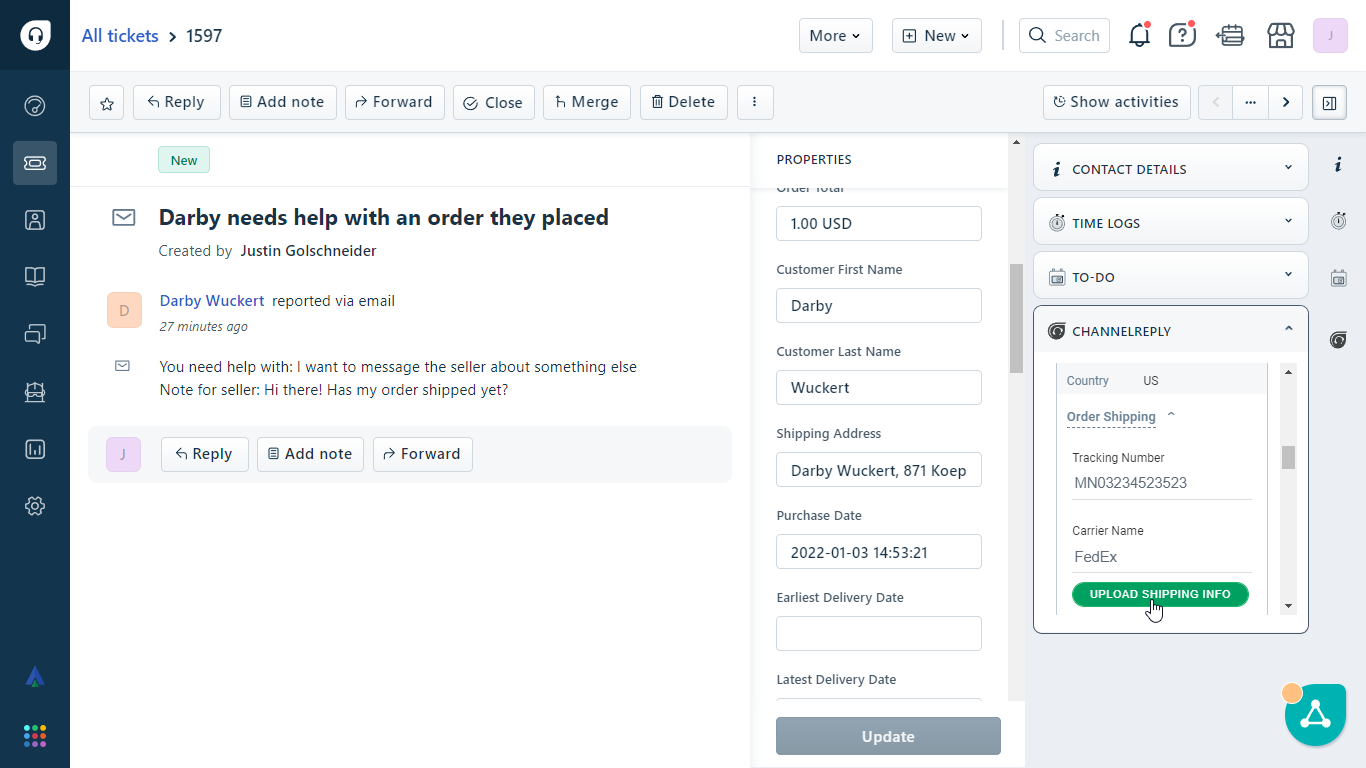 Uploading shipping info to Etsy from Freshdesk.
The next time you open a message asking whether an order has shipped, you can enter the tracking number and carrier name to complete the order on Etsy. No more shuffling around between the message and the order screen and the "Complete Order" page like you would on Etsy. It's all right there in one place!
Easy Ticket Sorting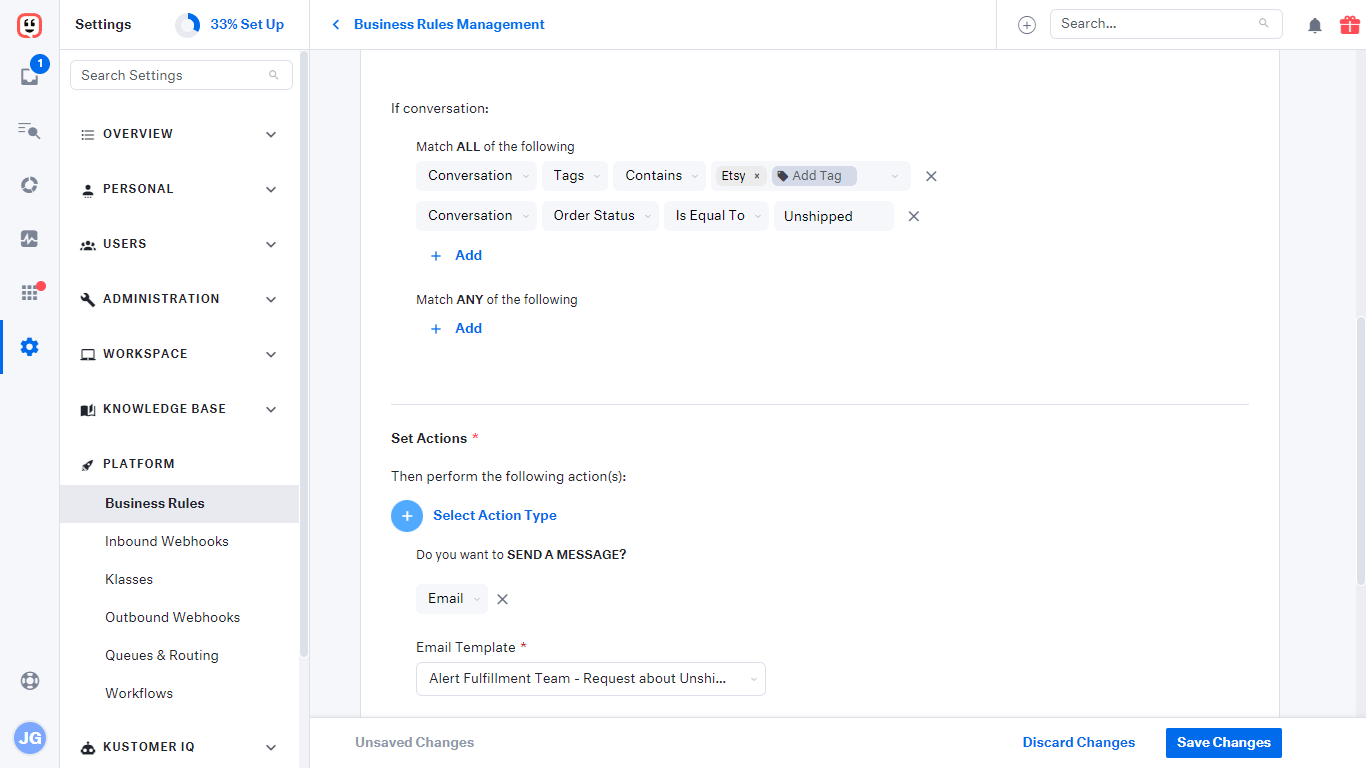 Above: Creating a Kustomer business rule that will automate alerts about unfulfilled Etsy orders.
Want to treat Etsy tickets differently from your other tickets? No problem! That's why we let you create a unique ChannelReply tag for each Etsy account.
You can use tags to treat each account's messages differently from all your other tickets. For example, you can put them into different views and reports and change which automations affect them.
Plus, we also include two optional tags:
neworder for New Order notifications
advertising for emails from email@email.etsy.com (note: our normal Etsy integration instructions filter out advertising emails by default)
That way, you can easily separate your buyer messages from order notifications and ads. No need to dig through piles of tickets to find the ones that need a response!
Get Started in Minutes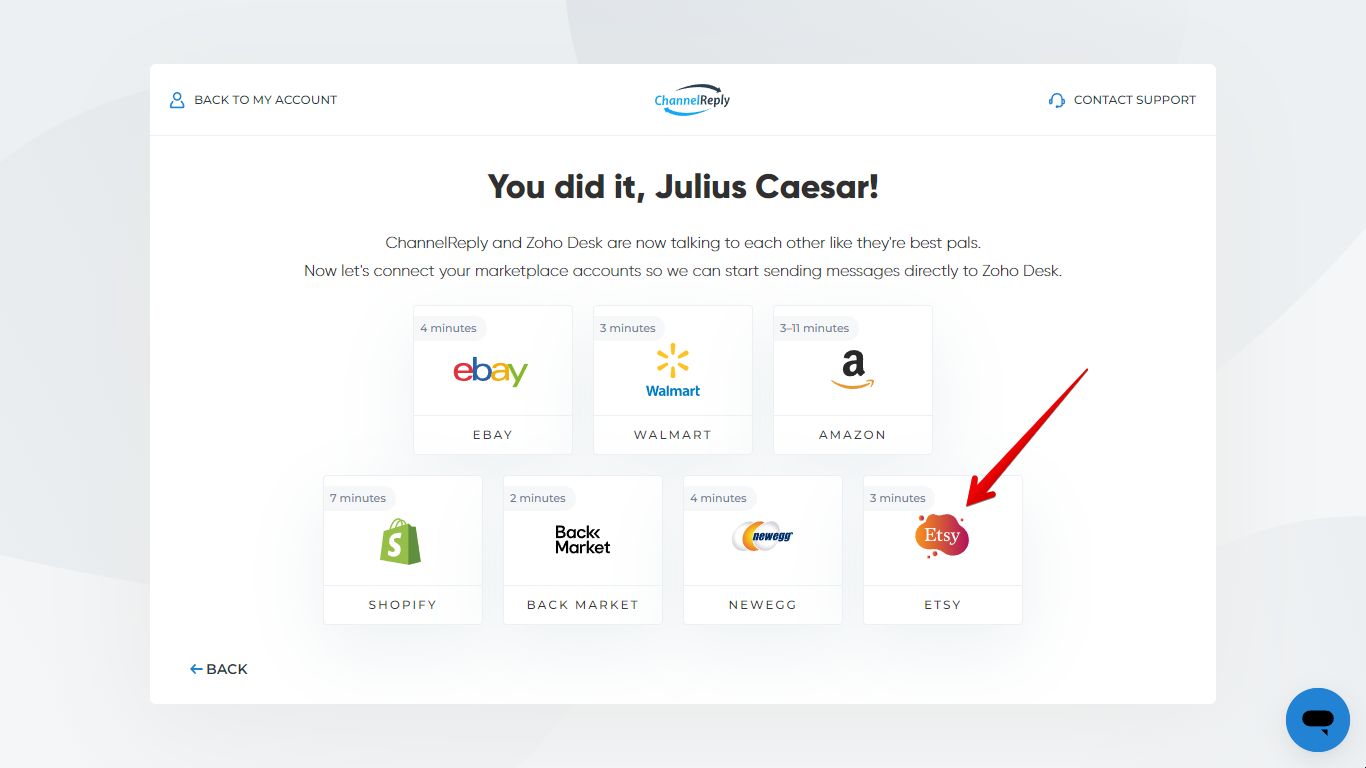 You can integrate Etsy with ChannelReply in as little as three minutes. Just follow our Etsy integration instructions and you'll be all set up in no time.
Have questions? We're here seven days a week and always happy to help! Contact us and we'll get back to you ASAP.